MXA TEAM TESTED: POD MX K1 YOUTH KNEE BRACE

WHAT IS IT? The K1 youth knee brace is designed for kids. It uses Pod's innovative synthetic ligament hinge, just like the adult-sized K300 and K700 braces.
WHAT'S IT COST? $199.95 (each), $399.95 (pair).
CONTACT? www.podactive.com or your local WPS dealer.
WHAT STANDS OUT? Here's a list of things that stand out with the Pod K1 youth knee brace.
(1) Hinge. The most interesting part of the Pod K1 brace is the hinge. Its synthetic ligament system mimics the natural movement of the knee. Called Human Motion by Pod MX, the rubber-band-like system moves smoothly and doesn't bind up like most mechanical-hinge-equipped braces. Additionally, the synthetic ligaments can easily be replaced without having to buy a new brace. Extension stops are included to prevent hyperextension, with options from 0 degrees all the way up to 25 degrees.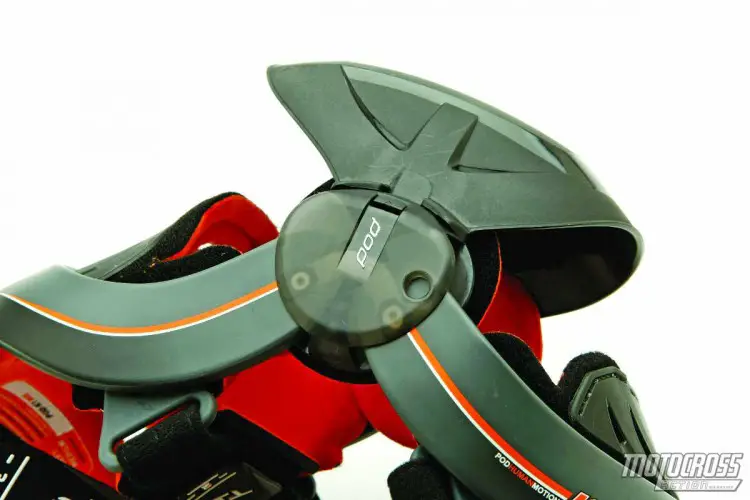 (2) Frame. Composed of a sturdy injection-molded nylon frame, the K1 is very rigid. The frame is 13 inches long (youth medium), which offers substantial coverage for smaller riders. A floating patella knee cup attaches to the hinge for protection; however, as is the case with Pod's adult braces, the patella cup leaves an open area for handlebars to make contact with a rider's leg when the knee is bent at a 90-degree angle. It is disconcerting. Overall weight for a youth medium brace is a hair over 1 pound.
(3) Sizing. The Pod K1 brace is available in youth medium or youth large. To determine which brace fits best, measure the width and circumference of your knee. If you fall between 3.5 and 3.7 inches (width) and 10.8 to 11.6 inches (circumference), then the youth medium should fit best. If your knee width is 3.7 to 4.0 inches and circumference is between 11.6 and 12.6 inches, then opt for the youth large. For best results, we recommend trying the brace on to ensure proper fit before buying.
(4) Straps. Four adjustable Velcro straps allow for a customized fit. Pod includes a variety of padding thicknesses for comfort. This also allows the brace to grow along with the rider. We like that the straps are numbered to remind the rider of the proper strap-tightening order.
(5) Performance. Our youth test riders remarked on how sleek the frame was in that they could have positive contact when gripping the bike. It took some time to get the brace to fit properly, but once the straps and padding were dialed in, the brace was hardly noticeable. Pod is really onto something with its synthetic hinge design, because every test rider mentioned how fluid the brace felt when moving in it. Parents will be particularly excited to hear that the K1 brace is CE certified and can be covered by some health insurance plans with a doctor's prescription. And, at less than $400 a pair, the Pod K1 brace is well priced in comparison to the competition. The brace is also quite light.
WHAT'S THE SQUAWK? We wish that the patella guard offered more protection when the knee is fully bent.