MXA TEAM TESTED: PRO CIRCUIT Ti-6 SUZUKI RM-Z450 EXHAUST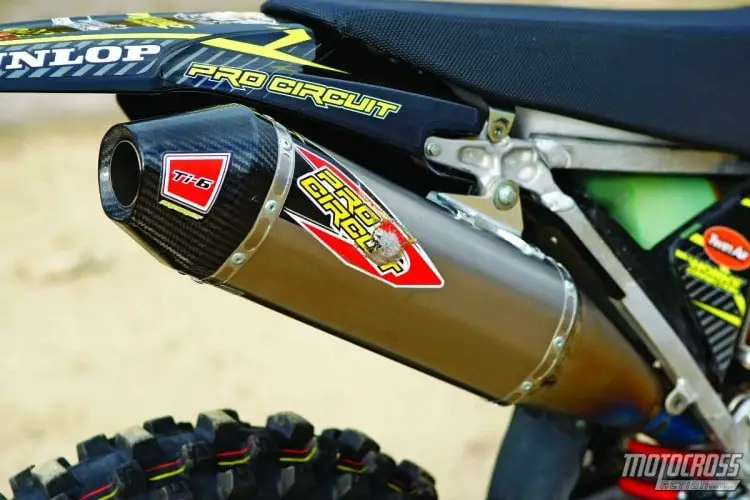 WHAT IS IT? The sixth installment of Pro Circuit's four-stroke line offers the option of both an AMA Pro sound-compliant exhaust (112 dB two meter max) or Amateur-legal system (94 dB at 4800 rpm for a 450 four-stroke).
WHAT'S IT COST? $999.95 (Ti/Ti/carbon end cap); $779.95 (stainless/aluminum); $464.95 (stainless/aluminum slip-on).
CONTACT? www.procircuit.com or (951) 738-8050.
WHAT STANDS OUT? Here's a list of things that stand out with the Pro Circuit Ti-6 Suzuki RM-Z450 exhaust system.
(1) Analysis. Touted by Suzuki as an all-new motorcycle, the 2015 RM-Z450 is an updated version of an aging design. Showa TAC air forks and launch control are big news for 2015, but the RM-Z450 engine is beginning to suck wind against the powerhouses in the 450 class. Although the Suzuki makes more power than the 2015 Honda CRF450, it still ranks fifth on the horsepower chart. That is like a toddler wearing two left shoes in a foot race with Usain Bolt. Simply put, the RM-Z450, which lives and dies in the midrange, could stand to have more power.
(2) Sound debate. Sound regulations have gotten way out of hand. It is baffling how often the AMA has changed their sound rules in the past decade. Manufacturers and aftermarket exhaust-pipe companies find ever-changing regulations, which are now 3 dB less than last year, to be a burden. For years Pro Circuit, to their credit, built every system they made to the AMA Pro sound limits, while their competition didn't. Since the average Joe was not bound by AMA Pro sound rules, Pro Circuit was making thousands of exhaust pipes for a market that was only 600 racers strong. The new Ti-6 system is still available for AMA Pro racers in the special-edition Ti-6 Pro Series line. For everyone else, the Ti-6 isn't choked down to meet the AMA Supercross standards. Equipped with a larger perf core and end cap, the all-new Ti-6 offers better throttle response and performance from the low end to the midrange (and still meets AMA Amateur sound regs).
(3) Options. Pro Circuit sells the Ti-6 at $999.95 (with Ti header, titanium muffler and carbon end cap), the T-6 at $779.95 (with stainless steel tubing and aluminum muffler) and the T-6 slip-on at $464.95 (stainless/aluminum construction). All of the pipes, save for the Ti-6 Pro series, come with a removable spark arrestor.
(4) Performance. The Pro Circuit Ti-6 is one of the best exhaust systems that we have ever tested on the Suzuki RM-Z450. It does wonders to an otherwise lackadaisical powerband by improving throttle response, giving much-needed punch from low to mid and adding a modicum of over-rev compared to the stock system. Every test rider appreciated how the Pro Circuit Ti-6 livened up the powerband. There wasn't a single performance drawback. Installation was a breeze, as Pro Circuit included all of the necessary hardware; we especially liked the single-swivel pipe springs.
WHAT'S THE SQUAWK? Price. We can't tell you what to buy, but most MXA test riders choose the cheaper stainless steel T-6 because it offers the exact same dimensions and performance as the high-price spread.