MXA TEAM TESTED: PRO CIRCUIT-TUNED KTM 150SX BIG-BORE KIT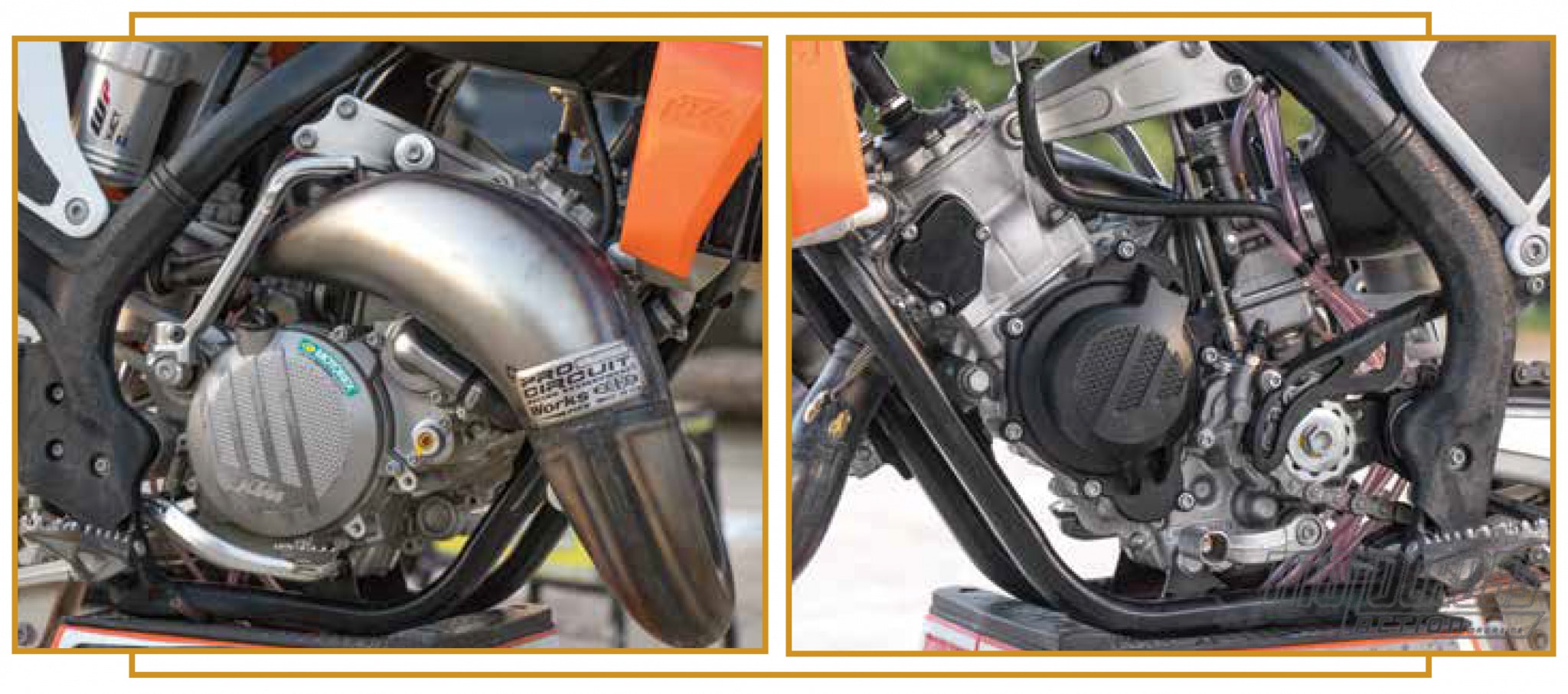 WHAT IS IT? Pro Circuit's Mitch Payton has been tuning two-stroke engines since 1978, and, to this day, he works in his machine shop building factory race engines for the Pro Circuit Kawasaki team and customer spec engines for the average rider. For MXA's Pro Circuit-built KTM 150cc engine, Mitch Payton used the KTM 150SX Factory Kit straight from the KTM Power Parts catalog as the starting point.
WHAT'S IT COST? $349.95 (Pro Circuit mods), $831.99 (KTM 150SX Factory Kit), $149.95 (installation), $278.95 (Pro Circuit pipe), $155.95 (R-304 silencer). 
CONTACT? www.procircuit.com or (951) 738-8050.
WHAT STANDS OUT? Here's a list of things that stand out with the Pro Circuit-modified KTM 150SX big-bore kit.
(1) Concept. Under one part number, the KTM Power Parts 150cc Factory Kit comes with everything needed to turn your KTM 125SX, Husqvarna TC125 or GasGas MC 125 into a 150. The kit includes the cylinder, cylinder head, piston, power valve, combustion-chamber insert, control covers, power-valve flap, and all the rings and gaskets. Although KTM sells a complete 150SX motorcycle at the dealers, that bike is no different from what you get if you install this kit on your 125; however, GasGas and Husqvarna do not sell MC 150s or TC150s. 
(2) Porting. Mitch starts with a degree wheel to determine when the piston passes by the intake and exhaust ports to expose them. From there, Mitch will calculate whether he should raise or lower ports. Mitch ports all the cylinders at Pro Circuit. 
(3) Install. We recommend having Pro Circuit install the modified KTM 150SX kit for you at their shop. It's an extra $149.95, but it's worth it. Plus, they need to have the engine to do the hop-up work. The Power Parts 150 kit comes with five different thicknesses of base gaskets to match your cylinder head's height with the piston, and, if you make a mistake on this measurement, you'll be sorry. We used the stock base gasket on our build, but the clearances can vary slightly from bike to bike.  
(4) Performance. In stock trim, our 2021 KTM 125SX made 37.52 horsepower. With the out-of-the-box KTM 150SX kit, it made 40.70 horses. After Mitch Payton waved his magic wand, it produced an eye-watering 43.70 horses. You read that right, almost 44 horses! As for torque, the stock 125SX peaked at 17.69 pound-feet, while the stock 150SX hit 18.83 pound-feet. The Pro Circuit-tuned 150cc reaches 19.77 pound-feet. The modded Pro Circuit 150 power curve was consistently 2 horsepower better from bottom to top. Even better, the Pro Circuit 150cc engine soared passed the OEM spec from 9300 rpm to its 11,760 rpm peak, where it was 3 horsepower stronger. The Pro Circuit mods produce big power on top and increase over-rev.
(5) Jetting. Typically, tuners will elect to go leaner to create more responsive power. With the Pro Circuit mods and increased compression, Mitch set up our engine to use MRX02 fuel. We went from a 35 pilot jet to a 37.5 to make it richer in the middle. 
(6) Notes. You can buy the KTM Factory 150cc kit through Pro Circuit or buy it on your own and bring it to them with your bike. Also, the KTM 150SX uses the same Pro Circuit pipe and silencer as the 125.
WHAT'S THE SQUAWK? In general, the KTM 150SX is harder to ride than a 125. If you're not an experienced two-stroker who's already wringing out the KTM 125SX, save your money and buy a pipe and reeds for your 125 instead. 
MXA RATING: If you like big and bold power, you'll love the Pro Circuit-tuned 150cc. Our Pro Circuit-built KTM 150SX holeshot both motos of the 125/150 Pro class at the 2021 World Two-Stroke Championships. It's a no-excuse engine for experienced 125 pilots.