MXA TEAM TESTED: R-TECH VINTAGE EDITION KTM PLASTIC KIT
WHAT IS IT? R-Tech's Vintage Edition body kit is available for late-model 2017–2018 KTM motocross bikes. It allows a modern KTM to hark back to the good old days when KTMs came with red or blue gas tanks (and yellow number plates for the 500 class and green number plates for the 250 class).
WHAT'S IT COST? $241.95 (front fender, rear fender, shrouds, airbox cover, side panels, fork guards and front number plate).
CONTACT? www.rtechmx.us or www.btosports.com, or contact your local dealer.
WHAT STANDS OUT? Here's a list of things that stand out with the new R-Tech Vintage Edition 2017–'18 KTM body kit.
(1) The look. R-Tech plastic isn't as well known as Cycra, Polisport, Decal Works or Acerbis, but the company has a strong presence on the Grand Prix circuit in Europe and with the Pro Circuit Kawasaki team in America. The MXA wrecking crew noticed a very unique set of R-Tech KTM plastic at a motorcycle show and immediately got our hands on a blue/white Vintage Edition KTM kit. If you think the color combination sounds strange, you are right; but, it honors the blue-tanked KTMs of the 1970s. There is also a white/red version from the same era. In addition to the white front and rear fenders and red or blue radiator shrouds, the R-Tech plastic comes with either solid yellow or solid green side number plates. Our major problem was designing graphics to complement the unique KTM blue color. Thankfully, MXA test rider Johnny Jelderda stepped in and got Trinity GFX to help us out.
(2) Installation. The R-Tech Vintage Edition KTM plastic kit mounts up with ease, but if you've never changed KTM plastic before, make sure to keep track of the bolts and screws, as KTM uses a variety of different-size bolts and screws on its bodywork. There were no major issues, as every part lined up neatly.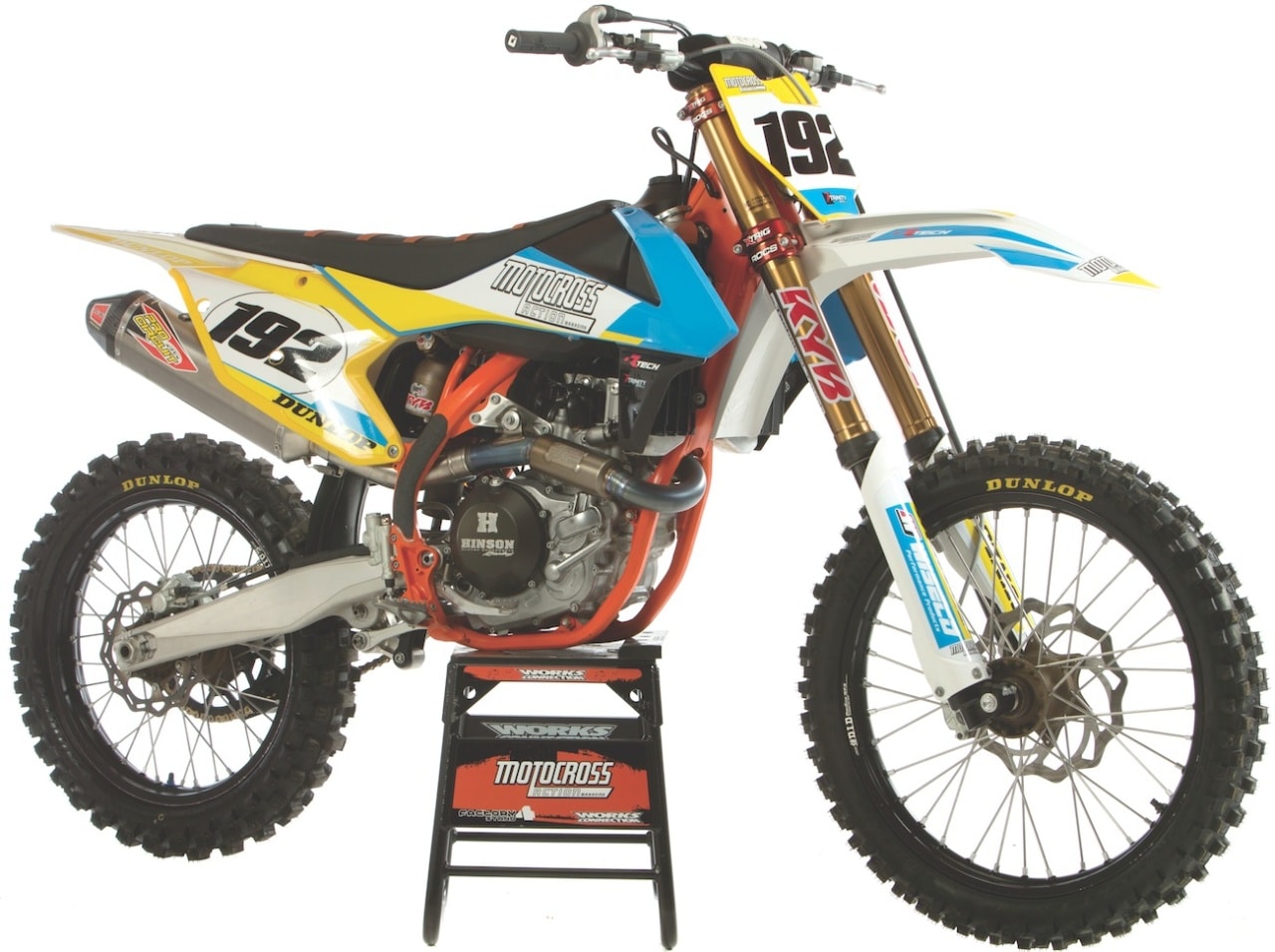 (3) Appearance. When you add plastic to a 2018 KTM that gets its cosmetic cues from a 1975 KTM, you are going into uncharted design territory. Most modern riders weren't born when KTMs had red and blue gas tanks, let alone when motocross bikes ran green (250 class) and yellow (500 class) number plates. The MXA wrecking crew got tired of explaining why these colors were historically significant.
(4) Options. The R-Tech KTM Vintage Edition kit is available for all 2017 and 2018 KTM motocross models, but if you don't like the colors of the Vintage Edition kit, R-Tech makes fenders in white, orange or black; radiator shrouds in two-tone, white, orange, blue and black; front number plates in white, green, black, yellow and orange; side panels in white, green, black, yellow and orange; and airbox covers in yellow, white, black and orange. So, you can build your own color palette.
WHAT'S THE SQUAWK? Underneath the rear fender there were molded-in attachments for brake and taillight wiring. Obviously, this fender was designed to be used on KTM's motocross, offroad and dual-sport bikes.
MXA RATING: You either love the idea of making your 2018 KTM channel the 1975 color wheel or you don't. We do.