MXA TEAM TESTED: RENTHAL GEN2 INTELLILEVER (11/28/13)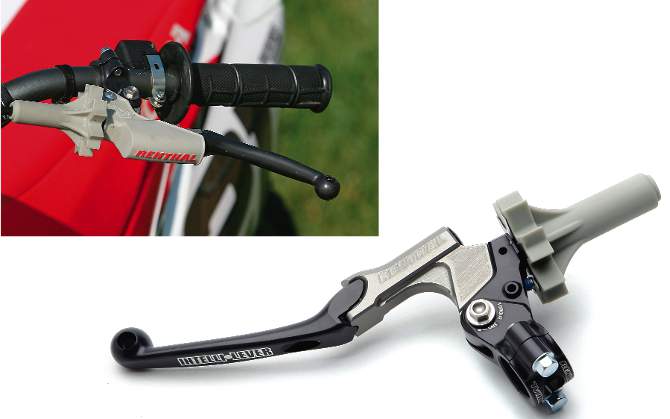 WHAT IS IT? The basic concept is the same as the original Intellilever, but everything else is different about Renthal's new version of their folding clutch and brake levers.
WHAT'S IT COST? $89.95 (brake); $164.95 to $179.95 (clutch).
CONTACT? www.renthal.com or (877) 736-8425.

WHAT STANDS OUT? Here's a list of things that stand out with the Renthal Gen2 Intellilever.
(1) Levers . Renthal trimmed the fat. The latest Intellilever is slimmer and lighter with a more ergonomic shape. They have a laser-etched logo and black hard-anodized finish. The clutch perch is black anodized, machined billet aluminum. The backing plate is new and has laser-etched torque specs. There are new, OEM-style perch bolts and a custom CNC-machined, stainless pivot bolt. The on-the-fly cable adjuster is CNC-machined to a new shape for a better feel. The reach-adjuster screw has been moved for easier access. The rubber lever protector has a new shape and is of a better material.

(2) Breakaway action. The lever's breakaway point, for the folding aspect, has been redesigned, making it easier to return to its home position after being dislocated. The internal spring is stiffer, making it more difficult to dislocate the lever in the first place.
(3) Feel. The old lever blade was a hard-angled polygon, and the connecting clutch-lever perch (at the pivot) was big and bulky. The new version is round and smooth. It is much smaller and sleeker at the pivot. Both brake and clutch levers look better and feel more natural in hand.
(4) Installation. Both clutch and brake Intellilevers installed easily, if you pay attention to the order of the items on the perch. The on-the-fly adjuster offered plenty of range. We like to manipulate the cable adjuster so the on-the-fly adjuster is centered, with plenty of room in both directions.
(5) Durability. Unlike most folding levers, the Intellilevers don't fold per se; instead, they dislocate over a 270-degree arc and at least 90 degrees in any direction. This is a notable advantage over the typical hinged folding lever, which can only operate on a two-dimensional plane. Since the lever is spring-loaded, once it dislocates, it will pop back into its original position with a simple tug.
(6) Options. Renthal will be offering Intellilever clutch levers to mate with stock perches. This setup will be cheaper and have a leverage ratio closer to stock. Renthal also offers hot-start assemblies that replace the backing plate for bikes that need it.
WHAT'S THE SQUAWK? We have two squawks: (1) Although they pull enough cable to work with a Yamaha or Kawasaki, we don't like the actuation feel of Honda-leverage-ratio clutch perches unless they are on a Honda. Never run a Honda leverage ratio on a Suzuki. (2) For some reason, many aftermarket brake levers engage the hydraulic piston in such a way that introduces just a bit of slop at the first touch of the lever and Renthal's is one of them.


The new generation Intellilever is a big improvement over the previous version. It's a slim, sleek and inventive idea that takes folding levers in a new direction?several new directions.