MXA TEAM TESTED: SCALVINI STAMPED KTM 125/150SX PIPE/SILENCER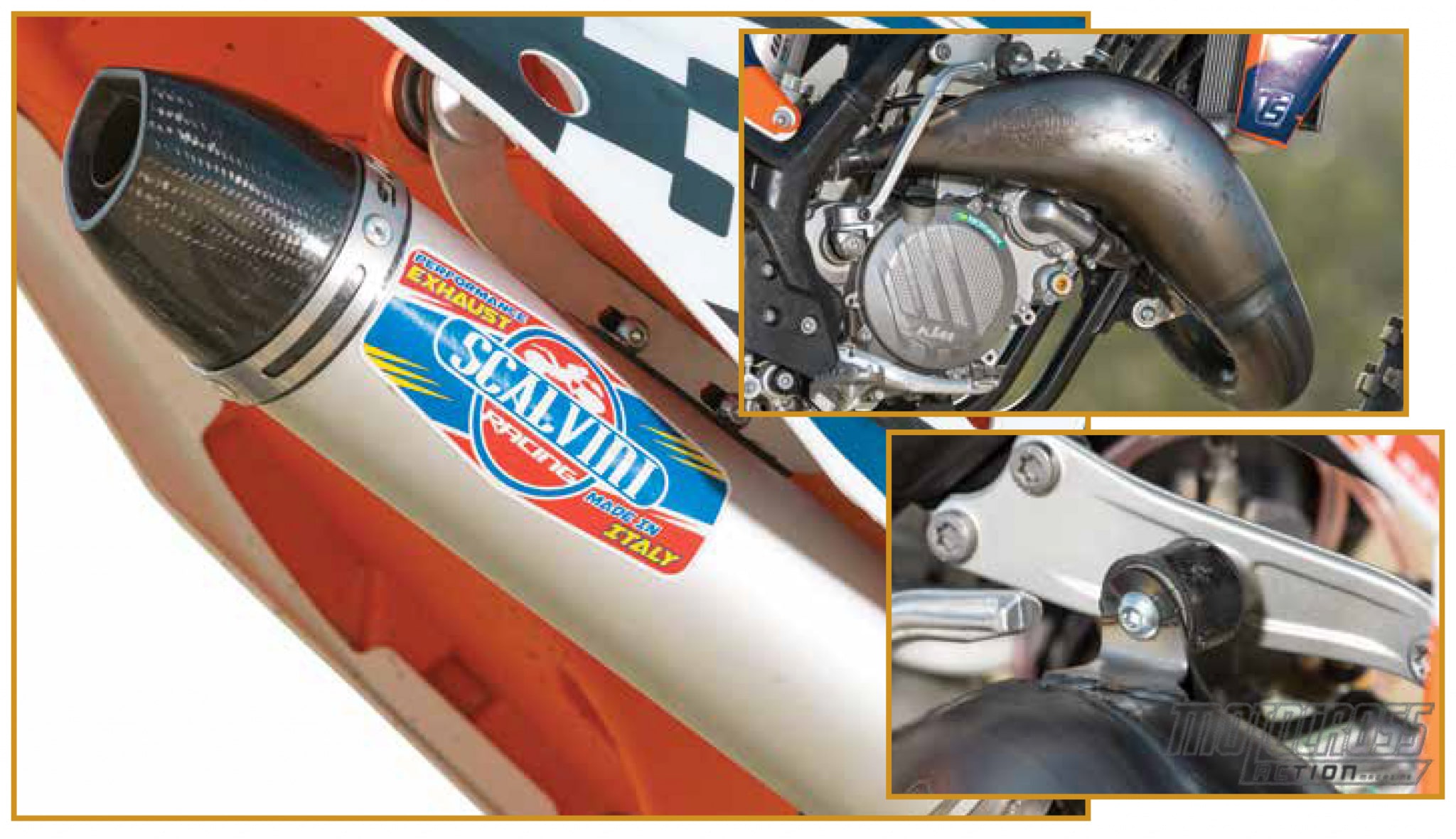 WHAT IS IT? Everyone loves Scalvini cone pipes for their exotic looks and quality materials. They are hand-cut, welded in multiple pieces of hand-rolled steel, and then hammered smooth at the joints. You see Scalvini cone pipes on many custom-built two-strokes. But, few people know that Scalvini makes stamped two-stroke pipes also. The stamped pipes don't have the old-world charm of a cone pipe, but they have the exact same dimensions as their arts-and-crafts brothers. There are absolutely no performance differences between the two pipes, but there is a price difference. The Scalvini cone KTM 125/150SX pipe costs $70 more than a Scalvini stamped race pipe
WHAT'S IT COST? $219.00 (stamped pipe), $289.00 (cone pipe), $209.00 (aluminum/carbon silencer), $315.00 (full carbon silencer). 
CONTACT? www.scalvinipipes.com or (760) 949-0941.
WHAT STANDS OUT? Here's a list of things that stand out with the Scalvini KTM 125/150SX stamped race pipe and aluminum/carbon silencer.
(1) Stock power. In stock trim, the 2021 KTM 150SX has a strong low-to-mid thrust. It is responsive and has a quick feeling into the top end. It is easy to ride, but you have to shift to keep it on the bubble. There are situations where you have to wring out second gear, because it isn't ready to pull third gear yet. In a perfect world, MXA's faster test riders would want KTM to give the stock pipe more midrange hit, while Vet and slower riders would prefer more top end so that they could stay in one gear longer. Sadly, KTM could only give the potent KTM 125/150SX one style of power.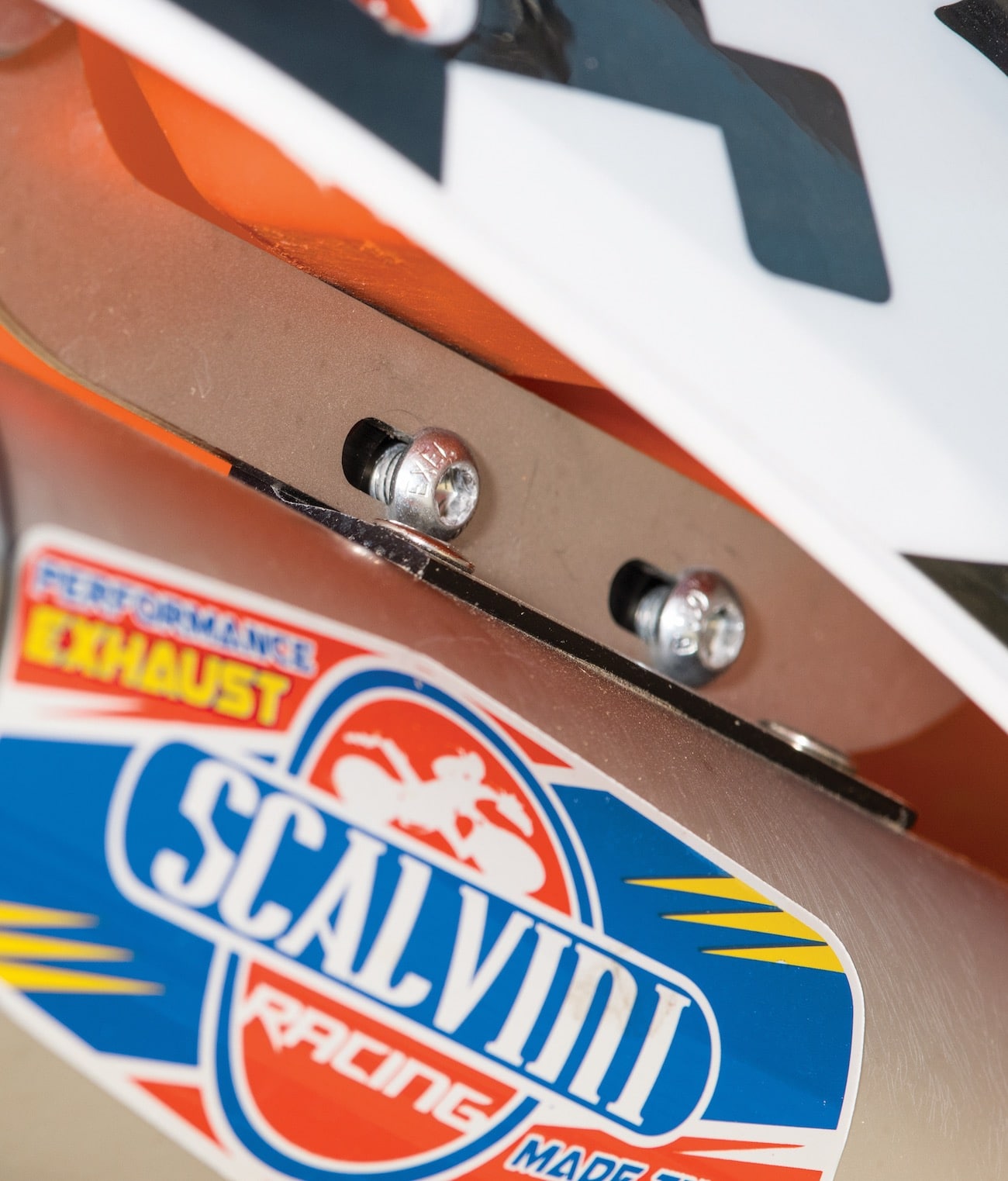 (2) Mounting. The pipe is mounted on rubber isolator bumpers and the silencer mounts on a special bracket with slots that allow the silencer bolts to slide back and forth for perfect alignment (see above).
(3) Scalvini power. When comparing the stock pipe to Scalvini's stamped KTM 125/150SX pipe, the Scalvini gives up a little bit of the low-end thrust to gain some serious revs from mid-and-up. The first thing the MXA test riders noticed was that the Scalvini pipe allowed them to shift to third gear without fear of bogging, plus the power delivery was smoother through the midrange, making the bike more rideable. The Scalvini pipe climbed through the revs quicker, didn't require additional shifts to stay in the powerband, and produced 2 horsepower more at peak. Our brand-new 2021 KTM 150SX, with less than 8 hours on it, ran fine on 91-octane pump gas. If it had exhibited jetting issues or a lean pop, we would have upped the stock 500 main jet to a 510 (or thrown a gallon or two of VP C12 into every 5 gallons). We had no issues with the Scalvini silencer; it fit perfectly because it comes with a bracket that mounts on the KTM subframe, which the silencer is then mounted to. Plus, the silencer brackets have a 1/2-inch of fore and aft play to get everything aligned.
WHAT'S THE SQUAWK? We had two quibbles. (1) The silencer is riveted together. You'd have to drill out the rivets to repack it. (2) The pipe is held in place by two 1-inch-thick rubber vibration isolator mounts (see above), which we like, but they do move the pipe farther away from the frame.
MXA RATING: In truth, we miss the cool look of the Scalvini cone pipe, but the stamped Scalvini pipe improved mid-to-top power, which both Pros and Vets liked for distinctly different reasons.