MXA TEAM TESTED: SCOTT PROSPECT AMPLIFIER GOGGLES
WHAT IS IT? Scott USA began back in 1958 in the ski industry, but they jumped into the motocross market in 1970 with the invention of the first-ever motocross-specific goggle. The Scott Prospect goggle has been their flagship line since 2016, and when you pair it with their new Amplifier lens technology, it is their most advanced goggle to date. The Scott Prospect goggles can be seen at the races or on TV worn by Jason Anderson, Malcolm Stewart, MXGP star Jorge Prado, the Pro Circuit Kawasaki team, R.J. Hampshire, and Max Vohland. 
WHAT'S IT COST? $104.00, (with rose Amplifier lens), $124.00 (with gold chrome Amplifier lens).
CONTACT? www.scott-sports.com or (800) 893-5294.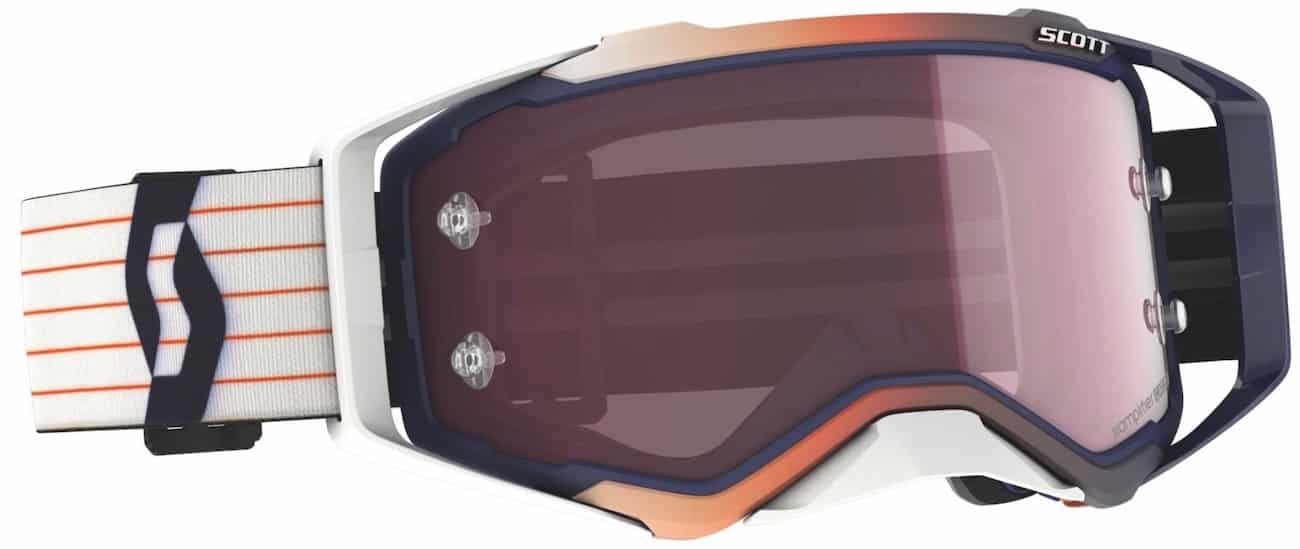 WHAT STANDS OUT? Here's a list of things that stand out with the Scott Prospect Amplifier goggles.
(1) Prospect. Scott's Prospect goggle has a large field of vision, three-layer NoSweat face foam and a unique four-pin system for installing tearoffs. It also has the Scott Lens Lock system, which features four locking pins that go through the lens to secure it tightly rather than requiring the lens to snap into pre-cut tabs at the top and bottom. The Lens Lock system also makes installing and removing lenses for cleaning or replacement easier as well. Additionally, it has articulated outriggers that adapt to any helmet size and shape, and each lens has been treated with Scott's Anti-Fog coating on the inner lens. 
(2) Amplifier lens. When you put the Amplifier goggles on, it feels like you're viewing the world in ultra-HD. It truly enhances the track and anything in sight. In addition to the unique tint, the lens is injection-molded to provide optical clarity. The unique blend of colors used in this lens help to brighten shadows while also protecting against harsh bright light that comes when riding uphill into the sun or on dry light-colored dirt. 
(3) Performance. The Prospect goggles with Amplifier lens have quickly become a favorite among our test riders. There is no downfall to the Amplifier lens, only benefits. We choose this lens when it's bright out, when it's dark out and any time in between. Some MXA test riders are pickier than others, but everyone agreed that they could see the track better and ride with more confidence with the Amplifier lens. As for the Prospect goggle, the three-layer face foam is very comfortable, and it does a good job keeping sweat off the inner lens. No goggle is perfect when it comes to keeping sweat out, and the Prospect wasn't, either, but it did hold back the sweat longer than most. We also appreciate the quality of the Prospect tearoffs. With four locking pins instead of two, the tearoffs are secured better. Plus, we never had issues with the tearoffs prematurely coming off the outer tab. They stayed secure until we wanted them to come off. 
(4) Tricks. The anti-fog coating was updated when Scott phased out their Hustle goggle back in 2016. The coating works well to prevent the goggles from fogging up, but the anti-fog film on the inner lens makes it more difficult for cleaning dust and sweat off. Thankfully, the Prospect lens is easy to remove and install by pulling the outriggers forward. Instead of wiping the inner lens with a towel or goggle bag, we recommend pulling the lens off the frame, and rinsing it with water while using your clean fingers to wipe off the dirt or sweat. This ensures you don't scratch the lens. Warning, never use Windex or glass cleaner on your lenses; the soap will only cause damage.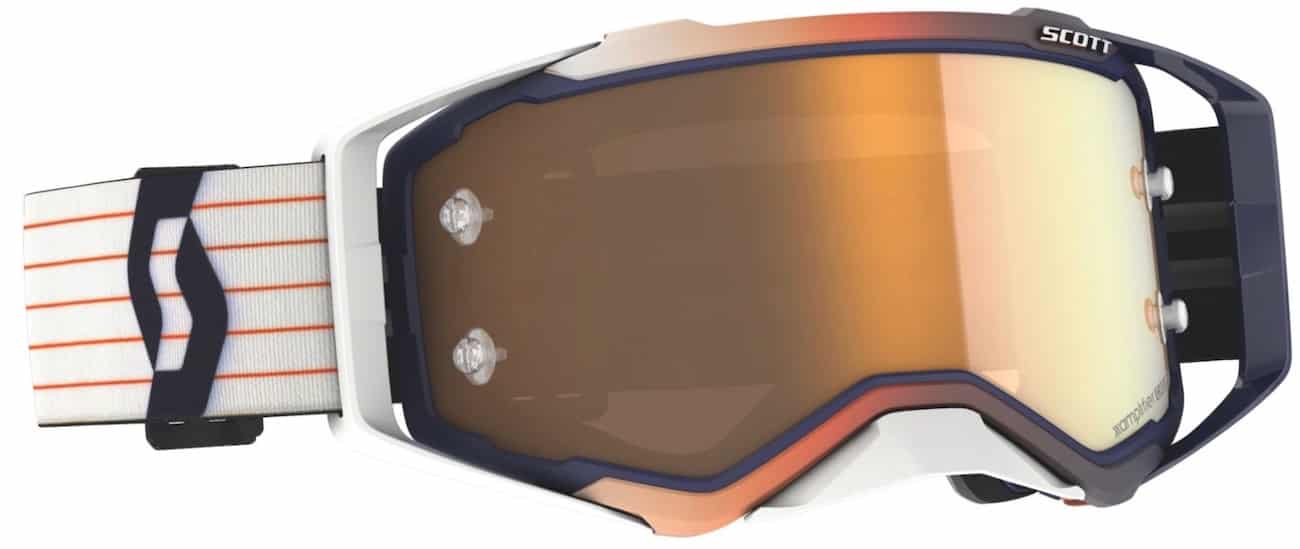 (5) Options. The Prospect Amplifier goggle currently comes in two different Prospect goggle designs with two different lens options. The rose lens is our favorite and this goggle retails for $104.00. And, the same Amplifier technology is also available in a gold chrome lens as well for $124.00. When buying a replacement, the Amplifier lens costs $49.50, while a standard lens costs $26.00.
WHAT'S THE SQUAWK? The Amplifier lens is a huge hit with our test riders, but $49.50 is expensive for a replacement lens. 
MXA RATING: If you're in the market for a Scott goggle, we always recommend  the Prospect Amplifier goggle. You'll get a new goggle with the high-definition lens at the same time, and it's only a few bucks more than a standard Prospect goggle without this lens. However, do your best to take care of it, because 50 bucks is a lot to pay for a replacement.