MXA TEAM TESTED: SWITCH HAULER BUMPER CARRIER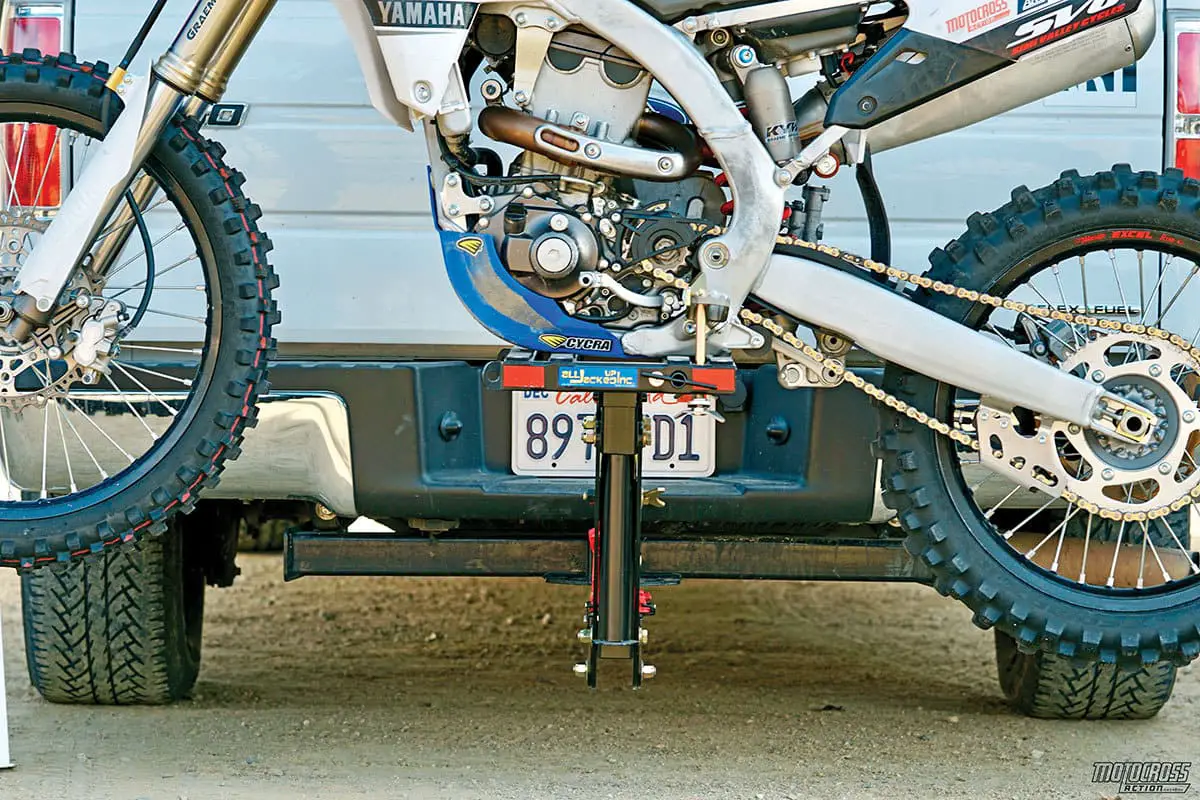 WHAT IS IT? MXA has considerable experience with the Switch Hauler. It is the strongest, most durable bumper carrier we have ever tested. Bumper carriers are for people who don't own a pickup, van, trailer, Sprinter or semi. Even if you have a Ferrari, as long as it has a Class III or better hitch receiver, you can haul your bike to the track with a Switch Hauler.
WHAT'S IT COST? $449.00 (straight tongue), $479.00 (2- or 3-inch drop tongue).
CONTACT? www.alljackedupinc.com or (760) 500-3397.
WHAT STANDS OUT? Here's a list of things that stand out with the Switch Hauler bumper carrier.
(1) Design. The Switch Hauler is American-made and American strong. There is nothing flimsy about the construction. It is obvious that the designer knows how motocross racers drive and wants to ensure that your precious baby gets to the track in one piece—not dragging behind your car down Interstate 95.
(2) Features. It comes with footpeg restraints, strap eyelets, theft-deterrent tabs, a powdercoated finish, three different drop heights and a 350-pound carrying capacity. What we liked most about the Switch Hauler was that when we lowered it down, a leg extended downward to the ground to make the Switch Hauler ultra stable. We had test riders who used the Switch hauler as a bike stand (because there wasn't enough room to carry a bike stand in their Lotus).
(3) Tongues. Depending on what type of vehicle you plan to use to carry your bike, the Switch Hauler has a tongue configuration that will work perfectly. The straight tongue is the most commonly used. The straight tongue provides the most ground clearance, is the cheapest to buy, and works best on SUVs, sedans and cross-over vehicles. The 2-inch drop tongue works best with most pickup trucks, and the added drop makes it easier to get your bike down to the ground and allows room for the tailgate to be lowered without interference. The 3-inch drop tongue actually has 3-1/4 inches of drop. This unit provides enough clearance for most big trucks and ensures that the tailgate will not hit on the carrier when the tailgate is dropped down so poeple can sit on it (only a few trucks need the 3-inch drop tongue, and Switch Hauler has a list of those trucks and can even provide you with a template to check for clearance before purchase). Be forewarned that the greater the tongue's drop, the more likely it is to scrape when exiting sharply sloped entrances and exits.
(4) Performance. This is an awesome bike carrier. Because of the high-quality footpeg restraints, there is nary a wiggle at freeway speeds. Its up-and-down motion and the overall stability when the bike is strapped on are amazing. Its modular design makes it easy to install and it can be broken down for storage into small spaces (unlike ramp-style racks). No added ramp is required to get the bike up or down. This product is great at getting your bike to the track, whether you own a car, SUV, cross-over or have a camper shell on your pickup truck.
WHAT'S THE SQUAWK? Price. But, do you really want to put your $9000 bike on the cheapest carrier made?
MXA RATING: In every endeavor, only one person, thing or product can be the best. In motorcycle bumper carriers, the Switch Hauler is it.