MXA TEAM TESTED: THOR COMP XP FLEX UNDER-PROTECTOR
WHAT IS IT? It's no secret that motocross is a fashion-conscious sport. Racers spend thousands of dollars on gear just to look good. Protection often plays second fiddle to fashion sense. As scary as that may sound, nowhere is this more evident than in the Pro ranks. AMA Pros can least afford to get hurt, but, as a rule, they wear the least protective equipment. Rather than cover up their fancy jerseys with a plastic chest protector, they play Russian roulette with roost and whoops.
WHAT'S IT COST? $49.95 (short sleeve), $59.95 (long sleeve).
CONTACT? www.thormx.com or (858) 748-0040.
WHAT STANDS OUT? Here's a list of things that stand out with the 2023 Thor Comp XP Flex under-protector.
(1) Goal. As a company whose history is built around protective gear, Thor hates to see racers take the unprotected route. They understand that not everyone is willing to don a full chest protector over or under his jersey. Riders don't want to cover up that flashy new jersey that matches so well with their pants. The solution? The Thor Comp XP under-protector is available in a $49.95 short-sleeve version or a $59.95 long-sleeve version with additional padding on the shoulders and forearms.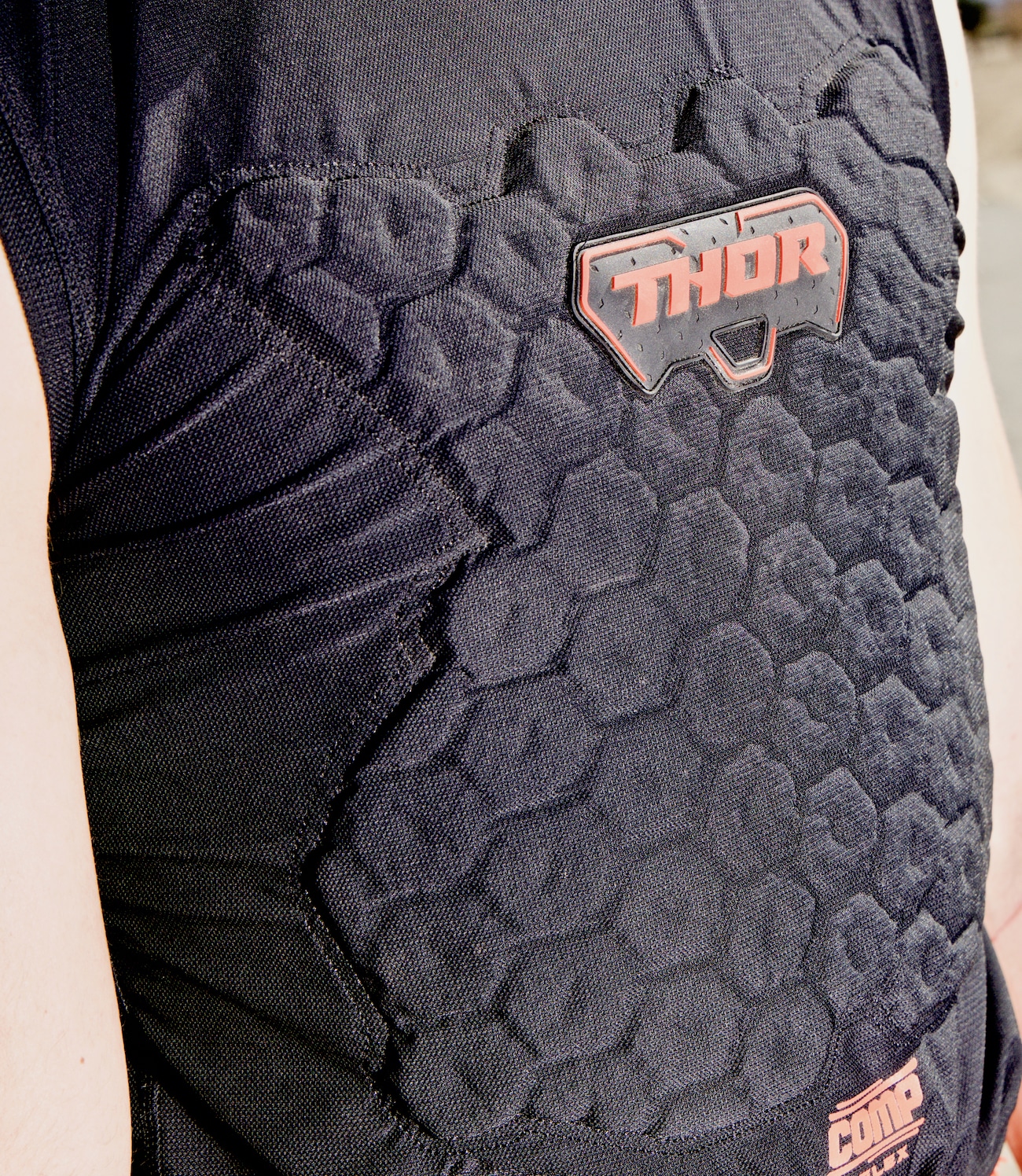 (2) Protection. Is the Thor Comp XP Flex under-protector as protective as a plastic chest protector? Absolutely not. True-to-life chest protectors, like the Thor Sentinel and Guardian, can withstand and deflect heavy hits. Not so with the Comp XP under-protector. It is designed with light padding on the chest that is articulated to move with your body. The padding can and will protect your body from the dirt roosting off of the rear tire of the bike in front of you.
(3) Fit. When an under-protector fits properly, you don't even realize you're wearing it. The Comp XP is virtually invisible and, best of all, it does not add extra girth to your torso. The mesh body of the shirt works as a "compression fit" base layer and breathes so well that you will never overheat.
(4) Comfort. Many under-protectors irritate your skin, but the Comp XP is made with very soft material, and the seams are flat stitched so you never feel them. The MXA test riders chose to wear the short-sleeve version under their jerseys. We don't recommend using the Comp XP on the outside
WHAT'S THE SQUAWK? No complaints. It works as claimed.
MXA RATING: When you choose an under-protector, you have no right to complain if you crash and get bruised. You chose to wear the minimum—but at least you understood that it was better than wearing nothing.