MXA TEAM TESTED: THOR MX PULSE GEAR
WHAT IS IT? Pulse MX gear is the mid-level line from Thor MX, and it has been raced in this season by factory KTM riders Cooper Webb and Marvin Musquin, as well as Star Racing Yamaha riders Dylan Ferrandis and Shane McElrath. The Pulse MX gear was designed to check the boxes in the cost, durability, flexibility and breathability departments. Thor Pulse gear is available in orange/black, black/red, blue/white, army green/acid, blackout and acid/black (shown above).
WHAT'S IT COST? $39.95 (jersey), $114.95 (pant).
CONTACT? www.thormx.com or your local dealer.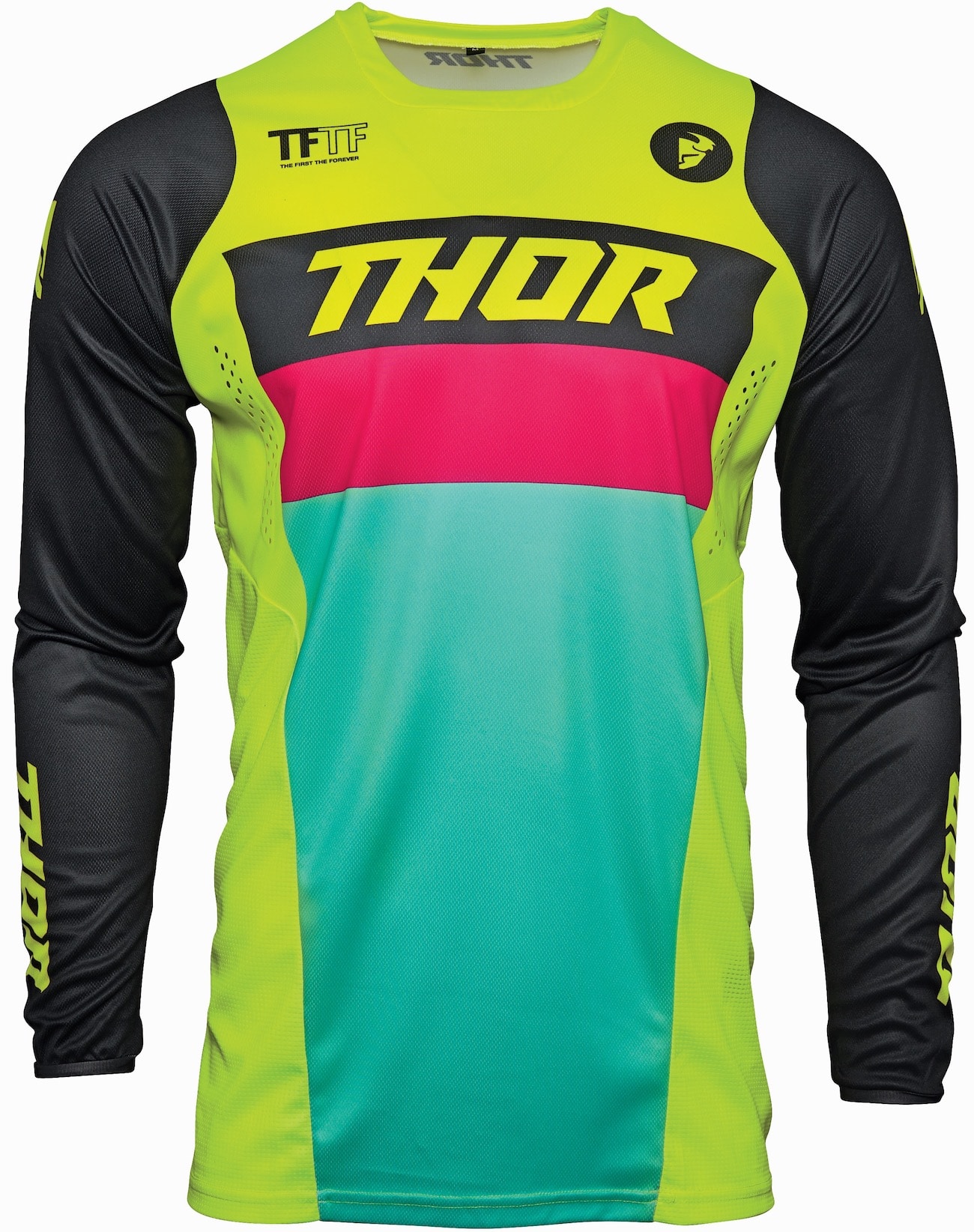 WHAT STANDS OUT? Here's a list of things that stand out with the Thor MX Pulse gear.
(1) Jersey. The new Thor MX Pulse jersey comes with laser-cut holes for ventilation and has a dimpled mesh pattern on moisture-wicking polyester fabric to increase breathability. It also comes with hybrid raglan sleeves. A raglan sleeve differs from a standard sleeve in that it extends up onto the shoulder and is attached by a diagonal seam from the underarm to the neckline. Most motocross jerseys have standard sleeves that end at the shoulder. You won't notice it on the track, but your girlfriend might pick up on the stylish Thor designer sleeves. 
(2) Pant. The Thor MX Pulse pant has been redesigned with strategic placement of the materials to offer a balance between mobility and durability. It also has new laser-cut air holes to keep you comfortable during long days in the saddle. The 600D polyester material and double stitching work together to improve strength in high-wear zones while teaming up with in-motion stretch panels for flexibility. The pant uses a unique zipper and button closure, and the waistband relies on a dual Velcro sans-a-belt system to adjust the size of the waist. The pant also features full-grain leather knee patches that are 9 inches tall by 6 inches wide and an inner mesh liner that extends to the top of the knees with a small pocket built into the liner so you can store keys or other valuables. 
(3) Fit. The Thor MX Pulse's form-fitting cut gives the rider a snug and well-tailored feel. Thor's top-of-the-line Prime Pro gear is its "athletic fit" gear, thanks to its spandex-infused cycling-style construction. The Pulse gear does not qualify for admission into the form-fitting, skin-tight, athletic-fit category. Thor's midline MX Pulse gear sacrifices some mobility and breathability to gain more durability. The Pulse gear isn't the most flexible gear made, but it's very durable, and we appreciate that. The MXA wrecking crew feels that when a rider invests in new gear, he wants it to look good for a long time.  
(4) Options. The Thor MX Pulse pants are available in sizes from 28 to 44 inches. The jerseys are offered in sizes from small to triple extra large. On an added note, Thor MX doesn't sell direct to the public. To buy Thor gear, you'll need to go through your local dealer or mail-order warehouse.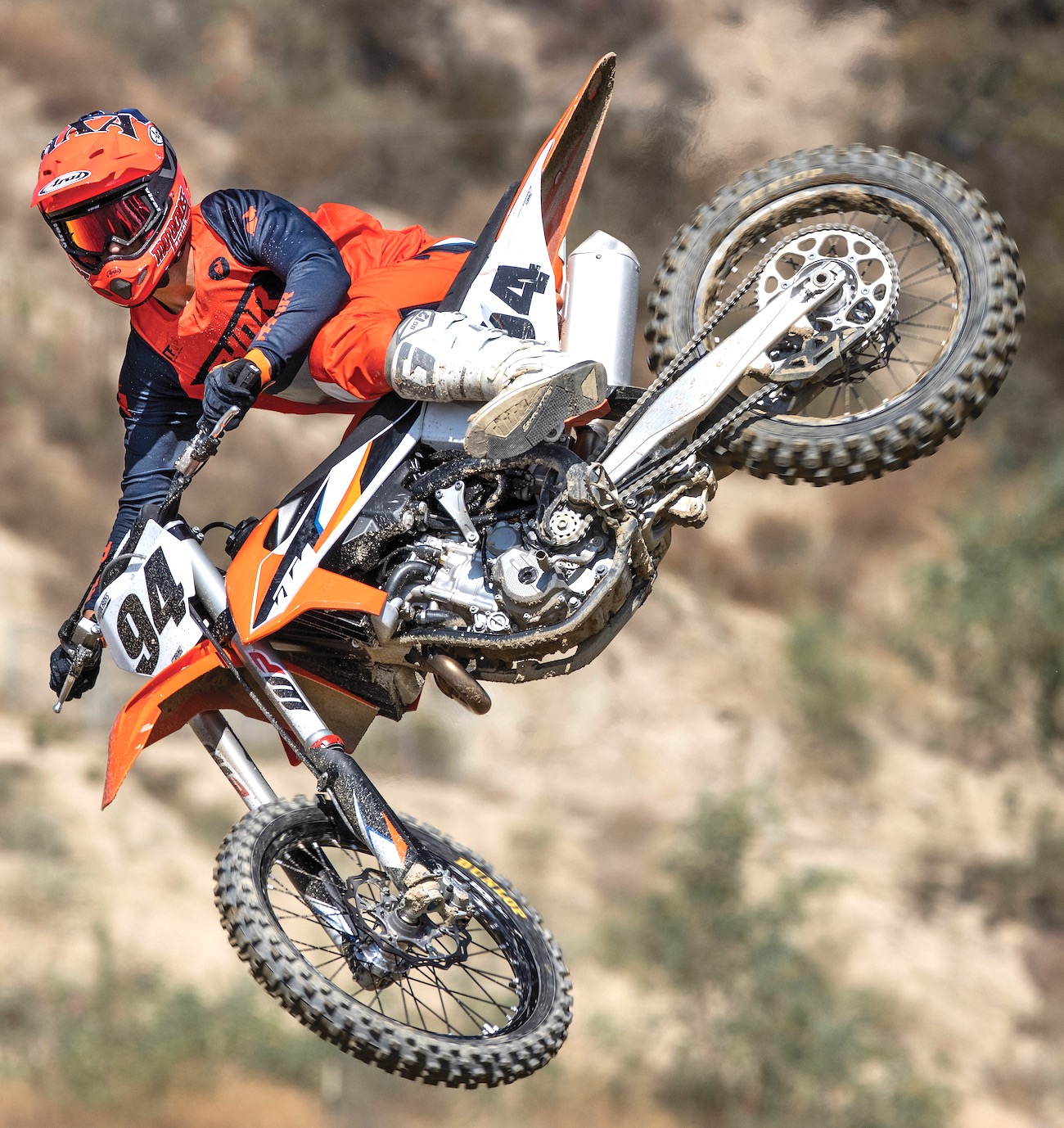 This is the MX Pulse gear in orange/black.
WHAT'S THE SQUAWK? The Velcro sans-a-belt straps on each side of the Thor MX Pulse waistband have the ability to take up a total of 6 inches of slack; however, the pants didn't have elastic to permit extra room for bigger testers. It worked great for smaller riders, but our bigger tester's egos were damaged. The straps only helped make the pants smaller, not larger. Some MXA test riders who normally fit into size 32-inch Thor Prime Pro pants couldn't squeeze into the Pulse pants of the same size. If you're on the big side of size 32, you might want to try these pants on at the dealership before you buy. 
MXA RATING: We liked the simple yet bold color options on the Thor MX Pulse gear. We also appreciated the price point and durability. If you want gear that will last, buy Pulse. If you want performance-oriented flexibility, buy Prime Pro.