MXA TEAM TESTED: TWIN AIR HEAVY-DUTY WET POWER WIPES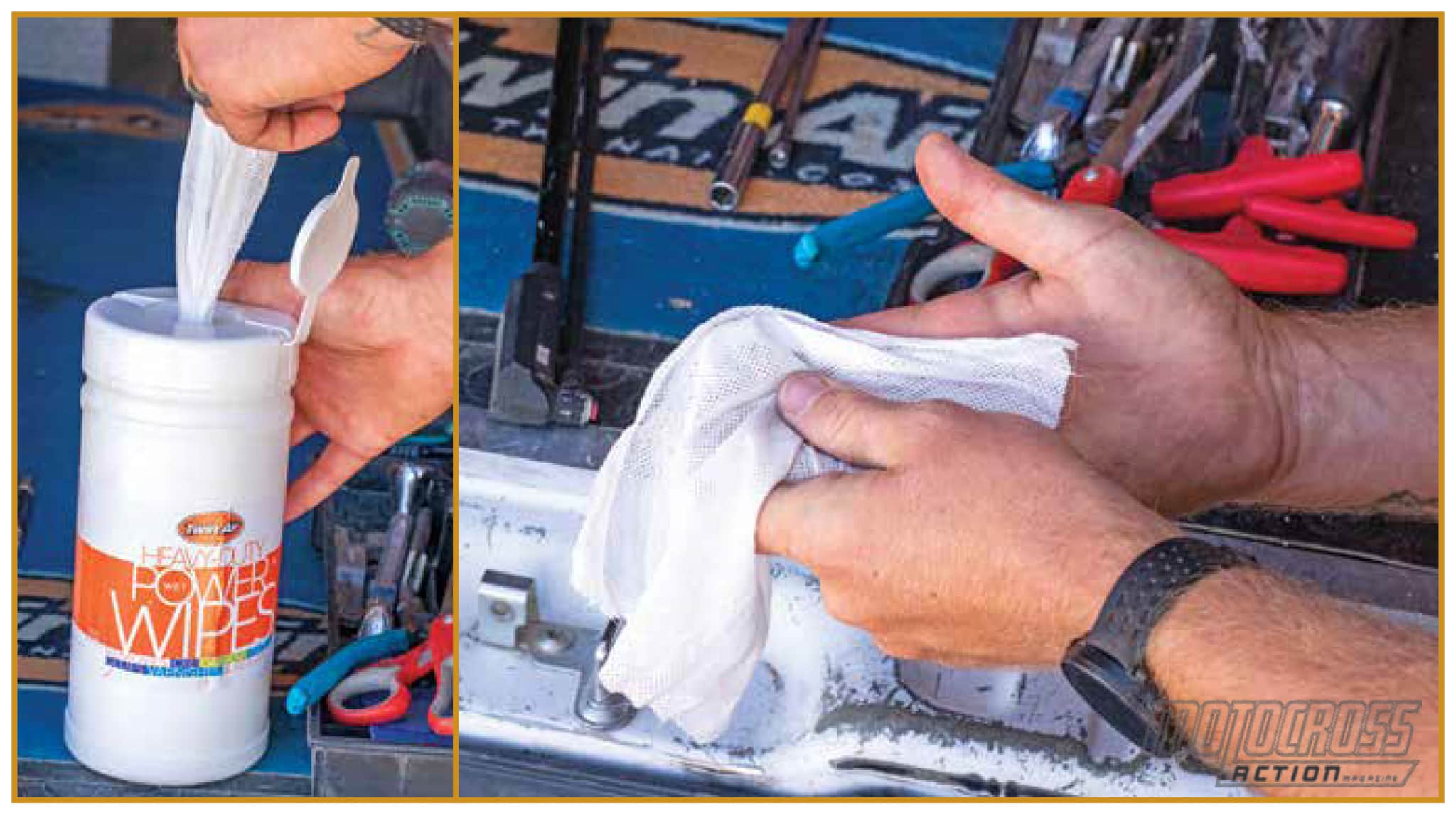 WHAT IS IT? Twin Air has a long history in the sport of motocross, with roots all the way back to 1972 when Twin Air came out with the first-ever, flame-laminated, dual-stage foam air filter that allowed free airflow into the carburetor while providing maximum protection against dirt, dust and water. Fifty years later, Twin Air is still a leader in air filter technology, including air filter oil, cleaner and Power Flow air filter kits. The Twin Air Power Wipes are a brand-new product for this company. They won't increase power or durability, but they can be used to clean your hands after dealing with air filter oil or grease at the track, which, if you are a real racer, you know is a major hassle. 
WHAT'S IT COST? $32.95 (70 wet wipes per container).
CONTACT? www.twinairusa.com or (800) 749-2890.
WHAT STANDS OUT? Here's a list of things that stand out with the Twin Air Heavy-Duty Wet Power Wipes.
(1) Concept. By adding a wet wipe to their product lineup, Twin Air now offers a solution for greasy/oily hands. We'll admit that we never expected to see a product like this from Twin Air, but since discovering it, the Wipes have come in handy at the track for the MXA wrecking crew. These are grime-fighting Wipes that can clean your bike, tools and hands. These durable, damp and highly absorbent Wipes were made to take on heavy industrial grime, including oil, grease, paints, glues, varnishes and sealants. The Wipes work without solvents. They smell like eucalyptus, and they don't leave a sticky feeling. 
(2) Hands. Nobody wants to get their hands all greasy and then stick them straight into their riding gloves. More often than not, MXA testers are digging into their friend's vehicle looking for rag to clean the grease off their hands. Tough on grime but gentle on hands, the Twin Air Power Wipes are a nice addition to our track-day arsenal. Mostly, we have been using these Wipes to clean our hands after changing air filters, re-greasing axles, changing tires and any other track-day activities that leave our fingers feeling sticky. The Twin Air Wipes are impressively strong, not like the traditional wet Wipes we've used in the past. 
(3) Tools. Although we have primarily used the Twin Air Wipes to clean our hands, we've also used them to clean the grease off our wrenches and ratchets, as well as our tables, toolboxes, stands and more. Basically, we use the Wipes on any spot that is sticky, greasy or dirty in our vehicles. It's nice to clean oil spills with a one-time-use wipe rather than traditional rags that eventually end up in the washing machine or garbage can. The Twin Air Wipes are surprisingly strong, and they stay moist much longer than you'd expect. However, because we were "testing" these Wipes, we used them as long as we could to find their limit. After multiple clean-up projects at the track, the Wipes fill up with dirt, oil and grease, but they're still useful for a bit longer if you add a little water to the Wipes to breathe life into them. 
WHAT'S THE SQUAWK? The Twin Air Power Wipes worked well, but they aren't as tough on grease as traditional Fast Orange or Grip Clean Pumice lotion-style hand cleaners (you know, the hand soap with sand in it). We were able to get most of the grease off our hands, but the stronger stains took some extra scrubbing to get rid of. 
MXA RATING: The idea of doing a wet wipe product test is new for the MXA wrecking crew, but it's a brand-new venture for Twin Air, too. The Twin Air Power Wipes are stronger than any other wet wipes we've used, but they aren't as strong as we hoped for. If you're hands are covered in grease you'll need extra help.