MXA TEAM TESTED: UNIT W5010 TEAM PRACTICE STARTING GATE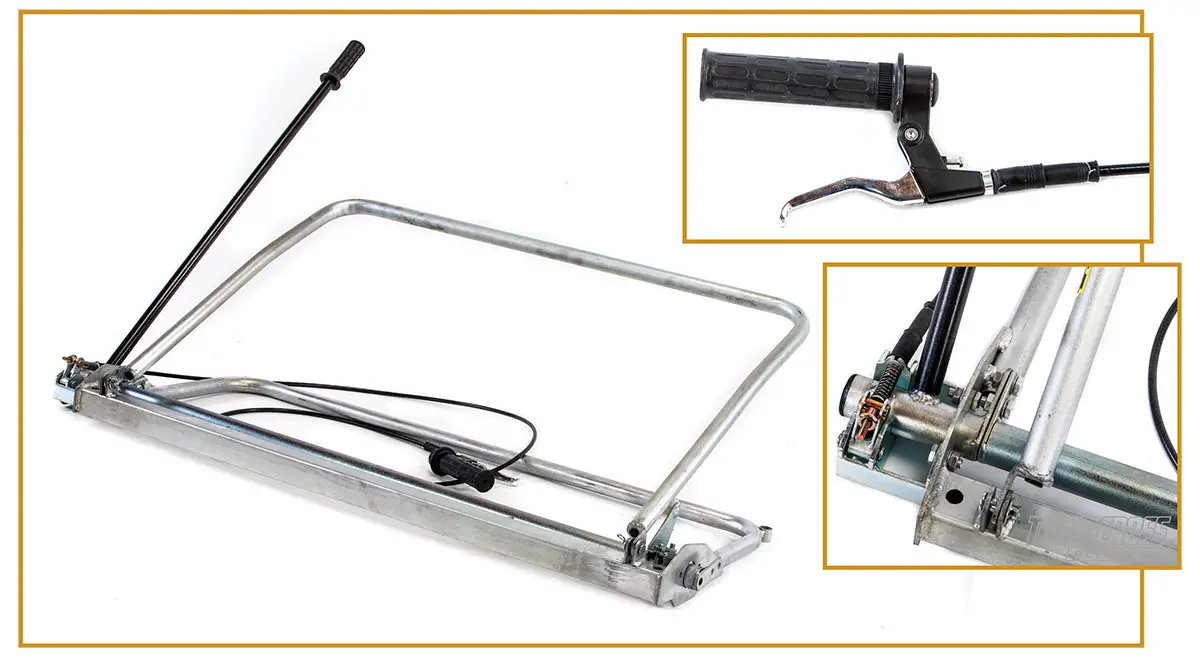 WHAT IS IT? The Unit W5010 Team starting gate is an inexpensive motocross starting practice gate that sharpens a rider's reflexes and improves technique when used properly. It does take some mechnaical skill to get it to work—thanks to poor instructions.
WHAT'S IT COST? $149.95 (additional W5012 gate, $102.95).
CONTACT? www.unit-products.com or your local dealer.
WHAT STANDS OUT? Here's a list of things that stand out with the Unit W5010 Team starting gate.
(1) Specs. The FIM standard on gate height is between 19.68 inches and 20.47 inches. The Unit W5010 height is adjustable. We tested it from 14 inches to over 20 inches. It has a standard width of 34-1/2 inches, weighs 19 pounds and has a drop cable length of 7 feet 4 inches.
(2) Options. The Unit W5010 Team gate can have up to five additional gates added to it for practice partners. The add-on gates are different from the single-person gate. The W5012 additional team gate is the corresponding add-on gate for the W5010. The Unit W5010 Team starting gate comes with one linking plate, and the W5012 additional team gate comes with two linking plates. So, if you want to practice starts against your racing buddy or sister, you have to order an additional W5012.
(3) How it works. The initial challenge we had with the Unit W5010 Team gate was with the instructions. They weren't very clear, but we eventually figured them out. To set the gate, you pull the handlebar grip lever (grip it hard), then raise the gate. There is a gate-lifting pole that can be used to prevent the need to bend over to raise the gate after dropping it. There are two pinholes in the front and two in the back to secure the unit in place in the dirt. A set of stakes are included to secure it to the ground.
(4) Performance. Overall, the Unit W5010 Team gate worked quite well for the MXA team. Initially, we had a hard time adjusting the cable, but once the cable was adjusted correctly, it worked very smoothly for 100 pulls before we had to readjust it. We had no issues with the bars or any other parts bending through use. The nuts and bolts do need to be checked regularly, since there are so many moving parts, but once everything was set, the MXA crew had no issues with anything coming loose. One thing to keep in mind is that the pin mechanism by the cable must stay clean and free of debris. If any dirt or debris gets lodged in there, the gate won't release as accurately as needed.
WHAT'S THE SQUAWK? The only squawk we had was that the instructions were very vague—so vague that the first two MXA test riders walked away in frustration and left it to a third test rider to figure it out. It takes some patience to adjust the cable tension properly to keep the gate locked in the upright position. Overall, the MXA team was pleased with the performance of the Unit W5010 Team starting gate—once we got it set up. It doesn't come assembled, but it is also less expensise than competing gates.
MXA RATING: Constant honing of skills is what turns mediocre starters into holeshot artists. Practice is the key to successful racing. A good start not only builds a rider's confidence during a race, but it is a skill that you need if you want to win. The Unit W5010 will help you do just that. We can only hope you're mechanically inclined enough to put it together.