MXA TEAM TESTED: WORKS CONNECTION PRO LAUNCH
WHAT IS IT? Works Connection has been a market leader in holeshot devices since they came out with the Pro Launch in 2002. This is the second-gen Pro Launch, and it's a must-have for serious motocross racers. This is the same device used by Star Racing Yamaha, HRC Honda, MotoConcepts Honda and the MXA wrecking crew. 
WHAT'S IT COST? $129.95.
CONTACT? www.worksconnection.com or [email protected]
WHAT STANDS OUT? Here's a list of things that stand out with Works Connection's Pro Launch device.
(1) History. The original starting device was invented back in 1979 by Husqvarna rider Arlo Englund. It was a simple trigger device, but Arlo only used it for one season. It wasn't until 22 years later that Arlo's idea was rediscovered at the Yamaha Grand Prix team that Chad Reed raced for in 2001. When Chad moved to America in 2002, he told Yamaha USA about the idea and Chad showed up at Anaheim 1 with the starting device (that Yamaha tried unsuccessfully to hide from prying eyes). From that time on, the holeshot device became the thing to have.
(2) System. Works Connection started out like everyone else with a spring-loaded device but soon replaced the old-fashioned spring and plunger with a magnetic locking system. This new design was more consistent and less likely to malfunction and catch mid-race because of the strong magnet.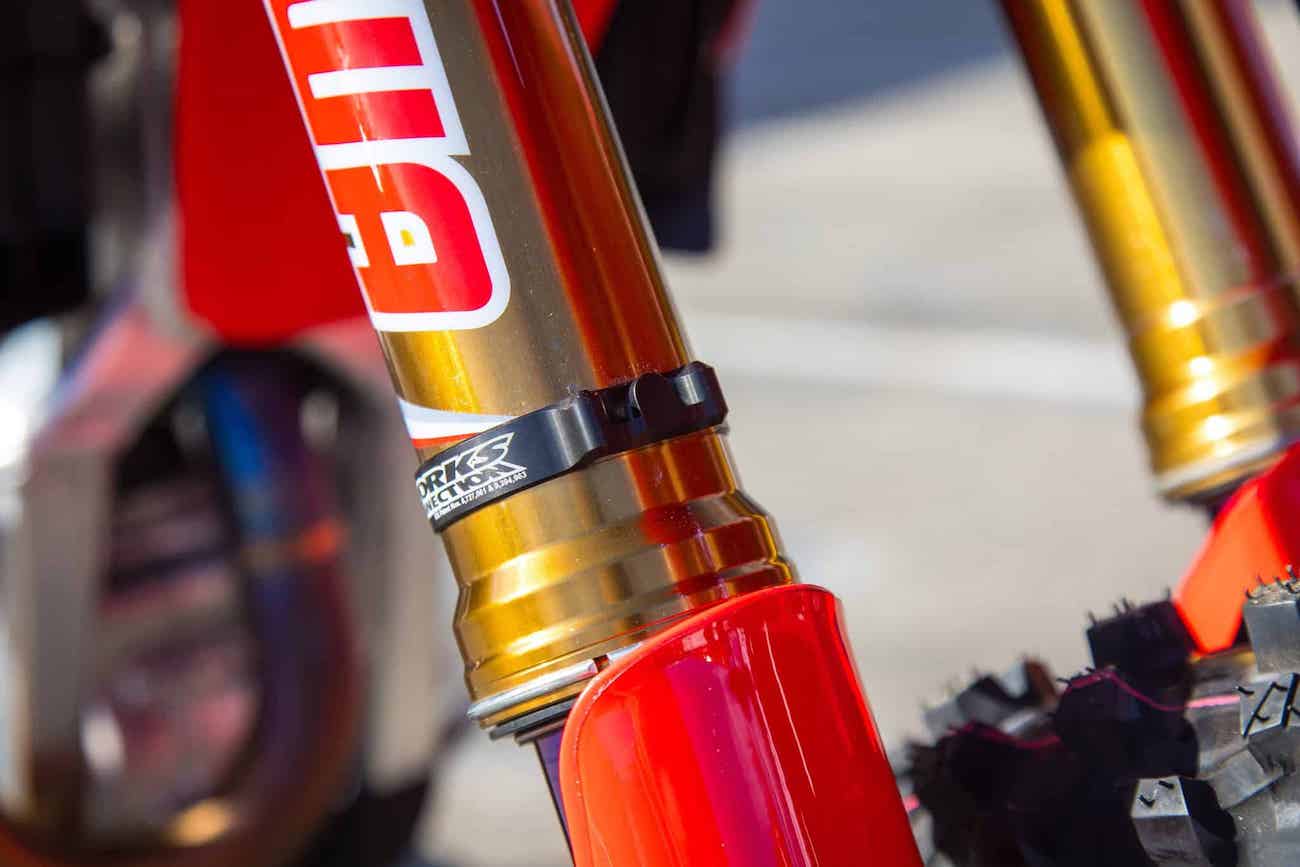 (3) Activation. Because of its lever-style mechanism and chamfered engagement point, the Pro Launch glides over the receiver on the way down and catches on the way up. Some riders can set the device by themselves, but most MXA test riders have a friend engage it for them. To set it, the rider has to hold the front brake on while he or his mechanic compress the fork by pushing down on the handlebars with a rocking motion. There is a learning curve to mastering it. 
(4) Installation. Works Connection provides an aluminum template with pre-drilled holes, plus three different paper templates in the shape of each brand's fork guard to align the aluminum template at 90mm, 100mm and 110mm. Once you choose the location of the device, you tape the metal template to the fork guard and use the supplied drill bit to make the mounting hole. It's easy.
(5) Consistency. Historically, starting devices have been difficult to set, disengaged unexpectedly, refused to disengage, or broke the fork guard off the bike. The new Pro Launch is a different story; it works consistently every time. Works Connection holeshot devices are bike and brand specific to ensure each model has a perfect fit. 
(6) Setting. MXA test riders typically run their Pro Launch devices at 100mm, which is in the middle of Works Connection's recommended settings; however, tackier dirt behind the starting gate might require setting the device lower because of the increased traction on launch. In Supercross and MXGP races, where they use a metal starting grate, we've seen riders set the device as low as 160mm. 
WHAT'S THE SQUAWK? No complaints. 
MXA RATING: Works Connection's magnetic Pro Launch raised the bar far beyond the old-school button-style devices, and it continues set the bar for holeshot devices in motocross today.