MXA TEAM TESTED: YOSHIMURA RS-9 2014 CRF250 EXHAUST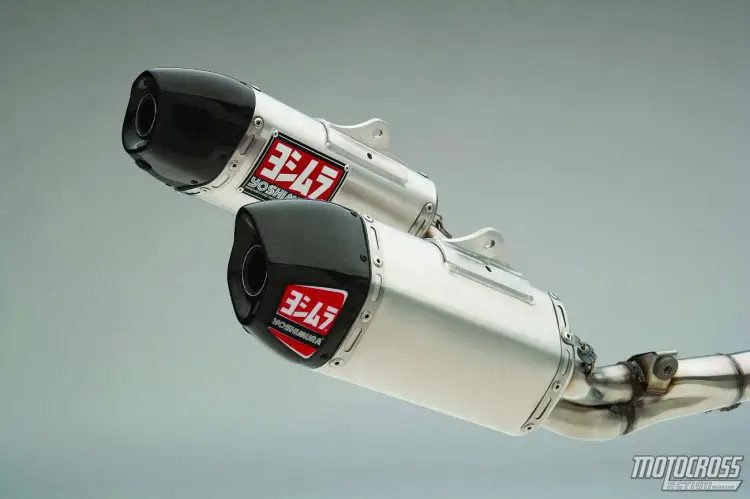 WHAT IS IT? The Yoshimura RS-9 2014 CRF250 exhaust retains the stock dual muffler concept.
WHAT'S IT COST? $895.00 (stainless/aluminum/carbon end cap), $1395.00 (titanium, titanium, carbon end cap), $1495.00 (titanium/carbon/carbon end cap).
CONTACT? www.yoshimura-rd.com or (800) 634-9166.
WHAT STANDS OUT? Here's a list of things that stand out with the Yoshimura RS-9 2014 CRF250 dual exhaust.
(1) Dual exhaust. In 2013, Honda made the decision to equip the CRF450 with a dual-exhaust system. They did this to push more weight forward for improved mass centralization. An additional benefit, although questionable considering that there are now two mufflers, is decreased potential for muffler damage in the event of a crash. This wasn't Honda's first rodeo with twice pipes—they had dual mufflers on the 2006 to 2009 CRF250s. Honda brought the twin-pipe concept back to the 2013 CRF450 first, and for 2014 equipped the CRF250 with dual exhausts also. The downsides of dual exhausts are added weight, more complexity, a higher price and more girth at the rear of the bike. Yoshimura has put their special touches on their RS-9 dual-exhaust system.
(2) Installation. In the box is a bag of goodies that includes detailed instructions, spacers, rubber grommets, washers, exhaust springs, a spring puller and 3mm hex key. Follow the instructions to ensure that all the spacers and rubber grommets are in the proper places. The exhaust fits flush, but do not crank down any bolts until the entire system is in place.
(3) Performance. The 2014 CRF250 is not rocket-ship-fast. It is smooth and manageable, but those words don't describe what 250 four-stroke owners are looking for. They want more midrange hit and a bike that revs to the moon. This is where the Yoshimura RS-9 comes to the rescue. While it didn't solve all the CRF250's power problems, it did make a noticeable difference. The power delivery was still smooth, but it ramped up faster and had more mid-to-top pull. The livelier powerband allowed the CRF250 to get back up to speed on the exit of corners. Over-rev was increased, allowing riders to carry the power farther and shift later.
(4) Weight. The Yoshimura RS-9 comes in both titanium and stainless, with the Ti version saving more weight than the stainless one, but even the less expensive version saves you over 2 pounds.
WHAT'S THE SQUAWK? We would have liked the powerband to have more midrange hit.