MXA TECH SPEC: 10 THINGS ABOUT THE 2021 KAWASAKI KX450
(1) Handlebars. Oh, happy day! The 2021 KX450 finally comes with oversized Renthal 839-bend Fatbars instead of 7/8-inch bars. We didn't really hate the 2020 Kawasaki's 7/8th handlebars, but with all the switches, buttons, levers, grips and crossbar clamps, the bars were running out of room. The big bars aren't an issue, but Kawasaki's wimpy, marshmallow-like rubber bar-mount inserts are. They twist and deform in even the smallest crashes. We replace them.
(2) Forks. The 2021 KX450 Showa forks are too soft. There are three simple solutions for slow riders, Vet riders and Pros. First, Kawasaki's stock spring rate is 5.0 N/mm. It works for lightweight riders, Vet Novices and tracks without big jumps. Second, Vet riders can run a stock 5.0 spring in the right fork leg and Kawasaki's optional 5.2 spring in the left fork leg. Voila! By math magic, that adds up to a stiffer 5.1 N/mm spring. Third, Pro riders can opt for Kawasaki's optional 5.2 N/mm fork springs in both fork legs. Short of sending your KX450 forks out for a re-valve, this is the simplest fix.
(3) Clutch. The 2021 KX450 clutch has a 7mm-larger (146mm) clutch basket, which translates into 7mm-larger clutch plates. The clutch's fiber segments are applied at an angle to move oil between the fiber and steel plates. Kawasaki got rid of its horrid judder spring system and replaced it with a full-size eighth plate. And, finally, Kawasaki replaced the five individual coil-type clutch springs with a Belleville washer, a la KTM and Husqvarna. Unlike with five separate coil springs, the large-diameter Belleville washer applies pressure to the clutch pack evenly around its circumference. The 2021 clutch is a big improvement.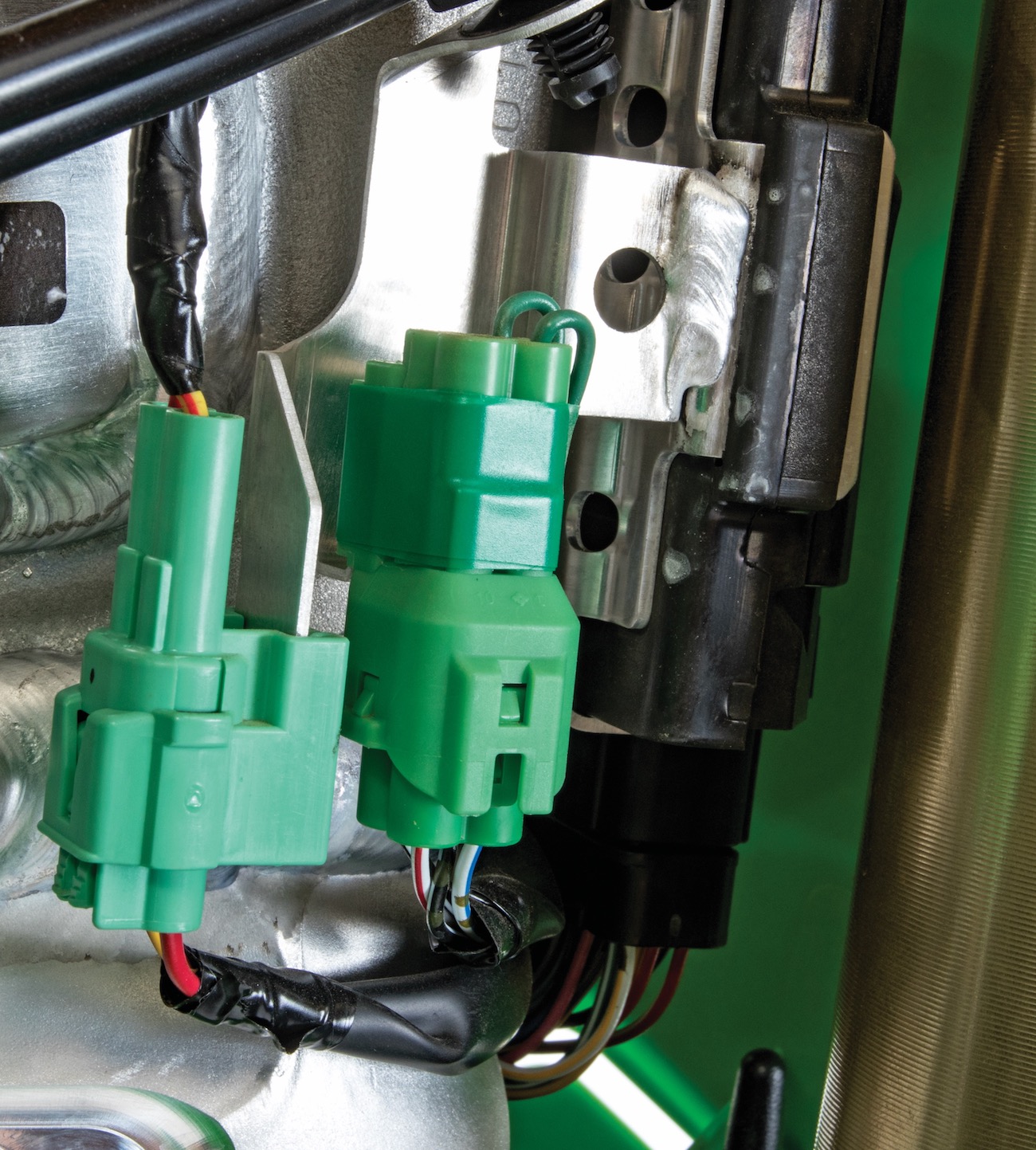 (4) Maps. Kawasaki doesn't have a push-button map switch. Instead, it uses plug-in couplers. The green plug-in is the stock KX450 map, and it delivers the best all-around power. The black coupler mellows out the complete rev range and gives up 1 to 2 horsepower from 6000 rpm all the way to 11,500 rpm. The white plug-in is the aggressive coupler. It produces the exact same horsepower from bottom to top as the stock green coupler but delivers the power with a crisper feel (and a little less over-rev). Kawasaki does offer a $700 mapping tool, but unless you are running a race team, it's simpler to send your black box to Twisted Development to put special maps in for you. Yes, you have to pay for the service, but it isn't $700.
(5) Rear brake rotor. In 2019, Kawasaki's engineers put a jumbo-sized 250mm rotor on the 2019 KX450. The big rotor lacks modulation. It is too grabby. There is no brake, and then there is too much brake. We ground the brake pad's leading and trailing edges down at a 45-degree angle which downsized the pads to ease their interaction with the rotor. We are surprised that Kawasaki's engineers didn't spec the smaller 240mm rotor they put on the 2021 KX250 and KX450X.

(6) Rear brake pedal. The rear brake pedal can be adjusted upward but not downward. To cure this, we hacksawed three threads off the bottom of the threaded master cylinder rod to give the pedal more downward freeplay; that way, a boot can touch it without locking up the brakes by accident. 
(7) Brittle plastic. Kawasaki specs very brittle plastic. Roost cracks the fork guards. This is not a rare event it's common. The front number plate cracks down the center, and the elongated arms of the radiator wings crack vertically. Order aftermarket plastic (especially the fork guards), because it is more durable.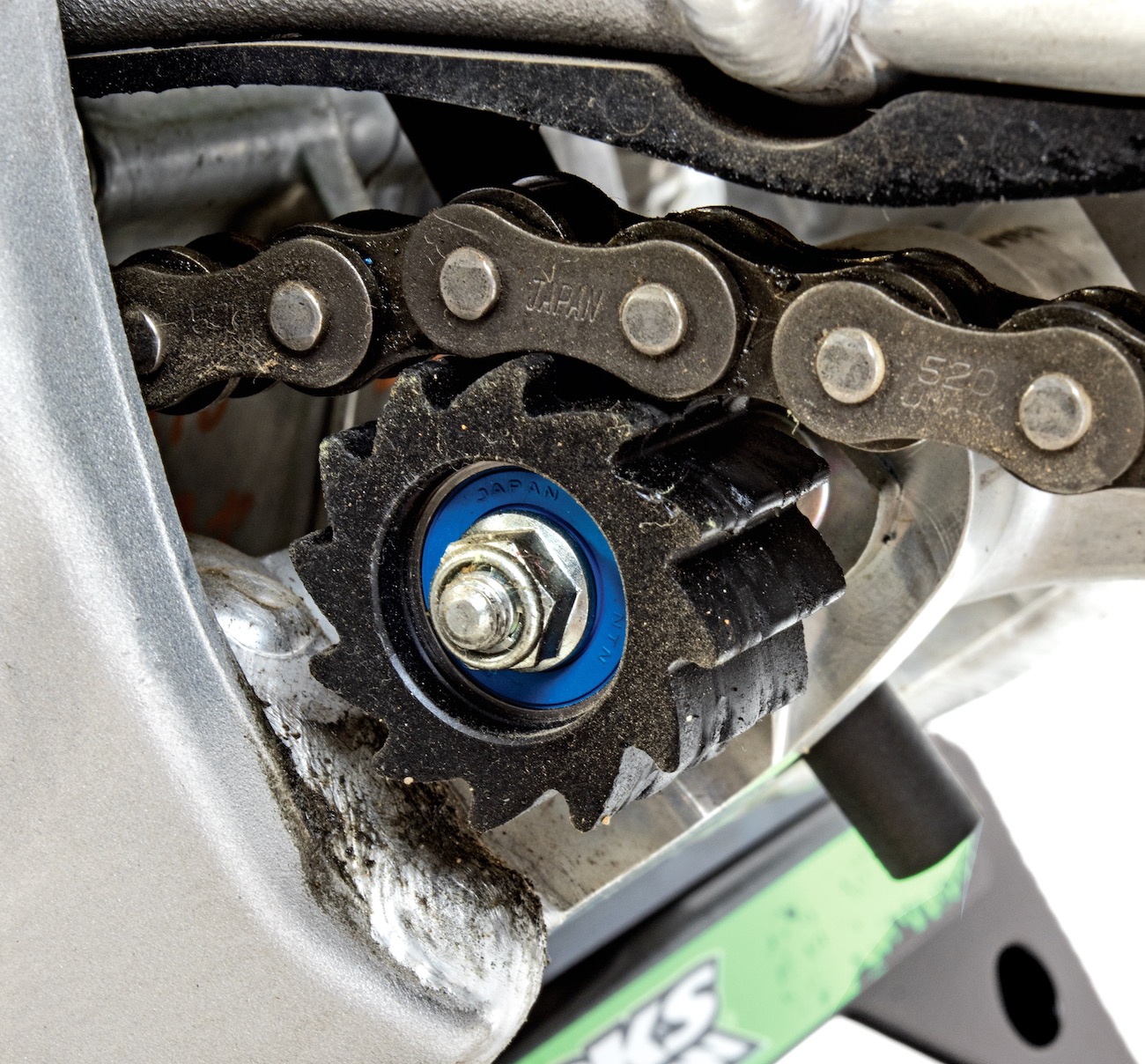 (8) Chain roller. The lower chain roller—the one under the frame that keeps the chain from whipping as it spins off the countershaft sprocket—self-destructs quickly. Considering Kawasaki's longterm problems with its rear chain guide, you should order TM Designworks parts on day one.
(9) Overheating. We run a 2.0 kg/cm2 Twin Air Ice Flow radiator cap to keep the radiator from spewing fluid. 
(10) Update. What would it take to turn a 2020 Kawasaki KX450 into a 2021 KX450? Two things. First, you would need oversized handlebars and oversized bar mounts. Second, you would need to order a complete Hinson or Rekluse clutch to upgrade the weak 2020 KX450 clutch to Pro standards.