MXA TECH SPEC: HOW TO FIX YOUR BIKE'S EVIL WAYS IN 15 MINUTES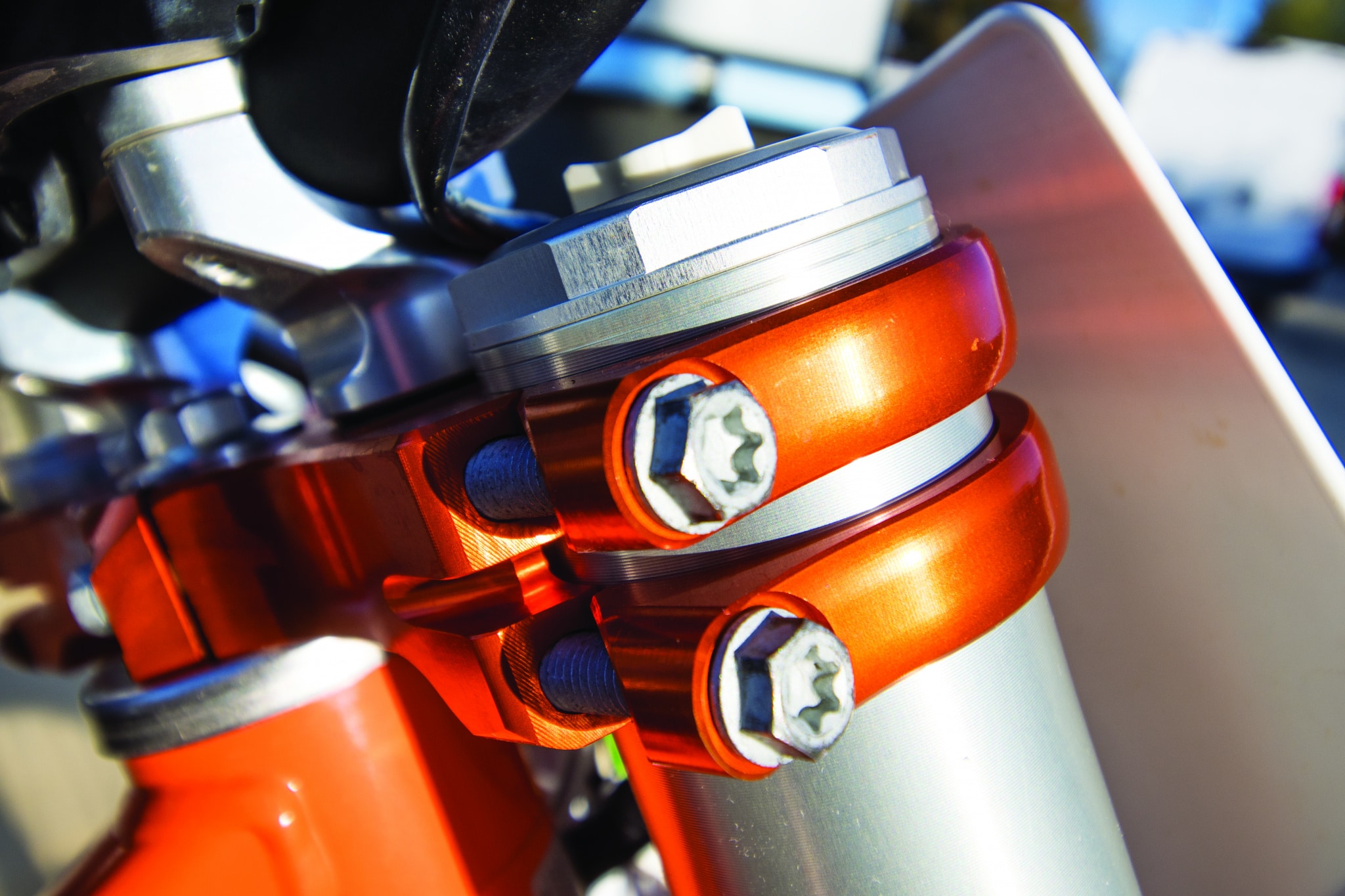 Frame geometry is the magic that makes it possible to roost corners, slam berms and survive the whoops. Forget engine technology and set aside suspension, because it wouldn't be possible to get past second gear without the self-stabilizing forces that are built into a modern motocross chassis. Without the right blend of head angle, trail, fork offset and weight distribution, your motocross machine would be hard-pressed to out-handle a Walmart shopping cart. In short it would be evil.
To truly understand motocross handling, you need a rudimentary understanding of the ins and outs of frame geometry, including head angles, trail, fork offset, triple-clamp offset, rake, front center and wheelbase. But do you really need to know that head angles are derived off of a 90-degree base number? Or that a 26.52-degree head angle is the same as a 63.48-degree head angle? Can you live without knowing that motocross bikes have head angles that range from 27.5 to 26.0 degrees? 
Yes, you can. As a rider, you don't need to know how to design a motocross bike, you just need to know how to fix it. It is possible to fix the most common handling flaws in less than 15 minutes if you understand a few basics of what makes a bike turn. Let's start with something simple. Steeper head angles turn quicker, more accurately and in a smaller arc. Steeper head angles also allow the fork to compress more when braking into corners and react better to flat landings. Steep head angles exhibit quicker turn-in, more accuracy at center-out and handling that is described as "sharp." When talking about steep head angles, think of Suzuki handling.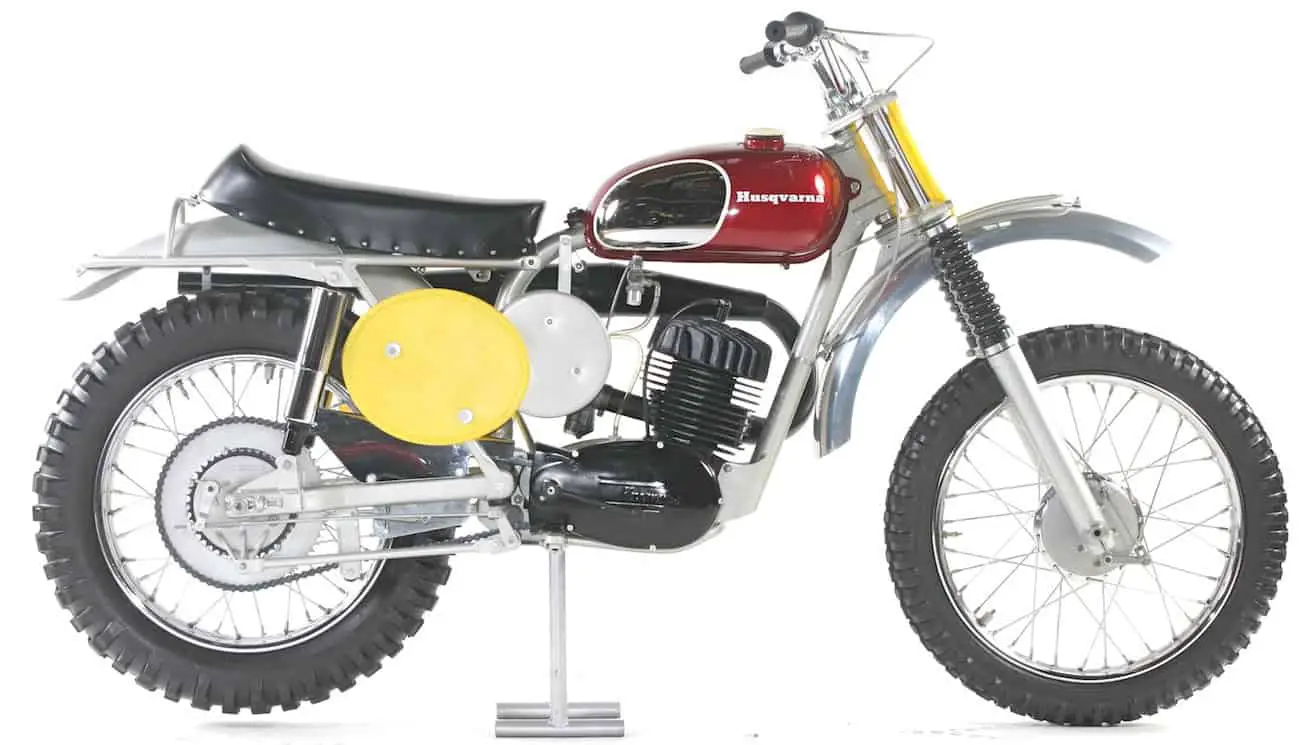 The best bikes of the 1960s had very slack 31-degree head angles, like this 1966 Husaqvarna 360. They could compensate for this because of their short travel suspension and low seat height.
Conversely, slacker head angles are stabler at speed, hold their line in the rough and have a wider turning arc. Slacker head angles make the fork less responsive to chatter bumps, flat landings and slap-downs, but more yielding to square-edge and large whoop impacts. When talking about slacker head angles, think desert bikes, off-road bikes and high-speed cross-country machines.
THE BIGGEST DOWNSIDES OF THE STEEP-HEAD-ANGLE MACHINES ARE HEAD-SHAKE AT SPEED AND OVERSTEER IN THE CORNER.
Was it understeer or was it oversteer? Dennis Stapleton doesn't care, he just wants off this runaway train.
The biggest downsides of the steep-head-angle machines are head-shake at speed and oversteer in the corner. The biggest downsides of the slack head angle are understeer in corners and a tendency to push the front tire at turn-in.
But, with a few simple changes, you can cure your bike's head shake, oversteer, understeer and push. It's no secret that how a bike is set up can alter its steering geometry. 
(1) If you have a problem with head shake, slide your fork legs down in the clamps to slacken the head angle. This same solution will also stop your bike from oversteering in tight corners and tucking the front wheel. By sliding the forks down in the clamps, you raise the head tube, which makes the chassis' head angle slacker. MXA test riders have been known to run the fork caps flush with the top triple clamps on bikes that are twitchy at speed, head shake in the rough or tuck the front wheel on corner entrance. Conversely, the same thing can be achieved by lowering the rear shock's race sag. It should be noted that if you run an aftermarket shock linkage, it will lower the rear of the bike and change the front end's steering response. Thus, aftermarket links require sliding the forks up in the clamp to balance out the chassis.
THE BIGGEST DOWNSIDES OF THE SLACK HEAD ANGLE ARE UNDERSTEER IN CORNERS AND A TENDENCY TO PUSH THE FRONT TIRE AT TURN-IN.
(2) If your bike doesn't turn tight, misses the inside line or pushes the front wheel to the outside, the solution is to slide your forks up in the triple clamps. This will steepen the frame's head angle. Forks typically come from the factory with 3 to 5mm of fork tube above the top of the triple clamps. If you raise the forks up by 3mm or 4mm more, the steeper head angle will allow your bike to steer sharper, suffer from less understeer and make the chassis more accurate. Conversely, the same thing can be achieved by raising the rear shock's sag.
Things as simple as fork height, race sag, different tire profiles and even lower tire pressures can be used to fine-tune the way the front end handles. Any adjustment that drops the rear of the bike will slacken the head angle and slow down the steering response. Conversely, more shock preload, a taller sidewall rear tire or the forks slid up in the clamps will speed up the steering response.
Should riders try to change their bike's geometry? After all, a lot of testing and engineering went into the stock frame geometry of the modern motocross bike. Yes, MXA test riders do it all the time. You are only a victim of your bike's handling characteristics if you don't understand them. Small changes will make a big difference in the way your bike handles.