MXA TWO-STROKE SHOOTOUT! THE 2013 KTM 125SX VERSUS THE 2013 KTM 150SX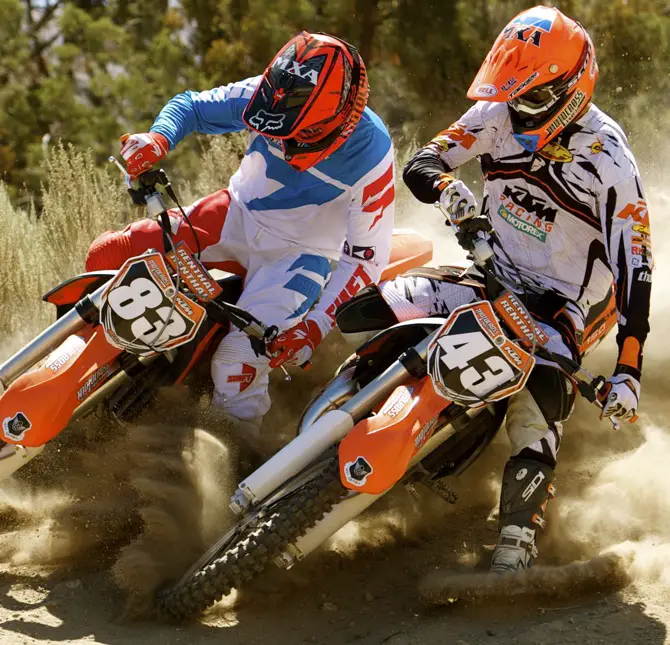 Q: WHAT'S BETTER A 125SX OR A 150SX?
A: The MXA wrecking crew can promise one thing with this shootout?KTM is going to win. But, we aren't sure that there is an outright winner because each bike is designed and built for a different reason, consumer and purpose. Who you are makes a bigger difference than the performance of either bike.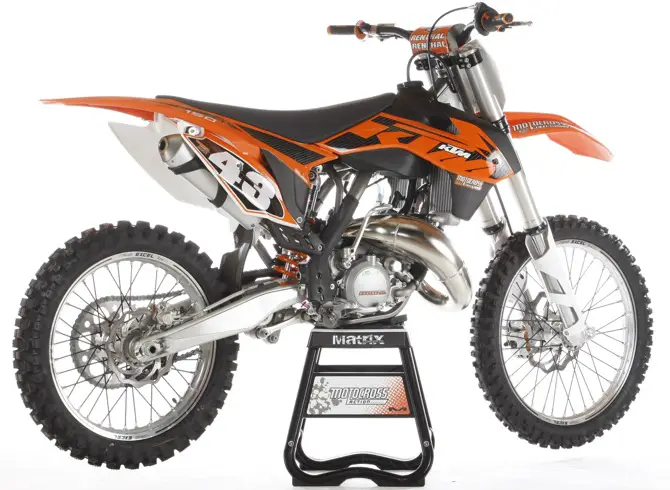 2013 KTM 125SX: At 34.66 horsepower, the KTM 125SX is a classic shriek machine.
Q: WHY DOES KTM MAKE BOTH A 125 AND A 150?
A: That is a question that KTM asks itself five years ago. Back then KTM's management team looked at the sales numbers of 150SX's versus 125SX's and decided that it was stupid to built two bikes for the same consumer. As a result the KTM 125SX was not imported into the USA from 2009 to 2011.
Then, in 2012, the same management team decided to bring the 125SX back. Why? First, many race organization didn't know what to do with the 150SX. It was legal against 250cc four-strokes, but it was illegal in 125cc two-stroke classes. Second, KTM believed that the lightweight and manageable power of the 125 was the logical progression for young riders transferring out of the 85cc class. Third, since KTM had never stopped making them for other countries, but had only stopped shipping them to the USA, it seemed logical to fill out the product line for American riders.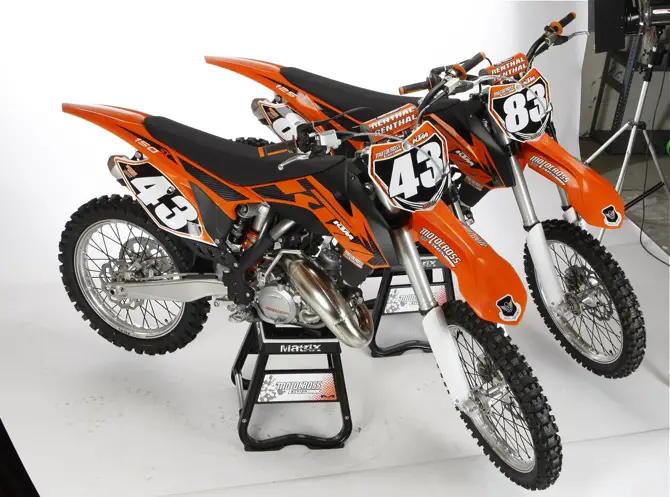 Q: WHAT CHANGES DID KTM MAKE TO THE 125SX and 150SX FOR 2013?
  A: Here is a quick look at the mods for the 2013 KTM 125SX and 150SX.
    (1) Rear end. The swingarm has been reinforced and enlarged at the axle ends to accept a larger 25mm axle (last year's axle was 20mm).
    (2) Bodywork. It was totally redesigned in 2011, but that didn't stop KTM from redoing it for 2013 (in an all-orange motif). The most noticeable cosmetic changes are the I-beam front fender (which mounts with two bolts under the bottom triple clamp and two bolts on the front of the clamp), the orange rear fender and gun metal gray frame.
    (3) Gas cap. Finally, KTM has upgraded to a thread-on cap with a much larger opening. The previous gas cap was the much hated quarter-turn locking cap.
    (4) Triple clamps. The 2013 clamps are 80 grams lighter and provide improved clamping force on the 48mm WP forks. The bottom triple clamp pinch bolts have been moved from fore/aft to left/right orientation.
    (5) Handlebars. Last year's very low Renthal 672 bars have been replaced with taller Renthal 827 bars (which have the same bend as Renthal's TwinWall 996 bars).
    (6) Wheels. KTM hubs are laced to Excel rims, but the two most obvious changes are the black anodized spokes and larger wheel spacers and axle block changes made to accommodate the new 25mm rear axle.
    (7) Radiators. KTM manufacturers its own radiators and for 2013 they used a stronger aluminum alloy to help resist crash damage.
    (8) Suspension. Fork and shock valving has been firmed up for 2013. There is a new fork oil spec (from 5 wt. to 4 wt.) and the forks seals have been upgraded to the latest SKF version. Additionally, the rising rate linkage bolts have been lightened.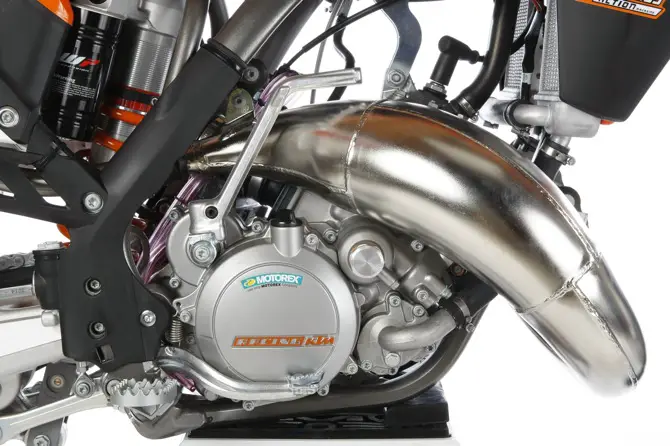 The 125 engine and 150 engine aren't different from the outside. The major diference is in bore and stroke.
Q: HOW MANY MODS DID THE 2013 KTM 150SX AND 150SX ENGINES GET?
    
A: None.
 
Q: WHAT DO THEY COST? WHICH ONE IS CHEAPER?
A: The Manufacturers Suggested Retail Price (MSRP) for a 2013 KTM 125SX two-stroke is $6449. MSRP for the 2008 KTM 150SX is $6599. That is about $100 cheaper than a comparable four-stroke.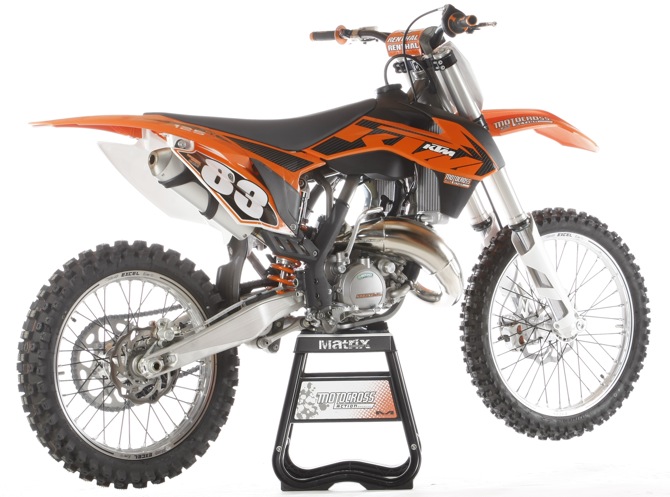 2013 KTM 125SX: At 38.88 horsepower, the KTM 150SX has plenty of low-end grunt.
 
Q: WHAT DO THEY WEIGH? WHICH ONE IS LIGHTER?
A: The two bikes are virtual clones, but the 150SX weighs a half pound more than the 125SX. The 125SX weighs 206.5 pounds and the 150SX weighs 207 pounds.
Q: WHAT'S THE DIFFERENCE BETWEEN A 125SX AND A 150SX?

A: One of the benefits of testing two bikes from the same brand is that the pairing eliminates oddities, peccadilloes and aberrations. Both KTMs share the same basic suspension, frame geometry, shock linkages, brakes, wheels and overall design. The list of differences is relatively small.
    Displacement. The 150SX is a 143.6cc. The 125SX is 124.8cc.
    Bore and stroke. The 150SX bore and stroke is 56mm by 58.4mm, while the 125SX is 54mm by 54.5mm.
    Gearing. More power can pull taller gearing, thus the 150SX has two less teeth on the rear sprocket (48T to 50T).
    Weight. Because the 150SX has a different bore and stroke, it is a little heavier than the 125SX.
    Parts. The crankshaft, cylinder, piston, power valve and rings are different between the 125SX and 150SX.
    Clutch. The 150SX uses all steel drive plates, while the 125SX uses aluminum drive plates, except for two steel plates in the middle of the clutch pack. The 150 also has stiffer clutch springs.
    Jetting. The 150S has a leaner pilot jet than the 125S, but since MXA changes the jetting on both bikes it isn't a factor.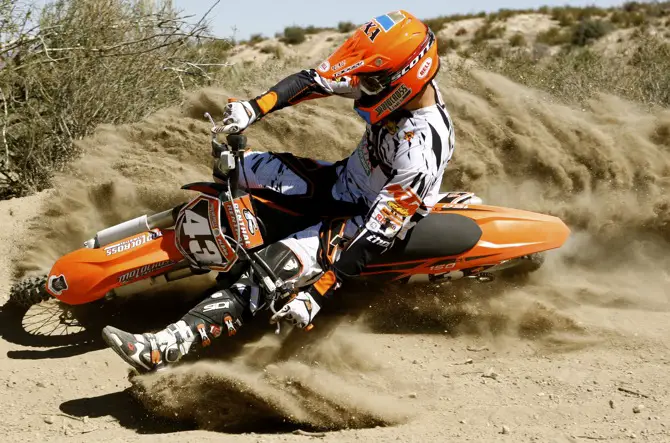 KTM 125SX makes 16.41 foot-pounds of torque at 11,000 rpm that is less than the 150SX, but more than the YZ125.
 
Q: WHICH BIKE MAKES THE MOST HORSEPOWER?
A: No need to ask. At no point on the dyno curve did the 125SX come within three horsepower of the 2012 KTM 150SX. The 125SX peaked at 34.66 (at 11,200 rpm), while the 150SX hit 38.83 horsepower (at 11,100 rpm). This power difference played out at every increment along the powerband (and was more than four horsepower from 9000 rpm to 12,000 rpm).
Q: WHAT DO THE TWO POWERBANDS LOOK LIKE ON THE DYNO CURVE?
A: To make the dyno number understandable, we will do them in rpm increments.
    7000 rpm: The KTM 150SX makes 17.45 horsepower, while 125SX is at 14.90 horsepower.
    8000 rpm: The 150SX two-stroke is producing 23.37 horsepower at 8000 rpm, while the 125SX is making 20.66 horsepower.
    9000 rpm: At 9000 rpm the 150SX is pumping out 29.07 horsepower compared to the 25.37 of the 125SX.
    10,000 rpm: The KTM 150SX makes 34.02, while the 125SX is at 30.20 horsepower.
    11,000 rpm: Nearing its peak the 150SX generates 38.83 horsepower at 11 grand, while the 125SX is at 34.37 horsepower.
    12,000 rpm: The 150SX is still strong at 32.97 horsepower, while the 125SX has dropped to 29.20.
Q: WHICH BIKE MAKES THE MOST TORQUE?
A: The 2013 KTM 150SX four-stroke cranks out 18.46 foot-pounds of torque at 10,900 rpm. That is a healthy number. The 125SX makes 16.41 foot-pounds at 11,000 rpm. The 125SX may seem weak, but it is making more horsepower and torque than the 2013 Yamaha YZ125.

When it came to which bike was faster, the results depended a lot on how you rode.
Q: WHICH ONE IS FASTER?
A: Going fast isn't always about the most horsepower. Although in most cases that is fairy tale thinking. In perfect conditions horsepower will always win. On straight line speed, the KTM 150SX two-stroke can run rings around the KTM 125SX. During our test period we faced several big step-ups out of the tight corners that the 150SX could do that the 125SX couldn't do. There is no replacement for displacement on the face of a jump.
But motocross doesn't take place in a straight line. Cumulative power is noteworthy, but the layout of a racetrack often favors a the best all-around powerband over the one with the most thrust.
How can that be? Every MXA test rider preferred the 150SX's burst of power, harder hit and stronger pull when they first started racing the two orange machines. But a funny thing happened on the way to the forum?they all decided that the 125SX was actually a better race bike. It carried its speed better, rewarded all-out attacks and had a powerband that, although down on ponies, was up on usability. It was a better blend of power?although not an abundance of it.
That doesn't mean that the 150SX was a dog. Once we switched from lightweight 125 specialist test riders and went to slightly heavier Vet test riders, the quorum at the forum switched in favor of the 150SX's more potent broadside of power.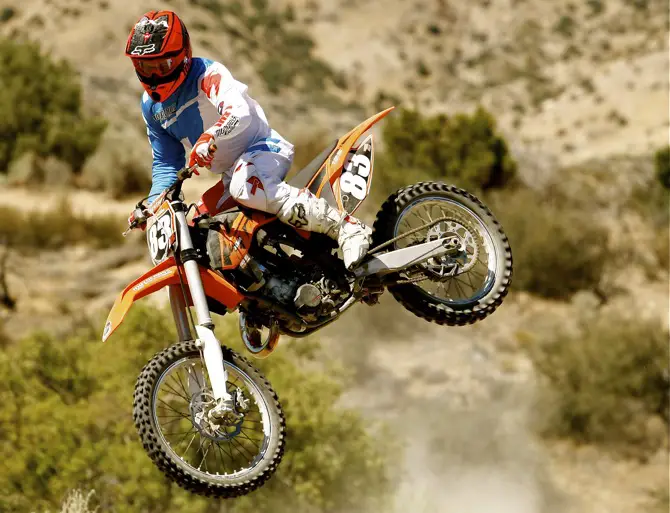 KTM 150SX.
Q: WHICH BIKE PRODUCED THE BEST RACE RESULTS?
A: Every MXA test rider had his own favorites before he raced the KTM 125SX and 150SX. We spent an inordinate amount of time switching bikes between test riders at the races?doing one moto on the 125 and the second moto on the 150. But surprisingly, the voting pattern remained the same. The smaller test riders favored the 125SX for its fluid gear-to-gear feel on the track, while the Vet riders favored the more vigorous blast of power that defined the 150SX.
The major factor that swung the vote one way or the other was the start. The 2013 KTM 150SX was much easier to get a good start on than the 125SX. This did not play a roll in 125cc two-stroke races, but when classes were mixed, with 450cc and 250cc four-strokes in play, the extra power of the 150SX came in handy.
Q: WHAT MOD SHOULD EVERY RIDER MAKE?
A: Our Pro-level test riders didn't complain as much about the stock gearing on the 125SX and 150SX as our Novice, Intermediate and Vet test riders (and since these aren't Pro bikes, we tend to listen to the amateur wish list more). We would swap the stock sprockets for one tooth large cogs immediately?on for tight , Supercross-style tracks we would think about going two teeth bigger on the rear. One caveat, if you go two teeth bigger, you must committed to getting into third gear quickly because if you ride in second gear you will make a lot of noise for very little motion.
Q: WHO IS THE TARGET AUDIENCE OF EACH BIKE?
A: You don't need Adrian Monk to answer this question. The 125SX is custom-made for a rider fresh out of the minis who wants a bike that is light enough to pick up, cheap enough to race and fast enough to win on.
The 150SX is for older riders who are tired of blown-up thumpers. It is purpose-built for riders who want to jump everything on the track, compete against mix-and-match displacement fields and feel good about the bike they ride. It is the perfect bike for a Vet class racer or a professional practice rider. In essence, the 150SX is more fun to ride because it doesn't require the same level of commitment or determination that the 125SX does.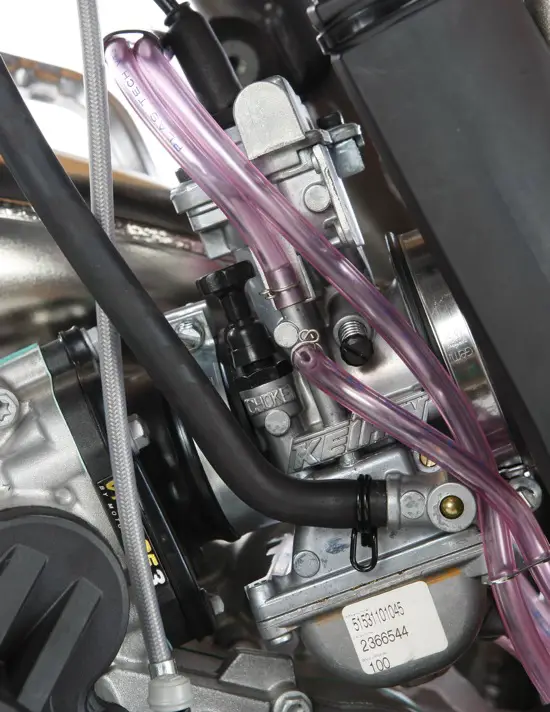 Q: WHAT WERE OUR BEST 125 SX JETTING SPECS?
A: Here's what we ran in the 38mm Keihin PWK carb (the stock settings in parenthesis)
    Mainjet: 185 (182)
    Pilot: 40 (42)
    Needle: NOZI
    Clip: Third clip from top.
    Air screw: 1-1/2 turns out.
    Notes: For soft terrain, fast riders, big hills or cold weather, we run the 42 pilot and a 190 main. For comparison purposes, the 150SX comes with the same 182 main, but a leaner 40 pilot. We, however, run a richer main and the 150SX pilot on both bikes.
Q: WHAT WERE OUR BEST 150SX JETTING SPECS?
A: We have always felt that the KTM 150SX is on the lean side…which only gets worse in cool weather. Here's what we ran in our 38mm PWK(stock settings in parenthesis).
    Mainjet: 185 (182)
    Pilot: 40
    Needle: NOZI needle
    Clip: 2nd clip from top
    Air screw: 1-1/2 turns out
    Notes: In cool conditions we would consider a 190 main and a 42 pilot.
Q: WHAT ARE MXA'S RECOMMENDED 125SX/150SX FORK SETTINGS?
A: The KTM 150SX and 125SX share the exact same suspension components and setup. Here's what we ran in our 125SX and 150SX (the stock settings are in parentheses):
    Spring rate: 0.42 kg/mm
    Compression: 6 clicks out (12 clicks out)
    Rebound: 10 clicks out (12 clicks out)
    Oil Height: 360cc
    Fork leg height: 5mm up
    Notes: Bigger and faster riders should go to 0.44 or heavier springs. Small riders can easily take 10cc out of each fork leg to soften up the midstroke.
Q: WHAT ARE MXA'S RECOMMENDED 125SX/150SX SHOCK SETTINGS?
A: Here is what we ran (stock settings in parentheses):
    Spring Rate: 4.8 kg/mm
    Hi-compression: 2 turns out
    Lo-compression: 15 out
    Rebound: 15 out
    Race sag: 100mm
    Notes: Given that the 125SX and 150SX have the same suspension system as the 250SXF, 350SXF and 450SXF?and they run 5.4 to 5.7 kg/mm shock springs you can see that the 125/150's soft shock spring is designed for riders in the 150-pound range. If you are heavier than that you will need to go heavier on the shock spring.
 
Q: WHICH BIKE HAS THE BEST HANDLING?
A: In a world of lumbering overweight and pudgy-porky four-strokes, riding a quick-revving, lightweight two-stroke feels like watching TV on fast forward. The shared KTM 125SX/150SX chassis is pretty close to neutral, and doesn't have a tendency to oversteer more than understeer or vise-versa?it does what you tell it to do. In a four-stroke dominated world, two-stroke riding skills have deteriorated with time?and it takes a few rides to get back in the groove. One caveat, both of these bikes need to be ridden hard and put away wet. The crazier you get the faster they go.
So, you might think that they would both handle the same. Not so! Every MXA test rider insisted that the 125SX handle better than the 150SX. We attribute that to the decreased horsepower and torque on the lightly loaded 125SX frame. Both the suspension and handling were better on the 125SX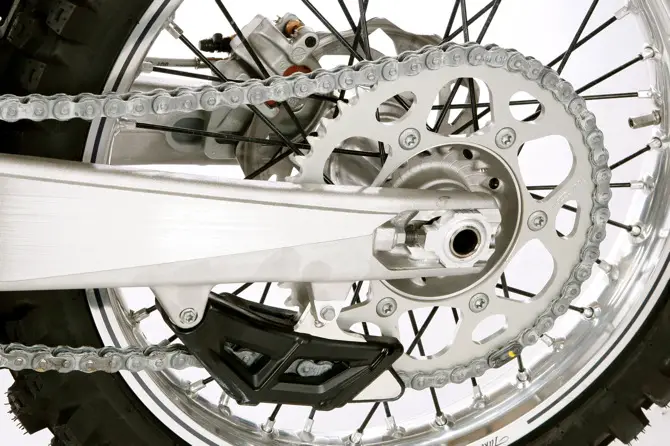 Gear it down if you want to go anywhere on a motocross track…however, if you are headed for Bonneville, leave it alone.
Q: WHAT DID WE HATE?
A: The hate list:
    (1) Weight. Yes we know that these bikes are 15 pounds lighter than the typical 250 four-stroke, but, sadly, the KTM 125SX/150SX are five pounds heavier than they were back in 2011 (when the had single-side no-link frames).
    (2) Preload ring. The life of a preload ring is tough. It gets twisted, pounded on and adjusted hundreds of times over the years. It should be made of the hardest metal known to man?not gummy nylon.
    (3) Gearing. Welcome to the Bonneville Salt Flats.
    (4) Seat foam. It gets softer with every ride…and it isn't all that firm to begin with.
Q: WHAT DID WE LIKE?
A: The like list:
    (1) Bars. The new Renthal 827 Fatbars are 12mm taller than last year. Big plus.
    (2) Gas cap. We vastly prefer the new big mouth thread-on cap over last year's locking quarter-turn cap
    (3) Front brake. KTM's 260mm Braking rotor and Brembo caliper can bring the 243-pound 450SXF to a screeching halt, so imagine what it can do to featherweight two-stroke.
    (4) Clutch. The precise control of a cable-actuated clutch can be an advantage when nursing a 250 or 300cc two-stroke into the desired part of the powerband, but with a 125/150 the best method is grab-and-go. The hydraulic Magura clutch is smooth and consistent throughout the longest motos.
    (5) Price. Four-strokes have many more parts and, as a function of retail pricing, you pay for each piece. Since a two-stroke has less parts, you pay less. Plus, you can do all the maintenance on a two-stroke engine by yourself with the help of a blind monkey.
    (6) Cosmetics: KTM's unique cladding plastic design is attractive…and if you don't think so, just wait, it will grow on you.
    (7) Silencer. We love the nylon hanger bracket that KTM uses to hold the silencer to the frame. Super cool. Sadly, we tend to think that aftermarket pipes and mufflers make both the KTM 125SX and 150SX even faster.
    (8) Fun factor. Giggling while racing is rare?except on a two-stroke.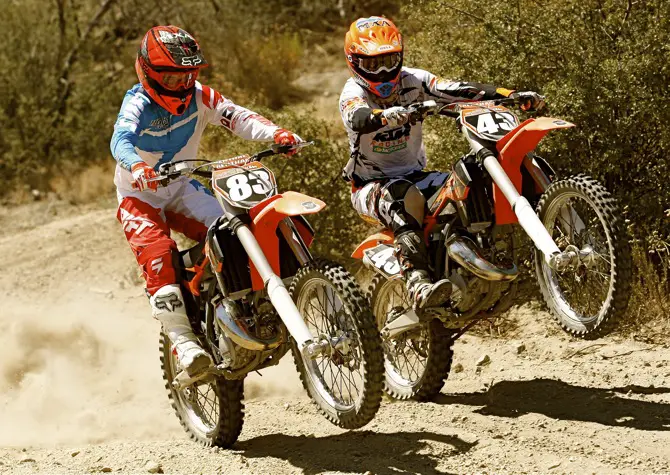 Which bike is for you? That's a simple math equation.
 
Q: WHAT'S THE FINAL WORD?
A: Roger DeCoster said recently that it takes more talent to a ride a two-stroke fast than it does a four-stroke. We might add an addendum to Roger's thoughts by saying that it takes even more talent to ride a 125cc two-stroke than it does a 150cc one. So, even though the 2013 KTM 125SX and 150SX are virtually identical machines they actually appeal to two completely different markets. Step on a scale, add up your number of birthdays and write down what class you ride in?you will find the answer of which bike is best for you there.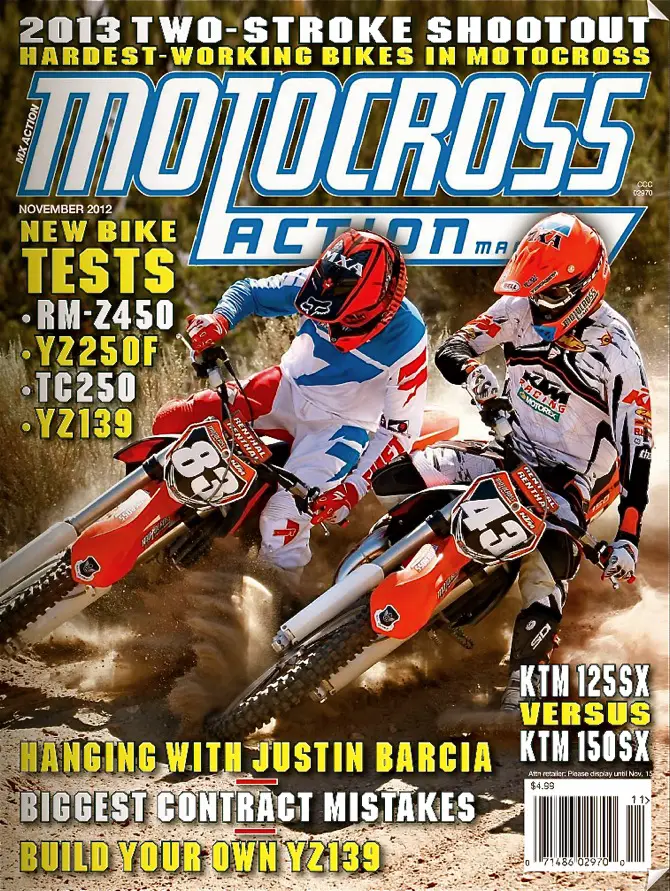 Daryl Ecklund and Kurt Caselli did the riding for this shootout?Godspeed Kurt.