MXA'S 2013 KTM 250SX TWO-STROKE MOTOCROSS TEST: BEST IN CLASS…YOU BET!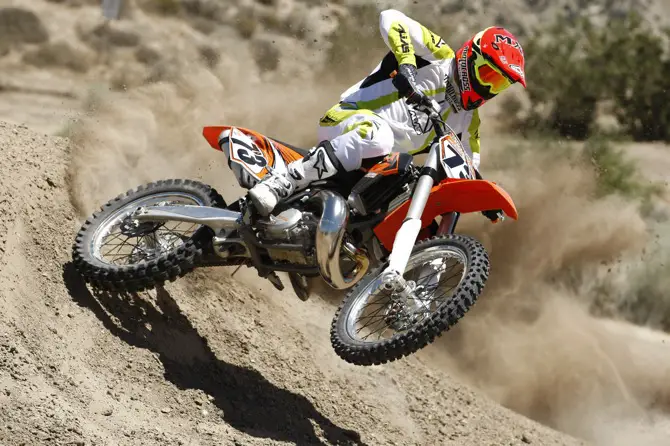 Q: FIRST AND FOREMOST, IS THE 2013 KTM 250SX BETTER THAN THE 2012 KTM 250SX?
A: Yes, wholeheartedly yes. It is hard to keep track of all of the changes that KTM keeps making to the 250SX two-stroke. But, the changes they made for 2013 are all on the good side of the ledger. To understand the changes to the 2013 model, you need to trace the last four years of the 250SX's development.
Q: WHAT WAS NEW ON THE 2010 KTM 250SX TWO-STROKE?
A: Equipped with no-link, single-sided rear suspension, the 2010 wasn't all that different from the 2009. The major changes from 2009 to 2010 were a reinforced cylinder head, 1.8 kg/cm2 radiator cap (it was 1.4 in 2009), increased wall thickness in the exhaust pipe (from 0.80mm to 1.00mm), two-bolt triple clamps (the 2009 model had three bolts on the bottom clamp), 22mm offset (from 20mm), and a stiffer shock spring.
 
Q: WHAT WAS NEW ON THE 2011 KTM 250SX TWO-STROKE?
A: Although it still had a no-link PDS rear-suspension system in 2011, KTM engineers redesigned the cylinder porting (with a 1mm-lower exhaust port), reconfigured the power-valve flapper spring (from 2mm to 1.8mm wire diameter), installed keystone rings (with a slight taper on the top side for better reliability), made a new exhaust pipe (targeting improved bottom end), outfitted the 250SX with a new silencer (2mm-larger core), developed a wraparound silencer mounting system (that allowed more flex), and eliminated the silencer's large star-shaped nut (that had the irritating habit of falling off). Sadly, they added the ill-conceived nylon shock preload ring.
Q: WHAT WAS NEW ON THE 2012 KTM 250SX TWO-STROKE?
A: The big news for 2012 revolved around the all-new rising-rate linkage rear suspension (it was only new to the two-strokes, as it had appeared on the KTM four-strokes in 2011) and a new frame to go with it. Every part of the rear suspension was new, including the top shock mount, swingarm, shock length, linkage and spring rate. Other notable changes included a Moto Tassinari reed cage, reinforced rear fender, new airbox (to clear the center-mounted shock), SKF fork seals and Dunlop MX51 tires (the 2011 model came with Pirelli Mid-Softs).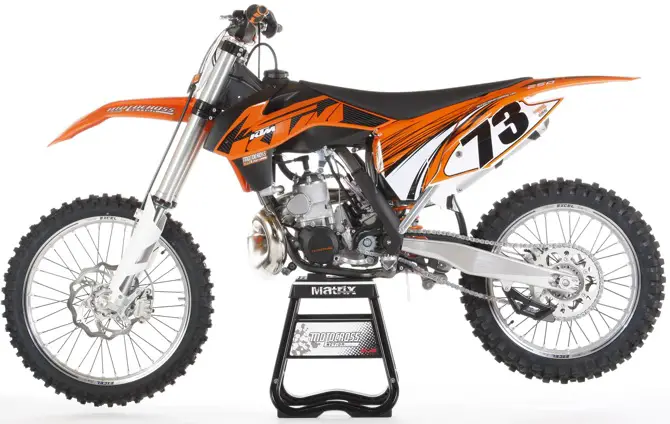 Q: WHAT ARE THE BIGGEST CHASSIS CHANGES ON THE 2013 250SX?
A: As part of an ongoing modification program, the 2013 KTM 250SX two-strokes benefit from any R&D on the four-stroke frames, bodywork and running gear. Here is a quick look at the chassis mods for 2013.
(1) Rear end. The swingarm has been reinforced and enlarged at the axle ends to accept a larger 25mm axle (last year's axle was 20mm).
(2) Bodywork. It was totally redesigned in 2011, but that didn't stop KTM from redoing it for 2013 (in an all-orange motif). The most noticeable cosmetic changes are the I-beam front fender, which mounts with two bolts under the bottom triple clamp and two bolts on the front of the clamp, the orange rear fender and a gunmetal gray frame.
(3) Gas cap. Finally, KTM has upgraded to a thread-on cap with a much larger opening. The previous gas cap was the much-hated quarter-turn locking cap.
(4) Triple clamps. The 2013 clamps are 80 grams lighter and provide an improved clamping force on the 48mm WP forks. The triple-clamp pinch bolts have been moved from fore/aft to left/right orientation.
(5) Handlebars. Last year's very low Renthal 672 bars have been replaced with 12mm taller Renthal 827 bars (the same bend as Renthal's TwinWall 996 bars).
(6) Wheels. KTM hubs are laced to Excel rims, but the most obvious updates are the black anodized spokes, larger wheel spacers and axle block changes made to accommodate the new 25mm rear axle. KTM owners with 20mm rear-axle wheels can use the old wheels with the 25mm axle by changing to the new wheel spacers and axle blocks.
(7) Radiators. KTM manufactures its own radiators, and for 2013 they used a stronger aluminum alloy to help resist crash damage.

 
Q: HOW MANY MODS DID THE 2013 KTM 250SX ENGINE GET?
A: There are no mind-blowing changes to the 2013 KTM 250SX engine in terms of overall horsepower production?after all, the 2012 model made just a hair less than 50 horsepower. The porting, combustion chamber, carburetor and exhaust system are all unchanged from 2012. There were, however, two significant changes that will make a difference.

(1) Reed block. For 2013, the KTM 250SX will get a totally new version of the Moto Tassinari VForce4 reed block. This may seem to be the reed block that the 250SX came with last year, but it isn't. The newest version of the VForce4 is 5mm thicker, which moves the reed cage farther back for more low and mid-power.

(2) Clutch. Called the DDS (Damped Diaphragm Steel) clutch, the 2013 250SX will get the Belleville washer, single-spring DDS clutch from the 450SXF. This unique clutch does not use coil springs, but instead has one large cupped washer (Belleville) that provides equal tension across the face of the pressure plate. The DDS clutch uses a steel basket with the primary gear machined into the basket. It weighs 250 grams less than the 2012 clutch and allows the engine width to be 5.5mm narrower. Of course, it is hydraulic.
 
Q: HOW FAST IS THE 2013 KTM 250SX?
A: The KTM 250SX is the king of deuce-and-a-half smokers. By four-stroke standards, it is quick, explosive and difficult to manage. But by two-stroke standards, it has a sweet gun-and-run powerband. It is quick and aggressive. Riders not used to two-stroke power will be blown off the back of the 250SX when it comes on in the midrange. The 50 horsepower feels like 500 when it comes on, but once you get into the two-stroke groove, you can explode out of corners with an instantaneous snap that makes a four-stroke feel like a school bus. It is the ultimate weapon for getting to the first turn first, and while it may give up some manageability to a four-stroke's powerband, a thumper can't hold a candle to it on the fun scale.

Q: IS THE 2013 KTM 250SX FASTER THAN THE 2013 YAMAHA YZ250 AND 2012 KTM 250SX?
A: Yes and no. When it comes to the 2013 Yamaha YZ250 two-stroke, which is little more than a warmed-over 2006 bike, the KTM makes four horsepower more than the YZ250. As for the battle between the 2012 and 2013 KTM 250SX, the only difference between the two model years is the Moto Tassinari VForce4 reed block. The all-new Moto Tassinari reed-cage change is the equivalent of a 5mm-thick reed spacer in front of last year's reed. This helps torque up the low-to-mid transition, but since it is just an adaptation of an already-excellent reed cage, it isn't a big difference.


Q: HOW IS THE 2013 KTM 250SX JETTING?
 
A: MXA had some small issues with the stock jetting at our Mediterranean-climate racetracks, but we were able to address them with the optional needles and jets in the supplied tool kit. We kept the stock 158 main, but installed a small 40 pilot jet. Depending on weather, riding conditions or hop-up parts, the KTM 250SX could use a 160 main.
 
Q: HOW DID THE 2013 KTM 250SX HANDLE?
A: This bike is light. Not just because it weighs 216 pounds, but because the snappy throttle response and sharp rev make the bike almost jump out of its skin under acceleration. If you are getting off a four-stroke, the first thing you'll notice about the KTM 250SX is that you can throw it around. It feels like a feather in the tough and tight stuff. This is a superb-handling bike?maybe a little too hyperkinetic for the old, stodgy or stubborn?but this is the way motocross bikes should feel. A KTM 250SX doesn't plow through the bumps; it gets on top and stays there. Every MXA test rider raved about how accurate it was in the corners. Test riders could go wherever they wanted?and places they could never get to on a four-stroke.


Q: DID KTM IMPROVE THE 250SX FORKS?
A: The MXA wrecking crew has never been big fans of the suspension on the 250SX. Why not? Because it has come with Euro-spec suspension settings. What are Euro-spec settings? In a nutshell, they are extremely soft fork springs and a longer shock. We hated this setup and have always been mystified as to why the KTM 250SXF, 350SXF and 450SXF got the good American specs, but the two-stroke didn't. For 2013 we don't have to wonder anymore. KTM, in all their wisdom, has upgraded the 125SX, 150SX and 250SX to American specs. This is good news.
 
Q: HOW DID THE 2013 KTM 250SX SUSPENSION PACKAGE WORK?
A: It was so wrong in 2012 that it could only get better with the application of some real-world spring rates. With stiffer fork springs, the front end no longer dives under braking. There is more available travel to absorb bumps, whoops and square-edged holes. If you feel that the new stiffer spring rates are too stiff for your weight or riding style, try lowering the stock oil height from 380cc to as low as 360cc. Faster riders are going to need more compression damping and maybe stiffer fork springs, but for the mass majority of racers, the KTM fork setup is very good. As for the shock, by shortening the Euro-spec shock by 4mm, the rear of the bike is lowered significantly, which makes it feel more balanced in transitions. The compression damping was enhanced with more low-speed compression and less high-speed compression. The 5.4 spring rate is iffy for riders above 175 pounds, so use free sag to determine if you need to go stiffer; several MXA test riders ran 5.7 kg/mm springs last year. We installed a longer link to bring the rear even lower, which allowed us to slide the forks up in the clamps, which brought the whole chassis down.
 
Q: WHAT DID WE HATE?
A: The hate list:
(1) Clutch spring choices. Oh, don't get us wrong; we like the Belleville washer-equipped DDS clutch, but it comes with very few tuning possibilities. KTM does not offer different-rate Belleville washers (although word on the street is that they will have a stiffer cupped washer soon). As it sits, we are able to change the spring rate of the DDS clutch by mixing and matching the thick and thin clutch plates that come in the 250SX package. The more thin ones you use, the stiffer the Belleville washer.
(2) Seat foam. Most MXA test riders prefer to switch to the Acerbis X-Seat because they hate the soft foam on the stock KTM seat. And switching to the X-Seat is a major concession, because as soft as the stock seat is, that is how hard the X-seat is. Given their druthers, test riders would rather have a seat that is too hard over one that is too soft.
(3) Shock preload ring. Hate it. For riders who are on the cusp of the stock 5.4 kg/mm shock spring, they will quickly discover the limitations of the nylon threads on the WP preload adjuster. When it decides to stop turning, nothing will make it go a millimeter farther.
(4) Torx bolts. It took us a decade to get KTM to stop using Allen bolts and switch to 8mm and 10mm hex heads. Then, once KTM had become mainstream, they decided to switch to Torx. We assume that Whitworth was already taken. They have mitigated their hubris by including a Torx wrench in the tool kit and making the engine-case bolts accept both Torx and hex head wrenches.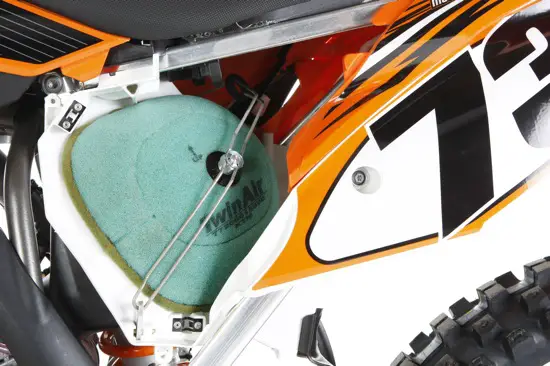 Q: WHAT DID WE LIKE?
A: The like list:
(1) Price. Expect to spend close to $1800 less for a 250SX than a 450SXF. That money could finance your complete racing season, plus you can do the maintenance yourself with little more than a nutcracker and a butter knife; the savings will be magnified by the lower cost of maintaining a two-stroke.
(2) Cosmetics. You can't make everyone happy with your proprietary look, but KTM has done a good job of blending modern-design aesthetics with functionality.
(3) Weight. We could act happy that the 2013 KTM 250SX weighs only 216 pounds, but we remember when it weighed 212 pounds. We can feel the extra 4 pounds?and we are surprised that KTM's test riders can't. Four-strokes are bloated and fat; two-strokes shouldn't be.
(4) Brakes. They are awesome on KTM's 243-pound four-stroke, so imagine how good they are on a bike that is 25 pounds lighter.
(5) Fender. Everybody has to have a hobby. For KTM's engineers, it is designing the most overblown front fenders in the biz. Don't they ever ask themselves how Honda, Yamaha, Suzuki and Kawasaki can make a small, light and normal-looking fender? They should, because the I-beam front fender is too much?too much plastic, too much weight, too much thought. On the other hand, it is better than what they had before.
(6) Hydraulic clutch. Don't Honda, Yamaha, Suzuki and Kawasaki ever ask themselves why they have iffy clutches when KTM has the best clutch made?
(7) Thread-on gas cap. We asked for it.

Q: WHAT DO WE REALLY THINK?
A: If you're in the market for a new bike in 2013, you owe it to yourself to put the KTM 250SX two-stroke on your short list. It's lighter, cheaper, easier to maintain, snappier, better handling, quicker stopping and makes more horsepower per cc than any four-stroke?short of the one in John Force's work car.

  MXA'S 2013 KTM 250SX SETUP SPECS
This is how we set our KTM 250SX up for racing. We offer it as a guide to help you find your own sweet spot.
WP FORK SETTINGS
For hardcore racing, we ran this setup on the 2012 KTM 250SX (stock specs are in parentheses).
    Spring rate: 0.46 kg/mm
    Oil height: 370cc (380cc)
    Compression: 7 clicks out (12 out)
    Rebound: 12 clicks out
    Fork-leg height: 5mm up (flush on a sandy track)
    Notes: The cheapest way to fine-tune the KTM's WP forks is to raise and lower the fork-oil height to get the smoothest midstroke action without bottoming, which is why we lowered the oil height by 10cc. KTM's forks come with different oil heights for each model. The 125SX and 150SX have their oil set at 360cc, the 250SX has 380cc, and the four-strokes roll out of the factory with 390cc.
WP SHOCK SETTINGS
For hardcore racing, we ran this setup on the 2013 KTM 250SX (stock specs are in parentheses).
    Spring rate: 5.4 kg/mm
    Race sag: 105mm
    Hi-compression: 2 turns out
    Lo-compression: 15 clicks out
    Rebound: 12 clicks out
    Notes: We ran a 1.25mm-longer Pro Circuit shock linkage. Not only did it lower the rear of the bike by 10mm, but it stiffened up the initial part of the shock's stroke to help widen the range of the stock 5.4 shock spring. Faster or heavier riders might be required to go to the stiffer 5.7 kg/mm shock spring. If you are savvy, you will use free sag to make the decision for you.
KEIHIN PWK JETTING SPECS
Here are MXA's recommended jetting specs for the 36mm Keihin PWK carb (when changed, stock specs are in parentheses).
    Mainjet: 158
    Pilot: 40 (42)
    Needle: N1EH needle (N1EI)
    Clip: 4th clip from top (3rd)
    Air screw: 1-1/2 turns
    Notes: If you hop the engine up or go to an aftermarket exhaust, listen for pinging. You may need to go richer. For the full-race effect, we sent our carb off to Dick's Racing to have it taper-bored to 39mm with an Intelajet system installed. This mod boosts the top-end power significantly. For more info, go to www.dicksracing.com.