MXA'S 2013 KTM 450SXF MOTOCROSS TEST: IF YOU ARE LOYAL TO YOUR BRAND, IT IS TIME TO START THINKING ABOUT A SHIFT IN ALLEGIANCES
Q: FIRST AND FOREMOST, IS THE 2013 KTM 450SXF BETTER THAN THE 2012 450SXF?
A: Wholeheartedly yes.
Q: WHAT DID KTM CHANGE ON THE 2013 ENGINE FROM THE 2012 MODEL?
A: It is much simpler to explain what hasn't changed between 2012 and 2013. The fork externals, brakes and hubs pretty much encompass the leftover parts from the Keihin carb-equipped 2012 450SXF.
Q: WHAT ARE THE DIFFERENCE BETWEEN A 2012-1/2 RYAN DUNGEY REPLICA AND THE 2013 KTM 450SXF?
A: There are ten differences between the mid-season 2012-1/2 Ryan Dungey Replica (450SXF Factory Edition) and the 2013 production bike. Dungey's bike had these parts and the 2013 production version does not. (1) Orange frame. (2) Selle Dalla Valle quilted seat cover. (3) EFI reprogramming tools. (4) Hand guards. (5) Supersprox rear sprocket. (6) Red Bull graphics. (7) Black rims. (8) Spare Renthal grips with Dominos on the bike. (9) Front brake rotor guard. (10) Silver spokes.
Q: WHAT ARE THE DIFFERENCE BETWEEN A 2013-1/2 RYAN DUNGEY REPLICA AND THE 2013 KTM 450SXF?
A: There are also ten differences between the all-new, just released 2013-12 Ryan Dungey Replica (450SXF Factory Edition) and the 2013 production bike. Dungey's new bike has these parts and the 2013 production version does not. (1) Orange frame. (2) Selle Dalla Valle gripper seat cover. (3) Two-position map switch to access three built-in maps. (4) Hand guards. (5) Supersprox rear sprocket. (6) Orange and blue Red Bull graphics. (7) Black rims and silver spokes. (8) New center case and clutch case that eliminate the unused kickstarter bosses (1/2 pound weight savings). (9) Front brake rotor guard. (10) Akrapovic slip-on muffler.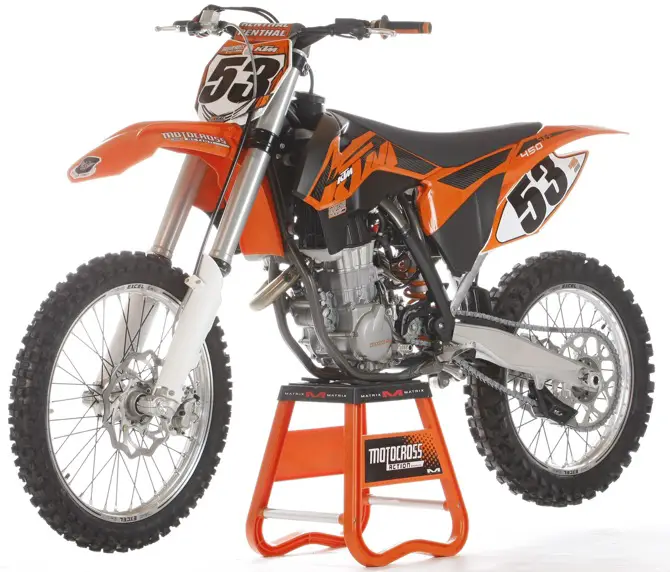 Q: WHICH IS BETTER THE 2012-1/2 DUNGEY REPLICA, 2013-1/2 DUNGEY REPLICA OR THE 2013 PRODUCTION 450SXF?
A: Apart from some of the foof on the 2012-1/2 Dungey Replica (graphics, seat, orange frame), the 2013 production bike is a significantly better machine. And, with the exception of the same foof, plus the new lighter engine cases, slip-on muffler and two-map switch, the all-new Dungey Replica is just a gussied-up 2013 450SXF. In our opinion, the 2013-1/2 Dungey Replica is slightly better than the 2013 production bike, while those two machines are lightyears better than the 2012-/12 Ryan Dungey Replica. Why? Horsepower. The two 2013 bikes (stocker and 2013-1/2 Dungey Replica) make more power than the 2012-1/2 Dungey bike.
Now you might be asking, "How can it make more horsepower if the running gear is identical?" Mapping. The 2013 production bike is 3 to 4 percent leaner across the board than the 2012-1/2 Replica. Plus, in the "acceleration mode" of the fuel mapping, KTM's engineers increased the duration time of the injector's spray?which paradoxically makes them 2 percent richer. The result of the confluence of lean and rich is almost two more horsepower.
How can you get the extra power for your 2012-1/2 Ryan Dungey Replica? Remap it. Your KTM dealer can get the 2013 450SXF map from KTM dealer service deparatment and load it into your black box.
Q: WHAT IS THE MOST SIGNIFICANT FEATURE OF THE 2013 KTM 450SXF?
A: Horsepower. The 2013 KTM 450SXF blows the 2012 model out of the water from the middle on up. In fact, it makes more power than the Ryan Dungey Replica?which was only introduced six months ago. In fact, it makes more power than any other 450cc production motocross bike ever made.
Q: HOW DOES THE 2012 450SXF RUN ON THE DYNO?
A: Of all the production bikes we have every dynoed, the 2013 KTM 450SXF makes the most peak horsepower…by a big margin. Last year's 2012 Kawasaki KX450F previously held the record at 55.50 horsepower (the 2013 KX450F is actually less powerful at 55.05). The 2013 KTM 450SXF erases all the records with a startling 56.95 horsepower. You read that right ? the 2013 KTM is hair shy of 57 horsepower.
Q: IS THE 2013 KTM 450SXF TOO POWERFUL?
A: You'd think so, wouldn't you? But, you'd be wrong. The power delivery of the KTM 450SXF has two-stages. It comes on very soft off idle and around 6000 rpm it feels no different than the KX-F, RM-Z or YZ-F. It has pleasant roll-on power. It doesn't scare you, hit abruptly, upset the chassis or feel very impressive. At 7000 rpm it is still pulling smoothly and everything seems normal. When you are in the saddle you don't notice that the KTM 450SXF is making one horsepower more at 7000 rpm than any other 2013 bike. Then, around 8000 rpm you begin to notice that the KTM is going pretty darn fast. At 9200 rpm, when the other brands begin to fall of the pipe, the KTM has come on the cam and is really beginning to build a head of steam. It is fast in a deceptive way.
It reaches its peak horsepower at 9400 rpm (where it is making 1-1/2 horsepower more than the KX450F). And, as the other 450s start to drop precipitously at 10,000 rpm the KTM makes 4 horses more than the KX450F, at 10,500 rpm the 2013 KTM 450SXF has 5-1/2 horses more than the KX-F and at 11 grand the KTM has a 6 horse advantage.
This is the most powerful 450cc motocross bike made. That is something to crow about. It is, however, a slow feeling 450cc bike from idle to the midrange.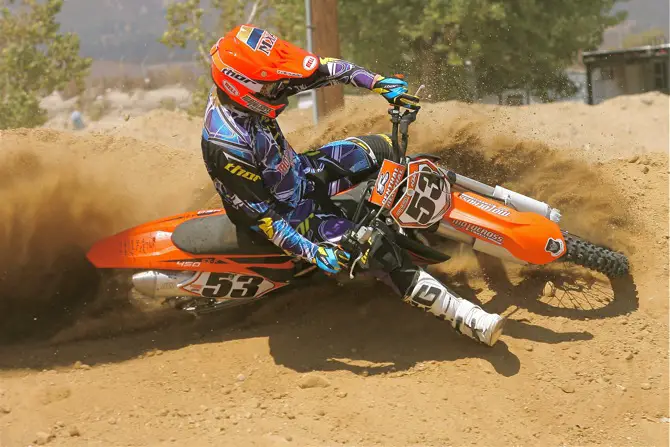 Q: HOW FAST IS THE 2013 KTM 450SXF ON THE TRACK?
 A: This is a very deceiving engine. Since it starts out mellow and builds its power with rheostat consistency it never really feels fast. It doesn't jerk your arms out of their sockets or make you eyes water. It's fast, but mellow. It tricks you into going fast by making it seem easy to do.
For Novices and Vets the powerband is perfect, but anyone faster than slowpoke speed is gonna want more bottom end power, more thrust and a quicker rev through the bottom to the sweet spot in the middle. Luckily, the MXA wrecking crew had a plan to achieve all of that.
Q: WHAT IS THE EASIEST WAY TO MAKE THE 2013 KTM 450SXF POWERBAND BETTER?
A: Gear it down. The stock gearing is 14/52 and it is too tall. It lollygags its way off the bottom and makes the gear-to-gear gaps seem larger than they should be. MXA offers two choices.
First, if you are faster than the normal rabbit, swap the 14-tooth countershaft for a 13 and replace the 52-tooth rear with a 50. This is 1-1/2 teeth lower than stock. It increases the drive, gets you to third sooner and punches up the low-to-mid transition. It should be noted that Ryan Dungey prefers a 13/51 cog set.
Second, to save money and time, you can just install a 53-tooth sprocket on the rear. This combination is lower than stock, but not as low as the 13/50 or 13/51 ratios preferred by MXA and Ryan Dungey.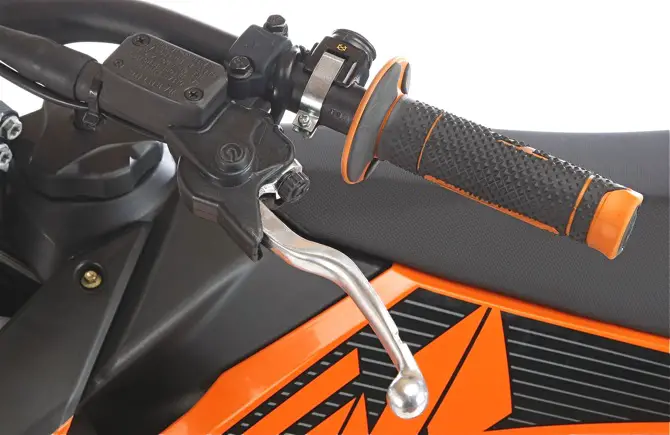 Q: WHAT ABOUT KTM'S HYDRAULIC CLUTCH?
    
A: Most MXA test riders love KTM's hydraulic clutch, but we do have a quibble that KTM never addressed for us ? but luckily Ryan Dungey complained about the same thing. The squeaky wheel got the grease…and normal KTM owners get to go along for the ride. MXA has insisted since day one that the 450SXF's Belleville washer-style clutch spring was not stiff enough. Initially we tried to fix it by rotating the stepped disc in the center of the pressure plate or mixing and matching thick and thin steel clutch plates. These stop-gap fixes were required because KTM did not offer an optional Belleville washer. Now they do. Your friendly local KTM dealer can order you a 280 psi clutch spring to beef up the stock 250 psi clutch spring. We heartily recommend it and the new 2013-1/2 Ryan Dungey Replica gets it stock (we'd bet that the 2014 450SXF will come with it also).

The air boot on the top is the stocker and the air boot on the bottom is made out of parts of a KTM 350SXF air boot and parts of the KTM 450SXF air boot. It is a close facsimile of Ryan Dungey's works air boot. The new velocity stack improves low-end throttle response.
Q: WHAT IS THE TRICKEST KTM 450SXF TRICK?
    
A: The MXA wrecking crew has ridden both KTM 450SXF Factory Editions, the 2013 production 450SXF and Ryan Dungey's works bike and in the mishmash of test rides and tear downs we realized that Ryan Dungey had a special air boot with a velocity stack-style shape. The stock air boot was just an air chamber. We decided that we could come close to Dungey's works intake boot by swapping the stock 450 air boot for the stock 350SXF air boot (which has an velocity stack built in). Unfortunately, the KTM 350SXF air boot was about two inches too short to reach the throttle body. No problem. We cut the end off our 450SXF boot and super glued it to the throttle body end of the 350SXF air boot. Voila! We got a Ryan Dungey replica air boot.
The modified air boot improved fuel velocity, which could be felt as improved throttle response in the low-to-mid transition.
Q: DOES THE 2013 KTM 450SXF HAVE ADJUSTABLE MAPS?
    
A: Yes and no. Yes, you can reprogram the 450SXF if you have access to KTM's proprietary map tools. No, there are no built-in maps in the ignition (as with the 250SXF and 350SXF). Again the 2013-1/2 Ryan Dungey Replica comes with three maps built-in, we assume that the 2014 will get these maps also.  

 
Q: HOW DOES THE 2012 450SXF HANDLE?
A: We love this bike. It is amazingly accurate and doesn't lean towards oversteer or understeer, but treads a very fine line between them. Most MXA test riders believe that KTM's engineers have found the numbers that produce the best all-around handling package. It doesn't turn as sharp as a Suzuki, but it doesn't shake at speed either. It isn't as stable as the Yamaha at speed, but doesn't feel loose on the entrance of turns. It is almost perfect.
The caveat is that you have to get the chassis balanced by fiddling with the fork height and the race sag. Small adjustments to either end change the head angle, weight bias and feel of the bike. Once you have it in the window it becomes an awesome point-and-go bike…no steering required.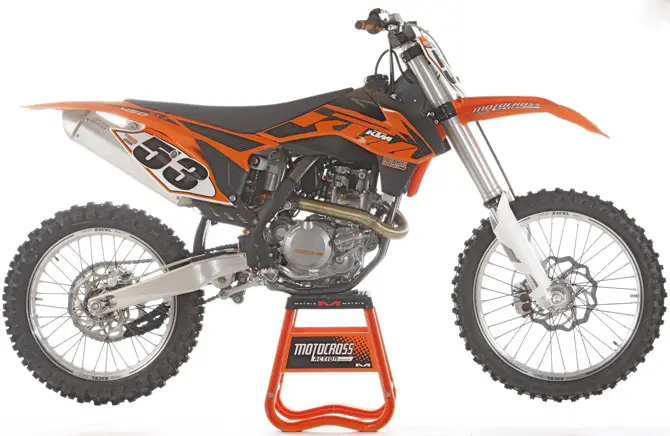 Q: WHAT ABOUT WEIGHT AND SOUND?
A: At 240 pounds it is three pounds lighter than the 2012 KTM 450SXF. Although the switch to full injection added about five pounds, KTM saved weight with its single overhead cam engine and die cast cases.
The KTM 450SXF blew a 112.4 dB level in our two-meter-max test. This is way below the 115 dB requirement. It should be noted that there is a restrictor cone (made out of perf core) inside the stock muffler that accounts for some of the sound reduction. As a test we bolted a two-meter-max legal aftermarket exhaust system onto the 2013 KTM 450SXF and reached 60 horsepower on the dyno. That means that with oxygenated MR-12 VP fuel and aftermarket pipe this bike could pump out close to 63 horsepower.
Q: WHAT DID WE HATE?
A: The hate list:
(1) Exhaust pipe. Unlike the new KTM 250SXF and 350SXF engines, you can't remove the stock exhaust system without removing the shock from the bike (and even then it is a wrestling match). Thankfully, aftermarket pipes have separate mid-pipes that eliminate this hassle.
(2) Shock preload ring. Hate it with a passion. We wish we could hit it with a hammer, but if we do it will get deformed.
(3) Gearing. Gear it down to perk it up.
(4) Seat foam. It is too soft when it breaks in. A simple trick is to buy an aftermarket seat cover and put it on…over the stock seat cover to stiffen up the feel, but don't wait until the foam breaks down.
(5) Weight. It is lighter than last year, but it is still too heavy.
(6) Front fender. I-beams are perfect for holding up the roofs of warehouses, but does a front fender really need to meet local building codes?
(7) Torx bolts. We get tired of complaining about KTM's oddball mix of 13mm hex heads, Torx sprocket bolts and wood screws. We'd like to see 12mm hex heads instead of 13mm heads and Allen sprocket bolts instead of Torx bolts. As for the wood screws in the plastic?that is just quirky.
(8) Suspension. Everything on this bike is world class except the suspension?it is third world class.
Q: WHAT DID WE LIKE?
A: The like list:
(1) Plain bearings. KTM doesn't use roller or needle bearings on the big-end or top-end, instead they use plain bearings (which means no bearings). Much like the old school bronze bushing used on road racers, the KTM doesn't have any bearings to blowout. They claim that maintenance life on the crank is double.
(2) Five-speed tranny. The Euro-spec 450SXF's have four-speed transmissions?just one more reason to be thankful for the American way of life.
(3) Bars. The 12mm taller Renthal 827 bars are a big improvement over last year's low riders.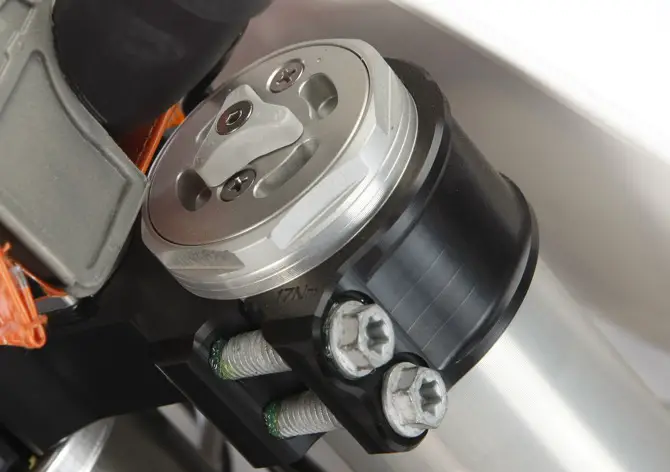 (4) Fork adjuster. Every bike should come with a compression clicker that you can turn with your hand.
(5) Brakes. If you are the designer of the Kawasaki, Honda, Yamaha or Suzuki brakes you should hide your head in shame.
(6) Power. If there is one thing that every bike company wishes it could advertise, it is "most powerful."
(7) Hydraulic clutch. The best clutch in motocross just got better with the addition of the stiffer Power Parts Belleville washer. Unfortunately, you have to buy it and install it.
 
Q: WHAT DO WE REALLY THINK?
A: The Big Four are in danger of letting "Number Five" get away from them. At a time when the Japanese manufacturers are being careful where they spend their R&D dollars (yen actually), KTM has produced totally new 250SXF and 450SXF engines and redesigned their frames, air boxes and engine components for 2013. Even more impressive, each and every four-stroke in their 2013 lineup saw a massive horsepower jump.
The 2013 KTM 450SXF should be at the top of your potential new bike list…way at the top.
  MXA'S 2013 KTM 45SXF0 SETUP SPECS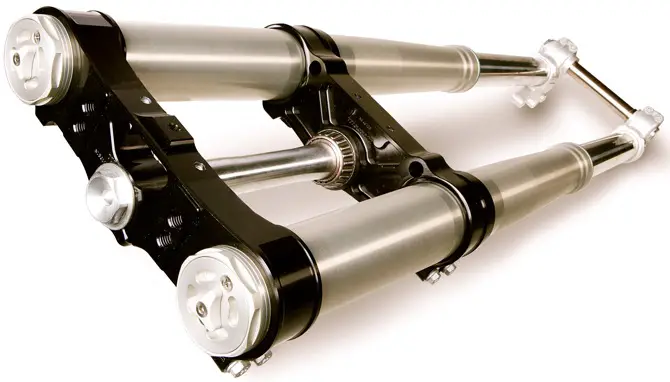 This is how we set our 2013 KTM 450SXF up for racing. We offer it as a guide to help you find your own sweet spot.
WP FORK SETTINGS
Last year's forks lacked midspeed damping?in both directions. They moved too fast in the middle of the stroke, boinged around in consecutive bumps and tended to bottom if pushed hard. For 2013, KTM increased the midstroke damping and raised the oil height to get the forks closer to where the most powerful 450cc machine's forks should be. The result is better front suspension, but it is average to below average at best. It is more raceable and able to support the typical KTM buyer's weight. For hard-core racing we recommend this fork setup on the 2013 KTM 450SXF (stock specs are in parentheses):
    Spring rate…0.50 kg/mm
    Oil height…390cc stock
    Compression…12 clicks out
    Rebound….12 clicks out
    Fork leg height…5mm up
    Note: Last year we raised the fork oil height by 10cc, but for 2013 KTM raised the oil height at the factory by 10cc. KTM's forks come with different oil heights for each model. The 125SX and 150SX have their oil set at 360cc, the 250SX has 380cc and the four-strokes roll out of the factory with 390cc. Unless you are a bantam weight, we don't think you will find the WP forks to be too stiff. KTM increased the compression damping noticeably over 2012, but they could go firmer.
WP SHOCK SETTINGS
The rear suspension setup isn't all that different from 2012, but does have a different feel because of increased rigidity in the end end. The rear axle is 5mm larger in diameter and the one-piece swingarm is beefier. The result is a better tracking rear end?with less tendency to kick or yaw in the rough. For hard-core racing we recommend this shock setup for the 2013 KTM 450SXF (stock specs are in parentheses):
    Spring rate: 5.7 kg/mm
    Race sag: 100mm
    Hi-compression: 1-1/4 turns out
    Lo-compression: 12 clicks out
    Rebound: 12 clicks out
    Notes: We don't think that the average 450SXF rider will need a stiffer shock spring (unless he is over 210 pounds). Smaller riders (those under 150 pounds) might opt for KTM 5.4 kg/mm rear spring.