MXA's 2013 TM 144MX TWO-STROKE MOTOCROSS TEST: A RARE PRODUCTION BIKE THAT HAS THE CACHET OF ITALIAN EXOTICA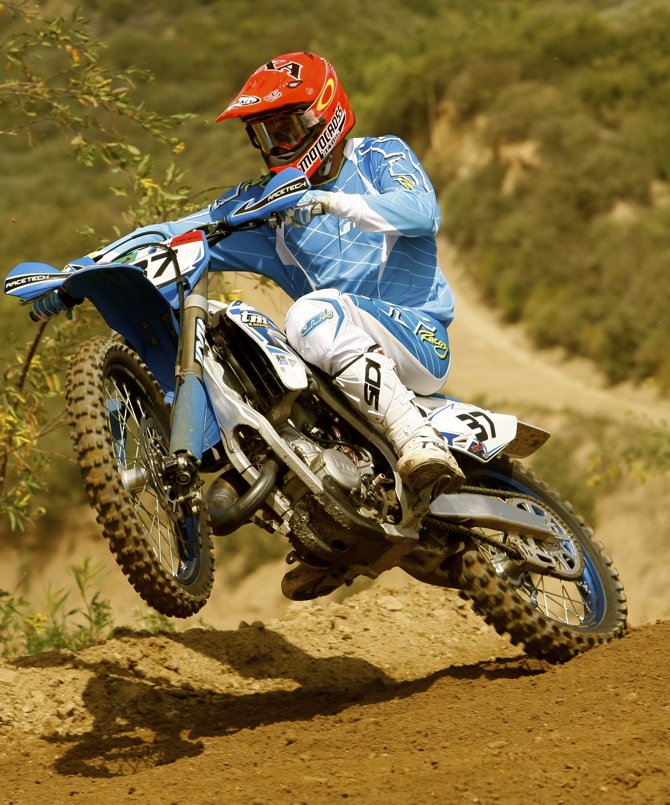 FIRST AND FOREMOST, IS THE 2013 TM 144MX BETTER THAN THE 2012 TM 144MX?
A: Yes, in some ways, but in other ways, no. That might sound contradictory, but then again, so is the TM.
 
Q: WHAT CHANGES DID TM MAKE TO THE 144MX FOR 2013?
A: The 2013 144cc, two-stroke engine gets a new carb manifold, reed-block location, air boot, air-filter cage, piston, power valve, HGS pipe/silencer and new crankshaft bearings. The TM 144MX and 125MX come with 48mm Kayaba forks, TM rear shocks, new brake calipers, shorter swingarms and reshaped seats, and they come in new colors.
Q: IS IT A 144 OR A 150?
A: Model designations aren't always accurate, but with a bore and stroke of 56mm by 58.2mm, the TM has a displacement of 143.35cc. You might be tempted to think that the TM 144MX has less displacement than the KTM 150SX?and you would be right, but not by much. The KTM's bore is identical to the TM's (at 56mm), but its stroke is 0.2mm bigger. Thus, the KTM 150SX has a displacement of 144.6cc to the TM's 144.35cc.
Q: HOW DOES THE TM 144MX RUN?
A: MXA's 2013 TM 144MX was potent. It offered smooth power delivery, thanks to its electronic power valve, which made it easy to ride. It pulled hard in the sweet spot, and the electronic power valve gave it a much more unified powerband than most 144cc engines. The typical 150 gains about 3 horsepower with the added displacement, but more significant, it exhibits a harder hit in the midrange and a tendency to sign off earlier than its 125cc brethren. The TM 144MX, however, was distinctly different. It had a very linear powerband. Yes, it did hit harder and sign off sooner, but the smooth delivery made this a nonissue because the power was seamless.


In the horsepower race, the TM is in a dead heat with the KTM 150SX?until the two European bikes get to the top-end. Then the KTM takes off to a clear victory. The caveat to the KTM's horsepower advantage is that if you shift before the TM signs off, it will be more than competitive. When the TM 144MX engine is in the meat of its powerband, it has plenty of juice.
Q: HOW GOOD ARE THE TM 144MX'S ERGONOMICS?
A: It wasn't that long ago that MXA test riders would make faces when they climbed on board a European bike. In a nutshell, test riders felt the Euro bikes were too tall, the bars were too high, and the shifter/brake pedal interface was off-kilter. No more. Although there are typically complaints about bar bends and lever placement with any bike, the majority of MXA test riders found the 2013 TM 144MX's ergonomics to be on par with most Japanese-built machines. The biggest complaint was the brake pedal, which, although it is a work of art, sits very high, even in its lowest position.



Q: HOW DOES THE TM 144MX HANDLE?
A: Test riders had no complaints about the handling?once they got done griping about the suspension setup. Although, in theory, frame geometry and suspension components are separate handling categories, in motion, the two must be in sync.
Unfortunately, with the stock suspension settings, you would be lucky to get within 2 feet of your preferred line on a rough track; however, once we worked on the suspension, most test riders were satisfied with the chassis, setup and frame geometry.
Q: WHAT IS THE TM 144MX'S SUSPENSION CONUNDRUM?
A: We have to applaud the American TM importer for having all USA-spec TMs shipped with Kayaba forks installed. The importer made this move to appease American consumers who were reluctant to run Marzocchi forks. He assumed that going to the same Kayaba forks used on the 2007 YZ125 would ensure that the suspension would be more tunable. It was a nice gesture, but no good deed goes unpunished.

2013 TM 144MX: TM isn't an enormous monolithic corporation pumping out thousands of bikes a day. It is a family-run business that is driven by passion for motorcycles. The TM 144MX proves that the little guy can compete against the giants of the industry.
Even though the TMs come with Kayaba forks, they also come with Italian valving specs, and they are harsh?very harsh. After we tried lowering the oil height by 40cc, we had the forks revalved, but the ultimate solution was to install actual Yamaha forks on the 2013 TM 144MX (and that required a top-triple-clamp change). There is nothing inherently wrong with the components themselves, but the crazy Italian valving makes the suspension a big negative.
As for the shock, it is handmade in the TM factory, and although it's a beauty, it is valved by the same test riders who ruined the forks. We had our best results when we turned every clicker and dial on the shock out?way out.
We love the idea of the Kayaba forks and one-off TM shock, but, ironically, we had better luck with the previous Marzocchi forks and Sachs shock.
Q: HOW WAS THE CLUTCH?
A: Most MXA testers absolutely loved the easy pull and self-adjusting nature of the hydraulic clutch.
 
Q: HOW GOOD ARE THE TM'S BRAKES?
A: TM uses high-quality brake components. The front disc is an oversized Braking 270mm cauliflower design with a Nissin master cylinder and a Brembo caliper. The rear is a 245mm unit, also from Braking, with Nissin/Brembo components. Both the front and rear offer great feel and modulation with more stopping power than a lightweight two-stroke requires. The catch is that the rear brake pedal, which itself is a beautifully crafted piece of billet aluminum, cannot be adjusted low enough for many riders' tastes.

Building block: For most small manufacturers, sourcing an engine is the most difficult part of manufacturing a motorcycle. Not for TM. They have a successful World Karting Championship engine division that knows its stuff.
Q: WHAT DID WE HATE?
A: The hate list:
(1) Pedal adjustment. Even when the rear brake pedal was adjusted as low as possible, it was above the footpeg. When we wanted to stop, we had to dance the two-step.
(2) Price. At $8100, this is a very expensive two-stroke.
(3) Bolts. The Allen bolts fill with mud and have to be cleaned before they can be turned. TM uses Allen bolts on the plastic parts, clutch cover, seat, engine cases and ignition cover.
(4) Rear sprocket bolts. There are nine bolts on the rear sprocket. That is a little excessive.
(5) Radiator cap. The radiator cap protrudes above the radiator shroud and catches on riders' pants. Plus, it is susceptible to damage in a crash. To make matters worse, the cap does not fit snugly. After losing our TM 250MX cap twice, the first thing we did on the TM 144MX was to drill a hole in the radiator cap flange and safety wire it to the vent hose.

Cheating: Since all American TMs come with Kayaba forks, we cheated and installed Yamaha YZ250F forks on our bike.
Q: WHAT DID WE LIKE?
A: The like list:
(1) Outsourcing. We like the top-quality, outsourced components: Moto Tassinari reeds, Brembo calipers, Nissin master cylinders and KYB forks.
(2) Petrol capacity . With the large, 2.3-gallon tank, we could go two complete motos without refueling if we wanted to.

(3) Hydraulic clutch. Very sweet.
(4) Brakes. The 270mm Brembo front brake is the same one that comes on the TM 450MX four-stroke. It is powerful on the big thumper and uber-powerful on the lightweight tiddler.
(5) Power valve. TM took a leap with technology, and TM owners were rewarded with something that nobody else has?except vintage Honda CR125 owners.

(6) Weight. In a world dominated by porky four-strokes, a bike that weighs 204 pounds is an eye-opener.
Q: WHAT DID WE REALLY THINK?
A: We think that the KTM 150SX is a better all-around bike than the TM 144MX?and we aren't wild about the KTM's WP suspension. The TM 144MX's charms are its easy-to-use powerband, unique mix of components and cachet of rareness. If you are on a first-name basis with your local suspension tuner and he has the know-how to work with the one-off shock, you are a candidate for a TM 144MX. Everyone else should go orange.
  MXA'S 2013 TM 144MX SETUP SPECS           

This is how we set up our TM 144MX for racing. We offer it as a guide to help you find your own sweet spot.

TM's 270mm front rotor and Brembo caliper are single finger magic. TM uses an unusual combination of Nissin and Brembo parts.
KAYABA FORK SETTINGS
We didn't think much of the TM's stock fork setup?and that's putting it kindly. Here are the stock settings for the 2013 TM 144MX, but it should be noted that we didn't run these forks. We ran Yamaha forks instead.
   Spring rate: 0.45 kg/mm
   Oil height: 280mm
   Compression: 20 clicks out
   Rebound: 19 clicks out
   Fork-leg height: 5mm up
   Notes: The best solution for the stock TM forks is to have them revalved.
TM SHOCK SETTINGS
From the first test rider to the very last, every one of them tried to turn the high-speed and low-speed compression clickers farther out?until they wouldn't go any farther. We eventually turned the rebound out from the stock 14 clicks to 24 clicks out. The lighter rebound softens the compression stroke because there is crossover in the valving stacks. Here is what we ran for our test riders (stock settings are in parentheses):
   Spring rate: 4.8 kg/mm
   Hi-compression: 24 clicks out (14 clicks out)
   Lo-compression: 21 clicks out (14 out)
   Rebound: 24 clicks out (14 out)
   Race sag: 105mm
   Notes: We set the sag at 105mm in an attempt to coax a more supple feel out of the shock by taking preload off the spring. This shock is going to have to go to your favorite suspension tuner. We only found one tuner who had any experience with a TM rear shock. Try Pro Valve at www.provalvemx.com or (714) 708-2583.

Old-school: Our only jetting change was to up the main to a 192. The screw-on cap made needle changes super easy to do.
KEIHIN PWK JETTING SPECS
The jetting is lean, so we went up on the main to compensate. The Keihin PWK is very old-school. It has a thread-on cap, which we love because it makes needle changes easier than with the newfangled Phillips-screw carb caps. The stock jetting is in parentheses.
   Main jet: 192 (188)
   Pilot: 50
   Needle: N1E1
   Air screw: 1 turn out (1-1/2 turns out)
   Clip position: 4th from the top (3rd)
   Notes: We had to switch to a larger main to lessen pinging at high rpm. There are tracks and weather conditions, however, where the stock 188 will work fine.