MXA'S 2013 TM MX 450FI-ES MOTOCROSS TEST: THIS ITALIAN 450 IS THE RAREST PRODUCTION BIKE SOLD IN THE USA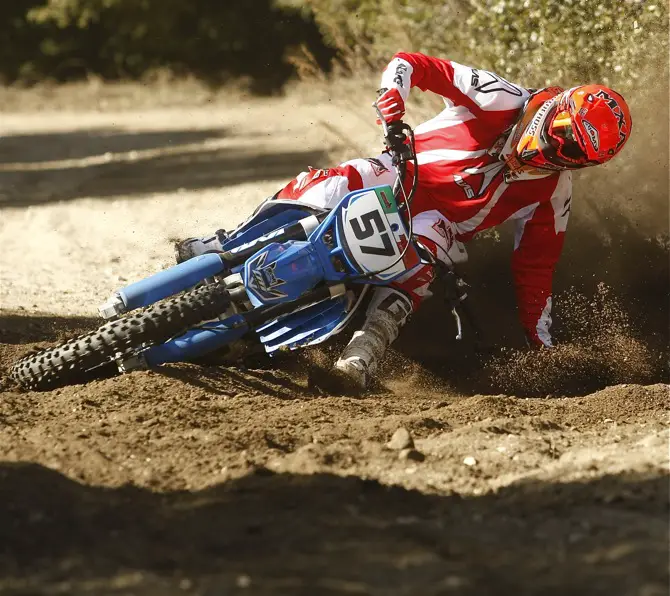 FIRST AND FOREMOST, WHAT IS A TM MX 450FI-ES?
A: Don't you ever wish we could return to the good old days when bikes had names like Elsinore, Cyclone, Super Rat and Green Streak? They were descriptive and didn't require a college degree in advanced acronym deciphering. The TM MX 450FI-ES is a tough nut to crack.
First, the "TM" stands for Thomas and Mirko. If you think those are the names of the two men who started the company, you are wrong. If they used their first names, the bike would be called the CF MX 450FI-ES (for Claudio Flenghi and Francesco Battistelli). Nope, TM got its name from the first names of Claudio's and Francesco's sons.
Second, the "MX 450" is self-explanatory. It means that it is a 450cc motocross bike. TM also makes enduro bikes, designated as EN models, and Supermoto bikes with SMX (for "Supermotard").
Third, the "FI" stands for four-stroke iniezione, which means that it is the motocross version of the 450cc four-stroke (F) with fuel injection (I).
Fourth, the "ES" stands for electric start. All the TM models are available with kickstarters, but a few models can be ordered with electric starting (and a kickstarter).
Q: WHAT'S NEW ON THE 2013 TM MX 450FI-ES?
A: The TM MX 450FI-ES received several significant upgrades for 2013.
Engine. The MX 450FI has a revised billet connecting rod and a forged bridge-box piston. The wrist pin is DLC-coated to reduce friction, and the ECU mapping has been altered to work with the new camshaft durations.
Transmission. The gearbox gets new selector forks and a new shift barrel, and the clutch basket is friction-coated to reduce drag. There are also new friction plates to provide more bite.

Suspension. The TM has all-new valving for the Kayaba forks; new, shorter swingarm dimensions; and TM's in-house, CNC-machined rear shock absorber.
Q: WHAT IS THE BORE AND STROKE OF THE 2013 TM MX 450FI?
A: The bore and stroke is 95mm by 63.4mm for a displacement of 449.16cc. The engine is a double overhead-cam design that operates titanium valves via buckets. Lubrication is via twin rotor oil pumps (for recovery and delivery). The throttle body is a 44mm downdraft unit of TM's own design.


Q: HOW FAST IS THE 2013 TM MX 450FI-ES COMPARED TO ITS COMPETITION?
A: It's not as fast as it is broad. It is an amazingly easy bike to ride. The power delivery has a very linear feel. We cannot think of another 450cc motocross bike that produces such a manageable style of power. It doesn't hit hard down low. It doesn't rush through the middle. It doesn't sign off early. It just keeps going.
It is like a diesel locomotive when compared to the KX-F, YZ-F, RM-Z, CRF or KTM. It starts mellow, stays mellow and just keeps pulling. It has power virtually everywhere in the rpm range. It isn't faster than the other bikes on the starting line, but since you never have to shift, you can use each gear for almost twice as long as the competition, and you don't need any clutch. It is fast without feeling fast.
Q: WHAT'S THE BEST WAY TO RIDE THE TM MX 450FI-ES?
A: Originally, our plan was to short-shift it, but that was a total flop. When we short-shifted at what we thought was the perfect spot, the bike was only about halfway through its powerband in that gear. Our next strategy was to forget about shifting and just put it in one gear and go. This worked better than shifting, but it really didn't take advantage of all the available power. Plus, test riders didn't like going down third-gear straights in second gear. It hurt their egos.


2013 TM MX 450FI-ES: TM has come a long way from the pink bikes of a decade ago. All the plastic is proprietary to the Italian marque and is attractive.
The problem was the gearing. The TM came with a 14/50 combo, and after a couple of races, all without much shifting, we decided to go to a 13/50. Yes, we know that one tooth on the countershaft is like 3-1/2 teeth on the rear, but that is what the bike needed. Surprise! When we pulled the countershaft off, it already had a 13-tooth countershaft. It turns out that TM had changed it before giving the bike to us to test.
We faced a quandary: The bike was geared too tall, but it was already geared down. So, we did what any self-respecting racer would do. We started gearing it down by changing rear sprockets. It took two teeth on the rear to get to the point where shifting was actually rewarded by acceleration. The bike got faster, and the test riders' egos were soothed. MXA has never before tested a motocross bike that was geared this tall.
Q: WHAT ABOUT THE CLUTCH?
A: TM uses a Brembo master cylinder, but they make their own slave unit. The clutch was easy to pull, didn't fade and self-adjusted when it got hot. Good stuff.
 


Power: Overall power is smooth, deliberate and easy to use. The electric starter was a plus and a minus.
Q: WHAT ABOUT THE BRAKES?
A: We loved the brakes. The front is a massive 270mm rotor that is powered by a weird combo of parts. The master cylinder is a Nissin. The caliper is a Brembo, and the rotor is from Braking. What is so odd about this combination is that many AMA Pros mix the same three parts to improve the braking on Japanese-built bikes, but they use a Brembo master cylinder and Nissin caliper. Even the TM rear brake is oversized with a 245mm rotor; it also gets the Nissin/Brembo treatment.
Our only complaint about the brakes was that the rear brake pedal was high. Its lowest position was too high for many riders. The quick and easy solution is to cut some threads off of the master cylinder rod. We do this to Kawasaki brake rods also.

Pucker up: This is 270mm of romping, stomping, orifice-puckering brake power. It is a Nissin/Brembo collaboration.
Q: WHO MAKES TM'S ELECTRONIC FUEL-INJECTION SYSTEM?
A: TM's fuel injection follows the same pattern as its brake system. And if you were expecting the same Keihin fuel-injection system found on every other motocross bike, you will be disappointed. TM uses a potpourri of parts from different suppliers. They use a TM throttle body, Marelli injectors, Bitron fuel pump, Delphi sensor, Kokusan ACG generator, and Microtec electronic control unit. The heart of the system, the 44mm throttle body, is TM's own design; it is a cast unit with CNC-machined parts.
Q: HOW DID THE TM MX 450FI-ES ELECTRIC STARTER WORK?
A: Compared to a KTM electric starter, it was just adequate. Luckily, TM included an enrichening device on the handlebars to help get the fire lit. It looks like an old-fashioned hot-start lever. With the enrichening device, the bike started with very little drama. But, on cold days, the battery wouldn't budge the starter motor. When this happened, we unfolded the kickstarter and fired up the TM MX 450FI-ES just like we would the TM MX 450FI?sans electricity. We don't think the electric starter is worth the extra money or extra eight pounds on the TM MX 450FI.
Q: HOW DOES THE TM MX 450FI HANDLE?
A: TM has made some improvements to the MX 450's handling since last year. Perhaps it is the shorter swingarm or the broader powerband, but we could put the TM wherever we wanted it. The 450FI-ES was very accurate at turn-in, and the minor understeer that bothered us last year was gone. The bike tracked very straight, and while not agile it was workman-like.
Although the TM is a big bike and?thanks to the addition of the electric starter?heavy, it was capable of doing whatever we wanted it to do. We say "capable" because the Italian suspension setup didn't cooperate.

Flight: Across the board the TM MX 450FI is a very good bike that is hampered by a few European oddities, like the suspension setup and the gearing.
In fact, it fought against everything we wanted?by not moving. Lack of movement is an odd trait for a suspension system to exhibit. It is hard to get a bike to handle very well if the suspension doesn't move.
The MXA wrecking crew was not surprised by the intransigence of the suspension, because we suffered the same setup problem when we tested the 2013 TM 300MX and 250MX two-strokes. The culprit isn't the Kayaba forks or the TM rear shock; it's the TM test riders back at the factory. Anyone who rode this bike for more than one lap would know that the shock doesn't move and the forks are harsh in the midstroke. TM needs to get some real-world input before selecting valving in the future.

 
Q: WHAT DID WE HATE?
A: The hate list:
(1) Rear sprocket bolts. Since we spent a lot of time changing gearing, we grew to hate the nine bolts that hold the rear sprocket on. The hubs are amazingly detailed billet units that are polished to a high sheen, but it took twice as long to change a sprocket as normal.
(2) Muffler. The Euro sound police must be tough hombres, because the muffler on the TM MX 450FI-ES could double as an artillery piece for the Italian army.
(3) Handlebars. The Reikon handlebars were the subject of much discussion. They were high-rise models that never seemed to fall handily into place.

(4) Preload ring.   Shocker. TM uses KTM's nylon preload ring. If you are going to borrow parts from another brand, don't borrow the worst part on their bike.
(5) Gearing . We have never before tested a bike that was geared so tall that we needed to add five or more teeth to the gearing.

(6) Radiator cap. The radiator cap sticks up above the radiator shroud. It is in danger there. How do we know? Last year we lost two TM radiator caps.

Pipe works: The HGS exhaust system is well tucked in and includes a resonance chamber. The castings are very works-like.
Q: WHAT DID WE LIKE?
A: The like list:
(1) Brakes. The 270mm Brembo front brake is powered by a Nissin master cylinder and offers awesome power and modulation. The 245mm rear brake is Nissin-powered also. The only downside is that some test riders wanted more pedal height adjustment.

(2) Wheels. Takasago Excel rims laced to very sleek, polished spool hubs.
(3) Map switches. There are two maps in the ECU. We ran the bike on Map 2.
(4) Components. TM uses Brembo, Takasago, Nissin, Braking, Reikon, Marelli, Bitron, Delphi, Kokusan, Microtec and HGS components, and there are lots of handmade, CNC-machined parts on a TM as well.
(5) Hydraulic clutch. Very sweet.
Q: WHAT DO WE REALLY THINK?
A: Exotic motocross bikes are just that ? exotic. When you buy a bike that is handmade in a 40-man Italian factory, from parts they build themselves, you have to be ready for more than a small number of esoteric features in the layout and design. The TM MX 450FI-ES has potential, but it has flaws in the gearing and suspension setup that are grievous.

Map search: The dual-map ignition has a handlebar-mounted switch that allows you to choose between mellow and aggressive setups.

  MXA'S 2013 TM 450FI-ES SETUP SPECS           
This is how we set up our TM MX 450FI-ES for racing. We offer it as a guide to help you find your own sweet spot.



Kayaba: The American importer forced TM to spec Kayaba forks on all the bikes bound for these shores. Now he needs to force them to change the valving to something usable.

KAYABA FORK SETTINGS
 
We don't like these forks, and we don't know anybody who would. They are incredibly harsh. Here's what we ran in our TM MX 450FI-ES (the stock settings are in parentheses):
   Spring rate: 0.43 kg/mm
   Compression: 19 clicks out (14 clicks out)
   Rebound: 12 clicks out
   Oil height: 310cc (350cc)
   Fork-leg height: 6mm up
   Notes: If you look at the oil height numbers, you will see that we lowered the oil height by 40cc. We started by taking out 10cc, then 20cc, and then 30cc, and then 40cc. This was the only way we could get the forks to move.
TM SHOCK SETTINGS



From the first test rider to the very last, every one of them tried to turn the high-speed and low-speed compression clickers farther out ? but they wouldn't go any farther. This is a dead shock. Even when it is moving, it doesn't feel like it is. The best solution is to turn not only the high-speed and low-speed compression clickers out, but be daring with the rebound settings as well. Stock rebound is 14 clicks out; we went to 24. The lighter rebound will soften the compression stroke because there is crossover in the valving stacks.
Here is what we ran for our test riders (stock settings are in parentheses):
   Spring rate: 4.8 kg/mm (5.0 kg/mm)
   Hi-compression: 24 clicks out (14 clicks out)
   Lo-compression: 21 clicks out (14 clicks out)
   Rebound: 24 clicks out (14 clicks out)
   Race sag: 105mm
   Notes: We set the sag at 105mm to coax a more supple feel out of the shock by taking preload off the spring. It didn't work, but our eventual setup made the bike raceable. It wasn't necessarily pleasant, but we could live with it. This shock is going to have to go to your favorite suspension tuner. We only found one tuner who had any experience with a TM rear shock. Try Pro Valve at www.provalvemx.com or (714) 708-2583.