MXA'S 2014 KTM 350SXF MOTOCROSS TEST: THE LITTLE BIKE THAT COULD…IN THE RIGHT HANDS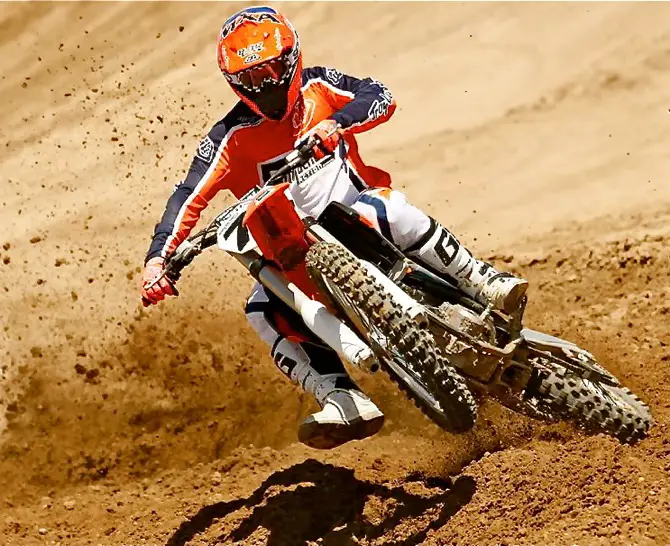 FIRST AND FOREMOST, IS THE 2014 KTM 350SXF BETTER THAN THE 2011, 2012 AND 2013 350SXFs?
A: Yes and no, but mostly no. That doesn't mean that it's a step backwards; it's more of a step sideways.
Q: HAS THE KTM 350SXF BEEN A SALES FAILURE?
A: Far from it. The 350SXF has been a box-office hit from the moment it was introduced in 2011. It is KTM's best-selling engine size, and the sales figures have been spectacular.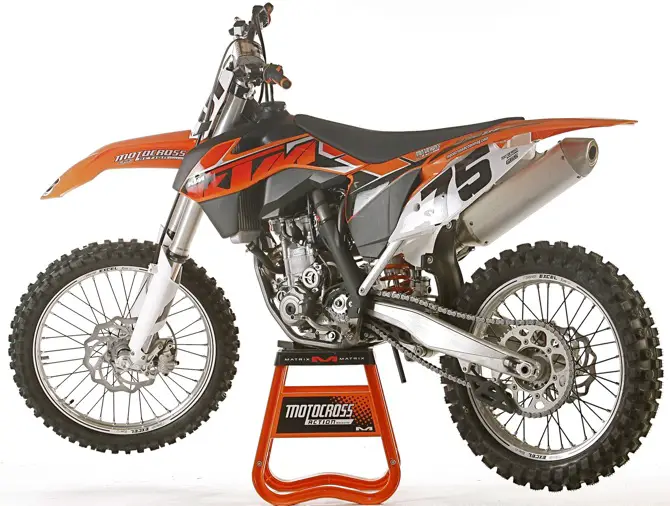 Q: IF THE BIKE SELLS SO WELL, WHY HASN'T MXA EMBRACED IT?
A: The initial 2011 KTM 350SXF was not a very good bike. It was heavy, slow and poorly suspended. It was hard for us to embrace a bike that gave up 10 horsepower in the meat of the powerband to a 450, had to be revved to 13,400 rpm to get the most out of it, and had questionable suspension settings.
We felt a little more love for the 2012 KTM 350SXF, but not enough to go steady. The 2012 350SXF gained a solid 2 horsepower (from 9000 rpm to 12,000 rpm), but it was not any lighter and was still hampered by mediocre suspension.
In 2013, we developed a schoolgirl crush on the 350SXF, because the peak power was moved down in the powerband and the overall power was upped by a couple more ponies. This is the direction that KTM needs to go in the future.
Q: WHAT BASIC CHANGES DID KTM MAKE TO THE 2014 MODEL?
A: For 2014, KTM made 10 changes. Six of them were minor, while four were significant. Here are the six low-level changes.
(1) Water pump. In the past we had issues with the water-pump seal leaking. For 2014, KTM has redesigned the cover with a deeper O-ring groove and a thicker O-ring. The 2014 water-pump cover will retrofit on older KTM 350SXFs, but only if you use the new O-ring.
(2) Seat foam. The foam core of the saddle has been reformulated to be softer initially, but not break down as much.
(3) Chain guide. The slightly smaller chain guide on the swingarm is 120 grams lighter.
(4) Gas cap. The internal threads on the gas cap have been reworked for more positive engagement, and the gas cap has a new low-profile shape; it doesn't stick up as high as last year's cap.
(5) Electric starter . KTM reduced the drag on the gear interface between the starter motor and the engine's freewheel assembly (behind the ignition).
(6) Wiring harness. Ever since the disasters with the throttle position sensor (TPS) back in 2011, KTM has focused on upgrading the wiring harness, fittings, connectors and rubber boots that protect the delicate electrical junctures against the elements?and the evils of power washers.
Q: WHAT DID KTM CHANGE ON THE 2014 FRONT BRAKE?
A: There are some color changes to the master cylinder for 2014. Last year it had a black reservoir and silver cap. For 2014 it has a silver reservoir and a black cap. This is just cosmetic fluff, but there are substantial changes in the lever and master-cylinder piston. The master-cylinder piston has been downsized from 10mm to 9mm. This may seem minor, but since the piston is what pressurizes the brake fluid, even a small change in piston size changes brake power. A smaller piston typically translates into more stopping power. Additionally, KTM redesigned the front brake lever.
Q: WHAT DID KTM CHANGE ON THE 2014 EXHAUST SYSTEM?
A: In the past, KTM made a different muffler configuration for the 250SXF, 350SXF and 450SXF. In 2014, all three four-strokes get the same muffler. Also gone are the internal cones that baffled the exhaust note last year. In Europe, the 350SXF will get last year's larger 450SXF muffler.
Q: WHAT DID KTM CHANGE ON THE 2014 BLACK BOX MAPPING?
A: Mystery mapping. KTM says they changed the mapping, but not at a digital level that can be reached by the KTM reprogramming tool. In fact, the accessible 2014 fuel and ignition maps are identical to the 2013 maps. But, deep below that electronic level, the "base map" has reportedly been changed at the sensor level. This means that KTM could have changed the "transient enrichment program" that determines how much fuel squirts at low rpm. Or, maybe they reconfigured the "correction table" for coolant temperature, barometric pressure and manifold pressure. Or, they might have altered the "BOI sensor" (Beginning of Injection) settings that control when the injector starts spraying fuel in relationship to the crank position. We don't know what KTM changed on the base map, because they're afraid we will spill their secrets like Daniel Ellsberg did with the Pentagon Papers in 1971.
Q: WHAT DID KTM CHANGE ON THE 2014 WP FORKS?
A: The 48mm WP forks were revalved to new "comfort" settings. What does that mean? It translates into more low- and mid-speed compression and low-speed rebound.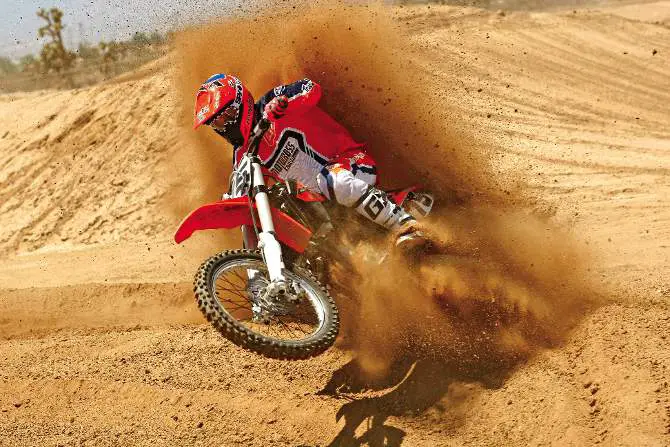 Q: HOW GOOD WERE THE WP FORKS?
A: Suspension is like Kryptonite to KTMs. The 2014's increased mid- and low-speed compression damping is a step in the right direction, but it doesn't really bring about the quality of change that KTM needed to make. If we were given a magic wand, we would focus on the WP's spring seat to make the mid-stroke more progressive, and we would valve each bike's forks for their own inherent traits. We don't believe in the one-size-fits-all theory of suspension damping. KTM is making incremental improvements, but at the current pace, it will take four years to get the WP forks where they need to be.
Are the 2014 WP forks the best on the track? No. What's the best we can say about the forks? They are raceable.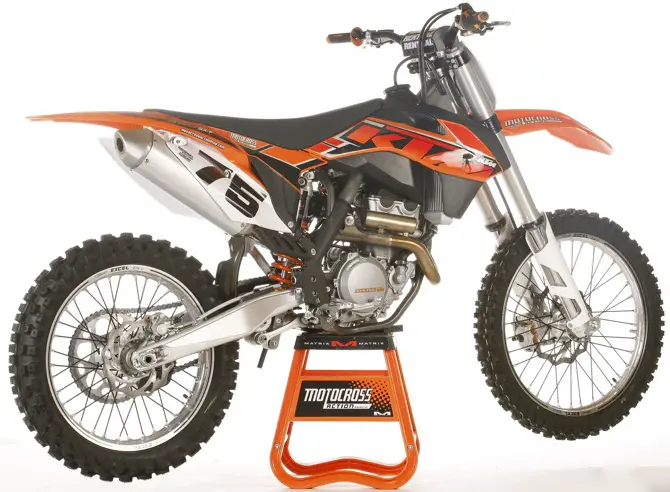 2014 KTM 350SXF: KTM has been on a record pace with their engine development program over the last three years. The focus for 2014 has been refinement, not overhaul.

Q: WHAT WAS OUR BEST SETTING FOR THE WP REAR SHOCK?
A: To the best of our knowledge, the WP rear shock is unchanged for 2014. We find that strange, given that KTM lost most of the 2013 shootouts specifically because of mediocre suspension performance.
Our biggest complaint about the 2014 rear shock was that if you set it up to be supple in choppy bumps, you risked it blowing through its stroke in G-out situations. Our compromise setting was to increase the race sag from 105mm to 100mm and turn the high-speed compression adjuster in. With some trial and error, we found a raceable setting that bridged the gap between absorption and bottoming resistance.
Q: HOW GOOD IS THE 2014 KTM 350SXF'S POWERBAND?
A: The 2014 KTM 350SXF is not faster than the 2013 model. It mimics everything about last year's powerband to a T. But, compared to the original 2011 model, the 2013 and 2014 KTM 350SXFs are virtual works bikes. Good overall power and unlimited revs make the 2014 model easy to ride, with the caveat that the best power output is found from 11,000 rpm to 13,400 rpm. If you don't rev it, you might as well not ride it.

The flight plan:?KTM's 350SXF hasn't fulfilled the promise of a mid-sized Open bike as much as it has that of an over-size 250. It needs more power in the middle to eliminate the need to rev the engine to 13,000 rpm.
Q: CAN THE KTM 350SXF BEAT A 450?
A: Sure it can. We've seen 125cc two-stroke riders run down and pass 450s, so it would be no problem for a 350cc bike. But, if you're asking us whether you should buy a 350 instead of a 450, we have four things for you to consider.
(1) Tony Cairoli effect. KTM points with pride to the fact that Tony Cairoli has been winning the 450 World Championships on a 350. That is a great argument?if you ignore the fact that every other factory KTM rider who raced the 350SXF immediately went back to the 450 when given the opportunity. The 350SXF requires a rider to rev the engine to 13,400 rpm and ride it more like a 250 than a 450.
(2) Horsepower shortage. KTM's Factory Services department built MXA a KTM 350SXF last year that pumped out 58 horsepower. It was a great engine and something that every MXA test rider embraced. That is a lot of power spread across a really wide range. It also cost a lot of money.

(3) Professional practice riders. If you ride at your local spot, rarely race and just go out to have fun, the 350SXF is perfect. It isn't as brutish as a 450 in the midrange, where a 450 makes as much as 10 horsepower more, and it is a little lighter. KTM's massive sales numbers for the 350 come from play riders, woods riders and professional practice riders?not racers.

(4) Racer prejudices. American racers have not embraced the 350cc concept as much as trail riders. Hardcore racers want the grunt, extra horsepower and lower rpm levels that come with a bigger bore. Given their druthers, the vast majority of MXA test riders choose to race the 450SXF over the 350SXF.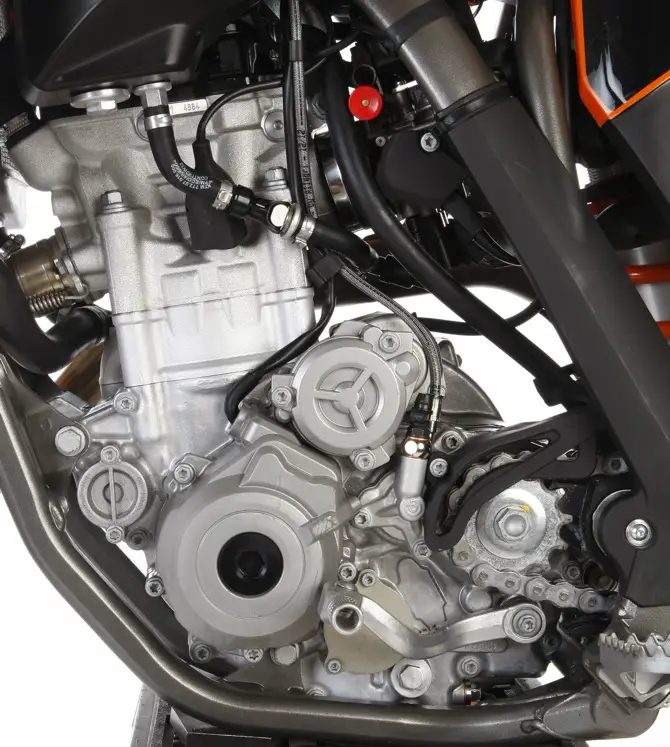 Push button: Once you try electric start, you'll never go back.
Q: WHAT DID WE HATE?
A: The hate list:
(1) Shock preload ring. We don't know why KTM refuses to change back to an aluminum or steel preload ring. Plastic is not where it's at.

(2) Weight. We always expected the KTM 350SXF to be light, but it never has been, and now we assume it never will be. The 350 weighs about 4 pounds less than the 450SXF, and even though it is about a pound lighter for 2014, so is the 450SXF.

(3) Shift lever. The shift lever falls in an odd place on the shift-shaft splines, which means that it is either too high or too low. We placed it between two blocks on a bench press and bent the tip upward.
(4) Gearing. If you don't add one tooth to the rear sprocket, you never get full use out of the high-rpm powerband. Invest in the 51-tooth rear sprocket.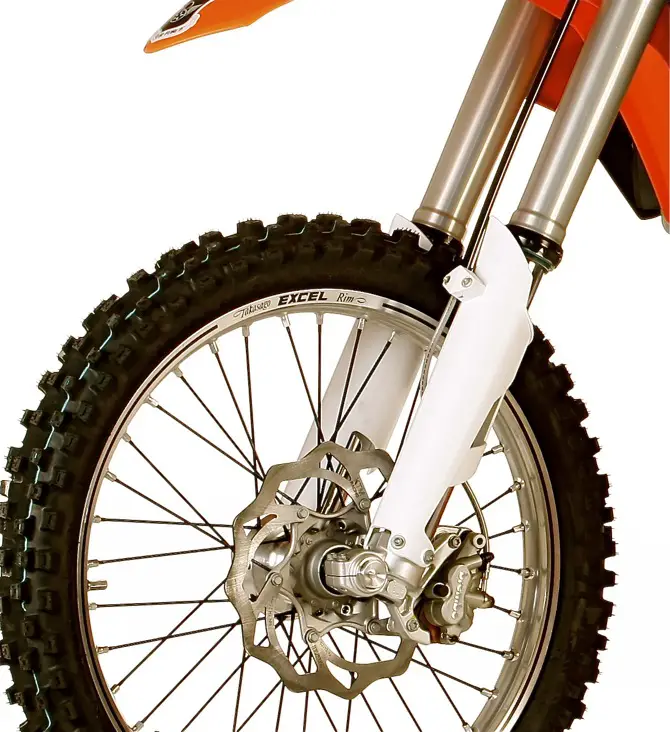 Striking contrast: Awesome brakes and mediocre forks.
Q: WHAT DID WE LIKE?
A: The like list:
(1) Steel clutch basket. The 350SXF does not use the exotic diaphragm clutch that comes on the 250SX and 450SXF, but it does have a durable, strong and money-saving steel clutch basket. Plus, it is hydraulic.

(2) Electric start. The greatest idea in offroad riding.
(3) Brakes. Once you ride with a 260mm KTM hydraulic Brembo front brake, you will hate CRF, KX-F, YZ-F and RM-Z brakes for life.
(4) Handling. Once you get the suspension balanced, this bike can carve.

(5) Seat foam. The new foam is no better than the old foam.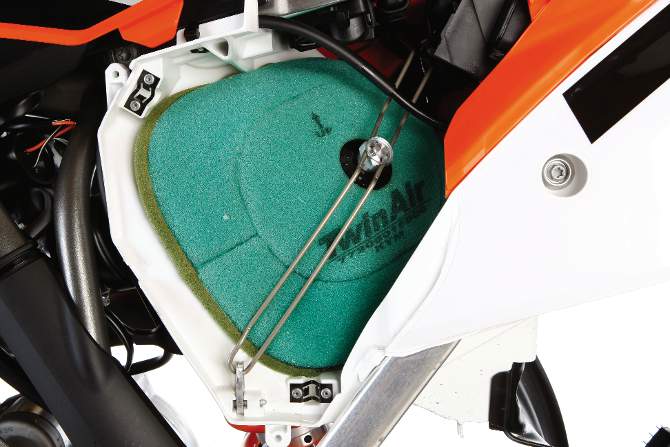 Quick release: No tools are required to change a KTM filter.
Q: WHAT DO WE REALLY THINK?
A: KTM has proven that there is a large untapped market for a mid-sized, 350cc Open bike. It may sound like blasphemy in the face of Tony Cairoli's accomplishments, but we don't think that the 350 will ever be embraced by as many serious racers as fun-loving play riders.
MXA'S 2014 KTM 350SXF SETUP SPECS

This is how we set up our 2014 KTM 350SXF for racing. We offer it as a guide to help you find your own sweet spot.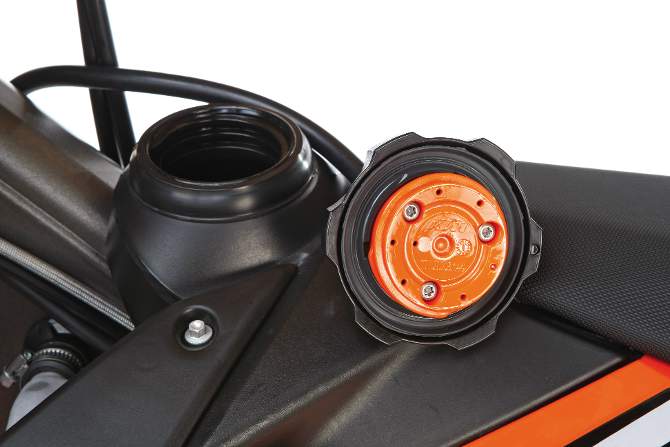 Lefty loosey: The gas cap gets better threads for 2014.
WP FORK SETTINGS
It's important to note that KTM only has one fork spec for all three bikes. This means that the KTM 250SXF, 350SXF and 450SXF share the same valving, regardless of the bike's size, weight or horsepower?although they do change the spring rate on each fork. From the MXA test riders' point of view, the 450SXF suspension works the best, the 350SXF is slightly less absorbent, and the 250SXF is atrocious. Now you know why.
For hardcore racing, we recommend this fork setup on the 2014 KTM 350SXF (stock specs are in parentheses):
Spring rate: 0.48 kg/mm
Oil height: 380cc (390cc)
Compression: 15 clicks out
Rebound: 18 clicks out
Fork-leg height: 5mm up
Notes: We lessened the rebound damping to compensate for damping that was designed to work with the 450SXF's 5.0 kg/mm fork springs. Only small riders will find the KTM forks too stiff. Fast riders will think they are too soft. Everybody else will think they are too busy in the mid-stroke. Lowering the fork oil height is a simple tuning tip for everybody but Pros, who might want to add oil.

Tight rope: Once you get the bike balanced, it will go anywhere you want it to.
WP SHOCK SETTINGS
When KTM first introduced the 350SXF, they thought of it as a big 250SXF and outfitted it with the lighter 250SXF fork and shock springs. Bad idea. Since then, KTM's engineers have increased the fork spring rate to fall between the 250SXF's 0.46 and the 450SXF's 0.50 and they upped the rear shock from the original 5.4 to a 5.7. These are good moves, especially on the forks. Even with the stiffer shock spring, we still added more high-speed compression damping to help in G-outs.
For hardcore racing, we recommend this shock setup for the 2014 KTM 350SXF (stock specs are in parentheses):
Spring rate: 5.7 kg/mm
Race sag: 100mm (105mm)
Hi-compression: 1-1/2 turns out (2 turns out)
Lo-compression: 12 clicks out
Rebound: 15 clicks out
Notes: We don't think the average 350SXF rider will need a stiffer shock spring?unless he is over 200 pounds. Smaller riders?those under 150 pounds?might opt to return to last year's softer 5.4 kg/mm rear spring.

Tooth decay: The 350SXF's gearing is too tall for racing. Add a tooth.