MXA'S 2014 SUZUKI RM-Z450 MOTOCROSS TEST: IT'S A ONE TRICK PONY, BUT OH WHAT A TRICK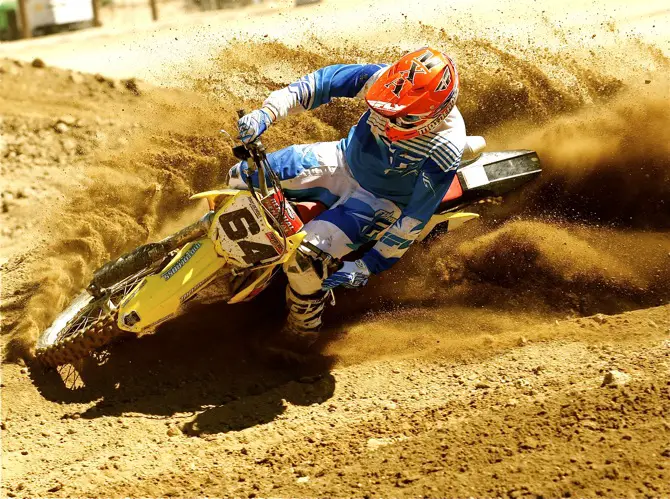 FIRST AND FOREMOST, IS THE 2014 SUZUKI RM-Z450 BETTER THAN THE 2013 RM-Z450?
A: No. Unless the new yellow side panels are able to harness the power of Krypton's red sun, this bike is a carbon copy of last year's bike. There is one mechanical change that we will get to later, but it doesn't do anything for performance (and Suzuki only confused us about what it did by changing their version of how it performed). No big deal because it doesn't do anything that you would ever notice anyway.
Q: DIDN'T SUZUKI DECLARE BANKRUPTCY LAST YEAR?
A: Yes, in November of 2012, American Suzuki Motor Corporation filed for Chapter 11 bankruptcy protection. Many people believe that it was just Suzuki's car division that was filing for bankruptcy, but the automobile division was part of a corporation that included Suzuki's motorcycle, ATV and marine businesses. The bankruptcy was, however, unrelated to Suzuki of Japan?except that American Suzuki owed them money also. In March of 2013, a court approved Suzuki's plan to eliminate their U.S. automobile division and let them reorganize to keep their motorcycle, marine and ATV branches operating. In April, American Suzuki Motor Corporation changed their name to the Suzuki Motor of America, Inc.
In a strange twist, today Suzuki is in a better financial position than it was before filing for bankruptcy protection. They shed their money-losing car division, erased hundreds of millions of dollars of debt, changed their name, brought in a new president and refocused their attention on their core businesses. All that's left now is to build consumer confidence in their products, expand their R&D budgets and pursue exciting new models.
Q: SPEAKING OF EXCITING NEW MODELS, WHAT DID SUZUKI CHANGE ON THE 2014 RM-Z450?
A: One thing (you can hold up one finger like Jack Palance if you want). It's important to remember that the 2013 Suzuki RM-Z450 had been heavily revised, and thus Suzuki's marketing men were under no pressure to come out with a totally new bike. Last year, the RM-Z450 got a 13-percent-lighter piston, a DLC piston pin, 0.4mm higher-lift cam, three-dog gears, more magneto power, a redesigned muffler, an enlarged air boot and Showa SFF single-spring forks.
So, what is the one thing that Suzuki changed in 2014? As a rule of thumb, all four-strokes fire the spark plug on both the compression and exhaust strokes. Common sense tells you that the spark on exhaust is wasted energy. The alternative to this is called "single-fire spark," in which the ignition only lights off the spark plug on the compression stroke. No motocross bikes have true-to-life, single-fire ignitions, but for 2014, Suzuki has or hasn't got a single-fire spark when the kickstarter is used?and only when the bike is being kicked over. Once the 2014 Suzuki RM-Z450 engine begins to run on its own, the ignition returns to a conventional dual-spark system… or to single-fire ignition ? take your pick.
Confused? So are we. Suzuki gave us two completely different explanations of what their new ignition does. The one that made sense, they refuted. The one that didn't make sense, was the one they embraced. Let's end the confusion by saying that it doesn't make much difference anyway. The best and only way to start an RM-Z450 is to get the kick start lever as high as possible and get a full kick. Half-hearted stabs won't do it?regardless of how the ignition is suppose to work.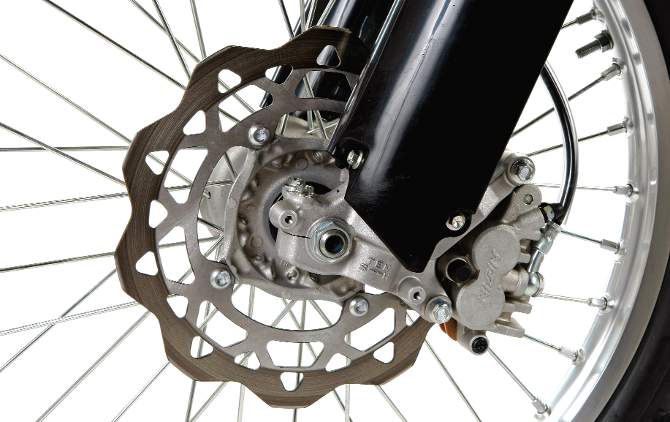 Q: WHAT WOULD MXA HAVE LIKED SUZUKI TO CHANGE FOR 2014?
A: We aren't depressed that Suzuki didn't make any significant changes to the 2014 RM-Z450, because it is a decent bike as it sits; however, it has some flaws that could easily have been addressed at the factory but weren't. Now you will have to fix them.
(1) SFF forks. These forks are horrid. They have a nice supple feel in the first half of the stroke, and then hit a block wall at midstroke. If you race on smooth tracks with lots of big jumps, you will like these forks. But, if your track has dirt, bumps and ruts, you won't like them. Not even a little.
(2) Clutch. Pitiful. Suzuki's clutch is spongy when new and never gets any better. It wouldn't kill Suzuki to install stiffer clutch springs.
(3) Overheating. The stock 1.1 kpf radiator cap isn't sufficient to prevent boiling. We immediately switched to a higher-pressure cap (and suggest that every RM-Z450 owner do the same thing).
(4) Hot-start lever. We've broken so many of these that we don't even replace them anymore.
(5) Rear-brake adjustment. Suzuki's rear pedal has a very narrow window of adjustment. Caveat: There must be freeplay in the master cylinder's slotted clevis.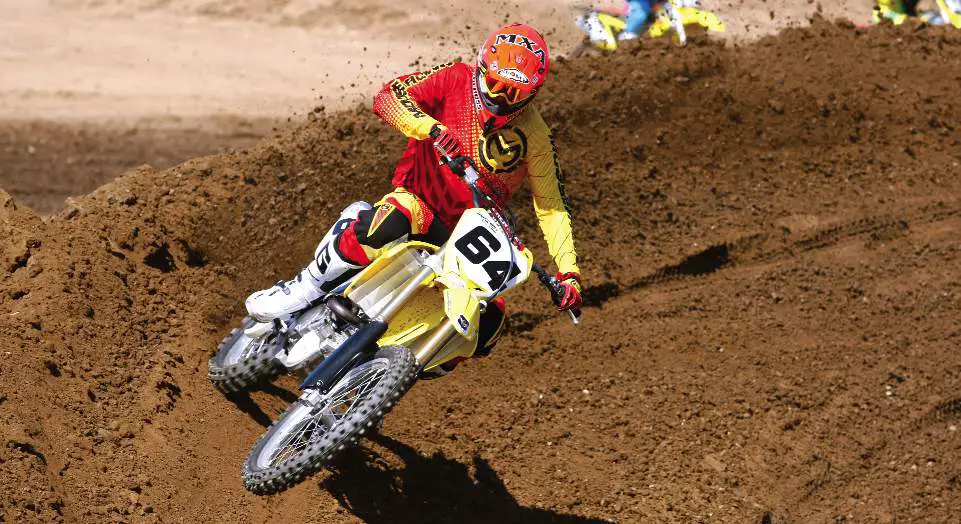 Q: HOW FAST IS THE 2014 SUZUKI RM-Z450?
A: In a direct comparison to the 2014 KX450F, 450SXF and YZ450F, the Suzuki has better roll-on power, but not the best roll-on power. That honor goes to the mild-manner 2014 Honda CRF450, which has the best throttle response by far from 5000 rpm to 6500 rpm. From 6500 to 8200 rpm, all four 450s are close to parity. Then, after 8500, the Yamaha, KTM and Kawasaki take off and leave the red and yellow bikes in the dust. Above 8500 rpm is no man's land for both the RM-Z450 and the CRF450. They hang after 8500 rpm.
Is the RM-Z450 fast? Not in the traditional sense. It has a classic low-to-mid powerband that requires the rider to shift at peak and avoid trying to rev the engine out. Don't be mistaken, though, it will rev way past 8500 rpm, but it will be losing power as the rpm climbs.
This is a finesse engine that is perfect for Novice and Vet riders who like to gas and go. To be successful, a rider has to short-shift the RM-Z450, or if he feels lucky?"Well, do you, punk?"?shift at peak. Pro riders are going to need a lot more top-end power to make their flat-out approach to racing work.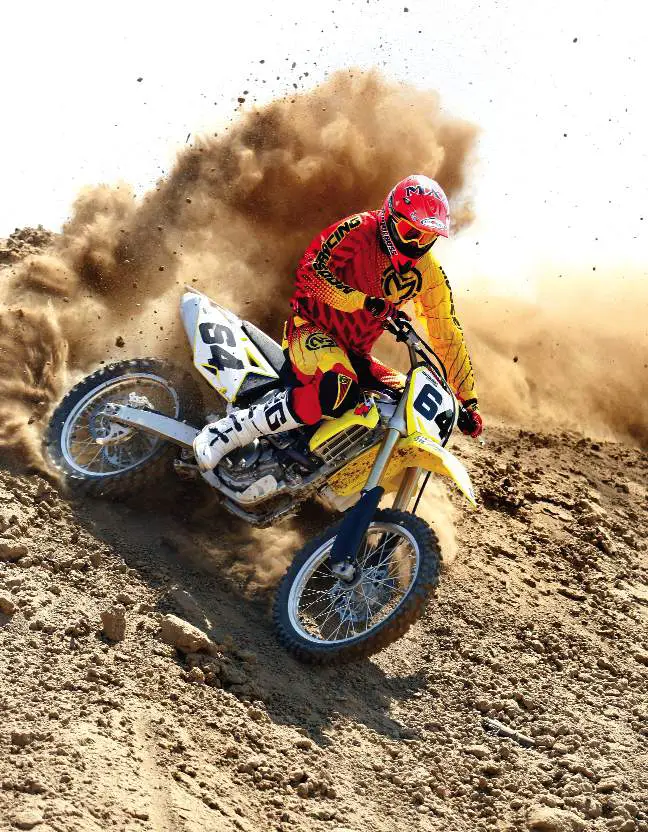 Mantra: If you are buying a Suzuki RM-Z450 for its power, brakes or clutch, you are sorely misguided. You buy an RM-Z450 for its cornering prowess.
Q: HOW DOES THE 2014 SUZUKI RM-Z450 RUN ON THE DYNO?
A: The 2014 Suzuki RM-Z450 is the fourth-most powerful bike on the dyno (behind the Yamaha YZ450F, KTM 450SXF and KX450F). The Suzuki produced 54.10 horsepower to the Yamaha's 58.22, KTM's 56.97 and Kawasaki's 55.05. The 2014 Honda CRF450 made a lowly 51.98 horsepower.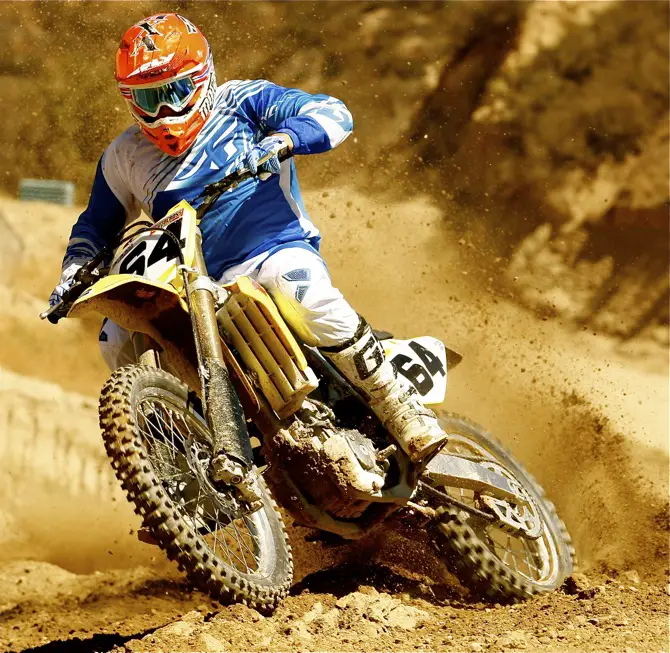 Q: WHICH PLUG-IN MAP IS BEST?
A: Stock coupler (black): You can't go wrong with this coupler. It works across a wide range and doesn't do anything wrong. Yes, it is a little better on the dyno than it is on the track, but this a good all-around mapping choice.
Rich coupler (gray): On hard, dry and slippery tracks, this plug-in is worth its weight in gold. It fine-tunes the power delivery to allow the rider to use it to its fullest. Although it's not a good choice for loam, sand or well-prepped dirt, it's great on linoleum.
Lean coupler (white): In the opinion of the MXA wrecking crew, this is the best choice for a motocross racer. It adds dimension, personality and pizzazz to the RM-Z450's powerband. It makes power when a racer needs it?now.


2014 Suzuki RM-Z450: Virtually unchanged from 2013, we don't even consider this to be a BNG bike, since it doesn't even come with Bold New Graphics. Luckily, it was good enough last year to survive benign neglect.
Q: HOW DOES THE 2014 RM-Z450 HANDLE?
A: Just accept that the Suzuki RM-Z450 is the best-turning motocross bike on the track. The moment you dive into your first corner, you can feel that this bike wants to turn. The RM-Z450 feels like the front end is attached to a slot-car groove. The yellow bike can dive inside of every bike on the track?unless that bike is another Suzuki.
On the other hand, when the RM-Z engineers skewed the frame geometry so far into the tight-turning equation, they give up stability at speed?something that James Stewart learned the hard way during the 2013 AMA 450 Nationals. James even resorted to a steering damper to calm it down on high-speed straights.
We don't think that fear of high-speed shake is a good enough reason to give up the RM-Z450's prowess at low speeds. You gotta give to get, and given the weak top-end power, you probably won't be passing any KX450F, 450SXF or YZ450F riders at the end of a long straight anyway. Save your best moves for the tight and twisties.
Fork height is critical on the RM-Z450 because of its steep head angle. If you let the forks drop too much or have the fork legs too high in the triple clamps, the bike will oversteer. Experiment to find the sweet spot.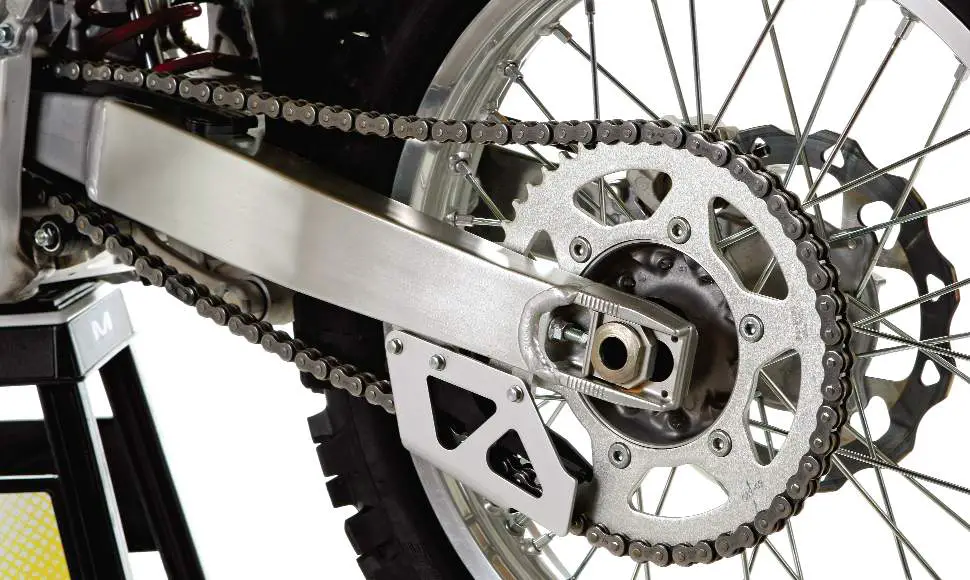 Smart moves: Suzuki's engineers made good choices when it came to choosing the stock gearing and Bridgestone tires.
Q: HOW GOOD ARE THE SHOWA SFF FORKS ON THE 2014 RM-Z450?
A: We dreaded racing the bike with the stock jackhammer forks. They beat us to death in the bumps because they barely moved in the midstroke. Surprisingly, the RM-Z250 forks worked very well, which points to the fact that there were two different engineering teams working on the RM-Z450 and RM-Z250 projects. We wish that whoever spec'ed the RM-Z250 SFF forks had been assigned to the RM-Z450 forks also.
The only time that the Showa SFF forks felt good was when we raced the bike on smooth, hard-packed tracks with lots of jumps and very few bumps. In these conditions, the stiff forks came in handy when landing from jumps and didn't penalize the rider in the nonexistent bumps. One bit of advice; turn the preload adjuster all the way to hold the forks as high in their stroke as long and possible, because once they move into their stroke they are atrocious.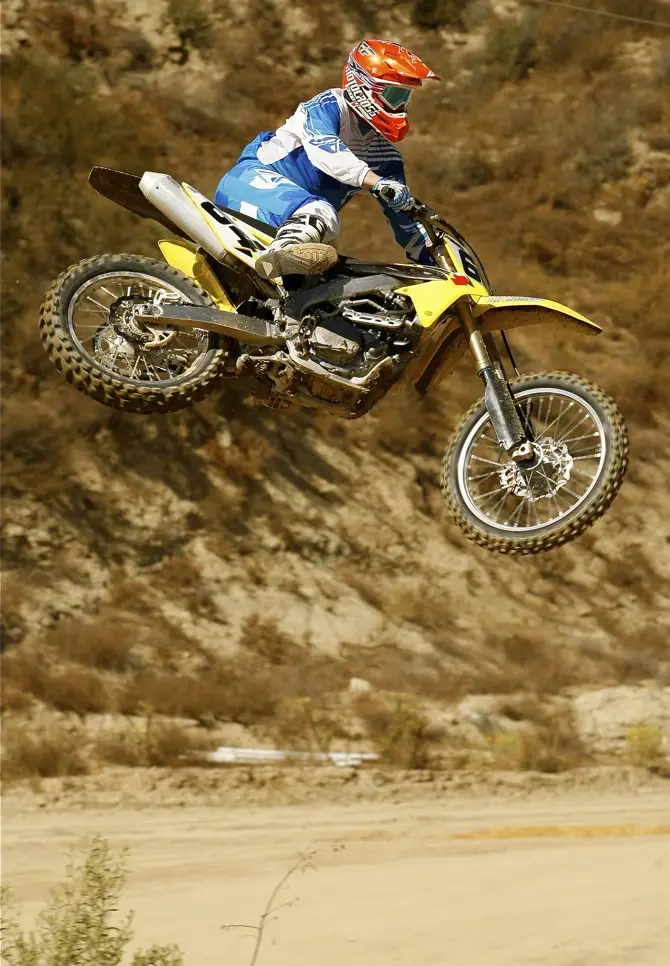 Q: WHAT DID WE HATE?
A: The hate list:
(1) Clutch. Spongy, weak and vague are not traits you want out of a brand-new clutch.
(2) Weight. At 242 pounds, the RM-Z450 is about 10 pounds heavier than it should be. Although the RM-Z450 does feel light in motion, it is the heaviest bike in the class. You may not feel the weight as much when riding the bike, but if that motion is you putting it up on a bike stand?you feel it!
(3) Overheating. This is the worst cooling system on any motocross bike. If you start your bike on the line, a puddle will form below it.
(4) Throttle grip. If you want to install aftermarket grips on the RM-Z450 throttle tube, lots of luck. It is vulcanized onto the throttle tube.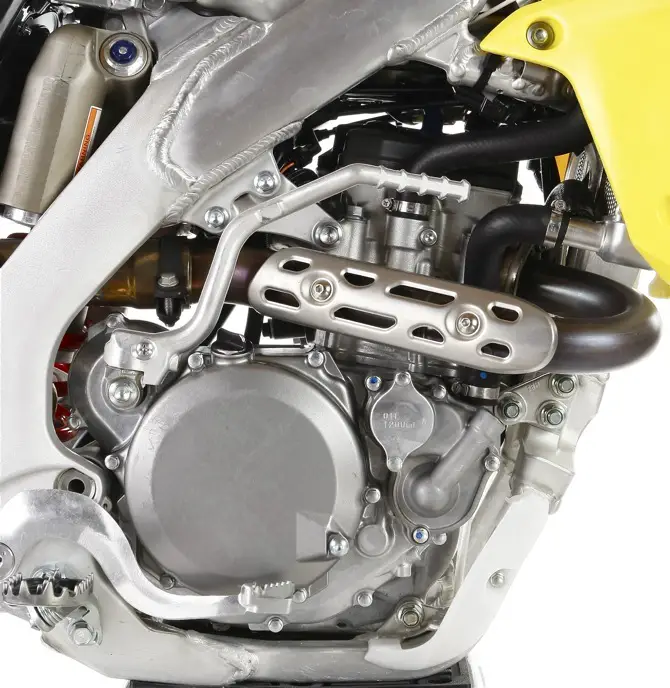 Smooth: Not fast, the RM-Z450 power is a pleasant surprise.
Q: WHAT DID WE LIKE?
 
A: The like list:
(1) Handling. We love how it feels on tracks with lots of corners, but say three Hail Marys before hitting a fast, rough straight.

(2) Powerband. We like the low-to-mid thrust. This engine doesn't set the world on fire, but it has a sweet powerband that can get the job done.
(3) Tires. Bridgestone's 403/404 tire combo is an MXA favorite.
(4) Shifting. Kudos to Suzuki for making the bike shift better. Now if they could just make it easier to find neutral. We discovered that the best way to get the RM-Z450 into neutral is to do it while the bike is still rolling toward the pits.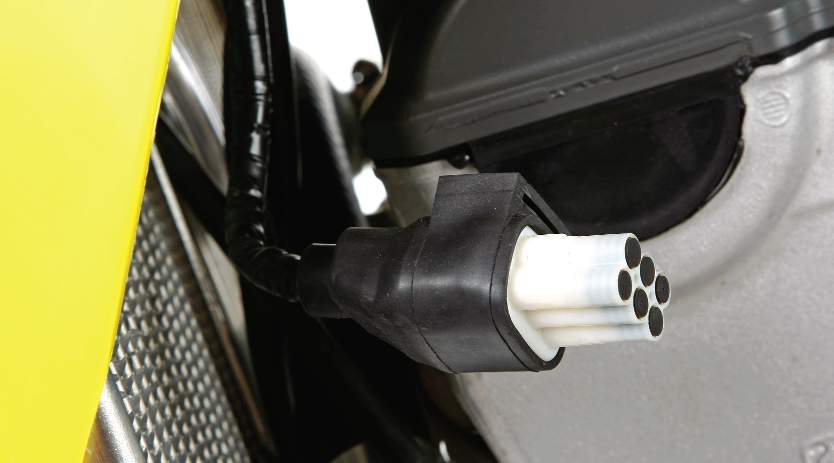 Plug-in: Most MXA test riders preferred the white coupler.
Q: WHAT DO WE REALLY THINK?
A: Without being mean, there are some performance areas that will never come up when describing the 2014 Suzuki RM-Z450's superlatives?horsepower, suspension, clutch, cooling and brakes. However, despite its flaws, the MXA wrecking crew would buy this bike for its handling?and its handling alone.

  MXA'S 2014 SUZUZKI RM-Z450 SETUP SPECS  
This is how we set up our 2014 Suzuki RM-Z450 for racing. We offer it as a guide to help you get your own bike dialed in.
SHOWA SFF FORK SETTINGS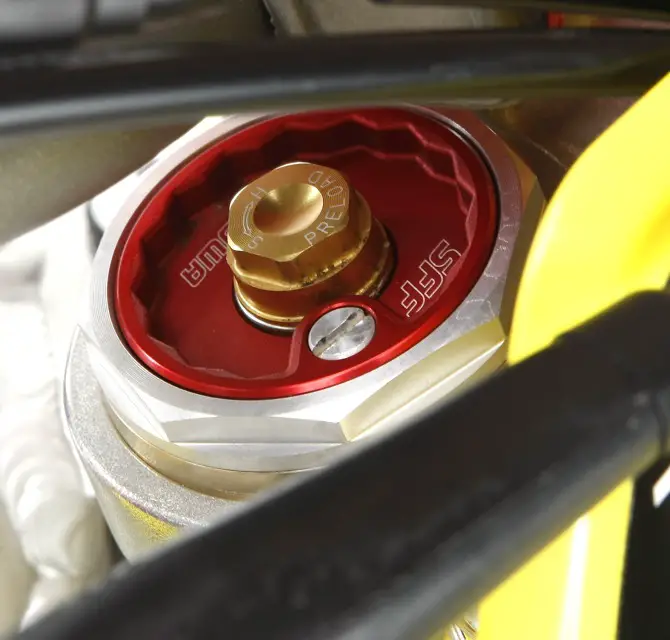 Crunch: The RM-Z's SFF forks are the worst forks of 2014.
SFF forks came on the Kawasaki KX250F for several years. Suzuki adopted them last year. You might wonder why Suzuki didn't go with air forks, like the 2013-2014 Kawasaki KX450F and Honda CRF450. The most likely answer is that Suzuki is a loyal Showa customer, and the Showa air fork is not ready for production use yet, so SFF is the newest thing in Showa's OEM arsenal.
Since SFF forks come with adjustable preload on the single spring, it can change the ride height of the front end across a big range. Because of the harshness of the forks, most test riders wanted to lessen the preload on the single spring to make the forks feel plusher. This was the wrong way to go. Instead, our best SFF strategy was to turn the preload adjuster all the way in to hold the forks higher in their stroke. This way we increased the amount of good travel and increased the odds of blowing through the bad part of the damping. It is a band-aid fix at best.
For hardcore racing, we recommend this fork setup for the 2014 Suzuki RM-Z450 (stock specs are in parentheses):
   Spring rate: 1.00 kg/mm
   Oil height: 310cc in left leg, 350cc in right leg
   Compression: 15 clicks out (9 clicks out)
   Rebound: 12 clicks out
   Preload adjuster: All in (clockswise)
   Fork-leg height: Flush
   Notes: To use the preload adjuster, you must turn the clicker all the way out (counterclockwise) and then count clicks back in. As a rule of thumb, four clicks on the adjuster equals 1mm of preload.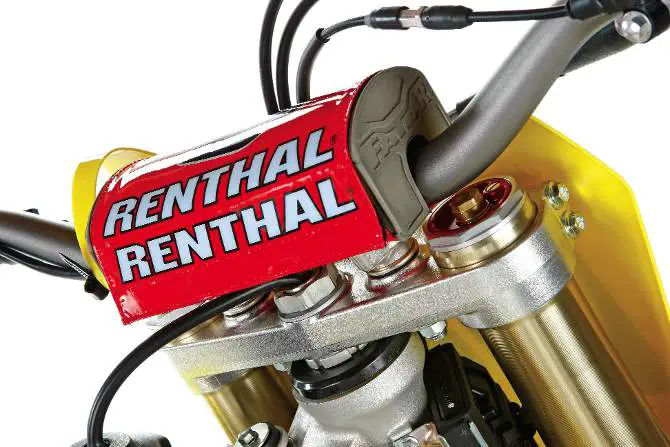 Unwed: The harsh SFF forks have a single spring in the right leg.
SHOWA SHOCK SETTINGS
For hardcore racing, these are MXA's recommended 2014 Suzuki RM-Z450 shock settings:
   Spring rate: 5.7 kg/mm
   Race sag: 100mm
   Hi-compression: 2 turns out
   Lo-compression: 12 clicks out
   Rebound: 12 clicks out
   Notes: The rear shock has a dead feeling, but perhaps that is the best sensation for a bike with such a hyper-kinetic chassis. We set the sag at 100mm and used the high-speed compression adjuster to adjust chassis height in motion. We turned it out to lower the rear and turned it in to raise the rear. The high-speed compression adjuster works like a pressurized ride height control and is the key to getting the balance of the RM-Z450 correct at speed.