MXA'S 90-SECOND TEST: 2014 HONDA CRF450
Honda has refined the CRF450 since the dark days of 2009-2012. In 2013 they fixed the handling, redesigned the plastics, bolted on an extra muffler and embraced air forks. For 2014, the stood pat with what they introduced last year—with the exception of a innovative fuel injection concept. But the question remains, did any of these changes redefine the bike?
50-WORD ANALYSIS
The 2014 Honda CRF450 is really just the 2013 model dressed up with shiny plastic. Yes, Honda did bring it's unique Dual-Timing fuel injection to the party, but that's not enough to make the CRF450 the life of the party. No matter how many good things Honda does to the CRF450, it will all be for naught if they can't make the bike faster.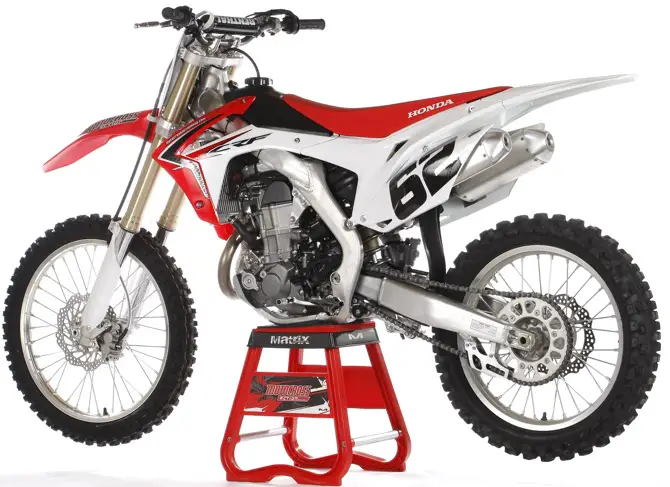 WHAT'S GOOD?
Weight. The 2014 Honda CRF450 is the lightest 450 made and it feels even lighter once in motion.
Handling. Given its history, Honda's engineer deserve credit for making the CRF450 feel sharp, accurate and predictable.
Low-end throttle response. Honda's best powerband trait is how responsive it is at low-rpm.
WHAT'S BAD?
Power. What power? At 51.97 horsepower on the dyno, the CRF450 gives up as much as six horsepower to its competition. It makes less horsepower than the KTM 350SXF.
Brakes. Honda once had the best brakes in motocross. Now they are an also-ran.
Twice pipes. Maybe it's just us, but we don't get it. Twice of any part is one too many.
Clutch. It isn't as bad as the previous four-spring clutch, but it isn't as good as it needs to be.
WHAT DID WE CHANGE?
Here is the short list of things the MXA wrecking crew changed on the 2014 Honda CRF450.
(1) We added stiffer clutch springs. They improved the grip, but made the actuation window tougher to modulate.
(2) We geared it down from 48-teeth to 49-teeth.
(3) We invested in an oversize front brake rotor and tossed the front brake rotor guard.

(4) We blew more Kayaba PSF fork seals last year between our KX450F and CRF450 than all of the other bikes in our test quiver combined. In the end, we switched to SKF seals and neoprene fork skins to slow down the madness.
(5) We ran a singled-side FMF exhaust pipe to save weight and improve the power.
WHAT DO WE THINK?
This is an very good bike. This is a very slow bike.