MXA'S BIRTHDAY BOY: TOM WHITE WAS THE MAN YOU WISH YOU COULD HAVE KNOWN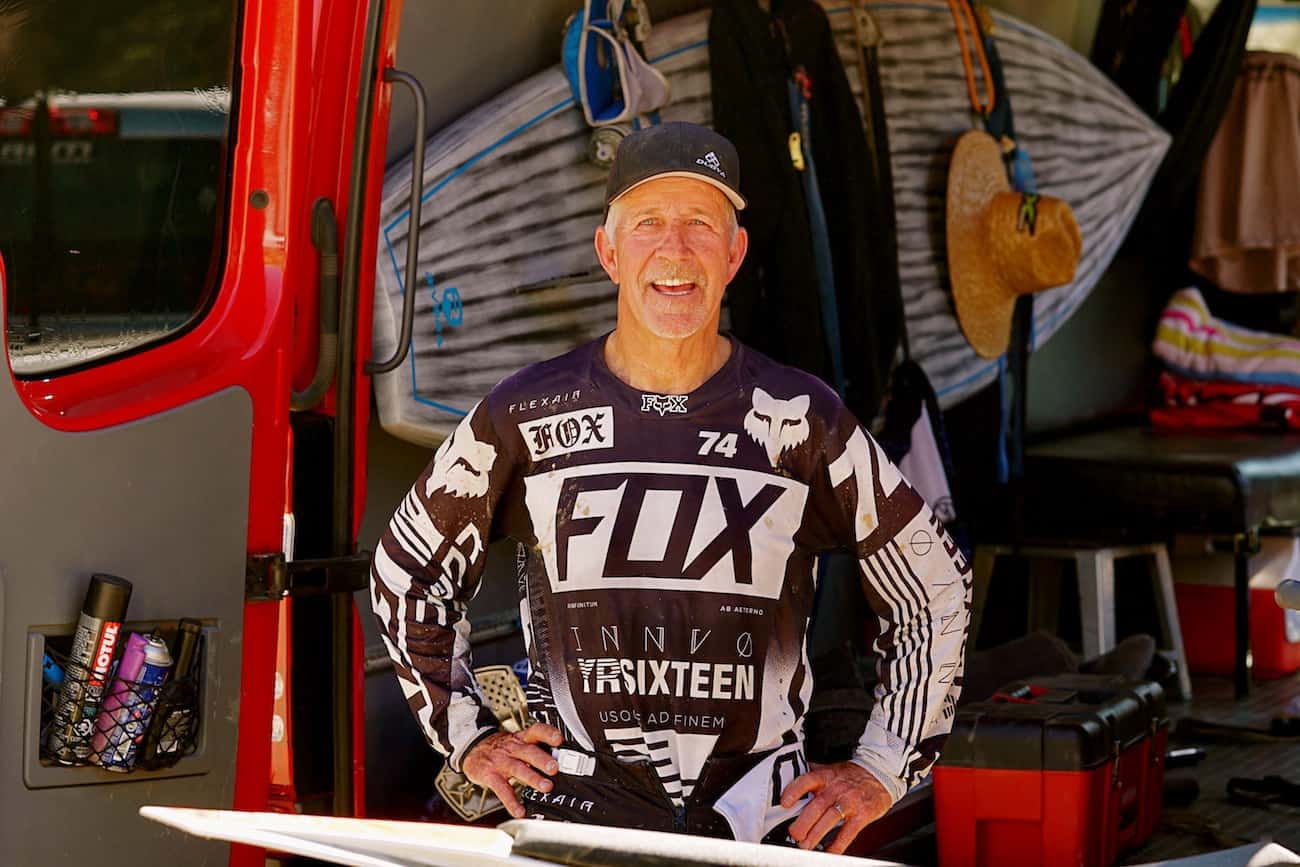 Tom White passed away on the eve of the 2017 World Vet Motocros Championship. Not only was Tom a former Over-40 World Vet Champion, but he founded the race, financed the race and watched it grow to epic proportions. When no one cared about Vet Motocross racers, Tom White did—and 35 years ago he brought it to the forefront. Tom would have been 70 this year. Everyone who knew Tom holds the time they spent with him in a special place in their memory. MXA wishes that everyone could have met Tom.
Born on April 8, 1949, Tom's first career was an an AMA Grand National Dirt Track racer. He earned an AMA National number and raced against the likes of Kenny Roberts and Mert Lawwill. He always kept dirt track racing close to his heart, but moved on to motocross after his days on Harley XR750s came to an end.
Tom White (right) presenting the Edison Dye Lifetime Achievement Award to Bob Hannah in 2007. Behind Bob and Tom are Bevo Forti, Keith McCarty and Bill Buchka.
Tom was an accomplished race announcer. He announced AMA Nationals, AMA vintage motocross days, World Vet Championships, the USGPs, World Two-Stroke Championships,  charity auctions, local races and did voice-overs on videos. Tom loved to talk about motocross racing.

Tom was inducted into the AMA Hall of Fame in 2014 with Pierre Karsmakers (center) and Mike LaRocco (right).

Tom said there was nothing like laying his Triumph over until the engine cases slid across the ground.

When the American Flat Track sanctioning body heard that Tom was ill they invited him to an AFT Dirt Track National and let him do four laps of honor on his Indian 750 dirt track bike. It was the last time that Tom rode a bike.
Tom respected motorcycle racing history, which is obvious by his involvement with the AMA Hall of Fame museum, his Early Years of Motocross museum, the Edison Lifetime Achievement Award and in the little things he did for the stars of the past.  Here, Tom presents a joke trophy to 1956 Catalina Grand Prix winner Chuck "Feets" Minert for winning the 80 Expert class at Glen Helen in 2011.  Tom hoped to race into his 80s like Feets Minert, but he was taken away too soon.
Tom and twin brother Dan standing behind the  Full Floater Suzuki that they built for Brad Lackey to race at the 1982 ABC-TV Superbikers race.
Tom won the 1990 Over-40 World Vet Championship. He raced every weekend when he wasn't busy with the multiple projects that he took on after selling the White Brothers. He had just bought his KTM 450SXF Factory Edition when he was diagnosed with cancer. All he wanted to do after chemo was to race it. He did.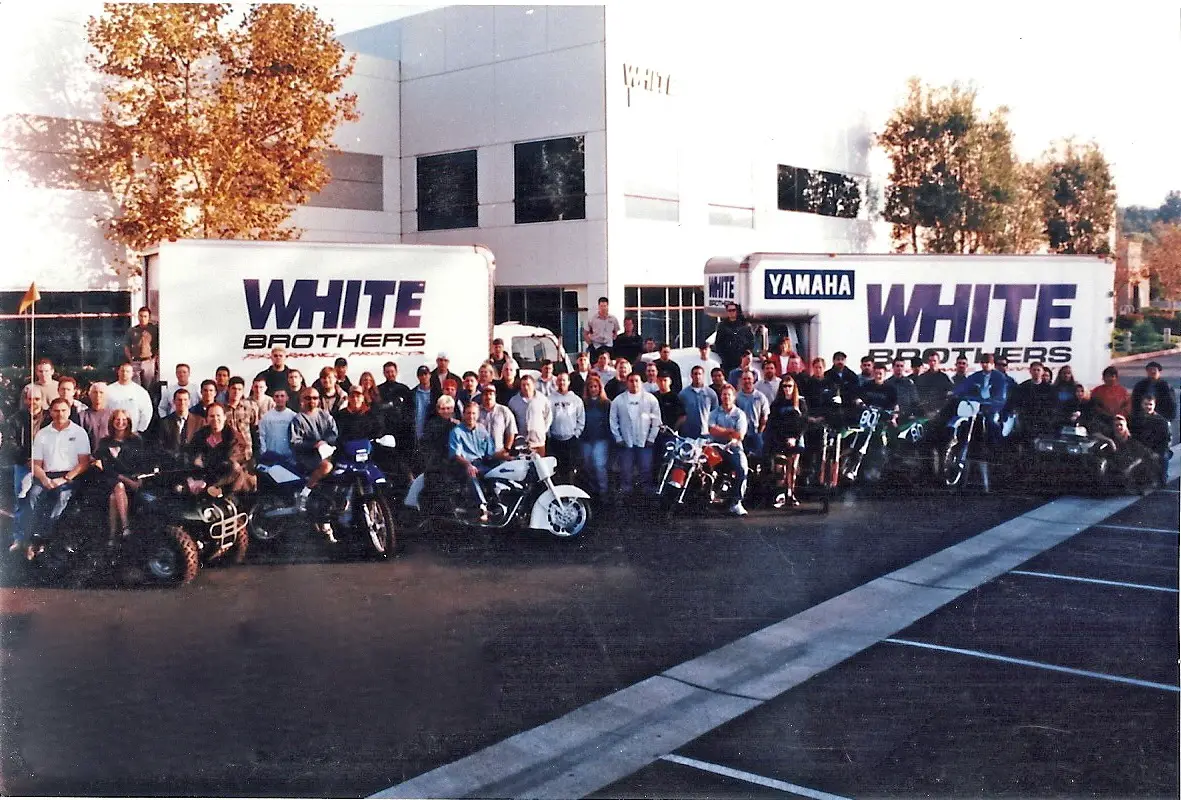 Tom started the White Brothers back in the 1970s and it grew into one of the largest motorcycle parts distributors in the USA. He sold it to have more time for his charitable causes and to spend more time with his family, friends and in his museum.
Tom built the Early Years of Motocross museum so that he and son Brad could work on bikes together. When Brad was severely injured in a crash, Tom opened the museum up to the public to raise money for head injury awareness. The White family vowed to keep the museum alive in Tom's memory. Tom's collection is 170 bikes strong.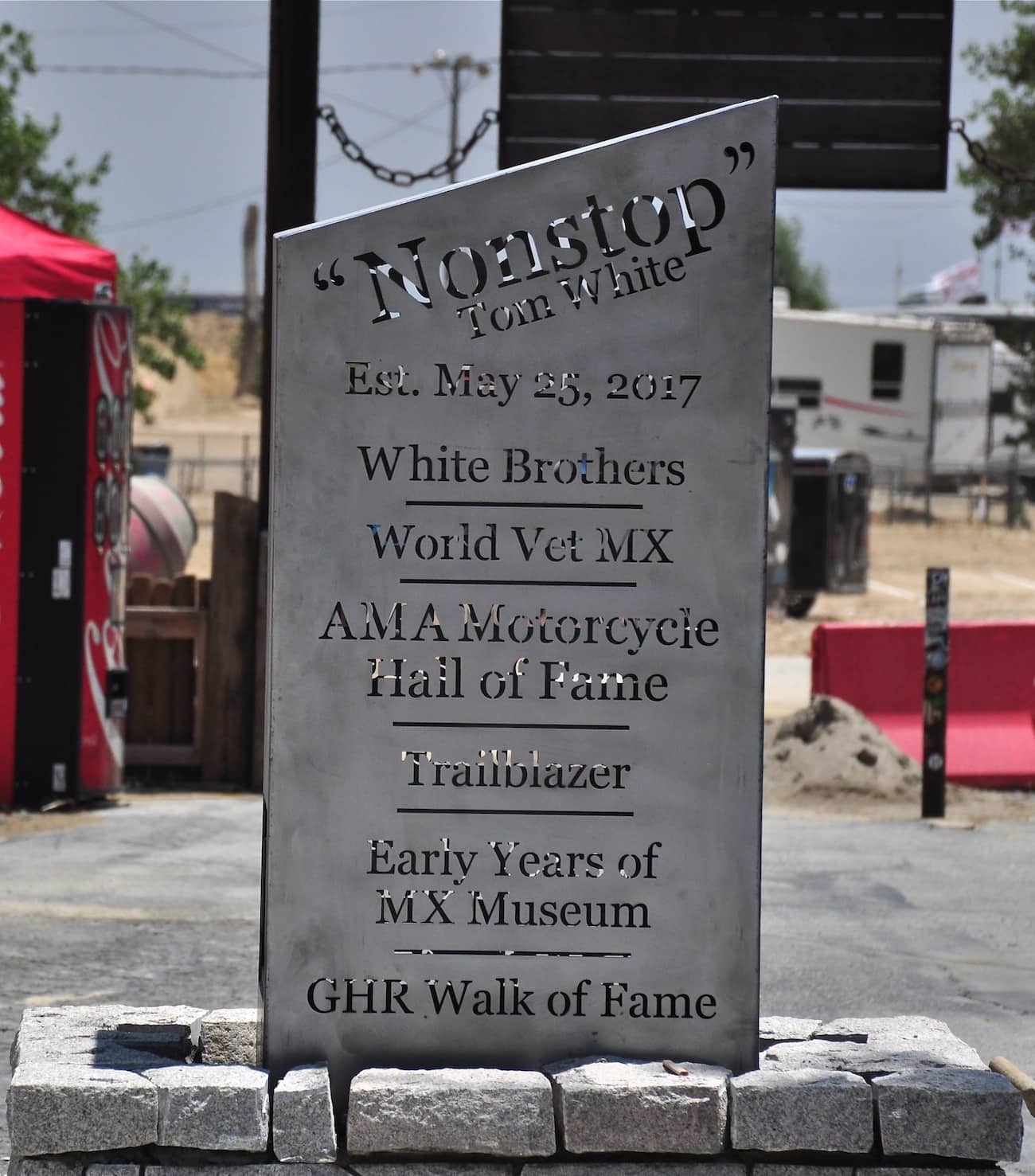 At Glen Helen Raceway there is a monument to Tom White on the Walk of Fame that lists a small number of his accomplishments.

Glen Helen Raceway held a memorial service for Tom after his death in their museum. The crowd was too large to fit inside, so they stood outside the doors. Jody Weisel (right) gave the eulogy.
JODY WEISEL'S EULOGY TO HIS FRIEND TOM
By Jody Weisel
All of us have friends and acquaintances, but motorcycle friendships are intense — bonds as intense as soldiers in a war zone and as close as a secret society. Men who race together, trail ride on the weekends or share riding stories in the garage have a connection that is forged by fire —albeit ignited by the spark of an old Champion plug. Tom White was special to me…very special. We raced together through the 1970s, 1980s, 1990s, 2000s — right up to a couple of weeks ago. We were in the same class for most of our racing lives, except for the time when he was a dirt tracker and I was a road racer. We both found our true calling when we switched to motocross. He was called to motocross because a severely broken arm led him away from dirt track. I became a motocrosser because I wanted to race every week — not just five weekends a year.

Tom White (80) flat-out and flying at Golden Gate Field in 1974.
Tom turned his job at Orange County Cycles into a launch pad for his own business. And he brought his brother Dan with him to form White Brothers Cycle Specialties. Since Tom, Dan and I knew each other from racing at Saddleback, it was only natural that his business (motorcycle parts) and mine (motorcycle magazines) would bind us together. We were both attracted by the fact that we wanted to make motocross better for the guy in the pits. And Tom understood what that meant that better than almost anyone in the motorcycle industry.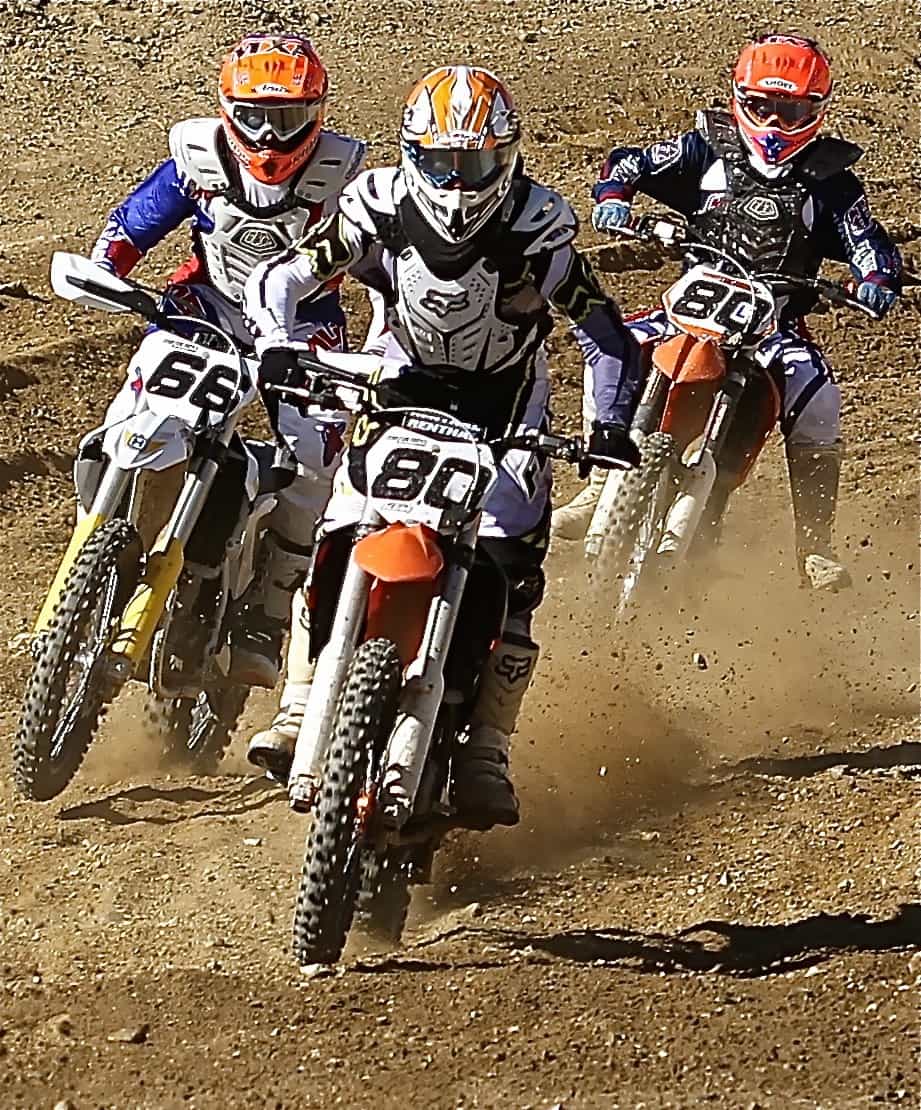 Tom White (80) leads his buddies George Kohler (66) and Lars Larsson (80) at REM.
Way before there was even a whiff of a Yamaha YZ400 on the horizon, the White Brothers were the kings of four-stroke parts. The White Brothers made every conceivable item that the crude four-strokes of the 1970s and 1980s could use. Tom built one-off four-stroke concept bikes, sponsored a four-stroke-only team and eventually threw the might of the White Brothers into founding the World Four-Stroke Championship. He put up the purse, organized the races and even acted as the announcer — all of this at a time when no motocross racer took four-strokes seriously. And he did the same thing with the World Vet Motocross Championship — which was celebrating its 33rd anniversary on the weekend of his death.
Plus, when Glen Helen and MX Sports had a falling out that led to Glen Helen pulling out of the 2010 AMA Nationals, Tom worked tirelessly behind the scenes to get both parties back together again. Whenever a charity needed a place to hold a fundraiser, Tom always offered his spectacular motorcycle museum as the venue—and was always the largest donor at the event. He tirelessly gave his time and money to help fund rehab programs for people with brain trauma. Tom raised and donated millions of dollars.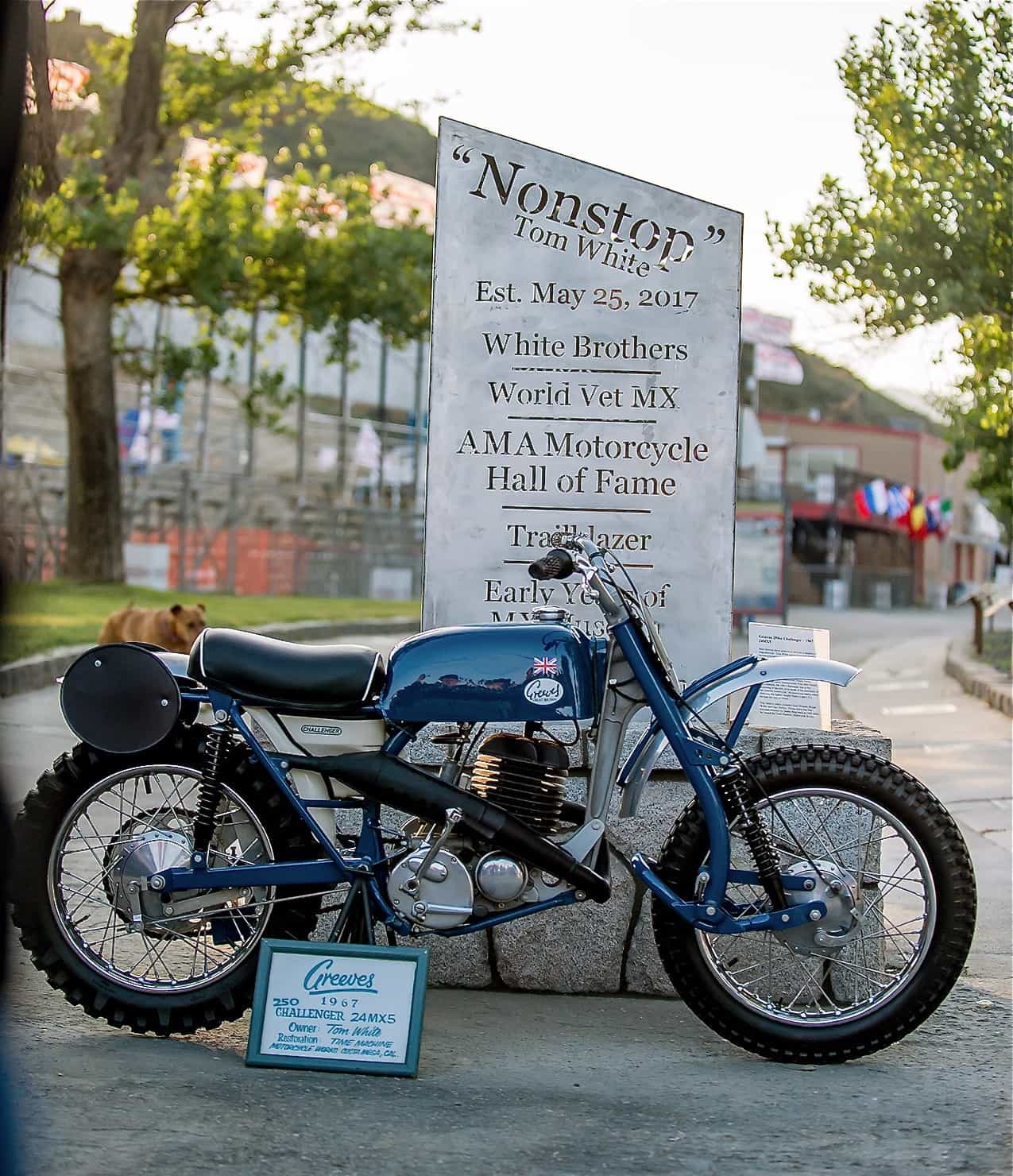 When Glen Helen owner Bud Feldkamp found out that Tom White was terminally ill, he invited Tom to the Glen Helen museum to emcee an event honoring Malcolm Smith, but it was all a ruse to unveil Tom White's monument. Not only did Glen Helen honor Tom before he died, but the Trailblazer told Tom that he would receive their prestigious Dick Hammer Award at their April Banquet. Tom didn't make it to the banquet.
Don't hold it against him, but Tom was rich. But he used his wealth for the good of the sport — he contributed to the AMA Hall of Fame Museum, paid the greats of motocross to come to events that benefited the sport and made sure that when it came to hosting an event that no expense was spared.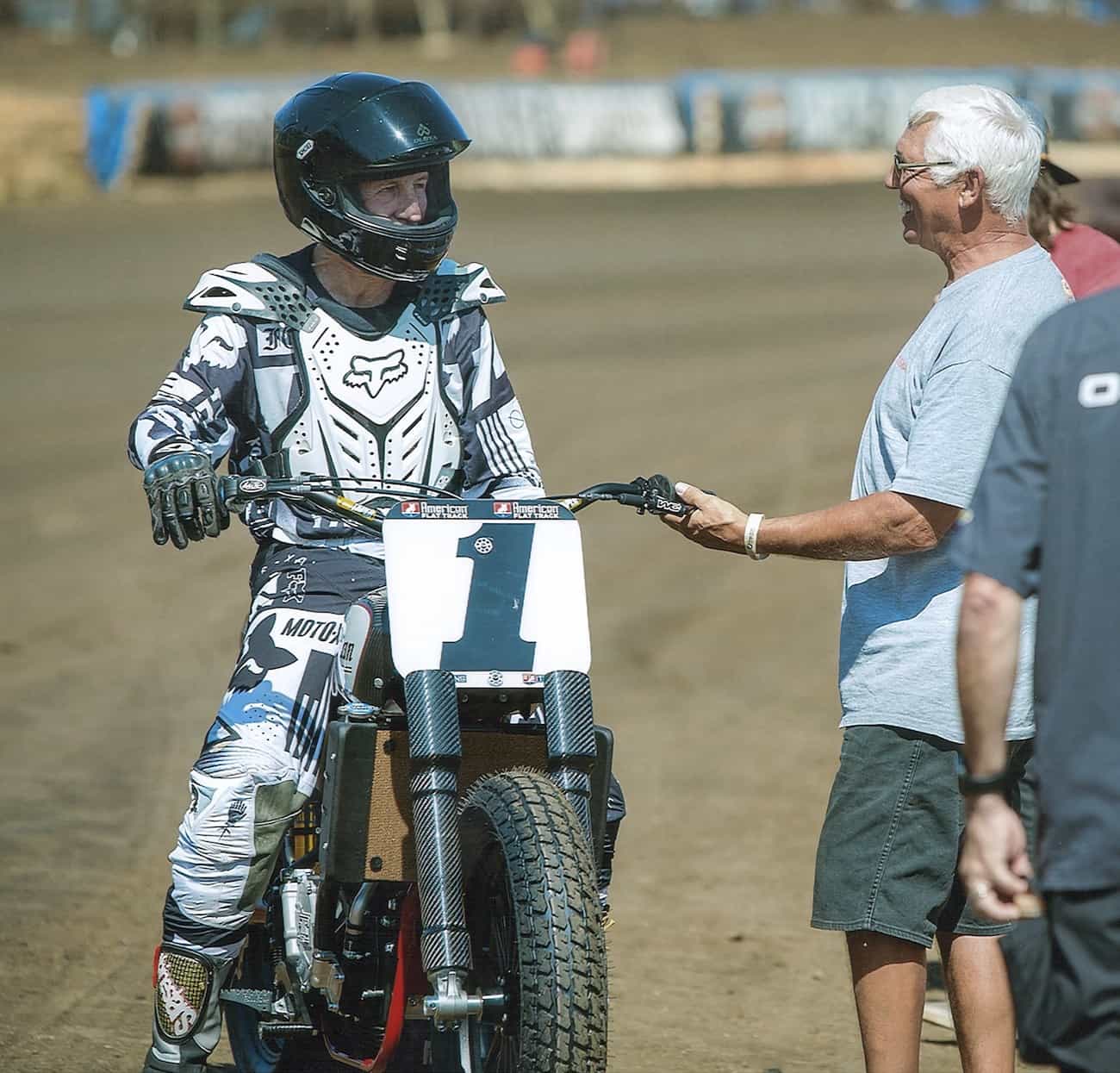 When Tom White got a chance to ride a dirt track again at an AFT National he jumped at it. He even brought former AMA Supercross Mechanic of the Year Alan Olson with him to do the wrenching for his four laps of honor. Photo: Scott Wilson

Although I hung out with the mega-rich Tom White, he always made me feel like he was hanging out with me. But, mostly I knew the hard-working, non-stop, not-so-rich Tom White (before he sold his company for millions). The money didn't really change him and sometimes it brought him back to reality. When he made his first big money at the White Brothers he bought himself a Ferrari. He was so proud of it that he decided to drive it to the shop the first week. The engine caught on fire on the Garden Grove Freeway and it would have burned to the ground if a guy in a pickup truck hadn't stopped to throw dirt on the fire. Tom finally joined in, but said that it pained him to no end to throw dirt on his prize possession.
Tom White's first motorcycle museum wasn't really a museum, but more of a storage space for his 60 bike personal collection motocross. Later, he built a large showcase to house the 170 vintage bikes that we wanted to the world to see and appreciate.
And pain was second nature to Tom. I remember the hours we spent in the water talking while waiting for a set to roll in. He would tell me about the financial end of the motorcycle business and the horror of the accident that left his son Brad severely disabled. Always a successful businessman, what Tom loved most was working side-by-side with his twin brother Dan. Oh, they had their quarrels, as all brothers do, but one day it went off the chart and Dan refused to speak to Tom. From that day on there were no White Brothers at the White Brothers. I'm sure that on his death bed Tom wished that Dan would have been by his side.
Tom White and Jody Weisel in happier times (at the 2017 REM Awards ceremony).
Tom was surrounded by people who loved him. His family, his friends, his grand kids, his former employees and his loyal racing buddies will all miss Tom. But I don't feel any sorrow for Tom White. I Ioved the guy and will continue to until the day I die. But, Tom White lived a full life, even if it was cut short. He got bang for his buck — he was a Grand National dirt tracker, successful businessman, World Vet Champion, museum owner, AMA Hall of Famer, husband, father, philanthropist and one heck of a guy. He has done it all in the sport.

Tom (left) and Dan (right) as young dirt track racers.
However, six months ago, while getting ready to go to a motocross race at Glen Helen, Tom White felt a pain in his stomach. Thinking it was indigestion, he kept working on his bike. The pain persisted so much that Tom decided not to race. After a couple days of his stomach aching, Tom went to his doctor, who poked and prodded and decided that maybe it was an ulcer. What followed was a series of endoscopes, MRIs, PETscans and Barium swallows. Ulcers were ruled out after the endoscopy. The MRI showed nothing wrong. Finally, the doctor ordered a PETscan. The finding? Cancer in his intestines that had spread to his liver and lungs.
The man and his museum.
When he was diagnosed with terminal cancer, he called me on his way back from the doctor's office. He said, "If I only have six months to live, I want to live them to the fullest. I'd rather have four months on my motorcycle than six months in bed." He laid out his grand plan to me. He wanted to race his new KTM 450SXF with his buddies at REM. He wanted to see his new granddaughter born to son Mikey and wife Parisa. He wanted to ride the Indian FTR flat track racer that he had bought to get back in touch with his roots. He wanted to ensure that his motorcycle museum would continue to exist and he wanted to help other people in his last days.
Tom loved racing motorcycles.
I'm proud to call Tom White a friend. He was genuine, outgoing and totally involved. Even though he could have lived the life of a country squire, he was the busiest retired guy I've ever seen. When you called to see what he was doing, he'd reel off a list of board meetings he had to attend, flights to far off cities for business he was taking and races that he had volunteered to announce (almost always for free). But I'm mostly proud of Tom because in his dying days, when others would have taken to their beds,  he raced his KTM 450SXF between chemo treatments, did four laps of an AMA Grand National dirt track on his new Indian 750FTR, finished up enough "Classic Iron" articles to last MXA years, held his granddaughter in his arms and bought a rare vintage bike for his museum (even though he would never get to enjoy it). I'm sad that my dear friend of 45 years is gone, but I'm glad that he got to go on his terms. I know that he wishes the same for all of us.