FUTURE NEWS! ANAHEIM & ATLANTA LOSE ROUNDS, SAN DIEGO GAINS ONE

(blue denotes that that races has already taken place)
Here is all the news from the the just released 2016 Supercross schedule:
(1) Anaheim loses one of its three rounds, but will still have two.
(2) University of Phoenix Stadium will replace Chase Field for the Phoenix round.
(3) San Diego will get the extra Anaheim Stadium round — giving them two rounds in 2016.
(4) Canada is back on the schedule on March 12, 2016 (after being dropped in 2015).
(5) Atlanta returns to only one round in 2016.
(6) Boston gets the dropped Atlanta round.
(7) The Houston round is not on the 2016 schedule.
(8) The first five rounds our on the West Coast — but there are 6 California races in total (two in Anaheim, two in San Diego, plus Oakland and Santa Clara.
MORE CURRENT NEWS: THE 2015 RACE CALENDAR
2016 AMA SUPERCROSS CHAMPIONSHIP
Jan. 9…………………….Anaheim, CA
Jan. 16………………….San Diego, CA
Jan. 23………………….Anaheim, CA
Jan. 30………………….Oakland, CA
Feb. 6……………………Glendale, AZ
Feb. 13………………….San Diego, CA
Feb. 20………………….Arlington, TX
Feb. 27………………….Atlanta, GA
March 5………………….Daytona, FL
March 12………………..Toronto, CAN
March 19………………..Detroit, MI
April 2………………..….Santa Clara, CA
April 9………………..….Indianapolis, IN
April 16………………….St. Louis, MO
April 23………………….Foxboro, MA
April 30………………….East Rutherford, NJ
May 7…………………….Las Vegas, NV
2015 AMA SUPERCROSS CHAMPIONSHIP
Jan. 3………………….Anaheim, CA
Jan. 10…………………Phoenix, AZ
Jan. 17…………………Anaheim, CA
Jan. 24…………………Oakland, CA
Jan. 31…………………Anaheim, CA
Feb. 7…………….…….San Diego, CA
Feb. 14…………………Arlington, TX
Feb. 21…………………Atlanta, GA
Feb. 28…………………Atlanta, GA
March 7………………..Daytona, FL
March 14………….…..Indianapolis, IN
March 21……………..Detroit, MI
March 28……………..St. Louis, MO
April 11………………..Houston, TX
April 18………………..Santa Clara, CA
April 25………………..East Rutherford, NJ
May 2…………………..Las Vegas, NV
2015 AMA NATIONAL CHAMPIONSHIP
May 16…………….…Hangtown, CA
May 23…………….…Glen Helen, CA
May 30………….……Thunder Valley, CO
June 6………………..Muddy Creek, TN
June 13……………….Mt. Morris, PA
June 27………………Budds, MD
July 4…………………Red Bud, MI
July 18………..……..Millville, MN
July 25……………….Washougal, WA
August 8………….…Unadilla, NY
August 15……….…..Miller Motorsports, UT
August 22 …………..Crawfordsville, IN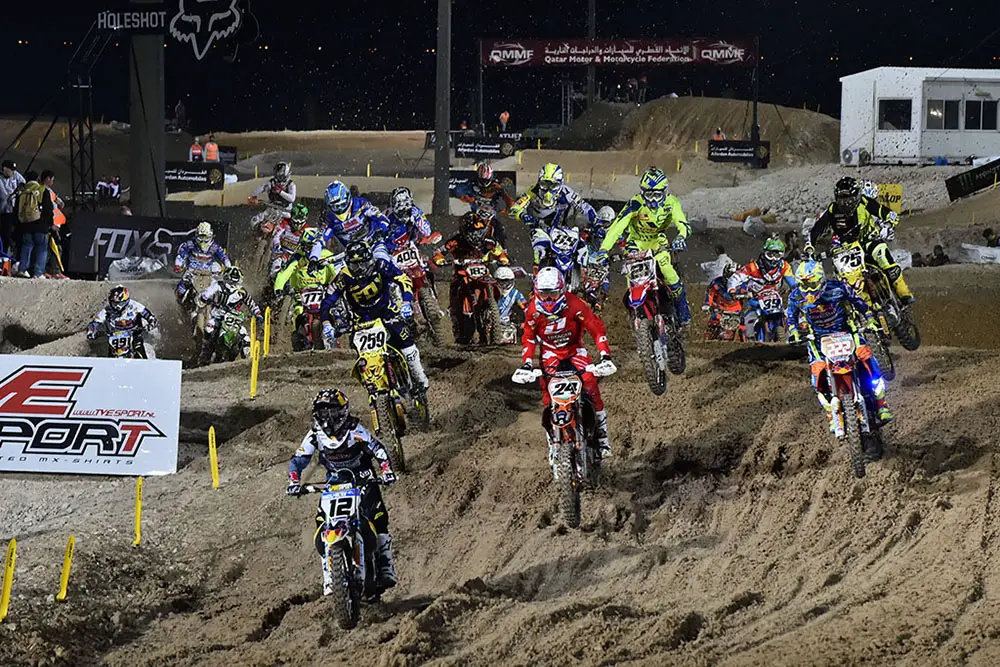 2015 FIM WORLD MOTOCROSS CHAMPIONSHIP
Feb. 28…………………Losail, Qatar
March 8………………..Si Racha, Thailand
March 29………………Neuwuen, Argentina
April 19………………..Arco di Trento, Italy
April 26………………..Valkenswaard, Holland
May 10…………………Talavera, Spain
May 24…………………Matterley Basin, Great Britain
May 31…………………Villars Sous Ecot, France
June 14………………..Maggiora, Italy
June 21………………..Teutschenthal, Germany
July 5…………………..Uddevalla, Sweden
July 12…………………Kegums, Latvia
July 26…………………Loket, Czech Republic
Aug 2…………………..Lommel, Belgium
Aug 16…………………Trinidade, Brazil (canceled)
Aug 30…………………Assen, Netherlands
Sept 13…………………Leon, Mexico
Sept. 20………………..Glen Helen, USA
2015 AMSOIL ARENACROSS CHAMPIONSHIP
Jan. 10-11………….…Cincinnati, OH
Jan. 16-18………….…Grand Rapids, MI
Jan. 23-25…………….Colorado Springs, CO
Jan. 31- Feb. 1…..…..Nashville, TN
Feb. 6-8……………….Wilkes-Barre, PA
Feb. 21-22……………Tampa, FL
Feb. 28- Mar.1………Kansas City, MO
Mar. 6-8……………….Council Bluffs, IA
Mar. 13-15……………Southaven, MS
Mar. 21-22……………New Orleans, LA
Mar. 28-29……………Austin, TX
April 11-12……………Spokane, WA
April 18-19……………Tacoma, WA
April 25-26……………Fresno, CA
May 1-3………………..Las Vegas, NV
2015 GEICO ENDUROCROSS CHAMPIONSHIP
March 6……………….Daytona Beach, FL
March 21……………..Salt Lake City, UT
May 1………………….Las Vegas, NV
May 30………………..Phoenix, AZ
June 5…………………Austin, TX
Aug, 22……………….Atlanta, GA
Sep. 26……………….Sacramento, CA
Oct. 3………………….Denver, CO
Oct. 17…………………Everett, WA
Nov. 7………………….Boise, ID
Nov. 20-21…………..Ontario, CA

2015 WORCS WORLD OFFROAD CHAMPIONSHIP
Jan. 18…………………Taft, CA
Feb. 8………………….Primm, NV
March 1 ………………Peoria, AZ
March 29 …………….Lake Havasu, AZ
April 19……………….Hurricane, UT
May 24 ……………….Cedar City, UT
Aug. 2 …………………TBA
Sept. 27 ………………Glen Helen, CA
Oct. 18 ………………..Prim, NV
2015 AMA SUPERMOTO CHAMPIONSHIP
April 3-5…………….…Riverside, CA
May 29-30…………….Plymouth, WI
June 19-21…………….Loudon, NH
July 3-4…………….….Denver, CO
Aug. 1-2…………….…Sturgis, SD
Aug. 14-15…………….Salt Lake City, UT
Sept. 18-20……………Sturgis, SD
Nov. 6-8…………….…Tucson, AZ
2015 GNCC CROSS-COUNTRY CHAMPIONSHIP
March 8……………………Palatka, FL
March 15…………………Washington, GA
March 29…………………Morgantown, NC
April 12……………………Union, SC
April 25……………………Springville, IN
May 10…………………….Odessa, NY
May 24…………………….Masontown, WV
June 7……………………..Millfield, OH
June 21……………………Shoeshow, WV
Sept. 20…………………..Unadilla, NY
Oct. 4………………………Central City, PA
Oct. 18…………………….St. Clairsville, OH
Nov. 1……………………..Crawfordsville, IN
2015 WORLD SIDECAR CROSS CHAMPIONSHIP
April 6…………………Switzerland
April 12………………..France
May 10………………..Ukraine
May 17………………..Germany
May 25………………..Holland
June 7…………………Latvia
June 14……………….Czech Republic
July 5…………………..France
July 12…………………Belgium
July 19…………………Germany
Aug. 2…………………Estonia
Aug. 9…………………Latvia
Aug. 16……………….Ukraine
Sept.13………………..France
Sept.20………………..Germany
2015 WOMEN'S NATIONAL CHAMPIONSHIP
Mar. 8-9………………Daytona Beach, FL
Mar. 21……………..…Wortham, TX
Apr. 12…………………Glen Helen, CA
May 15…………………Hangtown, CA
June 7………………….Muddy Creek, TN
June 12……………..…Mt. Morris, PA
July 5…………………..Red Bud, MI
Aug. 21…………………Crawfordsville, IN
2015 WMX WOMENS MOTOCROSS CHAMPIONSHIP
Feb. 28…………………Losail, Qatar
March 8………………..Si Racha, Thailand
May 24…………………Matterley Basin, Great Britain
May 31…………………Villars Sous Ecot, France
June 21………………..Teutschenthal, Germany
July 26…………………Loket, Czech Republic

2015 AUSTRALIAN NATIONAL CHAMPIONSHIP
March 29……..……Horsham, Vic
April 12……..……..Appin, NSW
April 26 …….…..…Broadford, Vic
May 17 ………….….Murray Bridge, SA
May 31………..…….Coolum, Qld
July 5 ……………….Raymond Terrace, NSW
July 19 ………..……Shepparton, Vic
August 2 …….….…Nowra, NSW
August 23 …………Toowoomba, Qld
August 30 ……..….Coolum, Qld
2015 BRITISH NATIONAL CHAMPIONSHIP
March 15…Hilton Park
April 4…Lyng
May 3…Canada Heights
June 7…Hawkstone Park
June 28…Blaxhall Circuit
July 19…Foxhill
Aug. 23…FatCat Moto Parc
Sept. 6…Preston Docks

2015 CANADIAN NATIONAL CHAMPIONSHIP
May 31…Whispering Pines
June 7…The Wastelands
June 14…Wild Rose
June 21…Moto Valley Raceway
July 12…Gopher Dunes
July 19…Sand Del Lee
July 26…Deschambault
Aug. 2…Riverglade
Aug. 9…Motocross Ulverton,
Aug. 16…Walton Raceway
2015 DUTCH NATIONAL CHAMPIONSHIP
Mar. 15…Gemert
Mar. 29…Halle
May 14…Rhenen
July 19…Markelo
Sept. 13…Varsseveld
Sept. 20…Oss
Oct. 11…Mill
2015 BELGIAN NATIONAL CHAMPIONSHIP
March 22…Moerbeke-Waas
April 12…Mons
June 7…Kester-Gooik
Aug. 23…Orp le Grand
Sept. 6…Pierreux
2015 FRENCH NATIONAL CHAMPIONSHIP
March 1…St Jean d'Angely
March 15…Sommieres
March 22…Gueugnon
April 5…Romagne
May 3…Plomion
June 7…Gaillac Toulza
2015 GERMAN NATIONAL CHAMPIONSHIP
April 12…Furstlich Drehna
May 03…Jauer
June 07…Bielstein
June 28…Aichwald
July 19…Tensfeld
Aug. 09…Ried
Aug. 23…Lichtenvoorde
Sept. 06…Gaildorf
2015 ITALIAN NATIONAL CHAMPIONSHIP
Feb. 1…Riola Sardo
Feb. 8…Castiglione del Lago
Feb. 15…Ottobiano
2015 SPANISH NATIONAL CHAMPIONSHIP
Feb. 22…Malpartida de Caceres
March 22…Valverde Del Camino
April 12…Bellpuig
May 3…Calatayud
June 7…La Baneza
Oct. 4…Talavera
Oct. 25…Albaida
2015 AUSTRALIAN SUPERCROSS CHAMPIONSHIP
Oct. 10…Bathurst, NSW
Oct. 17…Jimboomba, QLD
Oct. 31…Wayville, SA
Nov. 21…TBA, QLD
Nov. 28…Sydney, NSW
Dec. 5…Melbourne, Vic
MAMMOTH MOUNTAIN MOTOCROSS
June 19-28…Mammoth Lakes, CA
AMA NATIONAL AMATEUR CHAMPIONSHIP
July 26-Aug. 1…Hurricane Mills, TN
GRAND PRIX OF USA
Sept. 20…Glen Helen, CA
WORLD VETERAN MOTOCROSS CHAMPIONSHIP
Nov. 7-8…Glen Helen, CA
Photos: John Basher, Massimo Zanzani