MXA'S GIANT ITALIAN GRAND PRIX PHOTO GALLERY
THE 450 CLASS
450 rookie Tim Gajser swept both motos in Mantova, Italy. The Honda rider has won 13 of the first 24 motos and leads the 450 World Championships by 92 points
Tony Cairoli (222) is now second in 450 points, but only because Romain Febvre suffered a concussion in England and has missed the last two races.
Gautier Paulin was second overall in Italy with a 3-2 day. Paulin is 15th in 450 GP points, has missed 6 GPs with injuries and this was only his second podium of 2016.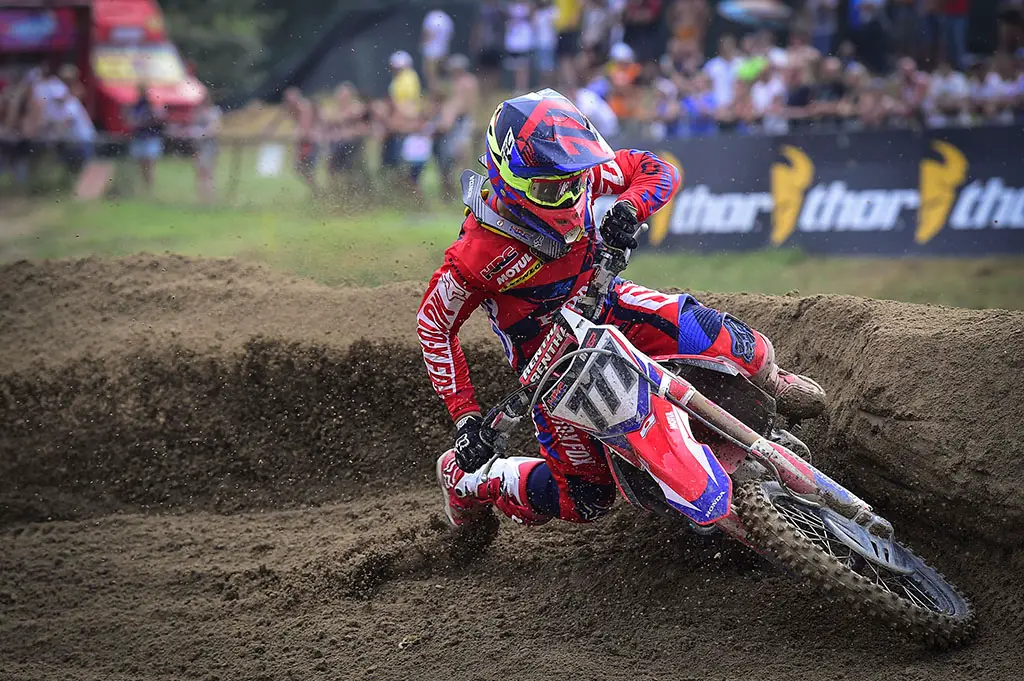 Russian Evgeny Bobryshev had a 7-6 day and is currently 5th in 450 GP points. Bobby has been consistent, raced every GP, his worst moto was a 12th in Argentina and his best race a second overall in Qatar.
Glenn Coldenhoff signed a two-year deal with Team KTM. He should be glad he has a year left on his KTM contract because after 12 GP's he is six races behind Gajser in the points standings. That is 302 point adrift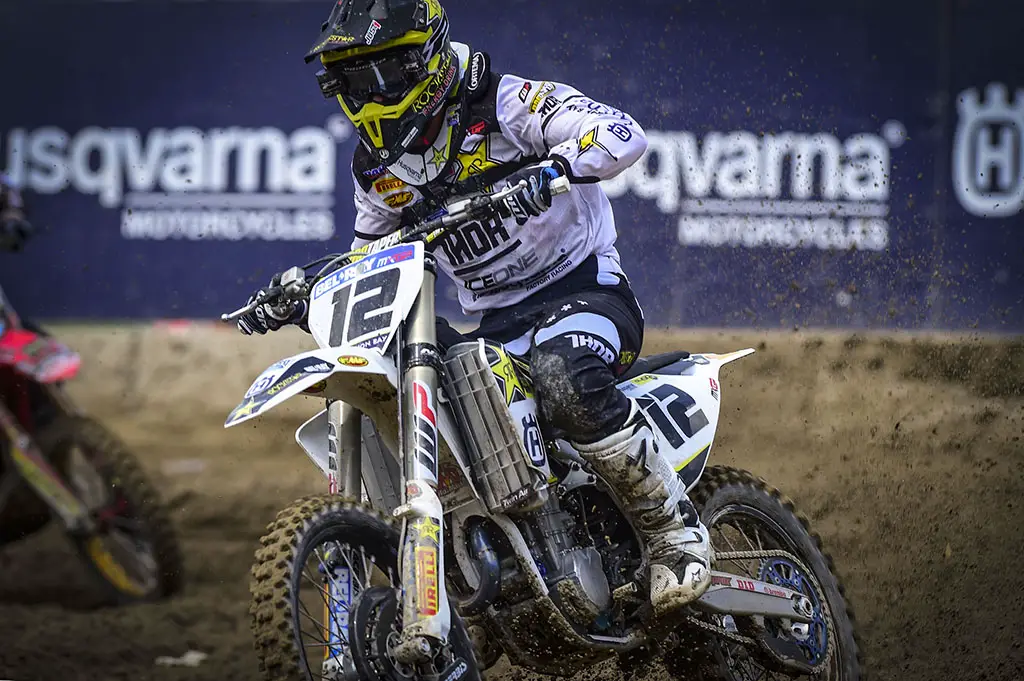 You're only as good as your last race, so few fans care about how great Max Nagl was doing last year. This year he is fourth in 450 points standings, but only 9 points out of third.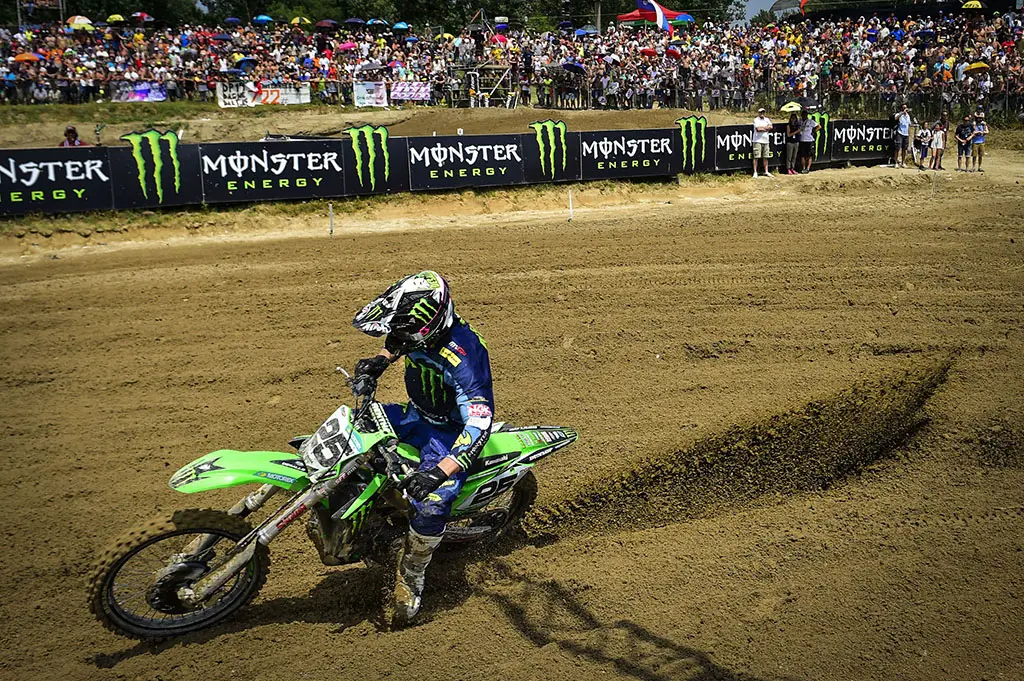 It has been a long chase back from starting the season with his arm in a cast, but Clement Desalle has finally made it into the top ten. Unfortunately, he is mathematically eliminated from any chance of getting his long sought after World Championship this year. Italy was his first podium of 2016 with a 3-6 day.
As for Chad Reed, he only made in 5 laps into the first moto before suffering a mechanical issue that ended his day. 
THE 250 CLASS
In what isn't a shocker in Luongo-land, there is a rumored rule change in the offing that will force any rider who wins the 250 World Championship twice to move to the 450 class the following year. That's strange because that rule was already on the FIM books until Giusppe Luongo had it dropped so that Jeffery Herlings (above) could stay in the 250 class after winning his second World Championship back in 2013. Suddenly, Jeffrey isn't Luongo's favorite anymore.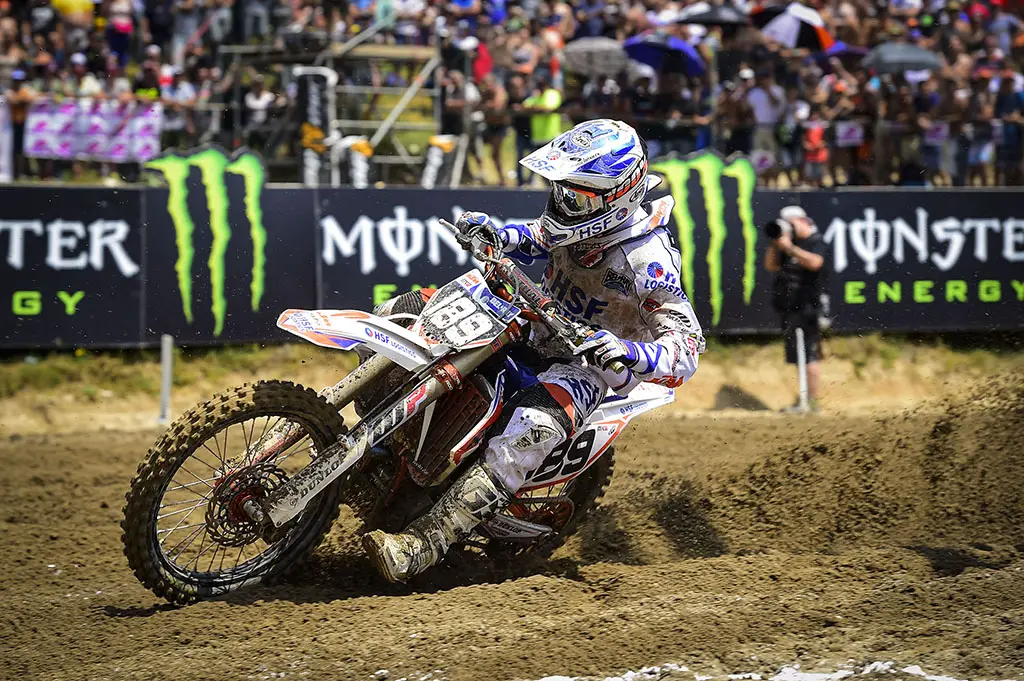 In what is a surprise, Dutch rider Brian Bogers (189) took second overall in Mantova with a 2-3 day. Bogers had not had a top 3 moto finish this year until Mantova. He is currently 11th in 250 GP points.
Equally surprising, American Thomas Covington was fourth overall with a 4-6 day. Covington is 14th in the 2016 points standings. Don't worry if you've never heard of Covington, most Americans haven't, as he has never raced an AMA Pro race or Supercross and went straight to Europe from Loretta Lynns.
Dylan Ferrandis is on a his farewell tour of Grand Prix motocross. He reportedly has a deal to go to Star Yamaha in 2017. Ferrandis missed 4 races with injuries, but is currently sixth in 250 points and is the only rider to win a 250 moto in 2016 not named Jeffrey.
Second place in the 250 standings, Jeremy Seewer's 6-7 day would have been bad, but third place Pauls Jonass had a mediocre day and only gained 4 points on him, while fourth place Benoit Paturel only gained 3 points. Seewer has a 25-point lead on Jonass for second overall in the series.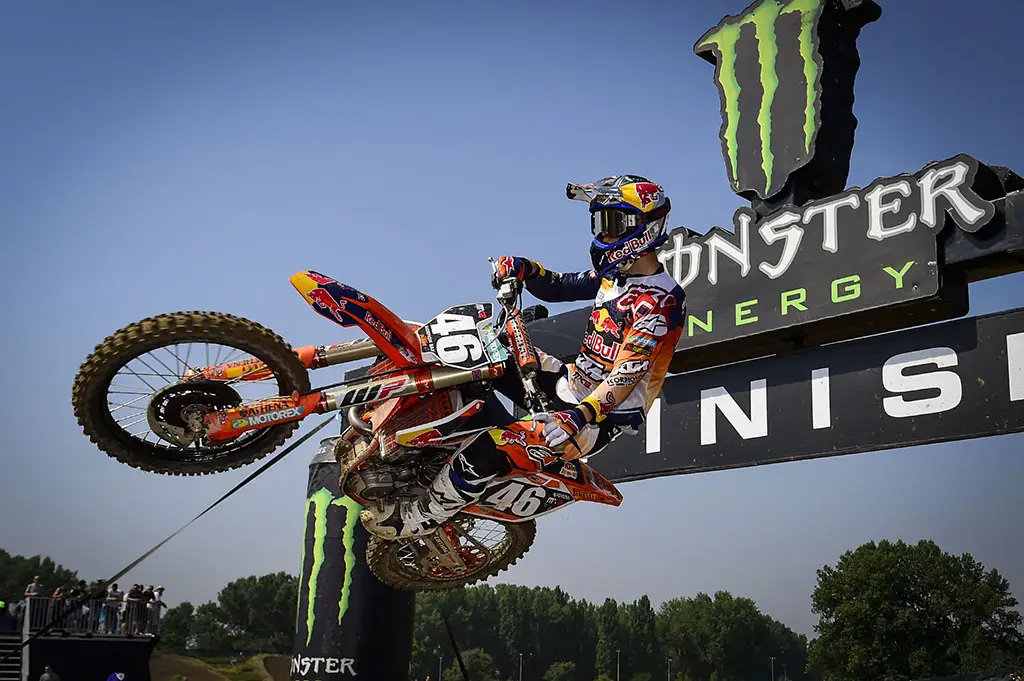 Davi Pootjes was KTM's hot property for the future, but his inaugural 250 GP season has been a disaster. Davi is 21st in points and has missed six races with injury.
Pauls Jonass will be KTM's number 1 man in the 250 class, if Jeffrey Herlings is booted for 2017.
2016 450 POINTS STANDINGS
(After 12 of 18 races)
1. Tim Gajser…532
2. Antonio Cairoli…440
3. Romain Febvre …408
4. Maximilian Nagl…401
5. Evgeny Bobryshev…396
6. Jeremy Van Horebeek…351
7. Valentin Guillod…267
8. Glenn Coldenhoff…230
9. Shaun Simpson…212
10. Clement Desalle…210
11. Kevin Strijbos…204
12. Tommy Searle…189
13. Christophe Charlier…184
14. Jose Butron…173
15. Gautier Paulin…165
2016 450 POINTS STANDINGS
(After 12 of 18 races)
1. Jeffrey Herlings…597
2. Jeremy Seewer…428
3. Pauls Jonass…403
4. Benoit Paturel…325
5. Aleksandr Tonkov…320
6. Dylan Ferrandis…308
7. Max Anstie…274
8. Petar Petrov…253
9. Samuele Bernardini…253
10. Vsevolod Brylyakov…219
11. Brian Bogers…217
12. Alvin Ostlund…151
13. Brent Van Doninck…142
14. Thomas Covington…134
15. Roberts Justs…130