GRAND PRIX ANALYSIS: WANNA KNOW WHAT IT ALL MEANS?

Click on images to enlarge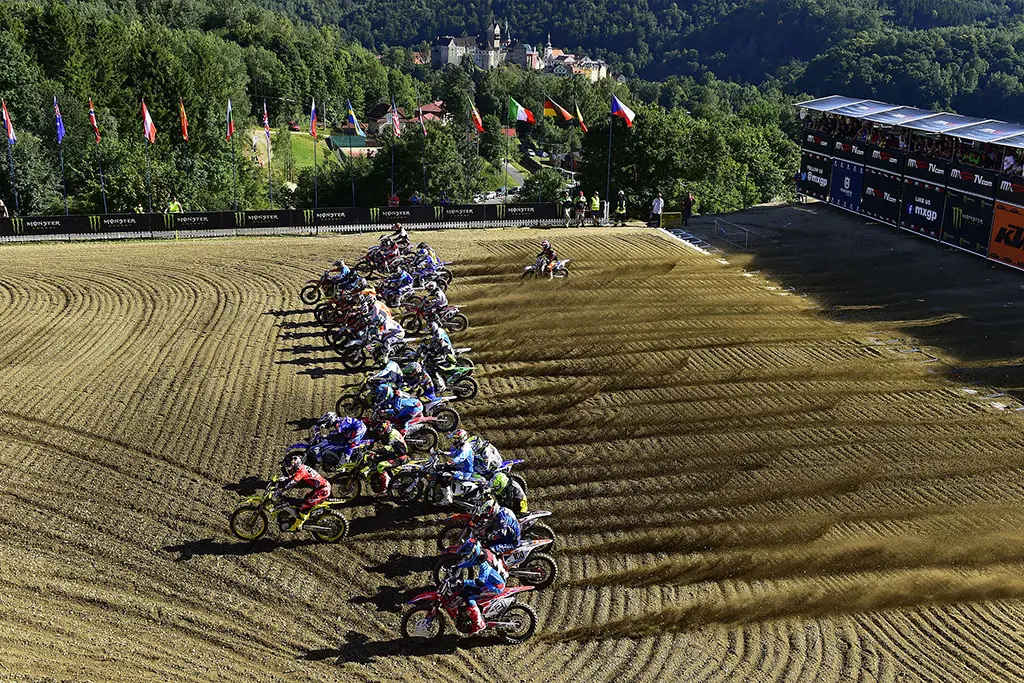 As the final stretch approaches, the riders, teams and tax accountants are readying their whips for the push down the back stretch. At the moment, it is Romain Febvre and Jeffrey Herlings by two lengths (although Herlings has come up lame on the backstretch and will most likely be scratched). There is a decimated and anxious pack trying to salvage something out of the run to the roses.
There are now five races left (Lommel, Mantova, Assen, Mexico and Glen Helen). That represents 250 possible points for anyone who could sweep all five—thus nothing is over until it's over in SoCal on September 20. But, some truths are self evident after 13 races. The trends are very obvious. What we present here is a recap of last week's Czech Grand Prix Tout Sheet…with updates and revisions to try and make sense of what happened. Which could give us a hint about what will happen. The updates are in blue.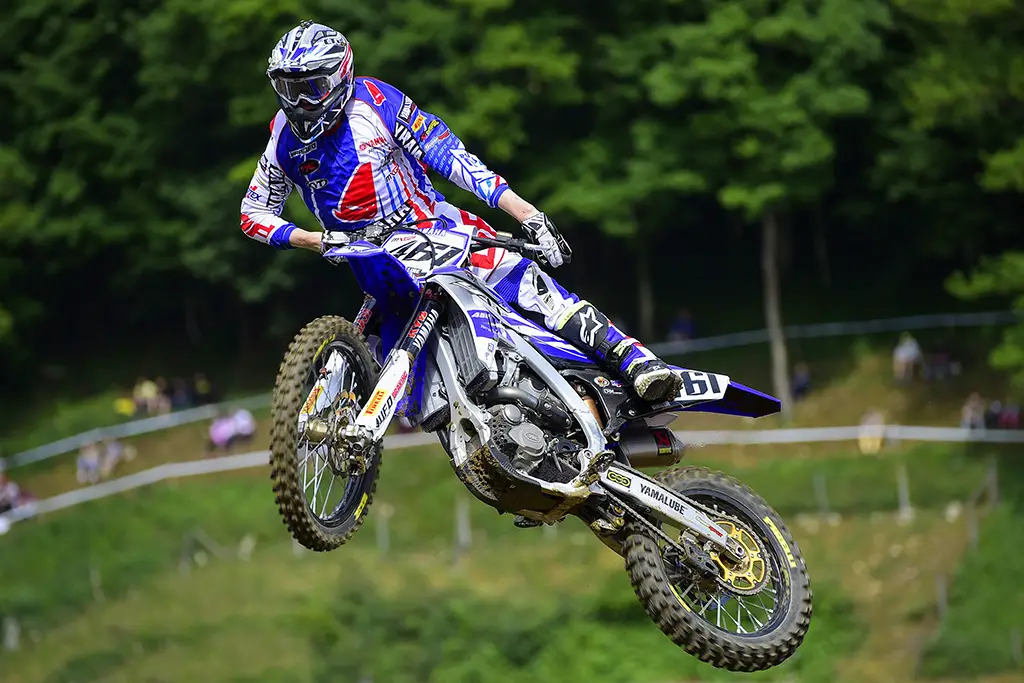 Romain Febvre was brilliant in Czecho. Over the last 7 GPs (14 motos), Febvre has won 9 motos and finished 7th, 2nd, 6th, 2nd and 8th in the other ones. He has a three-moto lead on second place in the 450 Championship.
Romain Febvre: It is never a smart thing to bet against a French guy when the dirt is rock hard, dry and slick because this is the bread and butter of French racing — and Febvre grew up on cruddy race tracks — which exactly what the Czech GP was. Romain is now in the driver's seat with Tony Cairoli on the sidelines for a couple races. But, the question for Yamaha is how to do they convinced Febvre that he's not already won the Championship? Maybe they won't be able to convince him? Maybe the next three sand tracks will. However, not only did Romain go 1-1 in Czecho, but distant backmarkers (Evgeny Bobryshev and Clement Desalle) were second and third. The significance of riders who aren't high up in the points chase finishing behind Romain Febvre is that the points loss is much greater for his chasers and the points gain is greater for Febvre. Romain is now 88 points clear of second place Gautier Paulin—who although sometimes is very fast, at other times he is unable to get out of his own way.
Tony Cairoli bravely raced with the pain of a broken arm through four races before deciding to let it heal.
Tony Cairoli: Tony has some "esplainin to do." Word is that he will miss Loket and Lommel to let his fractured arm heal. If it doesn't heal quickly then he could need surgery. Either way, he wasn't leading the 450 World Championship anyway and missing races means that he will fall too far behind in the points to be a serious contender (barring some terrible fate befalling Febvre). Thus, if he has to miss three races instead of two, or four instead of two, or five instead of two, we are sure he will come back to race whatever races are left on the schedule and that includes Glen Helen (which is 8 weeks away). How do we know? That's simple, Tony bad mouthed Ryan Villopoto for quitting the GP series because he was injured and out of the points chase saying, "It was sad that he [Ryan] got hurt, but I would have come back and raced for what I could in the Championship—and maybe tried to race Glen Helen. If it was me I would have stopped in a different way…I would keep racing and tried to do the best I can." Thus, Tony will be back. He said so. Tony will get his chance to put his bike where his mouth is. He has two months to heal up before Glen Helen…and given his criticism of Ryan not coming back from his tailbone injury, we gotta assume that Cairoli will be back on the circuit well before Glen Helen comes around. Cairoli is now 91 points behind Romain, not that he was beating him before pulling out, but he could well be 141 points behind after the next race.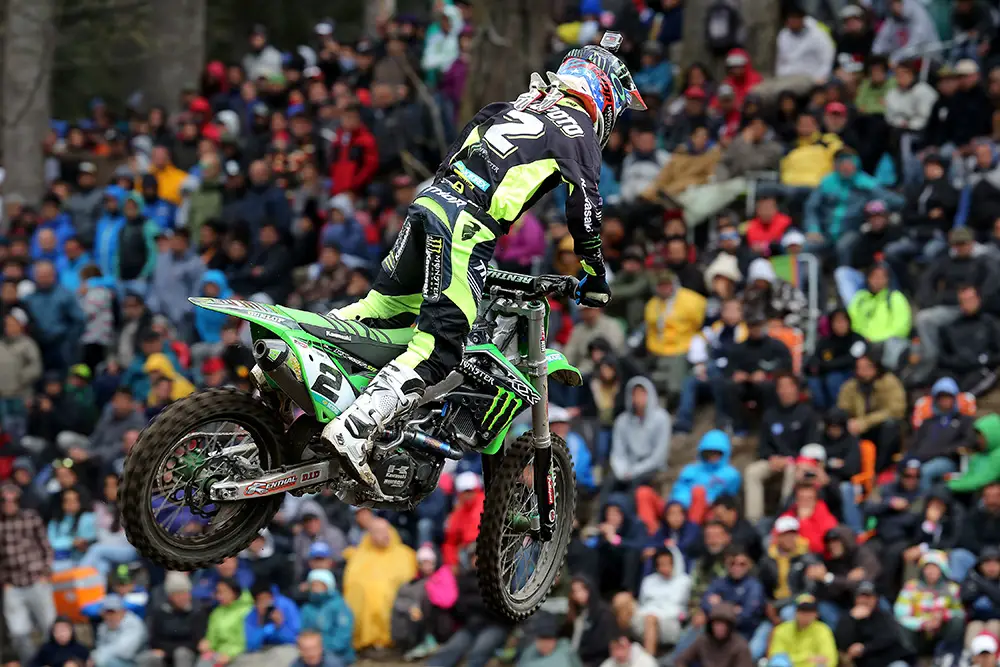 Ryan Villopoto.
Ryan Villopoto: Most of the AMA glitterati knew that Ryan Villopoto was burned out and over it during the 2014 Supercross season. It wasn't a secret that he didn't want to do it any more—as he told Jeremy McGrath in a TV interview at the time. So, the fact that he got hurt and used it as an excuse to quit was really a delayed reaction for something that should have happened in May of 2014. The reclusive Villopoto wants to be reclusive—surprise. However, he has paychecks yet to earn. So, Ryan Villopoto will be back in Europe next weekend. No, not to race at Lommel, but to sign autographs at a DC shoe store in Eindhoven. We aren't angry at Ryan for quitting the GP's. Why not? Because if he is suffering from his tailbone injury so much that he can't race ever again, we understand. We've been hurt. We emphasize. However, Ryan's track record is colored by the fact that he told us point blank that he would be racing the 2014 AMA Nationals one week before telling us that we wasn't going to race them. No one likes to be misled. We felt that way last year and now Europe gets to feel that way this year. Young Pros can always learn from old Pros. The lesson to be learned from Ryan is…just tell the truth. Don't try to okie-doke your way out of delivering the real story or your credibility will suffer.
Glenn Coldenhoff did not come back strong.
Glenn Coldenhoff: First time winners are always a mystery. The sport is full of Champions who never won, then won their first race and were unstoppable after that. Is first-time winner Glenn Coldenhoff in that category. The odds are against him repeating in the Czech Republic, but he's a dark horse rider on a team where he has been the third wheel. Nobody wants to be a useless appendage and given that Coldenhoff has new motivation to do well—especially with Suzuki team Leader Clement Desalle coming back. This is the week for Glenn to show what he can do. And, of course, there is the added carrot that Desalle most likely will leave Suzuki at the end of this year. Attrition is the same as a promotion. Coldenhoff is currently a one-hit wonder in the 450 class. He couldn't deliver on the promise he showed the week before. Glenn went 8-11 in Czecho. However, sand is on the upcoming agenda so he has several chances to become a two-hit wonder.
Clement Desalle came back strong.
Clement Desalle: Clement Desalle had planned to return to racing, from his knee injury, a couple weeks ago in Sweden — good thing he didn't because the horrible track prep in Sweden wouldn't have been a good comeback race for a rider with a tender knee. So, he skipped Latvia also and has chosen Czecho as his starting point. He's good that this track and the competition has thinned out since he got hurt. Unless he's already signed a new contract for 2016 he probably needs to put an accent point on his recovery with some decent performances in the coming weeks. If he has signed on someone's dotted line he can be more cavalier. Desalle was more than decent in Czecho. He went 3-3 and put up a serious fight. The time off didn't hurt his speed one bit. If he plans on jumping ship from Suzuki, he did himself some good this week and has five more chances to do even better.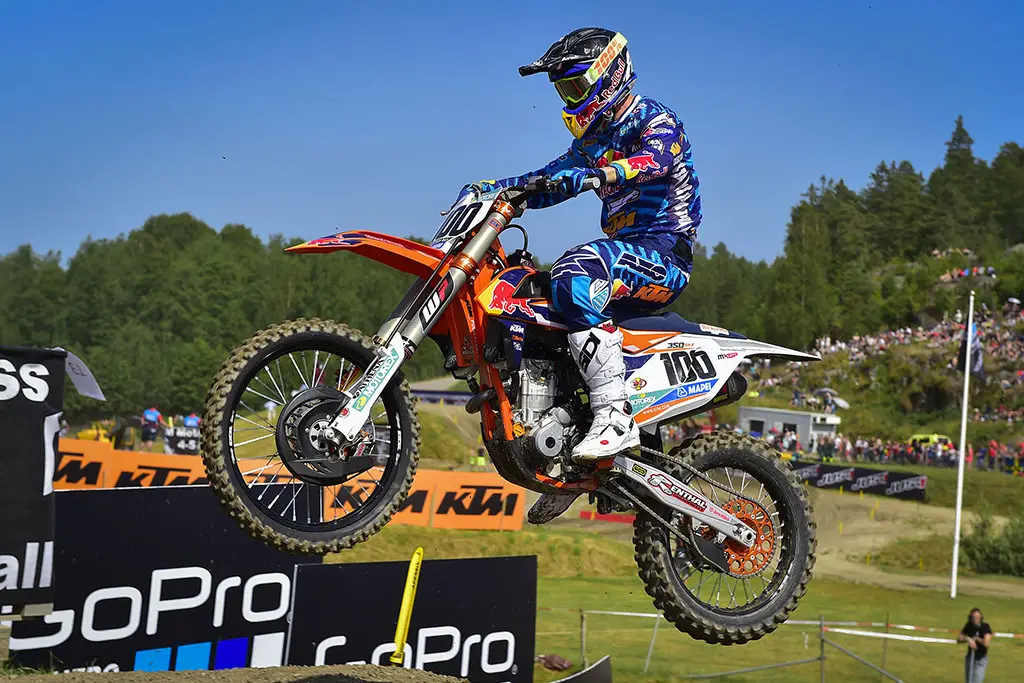 Tommy Searle has missed more races than he attended in 2015.
Tommy Searle: Tommy Searle has been on a bad luck bum trip for quite awhile. His 2015 season is a disaster. He's 22nd in points and has failed to score points in 7 of 12 races thanks to injuries or crashes. There have only been two races where Tommy scored points in both motos this year. KTM is constantly making team moves, hiring new kids, some of them with 5-year deals and no matter how you cut it, Tommy knows that he has to show the potential he had a few years ago…and show it soon. It didn't show in Czecho! When you can't make the top ten in races that only have 25 or so riders in them, you are sucking wind. When you finish 12th in a GP you are mid-pack. Factory riders aren't suppose to be mid-packers.
Max Nagl is fifth in the points even though he has been sitting on the sidelines since getting his ankle run over in France.
Max Nagl: This was once Max Nagl's Championship to lose…and that's what he did. By no fault of his own (okay, he did fall in the middle of the pack and get run over by the fault of his own). In that incident he broke his ankle and has missed the last three races. You can make that four because he plans to skip Loket also. Amazingly, with the weakened field Max is still fourth in points, but he is 97 points behind Febvre and after the Czech GP he will be well over 100 points behind. But, most likely, he'll only fall back to fifth in points because Clement Desalle is currently sixth and can't catch Max even if he swept both motos is Loket—but Shaun Simpson can. Max didn't get caught by Clement Desalle at the Czech Grand Prix—he got caught in points by Evgeny Bobryshev instead. Bobby is now 4th in points, Nagl is fifth and Desalle is sixth. Nagl is now 147 points behind Romain Febvre and 29 points behind Bobryshev.

Ken de Dycker has missed the last four GPs with a shoulder injury.

Ken de Dycker: Ken's career is in the twilight stage (not the movie, but the slow fade into obscurity). He's still Tony Cairoli's hand-picked teammate at KTM, but thanks to lingering injuries and newly broken shoulder he hasn't been able to fulfill his domestique duties in 2015. As a Belgian he wants to be at Lommel next week. However, since he is 15th in points and doesn't have a single top-five moto finish to his credit this season no one is anxiously awaiting his return. If Ken gets to stay at KTM in 2016 its will be considered a pity signing. When DeDycker was semi-healthy his best moto finish was a 7th. He's just a little over one moto in points (27) ahead of Ryan Villopoto in the 450 standings and Villopoto has been gone for 9 races.
Jeffrey Herlings made it three in a row. Not wins, but three serious injuries in the last three races..
Jeffrey Herlings: Motocross fans love to see Champions race, so, the Czech fans will get to see Jeffrey Herlings in action. The finger that he came so close to chopping off in Sweden has healed and KTM has all of the pain killers they were using on Tony Cairoli's arm now available for Herlings' left pinky finger. He'll do fine. Jeffrey is probably getting a little gun shy with all of his crashes, but if he can tame the urge to show the 250 guys that he is the Macho Man he can cement his 2015 250 World Championship and get off a 250 while he's still got some parts left to break. This is a guy who needs the calming influence of better competition and a bigger bike. Too late! He crashed over a blind jump and got landed on by Jordi Tixier. He dislocated his hip and sent out a expletive rich Instagram that blamed God for his misfortune. Strangely enough, his Czech injuries were his third consecutive injury this season (scrubbing into a broken collarbone in Germany, meat clevering his pinky finger in Sweden and dislocating his hip in the Czech Republic). Just move to the 450 class already—you'll be safer there.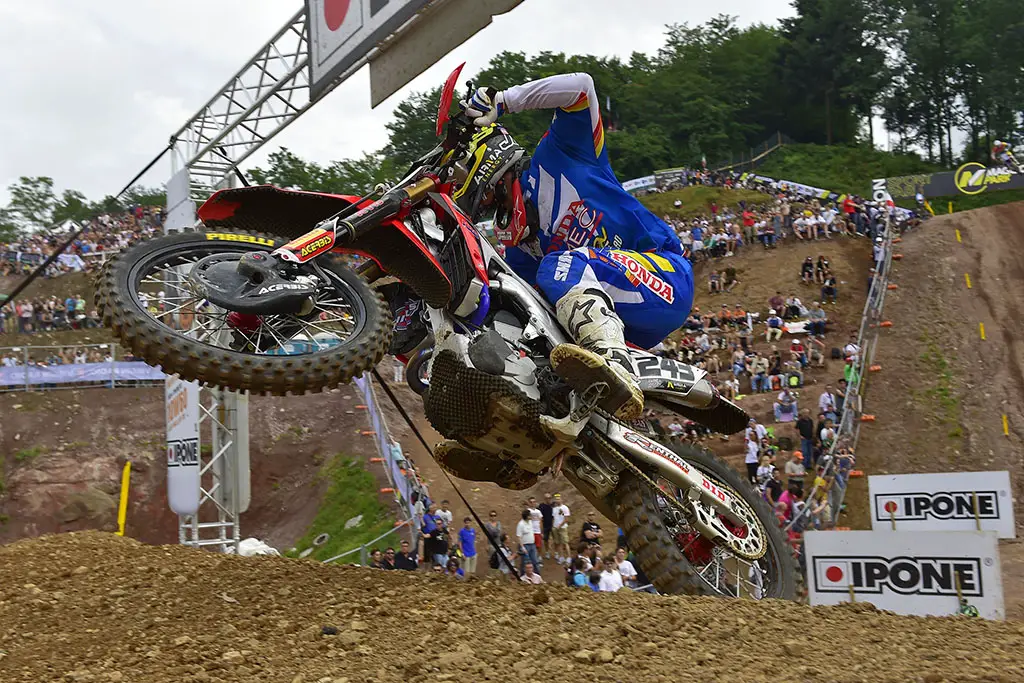 Tim Gajser didn't make hay while the sun was shining. Now he has a fight on his hands with Valentin Guillod.
Tim Gajser: Gajser was a nobody, at least in the betting pools, at the start of the 2015 250 World Championship season. Now he's man who has won 4 GPs and whittled Herlings' once massive points lead down to 46 points. If he wants a shot at the Championship, he needs to beat Herlings by any combination that adds up to 4 points per moto for the next 12 motos. Every time he loses points to Herlings, he loses his chance to be this year's Jordi Tixier. Gajser had Herlings on the ropes in the weeks leading up to Czecho. Then, wham! Herlings is gone. Gajser should have been floating on a cloud, but instead he had a bad day at Loket. How bad? DNF-2. The bad news is that Gajser is the second "hot new kid" to have a hot streak this year. Before Gajser took off on his rampage starting at round 8, Valentin Guillod was on a tear of his own. Valentin cooled off when Gajser got hot. But, After Cxecho, Gajser and Guillod are tied for the second place in the 250 World Championships (and with Herlings gone, second place is really first place). For years motocross fans have wanted a real battle for the title in the 250 class…now they have one.
Max Anstie had one good moto and one bad moto in the Czech Republic. We could have predicted that.
Max Anstie: Max Anstie has been on a roller coaster ride in 2015. The 250cc British rider has made the podium in 7 motos this year (and won the last GP with a 1-1), but when he's not on the podium he's barely at the races. It's either podium or "whatever happened to Max Anstie." Max is already two full GPs behind Jeffrey Herlings in the points, so he's racing for pride from this point on. What did Max Anstie do in Czecho? He did what he has done all year, save for his win Latvia two weeks ago when he went 1-1, Max went 1-30.
Shaun Simpson went 6-6 in Loket to keep his streak alive.
Points chase: No 250 riders have scored points in every moto (24 to this point), but Valentin Guillod, Pauls Jonass and Jeremy Sewer have scored in 23 of 24 motos—which is why they are 3rd, 4th and 5th place in the points chase. Valentin Guillod, Pauls Jonass and Jeremy Sewer scored in both motos in the Czech GP—they are now 2nd, 4th and 6th. In the 450 class, Romain Febvre has scored points in all 24 motos (averaging just a hair below 3rd place). You have to go all the way back to 7th overall to find another rider who has scored in every moto—that would be Shaun Simpson with an average placing of 9th. Shaun is followed in 8th overall by Glenn Coldenhoff with an average finish of 10th. Febvre, Simpson and Coldenhoff are still the only riders to score points in every 450 moto this year (which is 26 straight motos).
Gautier Paulin is now second in 450 points, but he lost 22 points to Febvre in the Czech Republic.
2015 FIM 450 POINTS STANDINGS
(After 13 of 18 races)
1. Romain Febvre…507
2. Gautier Paulin…419
3. Tony Cairoli…416
4. Evgeny Bobryshev…389
5. Max Nagl…360
6. Clement Desalle…331
7. Shaun Simpson…3076
8. Jeremy Van Horebeek…294
9. Glenn Coldenhoff…259
10. Kevin Strijbos…257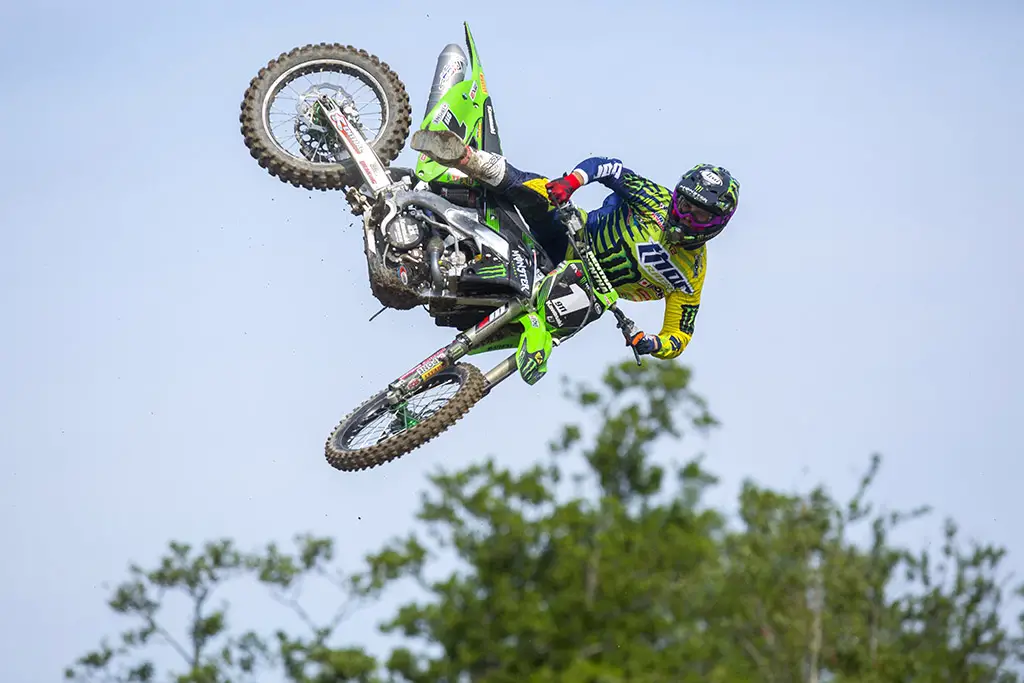 Just as in America, the FIM should require its Champions to run the Number 1 plate. It looks professional and Jordi Tixier was smart to make the choice.
2015 FIM 250 POINTS STANDINGS
(After 13 of 18 races)
1. Jeffrey Herlings…423
2. Tim Gajser…399
3. Valentin Guillod…399
4. Pauls Jonass…389
5. Jordi Tixier…370
6. Jeremy Seewer…369
7. Max Anstie…337
8. Julien Lieber…305
9. Aleksandr Tonkov…256
10. Benoit Paturnel…236
Photos; Honda, KTM, Massimo Zanzani, Kawasaki, Ray Archer, Suzuzki, Husqvarna