MXA'S INDUSTRY NEWS, BALLYHOO & PRESS RELEASES
Click on images to enlarge
CHUCK SUN WRAPS UP HIS CHINESE ADVENTURE AT THE XINFENG FOUR-DAY ENDURO
Chuck on the course in China.
Jody,
Racing four days through bamboo forests in China is a peak sensory overload! Making it to the start line is one of the greatest challenges. On the final fourth day, I missed the group ride of 25 km to the start. I thought I knew where it was….nope! They changed it the night before. I was amped to close the 1:45 gap that Chinese Champion Lau Fang had on me, but I was now lost on the course. By a miracle I found my way just in time as riders we're getting antsy waiting an extra hour to start.  At the halfway check I took back one minute on four-time China Rally champ Lau Fang and ended up on the podium in second overall.
Chuck Sun
Chuck and his Red Army body guards.
Chuck celebrates with new-found friends after the race with his money and trophy for second place.
TIMED SUPERCROSS EVENTS FOR '17: IT'S ALL GOOD
Starting at Anaheim 1 on January 7, the Supercross heats, semis, last chances and main events will be based on time instead of number of laps. The 250 East/West will go 15 minutes plus one lap and the 450s will go 20 minutes plus one lap. The clock will start when the gate drops, and just like in real motocross, the leader will have to navigate one more lap at the end of the 20 minutes. But also, just like in motocross, the final lap starts when the leader crosses the line after 20 minutes. Which means that if the leader gets to the finish line when the clock is at 19 minutes and 58 seconds, he has to go around again before getting the one lap to go board.
This is a good rule. Last year there was one 450 main that wasn't even 15 minutes long (actually 14:38). The new timed format will insure that every race, regardless of how short the track, will be the same length. This rule will have a bigger effect on the 250 East/West classes, as they only had 4 races out of 17 that were 15 minutes long (and 6 that we less than 13 minutes long). By comparison, the 450 class had 4 races that were over 20 minutes long and another 3 that were longer than 19 minutes. The fans, whether in Anaheim or Atlanta, will get to see the same amount of action (time-wise) and the riders will get a slightly larger test of their fitness and preparation.
KEN DE DYCKER SPOTTED ON A J-TECH SUZUKI
Ken De Dycker, after several terrible years with injuries, looks like he will race a Suzuki RM-Z450 for the Italian-based J-tech team. In 2016 DeDycker broke his femur before the start of the season and when he came back in August he got hurt again. J-tech was a Honda team last year, but will switch to Suzuki's for 2017. DeDycker will turn 33 years old this year, but is a good catch for the J-tech team as he has been a front runner, when not injured.
CHRISTINI ALL-WHEEL DRIVE MOTORCYCLES WINS MILITARY CONTRACT
Christini was awarded a contract from the U.S. Air Force for the delivery of 54 All Wheel Drive 450E Military Edition motorcycles. The award was the result of an open bidding process. Christini had previously delivered All Wheel Drive motorcycles to the U.S. Navy, U.S. Border Patrol, UK military, UAE, Jordan, and other NATO forces. Christini AWD is partnering with Tactical Mobility Training (TMT) of Fayetteville, NC for the off road motorcycle training as well as maintenance training for the USAF.
The Defense Department said that their previous "Kawasaki KLX 250cc motorcycles proved to be marginally fit for the high-altitude, rugged terrain of Afghanistan and the 2015 Kawasaki 250cc engine failed to meet new EPA guidelines; thereby rendering the motorcycle unfit for USSOCOM operations." After several years of market research, Christini emerged as the manufacturer providing the technology and capabilities required by Special Forces units.
ROCKY MOUNTAIN ATV/MC TO SPONSOR FLORIDA WINTER SERIES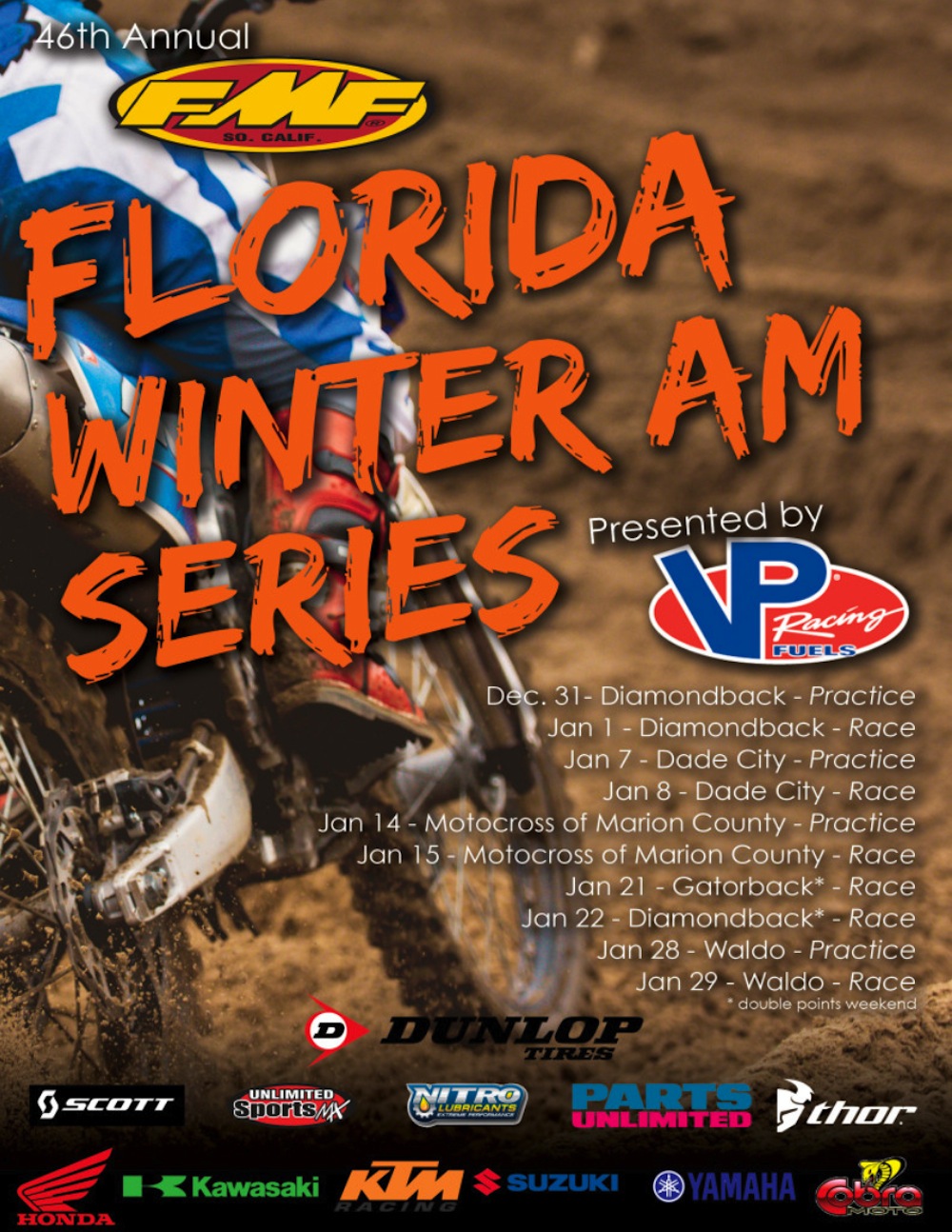 Rocky Mountain ATV/MC will sponsor the 46th Annual FMF Florida Winter AM Series, presented by VP Racing. Rocky Mountain ATV/MC's with $10 gift card at every event to each racer who competes in at least one class. "The Florida Winter AM Series has a long history, and we're glad to be a part of it," said Dan Thomas, CEO and founder of Rocky Mountain ATV/MC. "It's important to us to support the sport at an amateur level where we can impact many riders in a positive way."
The Florida Winter AM series will feature six rounds during the month of January, with the first taking place on New Year's Day (practice on New Year's Eve) on Gatorback Cycle Park's newest track: Diamondback.

PRO CIRCUIT'S 2017 KX250F WATER PUMP KIT
One of the most critical engine components necessary for superior engine performance on the new 2017 Kawasaki KX250F is Pro Circuit's new Water Pump Kit. Designed to keep your engine running cool when the racing heats up, the new Pro Circuit KX250F Water Pump Kit provided increased pumping capacity and reduced cavitation for maximum cooling efficiency. CNC-machined from aircraft quality aluminum and anodized for a factory look, the Pro Circuit Water Pump Kit has been rigorously tested by our own Monster Energy/Pro Circuit/Kawasaki race team for peak performance and unfailing reliability. The retail price is $204.95 at www.procircuit.com.
AUSTRALIA BANS TEAR-OFFS
Motorcycling Australia has announced a controversial ban of tear-offs for the 2017 Australian Nationals. That means that riders will have to use roll-offs. Belgium, Holland and England also ban tear-offs. The tear-off ban will be implemented in Oz starting on January 1, 2017, for all disciplines of motocross and off-road racing.
LAST REM RACE OF 2016 RESCHEDULED FOR DEC. 31, 2016
Heavy rain in SoCal flooded the REM track to the point where it will not be ready for Saturday morning's scheduled race. REM has rescheduled the "Last Race of 2016" to Saturday, December 31, 2016. The perfect prelude to New Year's partying. For more info go to www.remsatmx.com
BAD NEWS FOR CHIEF DARK HORSE AND HIS INDIAN FRIENDS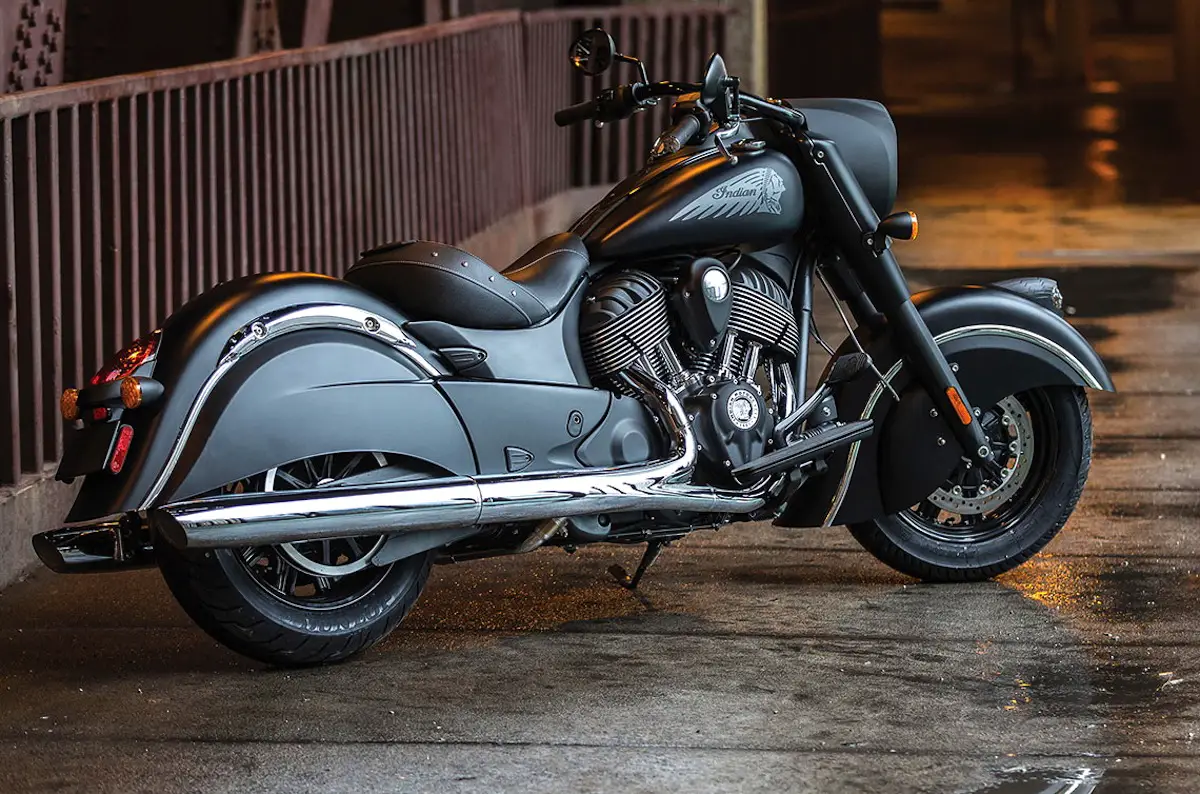 Indian Motorcycle is recalling seven different models, amounting to 23,746 units, for an issue with a fuel rail that may contact other components and result in a fuel leak. The recall pertains to the Chief Classic, Chief Dark Horse, Vintage, Chieftan, Chieftan Dark Horse, Springfield, and Roadmaster models, for the 2014 to 2017 model years (manufactured between April 15, 2013, to July 15, 2016).
CHRISTOPHE CHARLIER TO SWITCH TO WORLD ENDURO CHAMPIONSHIP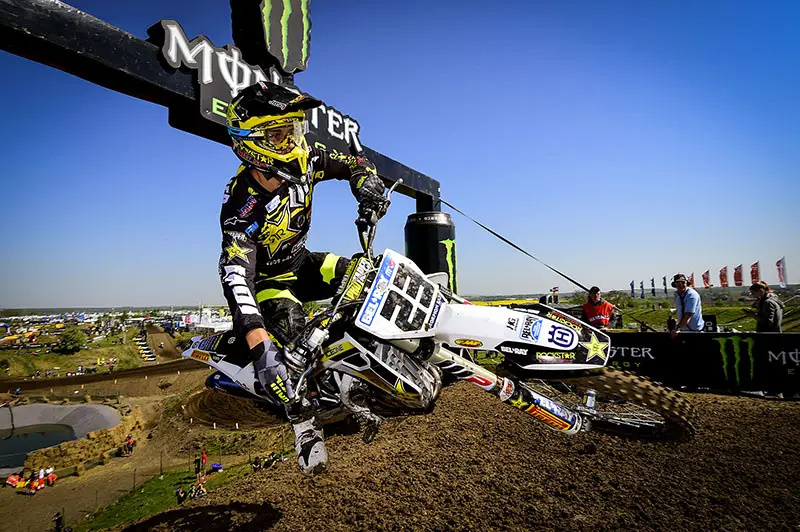 Christophe Charlier's 2016 results were not what he expected and without any offers for 2017, Charlier went looking for options outside of MXGP. Charlier, a former race winner in 250 GPs, did not have his contract extended with the Rockstar Energy Husqvarna motocross team, but Husqvarna did sign him to race the 2017 World Enduro Championship. The Husqvarna's 450 motocross team will be Max Nagl, Max Anstie and Gautier Paulin.
THE FIRST 8 REM RACES OF 2017 & "THE DAY AFTER THE NIGHT BEFORE"

2017 REM MOTOCROSS SCHEDULE
Jan. 8…………………….Glen Helen, CA (Sunday race)
Jan. 21…………………..Glen Helen, CA
Jan. 28…………………..Glen Helen, CA
Feb. 11…………………..Glen Helen, CA
Feb. 18………………….Glen Helen, CA
Feb. 25………………….Glen Helen, CA
Mar. 11……………………Glen Helen, CA
Mar. 18…………………..Glen Helen, CA