MXA'S LAST WEEK IN REVIEW: WHAT YOU MISSED LAST WEEK IF YOU WERE IN QUANTANAMO
HISTORY AS IT HAPPENS! PHOTO MOMENTOS OF KTM's BIG NIGHT


Ryan Dungey spanning the gap on his way to KTM's first-ever Supercross victory. They said it couldn't be done? Who said that? Well, Roger DeCoster for one (when he was at Honda and Suzuki).

The slippery Phoenix dirt required maximum throttle control?that's where Ryan is the best.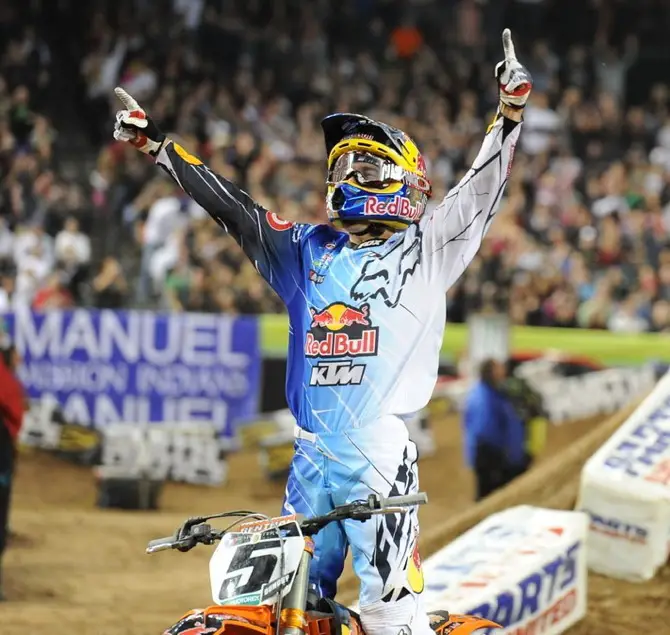 "Pop, pop, fizz, fizz! Oh what a relief it is!" There were a lot of naysayers when Ryan Dungey passed up Joe Gibbs and Team Honda for KTM?but none now.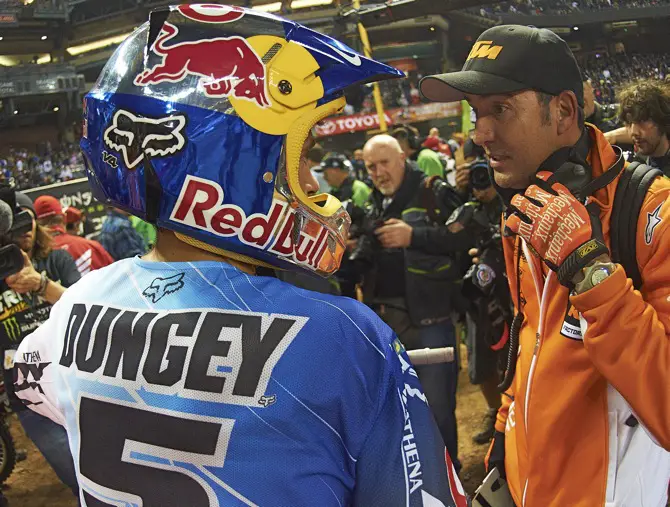 The first man to meet Ryan when he pulled off the track was his mechanic Carlos Rivera. There is always a bond between a rider and his mechanic, but it is especially strong when they start from scratch.

We'll see this podium photo many times in 2012…but the order will change with each week.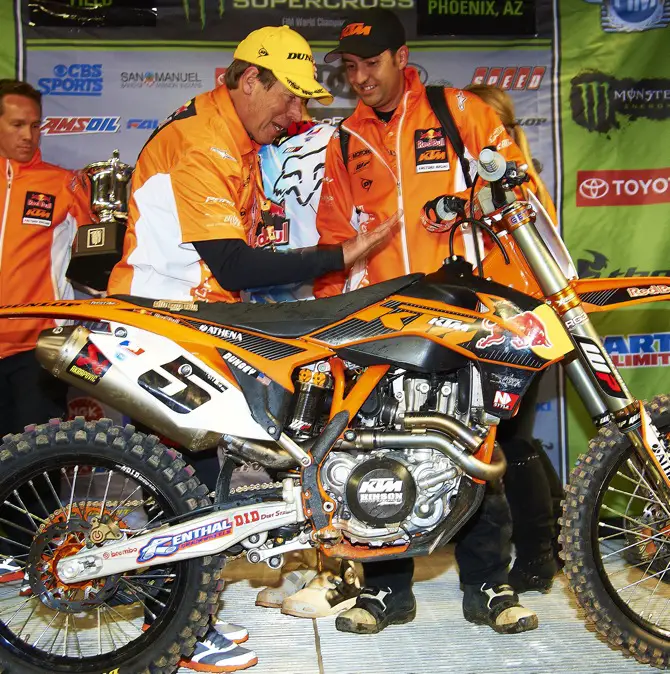 Just like an old cowboy patting his trusty steed after a long hard ride, Roger DeCoster gives Ryan's KTM 450SXF a gentle pat on the saddle.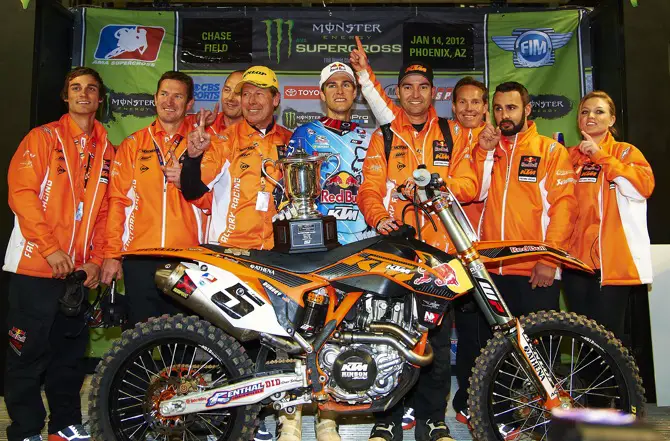 The whole team?with a couple hundred people back at the factory missing.

Not forgotten in the night's festivities was Marvin Musquin's first Supercross podium (with a second in the 250 West). It was only Marvin's second AMA Supercross race since coming to the USA last year. All photos by Hoppenworld
TWEET-VILLE! LAST NIGHT'S RACE BY THE LIGHT OF AN IPHONE






ON THE CLOCK! PHOENIX TIMED QUALIFYING DATA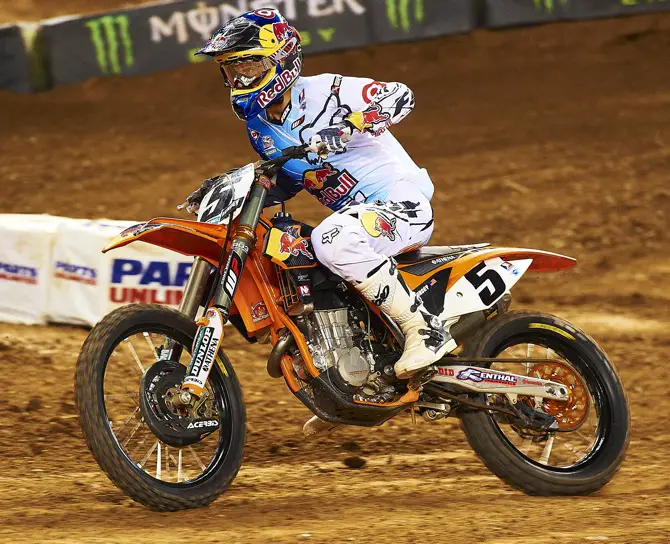 Ryan Dungey was third fastest in 450 timed qualifying, but first across the finish line. Photo: Hoppenworld
Setting the fastest time in practice isn't a guarantee that a rider will win the race, but it does insure that he'll make the night program (step one in winning the race) and get a good pick at the gate in his heat race. At Phoenix, Dean Wilson (250) and Ryan Villopoto (450) set the fast times…but only Wilson turned his time trial into a victory at night's end. The story of the watch isn't at the front of the pack, but at the back. Since only 40 riders advance to the night program?being 40th and not 41st is critical. At Phoenix, Preston Tilford (250) and Jake Oswald (450) found that out.
TOP TEN 250 TIMES
1. Dean Wilson…51.630
2. Eli Tomac…51.993
3. Zach Osborne…52.063
4. Jason Anderson…52.197
5. Martin Davalos…52.338
6. Marvin Musquin…52.367
7. Tyla Rattray…52.521
8. Cole Seely…52.667
9. Nico Izzi…52.732
10. Max Anstie…53.003
WHO JUST MISSED THE 250 CUT
41. Preston Tilford…56.599
42. Rhett Urseth…56.649
43. Tevin Tapia…56.687
44. Parker Eckman…56.741
45. Josh Greco…56.756
TOP TEN 450 TIMES
1. Ryan Villopoto…51.219  
2. Chad Reed…51.551
3. Ryan Dungey…51.724
4. Kevin Windham…51.749  
5. Jake Weimer…51.793  
6. James Stewart…51.813  
7. Justin Brayton…52.355  
8. Josh Hansen…52.699  
9. Trey Canard…52.716
10.Mike Alessi…52.723
WHO JUST MISSED THE 450 CUT
41. Jake Oswald…56.478
42. Sean Lipanovich…56.632
43. Donald Vawser…56.654
44. Scotty Wennerstrom…56.657
45. Teddy Parks…56.809
ONE LAP OF PHOENIX WITH GARETH SWANEPOEL

CHAD JOHNSON WINS SATURDAY NIGHT IN TOPEKA, BUT TYLER BOWERS EXTENDS HIS POINTS LEAD OVER JEFF GIBSON



Just one night after taking over the AMA Arenacross Series points lead on Friday, Babbitt's Tyler Bowers was hoping to grab his fourth straight win on Saturday night inside the Topeka Expocentre. Instead, it was his Kawasaki teammate Chad Johnson who raced to his second win of the 2012 season.
With Bowers just three points ahead of Jeff Gibson heading into Saturday night, there were lots of fireworks. First, Nathan Skagg holeshot the 450 main, but when Gibson tried to pass him for the lead the two made contact. Gibson got the worst of it?and Chad Johnson passed both of them. Bowers moved up on Nathan Skaggs and pass him for second, as Gibson fell back to eighth place. At the flag it was Johnson, Bowers, Skaggs, Kelly Smith, Kevin Johnson, Travis Sewell, Cory Green and Jeff Gibson. Bowers maintains control of the red number plate as the championship leader, gaining nine points on Gibson and extending his advantage in the point standings to 12 over Gibson.
Meanwhile in the 250 class, Kevin Johnson swept the weekend in Topeka.
SATURDAY TOPEKA RESULTS: 450 CLASS
1. Chad Johnson…Kaw
2. Tyler Bowers…Kaw
3. Nathan Skaggs…Hon
4. Kelly Smith…KTM
5. Kevin Johnson…KTM
6. Travis Sewell…KTM
7. Cory Green…Suz
8. Jeff Gibson…Hon
9. Cole Siebler…Hon
10. Willy Browning…KTM
FRIDAY TOPEKA RESULTS: 450 CLASS
1. Tyler Bowers…Kaw
2. Jeff Gibson…Hon
3. Zach Ames…Kaw
4. Nathan Skaggs…Hon
5. Kyle White…Hon
6. Dave Ginolfi…KTM
7. Chad Johnson…Kaw
8. Willy Browning…KTM
9. Travis Sewell…KTM
10. Kelly Smith…KTM
SATURDAY TOPEKA RESULTS: 250 CLASS
1. Kevin Johnson…KTM
2. Chad Cook…Kaw
3. Maxx Malatia…Hon
4. Dalton Carlson…KTM
5. Dave Ginolfi…KTM
6. Patrick Massie…Hon
7. Tanner Moore…KTM
8. Kyle White…Hon
9. Theodore Pauli…Kaw
10. Michael Thacker…Kaw
FRIDAY TOPEKA RESULTS: 250 CLASS
1. Kevin Johnson…KTM
2. Michael Willard…KTM
3. Chad Cook…Kaw
4. Tanner Moore…KTM
5. Dalton Carlson,…KTM
6. Daniel Blair…KTM
7. Dave Ginolfi…KTM
8. Kevin Markwardt…Hon
9. Kyle White…Hon
10. Tony Archer…KTM
450 ARENACROSS SERIES POINTS
(After 10 of 19 races)
1. Tyler Bowers…235
2. Jeff Gibson…223
3. Chad Johnson…206
4. Kelly Smith…172
5. Nathan Skaggs…153
6. Zach Ames…146
7. Josh Demuth…127
8. Willy Browning…117
9. Travis Sewell…101
10. Cory Green…73
LET'S GO SAND BLASTING WITH JEFFREY HERLINGS & JEREMY VAN HOREBEEK
How do you get good in the sand, you do what the factory KTM GP riders do?take a beating on a Friday. Watch it here.
TEAM HONDA SUPERCROSS AUTOGRAPH SIGNING AT MALCOLM'S SHOP ON FRIDAY


To register for Honda Heroes of Supercross, send an email to [email protected]
CHRISTIAN CRAIG TO MISS SUPERCROSS SERIES BECAUSE OF WRIST SURGERY


Christian Craig.
Troy Lee Designs / Lucas Oil / Honda's Christian Craig will miss much of the remaining Supercross series to repair a broken wrist. The scaphoid bone (navicular) in his left wrist was fractured at the Southwick National and he had surgery to screw the broken bone. Unfortunately, the bone never healed properly and he will have to have it corrected.
Craig tried riding through the pain at the opener last weekend but it was just too much to deal with. The team hopes to have him back for the last three supercross rounds to start preparing for the outdoor Nationals. The Troy Lee Designs/ Lucas Oil/ Honda team is 100% in support of Christian's decision and we will be anxiously awaiting his return.
THE WOMEN'S AMA NATIONALS TO BE REDUCED TO ONE 15-MINUTE MOTO IN 2012



This may be bad news for the WMX women, but…
MX Sports' Davey Coombs said that the reason for going to one moto for the women is that… "We are adding a pair of LCQs for the 250 and 450 classes and there is just not enough time in the day for two full WMX motos. This will also help the WMX get some TV coverage. And the last moto of the day was also in an almost-empty park, and the tracks were brutal by that time of day."
This change is actually in the best interest of the women, the show and the sport. The women should have never been mixed into the program once the 250 and 450 National main events got going. They were always best suited as an opening act (assuming that MX Sports will use them as the opener) because once the men raced it was hard for fans to watch the women ride without making a direct comparison between them and the men…and it wasn't a positive comparison. Sometimes it was painful to watch. By racing before the men, there will be no slow/fast comparison. The WMX riders will be enjoyed for what they are?the fastest women racers in the world.
Plus, on the men's front, there will be Last Chance Qualifers for both the 250 and 450 Nationals. 37 riders will be seeded into the National motos by timed qualifying and then three spots in each class will be awarded by an LCQ race. Here is another nifty idea?drop kick the four "timed qualifying sessions" and turn them into four heat races?then everybody would race their way into the program and it wouldn't take one iota more time than the current system. The fans would like it.
GEICO HONDA'S WIL HAHN CRASHES AT THE HONDA TEST TRACK?WILL MISS 3 TO 6 WEEKS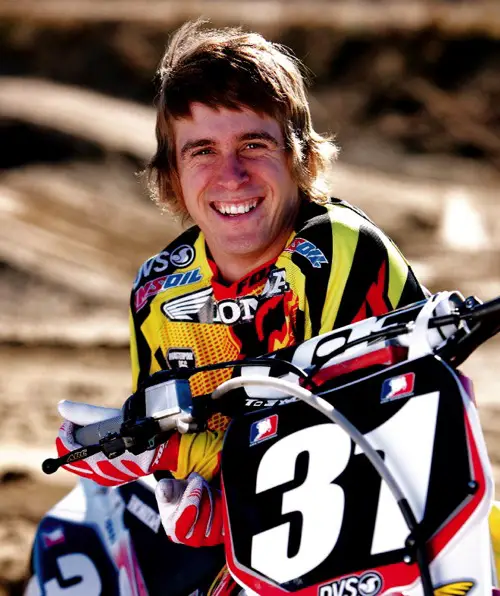 Wil in happier times.

Following a 2011 beset by injury, Hahn will now miss three to six weeks of the 2012 Monster Energy AMA Supercross Lites West season after fracturing his right hip during training on Wednesday at the Honda practice facility in Corona, Calif.
"I'm just shocked, numbed," Hahn said. "I was training this week at the Honda track and things were going great. I went over a step up, landed awkwardly, fell over and landed hard on my right side. I felt sore when I got up. I went to the doctor and X-rays showed something was wrong. I went to a specialist on Thursday and he said my hip was cracked. Now I have to sit again. I can't believe it. I'm not even bummed. I'm beyond that."
Team manager Mike LaRocco said that it's too late in the week to find a substitute for Hahn at this weekend's race at Chase Field in Phoenix. "We didn't know how bad Wil's injury was until after he saw the orthopedic guy Thursday," LaRocco said. "By that time, the truck had already left for Arizona and it was too late to find someone to fill in Wil's spot. So we'll just have Kevin Windham and Eli Tomac racing for us this week." In the meantime, LaRocco said he has a short list of riders he's considering for the substitute role during the time that Hahn is sidelined, and would consult with team ownership before a move.
WHERE IN THE WORLD IS RICKY DIETRICH?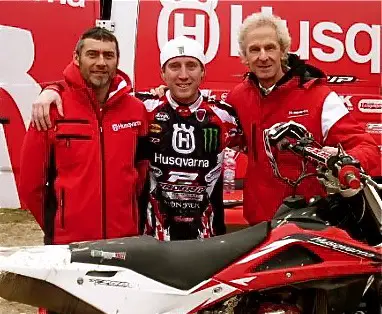 Ricky D.

Offroad hero Ricky Dietrich gave up a lucrative offroad career last year to try his hand at the AMA 450 Nationals. Unfortunately, Ricky D started hot, but cooled off as the Nationals progressed. Ricky scored points in the first ten motos of the 2011 season and then trouble struck. In the next 14 motos, Ricky only earned points in four motos. He ended the 2011 AMA 450 Nationals in 14th place. Not bad, but not good enough to justify the gamble he took. For 2012, Ricky is off for a new challenge. Watch the video to find out what he's up to.
COULD THE TWEEL BE THE ULTIMATE OFFROAD MOTORCYCLE WHEEL

Michelin first announced the Tweel in 2005. The name is a combination of tire and wheel because the Tweel doesn't use a traditional wheel hub assembly. A solid inner hub mounts to the axle. That's surrounded by polyurethane spokes arrayed in a pattern of wedges. A shear band is stretched across the spokes, forming the outer edge of the tire (the part that comes in contact with the road). The tension of the shear band on the spokes and the strength of the spokes themselves replace the air pressure of a traditional tire.
The tread is then attached to the shear band. The Tweel looks sort of like a very large, futuristic bicycle wheel. The advantages of the Tweel are fairly obvious even from the first glance. The airless design eliminates the possibility of air leaks or blow outs at high speed for increased safety. And by taking the air pressure out of the equation you are left with more consistent and predictable economy and handling.
TIRE-GATE IS A TEMPEST IN A TEAPOT


James Stewart at A1.
Who really cares what tires James Stewart used in practice at A1. He has a contract with Pirelli and he raced with Pirelli tires. Yes, Bubba tried Bridgestone and Dunlop tires during practice, but more than likely he was doing that to find out where his Pirelli tires were before requesting changes to the Pirelli compounds. It will be news when Stewie races on a different brand?not if he tests different brands.
FORGET THE DUNLOP TIRE ROLL?LET'S HAVE THE ITALIAN POLICE DO THE SUPERCROSS HALFTIME SHOWS

CANADA VOTES NO TO 250 TWO-STROKES IN THE 250 CLASS BECAUSE THE 250 CLASS IS NO PLACE FOR 250s


Here are the new Canadian motocross rules direct from CMCR's Mark Stallybrass: "After much discussion, feedback and debate regarding the proposed amendment to the displacement rule for the MX2 class in regards to two-strokes, following is the change that will be made for the 2012 season:
(1) For the Amateur MX2 classes only, the maximum displacement for two-strokes will be increased to 250cc. The two-stroke displacement rule for the MX1 class will not change, therefore Amateurs may compete in both the MX2 and MX1 classes with a 250 two-stroke motorcycle.
(2) Intermediate ranked riders will be permitted to compete in the MX2 Pro/Am class at CMRC Nationals with a 250cc motorcycle.
(3) The maximum displacement for two-strokes in the Pro class will not increase, and will remain at 153cc. This rule will be consistent with that of the AMA."
Note: Actually, AMA rules only allow 125cc two-strokes in the Pro class.
ONE QUESTION WITH JEFFREY HERLINGS


Jeffrey Herlings, well, his feet anyway.                                       Photo: Ray Archer
WITH KEN ROCZEN GONE ARE YOU THE FAVORITE FOR THE 2012 FIM 250 WORLD TITLE? "I had a little stress last year, but not much. I try and stay as relaxed as possible. I know on paper I should be the quickest. Of course that should bring stress; I mean, KTM have won the last four FIM World MX2 Championships with Rattray, Musquin and Roczen. I want to continue that trend. If you look at the other riders, Searle, Osborne, Van Horebeek, Roelants, they all have to move to MX1 in 2013, but because of the age rule, I can stay in MX2. I really want to be the FIM World MX2 Champion in 2012, which is my goal."
DREAM TEAM : BEVO FORTI JOINS FORCES WITH 100%


As previewed exclusively by industry insiders in the Anaheim pits, 100% is proud and excited to announce that Bevo Forti is joining the new goggle venture. Regarded as one of the most recognizable and respected men in motocross, Bevo has amassed 40 years of experience in the industry. Forti bought his first motorcycle, a Suzuki Savage, in 1970 and has been hooked ever since.  He quickly hit the amateur racing circuit before becoming a mechanic for privateer John Savitski in 1972.  Beginning in 1978, Bevo worked as a mechanic for Factory Yamaha until he joined Scott USA in 1981.
Bevo has spent the last 30 years in the development, sales and race support of Scott USA's goggle line.  Throughout his tenure, Bevo has worked closely with the likes of Bob Hannah, David Bailey, Jeff Stanton, Mike Larocco, Jeremy McGrath, and Chad Reed, to name just a few.
As 100% launches a new line of premier motocross goggles this month, Bevo brings a wealth of experience to the team.  He will play an integral part in the brand positioning, dealer and rider relations, and the development of new products. Bevo understands what it means to give 100% as evidenced by his longtime passion for motocross.  He has logged nearly 2 million miles in the air and countless hours on the road, attending over 1500 motocross events throughout his impressive career.  His dedication has been recognized with the SFX Supercross Lifetime Achievement Award.
Bevo's son, John Kuzo, who has grown up on the circuit and has built years of experience in rider service and support is taking the position of Rider Support Manager for 100%'s pro and amateur athletes.
National Sales Manager Chris Favro rounds out the team and will apply his experience to execute a successful relationship with Parts Unlimited, which will serve as the exclusive U.S. distributor of the new product line. Some of the collection can be viewed online now, with a fully enhanced and interactive website to be launched on February 1st in conjunction with worldwide product delivery.
THE "HURRICANE" TO SIGN AUTOGRAPHS AT THE DODGER STADIUM SUPERCROSS 



Supercross / Motocross legend Bob "Hurricane" Hannah will be signing a free, limited-edition, Matrix Concepts poster at the Dodger Stadium Supercross pits. Bring your Bob Hannah memorabilia also and Bob will be happy to sign that as well.  To find Bob "Hurricane" Hannah, go to the Parts Unlimited hospitality booth at the Dodger Stadium Supercross pit area on January 21 at 2 p.m. Get the latest SX news from Matrix Concepts at www.facebook.com/matrixconcepts and if our riders sweep the podium a lucky fan will receive free product.
THE MXA AIR FORCE: PEACE IS OUR PROFESSION
It's no secret that the MXA wrecking crew is into airplanes. Jody Weisel and John Minert are experienced pilots (John graduated from Embry-Riddle with a degree in Aeronautical Sciences), while John Basher's dad used to let him fly their Cessna off of the family farm in New York. Additionally, MXA's Feets Minert has been flying for 40 years. But, if you'd like to see a really talented motocross racer put a plane through its paces all you have to do is go to the Riverside Air Show on March 26 to see MXA's Sbach 342 piloted by air show veteran Doug Jardine. We are proud to fly (literally) our logo on the ailerons of Jardine's factory-backed Sbach. If you live in SoCal and don't have any pressing motocross business, mark your calendar and take a trip out of Riverside Airport and see the air show (it draws about 30,000 spectators)…and shake Doug's hand. If you can't make it, take heart, you've probably seen his aerobatic act at the Glen Helen National or USGP.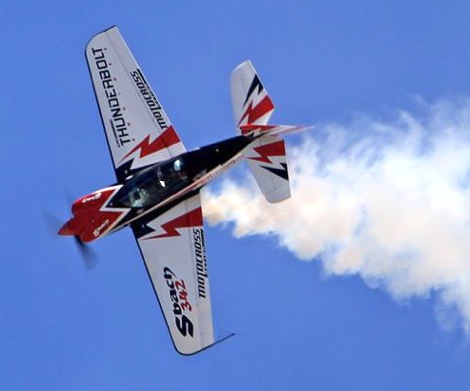 Doug Jardine in his factory-sponsored Sbach 342. Photo: Victor Archer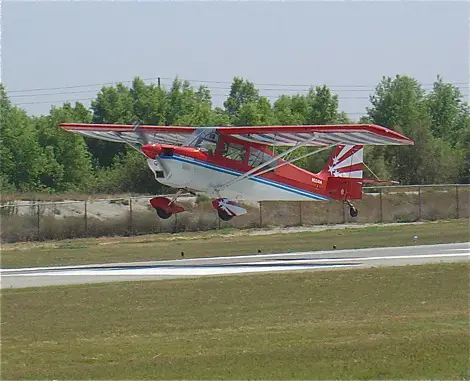 Feets Minert in his Decathlon Super Champion.

Jody Weisel in his Varga Kachina.
CYCRA FULL ARMOR PLASTIC SKID PLATES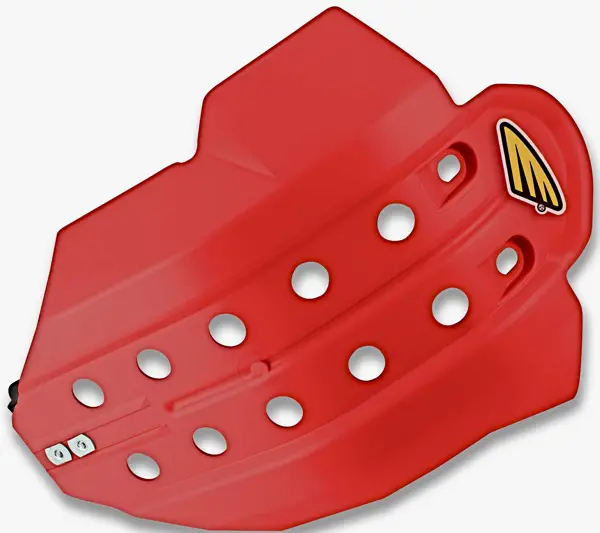 The new Full Armor Skid Plates from Cycra Racing, which are used by top Motocross/Supercross teams such as Chad Reed's Two-Two Motorsports and the Factory Connection GEICO Honda team, bring together a contoured fit and superior protection that customers have come to expect from the premier plastic manufacturer in the motorcycle industry. Designed for pro level protection using Ultra High Strength Injection Molded Plastic with reinforced frame tongues and tough billet machine mounts.
Compared to traditional metal skid plates, Cycra's Full Armor Skid Plates are contoured, so they do not stick out or drag in ruts and rocks. These plates will not change how your bike handles or affect the frame flex, so you will have a natural feel that you can rely on. A wide variety of colors are available to allow you to match your bike's color and graphics. It is made in the USA and retails for $89.95. For more info go to www.cycraracing.com.
TANEL LEOK TALKS ABOUT THE UPCOMING SEASON ON TEAM SUZUKI
Yes, we know it looks a lot like a hostage video, but the Estonian is a big player in the GPs now that he has been selected as Steve Ramon's replacement at Team Suzuki.
ARE YOU READY FOR "THE GREAT OUTDOORS: TEN"
The MXA wrecking crew has watched the new "TGO: Ten" several times and it is good…very good. Go to www.tgomx.com to order. Watch the trailer here.