MXA'S MID-WEEK REPORT #2: TALK IN THE PITS
PHOTO BREAKDOWN
Rider: Johnny Jelderda
Location: Milestone MX
Bike: 2017 Suzuki RM-Z250
Photographer: Daryl Ecklund
Camera: Canon EOS 1D Mark ii n
Lens: 70-200mm f/2.8
Focal length: 200mm
Exposure: 1/800 sec.
F-stop: 4.5
ISO: 100
SUPERCROSS KNOWLEDGE: ANAHEIM 1


by Broc Bridges
1. Ken Roczen earned his 10th victory in his 48th career 450SX Class start. The victory ties him with Mike LaRocco and Broc Glover on the all-time 450SX class win list.
2. Roczen has now won a 450SX class race on three different brands.
3. Roczen became the first rider in Supercross history to win a season opening race on three different brands: KTM, Suzuki, Honda.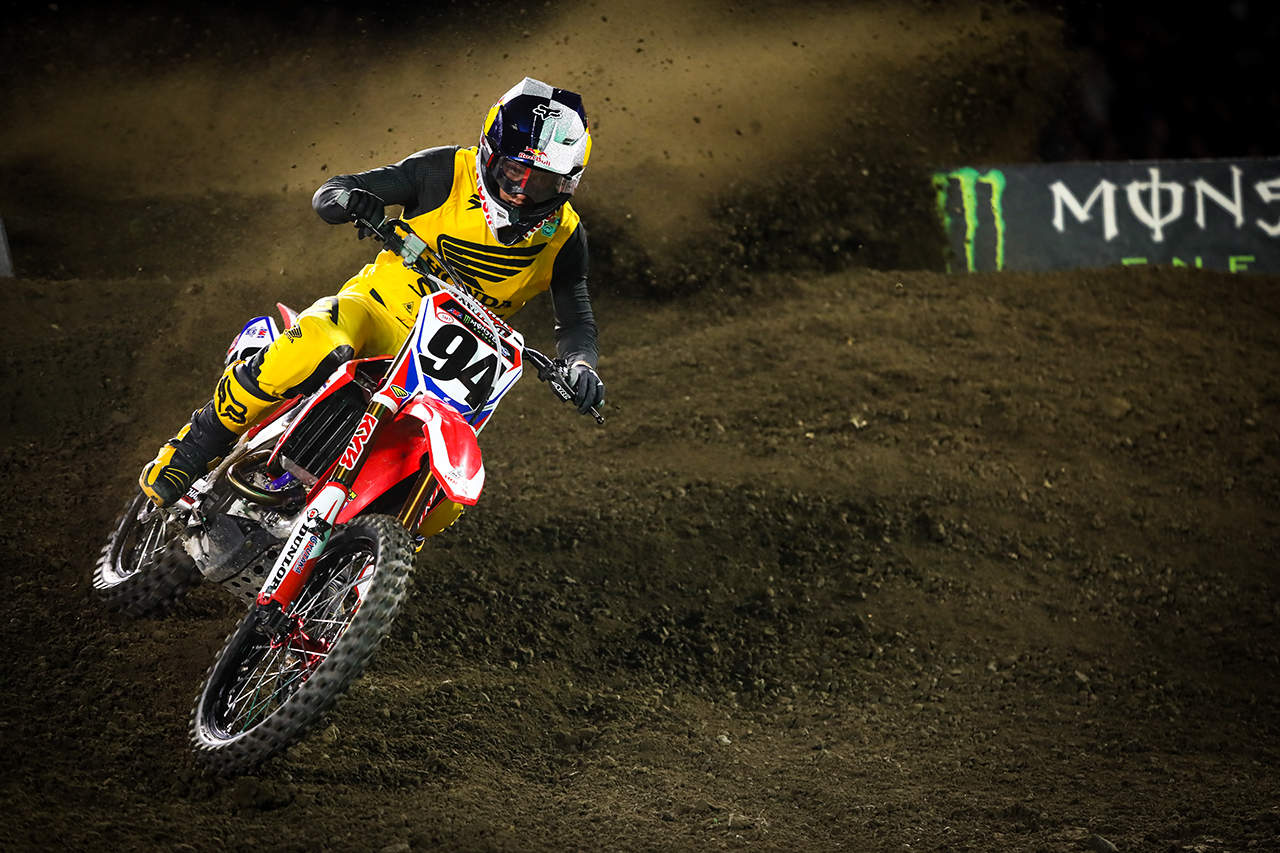 Kenny made it look easy in Anaheim. The question is, can he keep the ball rolling?
4. Honda had not earned a season opening victory since 2005 (Kevin Windham). Honda was also on a 20 race losing streak (Round 14 2015, Cole Seely).
5. Honda now has 210 Supercross victories (34 seasons with a win).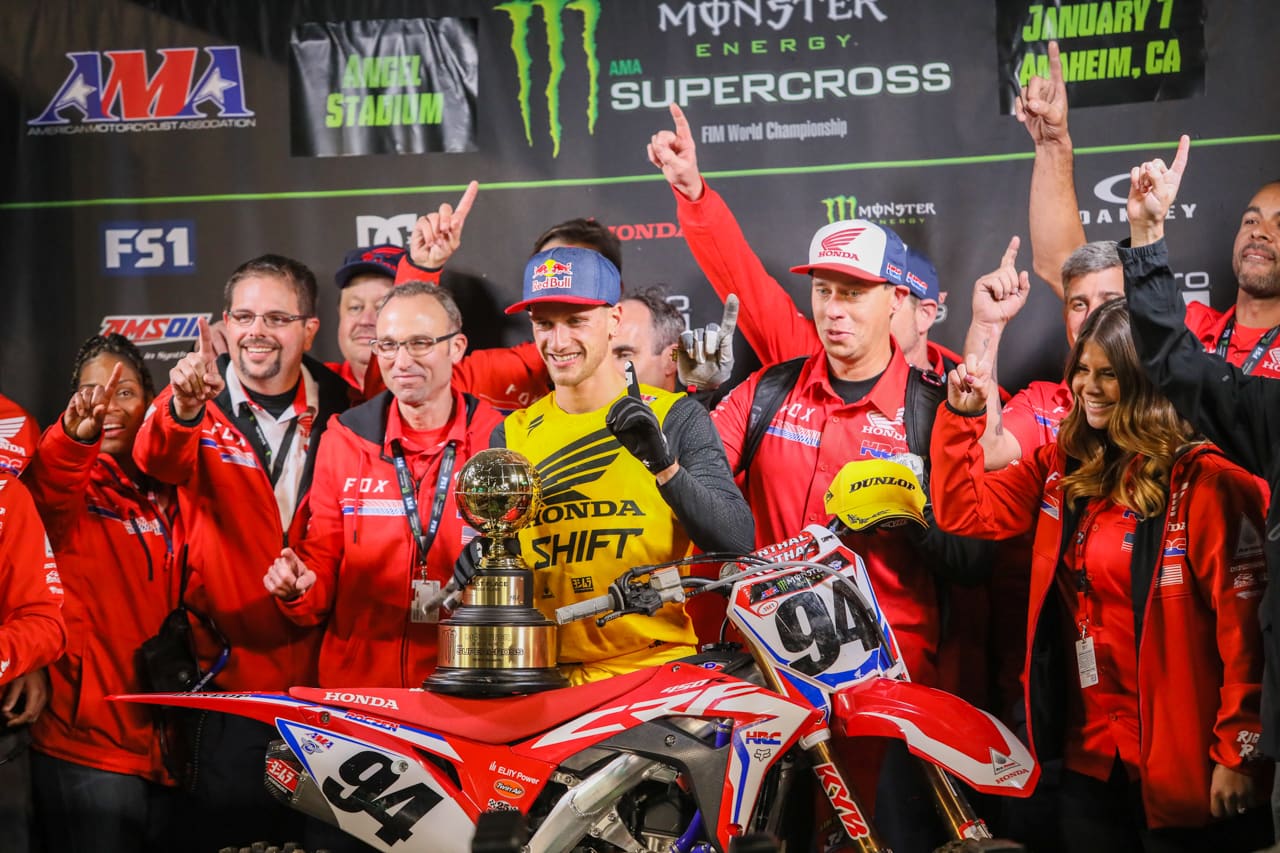 Can't believe it has been 12 long years since Honda won a season opener.
6. Ryan Dungey made career start number 118. It was his 90th career podium.
7. In Dungey's eight season opening starts, he has never won, but has earned seven podium finishes and a fourth.
Ryan was happy getting onto the box.
8. Marvin Musquin earned his sixth career podium.
9. Jason Anderson was unable to win back-to-back opening races, yet still rode his way to his 18 top five finish in 34 career 450SX starts.
Last year, Jason Anderson was the season opener winner.
10. Eli Tomac rounded out the top five in Anaheim with his 28th top five finish in 48 career starts.
11. Chad Reed finished 20th in the season opener. He has now started 16 consecutive season opening races and only finished outside of the top-10 three times.
We only can wait and see what happens next week with Eli. He was riding well and pumped up in the main dropping him back. He should be fighting for the win.
12. Making his 450SX class debut, Cooper Webb earned a 10th place finish.
13. Suzuki had more riders in the main event than any other brand: Suzuki-6, Honda/KTM- 5, Yamaha- 3, Kawasaki- 2, Husqvarna- 1.
It is crazy to think that the Suzuki RM-Z450 which hasn't changed in years, but had the most bikes in the main. It is the privateers choice of bike for Supercross. 
MXA FIRST RIDE: THE 2017 HUSQVARNA FC350
ON THE CHOPPING BLOCK
The following products are ones that we are currently testing or going to start testing soon. They are on the chopping block of being ridiculed and judged. Some make it through the rigorous testing of the MXA wrecking crew and some don't. Parts break, tear, fail while many pass with flying colors. Welcome to MXA's chopping block were you can see were it all starts. To get the full review of these products you are going to have to pick up a issue of MXA. Better yet, get yourself a subscription. CLICK HERE TO SUBSCRIBE.
SIDI CROSSFIRE 3 SRS BOOTS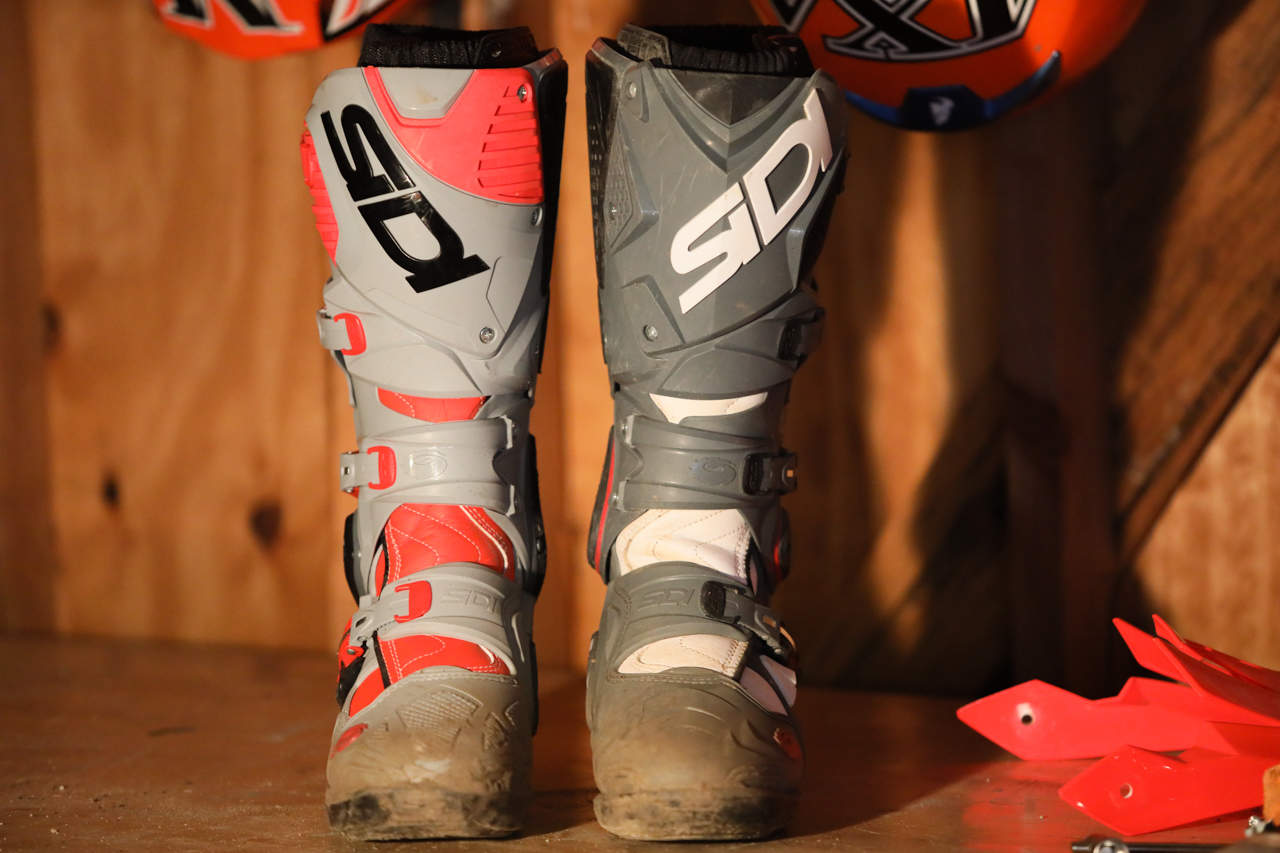 We have been testing these boots side by side with the Crossfire 2 (left).

After patiently waiting, we finally received the all new SIDI Crossfire 3 SRS boots. We are specifically excited about the addition of the new ankle pivot system. This helps in a hard impact so you ankle won't hyperextended. We have been testing this boot back to back with the Crossfire 3 to learn more about their difference and similarities.
New on the Crossfire 3 boot is the ankle pivot system to help from hyperextension.
Whether it is the fit, feel or comfort we will figure it out. Look for a full article of the SIDI Crossfire 3 in a future issue of MXA. For more information go to www.motonation.com.
BUD RACING KTM TITANIUM PEGS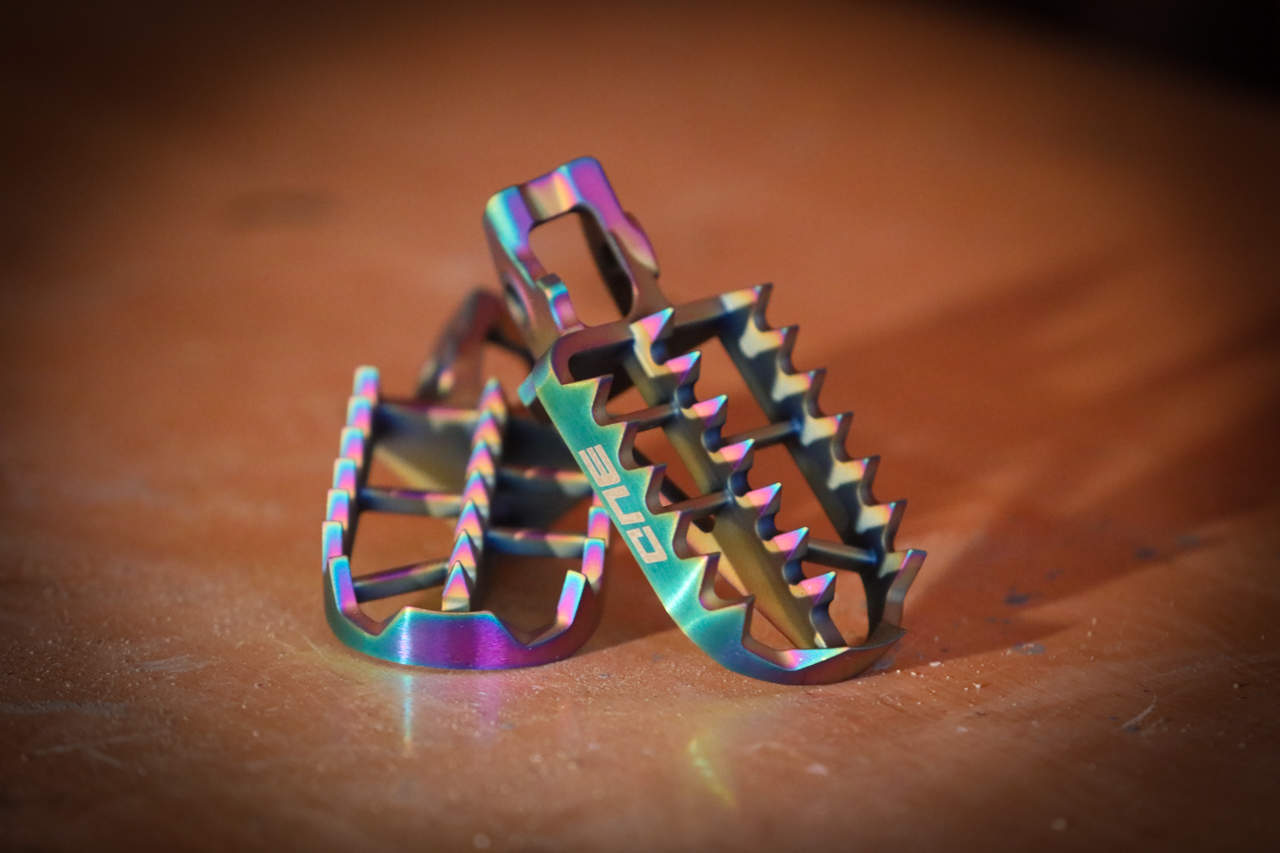 The Bud Racing titanium pegs are still nice and shinny, but they won't be for long. 
Another item that will be on the testing block in the coming weeks with be Bud Racing's KTM titanium pegs. Don't they look pretty? For more information got to www.budracing-usa.com.
MOJO MOTORSPORTS 15 PIECE BLING KIT
If you are looking to bling out your bike with life time warranty parts, Mojo Motosport is your a one stop shop.
Mojo's Bling kit not only will make you bike look cool, but they are also made out of precision CNC billet. It comes in a 15 piece set and numerous colors. We are testing ours on a KTM 125SX. We are going to break open the box and start the testing next week. www.mojomotorsport.com
X BRAND'S NEW GOX "EKX'S" SERIES GOOGLE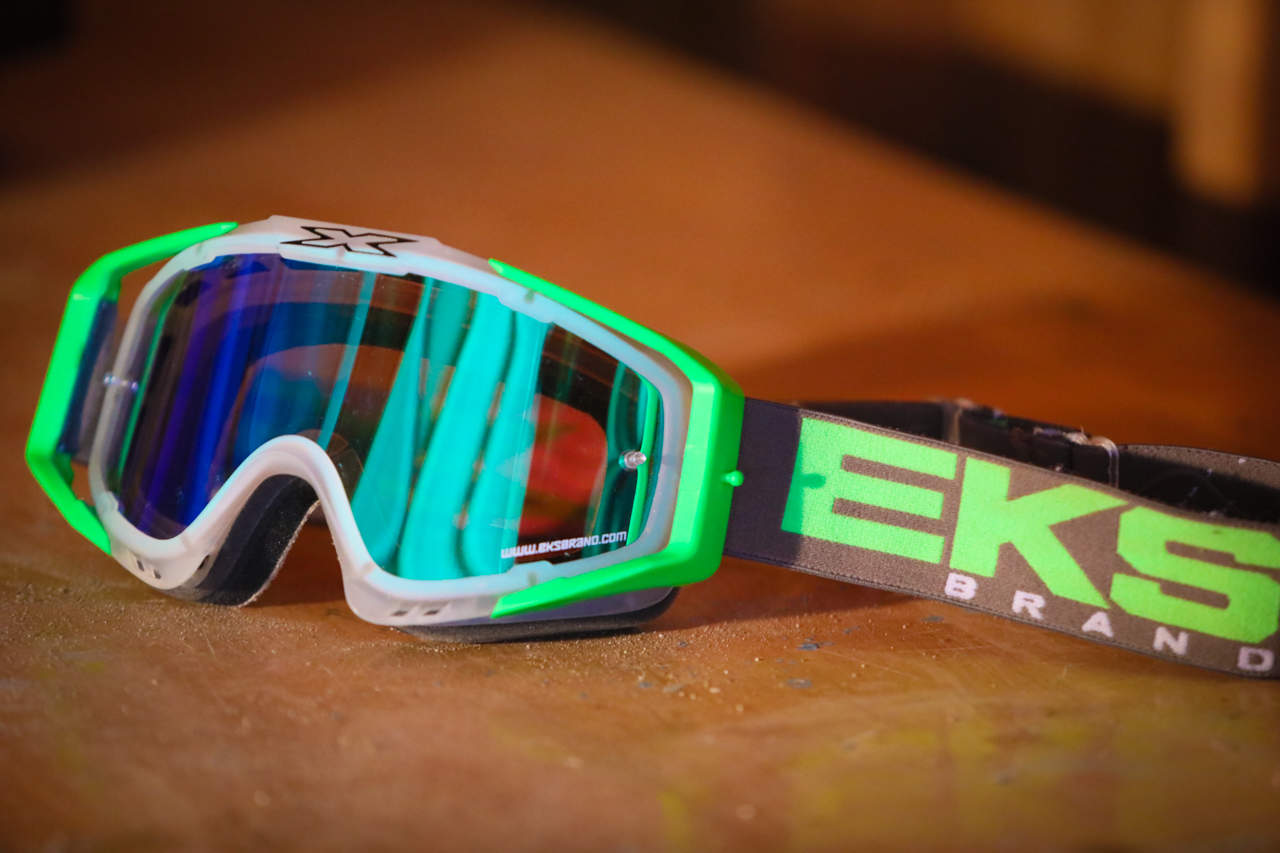 The MXA wrecking crew has put in lots of hours with this new X Brand google. They are standing the test of time. 
We have been putting the new X Brands GOX "EKS-S" series google to the test for some time now.  It has all the great features the tried and true GOX series google has with some added updates like the fit force outrigger system and nose piece. It also has better ventilation with four added lens channel restraint tabs to the frame to help reduce lens recoil. Go to www.eksbrand.com to find out more.
TWO-STROKE SPOTLIGHT: JIMMY ÖBERG'S 2015 AF KX150
Please keep those submissions coming. If you would like your bike to be featured in the "Two-Stroke Spotlight," please email me at [email protected] All I ask is that you give a breakdown of your bike and a detailed description of the build. Please also send a few photos of your steed. By submitting your bike for the "Two-Stroke Spotlight," you agree to release all ownership rights to the images and copy to MXA. Please don't email me spam or try selling me Taylor Swift concert tickets or email me spam. I already celebrate T-Swizzle's entire collective, and there will be "bad blood" if you send me junk mail. See what I did there? Happy submitting your smoker.
ANAHEIM 1: COMMENTS FROM THE RACERS
A1 came and went. 
MARTIN DAVALOS
Martin landed on the podium in the first round. Not a bad start to the series. 
"I haven't raced West coast in a long time. I struggled a little bit today. I couldn't find my happy  medium. I definitely balled the track–it was pretty slick. We made a lot of changes throughout the day. I tried to get a good start and do my best, but the guys out front were better than me today. I need to do my homework this week and take it one race at a time."
JASON ANDERSON
This is Jason's year to kick it into high gear. He did well for not being behind a gate since he got landed on at the MXDN in Italy.
"A1 was pretty decent. I struggled with the setup earlier in the day but we made some changes and I was able to come through the pack to get fourth. All-in-all, it wasn't too bad."
RYAN DUNGEY
Can Ryan make it three titles this year?
"It was my first time back on the gate in a while but no excuses, I feel like we're off to a pretty decent start. I'm happy with the ride and I'm excited to move forward this season. The track was rough and tough tonight, it would reach out and bite you if you weren't careful. Kenny was riding really well tonight, I didn't have anything for him. The start was key and you had to get out there and go right off the bat."
MARVIN MUSQUIN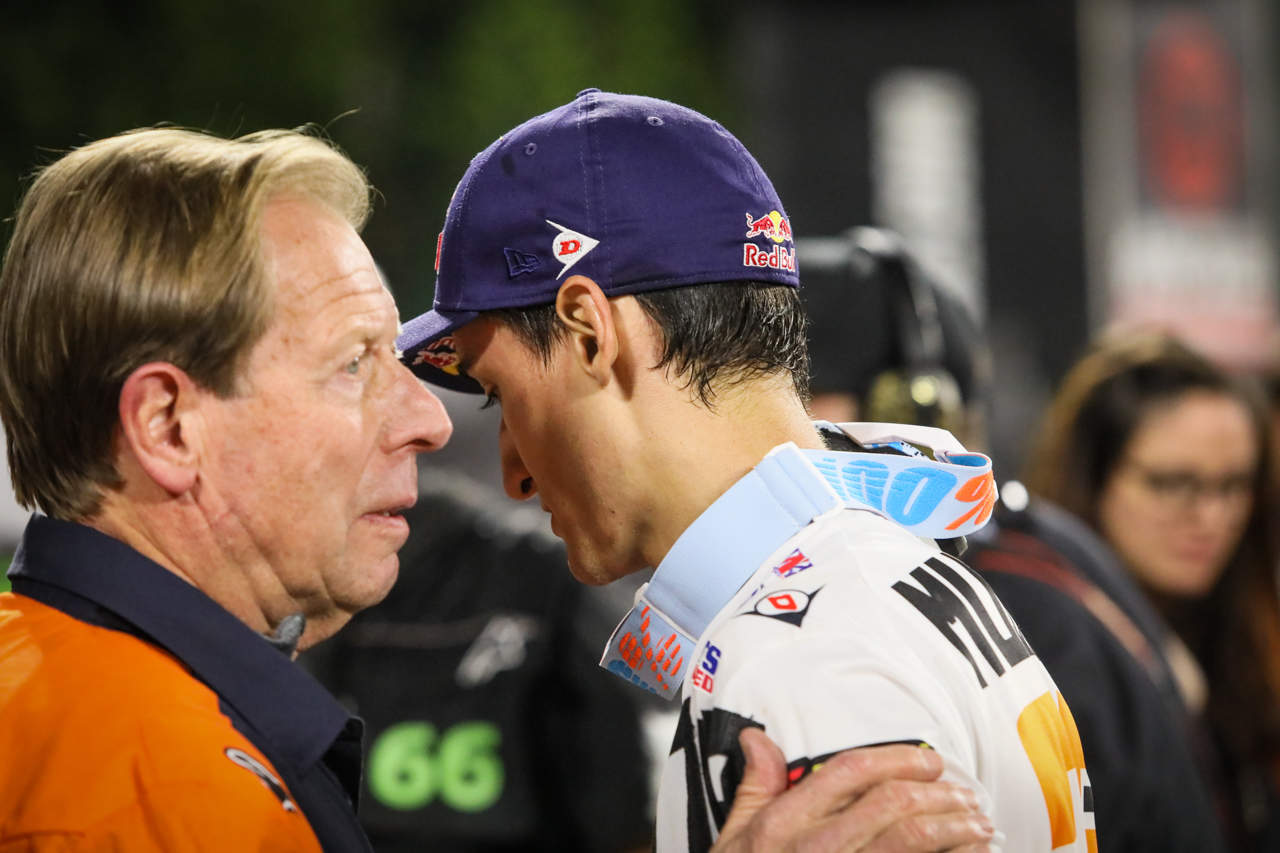 Roger congratulates Marvin on his 3rd place finish. 
"It feels really good to be on the podium tonight, especially at Anaheim I, it was big. I knew I was capable and it's just really awesome to see the work that we put in while in Florida pay off. It was a tough track tonight so I'm really happy to be on the podium and I'm looking forward to making some more adjustments with the bike and continuing the momentum."
SHANE MCELRATH
Shane won his first ever AMA Pro race at A1. What a feeling that must have been.
"That's what we do during the week – practice with our teammates and try to race hard with people behind you pressuring you. It was tough to be consistent lap after lap – the track was pretty tough but when you make a mistake you just kind of shake it off and try not to let the nerves get to you. We definitely put in the work, we didn't have high expectations but we knew what we had to do."
RESULTS OF THE FIRST ARENACROSS ROUND IN OHIO
250AX Class Overall Results (Main Event Results)
Jace Owen was your overall winner.
Jace Owen, Matoon, Ill., Honda (1-1)
Gavin Faith, Fort Dodge, Iowa, Kawasaki (2-2)
Matt Goerke, Lake Helen, Florida, Yamaha (4-3)
Ben Lamay, Forney, Texas, Honda (5-4)
Jacob Hayes, Liberty, N.C., Kawasaki (3-7)
Gared Steinke, Woodland, Calif., Kawasaki (6-5)
Daniel Herrlein, Bethesda, Ohio, KTM (7-6)
Cameron McAdoo, Sioux City, Iowa, Honda (10-9)
Heath Harrison, Silverhill, Ala., KTM (12-8)
Chris Blose, Phoenix, Yamaha (11-12)
RMATV/MC Head 2 Head Challenge Results (Bonus Points)
Jace Owen, Matoon, Ill., Honda (2 points)
Gavin Faith, Fort Dodge, Iowa, Kawasaki (1 point)
Matt Goerke, Lake Helen, Florida, Yamaha (1 point)
Ben Lamay, Forney, Texas, Honda (1 point)
Jacob Hayes, Liberty, N.C., Kawasaki (1 point)
Gared Steinke, Woodland, Calif., Kawasaki (1 point)
Daniel Herrlein, Bethesda, Ohio, KTM (1 point)
Chris Blose, Phoenix, Yamaha (1 point)
Eastern Regional AX Lites Class Results
Heath Harrison was your Lites class winner.
Heath Harrison, Silverhill, Ala., KTM
Jacob Williamson, Swartz Creek, Mich., Kawasaki
Kyle Bitterman, West Pelzer, S.C., Kawasaki
Justin Cooper, Cold Spring Harbor, N.Y., Yamaha
Jerry Robin, Corcoran, Minn., Yamaha
Dylan Rouse, Florence, Ky., KTM
Cheyenne Harmon, Colleyville, Texas, Suzuki
Scott Zont, Algonquin, Ill., Kawasaki
Carter Gordon, Matoon, Ill., Yamaha
Cody Williams, Barneveld, Wis., Kawasaki
JASON ANDERSON TALKS ABOUT GETTING LANDED ON AT THE MXDN AND WEARING A NECK BRACE
PRODUCT SPOTLIGHT: Z1R RISE HELMET

The Z1R Rise helmet and all its glory.
Not all helmets are alike.  From the moisture wicking liner and dual density EPS. The shell was designed with the seasons in mind – vents to allow for cool-down, optional vent plugs to keep the cool weather out.  A wide eye-port provides excellent field of view while providing a great fit for goggles.  The Z1R Rise MX Dirt Helmet meets both DOT and ECE standards. This new design from Z1R has a sleek look and much lighter shell. An adjustable breath box is available to convert this helmet to snow. Available with eight graphic options and flat black. Sizes range from XS to 2X. Suggested Retail $89.95, Flat Black for $79.95.
2017 RACE SCHEDULES: BE THERE OR BE SQUARE
California is the richest race state in the union, with seven major events in 2017. Folks in Michigan should rejoice, as Supercross (Detroit), Arenacross (Grand Rapids) and the Lucas Oil Nationals (Red Bud) visit "The Great Lake State." And those residing in the Pacific Northwest will be happy hosting a bevy of events, from Supercross to the AMA Nationals.
2017 MONSTER ENERGY SUPERCROSS SERIES
January 7…Angel Stadium…Anaheim, CA (West)
January 14…Petco Park…San Diego, CA (West)
January 21…Angel Stadium…Anaheim, CA (West)
January 28…University of Phoenix…Glendale, AZ (West)
February 4…Alameda Coliseum…Oakland, CA (West)
February 11…AT&T Stadium…Arlington, TX (West)
February 18…U.S. Bank Stadium…Minneapolis, MN (East)
February 25…Georgia Dome…Atlanta, GA (East)
March 4…Rogers Centre…Toronto, Canada (East)
March 11…Daytona Speedway…Daytona, FL (East)
March 18…Lucas Oil Stadium…Indianapolis, IN (East)
April 1…America's Center…St. Louis, MO (East)
April 8…CenturyLink Field…Seattle, WA (West)
April 22…Rice-Eccles Stadium…Salt Lake City, UT (West)
April 29…MetLife Stadium…East Rutherford, NJ (East)
May 6…Sam Boyd Stadium…Las Vegas, NV (East/West)
*Visit http://www.supercrosslive.com/ to purchase tickets
2017 AMSOIL ARENACROSS SERIES
January 7-8…U.S. Bank Arena…Cincinnati, OH
January 13-15…Van Andel Arena…Grand Rapids, MI
January 20-22…Royal Farms Arena…Baltimore, MD
January 28-29…Bridgestone Arena…Nashville, TN
February 4-5…Freedom Hall…Louisville, KY
February 18-19…Sprint Center…Kansas City, MO
February 24-26…Georgia Dome…Atlanta, GA
March 3-5…Landers Center…Southaven, MS
March 11-12…Smoothie King Center…New Orleans, LA
March 18-19…Moda Center…Portland, OR
March 24-26…Livestock Events Center…Reno, NV
April 1-2…Golden I Center…Sacramento, CA
April 22-23…Denver Coliseum…Denver, CO
May 5-7…Orleans Arena…Las Vegas, NV
*Visit http://www.supercrosslive.com/ to purchase tickets
2017 LUCAS OIL PRO MOTOCROSS CHAMPIONSHIP
May 20…Hangtown…Sacramento, CA
May 27…Glen Helen…San Bernardino, CA
June 3…Thunder Valley…Lakewood, CO
June 17…High Point…Mount Morris, PA
June 24…Muddy Creek…Blountville, TN
July 1…Red Bud…Buchanan, MI
July 8…Southwick…Southwick, MA
July 22…Spring Creek…Millville, MN
July 29…Washougal…Washougal, WA
August 12…Unadilla…New Berlin, NY
August 19…Budds Creek…Mechanicsville, MD
August 26…Ironman…Crawfordsville, IN
* Visit http://www.promotocross.com/mx/tickets to buy tickets
2017 FIM MOTOCROSS WORLD CHAMPIONSHIP
February 25…Losail…Qatar
March 5…Pangkal Pinang…Indonesia
March 19…Neuquen…Argentina
April 2…Leon…Mexico
April 16…Trentino…Italy
April 23…Valkenswaard…The Netherlands
May 7…Kegums…Latvia
May 21…Teutschenthal…Germany
May 28…Ernee…France
June 11…Orlyonok…Russia
June 25…Maggiora…Italy
July 2…Agueda…Portugal
July 23…Loket…Czech Republic
August 6…Lommel…Belgium
August 13…Frauenfeld…Switzerland
August 20…Uddevalla…Sweden
September 3…Charlotte…USA
September 10…Assen…The Netherlands
September 17…Villars sous Ecot…France