MXA'S MONDAY NEWS ROUND-UP: THIS IS MOTOCROSS… ON MONDAY, JANUARY 9

2012 CANADIAN MOTOCROSS NATIONALS


Date          Venue                        City
June 3`      The Wastelands        Nanaimo, BC
June 9        Whispering Pines     Kamloops, BC
June 17      Wild Rose                Calgary, AL
June 24      Castrol Raceway      Edmonton, AL
July 14        Gopher Dunes         Courtland, ON
July 22        Ste-Julie                   Ste-Julie, QU
August 5     Riverglade                Moncton, NB
August 12   Sand Del Lee           Richmond, ON
August 19   Walton                      Walton, On
www.cmrcracing.com
MATRIX CONCEPTS RIDERS TAKE 8 OF TOP 10 IN 450 CLASS AT A1  


Matrix Concepts rider Ryan Villopoto from Monster Energy Kawasaki took the win with ease at the season opener. Matrix rider Chad Reed of Two Two Motorsports took a solid second place. Get the latest SX news and if our riders sweep the podium a lucky fan will receive a free product from Matrix Concepts at  www.facebook.co/matrixconcepts.
ANAHEIM SUPERCROSS RESULTS
Matrix sponsored riders are in red
1. Ryan Villopoto
2. Chad Reed
3. Ryan Dungey
4. Justin Brayton
5. Jake Weimer
6. James Stewart
7. Andrew Short
8. Kevin Windham
9. Mike Alessi
10.  Josh Hansen
HOW THE 450 RIDERS DID THIS YEAR AT A1 COMPARED TO LAST YEAR AT A1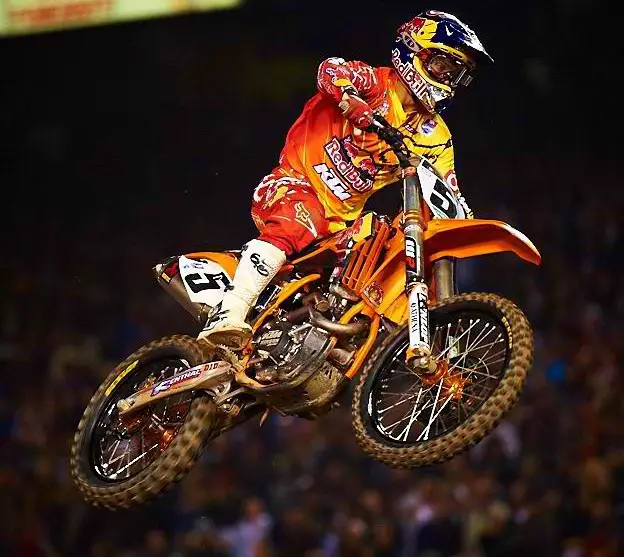 There was a lot of pressure on Ryan Dungey and KTM to perform.          Photo: Hoppenworld

There is always lots of talk about how switching bikes, moving from one team to another or losing 137 pounds during the offseason made a given rider better or worse than he was the year before. Although MXA's sample population is on two races held one year apart?you can judge for yourself. Crashes, bad starts, injuries and not qualfiying must be taken into account.
Rider……………………2011…2012
Ryan Villopoto………..1……..1
Ryan Dungey………….2……..3
James Stewart………..3……..6
Trey Canard……………4……..0
Chad Reed……………..5…….2
Kevin Windham……….6…….8
Ivan Tedesco…………..7…….13
Brett Metcalfe………….8…….11
Josh Grant……………..9……..19
Andrew Short…………10……..7
Kyle Chisholm………..11……..14
Nick Wey……………….12……..0
Kyle Regal……………..13…….0
Mike Alessi…………….14…….9
Jason Thomas……….15……..0
Justin Brayton………..16……..4
Chris Blose……………17……..18
Matt Boni………………18……..0
Davi Millsaps…………19……..16
Tommy Hahn…………20……..20
AFTER TWO NIGHTS IN GRAND RAPIDS GIBSON & BOWERS ARE TIED FOR THE ARENACROSS TITLE




FRIDAY NIGHT: 450 CLASS RESULTS
1. Tyler Bowers… Kawasaki
2. Jeff Gibson,…Honda
3. Chad Johnson…Kawasaki
4. Zach Ames…Kawasaki
5. Kelly Smith…KTM
6. Kevin Johnson…KTM
7. Travis Sewell…KTM
8. Nathan Skaggs…Honda
9. Brad Ripple…Honda
10. Steven Mages…Kawasaki
FRIDAY NIGHT: 250 CLASS RESULTS
1. Dave Ginolfi…KTM
2. Travis Sewell…KTM
3. Michael McDade…Kawasaki
4. Kevin Johnson…KTM
5. Austin Coon…Honda
6. Patrick Massie…Honda
7. Daniel Blair…KTM
8. Steven Mages…Kawasaki
9. Chad Cook…Kawasaki
10. Scott Zont…Honda
SATURDAY NIGHT: 450 CLASS RESULTS
1. Tyler Bowers…Kawasaki
2. Jeff Gibson…Honda
3. Zach Ames…Kawasaki
4. Chad Johnson…Kawasaki
5. Nathan Skaggs…Honda
6. Willy Browning…KTM
7. Cory Green….Suzuki
8. Brad Ripple…Honda
9. Kevin Johnson…KTM
10. Patrick Massie…Honda
 
SATURDAY NIGHT: 250 CLASS RESULTS
1. Dave Ginolfi…KTM
2. Michael McDade…Kawasaki
3. Kevin Johnson…KTM
4. Michael Willard…KTM
5. Chad Cook…Kawasaki
6. Daniel Blair…KTM
7. Steven Mages…Kawasaki
8. Kyle White…Honda
9. Scott Zont…Honda
10. Patrick Massie…Honda
2012 450 ARENACROSS CHAMPIONSHIP POINTS
(After 10 of 24 events)
1. Tyler Bowers…188
2. Jeff Gibson…188
3. Chad Johnson…167
4. Kelly Smith…143
5. Josh Demuth…127
6. Zach Ames…117
7. Nathan Skaggs…115
8. Willy Browning…93
9. Travis Sewell…74
10. Cory Green…59
FASTEST A1 QUALIFIERS AND HOW THEY FINISHED


In Johnny Rutherford won the Indy 500 pole in 1973. Today, the Indy pole winner gets $175,000. No word on how much Rutherford was paid.
In most sports winning the pole is a big deal. It is typically done on the day before the event to generate interest in the next day's race. There are pole position awards, photos ops, news stories and a lot of hubbub. Sadly, in Supercross and motocross the fastest qualifer is decided on the day of the event…plus, apart from first pick at the gate?there is no pole to line up next to. So, who was fastest at Anaheim and how did they do in the race?
TOP TEN FASTEST 450 TIMES IN QUALIFYING
(and where they finish in the actual race)
1. James Stewart (1:00.369)…6
2. Ryan Villopoto (1:01.628)…1
3. Ryan Dungey (1:02.120)…3
4. Justin Brayton (1:02.340)…4
5. Jake Weimer (1:02.455)…5
6. Broc Tickle (1:02.533)…12
7. Kevin Windham (1:02.961)…8
8. Chad Reed (1:02.969)…2
9. Andrew Short (1:03.349)…7
10. Austin Stroupe (1:03.429)…23
TOP TEN FASTEST 250 TIMES IN QUALIFYING
(and where they finish in the actual race)
1. Ryan Sipes (1:02.218)…5
2. Cole Seely (1:02.602)…1
3. Zach Osborne (1:02.614)…9
4. Eli Tomac (1:02.781)…3
5. Dean Wilson (1:02.791)…6
6. Marvin Musquin (1:02.969)…4
7. Jason Anderson (1:02.973)…7
8. Wil Hahn (1:03.131)…8
9. Martin Davalos (1:03.982)…19
10. Tyla Rattray (1:04.004)…2
WHO DIDN'T MAKE THE BIG SHOW AT ANAHEIM 1

The first race of the season is a stressful time. The riders show up for their first shot at a real Supercross track in eight months. Things happen. Good things and bad things?these are the riders that bad things happened during qualifying (because they didn't make the top 40 to get into the night show). Fortunes change and next week is another story.
450 NON QUALIFERS
(out of 53 riders)
41. Chris Howell
42. Dillon Huddleston
43. Michael Akaydin
44. Scotty Wennerstrom
45. Jeremy O'Driscoll
Other notables: 46. Gregory Crater; 47. Dustin Pipes; 49. Adam Conway; 50. Jorge Buhanda; 53. Jesus Macias
250 NON QUALIFERS
(out of 66 riders)
41. Robert Noftz
42. Mitchel Alcorn
43. Landen Powell
44. Ryan Smith
45. Myles Tedder
Other notables: 46. Chris Gosselaar; 48. Chris Johnson; 52. Tevin Tapia; 54. Casey Hinson; 57. Bryce Stewart; 58. Preston Tilford; 59. Parker Eckman; 60. Travis Bell
THE OFFICIAL FACTORY HONDA PRESS RELEASE…2012 VERSION                         


DORTMUND ADAC GERMAN SUPERCROSS CHAMPIONSHIP: GOERKE CLINCHES 450 TITLE, POLITELLI SWEEPS 250 WEEKEND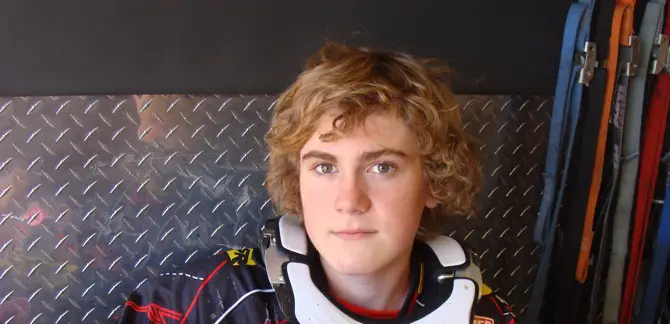 Austin Politelli.
On Friday night Matt Goerke, who was only 4 points behind an absent Mike Alessi, failed to qualify for the main event. But on Saturday night, Matt made up for it as the 25-year-old passed Bobby Kiniry to take the night's win and the German title.
In the 250 Austin Politelli completed the American domination by sweeping both nights in Dortmund, but Austin has not raced the whole series, so he was not a player in the German 250 title chase which went to Boris Maillard.
ONE EXTRA EVENT
Cole Siebler won the third day at Dortmund, but it didn't count for the ADAC German Championships points. Florent Richier was second, Matt Goerke third, Mickael Musquin fourth and Cyrille Coulon fifth. Additionally, Austin Politelli came back and won his third straight 250 event in Dortmund.

Saturday night: 450 class
1. Matt Goerke…Kaw
2. Robert Kiniry…Hon
3. Joaquim Rodrigues…Kaw
4. Cole Siebler…Hon
5. Mike Brown…KTM
6. Florent Richier…Kaw
7. Filip Neugebauer…Kaw
8. Cedric Soubeyras…Hon
9. Fabien Izoird…Suz
10. Mickael Musquin…Hon
11. Yohan Lafont…Yam
Friday night: 450 Class
1. Cyrille Coulon…Suz
2. Cole Siebler…Hon
3. Joaquim Rodrigues…Kaw
4. Fabien Izoird…Suz
5. Thomas Ramette…Suz
6. Mickael Musquin…Hon
7. Filip Neugebauer…Kaw
8. Cedric Soubeyras…Hon
9. Mike Brown…KTM
10. Weston Peick…Kaw
11. Tiger Lacey…Suz
12. Khounsith Vongsana…Suz
450 ADAC CHAMPIONSHIP POINTS
(after 8 of 8 rounds)
1. Matt Goerke…109
2. Mike Alessi…88,
3. Floret Richier…75
4. Cole Siebler…75
5. Joaquim Rodrigues…69
Saturday night: 250 class
1. Austin Politelli…Hon
2. Dennis Ullrich…KTM
3. Dano Aulseybrook…Kaw
4. Dominique Thury…KTM
5. Boris Maillard…Kaw
6. Ludovic Macler…Yam
7. Nick Kouwenberg…Yam
8 .Sullivan Jaulin…Kaw 
Friday night: 250 Class
1. Austin Politelli…Hon
2. Dano Aulseybrook…Kaw
3. Boris Maillard…Kaw
4. Dominique Thury…KTM
5. Jeremy Chauveau…Suz
6. Ludovic Macler…Yam
7. Sullivan Jaulin… Kaw
8. Mathias Jorgensen…KTM
9. Dennis Ullrich…KTM) 9-7
10. Nick Kouwenberg…Yam
250 ADAC CHAMPIONSHIP POINTS
(after 8 of 8 rounds)
1. Boris Maillard…263
2. Dominique Thury…187
3. Dennis Ullrich…184
4. Sullivan Jaulin…175
5. Rasmus Jorgensen…145
WHO HAS WON THE MOST SUPERCROSS CHAMPIONSHIPS       


Jeremy McGrath.
Of the 20 riders who have won AMA Supercross Championships, no one can possibly catch seven-time winner Jeremy McGrath until 2016 or beat his record until 2017 (and to do that they have to win five straight titles starting now). Of active riders, Reed and Stewart are the closest.
AMA SUPERCROSS TITLES BY RIDER NUMBER & YEAR
1. Jeremy McGrath: 7 (1993, '94, '95, '96, '98, '99, 2000)
2. Ricky Carmichael: 5 (2001, '02, '03, '05, '06)
3. Bob Hannah: 3 (1977, '78, '79)
3. Jeff Stanton: 3 (1989, '90, '92)
5. Jeff Ward: 2 (1985, '87)
5. Chad Reed: 2 (2004, '08)
5. Rick Johnson: 2 (1986, '88)
5. James Stewart: 2 (2007, '09)
9. Pierre Karsmakers: 1 (1974)
9. Jim Ellis: 1 (1975)
9. Jim Weinert: 1 (1976)
9. Mike Bell: 1 (1980)
9. Mark Barnett: 1 (1981)
9. Donnie Hansen: 1 (1982)
9. David Bailey: 1 (1983)  
9. Johnny O'Mara:1 (1984)
9. Jean Michael Bayle: 1 (1991)
9. Jeff Emig: 1 (1997)
9. Ryan Dungey: 1 (2010)
9. Ryan Villopoto: 1 (2011)
MOTUL TAKES A COUPLE YEARS OFF, BUT IS BACK WITH MAC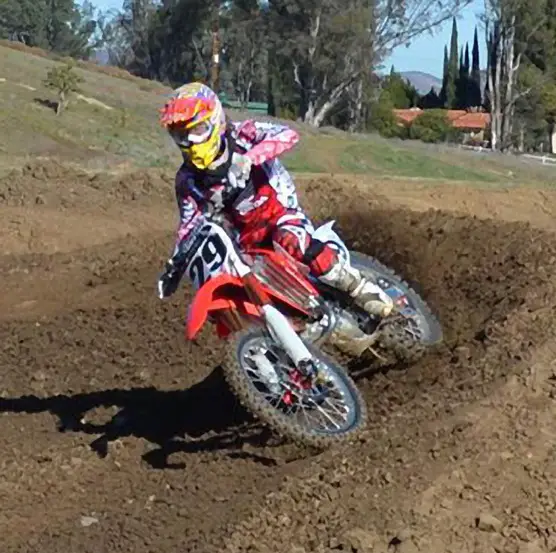 Andrew Short will use Motul lubricants in 2012.
Motul, a leader in motorcycle lubricants and chemicals, is making a return to the high-octane, high action arena of American Supercross. The 2012 season begins this weekend (Saturday, January 7) in Anaheim, California. Motul will technically support the recently founded, but high-profile, L&Mc Racing team in their quest for championship success.  Andrew Short will compete on a Honda in the premier class for 2012. L&Mc team managers include technical guru, Larry Brooks, and Seven-Time Supercross Champion, Jeremy McGrath.  With this combination of talent and experience at L&Mc, expectations are high for top results in 2012.
 
Through its support of L&Mc in both the 17-round Supercross (SX) and 12-round Motocross Series (MX), Motul is proud to return to one of the most prestigious and competitive disciplines within the power sport scene for the first time since 2009. For more info go to www.motul.com.

FIM WOMEN'S CHAMP WON'T DEFEND TITLE IN 2012  


Steffi Laier will join Livia Lancelot on the sidelines at the Women's Championship. Photo: Ray Archer

Steffi Laier has dominated Women's GP motocross, including winning the WMX World Championship four times (2005, 2009 through 2011), but she says she is done. When the FIM Women's Championship was moved from the premier MX2/MX1 events to the less prestigious MX3 series, Steffi lost the desire to race. "Riding the championship along the MX3 racers never gave me the thrill to ride. Riding with the MX3 races did cause me to lose the passion to win races," said Laier on her own website (www.steffilaier.com). "In 2012 I will not ride the complete World Championship. My program will look completely different. I will only ride the Championship rounds that are together with the MX1 events."
That is only three rounds (Holland, England and Germany), which means that some else will be the 2012 FIM Women's World Champion. Additionally, Laier will not ride for the KTM team, but will still be sponsored by Red Bull. Laier will not retire, but will race the Dutch Championships, the German ADAC series and the X Games.
JEFF WARD'S TEAM SIGNS TO RUN TALON WHEELS FROM DUBYA USA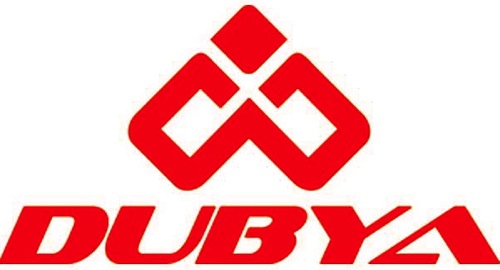 Dubya USA has announced their partnership with Jeff Ward Racing to supply team riders Josh Grant and Kyle Chisolm with Talon.D.I.D wheelsets, Galfer Tsunami braking components, and Talon sprockets for the upcoming 2012 Supercross and Motocross seasons.
"We're glad to be a part of Jeff Ward Racing's 2012 Supercross and Motocross efforts," said Dubya USA's John Anderson. "We hope to continue building our relationship, and look forward to working with them this season."
"With our new team coming together we were able to go to Dubya, and they handled all of our wheel and sprocket needs," said Team Owner Jeff Ward. "I have been working with John and Kristin for many years, and they provide only the best equipment. Talon Wheels and sprockets are the best available. I have used them on my kids' bikes for years, and we are excited to run them on our team for the 2012 season." www.dubyausa.com
GET A SEASON PASS TO GLEN HELEN FOR $495…THAT WOULD PAY FOR ITSELF IN 25 DAYS              


Glen Helen is offering season passes for 2012 for $495. It is good for all regular events, plus Thursday , saturday and Sunday practices. For more info, contact [email protected]
FMF'S POWERHOUSE SQUAD FOR 2012                                      
After coming off an amazing 2011 season in which FMF Racing took every major premier class Supercross and Motocross Championship, FMF Racing looks forward to bringing the power thru 2012. With FMF's superior equipment and exceptional lineup of teams, FMF is poised to make another Supercross and Motocross championship run.
JGR YAMAHA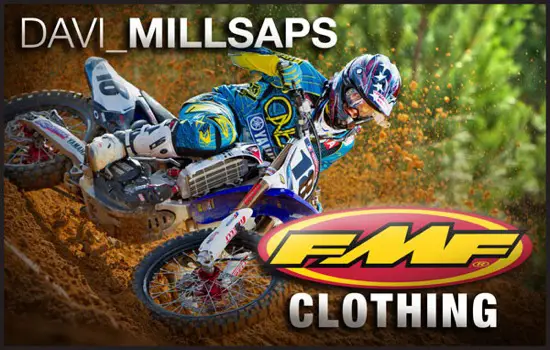 Headlining FMF Racing for 2012 is the JGR/Toyota/FMF Yamaha team. FMF Racing has supported the elite JGR squad since its inception into Supercross and Motocross in 2008 and is thrilled to continue to extend their support. In arguably the biggest off season move, JGR signed two-time Supercross Champion and former AMA Motocross Champion James Stewart to a three year deal. Stewart will be gunning for his third Supercross Championship in 2012 and first as an FMF athlete. Also riding for JGR for the second straight season is former Lites Supercross Champion Davi Millsaps. Millsaps, who recently signed with FMF Apparel, is looking forward to the 2012 season and will be a contender for wins and podiums.
L&Mc / SUPERCROSS.COM HONDA


New for FMF Racing this year is the signing of the Supercross.com/Honda team owned by Larry Brooks and Jeremy McGrath with Andrew Short as their first rider. FMF is excited to be working with an exceptional team manager in Larry Brooks and of course "The King of Supercross" Jeremy McGrath who has won more Supercross races than anyone in history. With Andrew Short back on his familiar Factory CRF450 equipped with an FMF exhaust, "Shorty" is primed for a breakthrough Supercross season.
JEFF WARD KAWASAKI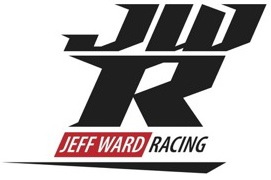 FMF Racing is also pleased to announce it has combined forces with the newly built JWR Racing squad consisting of Josh Grant and Kyle Chisholm aboard KX450's.
JSTAR/JDR KTM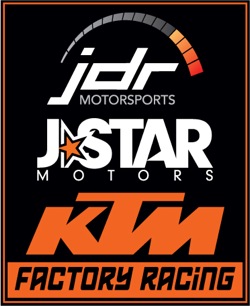 Returning for FMF in 2012 will be the Jstar/JDR KTM team of Malcolm Stewart, PJ Larson and Matt Moss contesting the West Coast Lites class.
MOTOCONCEPTS
Also, FMF will continue to support the MotoConcepts team in 2012 consisting of Mike and Jeff Alessi as well as Vince Friese, Jake Canada, and Tommy Weeks.
TEAM C4MX
Furthermore FMF will support the C4MX team consisting of Scott Champion.
www.fmfracing.com
 
FINALLY, THERE WILL BE A CONCUSSION PROGRAM…BUT IT IS VOLUNTARY FOR NOW                 


Perhaps the most pressing issue facing contact sports (and motocross is a contact sport when you hit the ground) is the concussion problem. Although everyone in the motorcycle world has a horror story about themselves or a friend?the AMA has never done anything serious about it?unless you are Mike Alessi.
Now something will be done…although it is not enough. Beginning this year the Asterisk Mobile Medical team will begin using neurocognitive testing software developed by ImPACT (Immediate Post-Concussion Assessment and Cognitive Testing) as part of its new concussion management protocol.
The idea is simple. Before the season starts they give the rider a 20-minute memory test?then, after an incident in which a concussion is likely, retest him with the exact same test. ImPACT has been used with success in football programs across the nation. According to its developer, "With a concussion, we generally see a decline in memory performance and what we call a speed of information processing problem. It is like a Pentium 3 computer that's running as an old 386."
That is why concussion evaluations like ImPACT tend to focus on memory questions. With pre-season testing, an athlete can quickly be evaluated and compared against his original baseline test. The test includes a neurological exam and short tests that measure short- and long-term memory, concentration and motor skills.
Unfortunately, the testing in the 2012 Supercross series will be voluntary and free of charge?but what high-profile rider is going to take a voluntary test that could see him sidelined in the middle of a series?even if it is the best interest of his health and that of the racers around him. The test will become mandatory for the 2012 AMA Nationals and for the 2013 Supercross series. Great news for those interested in the safety of all concerned. Athletes interested in taking the test or anyone having any questions can contact Eddie Casillas at (760) 575-4878, or Dr. Paul R. Reiman at (951) 461-8684 or [email protected]. Or go to www.themedicrig.com.
EVERTS SAYS CAIROLI WILL RACE THE 350 & HERLINGS MIGHT NOT MOVE TO THE USA IN 2013            


Stefan Everts has a stake in Jeffrey Herlings staying on the GP circuit in 2013, but word in the street is that Herlings is looking for distance. Photo: Ray Archer

"Our World MX1 Champion Antonio Cairoli is now fit from his hand injury and he has also done some testing on the 350cc and 450cc KTM machines," said Stefan Everts. "He is really happy with the new 450cc machine and finds the engine better than the older version, but he has decided to stay with the 350cc machine for 2012."
"I have read on many websites that Jeffrey Herlings will race in America maybe in 2013, but this is not 100% sure. He was in America in November and December, riding a lot of Supercross. The question for Jeffrey is whether the jump to Supercross too big for him. He had fun in America, but I am not 100% sure he wants to go there to race. He has said on interviews that he might want to go there, but to me it isn't 100% sure he will go and that is also what he has told me. Jeffrey stopped riding in the middle of December until around the middle of January, then he will come to Spain and we will begin the training. Then we head to Sardinia for a photo shoot and more training."
TRUTH MX TEAMS TO SPONSOR BRYCE VALLEE FOR 2012 SUPERCROSS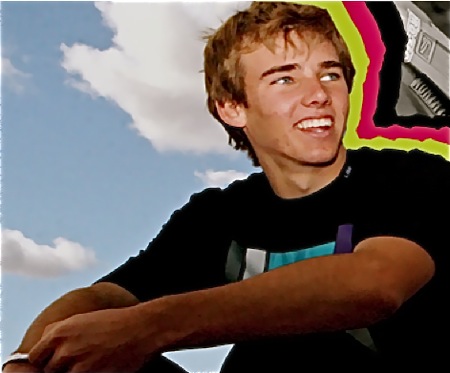 Bryce Vallee.
Truth Soul Armor has announced the formation of the Pro-Tec / Truth MX / Yamaha Racing Team. There number one rider will be Bryce Vallee. After three overall podiums in his last two amateur years at Loretta Lynn's, Bryce's rookie professional season in 2011 proved frustrating, as he found himself racing with what later proved to be a broken navicular bone in his wrist. "I'm really excited to have the opportunity to race Supercross this year and achieve my goals. I believe I can do that with the help of Pro-Tec, Truth MX and all of my great sponsors who have stepped up to help this season," says Bryce. For more info go to www.brycevalleemx.com
    
HONDA'S 2012 MOTOCROSS CONTINGENCY PROGRAM             



Honda has announced its contingency program for 2012. It includes AMA Supercross, AMA National, WMX Nationals, Major Amateur Nationals and a wide variety of local series.
Eligible motorcycles are 2011-2012 CRF450 and CRF250 (and 2012-only CRF150s). You must be the registered owner of the CRF. There must be a six-inch Honda logo on each side of the front fender. The bikes must be standard Honda colors. Competitors must enroll in the Red Riders Reward Program (and file an IRS W-9 form). Contingency will be paid in the form of a Red Rider Rewards Debit Card (which can be used where VISA is accepted).
Factory and support team riders are not eligible for this contingency program?they typically sign contracts with $100,000 win bonuses and $1,000,000 championships bonuses.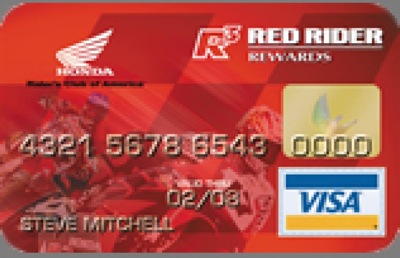 450 SUPERCROSS / 450 NATIONAL PAYOUTS
1. $10,000
2. $5000
3. $4000
4. $2000
5. $1000
6. $900
7. $800
8. $750
9. $700
10. $650
250 SUPERCROSS / 250 NATIONAL PAYOUTS
1. $10,000
2. $4000
3. $2000
4. $1000
5. $900
6. $800
7. $750
8. $700
9. $650
10. $600
WMX WOMEN'S NATIONALS PAYOUTS
1. $2000
2. $750
3. $500
4. $250
5. $100
NMA WORLD MINI GP / NMA GRAND NATIONAL CHAMPIONSHIP / MINI O's /GNC FINAL /THOR SPRING CLASSIC PAYOUTS
1. $400
2. $300
3. $200
LORETTA LYNN AMA AMATEUR NATIONALS PAYOUTS
1. $1000
2. $500
3. $300
4. $200
5. $100
All of the contingency paying races are listed on the www.Hondaredriders.com website. To find out more (or enroll) go to www.xtrm.com/contingency/honda/index.asp
YAMAHA TO BACK STAR/VALLI TEAM OF STROUPE, MORAIS, IZZI, CUNNINGHAM, SIPES, SWANEPOEL & PETERS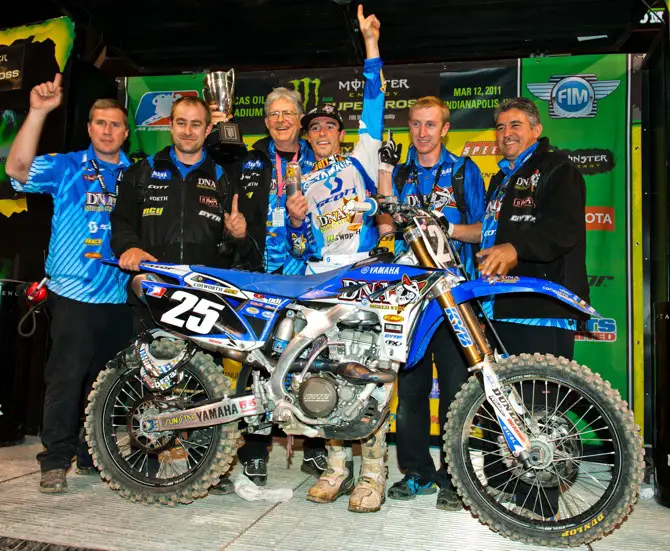 Ryan Sipes has proven that he has what it takes to win.

Yamaha Motor Corporation is pleased to announce the formation of a new super team. During the off-season Star Racing and Valli Motorsports joined forces to form the Star Valli Yamaha Race team.
The new team will feature racers in both the premier 450 class and the 250 class. Riding the YZ450F will be Austin Stroupe, Ryan Morias and Nico Izzi, who's doing double duty riding the YZ250F on one coast and the YZ450F on the other. Riding YZ250Fs full time will be Kyle Cunningham, Ryan Sipes, Gareth Swanepoel and Kyle Peters.
Fielding a team this size would be impossible without a strong team of sponsors behind it and leading the pack for the Star Valli Yamaha team are Rockstar Energy drink, Dunlop, Scott, Metal Mulisha and GYTR. "We've had great relationships with both Star and Valli over the last few years and are very excited about what they will be able to accomplish in 2012 now that they have joined forces", said Yamaha Racing Division Manager Keith McCarty.
ARE YOU READY TO ADJUST YOUR VISION? 100% TO LAUNCH PRODUCT ON FEBRUARY 1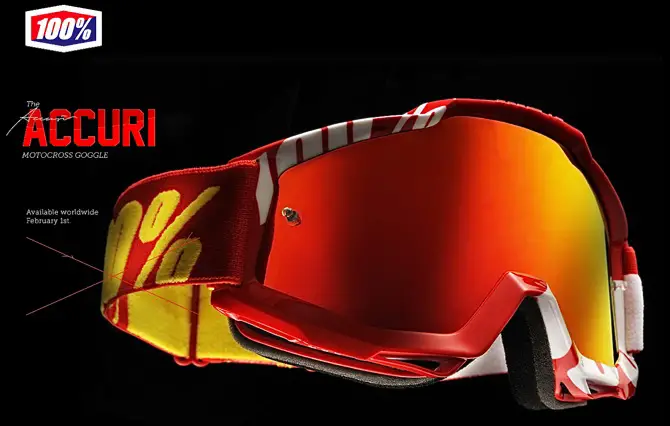 The 100% brand has always been synonymous with motocross Americana and has been linked to many iconic moments that have built the roots and history of what is modern motocross. Today, 100% is about to inspire a whole new generation of racers and ask them the original tag line, "How much effort do you give?"
100% is introducing a new line of premium motocross goggles designed specifically for today's racer. Multiple years and countless hours of design, development, and testing were put into producing a goggle purpose-built for motocross. Armed with an experienced team of designers and engineers, 100% started from scratch with all new tooling and design practices resulting in a finished product that even the most demanding racers will appreciate.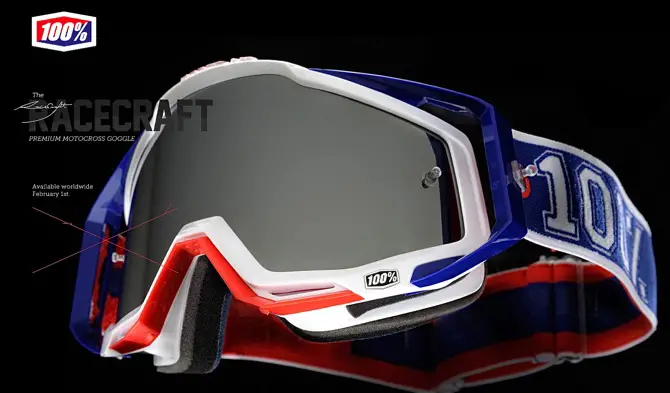 Honda/Muscle Milk athlete Justin Brayton will debut the goggles at the season opener on January 7th in Anaheim, CA Brayton's determination and commitment to outperform the world's best racers at the top level of the sport represents the passion for the spirit of racing that is the foundation of 100%.
Some of the collection can be viewed online now, with a fully enhanced and interactive website to be launched on February 1st in conjunction with worldwide product delivery. Visit www.ride100percent.com now.
BELL HELMETS BACKS JDR/J-STAR KTM IN 2012  


Malcolm Stewart.
When the riders on the JDR/J-Star/KTM Racing Team line up for the 2012 season, they'll do so with the confidence that comes from wearing Bell's top-of-the-line Moto-9 helmet.
"When it comes to helmets, you have to think about what is best for the riders and that's why we chose Bell," said JDR/J-Star/KTM Team Manager Nathan Ramsey. "Racing at this level is all about confidence and my riders and I believe in Bell."  For more information on Bell's industry-leading helmets, check out www.BellPowersports.com
KEVIN WINDHAM IS READY FOR YEAR 18…TWO MORE AND HE GETS A GOLD WATCH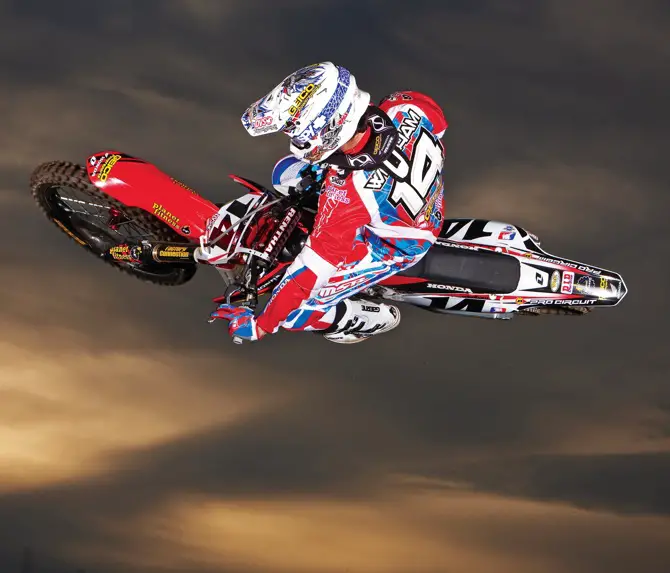 Kevin Windham wants to race until he can collect Social Security.
"Here we are at year 18," said Geico Honda's Kevin Windham. "Another time to enter the battlefield and prove yourself. It's exciting and more challenging than ever. I'm still trying to keep this thing going. It's a thrill to still be riding and a real honor to be a part of the Supercross series.
"You are only as good as your last race or your last year," he said. "I think things are great with the Geico Honda team. I look forward to going out there and trying to do my best. I still want to be a threat to win races…to win this race this weekend. I've got to try and keep these young kids at bay. It's getting close to where I'm racing against guys who are literally half my age, but we're not quite there yet."
"Now that I'm carrying around the 'old guy' card, a lot of people said they have that connection to me for the simple reason that I have been around so long and am still a threat to go out and win races. The crowd and how loud they can be helps us all bring a little extra energy. That's certainly the case for me. I love 'em all."
"The level of talent out there is kind of scary," Windham said. "I want to go out there and get my wins, but there are a solid five to seven guys who have a real shot to win every week. That's unprecedented in Supercross history to have that many guys who are legit threats to win every week."
TROY LEE AND FENDER GUITARS TEAM UP           


It doesn't hurt that Troy's shop is 100 yards from the Fender Museum in Corona, California.

Troy Lee Designs is proud to announce a new multi-year collaboration with Fender Musical Instruments for the 2012 season and beyond. The relationship between TLD and Fender has been long standing and many custom paint projects have been born over the years including trophies and calendar covers. In addition to providing added support to the Troy Lee Designs / Lucas Oil / Honda Race Team, this exciting new partnership will also lead to many unique collaboration opportunities.
"We've been working with Fender for almost 14 years now," says owner-operator Troy Lee. "We have a great relationship with them already so it will be fun to see where this new partnership takes us. We've got some amazing plans for the LA supercross this year that people are going to love. It's great to be working closer with Fender." In addition to displaying a TLD Fender guitar and amps at Anaheim 2, TLD also has a Fender-themed open face helmet already in the design process this year.
JUSTIN BRAYTON AND WIL HAHN SIGN WITH HONDA…NO, NOT THAT HONDA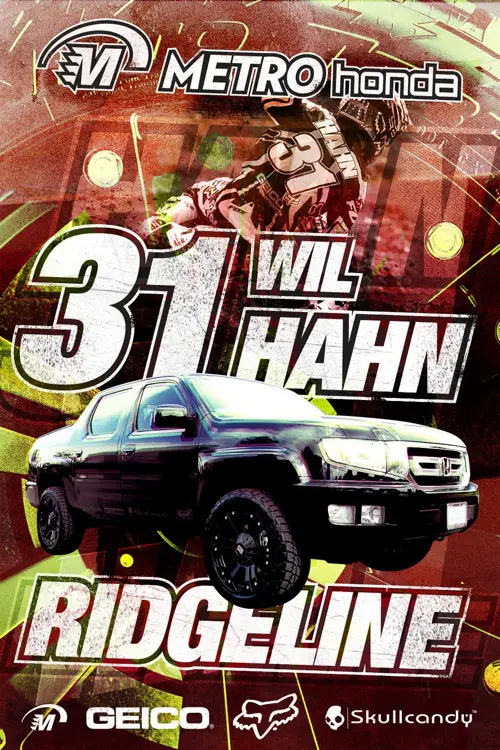 Metro Honda is proud to announce their new partnerships with Honda racers Wil Hahn and Justin Brayton. Hahn and Brayton will represent the Montclair, California, Honda dealership with their own unique 2012 Honda Ridgelines. Jeff Proctor, General Manager of Metro Honda commented, "Supercross is one of the most exciting forms of motorsport racing; we are thrilled to have Hahn and Brayton on board and representing with their Metro Honda Ridgelines." Sponsoring Hahn and Brayton, Metro Honda's support for motocross will surely receive a warm welcome from the community.
Justin Brayton said, "Jeff and all of the people at Metro Honda have been awesome to work with. They went above and beyond on my new Ridgeline! I'm pumped to be a part of such a cool company and work with people who love our sport." Both Brayton and Metro Honda are ready for Anaheim 1 and a successful Supercross season.
Metro Honda is located in Montclair, California off of the I-10 freeway. For more information, visit www.metrohonda.com.
MALCOLM SMITH FOR PRESIDENT!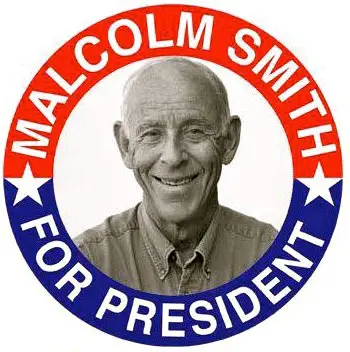 He ruled Baja, he ruled the ISDT and he ruled the golden age of motorcycling. Now, he is ready to rule the United States of America by officially throwing his helmet into the ring for the 2012 presidential election. Who is this beacon of hope that will lead our country in the "ride" direction? He is the Wrangler of Riverside, the Silver-heeled Stallion of Single-track, a man among men, a legend among heroes?Malcolm Smith.
The On Any Sunday star announced his candidacy for President at his campaign headquarters (read: motorcycle dealership) in Riverside, California. Malcolm took a break from shaking hands and kissing babies to explain why Malcolm Smith Motorsports is the ideal headquarters for his groundbreaking campaign. "Here is where riders and enthusiasts join forces to build a better tomorrow," Malcolm stated. "America's economic turn around can start here with a powersports purchase – yes, we ride!"
What does Malcolm promise to deliver as your Commander in Chief? "Chains we can believe in, and 'No Knobby Left Behind,'" Malcolm declared. "And you can read my lips: No loose traction!"
Support Malcolm on his campaign trail all the way to Angel Stadium on January 5th where the best riders in the world will gather to support of his "race to the White House". Lend your support now by casting your vote with a Like at www.facebook.com/pages/Malcolm-Smith-for-President/207670519316954
EVERY AMA NATIONAL NUMBER (FROM 1 TO 997)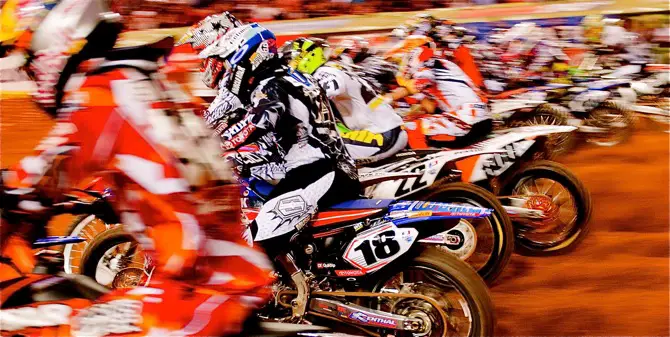 To the fans in the stand, numbers matter. Bike brands, gear choices and colors may become a blur?but a savvy fan can always spot a number, like Davi Millsaps 18.
It is easy to find out who's number 7 (James Stewart) or 41 (Trey Canard) or even 95 (Chris Plouffe), but have you ever tried to find out who is AMA National number 997? The answer is Linus Sandahl. To make life easier, MXA has compiled a complete list of active AMA National numbers for 2012. We will update it with every event and add more names and numbers as young riders race enter the AMA circuit.
1. Ryan Villopoto (450 MX/SX)
1. Dean Wilson (250 MX)
1. Broc Tickle(250 West)
1. Justin Barcia (250 East)
2. Ryan Villopoto (will not be used in 2012)
3. Mike Brown
5. Ryan Dungey
7. James Stewart
9. Ivan Tedesco
10. Justin Brayton
11. Kyle Chisholm
12. Blake Baggett
14. Kevin Windham
15. Dean Wilson
16. John Dowd
17. Eli Tomac
18. Davi Millsaps
19. Kyle Cunningham
20. Justin Barcia
21. Jake Weimer
22. Chad Reed
23. Gareth Swanepoel
24. Brett Mecalfe
25. Broc Tickle
26. Michael Byrne
27. Nick Wey
28. Tyla Rattray
29. Andrew Short
30. Alex Martin
31. Martin Davalos
32. Tommy Hahn
33. Josh Grant
34. Cole Seely
35. Darryn Durham
36. Kyle Regal
37. Malcom Stewart
38. Marvin Musquin
39. Tye Simmonds
40. Gannon Audette
41. Trey Canard
42. Ricky Dietrich
43. Christian Craig
44. Jason Anderson
45. Nick Paluzzi
46. Les Smith
47. Chris Blose
48. Jimmy Albertson
49. Justin Bogle
50. Nico Izzi
51. Travis Baker
52. Ben Lamay
53. Ryan Sipes
54. Weston Peick
55. Lance Vincent
56. Austin Stroupe
57. Jake Canada
58. Will Hahn
59. Vince Friese
60. Matt Lemoine
61. Austin Howell
62. Travis Sewell
63. Colton Facciotti
64. Matt Boni
65. Ryan Morais
66. Jason Thomas
67. Scott Champion
68. Shane Sewell
69. Jimmy DeCotis
70. Ken Roczen
71. Kevin Rookstool
72. Jarred. Browne
73. Josh Clark
74. Tyler Bowers
75. Josh Hill
76. Calle Aspergren
77. Lowell Spangler
78. Tommy Weeck
79. Tyler Medaglia
80. Kyle Keylon
81. Robert Kiniry
82. Justin Sipes
83. Kyle Partridge
84. Killy Rusk
85. Robert Marshall
86. Taylor Futrell
87. Matt Goerke
88. Ben Evans
89. Tyler Bright
90. Bryce Vallee
91. Dalton Carlson
92. Hunter Clements
93. A.J. Catanzaro
94. Cole Siebler
95. Chris Plouffe
96. Kyle Peters
97. Jeremy Medaglia
98. Tye Hames
99. Sean Hackley
377. Christophe Pourcel
100. Josh Hansen
102. Chris Gosselaar
105. Matt Moss
112. Ryan Marmont         
119. Max Anstie
132. Kyle Beaton
133. Myles Tedder
143. Michael Horban
149. Casey Hinson
153. Gregory Crater
165. Dakota Tedder
170. Michael Leib
175. Bruce Rutherford
211. Tevin Tapia
212. Auston Albers
216. Jared Boothroyd
219. Ryan Rangel
222. Chris Howell
224. Heath Harrison
232. Billy Laninovich
247. Teddy Parks
276. John Jelderda
293. Brian Sjogren
311. Jesse Rangas
312. Teddy Maier
314. Alex Ray
329. Chad Gores
333. Cody Mackie         
337. Jeremy O'Driscoll
338. Zach Osborne
354. Chris Johnson
374. Cody Gilmore
383. Brandon Rangel
407. Adam Chatfield
409. Dillon Huddleston
412. Levi Kilbarger
415. Nicholas Schmidt
423. Brandon Gillespie
429. Richard Rinauro
425. Scott Agostini
459. Conrad Weiland
501. Scotty Wennerstrom
505. Sean Lipanovich
512. Jorge Bujanda
513. Danny Pacini
516. Brian Foster
536. Erik Meusling
546. Kevin Urguhart
565. Preston Mull
570. Beau Hudson
606. Ronnie Stewart
620. Brad Nauditt
643. Jake Oswald
647. Parker Eckman
652. Dustin Pipes
668. Billy Jurevich
670. Dylan Schmoke
702. Cameron Stone
707. Alex Millican
722. Adam Enticknap
726. Gared Steinke
727. Rhett Urseth
752. Bryce Stewart
758. Jason Potter
764. Cody Lee
771. Terren O'Dell
772. Robert Noftz
773. Walt Van Olden
774. Preston Tilford
792. Bracken Hall
800. Mike Alessi
801. Jeff Alessi     
831. Ryan Smith
854. Landen Powell
865. Dario Marrazzo
887. Daniel Sanders
902. Jesus Macias
903. Antonio Balbi
906. Killian Auberson
918. Michael Akaydin
919. Shawn Rhinehart
929. Travis Bell
952. Adam Conway
968. Jackson Richardson
973. Jean Baptiste Marrone
976. Josh Greco
979. Jonathon Withrow  
986. Topher Ingalls
992. Jean Ramos
996. Filip Thuresson
997. Linus Sandahl