MOTORCYCLE INDUSTRY NEWS: ALL THE NEWS THAT FITS
REC MX BILLET OIL FILTER COVER FOR 2017 HONDA CRF450
The Rec MX billet oil cover features cooling fins for larger cooling surface area, oil feed hole designed for optimal oil flow,  3D CAD design and is CNC-machined from 6061-T6 American-made aluminum. It is stronger than OEM cover and lighter than other billet oil filter covers. It is available in anodized red, blue, or black with laser-etched logos. It uses the OEM bolts, oil filter and O-ring (and a new O-ring is included. The suggested retail price is $54.95 at www.rec-mx.com.
RENTHAL TO GIVE AWAY $1000 WORTH OF SWAG FOR GUESSING THEIR 200TH WINNER

Since 1986 Renthal has amassed 199 U.S. Titles over 30 Years with 89 different riders and we want to get your prediction on who will be our 200th US Title winner. So today we are pleased to announce our #200thUSTitle Instagram competition. The winner will win $1000 worth of Renthal Accessories. To enter follow @renthal_moto on instagram, post a race inspired photo, caption it with your rider prediction and include #200thUSTitle. The winner will be chosen from the pool of correct predictions, whenever the "200th Title" has been captured. Choose from any Renthal rider competing in a U.S. based professional championship. For a list of championships and riders plus Terms and Conditions head to www.renthal.com/200th. There will also be weekly prize drawongs for most liked image.
HUSQVARNA MOTORCYCLES TO ENTER INDIA MARKET IN 2017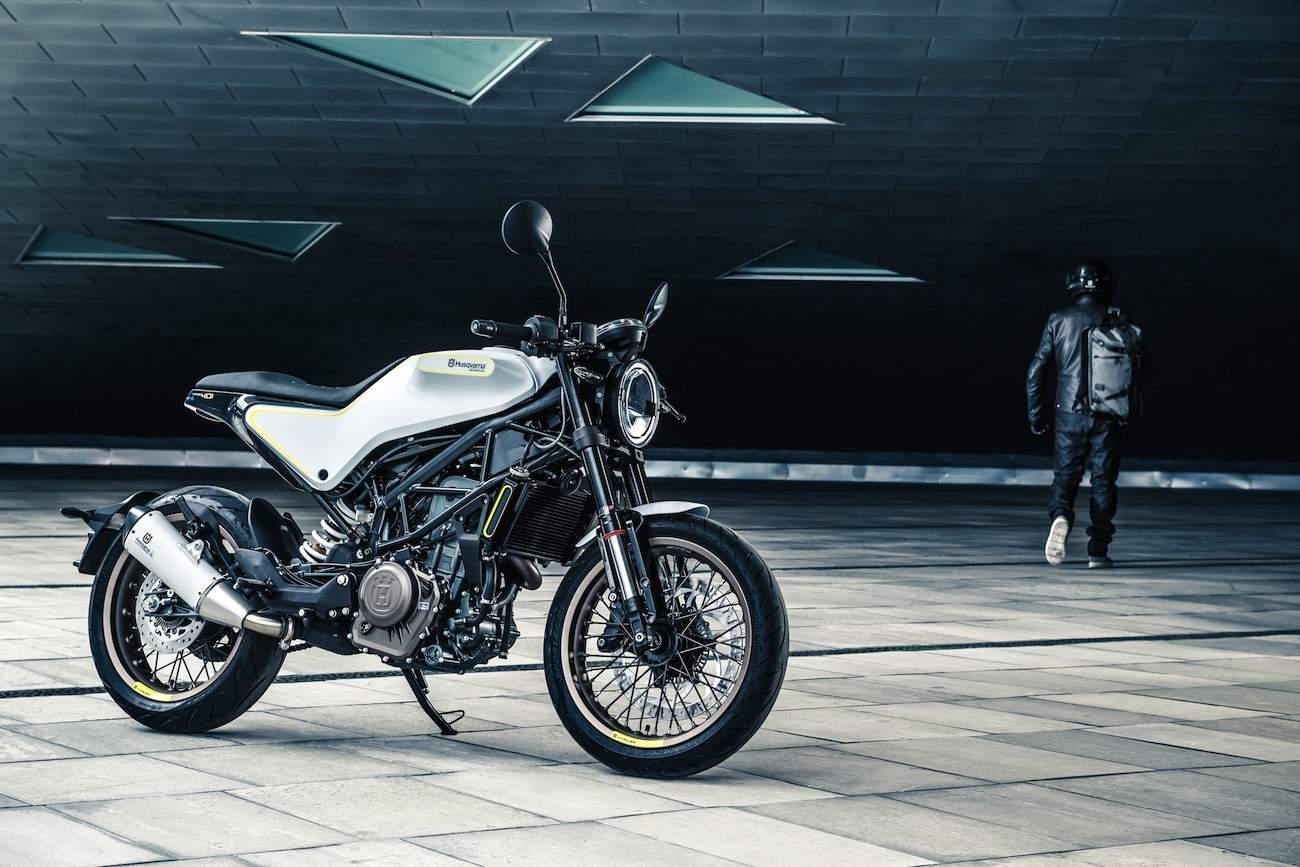 Swedish bike maker Husqvarna Motorcycles GmbH owned by KTM, in which Bajaj Auto has a stake, is reportedly planning to enter the Indian market in early 2017 with its Vitpilen 401 and Svartpilen 401. Husqvarna reportedly will sell its motorcycles via Bajaj Auto's Probiking dealerships. The Probiking showrooms currently sell Kawasaski's sub-650cc motorcycles and KTM motorcycles under one umbrella. There were reports that Kawasaki may spin-off from Probiking dearlship with its own chain in early 2017. In that case, Husqvarna is expected to fill the space. Although the Husqvarna is new to India, it won't be a herculean task for Bajaj-KTM to launch the brand in the country. The Huqvarna motorcycles Vitpilen 401 and Svartpilen 401  are based on the KTM 390 Duke, which Bajaj Auto produces in its Pune plant without much additional investment.
The Husqvarna Vitpilen 401 and Svartpilen 401 will be priced higher than the KTM 390 Duke. The Vitpilen 401 and Svartpilen 401 is essentially same bike differentiated only in design. Husqvarna claims that Vitpilen 401 and Svartpilen 401 are focused on providing a pure riding experience and features a technologically-advanced single-cylinder 375cc engine housed in a stripped-down steel-trellis frame, both borrowed from the KTM 390 Duke. The engine develops 43 horsepower.
10% OFF ALL BUD RACING TITANIUM FOOT PEGS IN JANUARY
For more info go to www.budracing-usa.com
BEFORE THERE WERE QUADS OR SIDE-BY-SIDES, THERE WAS THE ARGO
To celebrate the brand's 50th anniversary, Argo is launching aLimited Edition 2017 Avenger 8×8 Hunt Master. Only 50 of these machines will be produced. The new 50th Anniversary Limited Edition has all the features of the standard Argo Avenger 8×8 Hunt Master, plus a camouflage pattern, premium black seats, heated hand grips and black trim. Plus, every one of the 50 Limited Edition models will include a sprinkling of distinct "50th Anniversary" badges to highlight the vehicle's uniqueness. Kevin Asselin, VP Salesaid, "With this vehicle being unveiled right in the middle of the busy hunting season we're expecting unprecedented demand. Plus with only 50 available, we're confident that they're going to be quickly snapped up by eager buyers looking to get their hands on a piece of history that only comes around every 50 years."
UP-DATED SLACKER V2 DIGITAL SAG SCALE FEATURES "AUTO ZERO"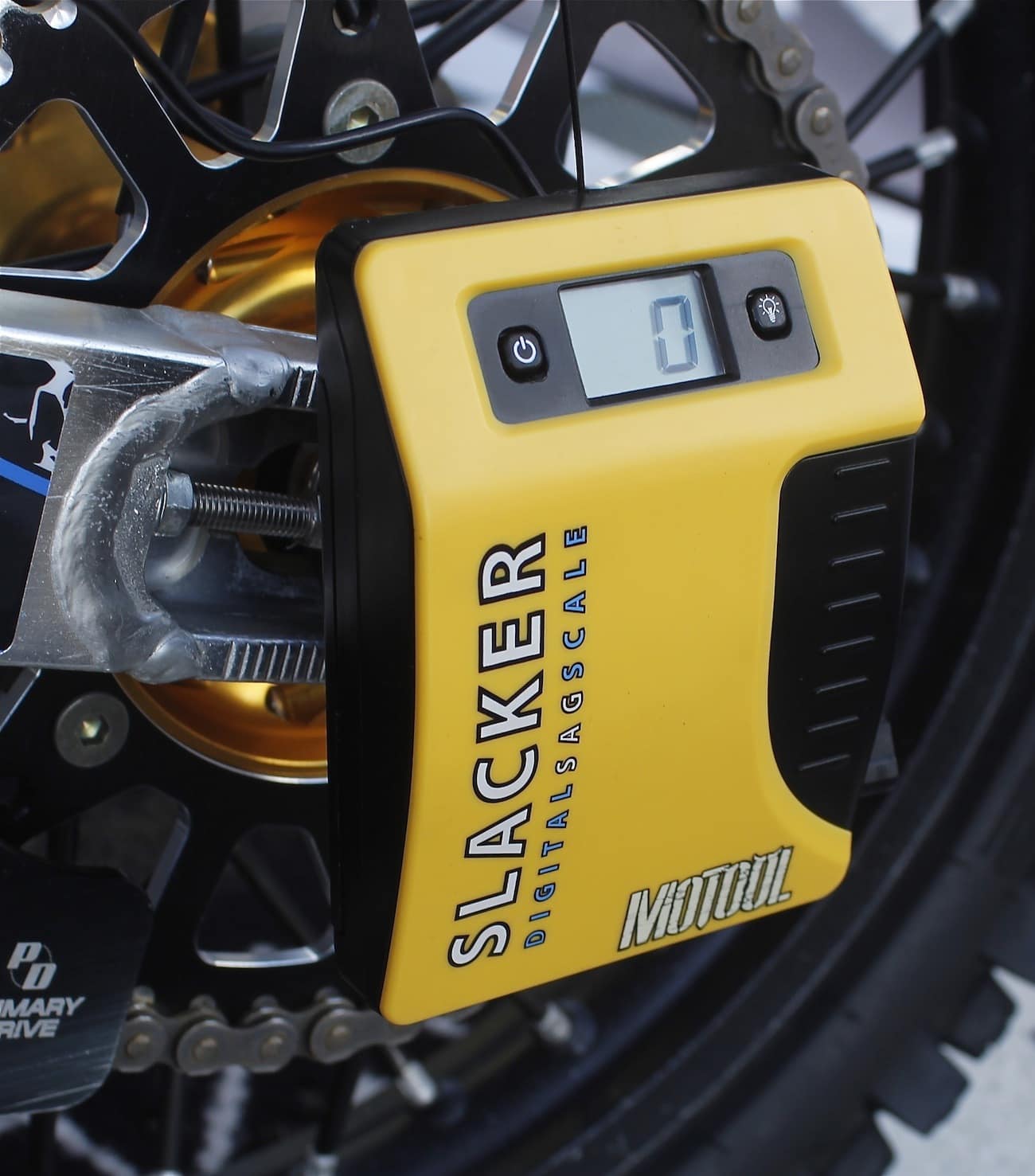 The Slacker V2 feature improved electronics, new cable, redesigned graphics and the unique "Auto Zero" feature.
John Casebeer of Motools has introduced the latest version of the Slacker digital sag scale. The new Slacker V2 feature "Auto Zero," which allows it to learn where the zero point is without the rider having to put his bike on a stand. All you do is hold the backlight button for 3 seconds to place it in Auto Zero mode, then lift the bike to unload the suspension and it automatically marks the zero point so you are ready to take measurements. Since MXA races up to ten 2017 bikes every weekend, we spend a lot of time adjusting sag as test riders switch back and forth between bikes. The Slacker is a life saver (helped by the fact that we drill a small pilot hole in our rear fenders to speed up the process of hooking the cable up). You can learn more about the Slacker V2 at www.motool.com.
PARIS-DAKAR IS WELL INTO THE FIRST WEEK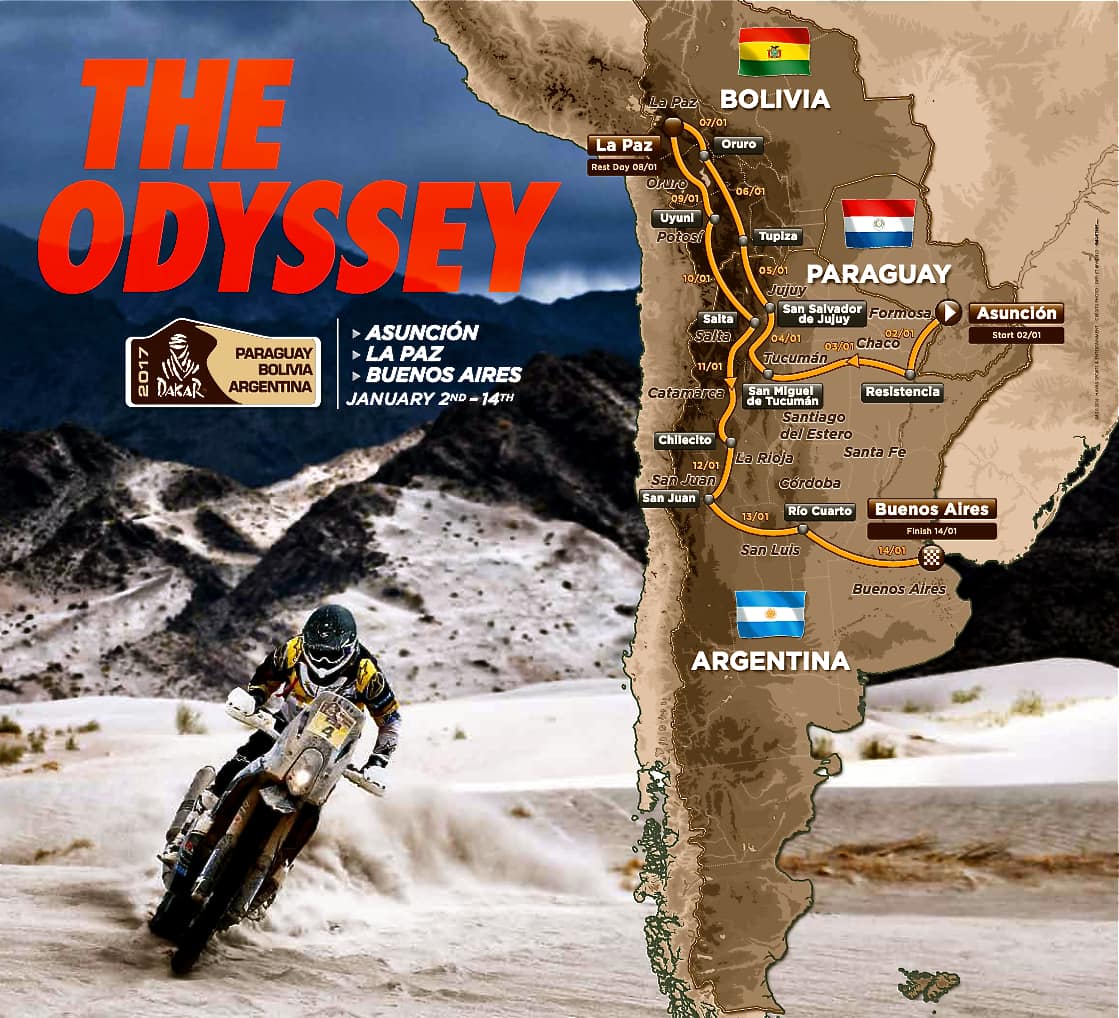 The 2017 Dakar Rally is well under way. The two things that dominate this year's Dakar Rally are altitude and weather. Out of the 13 total days of the rally, six will be spent at altitudes of over 10,000 feet. The riders will even go above 15,000 feet when crossing the Andes on the third special from San Miguel De Tucuman to San Salvador De Jujuy. The longest stage is the 527 km sixth stage to be run in Bolivia. Unpredictable weather will add a further twist to proceedings. With rain forecast for the next 10 days in Bolivia, this means that along with spending long days in at oxygen-depleted altitudes, the riders and crews will face some unique challenges this year.
Last year's winner, Austalian Toby Price, crashed on stage 4 and broke his leg and Team HRC Honda was penalized one hour for refuelling in an prohibited zone. This mistake cost Joan Barreda the Dakar lead. Barreda is now 41 minutes behind new leader Pablo Quintanilla after four stages.
DAKAR STANDINGS (AFTER STAGE ONE)
1. Xavier De Soultrait…Yamaha….00:28:20
2. Juan Perdo Garcia….Sherco…00:28:22
3. Ricky Brabec…Honda…00:28:3
DAKAR STANDINGS (AFTER STAGE TWO)
1. Toby Price…KTM…02:37:32
2. Matthias Walkner…KTM…02:40:54
3. Paulo Goncalves…Honda…02:41:23
DAKAR STANDINGS (AFTER STAGE THREE)
1. Joan Barreda…Honda…7:36'30
2. Sam Sunderland…KTM…+10m20s
3. Paulo Goncalves…Honda…+13m42s

REVISED DAKAR STANDINGS (AFTER STAGE 4)
1. Pablo Quintanilla…Husqvarna…12h54m02s
2. Matthias Walkner…KTM…+2m07s
3. Stefan Svitko…KTM…+5m52s
BLAINE SCHUTTLER APPOINTED MANAGING DIRECTOR OF HUSQVARNA MOTORCYCLES
Husqvarna has announce the appointment of Blaine Schuttler as Managing Director in the United States. Schuttler will be responsible for sales and marketing business plans. Schuttler's started as a KTM District Sales Manager in Canada and, in 2014, Schuttler relocated to Husqvarna's Murrieta, California, offices as Director of Sales. Since the KTM Group acquired the brand in 2014, Husqvarna Motorcycles has experienced exponential growth in North America; doubling its sales year-over-year. Fast-forward to 2016, where the company sold more motorcycles in the United States than ever before in the brand's history.
Blaine Schuttler said, "I feel very honored to be part of the Husqvarna Motorcycles brand. The brand has grown significantly over the past three years within the North American and Global motorcycle markets. I am fortunate to have been part of that growth, and look forward to expanding my role within the executive team as the Husqvarna Motorcycles Managing Director in the US."
John Hinz, president of the North American KTM Group said, "Blaine has been instrumental in the recent record setting growth and success of the Husqvarna Motorcycles brand in the United States. I am looking forward to supporting him with our pioneering brand initiatives as we expand into new segments in the industry."
THIS SATURDAY'S ANAHEIM ONE TRACK MAP
NEXT SATURDAY'S SAN DIEGO TRACK MAP
HOW TO SUBSCRIBE & GET MXA FOR FREE: WE ACTUALLY PAY YOU $9.00
Interested in getting a new bike this year? The January 2017 issue of MXA is on the news stands now and includes the long-awaited 2017 MXA 250 Shootout. You should be reading MXA, and if you subscribe now you get a $25 gift certificate from Rocky Mountain ATV/MC which more than pays for your subscription.
Do you subscribe to MXA? You should. We know that you think that print magazines are dead and that the internet will fill the void, but most of the stuff in the current issue of MXA won't appear on the web for several months, if at all. Luckily, you can get all of MXA on your iPhone, iPad, Kindle or Android by going to the Apple Store, Amazon or Google Play. Better yet get the Digital desktop version at https://hi-torque.com/product/motocross-action-digital-edition/ for $9.99 a year.
The MXA test riders prefer the print version and not just because it is delivered by a uniformed employee of the U.S. Government, but because right now you can get 12 issues for $15.95 and a free $25 Gift Card from Rocky Mountain ATV/MC. That means that there is a profit to be made in this deal for you. For the Print magazine go to: https://hi-torque.com/product/motocross-action/
GRANT LANGSTON — "MOTOCROSS TRAINING WITH THE CHAMP"
Few riders in professional motocross have elevated themselves to the level achieved by South Africa's Grant Langston. Grant was the 2000 FIM 125cc World Champion, 2003 AMA 125cc National Champion,  2003 AMA Supermoto Champion, 2005 AMA 250cc East Coast and 2006 AMA 250cc West Coast Champion. The pinnacle of Grant's career came in 2007 when came from way back int he points to win the AMA 450cc National Championship for Yamaha and, he capped off that season by winning the the U.S. Open Championship in Las Vegas. Since then Grant has transitioned into riding coach, television commentator and successful business owner. Grant decided to share his vast knowledge in this one-of-a-kind production. In Grant's 98-minute DVD, the champ covers motocross techniques that are very seldom shared and highly coveted. As an added bonus, GL also shares a 50-minute story of his life, "Making of a Champion." The video is available at www.grantlangstonmx.com for $24.95 (plus shipping).
DEL AMO MOTORSPORT IN SANTA ANA TO HOST AUTOGRAPH SESSION FRIDAY AT 5:00 P.M.

Del Amo Motorsports, located in Santa Ana, California, will host a massive Supercross autograph night on Friday, January 6, from 5:00 p.m. to 8 p.m. Monster Energy & 51 Fifty Energy Drink will be in the house to offer free samples. Here's the roster of racers schedule to attend:
SUZUKI
Broc Tickle
Justin Bogle
Justin Barcia
Weston Peick
Matt Bisceglia
Ronnie Stewart
KAWASAKI
Eli Tomac
Josh Grant
Austin Forkner
Joey Savatgy
Justin Hill
HONDA
Ken Roczen
Cole Seely
Andrew Short
Jimmy Decotis
Jeremy Martin
YAMAHA
Chad Reed
Cooper Webb
Tyler Bowers
Hayden Mellross
SUZUKI RECALLING 8613 V-STROM DL650'S FOR SHORT-CIRCUIT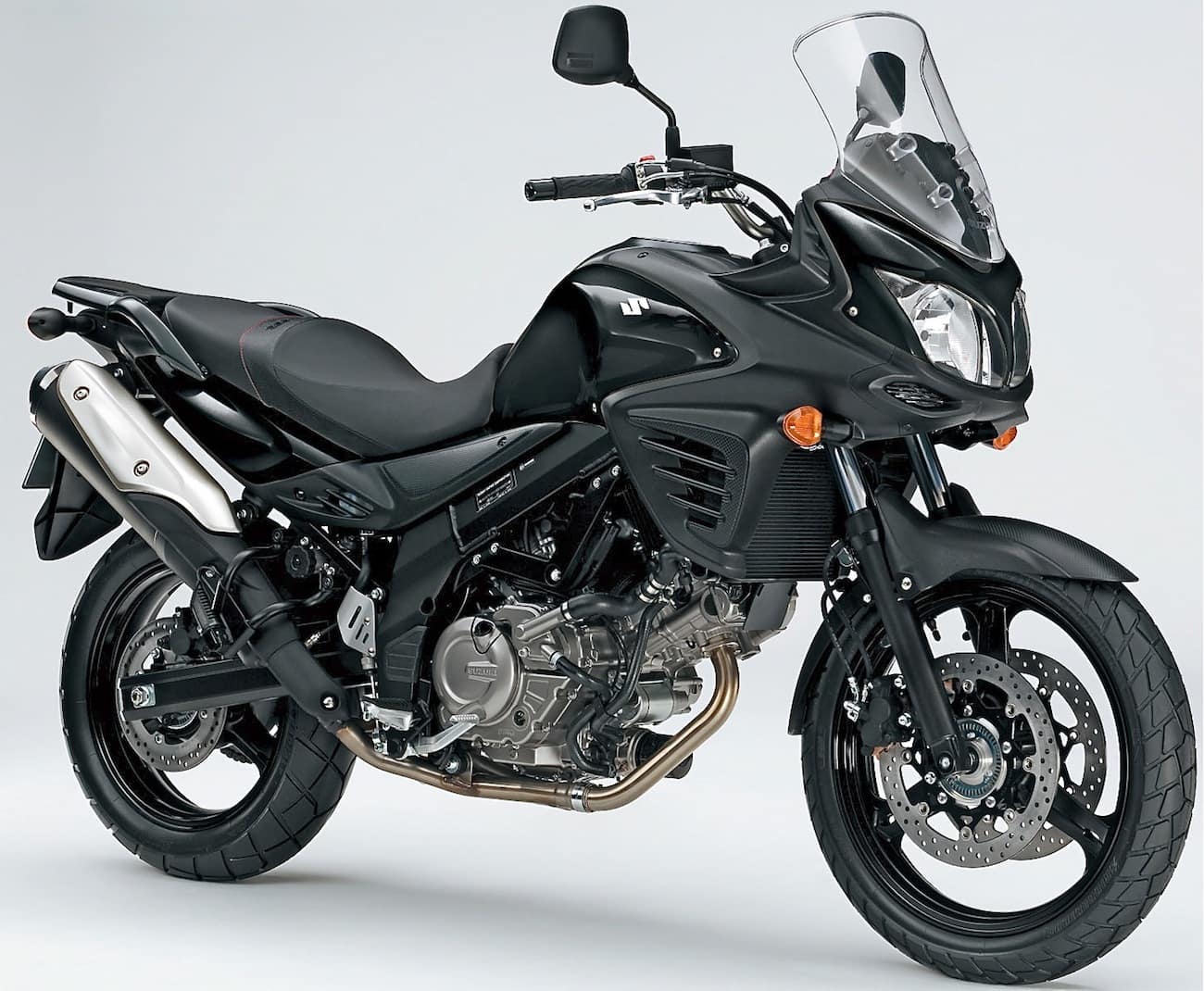 The National Highway Traffic Safety Administration announced that Suzuki Motor of America, Inc., is recalling certain 2012-16 model-year DL650 motorcycles. A short circuit of the stator wires may prevent the battery from properly charging, causing an engine stall and increasing the risk of a crash. The potential number of units affected is 8613. The motorcycles were manufactured from August of 2011 through October of 2015 and effect 2012, 2013, 2014, 2015 and 2016 DL650 models (also known as V-Strom 650s). In the affected motorcycles, the alternator stator may have insufficient heat resistance, resulting in a short circuit of the stator wires. Suzuki will notify owners, and dealers will replace the stator, free of charge. DL650 owners may contact Suzuki customer service at (714) 572-1490 and refer to recall number 2A67.
2017AMSOIL ARENACROSS SERIES STARTS THIS WEEKEND

25-RACE 2017 SOCAL OLD TIMER'S SCHEDULE BEGINS THIS SUNDAY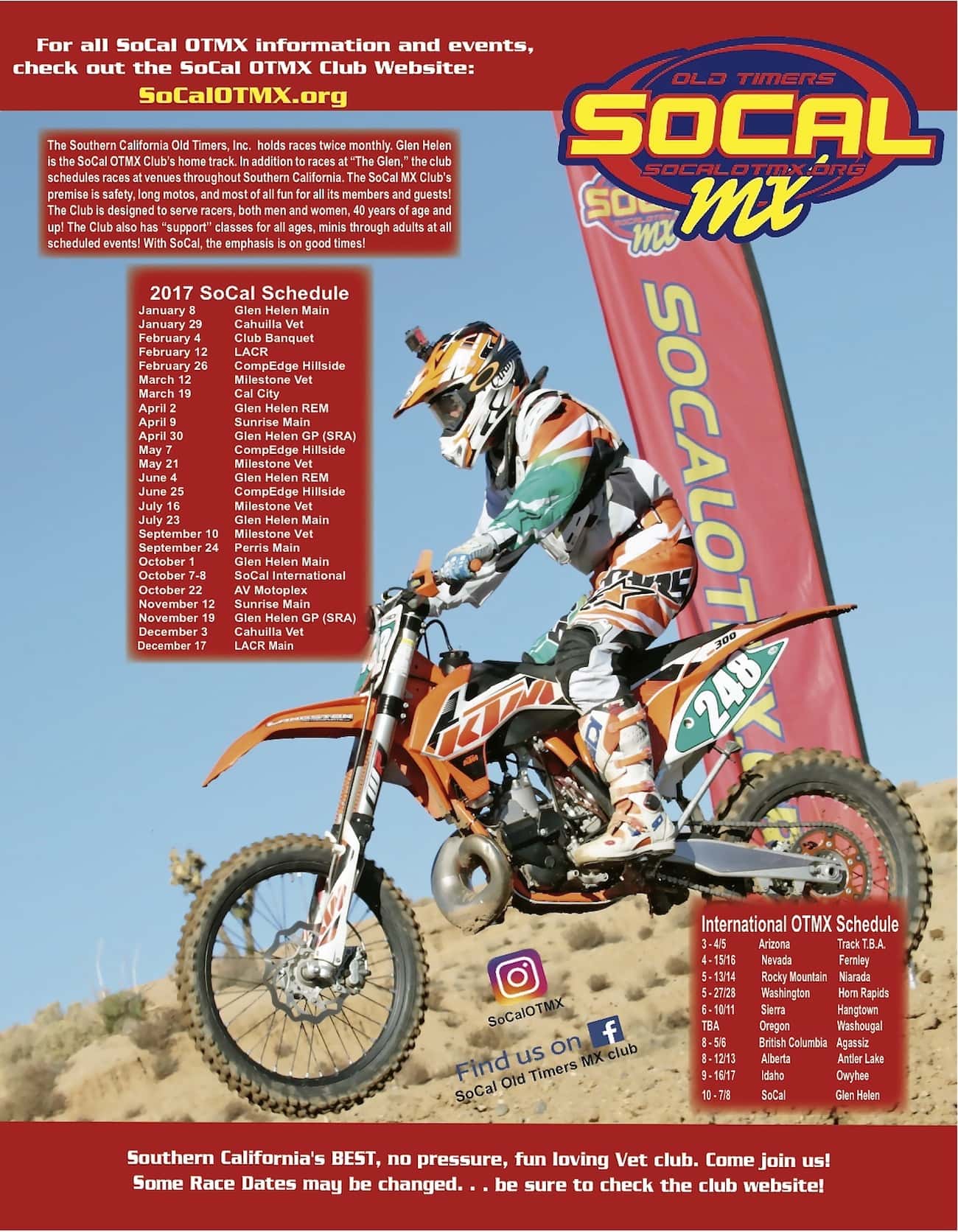 For more info go to www.socalotmx.org.
PRO TAPER INTRODUCES CUSTOMER HOTLINE & TECH SUPPORT PROGRAM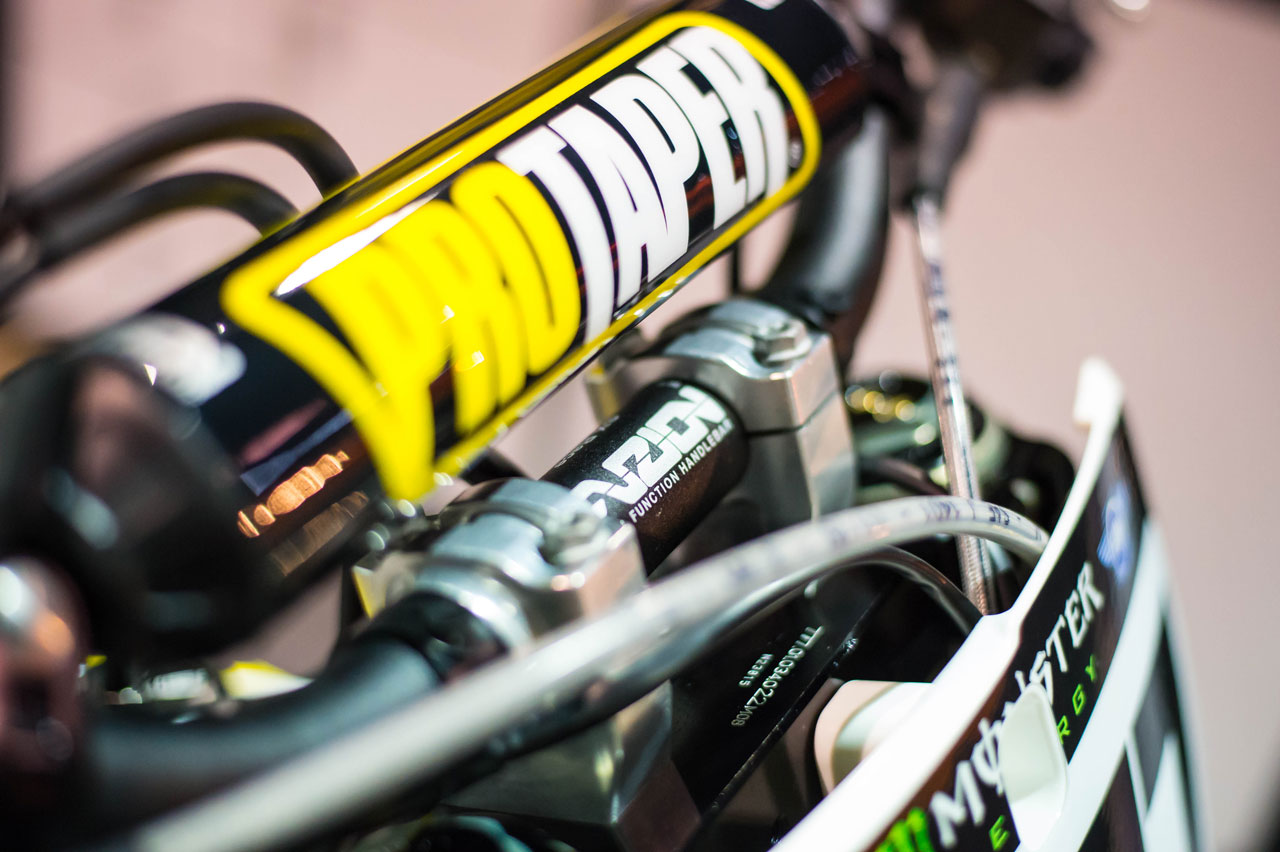 Pro Taper press release: Since 1991 when ProTaper revolutionized the moto market with the introduction of the 1-1/8" Taperwall handlebar, the brand has been focused on enhancing the riders' experience. Coinciding with the just released 2017 digital catalog is ProTaper's new customer service hotline and an expanded tech support program. "ProTaper prides itself on our race proven and champion-approved technological advantages on the track," says Brand Manager Paul Perebijnos. "So it was time to up our game on the customer support side so that we can provide the best possible customer service experience." This is not some off-shore call center, but a dedicated team of U.S.-based CSR professionals.
"We had some issues with incoming calls and emails disappearing into cyberspace in the past, however we now have a dedicated CSR team answering the phone and a tech team an e-mail away," he adds. Call 951-736-5369 to speak to a live person during business hours or e-mail [email protected]. Further enhancing the ProTaper experience, the digital catalog can be readily browsed online or downloaded with nearly 100 pages packed with everything from grips, levers/perches, throttle tubes, foot pegs, sprockets, chains and more. "The index of product applications in the catalog enables you to dial in your bike like the pros, from Max Nagl to Colton Haaker. When it's time to upgrade your riding experience, turn to innovations from ProTaper," says Perebijnos. See the entire collection of ProTaper's race-proven products in the 2017 catalog: http://online.fliphtml5.com/lxnd/gxac/#p=1
2015 THROUGH 2016 DUCATI SCRAMBLERS RECALLED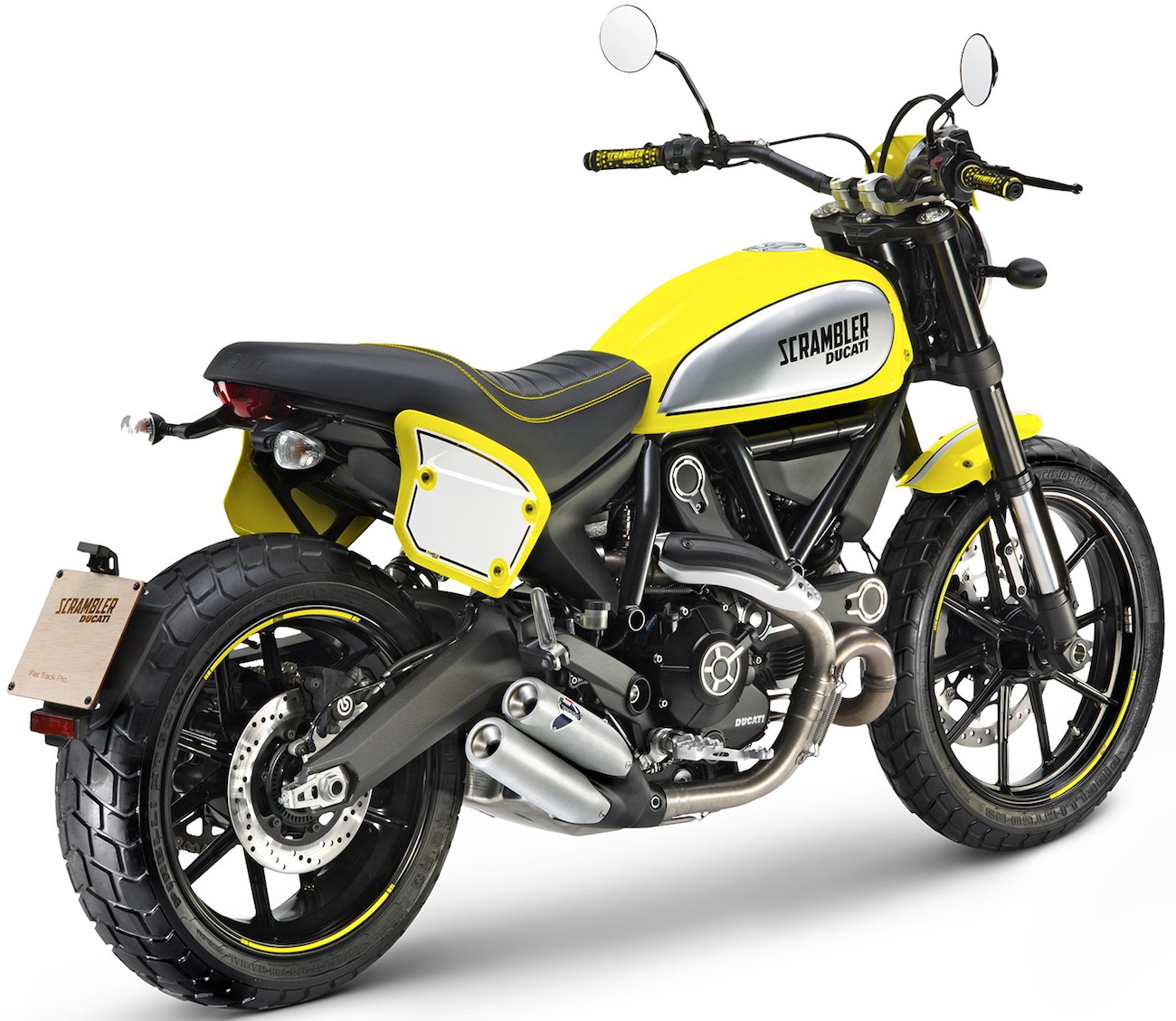 Ducati Scrambler.
Ducati is recalling certain 2015 and 2016 Scrambler models because of a problem with their side stand position sensors. The recall affects 5502 units in the U.S. According to the National Highway Traffic Safety Administration, the side stand pivot bolt may not be of sufficient length. As a result, the nut may detach and the bolt loosen, consequently preventing the sensor switch from properly detecting the position of the stand. When an affected Scrambler is parked, this may prevent the engine from starting. When riding, the sensor switch pin may become disengaged, causing the engine to stall. It may also be possible to start the engine and begin riding with the side stand deployed.
Ducati first received warranty claims related to this problem in June 2016. Ducati then began a global analysis of the problem and found a total of 34 related cases. On Dec. 5, 2016, Ducati initiated recall proceedings. No related crashes or injuries had been reported. Dealers will install revised side stand pivot bolts. The new bolts have 17mm of thread compared to 15mm of thread found on the original bolts and have a black surface treatment (the original bolts were gray). Dealers will apply 35 Nm of torque (compared to the 24 Nm previously specified) and apply threadlock.
AMERICAN MOTORCYCLIST ASSOCIATION OBJECTS TO SCOPE OF TWO NEW NATIONAL MONUMENTS

The designation of two new national monuments by President Barack Obama this week could jeopardize access for responsible motorized recreation on more than 1.6 million acres of public land in Utah and Nevada. Using the Antiquities Act of 1906, the president designated 1.35 million acres in southeast Utah as the Bears Ears National Monument and nearly 300,000 acres in Clark County, Nev., just northeast of Las Vegas, as the Gold Butte National Monument. The Antiquities Act authorizes the president to issue proclamations to protect "historic landmarks, historic and prehistoric structures, and other objects of historic or scientific interest," while limiting those designations to "the smallest area compatible with proper care and management of the objects to be protected."
The AMA is "concerned about continued access to these public lands for responsible motorized recreation. With the national monument designation comes a review of management plans that could curtail or eliminate some off-road riding areas. These new designations cover far larger areas than needed to ensure that historic landmarks are preserved. None of the Utah congressional delegation wanted this, and many Nevadans were opposed to it, too." Utah's attorney general has threatened a lawsuit to reverse the Bears Ears designation, and the Utah congressional delegation vowed to pursue legislation to undo it. A study by UtahPolicy cited by U.S. Sen. Mike Lee (R-Utah) found that 60 percent of Utah residents opposed designating the Bears Ears area as a national monument, while 33 percent supported the proposal.
FMF ANNOUNCES 2017 SUPERCROSS SUPPORT SCHEDULE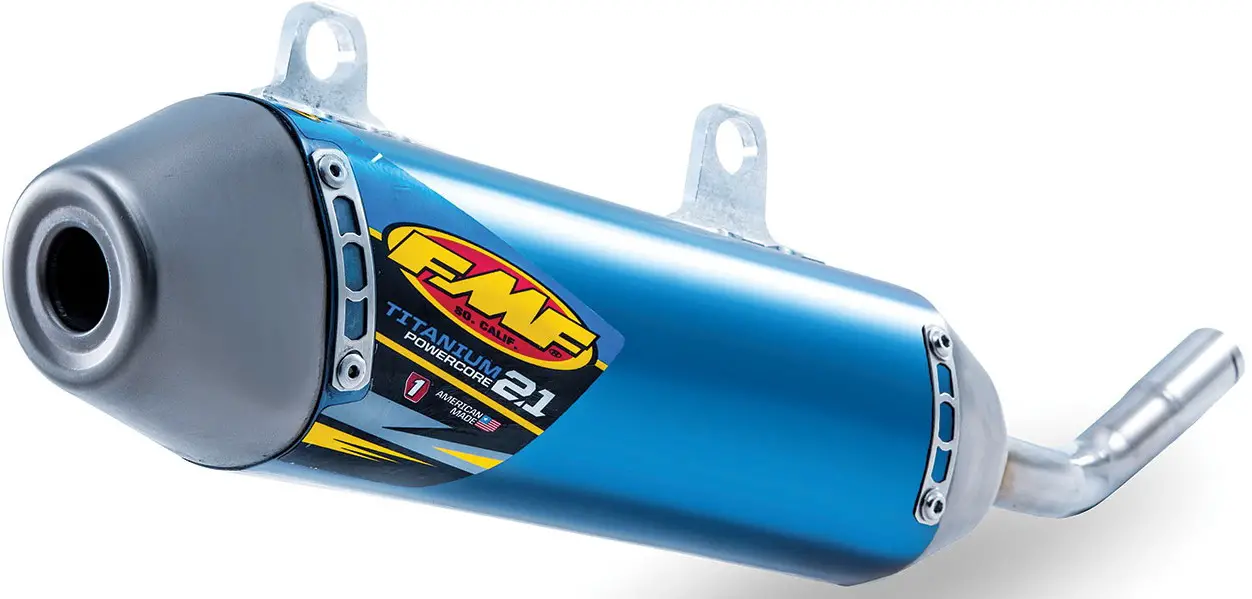 Coming off the 2016 250SX West Region Championship FMF is excited for the start off the 2017 Monster Energy Supercross season. The FMF Rider Support Crew will be on board to help out with any rider support needs. Keep an eye out for our FMF Event Support Sprinter van at the following races:
Jan. 7…Angel Stadium…Anaheim, CA
Jan. 14…Petco Park…San Diego, CA
Jan. 21…Angel Stadium… Anaheim, CA
Jan. 28…University of Phoenix…    Glendale, AZ
Feb. 4…Oakland Coliseum….Oakland, CA
HOW IS YOUR TWITTER GAME GOING? UP IT BY FOLLOWING MXA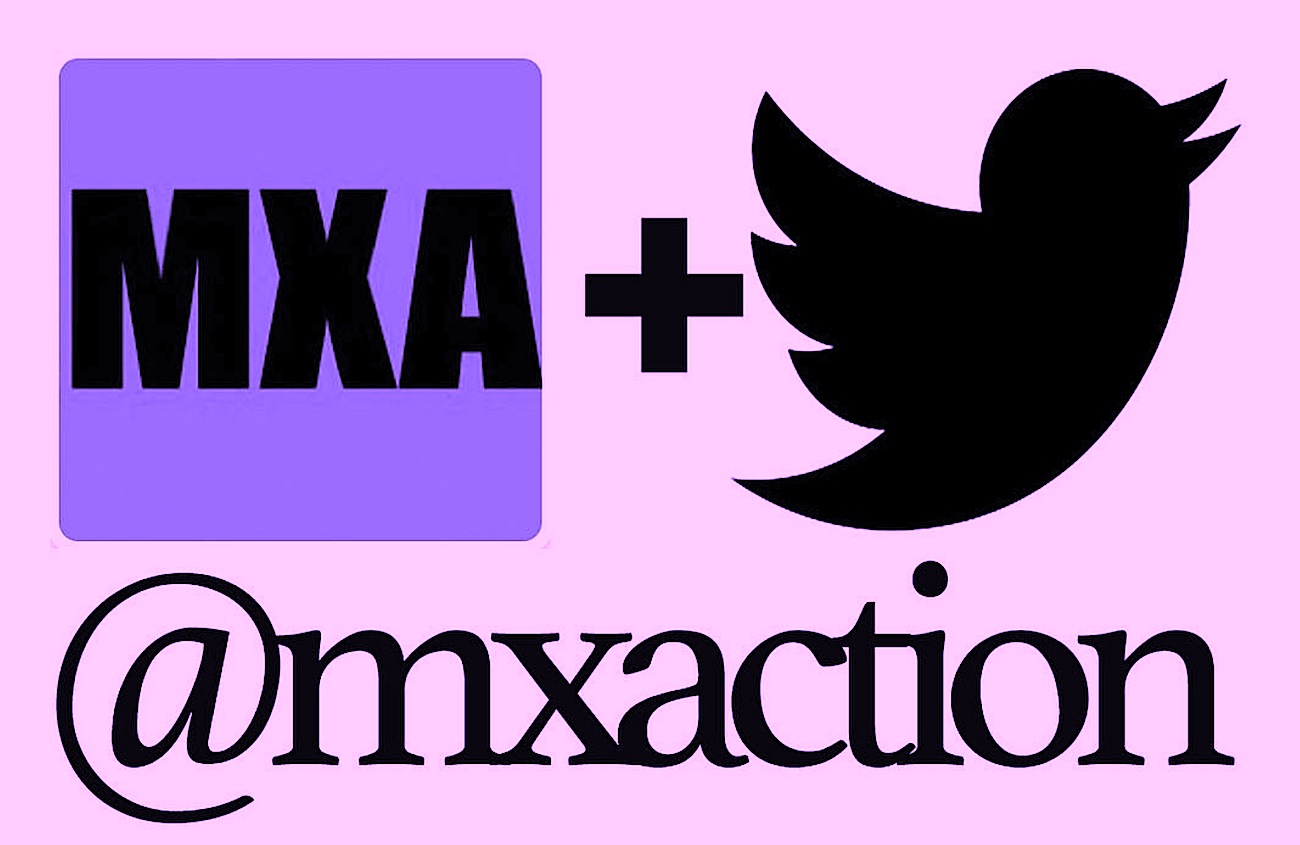 Follow us to see fresh content every day at www.twitter.com/MXAction or on twitter at "MXAction"