MXA'S RAPID RACE RESULTS: THUNDER VALLEY SHOCKER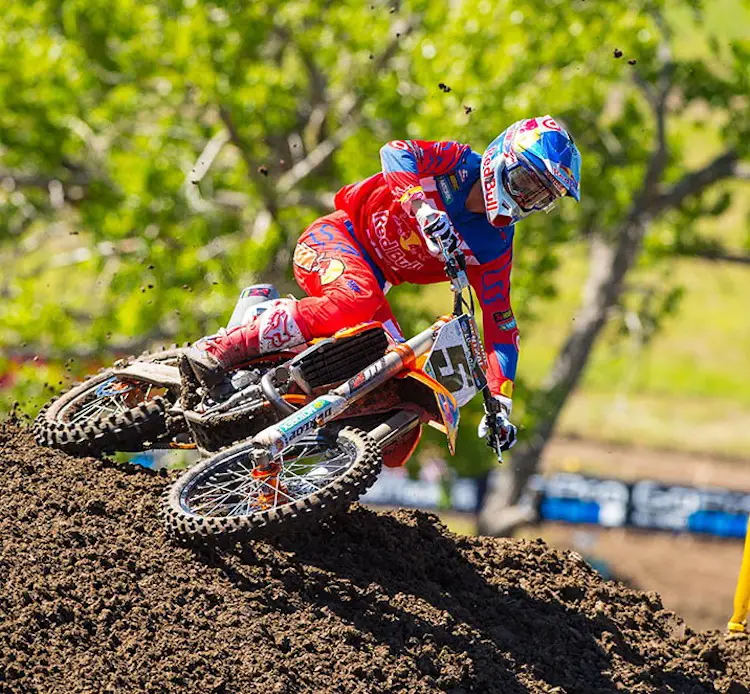 Ryan Dungey's strategy is to be there in every moto and, save for his electrical gremlins at Glen Helen, he has done that. The result? He has the points lead after round 3.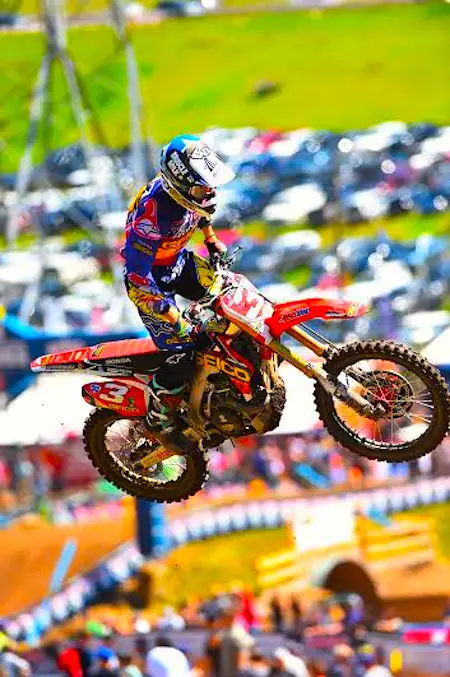 Eli Tomac won the first 5 motos of the 2015 AMA 450 National series, but swapped in the sixth moto and went down. He is reported to have a dislocated shoulder.
ELI TOMAC'S SECOND MOTO CRASH

Blake Baggett is an outdoor specialist and switching to a 450 has helped his miserable starts on a 250. Blake got his first-ever 450 podium at Thunder Valley.
THUNDER VALLEY NATIONAL RESULTS: 450 CLASS
1. Ryan Dungey (KTM)…2-1
2. Ken Roczen (Suz)…3-2
3. Blake Baggett (Suz)…4-3
4. Broc Tickle (Suz)…5-5
5. Cole Seely (Hon)…8-4
6. Justin Barcia (Yam)…7-6
7. Eli Tomac (Hon)…1-33
8. Christophe Pourcel (Hus)…11-7
9. Phil Nicoletti (Yam)…10-9
10. Justin Brayton (KTM)…9-10
Other notables: 11. Jason Anderson; 13. Weston Peick; 14. Fredrik Noren; 15. Chad Reed; 18. Wil Hahn; 19. Josh Grant.
KEN ROCZEN'S FLAT FRONT TIRE CRASHES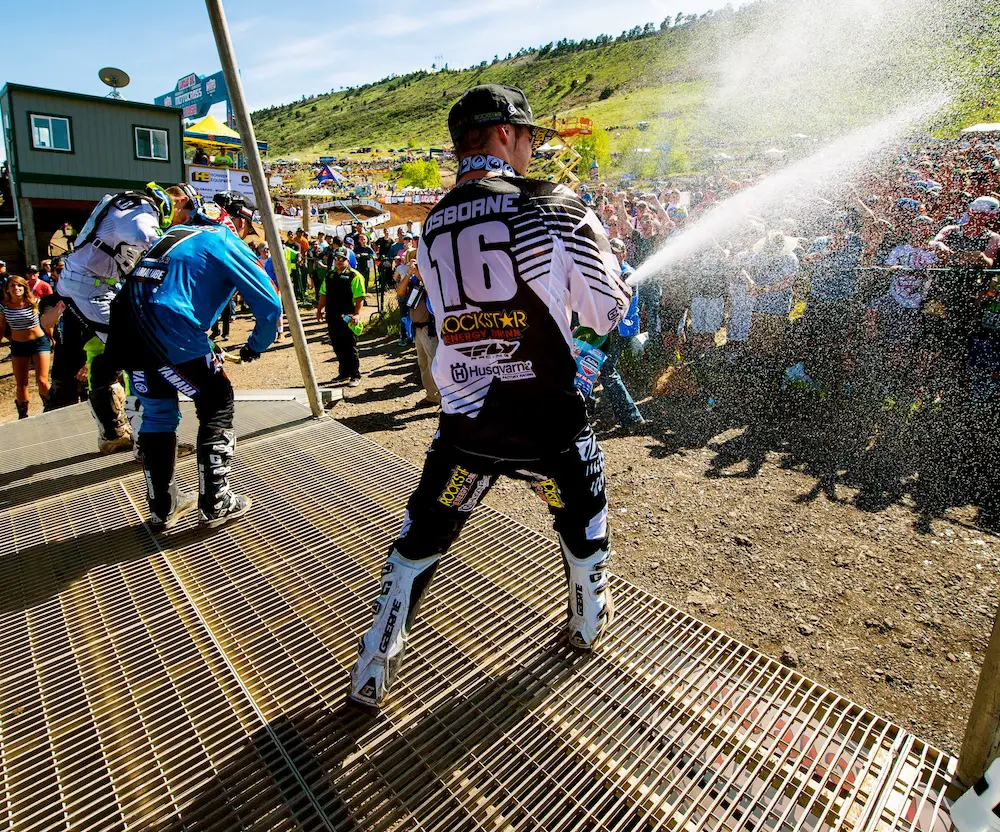 Zach Osborne (16) made the podium in the 250 class with winner Jeremy Martin and 3rd place Adam Cianciarulo.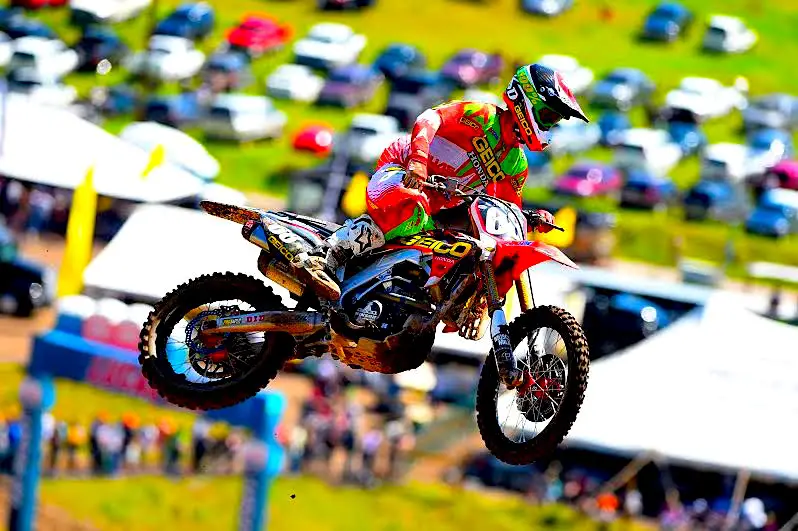 Christian Craig came off the bench and away from the work-a-day world to score a 5th as a fill-in rider for Justin Bogle at Geico Honda. Christian never finished this high in an AMA National during his active racing career.

THUNDER VALLEY NATIONAL RESULTS: 250 CLASS
1. Jeremy Martin (Yam)…1-1
2. Zach Osborne (Hus)…2-3
3. Adam Cianciarulo (Kaw)…5-4
4. Jessy Nelson (KTM)…3-7
5. Christian Craig (Hon)…4-6
6. Jordan Smith (Hon)…6-5
7. Marvin Musquin (KTM)…14-2
8. R. J Hampshire (Hon)…9-10
9. Aaron Plessinger (Yam)…13-8
10. Shane McElrath (KTM)…12-9
Other notables: 11. Kyle Peters; 12. Matt Bisceglia; 14. Joey Savatgy; 16. Jackson Richardson; 21. Alex Martin; 24. Hayden Mellross.
Cole Seely put himself on the map at Thunder Valley, but his double DNF at Hangtown means that he still hasn't cracked the 450 top ten.
2015 AMA 450 NATIONAL POINTS STANDING
(After 3 of 12 races)
1. Ryan Dungey…128
2. Eli Tomac…125
3. Blake Baggett…99
4. Ken Roczen…93
5. Justin Barcia…87
6. Weston Peick…79
7. Broc Tickle…75
8. Jason Anderson…72
9. Christophe Pourcel…72
10. Phil Nicoletti…62
Other notables: 11. Chad Reed (58); 13. Justin Brayton (51); 14. Cole Seely (50); 17. Wil Hahn (27); 20. Josh Grant (17).
THUNDER VALLEY VIDEO RACE RECAP

Justin Hill crashed hard in practice and couldn't race. He is now a distant 14th in 250 points and 76 points behind Jeremy Martin.
Movin' Marv gave up all the points he gained at Glen Helen and 2 more. His first moto crash resulted in a 14th in moto 1. He got second in moto 2.
2015 AMA 250 NATIONAL POINTS STANDING
(After 3 of 12 races)
1. Jeremy Martin…128
2. Marvin Musquin…126
3. Jessy Nelson…80
4. Adam Cianciarulo…76
5. Joey Savatgy…72
6. Alex Martin…68
7. Zach Osborne…67
8. Shane McElrath…65
9. Matt Biscelgia…64
10. Chris Alldredge…62
Other notables: 11. R.J. Hampshire (59); 12. Aaron Plessinger (58); 14. Justin Hill (52) 18. Christian Craig (33); 20. Cooper Webb (20).