MXA'S SATURDAY NEWS ROUND-UP: THIS IS MOTOCROSS …SATURDAY, JANUARY 21

VID! CHAD IS READY TO TURN THINGS AROUND IN L.A.

TWIT-SNAPS: WHAT PHONES, PHOTOS AND FREE TIME HAVE WROUGHT


The sun also shines…if you wait for it.

K-Dub is trying out a new gear line.



But Windham has to go a long way to match Chad's new red pants.

Davi signs autographs at the JGR rig (with Stewie in the background).

Kyle Chisholm is ready to go.

VID! ELI TOMAC TALKS ABOUT TONIGHT'S RACE FROM THE FLOOR OF DODGER STADIUM


HUSKY CONCEPT BIKE GETS A BIG STEP CLOSER TO PRODUCTION?INCLUDING A NAME CHANGE



At the Milan show last November, MXA snapped some pics of a Husky concept bike called the "Moab," Now, in New York Husqvarna is showing a much more polished version?except his time it is called the "Baja Concept." The bike has what Husky calls a "distinct retro flair of the golden age of motorcycling."
The Baja Concept has more suspension travel and looks closer to a production bike than the low-slung Moab. Features include a 650cc single-cylinder, fuel-injected, liquid-cooled, four-stroke engine mated to a five-speed tranny. The wheels are a 19-inch front and 17-inch rear with Brembo brakes.
VID! JAMES STEWART SAYS, "I'LL HAVE TO REGROUP THIS WEEKEND."

FMF & JGR FORM CASUAL WEAR PARTNERSHIP


FMF Racing, a pioneer in the world of motorsports since 1973, is happy to announce a landmark apparel partnership with the Joe Gibbs Racing ("JGR") Motocross team, which includes top AMA Supercross riders, James 'Bubba' Stewart and Davi Millsaps. Launching with t-shirts, fleece and hats in an assortment of designs inspired by both teams' legacies in motorsports, the FMF-JGR collection will be the only apparel with official rights to utilize the JGR name and logo.  Each style in the collection has been designed, created and approved by the FMF team at La Jolla Group's headquarters in Irvine, CA and team JGR to insure its authenticity and product quality reflects the DNA of both groups.
"Partnering with such a great team like Joe Gibbs Racing is an incredible honor, since we have seen their success up close over the last 20 years," said FMF Marketing Manager, Donny Emler, Jr. "We've wanted to work with JGR ever since they started in motocross, and decided this year was the right time to make it happen since our apparel line is growing fast."
"This is a fitting partnership since FMF and JGR are two of the most recognized names in motorsports," said Joe Gibbs Racing Motocross Co-owner, Coy Gibbs. "Both teams have been synonymous with success through the years, so we expect this apparel line will be another winning combination for us." The FMF-JGR collection, which ranges from $29-$59, will be available in stores and online at www.fmfracing.com by the end of March.
WHERE IN THE WORLD IS CHRISTOPHE POURCEL?



Sloan Hall got this package of parts from Motosport and was shocked to find who packed the box for the trip to Sloan's Kingwood, Texas, address. Sloan said, "At least he got the order correct."
MEET THE ALL-NEW EVS RS8-PRO KNEE BRACE


For more info go to www.evs-sports.com
THE HURRICANE STRIKES AT TWO: MEET BOB HANNAH AT DODGER STADIUM TODAY


Motocross legend Bob "Hurricane" Hannah will be signing  free Matrix Concepts posters in the Dodger Stadium Supercross pits today. Bring your Bob Hannah memorabilia also and Bob will be happy to sign that as well. To find Bob "Hurricane" Hannah, go to the Parts Unlimited hospitality booth at the Dodger Stadium Supercross pit area at 2 p.m.
EVERY 250 RIDER TO EARN A POINT THIS YEAR
(leading up to Dodger Stadium)


Zach Osborne isn't racing the complete 250 West, so his points position is only temporary.
1. Tyla Rattray…42
2. Cole Seely…41
3. Dean Wilson…40
4. Marvin Musquin…40
5. Eli Tomac…38
6. Jason Anderson…28
7. Zach Osborne…27
8. Nico Izzi…22
9. Travis Baker…22
10. Max Anstie…17
11. Ryan Sipes…16
12. Billy Laninovich…16
13. Teddy Maier…14
14. Wil Hahn…13
15. Vince Friese…13
16. Michael Leib…10
17. Matt Moss…10
18. Bruce Rutherford…8
19. Scott Champion…5
20. Gareth Swanepoel…4
21. Ryan Marmont…4
22. Jean Carlo Ramos…3
23. Jackson Richardson…3
24. Martin Davalos…3
25. Adam Chatfield…2
26. Christian Craig…1
EVERY 450 RIDER TO EARN A POINT THIS YEAR
(leading up to Dodger Stadium)


Mike Alessi isn't in the top ten in points?yet.
1. Ryan Dungey…45
2. Ryan Villopoto…45
3. Jake Weimer…38
4. Chad Reed…38
5. Kevin Windham…31
6. Andrew Short…29
7. James Stewart…28
8. Justin Brayton…25
9. Brett Metcalfe…22
10. Josh Hansen…22
11. Ivan Tedesco…18
12. Mike Alessi…17
13. Kyle Chisholm…16
14. Trey Canard…14
15. Davi Millsaps…13
16. Broc Tickle…9
17. Chris Blose…9
18. Ryan Morais…6
19. Jimmy Albertson…4
20. Kyle Partridge…4
21. Tommy Hahn…4
22. Nick Wey…2
23. Josh Grant…2.
TWEET-CITY: THE MODERN VERSION OF JUNGLE WAR DRUMS
TOM WHITE COMPLETES THE GOLDEN TRIANGLE: MONARK, LITO & HUSQVARNA


1959 Monark 500 four-stroke.
The golden triangle of motocross in its formative years was the strange entanglement of three Swedish brands ? Monark, Lito and Husqvarna. These three bikes dominated the motocross world with Bill Nilsson, Sten Lundin and Rolf Tibblin in the saddles from the late 1950s until the rise of BSA in 1964.
Tom White's Early Years of Motocross Museum has had a 1959 Monark 500 four-stroke and a 1962 Husqvarna 500 four-stroke in its collection for several years?but Tom didn't have a Lito. Last week at the Bonham's motorcycle auction in Las Vegas, Tom got the last piece of the puzzle.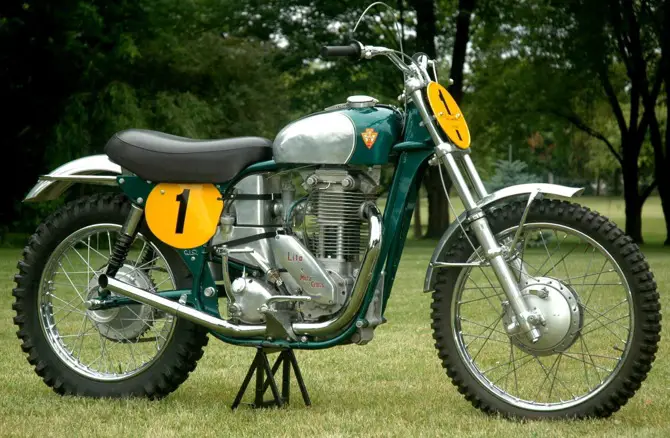 This Lito is from MX Works Bikes collection.
What's so unique about the Monark/Lito/Husqvarna triad? They are joined at the hip more than any three brands could be. Monark built the bike first, but after winning the World Championship they withdrew from the GPs (after Monark race team Manager Lennart Warborn unexpectedly died). The leftover Monark 500s (and there weren't a lot of them) were painted green and called Litos (for Litoverken). Lito was owned by another member of the Monark family. Sten Lundin won 1961 500cc World Championship on a Lito. All in all, only nine Litos were ever built.


1962 Husqvarna 500 four-stroke.
Then, in 1962 Husqvarna hired Lito designer Nils Hedlund to build them a bike as good as the Monark and the Lito. It was ridden to great success by Bill Nilsson and Rolf Tibblin. Tom White has managed to put samples of all three historic bike from the early years of motocross together in one place (even if it is a place that is only open to the public twice a year). To find out more about the Early Years of Motocross Museum go to www.earlyyearsofmx.com.
DODGER STADIUM TV SCHEDULE FOR SUNDAY COVERAGE OF SATURDAY'S RACE

Live TV has spoiled lots of Supercross fans, but if they can just wait a few extra hours, the Dodger stadium 450 race will air on CBS at 9:00 am (on the west coast). Just go to bed early, stay away from your computer and wash the car on Sunday morning and you will be able to watch the race unpolluted by any knowledge of the outcome. We are giving CBS the benefit of the doubt, but network coverage is typically a choppy mess.
The 250 West race from Dodger Stadium wlil not air until 9:00 a.m. on Monday, January 23, on Speed TV. Set the DVR or skip work.
FOR THOSE WHO MISSED IT! THE SIPES/MOSS VERSION OF A CAR WRECK
Because of their position in the southern hemisphere, Australians ofter turn right when they meant to go left. It's the same as flushing a toilet in Sydney. See it here.

FILL-IN NEWS: GAVIN FAITH GETS HIS SHOT AT THE BIG-TIME


Gavin Faith.                                                                                           Photo: www.gavinfaith.com
Geico Honda has signed Gavin Faith to a four-race deal to fill in for injured 250 West rider Wil Hahn. This will be Faith's first Supercross race, but he does have pro racing experience racing in Australia.
"This bike is so fast, it's awesome," Faith said. "I'm not looking to conquer the world in this first race, but four races should be enough to prove myself. I've only had a few days on the bike before this race. I'm comfortable on it, but there's always room to improve. Don't really know the pace and don't know how I stack up yet, so I'm kind of going in blind from that respect. I want to run some consistent laps and build from there."
WHOOPS? THE RUMORS OF THEIR DEATH WERE EXAGGERATED
Feld's Dave Prater wants everyone to know that there will be whoops in Dodger Stadium. He sent proof.
SEE IT HERE! GP STAR KEN DE DYCKER IN WINTER TRAINING ON HIS LS HONDA CR450

Ken de Dijcker Training from roversberg productions on Vimeo.
THE HAHN BOYS CAN SHARE A COUCH


Tommy Hahn had been privateering it in 2012.
Both Wil and Tommy Hahn are injured and out of action. Wil got hurt at the Honda practice track and will only miss about one month more, but Tommy crashed at Phoenix and broke his fib. He won't be back until the AMA Nationals.
IS THERE A TRUE-TO-LIFE AMERICAN MOTORCYCLE SHOW ON THE HORIZON?


Industry insiders Larry Little and Mike Webster have joined forces to form the American International Motorcycle Expo (AIME). It will make its debut in the fall of 2013. AIME, which will obviously be known as Amy if it takes off, wants to bring consumers, motorcycle manufacturers, media, the aftermarket and dealers together for a week-long show that they believe can emulate the big shows in Europe. Currently there are some consumers shows and one big dealer show (in Indy). The idea is to hold two media days and then open the show to public for couple more days. Where and exactly when? Larry Little says he will make an announcement in 30 days.
IS BEN TOWNLEY COMING BACK TO THE USA?


Ben Townley rides for the Carlton Dry Honda team is Australia, no word on who he would ride for int he USA…but Troy Lee is always a good bet.

Ben Townley told Australia's motoonline.com that he plans to race as many as seven AMA 450 Nationals this year (as well as the Australia Nationals). The only actual date conflicts between the Oz series and the U.S. series are Millville and Southwick, but the flying back and forth would be painful. Townley could race Freestone, Mt. Morris, Budds Creek and Colorado without conflict (or flights).
2012 AUSTRALIAN NATIONAL SCHEDULE
April 1            Conondale, Queensland
April 15          Coonabarabran, New South Wales
April 29          Wonthaggi, Victoria
May 13           Wanneroo, Western Australia
May 20           Murray Bridge, South Australia
July 1             TBA, Queensland
July 15           TBA, Victoria
July 29           Appin, New South Wales
August 19      Moree, New South Wales
August 26      Coolum, Queensland
TAKE A VIDEO GAME LAP OF DODGER STADIUM?TWICE…THIS GUY SMOKES THE RED ARROW
We don't know what's up with the sound tracks, but just pretend you don't hear them.
DODGER TRIVIA! NO, NOT THE BLUE CREW


The two Ryans (Villopoto shown here) are tied on wins, holeshot, laps led and points?all that equality stuff will end on Saturday night.

Since this is only the second time that AMA Supercross has raced at Dodger Stadium it should be rememeber that this race took one of the Anaheim Stadium dates (from when Anaheim at A1, A2 and A3). Here is some trivia leading up to Dodger Stadium on Saturday night
(1) Ryan Dungey's Phoenix win was his 8th Supercross victory in three years. He is now tied with Jimmy Ellis and Ron Lechien on the all-time win list
(2) It took KTM 540 races to win the 450 class…although there were not KTM's entered in all 540 events. Only seven brands have won a premier Supercross race (Honda, Kawasaki, Suzuki, Yamaha, Can-Am, CZ and KTM).
(3) Even though Kevin Windham didn't make the podium in Phoenix, because Ryan Villopoto got him at the end, it was his 110th top-five finish. Chad Reed finished fifth?it was his 125th top-five finish.
(4) Only two riders have led any laps so far this year in the 450 class. Dungey and Villopoto both have led 20 laps each. They are also the only two riders with holeshots so far.
(5) James Stewart was the last racer to win the first two races of the season (back in 2007). In 1975, Can-Am's Jimmy Ellis became the first racer to win the first two races of the season.
(6) There was not a single American on the podium of the 250 West last weekend in Phoenix. It was Dean Wilson (Glasgow, Scotland), Marvin Musquin (La Reole, France) and Tyla Rattray (Mannum, South Africa). The real question is how many of them will return to their home countries when their American careers are over.
STRANGE FREESTYLE STORY FROM SAN DIEGO: SO MANY UNANSWERED QUESTIONS


Kayla Kahn.
From San Diego's Channel 10: "On January 14, around 100 people watched a riding stunt session held in the Global RV parking lot in Pacific Beach. The couple that hosted the event was not the typical motocross personnel. One of the riders in the event, who jumped 40 feet in the air, was 22-year-old Kayla Kahn, an openly gay former model who was once a sponsored rider. Kahn and her partner, Samantha Stewart, spent roughly 14 hours helping shovel nearly 65,000 pounds of dirt to create the event's landing ramp.
"But those hours were just a small sacrifice they've made to accomplish their ultimate goal of motocross success. Kahn and Stewart are living out of a beat-up car with more than 210,000 miles on it. Kahn, a Poway native, was abruptly dropped by an investor willing to sponsor her motocross team two years ago. Since then, the two have sacrificed their savings to help Kahn earn her pro license. They created a clothing line called Moto Mizfit to make ends meet. Instead of paying rent, they pay for the right to ride.
"The second we get money it's off to printing more fliers, off to gas, to do more promoting, marketing, managing, everything," said Kahn. The two hope to raise the status of women and the gay and lesbian community in the traditionally male-dominated sport.
To see the Channel 10 video go here www.10news.com/video/30246353/index.html
CLASSIC READING: DESIGN & TUNING FOR MOTOCROSS BY JIM GIANATSIS



Jim "The Greek" Gianatsis has revised and updated his seminal work on motocross suspension design and theory to include the modern four-strokes. The book includes Includes many of Jim's classic race photographs from the sport's beginning in the 1970 and '80s with Brad Lackey, Bob Hannah, Tony D and Roger DeCoster. Plus, photos and details of all the exotic works bikes of the era. There are chapters on two- and four-strokes engines, porting, carburetion, suspension design and tires. $24.95 from www.amazon.com
EVERY 2012 AMA NATIONAL NUMBER (FROM 1 TO 997)


Who was that number 21 guy on the 450 podium last week? You'll know once you read the list below.
It is easy to find out who's number 7 (James Stewart) or 41 (Trey Canard) or even 95 (Chris Plouffe), but have you ever tried to find out who is AMA National number 997? The answer is Linus Sandahl. To make life easier, MXA has compiled a complete list of active AMA National numbers for 2012 (Up to the Los Angeles Supercross). We will update it with every event and add more names and numbers as young riders race enter the AMA circuit.
1. Ryan Villopoto (450 MX/SX)
1. Dean Wilson (250 MX)
1. Broc Tickle(250 West)
1. Justin Barcia (250 East)
2. Ryan Villopoto (will not be used in 2012)
3. Mike Brown
5. Ryan Dungey
7. James Stewart
9. Ivan Tedesco
10. Justin Brayton
11. Kyle Chisholm
12. Blake Baggett
14. Kevin Windham
15. Dean Wilson
16. John Dowd
17. Eli Tomac
18. Davi Millsaps
19. Kyle Cunningham
20. Justin Barcia
21. Jake Weimer
22. Chad Reed
23. Gareth Swanepoel
24. Brett Mecalfe
25. Broc Tickle
26. Michael Byrne
27. Nick Wey
28. Tyla Rattray
29. Andrew Short
30. Alex Martin
31. Martin Davalos
32. Tommy Hahn
33. Josh Grant
34. Cole Seely
35. Darryn Durham
36. Kyle Regal
37. Malcom Stewart
38. Marvin Musquin
39. Tye Simmonds
40. Gannon Audette
41. Trey Canard
42. Ricky Dietrich
43. Christian Craig
44. Jason Anderson
45. Nick Paluzzi
46. Les Smith
47. Chris Blose
48. Jimmy Albertson
49. Justin Bogle
50. Nico Izzi
51. Travis Baker
52. Ben Lamay
53. Ryan Sipes
54. Weston Peick
55. Lance Vincent
56. Austin Stroupe
57. Jake Canada
58. Will Hahn
59. Vince Friese
60. Matt Lemoine
61. Austin Howell
62. Travis Sewell
63. Colton Facciotti
64. Matt Boni
65. Ryan Morais
66. Jason Thomas
67. Scott Champion
68. Shane Sewell
69. Jimmy DeCotis
70. Ken Roczen
71. Kevin Rookstool
72. Jarred. Browne
73. Josh Clark
74. Tyler Bowers
75. Josh Hill
76. Calle Aspergren
77. Lowell Spangler
78. Tommy Weeck
79. Tyler Medaglia
80. Kyle Keylon
81. Robert Kiniry
82. Justin Sipes
83. Kyle Partridge
84. Killy Rusk
85. Robert Marshall
86. Taylor Futrell
87. Matt Goerke
88. Ben Evans
89. Tyler Bright
90. Bryce Vallee
91. Dalton Carlson
92. Hunter Clements
93. A.J. Catanzaro
94. Cole Siebler
95. Chris Plouffe
96. Kyle Peters
97. Jeremy Medaglia
98. Tye Hames
99. Sean Hackley
100. Josh Hansen
102. Chris Gosselaar
105. Matt Moss
112. Ryan Marmont         
119. Max Anstie
124. Ryan Clark
132. Kyle Beaton
133. Myles Tedder
143. Michael Horban
149. Casey Hinson
153. Gregory Crater
166. Dakota Tedder
170. Michael Leib
175. Bruce Rutherford
187. Bryce Huffman
208. Donald Vawser
211. Tevin Tapia
212. Auston Albers
216. Jared Boothroyd
219. Ryan Rangel
222. Chris Howell
224. Heath Harrison
227. Cole Martinez
232. Billy Laninovich
247. Teddy Parks
276. John Jelderda
293. Brian Sjogren
311. Jesse Rangas
312. Teddy Maier
314. Alex Ray
329. Chad Gores
333. Cody Mackie         
337. Jeremy O'Driscoll
338. Zach Osborne
354. Chris Johnson
374. Cody Gilmore
377. Christophe Pourcel
383. Brandon Rangel
407. Adam Chatfield
409. Dillon Huddleston
412. Levi Kilbarger
415. Nicholas Schmidt
423. Brandon Gillespie
429. Richard Rinauro
435. Scott Agostini
447. Deven Raper
459. Conrad Weiland
464. Mitchel Alcorn
501. Scotty Wennerstrom
505. Sean Lipanovich
512. Jorge Bujanda
513. Danny Pacini
516. Brian Foster
536. Erik Meusling
546. Kevin Urguhart
565. Preston Mull
570. Beau Hudson
606. Ronnie Stewart
620. Brad Nauditt
643. Jake Oswald
647. Parker Eckman
652. Dustin Pipes
659. Justin Freund
668. Billy Jurevich
697. Kyle Goerke
670. Dylan Schmoke
702. Cameron Stone
707. Alex Millican
722. Adam Enticknap
726. Gared Steinke
727. Rhett Urseth
752. Bryce Stewart
758. Jason Potter
764. Cody Lee
771. Terren O'Dell
772. Robert Noftz
773. Walt Van Olden
774. Preston Tilford
792. Bracken Hall
793. Yuta Ikegaya
800. Mike Alessi
801. Jeff Alessi     
831. Ryan Smith
854. Landen Powell
865. Dario Marrazzo
870. Cyrille Coulon
887. Daniel Sanders
902. Jesus Macias
903. Antonio Balbi
906. Killian Auberson
915. Adrien Lopes
918. Michael Akaydin
919. Shawn Rhinehart
929. Travis Bell
943. Carlos Oros
952. Adam Conway
965. Travis Bright
968. Jackson Richardson
973. Jean Baptiste Marrone
976. Josh Greco
979. Jonathon Withrow  
986. Topher Ingalls
992. Jean Ramos
996. Filip Thuresson
997. Linus Sandahl
JUST SO YOU KNOW!


The bad economic times have not been kind to the motorcycle industry. Three years ago, motorcycle sales in the USA were over 1 million units (MIC numbers for street, dual sport, offroad and scooter sales). In 2011 the total motorcycle sales mark was down to 440,000 units. Because of the luxury, recreational and leisure nature of motorcycle ownership, motorcycle sales ebb and flow with the health of the economy. This is the ebb?we're waiting for the flow.