MXA'S TWO-STROKE TUESDAY: PROS ON THE SUBJECT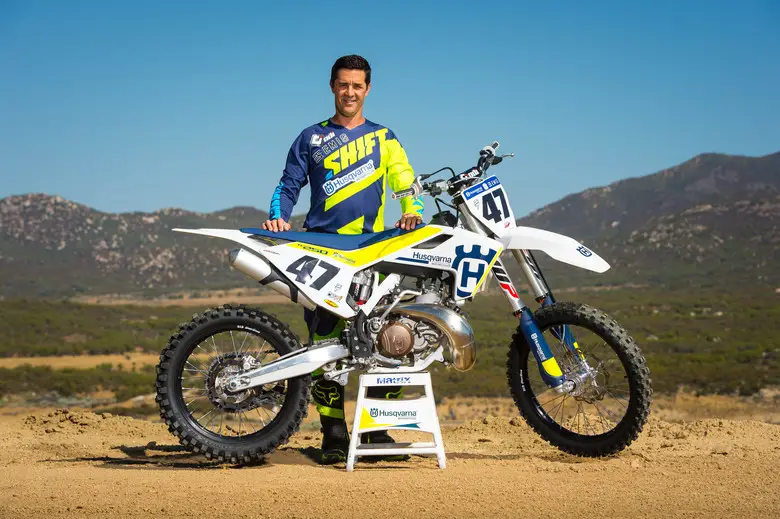 Jeff Emig with his fresh Husqvarna TC250.
Nowadays it seems that many Pros and ex-Pros long for the two-stroke era. Looking at the current crop of talent, it is odd to think that only the older guys in the sport ever raced professionally on a two-stroke. James Stewart, Davi Millsaps, Chad Reed and Mike Alessi are among the few that are still racing and started their careers in the pre-mix era. While riders like Ryan Dungey, Justin Barcia and Trey Canard are no longer the new kids on the block, they started their careers after the switchover was made.
The men who lived in the two-stroke era know how much better it was. A few months ago Mike Alessi stated that bringing two-strokes back would improve the sport. In a 2013 television interview Kawasaki brand ambassador (and the winningest Supercross racer of all-time) Jeremy McGrath bluntly stated that everyone should go back to riding two-strokes. It is now surprising that McGrath is the brand ambassador for a brand that doesn't even make two-strokes anymore.

It is hard to picture four-time AMA Champion Jeff Emig on anything but a Kawasaki. His golden years were on a green motorcycle and, until about a week ago, he had almost always been associated with the Japanese brand. His new brand is Husqvarna. The one remarkable thing about his announcement was his allusions to the two-stroke. All the photos show him with, or atop a Husqvarna TC250. Additionally, in his released quote, he specifically calls out the TC250. "What blast it was to jump on the all-new TC250 two-stroke!" states Emig. Of course, Emig is happy to have the opportunity to be the official brand representative of Husqvarna. It does seem that some of that enthusiasm for Husky (and parent company KTM) is focused on two-strokes.
Kawasaki may be best known for making some of the best four-strokes out there, but they did not exit the two-stroke market on a high note. The last iteration of their KX250 showed that their focus was on building four-strokes. Husqvarna is one of the few companies left that actively puts R&D into two-strokes–not just to keep the pre-mixers alive,  but to improve on them. Their efforts haven't fallen on deaf ears, as privateer Gared Steinke has been racing a TC125 in the AMA Nationals. Earlier this year factory Husqvarna riders Zach Osborne and Mike Brown attacked the hills of Glen Helen on Husky TC125s at the World Two-Stroke Championship. While it has a long way to go to get back to where it was, it seems obvious that two-strokes are backed by those who know the joy of wringing out a smoker.