TWO-STROKE TUESDAY: LANGSTON'S & HUGHES' 2003 KTM 125s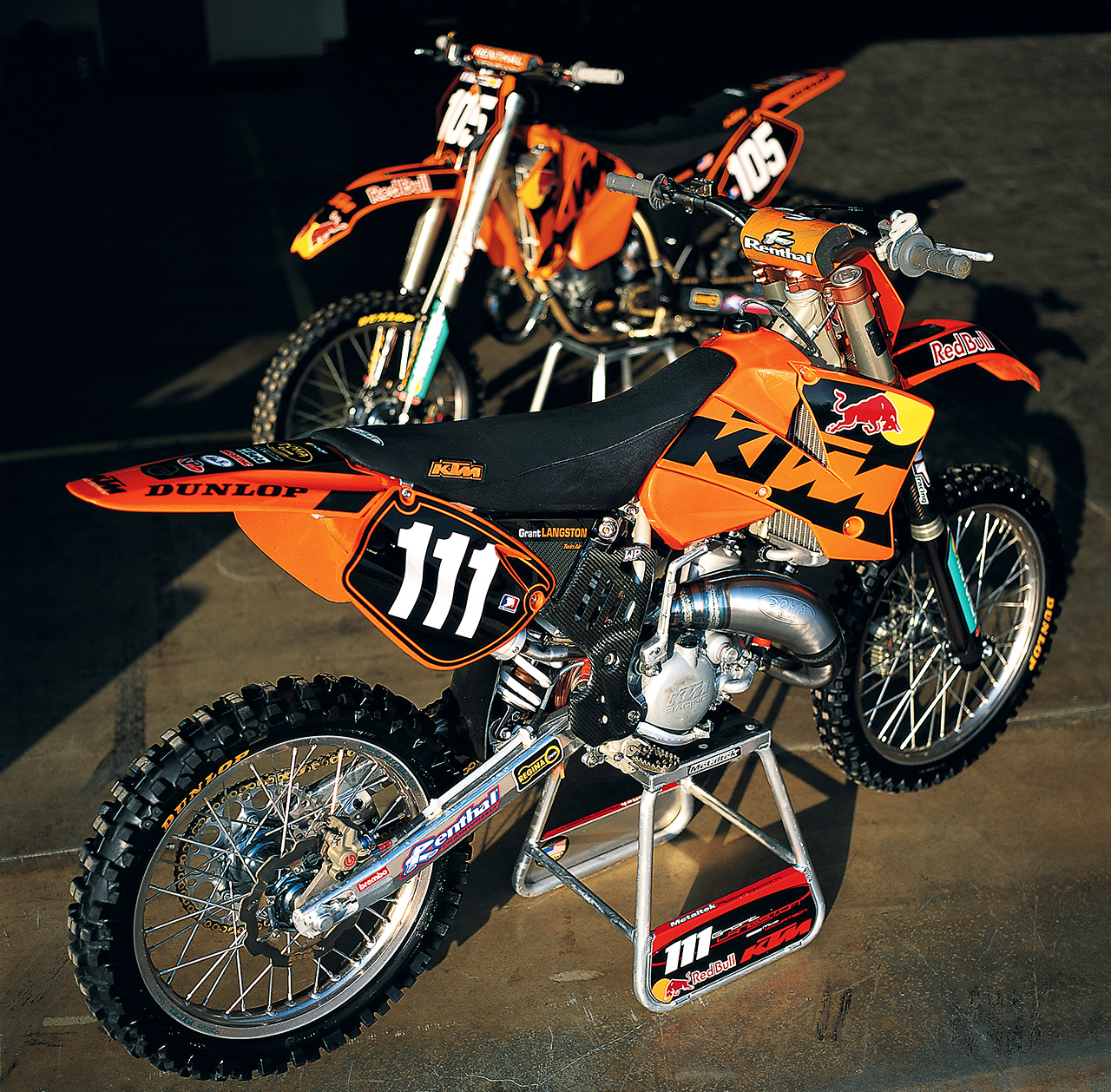 Grant Langston's factory KTM 125SX (111) and Ryan Hughes' bike (105).

KTM is one of a few brands that continues to show dedication to their two-stroke lineup. Such was the case in 2003. While most of the Japanese manufacturers were pumping serious R&D money into a four-stroke future, KTM held steadfast to their belief that two-strokes could still be competitive. That truth makes sense, given how KTM was late to the 250 four-stroke party.
By the first race in the 2003 AMA 125 National series it was anyone's game. James Stewart had crashed spectacularly in the Las Vegas 125 East/West shootout, resulting in a badly broken collarbone. Meanwhile, Grant Langston was nursing injuries also sustained in Supercross, while Ryan Hughes came out of retirement to compete in the suddenly wide-open race for the title. Little did anyone know how crazy the series would unfold, with run-ins and name calling between teammates Langston and Hughes, with the 2001 AMA 125 National Champ, Mike Brown, also in the mix. James Stewart would return to action at Budds Creek and captivate the racing world by unleashing the very first "Bubba Scrub." James would go on to sweep the rest of the motos–a perfect 14-for-14. The only problem? Stewart came up 30 points short. Instead the Championship battle was between between KTM teammates Grant Langston and Ryan Hughes. It went down to the wire. Langston led by seven points entering the final race of the year in Troy, Ohio–a race that was postponed earlier in the series due to flooding. Mother Nature unleashed her fury on Troy again, resulting in a cancelled race and a series title for Langston.
In 2003, MXA tested the factory 125SX bikes of Grant Langston and Ryan Hughes. While both were KTMs, they were vastly different from each other. Each featured a custom tailored powerband, and they put out a reported 40 horsepower. Grant Langston's powerband was easy and smooth from the bottom to the top, while Ryan Hughes' powerband jumped from the bottom to the mid. The suspension was wildly different, too. Langston's was soft, while Hughes' was very rigid.
The changes didn't end there. Langston ran very hard grips while Hughes' grips were soft. Langston's smooth powerband may partially be attributed to his Doma pipe. Hughes opted to ride with an FMF pipe. It was interesting to find that, once again, bike setup is only part of the package. Two different riders had vastly different setups on the same bike. One rider won the title (Langston), while the other was cursed by Mother Nature (Hughes).