MXA'S WEEKEND NEWS ROUND-UP: GLEN HELEN DECIDES NOT TO HOLD A NATIONAL IN 2019
GLEN HELEN WE HARDLY KNEW YE, PALA RACEWAY TO HOST ROUND TWO OF THE 2019 AMA NATIONALS

We can safely say that there will never be an AMA National track, this long, this big or this grand again. The National promoters and Glen Helen couldn't come to satisfactory financial terms for 2019 — this is a replay of what happened between the two parties in 2010 (when Glen Helen elected not to hold the National). Click on images to enlarge


Do you remember when the Glen Helen National track extended up and over the REM hills in the background? Glen Helen always had the longest lap times on the series at close to 3 minutes. Last year the National lap times were 2:40. The sanctioning body wants tracks with two minute lap times.

In the good old days, the Glen Helen National track went up and over REM's Mt. Whitney in both direction. Mt. Whitney was like a giant tabletop with 100 foot drops.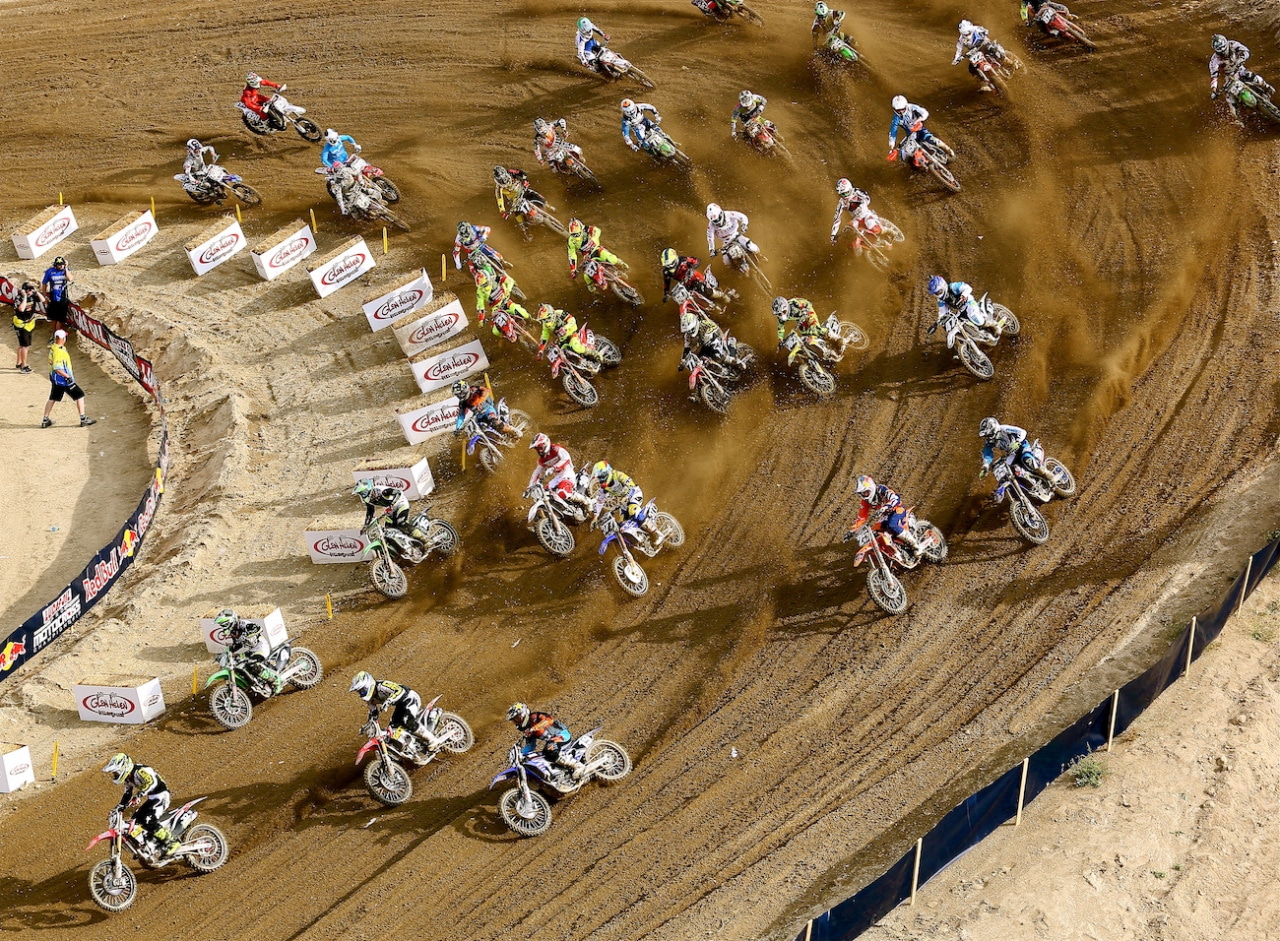 Glen Helen has the longest, fastest and steepest banked first turn in the sport. Name another first turn where the riders can navigate through it  8 abreast at full speed in fifth gear.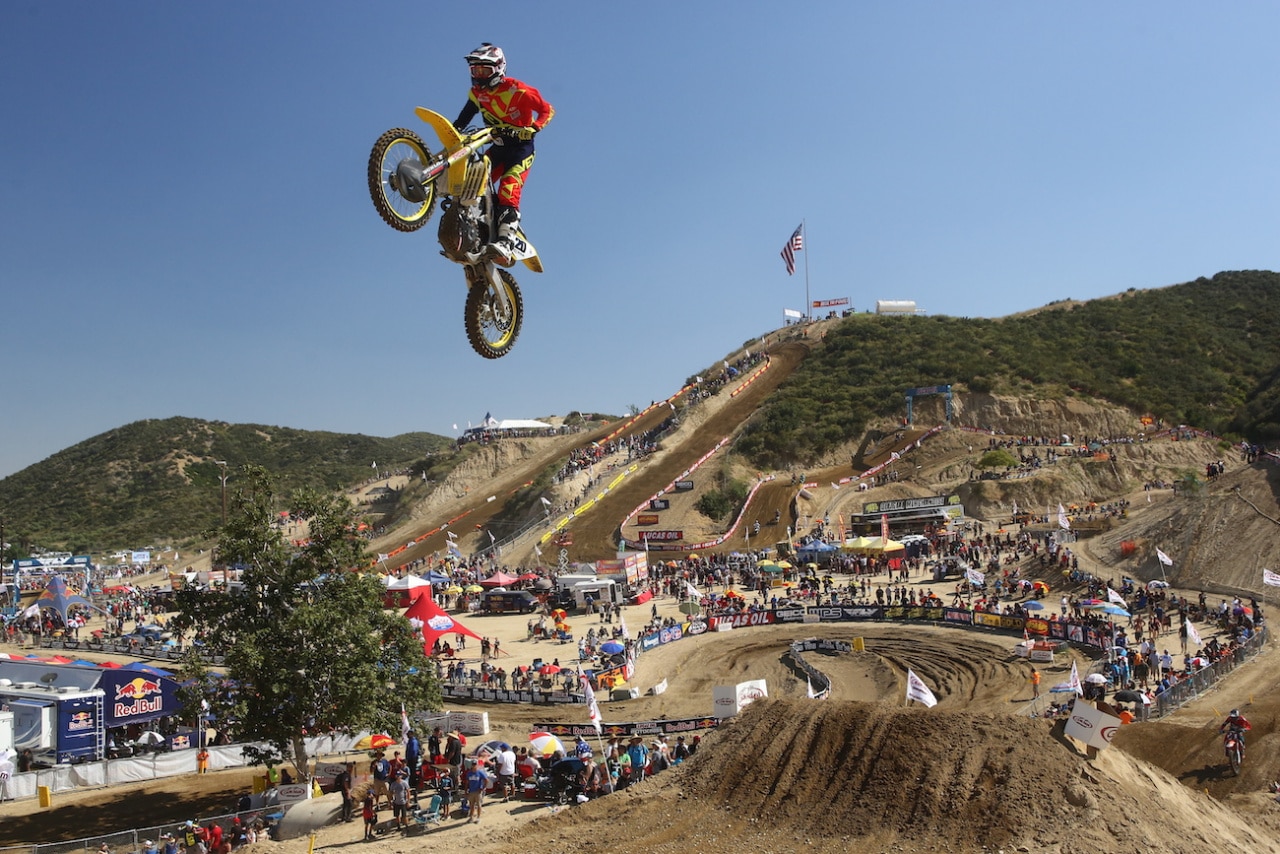 Looking for a little flight time. The Triple Step-Up never sent riders as far as the TV announcers said, but it wasn't for the faint of heart. In the background is the 22-story tall Mt. Saint Helen with its 40-foot American flag.
This is the Triple Step-Up in reverse.

For two years the Triple Step-Up was replaced with the Velodrome corner. It is the spot where Ryan Dungey pulled off the miracle pass on Ken Roczen by going wide open around the upper edge to make a pass in the next left.
Ken Roczen navigates through the sand section. The sand was trucked in from the dry riverbed on the other side of the REM hills. It took three days with three dump trucks running all day long.
Glen Helen doesn't look all that rough from a distance, but up close it is brutal.
Just so you know. Look at the spectators down below because this is how high up you have to jump to clear the Triple Step-Up.

GLEN HELEN FLASHBACK: RYAN DUNGEY PASSES KEN ROCZEN FOR THE WIN ON THE LAST LAP
THE GLEN HELEN YOU'VE NEVER SEEN ON TV
THE NBC-SPORTS TV SCHEDULE FOR THE TAPE DELAYED ANAHEIM II SUPERCROSS ON JANUARY 19


The Anaheim II Supercross will be shown taped delayed on NBC Sports at 11:00 p.m. Eastern time (that's 96:00 p.m. in the land of unlimited sun and racetracks) next Saturday night. Check your local schedules to be sure. Click on image to enlarge

WHO'S WHO IN AMA SUPERCROSS POINTS AFTER TWO ROUNDS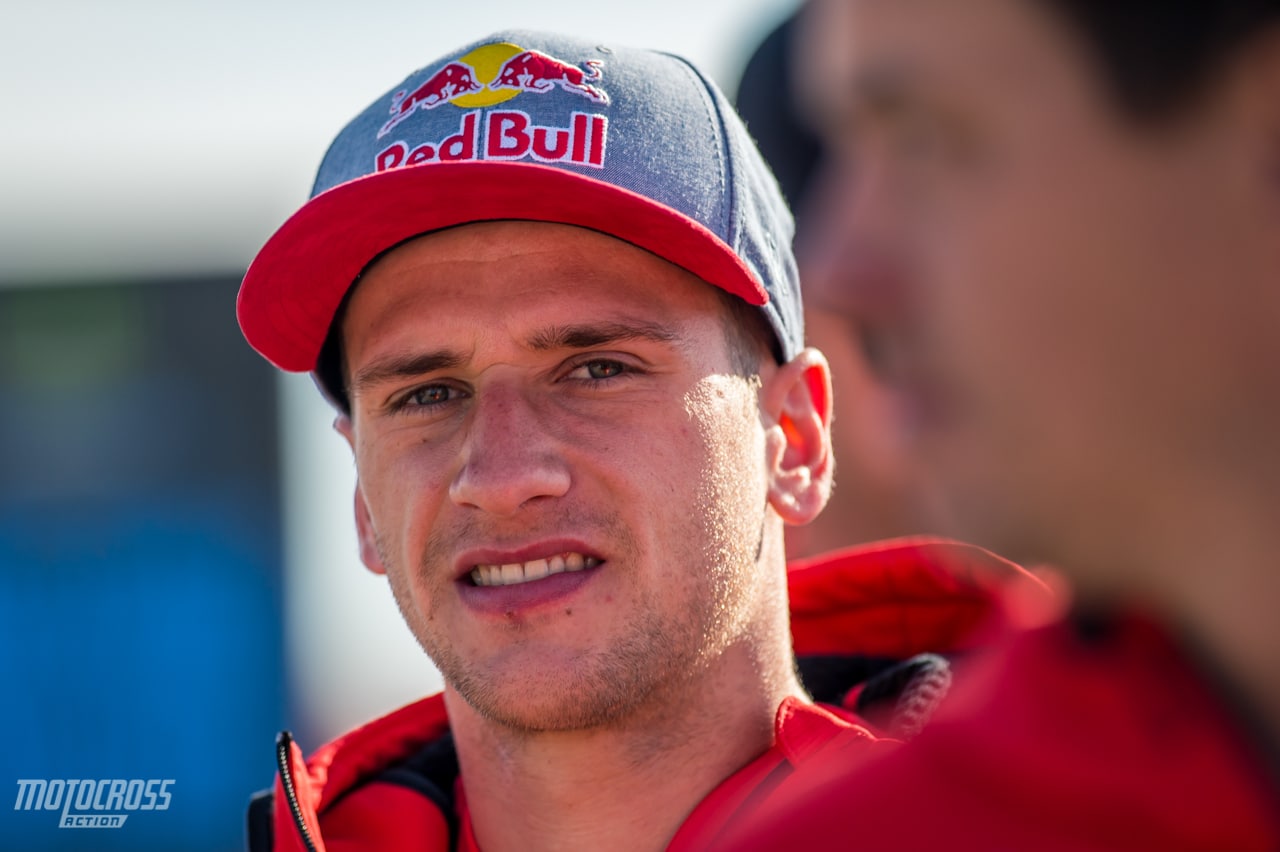 Ken Roczen leads Justin Barcia by 1 point, Eli Tomac by 4, Blake Baggett by 7,  Dean Wilson by 10, Marvin Musquin by 11, Jason Anderson by 12 and Cooper Webb by 13. Unfortunately for Justin Hill, injured Malcolm Stewart, Justin Bogle and Joey Savatgy, they are already one full race behind after only two races.

CURRENT AMA 450 SUPERCROSS POINTS STANDINGS
(After 2 of 17 rounds)
1. Ken Roczen (Hon)…44
2. Justin Barcia (Yam)…43
3. Eli Tomac (Kaw)…40
4. Blake Baggett (KTM) , 37
5. Dean Wilson (Hus)…34
6. Marvin Musquin (KTM) , 33
7. Jason Anderson (Hus)…32
8. Cooper Webb (KTM) , 31
9. Aaron Plessinger (Yam)…29
10. Justin Brayton (Hon)…28
11. Cole Seely (Hon)…27
12. Chad Reed (Suz)…23
13. Vince Friese (Hon)…21
14. Justin Hill (Suz)…18
15. Malcolm Stewart (Hon)…17
16. Justin Bogle (KTM) , 12
17. Carlen Gardner (Hon)…11
18. Ben Lamay (Hon)…9
19. Kyle Chisholm (Suz)…8
20. Joey Savatgy (Kaw)…7

Colt Nicholls has a 5 point lead over Adam Cianciarulo.
CURRENT AMA 250 WEST SUPERCROSS POINTS STANDINGS
(After 2 of 10 rounds)
1. Colt Nichols (Yam)…49
2. Adam Cianciarulo (Kaw)…44
3. Shane McElrath (KTM)… 42
4. Dylan Ferrandis (Yam)…40
5. R.J. Hampshire (Hon)…38
6. James Decotis (Suz)…34
7. Garrett Marchbanks (Kaw)…31
8. Chris Blose (Hus)…30
9. Cameron Mcadoo (Yam)…24
10. Jess Pettis (KTM)…24
11. Michael Mosiman (Hus)…24
12. Sean Cantrell (KTM)…22
13. Jacob Hayes (Yam)…21
14. Martin Castelo (Suz)…17
15. Jerry Robin (KTM) , 12
16. Enzo Lopes (Suz)…10
17. Robbie Wageman (Hon)…10
18. Justin Starling (Hus)…9
19. Dylan Merriam (Hus)…8
20. Matthew Jorgensen (KTM)…6
2019 SUPERCROSS WINNERS AT A GLANCE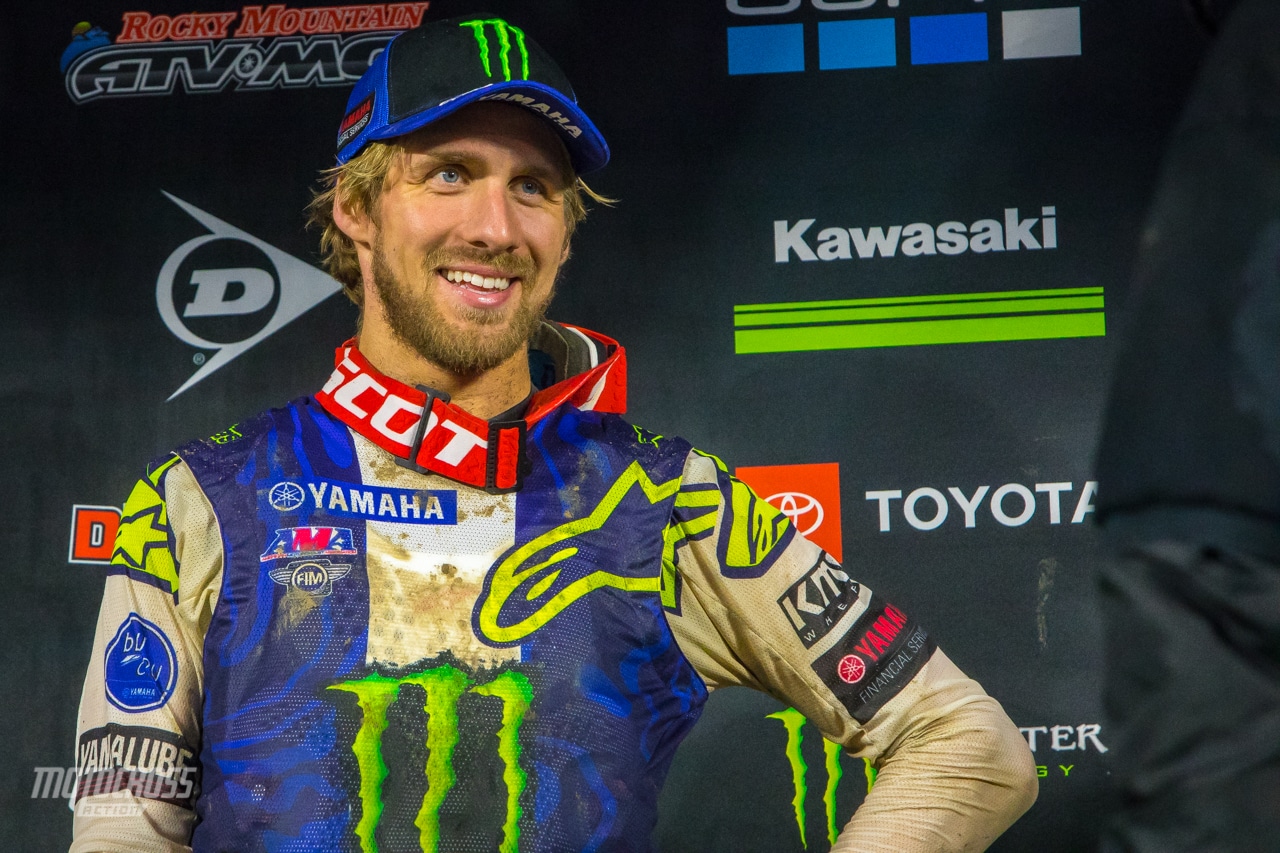 Justin Barcia won his first AMA Supercross in six years—putting a punctuation mark on his rise from the ashes.
Date           Venue                                              450                       250
Jan. 5……..Anaheim, CA………………..Justin Barcia…….Colt Nichols
Jan. 12…..Glendale, AZ…………………Blake Baggett….Adam Cianciarulo
Jan. 19…..Anaheim, CA…………………
Jan. 26…..Oakland, CA………………….
Feb. 2……San Diego, CA………………..
Feb. 9…….Minneapolis, MN…………
Feb. 16…..Arlington, TX……………….
Feb. 23….Detroit, MI……………………
Mar. 2……Atlanta, GA……………………
Mar. 9……Daytona Beach, FL………
Mar. 16…Indianapolis, IN…………….
Mar. 23….Seattle, WA…………………..
Mar. 30……Houston, TX………………
Apr. 6……..Nashville, TN……………….
Apr. 13……Denver, CO…………………
Apr. 27……East Rutherford, NJ…
May 4……..Las Vegas, NV……………
450 Points leader…Ken Rozen (Hon)
250 West points leader…Colt Nicholls  (Yam)
MXA'S AD OF THE WEEK: "WE DON'T NEED NO STINKIN' SHIFTER"
The 1986 Husqvarna 430 Auto was the last year that Husky produced its creative automatic transmission enduro bike. Raced to great effect by Terry Cunningham and Bob Popiel in offroad racing, the only notable Husky Auto motocross racers were Bo Edberg in the 1982 500 GPs and Arlo Englund in the early 1970s.
BIRTHDAYS OF THE STARS: DONNY, PAULS, DAVE & CARLA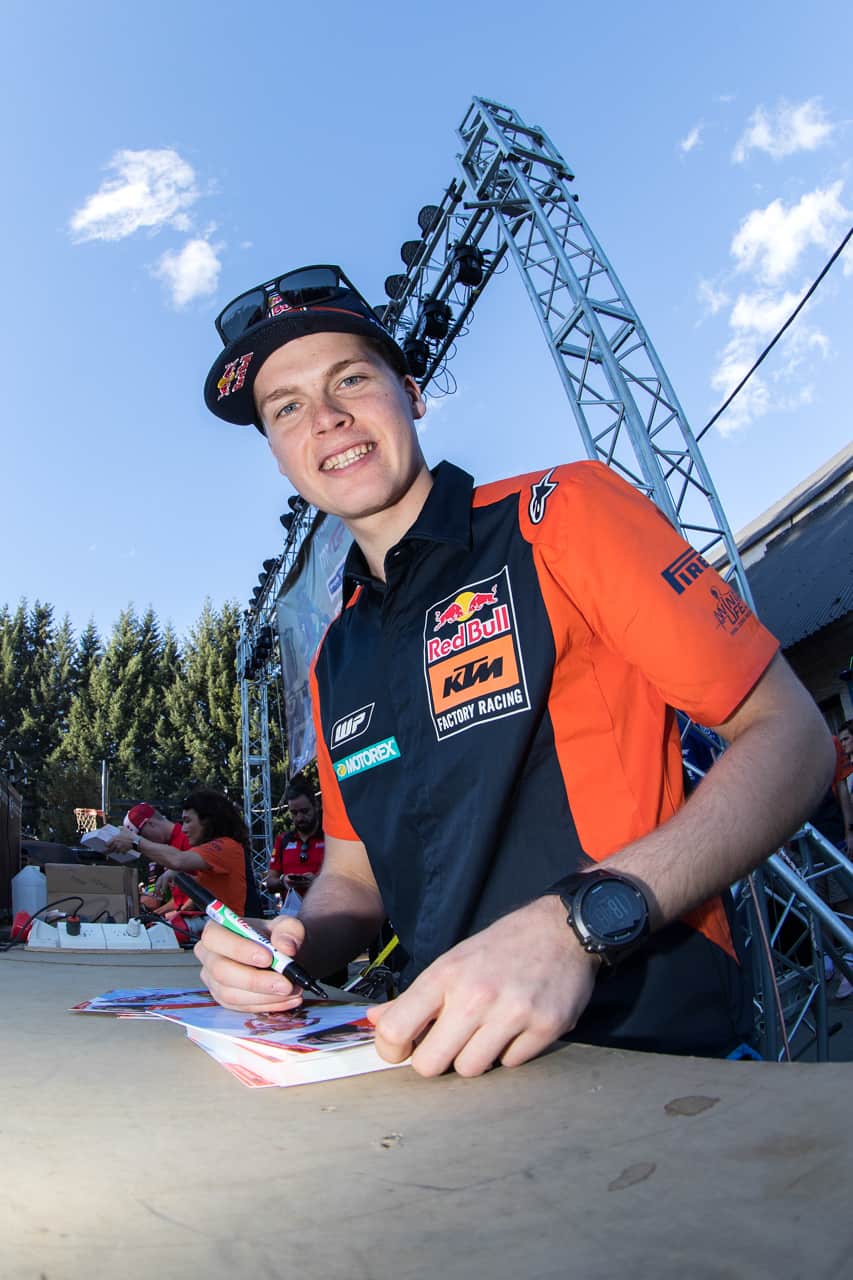 Jan. 13…Pauls Jonass 1997
Jan. 14…Rob Salcedo

Jan. 15…Martin Davalos 1987
Jan. 15…Alessandro Lupino 1991

Jan. 15…Hakan Carlqvist 1954
Jan. 15…Austin Squires 1973
Jan. 15…Brent van Donink 1996
Jan. 16…Ryan Mills 1986

Jan. 17…Dave Bickers 1938
Jan. 17…Loic Larrieu 1991

Jan. 17…Donny Schmit 1967
Jan. 18…Mike LaRocco Sr.

CLASSIC MXA TEST RIDER PHOTOS: A TWO-FER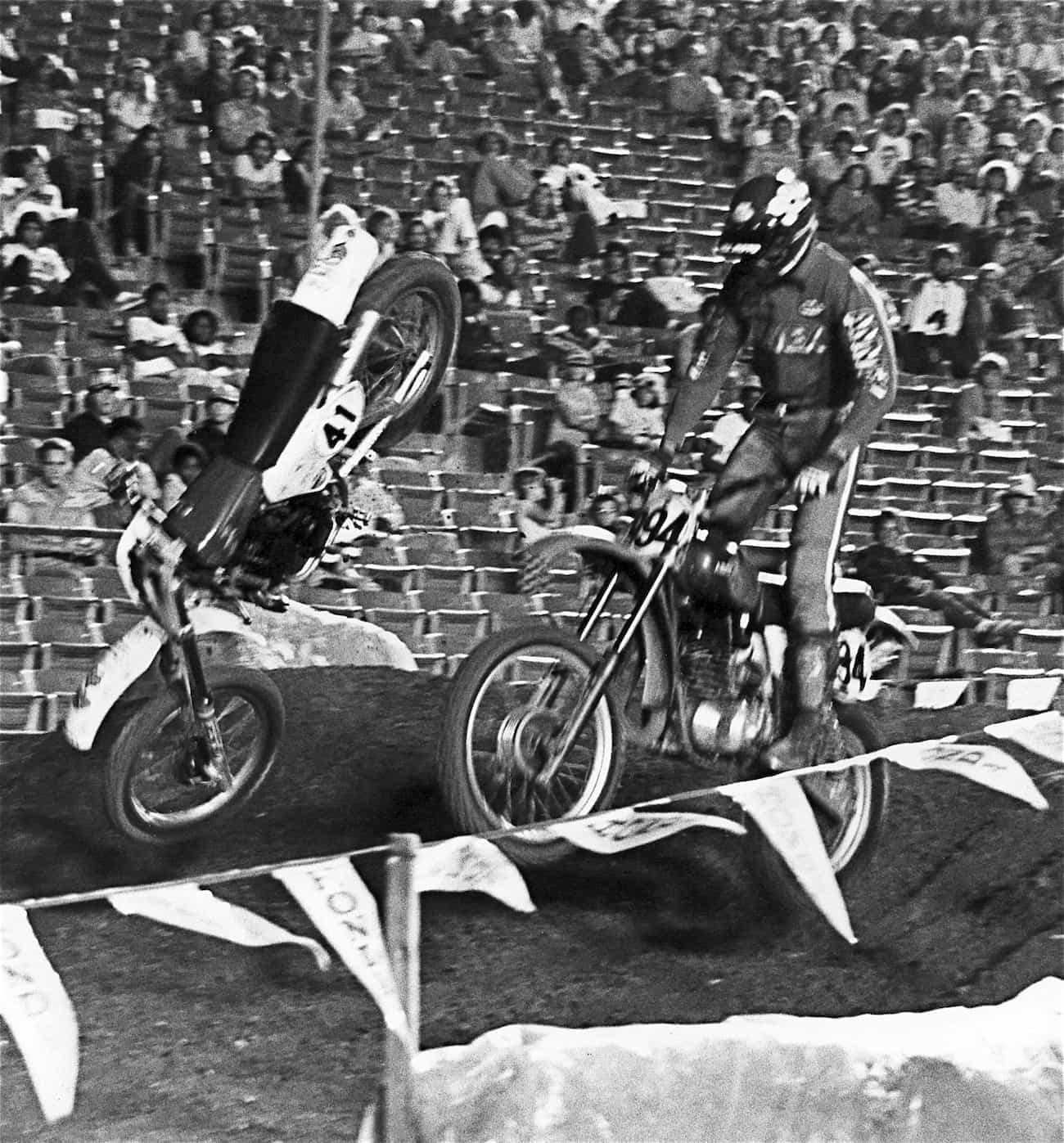 This is a two-for-one MXA test rider crash. Ammex's Gary Jones (right) and brother-in-law Clark Jones (41) are captured together at the 1982 Superbowl of Motocross. Both were MXA test riders. After retiring Clark went on to start Noleen Racing, while Gary's Ammex brand went belly-up when the peso was devalued.
28TH ANNUAL MECUMS VINTAGE MOTORCYCLE AUCTION IN LAS VEGAS ON JAN. 22-27, 2019
For more information go to www.mecum.com
MXA VIDEO: WATCH THE 2019 KAWASAKI KX250 IN ACTION
AMA RULE OF THE WEEK: CALL THIS THE CIANCIARULO RULE
The rule forbidding outside assistance has always been in effect. It means that no one, but an AMA official or flag marshal, can help a rider with his bike outside of the Signal Area or up to the holeshot line on the first lap (to clear first turn carnage).  This rule is hard and fast and has been enforced many times. What has been added to this rule in the past few years is the final stanza, which says that "medical treatment" will be considered outside assistance. This rule was brought into effect when Adam Cianciarulo dislocated his shoulder at the 2014 Toronto Supercross. He stopped by the side of the track and the Asterisk Medical Crew popped his shoulder back in place for him. Then, a lap later, it popped out again. This AMA rule was instituted to stop injured riders from continuing in a race with an injury—especially an injury severe enough to require treatment by the trackside medical personnel. Thus, if the medical crew works on you, in any way, you are out of the race.
THE WAY WE WORE: THE COOL GARB OF 1973
Six-time 250 World Champion Joel Robert is wearing all-leather Sidi boots with his socks rolled over the top. His pants are 100% goat skin. His gloves have rubber strips on them to protect his knuckles. His chest protector is a Hallman GP and his helmet is an open-face Bell with  duct tape on the visor.
MXA TEAM TESTED: VP RACING'S T2 PRE-MIXED TWO-STROKE FUEL
VP Racing Fuels' T2  is a two-stroke racing fuel that is already pre-mixed with oil. It requires no mixing; just pour and go. T2 is a leaded fuel with a 105-octane rating (R+M/2). This is more than sufficient to provide all modern two-strokes with protection against detonation. T2 vaporizes better, burns cleaner, contains no ethanol and remains stable in a sealed container for up to two years. It should be noted that VP Racing's T2 is formulated for modern water-cooled two-strokes. If you own an air-cooled two-stroke, please stick with VP's C12 two-stroke fuel. C12 has a 113-octane rating and is recommended for compression ratios as high as 15:1. It is the go-to gas for ported, milled and air-cooled engines.
T2 is pre-mixed at a 40:1 ratio with a top-quality, JASO FD-rated, certified premium, two-stroke oil. Although VP does not say what two-stroke oil it uses in the T2 mixture, we would bet the pre-mix oil is Maxima and the fuel is VP Racing's VPR fuel. With 5 gallons of premium pump gas going for around $20.00 and a liter of pre-mix running $15.00, T2 retails for about $30.00 more than 5 gallons of conventional 91-octane fuel. The price is not comparable, however, because T2 does not contain any ethanol (pump gas contains at least 10 percent), and the octane rating of T2 is 14 points higher than premium pump gas. Plus, T2 is prepackaged in a metal container and has a life span of two years (while pump gas goes bad in a couple of weeks).
Thanks to its oxygen content and high octane rating, T2 produced more power in our KTM 250SX, Husky TC250 and Yamaha YZ250. Although the gains were modest across the board, the engine ran crisper. Pinging under a load was totally eliminated, and throttle response was better. The T2 offered a degree of consistency that pump gas can never guarantee. Consistent performance is especially important for riders on the road to far-away race events where they have to buy gas from strange stations. Although we didn't have to re-jet for our mildly modified engine, it would be a good idea to carry a one-size-larger main and pilot with you to the track to deal with changing temperature and humidity conditions.
DIGITS:  $73.00 in 5-gallon containers— www.vpracingfuels.com or (210) 635-7799.
MXA RATING: The decision to buy race gas for your smoker should be based on whether you want the power increase more than you want the money.
THIS WEEK'S OLD SCHOOL SCRAMBLES RESCHEDULED TO JANUARY 26 BECAUSE OF RAIN THREAT
With a 70% chance of rain this weekend, the Old School Scrambles race has been moved to January 26. For more information go to www.oldschoolscramblesracing.com
FIRST RIDE FREE AT OLD SCHOOL SCRAMBLES ON JAN. 26

SUBSCRIBE TO MXA & GET A $25 CHAPARRAL GIFT CARD—YOU MAKE A PROFIT BY READING MXA

If you subscribed to Motocross Action, the February 2019 issue of MXA would be in your mailbox, computer or iPhone now.
It is jam-packed with bike tests, product reviews and moto-info. Not only do we have the 2019 MXA 250 Four-Stroke Shootout in this issue, but 2019 Husqvarna FC350 test , 2019 Yamaha YZ250 two-stroke test,  a retro-test of Chad Reed's 2002 L&M Yamaha YZ450F and a 2019 Honda CRF250 test. Plus, a test of Carson Brown's Straight Rhythm winning Husky TC125 two-stroke and Austin Forkner's 2019 AMA 250 East Supercross KX250 four-stroke. Not to mention giant coverage of the World Vet Championship.
Do you subscribe to MXA? You should. We know that you think that print magazines are dead and that the internet will fill the void, but most of the stuff in the current issue of MXA won't appear on the web for several months, if at all. Luckily, you can get all of MXA on your iPhone, iPad, Kindle or Android by going to the Apple Store, Amazon or Google Play or in a digital version. Even better you can subscribe to Motocross Action and get a $25 Chaparral gift card to spend on whatever motorcycle parts or products you need. You can call (800) 767-0345 or go to www.hi-torque.com/product/motocross-action-holiday or click on the box at the bottom of this page.
2019 MX 250 SHOOTOUT: HOW THEY RANK FROM ONE TO SIX
BIKES YOU NEVER SEEN BEFORE: 1980 GORI MX250 
Ever heard of a Gori? Ever seen a Gori? Now you have.
Moto-Gori was founded by Giancarlo Gori in 1968. Moto Gori's first bikes were 50cc offroad motorcycles with motocross, enduro and trials bikes to follow. In 1978, SWM motorcycles bought into Moto-Gori and the name was changed to just Gori. The SWM collaboration gave Gori access to SWM-tuned Rotax engines to replace their previous Sach powerplants. The bike above is a 1980 Gori MX250 with a rotary-valve Rotax engine. Gori made 125, 250 and 406cc models.
Moto-Gori dabbled in road racing in 1975 with the Gori 125 Valli powered by Sach engine.
The Gori brand disappeared in the late 1980s—along with the original SWM brand. The most famous of the Gori factory riders was Gilbert De Roover. DeRoover would finish second in the 1975 125 World Championships on a Zundapp behind Gaston Rahier's Suzuki.
MALCOLM SMITH'S "NO WIMPS IN BAJA" TOUR ON JAN. 27 TO FEB. 1
To register or get more info go to www.malcolmsmithadventures.com
YOU GOTTA KNOW THE TRUTH: 2019 MXA 450 SHOOTOUT VIDEO
WHERE YOU'LL BE IN THE FUTURE: 2019 RACE SCHEDULE


Join the crowd in Phoenix this Saturday night.

2019 AMA SUPERCROSS SERIES
Jan. 5…………………………….Anaheim, CA
Jan. 12………………………….Glendale, AZ
Jan. 19………………………….Anaheim, CA (3-moto race)
Jan. 26………………………….Oakland, CA
Feb. 2……………………………San Diego, CA
Feb. 9…………………………..Minneapolis, MN
Feb. 16………………………….Arlington, TX
Feb. 23………………………….Detroit, MI (3-moto race)
Mar. 2……………………………Atlanta, GA (250 E/W Shootout)
Mar. 9……………………………Daytona Beach, FL
Mar. 16………………………….Indianapolis, IN
Mar. 23………………………….Seattle, WA
Mar. 30………………………….Houston, TX (3-moto race)
Apr. 6……………………………Nashville, TN
Apr. 13………………………….Denver, CO
Apr. 27………………………….East Rutherford, NJ
May 4……………………………Las Vegas, NV (250 E/W Shootout)
2019 AMA NATIONAL CHAMPIONSHIP
May 18……………………Hangtown, CA
May 25.…………………..Pala, CA
June 1..……………….….Thunder Valley, CO
June 15..…………………Mt. Morris, PA
June 22.………………….Jacksonville. FL
June 29..…………………Southwick, MA
July 6.………………….….Red Bud, MI​
July 20.……………………Millville, MN​
July 27.……………………Washougal, WA
Aug. 10..………………….Unadilla, NY​
Aug. 17..………………….​Budds Creek, MD
Aug. 24.…………………..Crawfordsville, IN
2019 FIM MOTOCROSS WORLD CHAMPIONSHIP
Mar. 3…………………… Argentina (fly-away)
Mar. 24……………………England
Mar. 31……………………Holland
Apr. 7……………….……..Italy #1
May 1……………………..Shanghai (fly-away)
May 12……………………Italy #2
May 19…………………..Portugal
May 26……………………France
June 9…………………….Russia
June 16…………………..Latvia
June 23…………………..Germany
July 7………………………Indonesia #1 (fly-away)
July 14……………………Indonesia #2 (fly-away)
July 28……………………Czech Republic
Aug. 4………………….….Belgium
Aug. 18……………………Italy #3
Aug. 25…………………..Sweden
Sept. 8……………………Turkey
Sept. 22…………………..Hong Kong (fly-away)
2019 MOTOCROSS DES NATIONS
Sept. 29…………………………….Assen, Holland
2019 WORLD OFF-ROAD CHAMPIONSHIP (WORCS)
Jan. 18-20……………………….Primm, NV
Feb. 1-3……………………………Glen Helen, CA
Mar. 1-3…………………………..Lake Havasu, AZ
Mar. 22-24………………………Peoria, AZ
Apr. 12-14……………………….Las Vegas, NV
May 24-26………………………Mesquite, NV
Aug. 2-4…………………………..McCleary, WA
Sept. 13-15…………………….Glen Helen, CA
Oct. 4-5…………………………..Milford, CA
Nov. 15-17………………………Las Vegas, NV
2019 WORLD TWO-STROKE CHAMPIONSHIP
April 20………………………….Glen Helen
2019 MAMMOTH MOUNTAIN MOTOCROSS
June 21-30………………………..Mammoth Lakes, CA
2019 CANADIAN NATIONAL CHAMPIONSHIP
June 1……………………………..Wild Rose, AB
June 8……………………………..Blackwater, BC
June 15……………………………McNabb Valley, MB
July 13…………………………….Gopher Dunes, ON
July 20…………………………….San Del Lee, ON
July 27…………………………….Riverglade, NB
Aug. 3……………………………..Deschambault, QC
Aug. 17……………………………Walton, ON
2019 AMA NATIONAL AMATEUR CHAMPIONSHIP
July 29-Aug. 3………………….Loretta Lynn, TN
2019 BRITISH ARENACROSS CHAMPIONSHIP
Jan. 18-19………………………….Belfast, Irl
Feb. 1-2……………………………..Birmingham, GB
Feb. 15-6…………………………..Sheffield, GB
2019 BRITISH NATIONAL CHAMPIONSHIP
Mar. 10……………………………FatCat
Apr. 14…………………………….Lyng
May 5……………………………..Canada Heights
June 2…………………………….Blaxhall
June 30…………………………..Desertmartin
July 21……………………………Hawkstone Park
Aug. 11……………………………Foxhill
Sept. 15………………………….Landrake
2019 AMA VINTAGE MOTORCYCLE DAYS
July 5-7…………………………….Lexington, Ohio
2019 AMA NATIONAL AMATEUR CHAMPIONSHIP
July 29-Aug. 3………………….Loretta Lynn, TN
2019 RYAN VILLOPOTO AMATEUR MOTOCROSS CUP
Aug. 22-25………………………..Grays Harbor, WA
2019 GERMAN MX MASTERS CHAMPIONSHIP
April 14…………………………….Princely Drehna
June 2………………………………Moggers, Austria
June 30…………………………….Molln
July 21……………………………..Tens
Aug. 11…………………………….Gaildorf
Sept. 1……………………………..Biel
Sept. 15……………………………Wood Gerlingen
2019 MONSTER ENERGY CUP
Oct. 21……………………………..Las Vegas, NV
2019 WORLD VET CHAMPIONSHIP
Nov. 2-3……………………………..Glen Helen, CA
FOLLOW MXA ON TWITTER
Follow us to see fresh content every day at www.twitter.com/MXAction or on twitter at "MXAction."
TALK MOTO WITH ON MXA'S FACEBOOK GROUP CHAT

We love everything moto and want to bring all moto junkies together into one place to share their two cents, ideas, photos, bike fixes, bike problems and much more. To check it out first you must need to or already have a Facebook account. If you don't, it isn't much work and you could even have an alias so nobody knows it is you. To join click HERE. After you request to join we will accept your request shortly after.
MXA'S SNAP CHAT FEED
If you are a Snap Chat user then add us to your stories. Get sneak peaks of everything moto. Our Snap Chat name is motocrossaction. Or just take a Snap of the picture above and it will add MXA automatically to your feed.
Photos: Debbi Tamietti, Jon Ortner, Ketchup Cox, Brian Converse, Jody Weisel, Travis Fant, Daryl Ecklund, MXA, MXGP