MXA'S WEEKEND NEWS ROUND-UP: GREAT CAUSES, GREAT FORK GUARDS & GREAT PHOTOS
4th ANNUAL JERSEY NELSON MOTOCROSS SCHOOL ON DECEMBER 19 AT PALA


The 4th Annual Jessy Nelson MX School will  be held on Thursday, December 19 at Pala Raceway. Riders of all ages and skill levels get the opportunity to learn from some of the nation's top motocross/Supercross riders. The proceeds from this event will go to benefit Jessy Nelson and Micky Dymond.
Jessy Nelson, Cole Seely, Broc Tickle, Blake Savage, Weston Peick, Jeff Ward, Doug Dubach and Carlen Gardner are among the coaches. The event will kick off with registration and breakfast, followed by riding with their coaches from 10:00 a.m. to 12:20 p.m. There will be a catered lunch at 12:25 p.m. Riding resumes from 1:30 to 3:55 p.m. followed by an information-packed Q&A session.
The school will be capped at 100 entries at $150 donation. The donation provides the complimentary breakfast, lunch, swag bag and helpful Troy Lee Designs/Red Bull KTM Factory Racing mechanics. For more details or to register for the 4th Annual Jessy Nelson MX School, please Click Here.
RED BULL "DAY IN THE DIRT" STARTS ON FRIDAY, NOVEMBER 29, AT GLEN HELEN

For more info go to www.dayinthedirt.com.
2019 AUS-X OPEN SUPERCROSS TRACK DESIGN FOR THIS SATURDAY NIGHT


The final round of the AUS-X Open Supercross will be held in the Marvel Stadium in Melbourne on Saturday night (which is Friday night in North America). Marvel Stadium has a very large playing field that should have room for a full-blown AMA-style Supercross track. Note the Joker lane, called the "Repco Shortcut," which will allow riders the opportunity to take advantage of the shortened lane just once across the triple crown main event format. The event will feature Chad Reed, Jason Anderson,Joey Savatgy, Justin Brayton and Australian teenager Jett Lawrence making his first ever Supercross start.
INSIDE ADAM CIANCIARULO'S MONSTER CUP WINNING KAWASAKI KX450
DEBBI TAMIETTI ON WHY SHE PUT HER PHOTOS ON A WEBSITE
MXA is very proud of Debbi Tamietti. She spent most of her moto-life taking care of her racer husband, Val Tamietti. Val was a well-known star on the SoCal circuit and a multi-time CMC Number One from Saddleback in the 1980s. Val quit racing for many years ago, and Debbi had a different life until friends urged Val to make a comeback a few years ago—and Debbi came along. But, she didn't want to just sit in a lawn chair while Val raced, so she bought a camera and started shooting photos at the races. It turns out that she had a good eye, incredible determination and a work ethic that astonished all the local racers. Debbi would shoot photos at the REM races, go home and process them, send the best ones to MXA for the weekly "REM Race Report," spend another hour sending photos, for free, to all the riders that ask her to shoot their photo and she would get to bed around 2:00 a.m.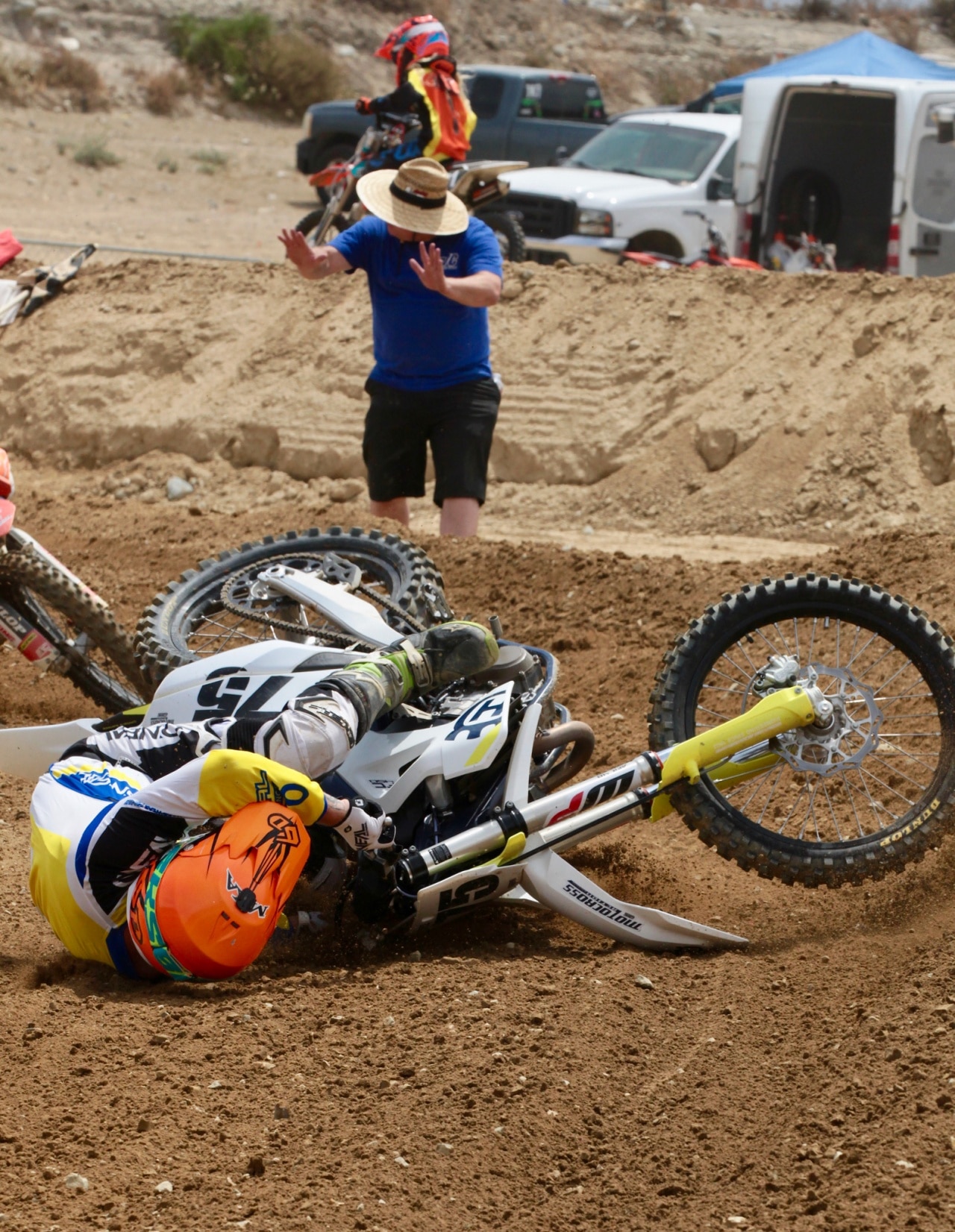 Debbi is always where the action is—here she captures MXA's Josh Fout in an amazingly barrel roll. Josh hits the ground hard, but…Photo: Debbi Tamietti

When his Husqvarna flips up and over, he refuses to let go.Photo: Debbi Tamietti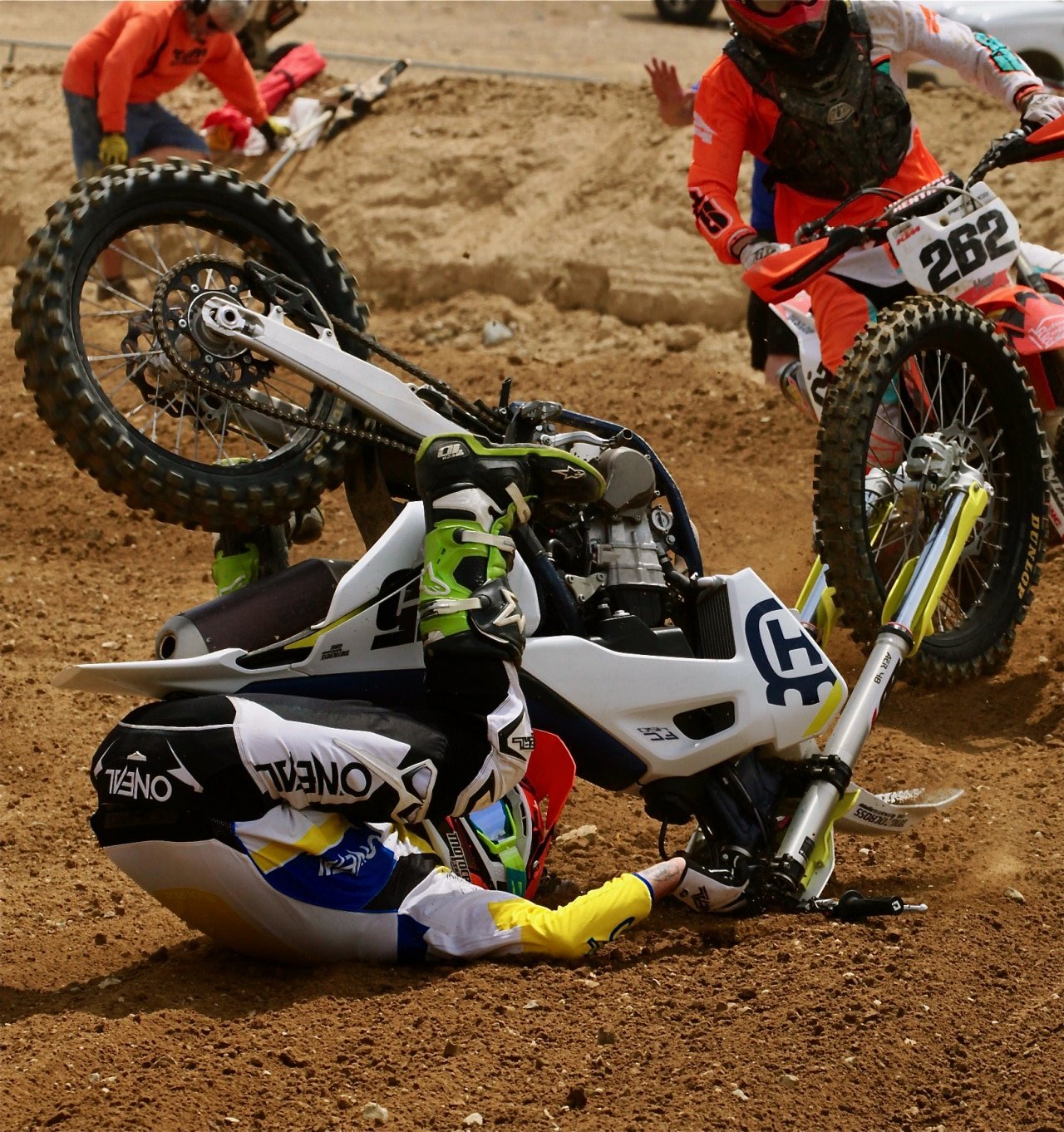 In the final frame Josh ends up completely upside down. He was unhurt, crawled out from under his bike and continued on. Photo: Debbi Tamietti
It is what she loved to do—and she has shot AMA Nationals, Grands Prix, Motocross des Nations, World Two-Stroke Championships, World Vet Championships and lots of special events. Three weeks ago, Debbi opened up a SmugMug Photo website so that she could post her photos for everyone who was at the races to see—and they could buy digital prints, for ridiculously low prices, of themselves racing. She knows from experience that every racer wants to have photos doing what he loves—and Debbie wanted to provide them. At the moment, her website has photos from the World Vet Championship on November 3 (which she thought was important to put up so that the riders from the 25 countries at the World Vet could get a photo memento) and from the last three REM Glen Helen races. REM is special to Debbi because that is where Val made his return to racing after 20 years off and where she got her start as a moto-photographer.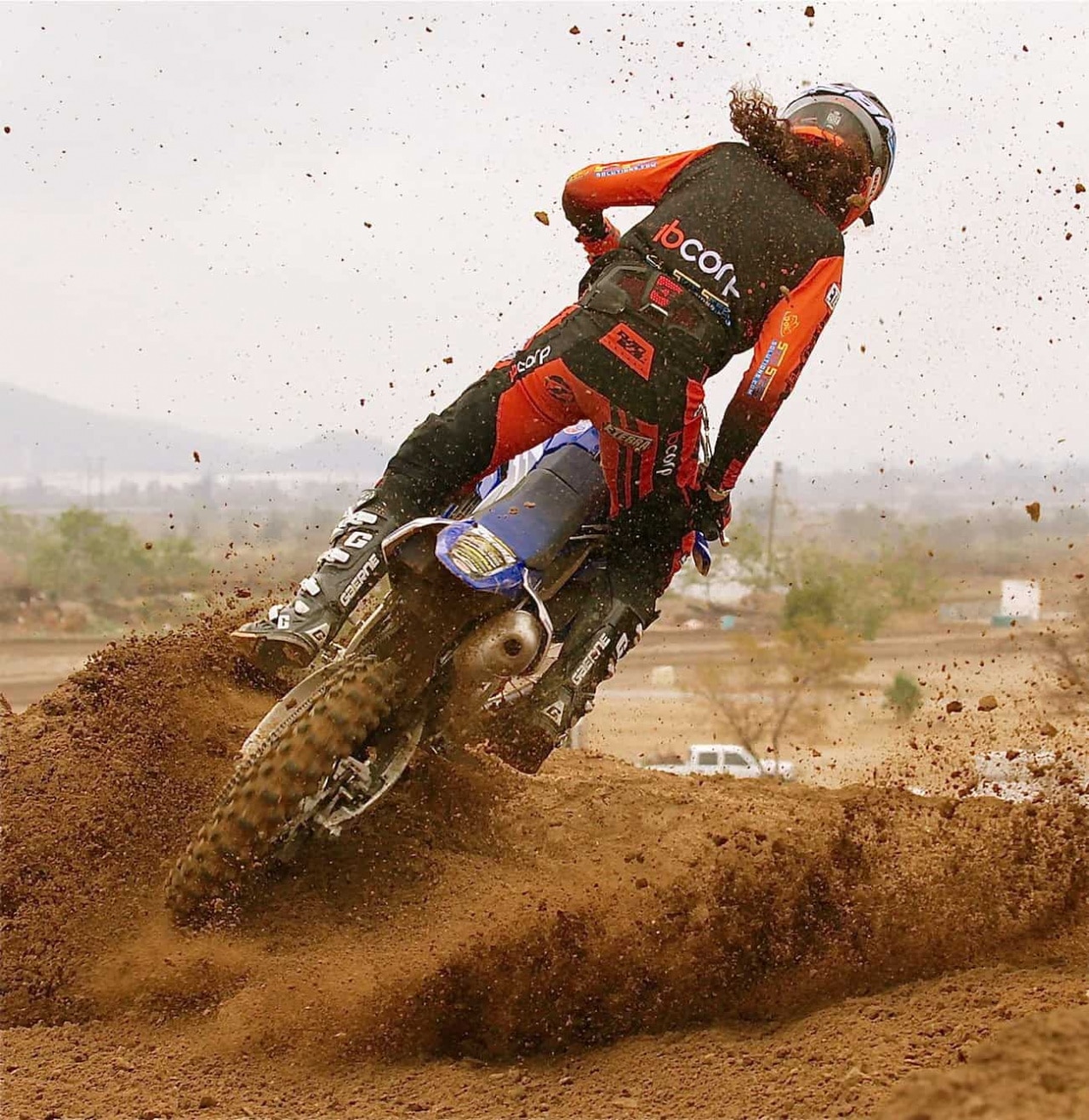 Debbi has the knack for being where the action is. Here, Blake Wharton hammers the throttle even though he has missed this turn and is headed over the berm.  Photo: Debbi Tamietti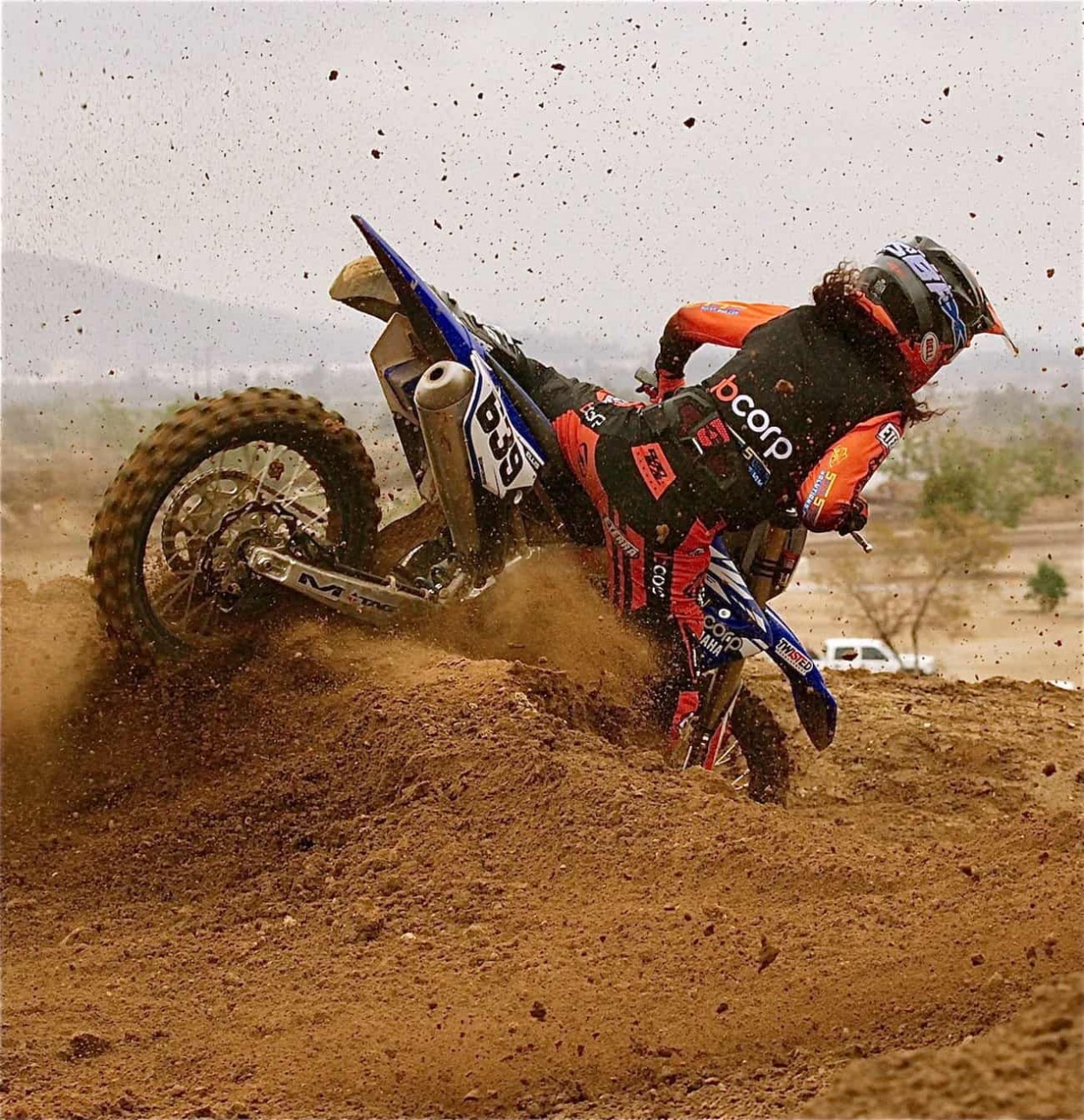 It's over for Blake, but he won't let go. Blake hangs on as his YZ450F augers in the to the right. Photo: Debbi Tamietti.

Amazingly, Blake hangs on for dear life and side saddles back to vertical. Photo: Debbi Tamietti
We wanted to know why she started www.debbitamietti.smugmug.com, so we asked her. Here are a few reasons that she gave us, some of them quite unique, for putting her photos up on a website.

"Number one, life happens each week and I'm having trouble keeping up with sending everyone the pics they ask for, so on the website the riders will be able to view their pics quicker and choose the ones they like. Number two, my computer is running out of space. SmugMug will store all my photos safely off site (which makes my computer so happy). Number three, convenience. On the site the riders can get their images printed so many different ways… on canvas, mugs, magnets, T-shirts, etc. Fellow photographer Rich Stuelke helped me immensely and he and I have gone through and re-set SmugMugs pricing to make everything very reasonable."
"And lastly, I have decided to use all my profits to give back to the motocross community that has brought us all so much joy. Every year I am choosing a charity to donate my profits to that will benefit the motocross community. In 2020 I am going to donate the money made from my photography to the "High Hopes Head Injury Project." It is a non-profit charitable organization dedicated to the rehabilitation and retraining of those devastated by traumatic brain injuries. I chose High Hopes because it was near and dear to our beloved friend Tom White's heart. So, feel free to browse through my race images and know that if you purchase anything on www.debbitamietti.smugmug.com this year, together we will be helping this awesome organization! Below is a preview of what's on my website."
Last Saturday's photos at REM: Jett Reynolds (79), Ralf Schmidt (73), Connor Styers (222) and Ryusei Otsuka (713)—plus hundreds more photos from this race. Photo: Debbi Tamietti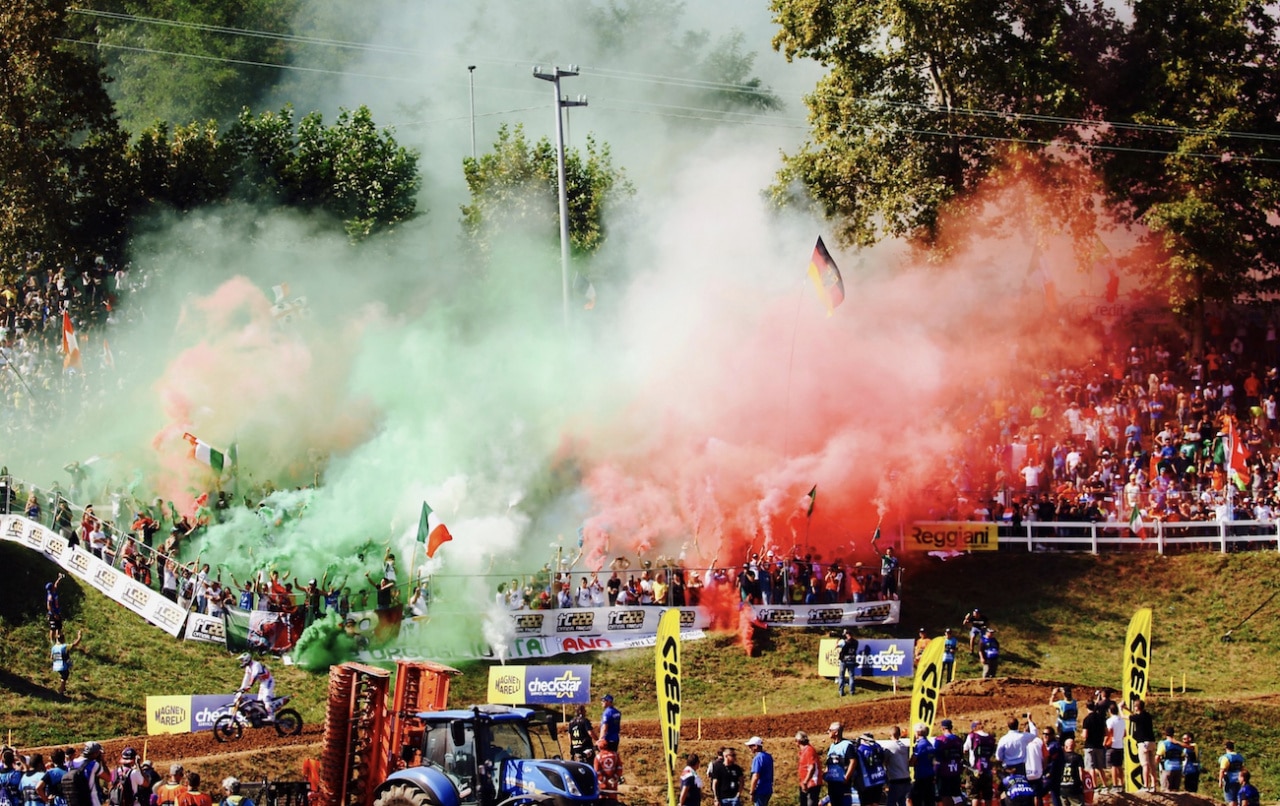 The Maggiora Motocross des Nations literally exploded with color. Photo: Debbi Tamietti

The Talladega first turn, the year the AMA Nationals went across Talladega and up the next hill instead of doing the 180-degree elliptical arc. Photo: Debbi Tamietti

The famous photo the inflatable Geico Gecko goosing Fredrik Noren as he raced by. Photo: Debbi Tamietti
Never has a start been more equal than at the 250 class at the U. S. Grand Prix. Sardines have more elbow room. Photo: Debbi Tamietti

When Val Tamietti captured the REM Number One plate in 2017, guess who was there for shoot the sheer joy in his face? Photo: Debbi Tamietti

MXA TEAM TESTED: PRO TECH WRAP-AROUND FORK GUARDS
ProTech fork guards directly replace the standard OEM guards on WP-equipped KTM, Husqvarna, Gas Gas and Sherco dirt bikes. Plus, ProTech also makes the same guards for Hondas and Yamahas. The ProTech guards offer much more protection from roost for the fork legs, and this vastly improves the chances of your fork seals lasting twice as long.
Prior to the 2015 models, KTMs and Husqvarnas came with full-wrap fork guards. This meant that instead of just protecting the chrome on your fork legs from rock damage from the front, they also guarded against rocks ricocheting off the frame and roost thrown off the trailing edge of your own front tire from the back. Why is this important? Just one stone chip to a chrome fork leg is enough to take a divot out of the plating. The edge of that divot can tear the fork seal as it passes by. A torn seal will spew oil like a Texas wildcat rig. The fix? New fork seals, but only after you have buffed and polished the ding out of the fork leg. And, if the ding is too big to sand down, you will need a new fork leg.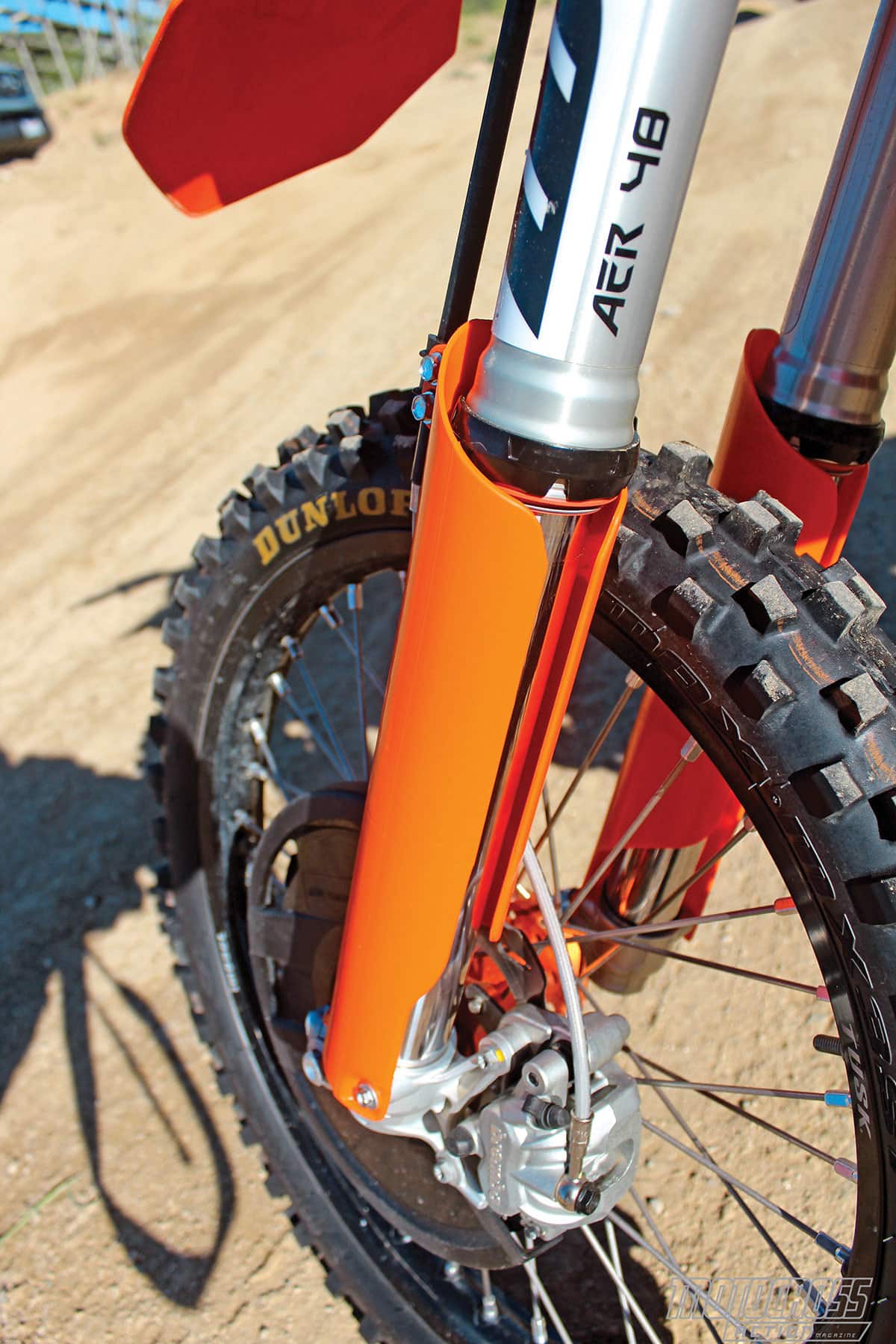 ProTech fork guards wrap around the fork leg to protect it from rocks and roost that can bounce back into the fork tubes. The small opening in the back allows the ProTech guards to be put on without any hassles. At rockey track, the MXA guys close the gap with a strip of number plate backing.

Prior to 2015, the MXA wrecking crew rarely had to replace WP's SKF fork seals. Why? Prior to 2015, WP forks came with wrap-around fork guards. From 2015 on, WP forks came with the same-style fork guards as Japanese bikes, and thus the seals blew at the same pace as Showa and Kayaba fork seals.
Thankfully, a small British company understood the problem and made injection-mold full-wrap fork guards for riders interested in protecting their fork legs and fork seals. They are well made, strong and fit perfectly. We don't know how strongly we can says this, but these forks guards are worth their weight in fork seals (and if you've priced fork seals lately you know that one SKF fork seals costs as much as the ProTech Guards—not counting the labor to put them in). The MXA wrecking crew highly recommends that every racer throw his stock fork guards away and go with ProTech.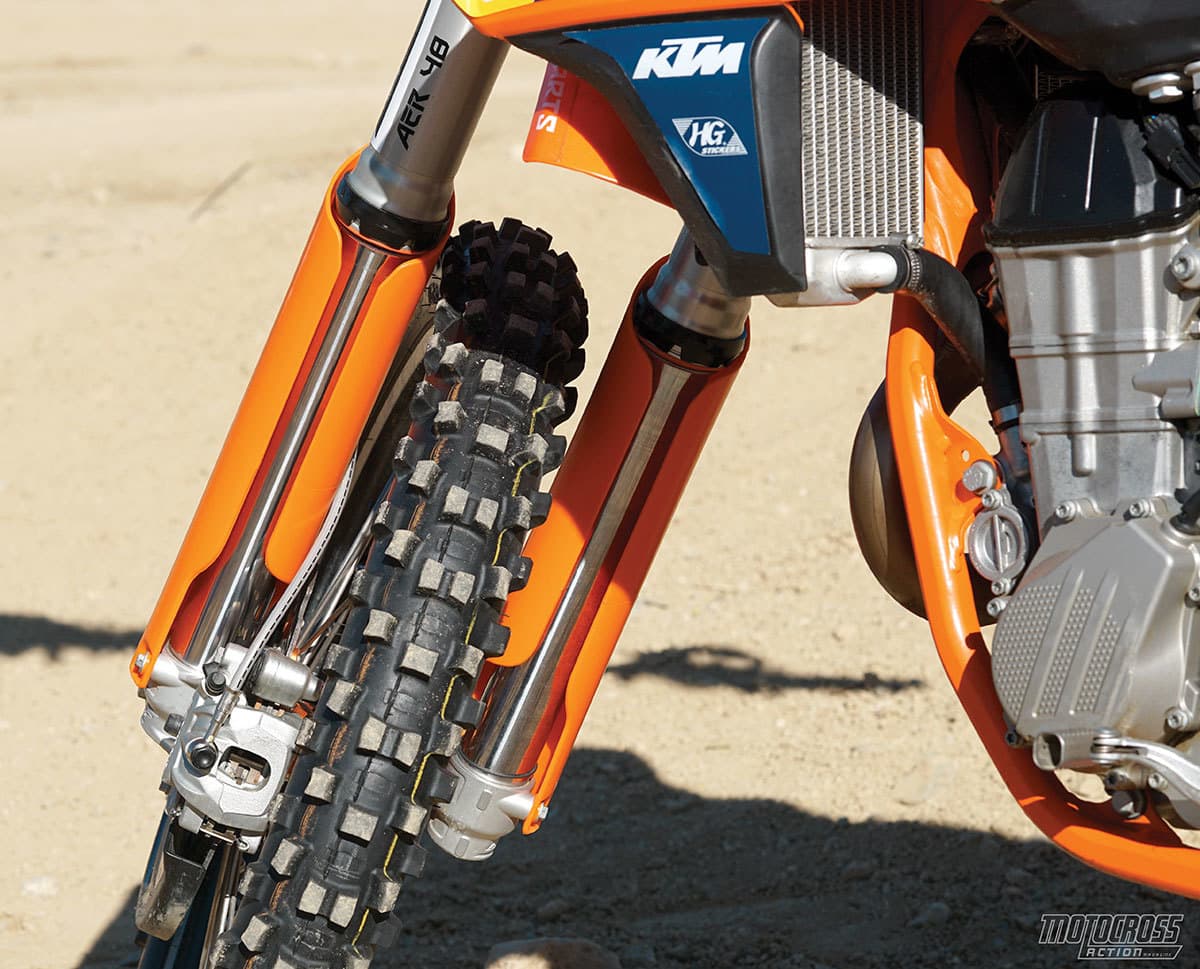 DIGITS $47.99 —They are available in white, black, orange, red  and yellow (depending on bike brand). You can order them direct from the British manufacturer at www.protechguards.co.uk or from their American distributor by Clicking Here.
MXA RATING: The MXA wrecking crew loves the ProTech full-wrap fork guards. Who wouldn't want to protect their expensive forks, tubes and seals from damage? Well played, ProTech.
2019 LAKE ISABELLA CHRISTMAS MX & GP ON DECEMBER 12-15
For more information go to www.gomotoloans.com or call (760) 855-8825.
MXA PRODUCT SPOTLIGHT: LIGHTSPEED KTM/HUSKY CARBON FIBER CHAIN GUIDE
You can have a replica of the same carbon fiber chain guide as the KTM factory team.

The LightSpeed Factory Chain Guide fits all 125 to 505 KTM's and Husqvarna from 2015-2020). It is an exact replica of the one used by the KTM Factory team. The outer Chain Guide use high-end, aerospace construction techniques with 100% pre-preg epoxy resin and autoclave-cured carbon fiber for ultimate strength.
The high-tech inner chain block.
The inner chain block is CNC-machined from Ultra-High Molecular Weight Poly Ethylene (UHMWPE) for long life, low wear, low friction and low sound. The LightSpeed chain guide is longer than stock to overlap the rear sprocket. The complete LightSpeed carbon fiber chain guide retails for $250.00, while the replacement chain guide insert costs $125.00. For more information go to www.lightspeedcarbon.com or call (714) 990-5667.
7TH ANNUAL KURT CASELLI RIDE DAY AT PALA ON DEC. 14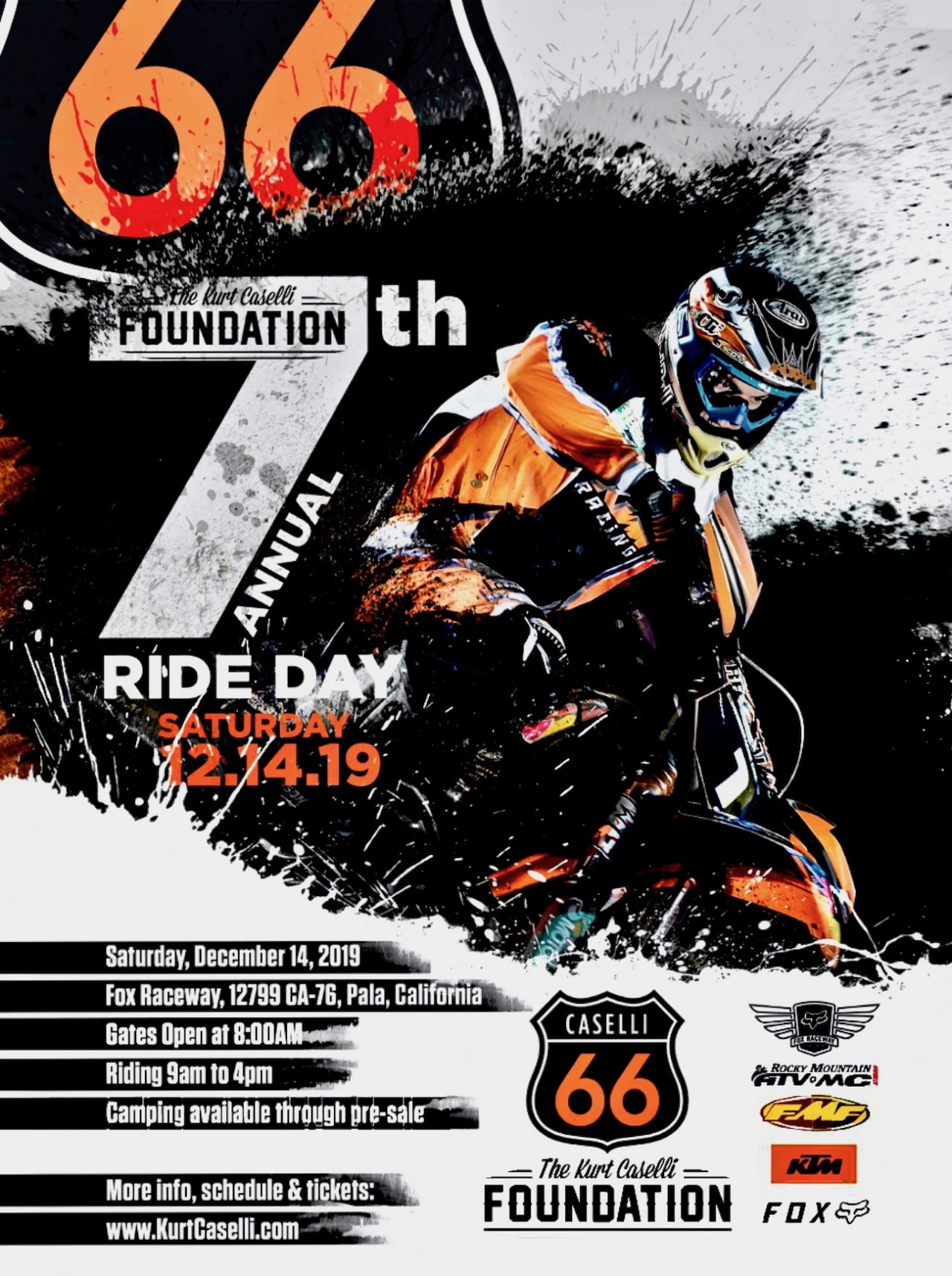 At Pala Raceway from 9:00 a.m. to 4:00 p.m. on December 14. For more info go to www.kurtcaselli.com
DO YOU REMEMBER WHO DID WHAT IN SUPERCROSS LAST YEAR?
No one was putting good money down that Cooper Webb would win the 2019 AMA 450 Supercross Championship last year, but he did. Got any spare betting money laying around this year.
It has been six months since the last AMA 250/450 Supercross was held in Las Vegas and over ten months since the start of the 2019 Supercross season. We have almost come full circle. In 37 days it will start over again. We'd like to take a moment to look back and get our bearings before venturing out into the unknown that is Supercross.
It's not do-or-die for Eli Tomac in 2020, but this is his 7th season in the 450 Supercross class and his 11th year as an AMA Pro. He is now 27 years old and the only thing missing from his mantel is the AMA 450 Supercross crown.

FINAL 2019 AMA 450 SUPERCROSS POINTS STANDINGS
(After 17 of 17 rounds)
1. Cooper Webb…379
2. Eli Tomac…361
3. Marvin Musquin…350
4. Ken Roczen…319
5. Blake Baggett…290
6. Dean Wilson…223
7. Cole Seely…211
8. Joey Savatgy…208
9. Justin Bogle…171
10. Justin Brayton…163
Chase Sexton won the 250 East title in 2019. For 2020 he will race the 250 East again, before moving to the 450 National class for the 2020 outdoor series.
Martin Davalos didn't have to point out. He could have stayed in the 250 East/West Supercross class if only he had missed the Las Vegas round. And he could have skipped it and kept his Pro Circuit 250 ride, but he decided to roll the dice on a 450 deal and went to Vegas.
FINAL 2019 AMA 250 EAST SUPERCROSS POINTS STANDINGS
(After 10 of 10 rounds)
1. Chase Sexton…193
2. Justin Cooper…180
3. Austin Forkner…152
4. Martin Davalos…148
5. Alex Martin…139
6. Brandon Hartranft…130
7. Mitchell Oldenburg…128
8. Kyle Peters…126
9. Kyle Cunningham….110
10. Jordan Bailey…101
Dylan Ferrandis won the 2019 250 East Supercross Championship when Adam Cianciarulo cross-rutted and crashed while safely in the points lead at the final round. Unfortunately, the crash twisted his bike up so badly that he couldn't even coast it to the finish line.
The big winner of the 2019 AMA 250 West and, in fact, the whole 2019 season wasn't Webb, Sexton or Ferrandis, it was Adam Cianciarulo. He came out of 2019 with a Factory Kawasaki ride for the 450 class. He looks like Eli Tomac's future replacement.
FINAL 2019 AMA 250 WEST SUPERCROSS POINTS STANDINGS
(After 10 of 10 rounds)
1. Dylan Ferrandis…226
2. Adam Cianciarulo…211
3. Colt Nichols…180
4. R.J. Hampshire…168
5. Cameron McAdoo…149
6. Michael Mosiman…144
7. Jimmy Decotis…133
8. Shane McElrath…123
9. Chris Blose …120
10. Garrett Marchbanks…113
THIRD ANNUAL DISTRICT 37 REUNION (FROM HOPETOWN TO ASCOT) ON DECEMBER 15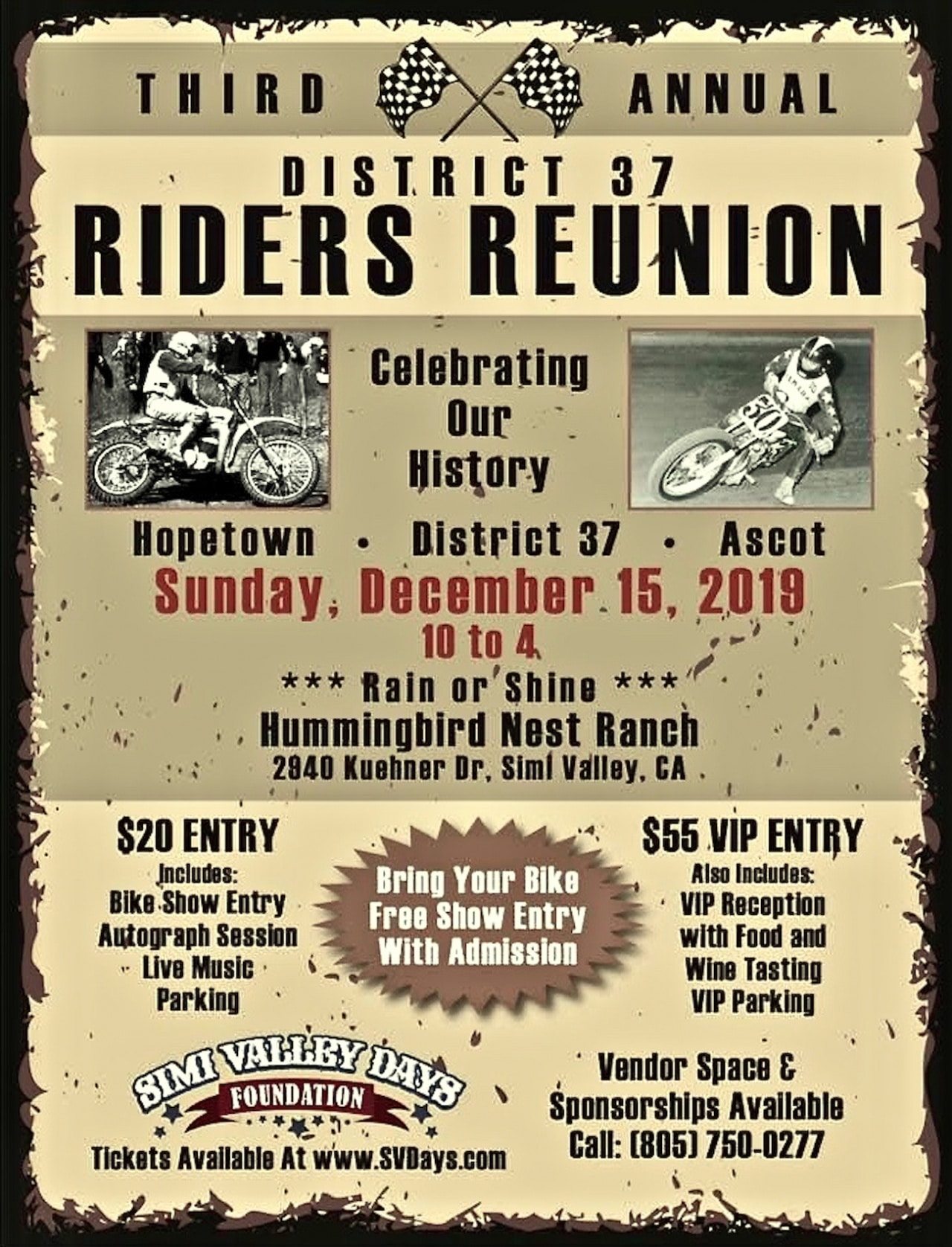 For more info go to www.SVDays.com.
YOU DO THE MATH! SUBSCRIBE TO MXA & GET A $25 CHAPARRAL GIFT CARD
If you subscribed to Motocross Action,  you could be spending your gift money at Chaparral right now.
If you subscribe to MXA you can get the mag on your iPhone, iPad, Kindle or Android by going to the Apple Store, Amazon or Google Play or in a digital version. Even better you can subscribe to Motocross Action and get a $25 Chaparral gift card to spend on whatever motorcycle parts or products you need. And the awesome print edition will be delivered to your house by a uniformed employee of the U.S. Government. You can call (800) 767-0345 or Click Here (or on the box at the bottom of this page).
MXA AD OF THE WEEK: ROY RICHTER'S BREAKTHROUGH BELL HELMET

Bell Auto Parts in Bell, California, was Roy Richter's business. It sold auto parts and was where Roy built race cars after the Second World War. As a race car driver, Richter was devastated when his friend died in a crash in 1946. He turned his attention to safety on the racetrack. The Bell 500 was Roy's his first helmet. It was introduced in 1957 and was the first helmet to carry Snell certification. Believe it or not, in the 1950s you could buy a Bell helmet for $38.50. It was so groundbreaking for its time that you can find them in New York's Museum of Modern Art.
2020 MOTOCROSS ACTION 450 FOUR-STROKE SHOOTOUT
OLD SCHOOL SCRAMBLES FINAL 2019 RACE ON DEC. 21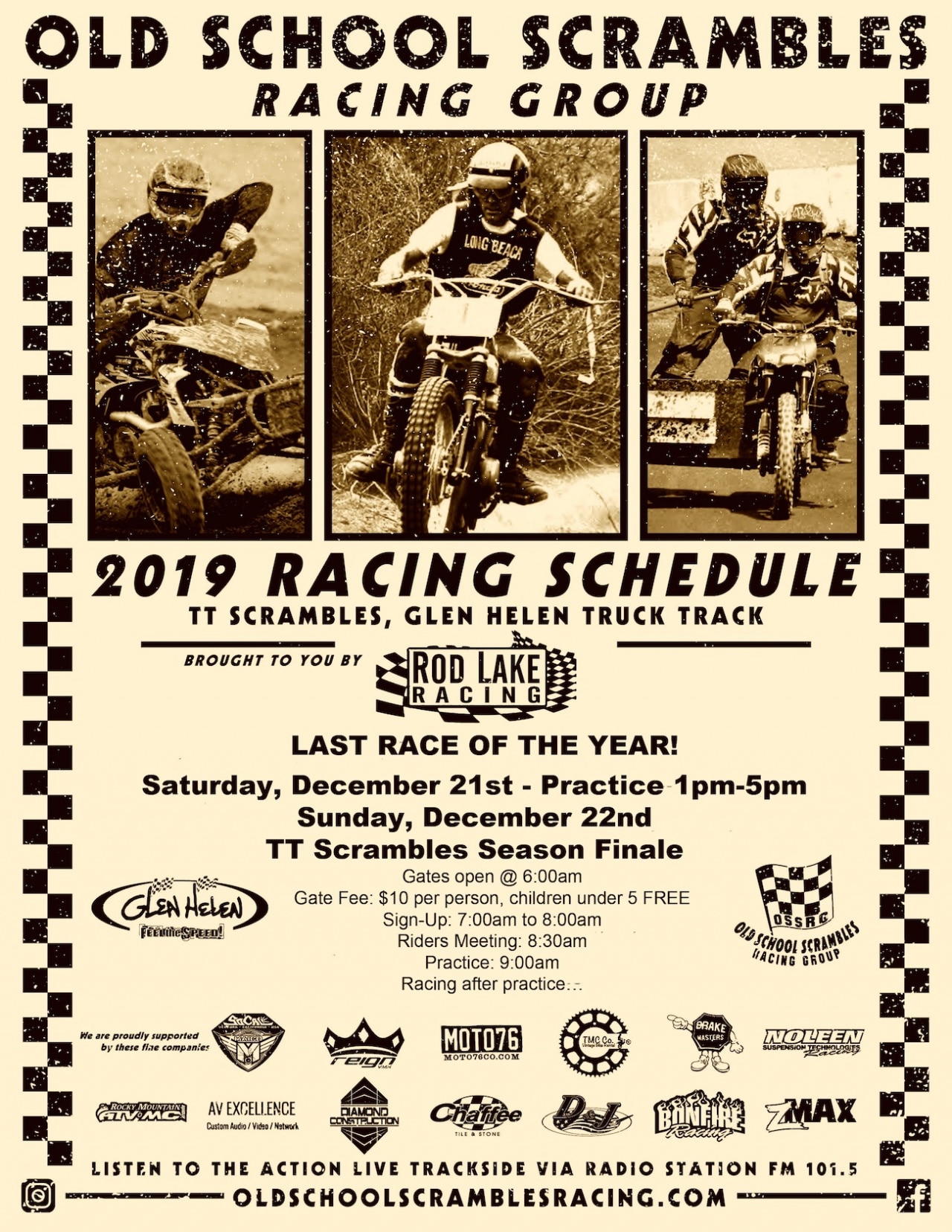 For more info go to www.oldschoolscramblesracing.com
VACATION IN SOCAL WITH DENNIS STAPLETON: RIDE GLEN HELEN, CAHUILLA CREEK, PALA, PERRIS & MORE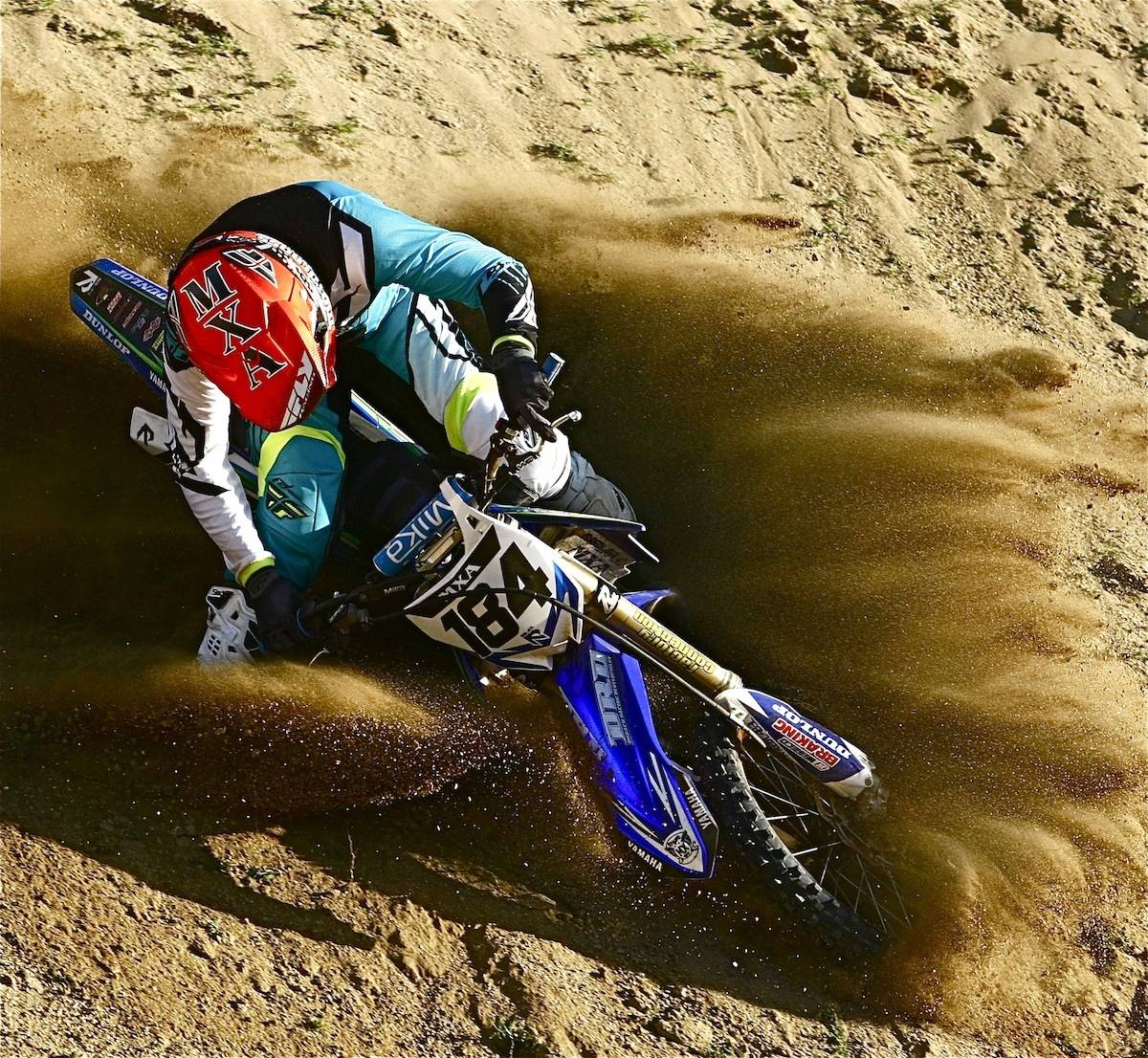 Dennis Stapleton doing what he does every day of the week — let him make your dreams come true.
In his spare time, when he's not testing with MXA, racing in a foreign country, going to Japan or helping many of his motocross buddies, Dennis has the time to open up his house, garage, bikes and mechanics to help riders who would like to come to SoCal on a motocross vacation. He offers full service to all of the Southern California tracks for racers or for play riders. Whether you want to rent a bike, move in for a week, race at Glen Helen or take motocross lessons—this is one-stop shopping.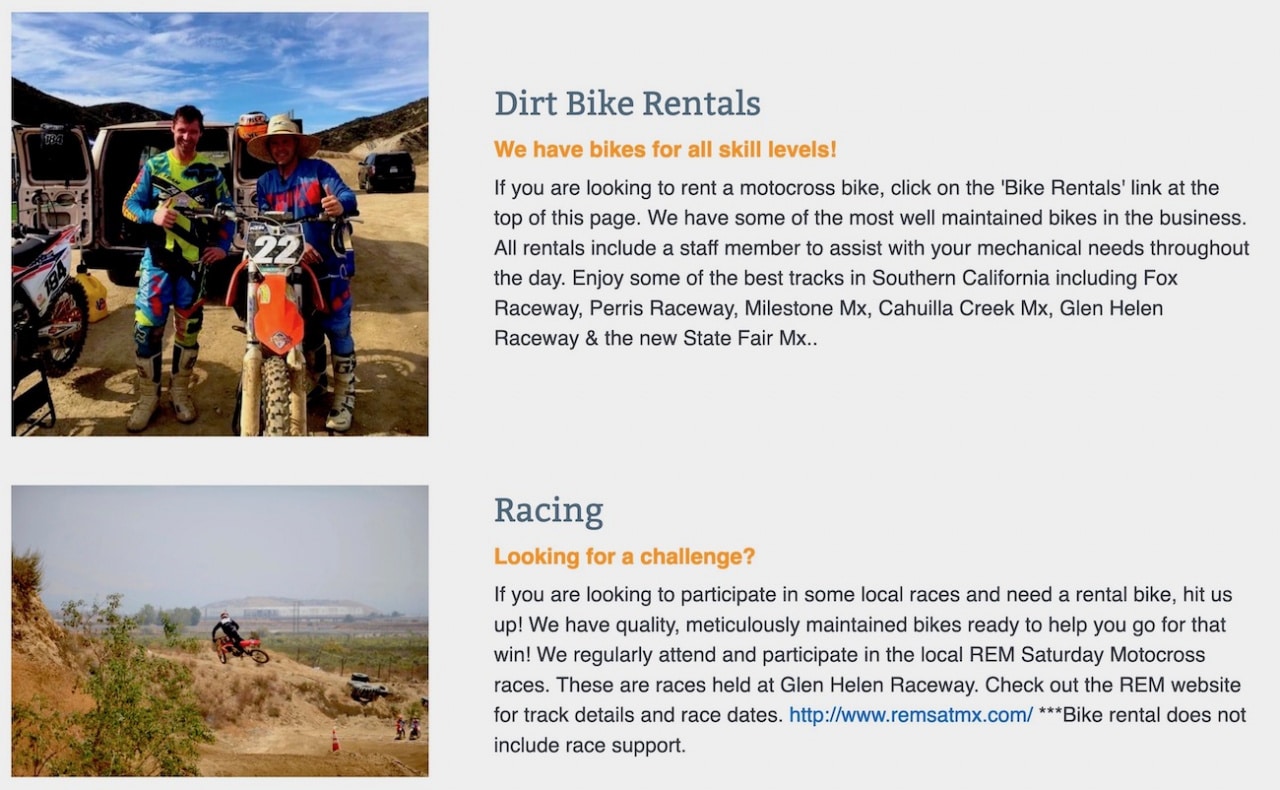 If you're coming out to Southern California and need a rental bike, check out KnobbyShop South/StapoMX for all your rental needs. They offer Motocross Vacations, bike rentals and motocross lessons. Just send them an email ([email protected]). If you'd like to live the SoCal lifestyle for a day, a weekend, a week, a month or three months, visit Dennis' website at www.knobbyshopsouth.org for more details!
29TH ANNUAL MECUM'S VINTAGE MOTORCYCLE AUCTION ON JAN. 21-26, 2020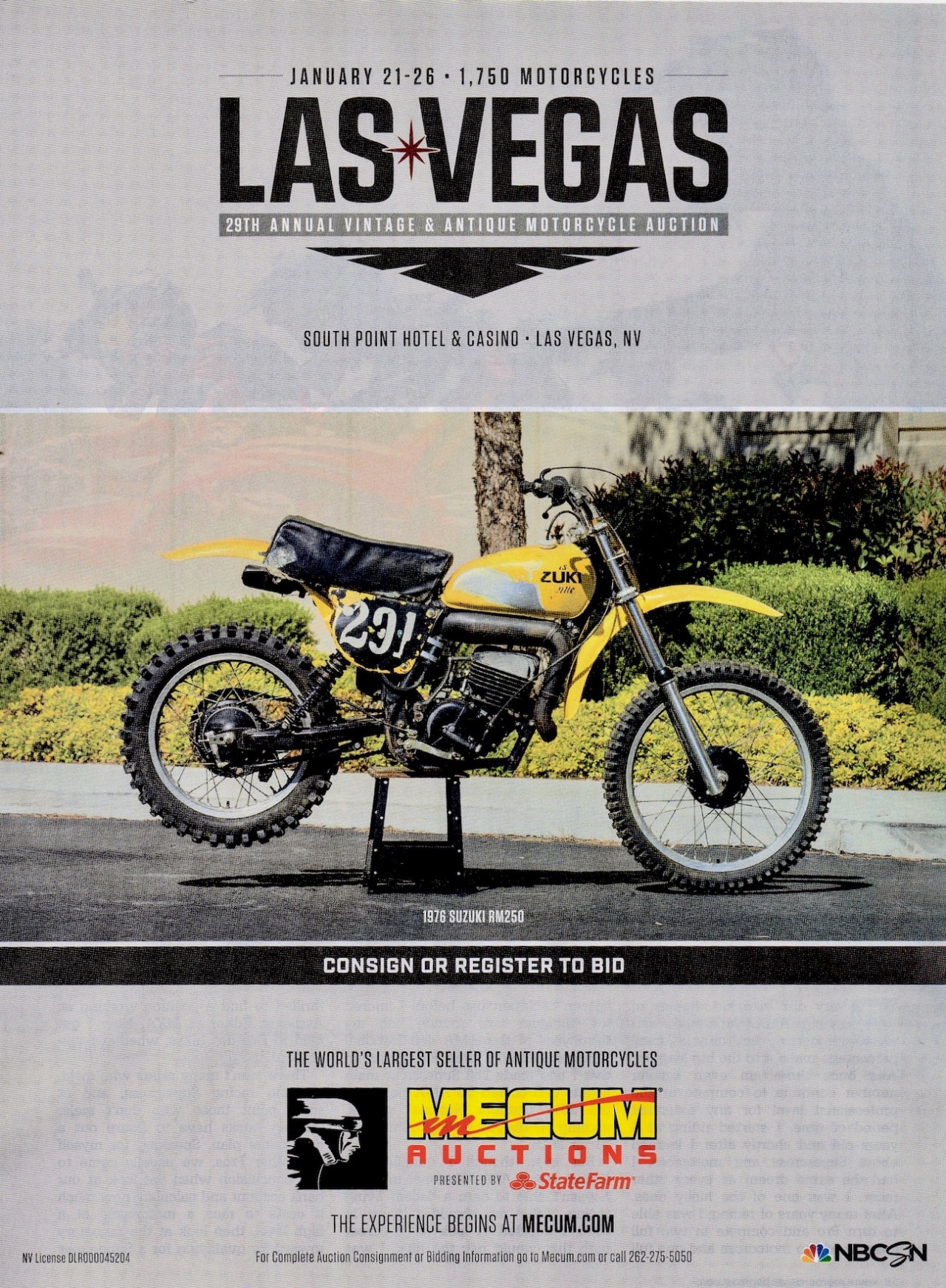 For more info go to www.mecum.com.
EKS BRAND SPONSORSHIP SUBMISSION IS OPEN!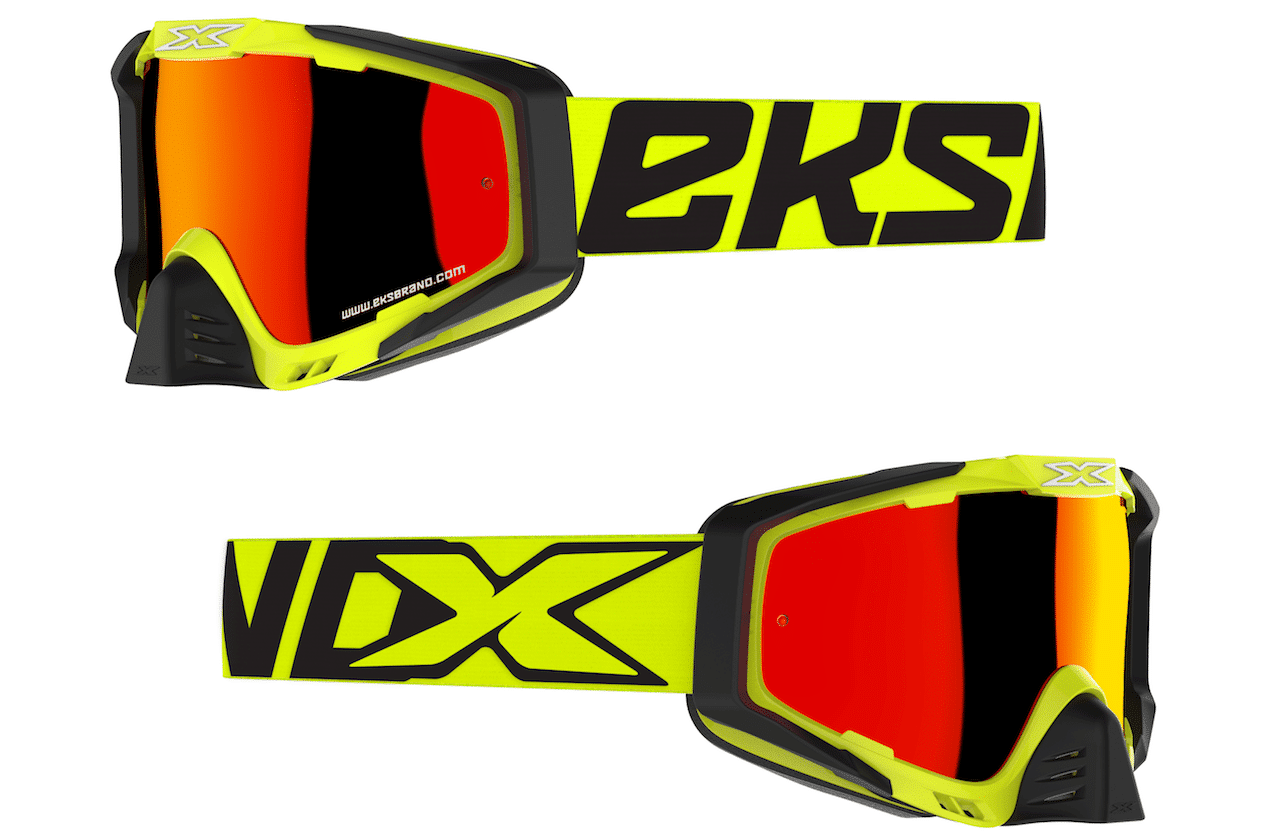 The EKS Brand Rider Support Program is in its 10th year and is actively looking for riders to be a part of the program. Support levels range from C class riders all the way up through National level racers. The program is open to riders of all disciplines including, Motocross, Supercross, Off-Road, Flat Track, Hill Climb, Supermoto, Speedway, Endurocross, Trials, ATV, Mountain bike BMX, Snowsports, and all action sport athletes. Join the likes of 2019 racers Chris Blose, Alex Ray, Kyle Chisholm, Adam Eticknap, Vince Friese, Kyle Cunningham, Henry Miller, John Short, Ben Lemay, Brandon Hartranft, Jacob Hayes, Grant Baylor, Russell Bobbit, Gary Sutherlin and Ricky Brabec,
Click on www.eksbrand.com and go to "contact us" or send a small resume to [email protected]. Note: If you were on the EKS Brand team last year, please specify the program you were on in your resume.
2020 SOBOBA TRAIL RIDE ON FEB. 23, 2020, ON THE SOBOBA INDIAN RESERVATION
For more information about the San Jacinto, California, trail ride go to www.sobobarides.biz
2020 11-RACE WORCS RACE SCHEDULE


For more info go to www.worcsracing.com.
UFO PLASTIC RIDER SUPPORT PROGRAM: HOW TO APPLY
To apply send an email to [email protected]. Be sure to provide the info listed on the poster
TALK MOTO WITH ON MXA'S FACEBOOK GROUP CHAT


We love everything moto and want to bring all moto junkies together into one place to share their two cents, ideas, photos, bike fixes, bike problems and much more. To check it out first you must need to or already have a Facebook account. If you don't, it isn't much work and you could even have an alias so nobody knows it is you. To join click HERE. After you request to join we will accept your request shortly after.
FOLLOW MXA ON TWITTER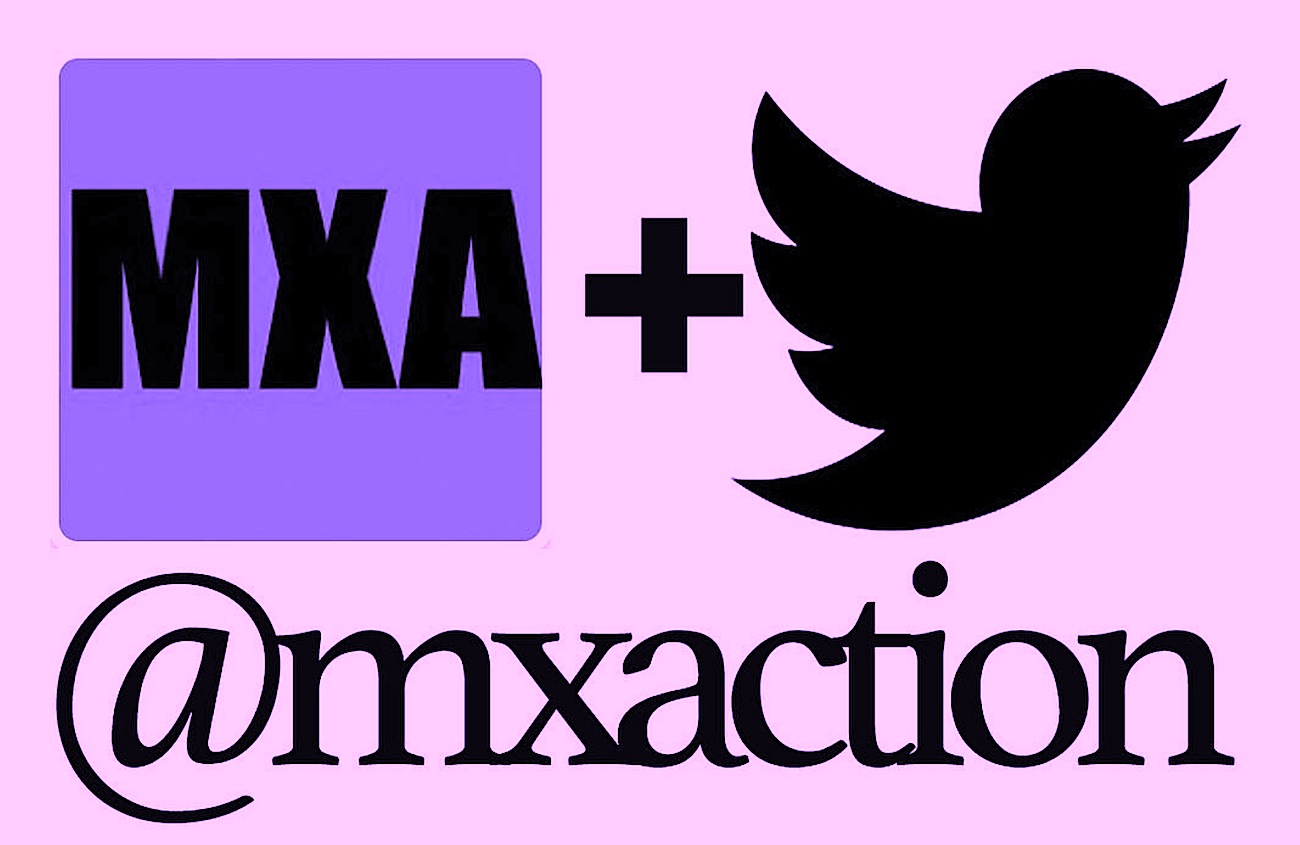 Follow us to see fresh content every day at www.twitter.com/MXAction or on twitter at "MXAction."
OSET ELECTRIC BIKES CAN MAKE YOUR KID'S CHRISTMAS DREAM COME TRUE
Looking for a Christmas gift for Junior? OSET has slashed the price of its 12.5 range of electric off-road motorcycles for kids ages 3-5. The 12.5 Racing and Eco range are the perfect entry-level motorcycle that's ideal for beginners and back yard riders age 3-5 who want to experience a real motorcycle with all the benefits that come with being electric such as ease of maintenance, very low running costs, no hot parts and being virtually silent. Customers can enjoy healthy discounts of up to $100 off the bike's while the stock lasts. Customers should visit www.osetbikes.com/us/ to find their local OSET dealer or to earn more about the full range of OSET Electric Motorcycles for kids.
WHAT'S LEFT ON THE 2019 RACE CALENDAR
2019 AUSTRALIAN SUPERCROSS CHAMPIONSHIP
Nov. 30…………………………..Melbourne, Victoria
2019 DAY IN THE DIRT 22
Nov. 28-Dec. 1……………..Glen Helen, CA 
7TH ANNUAL KURT CASELLI RIDE DAY
Dec. 14…………………………..Glen Helen, CA
OLD SCHOOL SCRAMBLES SEASON FINALE
Dec. 21-22…………………………..Glen Helen, CA
MXA YOUTUBE CHANNEL | HIT THAT SUBSCRIBE BUTTON

The MXA wrecking crew is everything moto related. Check out our MXA YouTube channel for bike reviews, Supercross coverage, rider interviews and much more. And don't forgot to hit that subscribe button.
LOOKING AHEAD! THE 2020 RACE CALENDAR
2020 AMA SUPERCROSS
Jan. 4…Anaheim, CA
Jan. 11…St. Louis, MO
Jan. 18 …Anaheim, CA
Jan. 25…Glendale, AZ
Feb. 1…Oakland, CA
Feb. 8…San Diego, CA
Feb. 15…Tampa, FL
Feb. 22… Arlington, TX
Feb. 29… Atlanta, GA
Mar. 7…Daytona Beach, FL
Mar. 14…Indianapolis, IN
Mar. 21…Detroit, MI
Mar. 28…Seattle, WA
Apr. 4…Denver, CO
Apr. 18…Foxborough, MA
Apr. 25…Las Vegas, NV
May 2…Salt Lake City, UT
2020 AMA ARENACROSS CHAMPIONSHIP
Jan. 3-4…Loveland, CO
Jan. 11…Hobbs, NM
Jan. 24-25…Oklahoma City, OK
Jan. 31-Feb. 1… Denver, CO
Feb. 7-8…Reno NV
Feb. 28-29…Salt Lake City, UT
Mar. 7… Amarillo, TX
2020 AMA NATIONAL CHAMPIONSHIP
May 16…..Hangtown, CA
May 23…..Pala, CA
May 30….Thunder Valley, CO
Jun. 6……Jacksonville, FL
June 20…Mt. Morris, PA
June 27…Southwick, MA
July 4……Red Bud, MI
July 18….Millville, MN
July 25….Washougal, WA
Aug. 15…Unadilla, NY
Aug. 22…Budds Creek, MD
Aug. 29…Crawfordsville, IN
2020 FIM MOTOCROSS WORLD CHAMPIONSHIP
Mar. 1…Great Britain
Mar.8…Holland
Mar. 22…Argentina
Apr. 5…Italy #1
Apr. 19…Spain
Apr. 26…Portugal
May 10…France
May 17…Italy #2
May 24…Germany
June 7…Russia
June 14…Latvia
June 28…Jakarta, Indonesia
July 5…Palembang, Indonesia
July 26…Czech Republic
Aug. 2…Belgium
Aug. 16…Sweden
Aug. 23…Finland
Sept. 6.…Turkey
Sept. 13…China
Sept. 20…Italy #3
2020 FIM MOTOCROSS DES NATIONS
Sept. 27.…Ernee, France
2020 WORCS OFF-ROAD CHAMPIONSHIP
Jan. 12…Primm, NV
Feb. 23…Taft, CA
Mar. 22… Havasu, AZ
Apr. 19…Blythe, CA
May 3…Las Vegas, NV
May 30…Hurricane, UT
July 19…Prineville, OR
Sept. 20…Glen Helen, CA
Oct. 25…Cahuilla, CA
Nov. 15…Primm, NV
2020 WORCS SPRINT ENDURO
Feb. 25…Taft, CA
May 24… Mesquite, NV
July 25…Prineville, OR
Sept. 26…Glen Helen, CA
Oct. 31…Cahuilla, CA
2020 MICHELIN BRITISH NATIONAL CHAMPIONSHIP
Mar. 22…Fatcat MotoParc
Apr. 19…Desertmartin, Ireland
Apr. 26…Hawkstone Park
July 5…Canada Heights
Aug. 9…Landrake
Sept. 6t…Cusses Gorse
2020 ACU BRITISH NATIONAL CHAMPIONSHIP
Apr. 12…Lyng
May 3…Foxhill
May 31…Blaxhall
June 21…Deertmartin, Ireland
July 12…Culham
Aug. 30 Landrake
2020 AUSTRALIAN NATIONAL CHAMPIONSHIP
Mar. 22…New South Wales
April 4-5…Victoria
May 3… Victoria
May 24…Queensland
June 28…Queensland
July 25-26…New South Wales
Aug. 22-23…Queensland
2020 AUSTRALIAN SUPERCROSS CHAMPIONSHIP
Oct. 3 …Western Australia
Oct. 17… South Australia
Oct. 31…Queensland
Nov. 7 …New South Wales
Nov. 14…TBA
Nov. 28…Victoria
2020 ADAC GERMAN NATIONAL CHAMPIONSHIP
Apr. 13…Fürstlich Drehna
May 3…Mölln
May 31…Möggers, Austria
June 21…Aichwald
July 12…Holzgerlingen
July 19…Tensfeld
Aug. 30…Bielstein
Sept.13…Gaildorf
AMA NATIONAL AMATEUR CHAMPIONSHIP
Aug. 3-8….Hurricane Mills, TN
2020 FIM JUNIOR WORLD CHAMPIONSHIP
Aug. 8-9…Megalopolis, Greece
Photos: Brian Converse, Honda, Husqvarna, Daryl Ecklund, Jody Weisel, MXA, KTM, Debbi Tamietti