MXA'S WEEKEND NEWS ROUND-UP: IT'S OVER & IT WAS A BARN BURNER IN PALA & TURKEY
• THE PLAYERS FROM SATURDAY'S 450 NATIONAL SHOWDOWN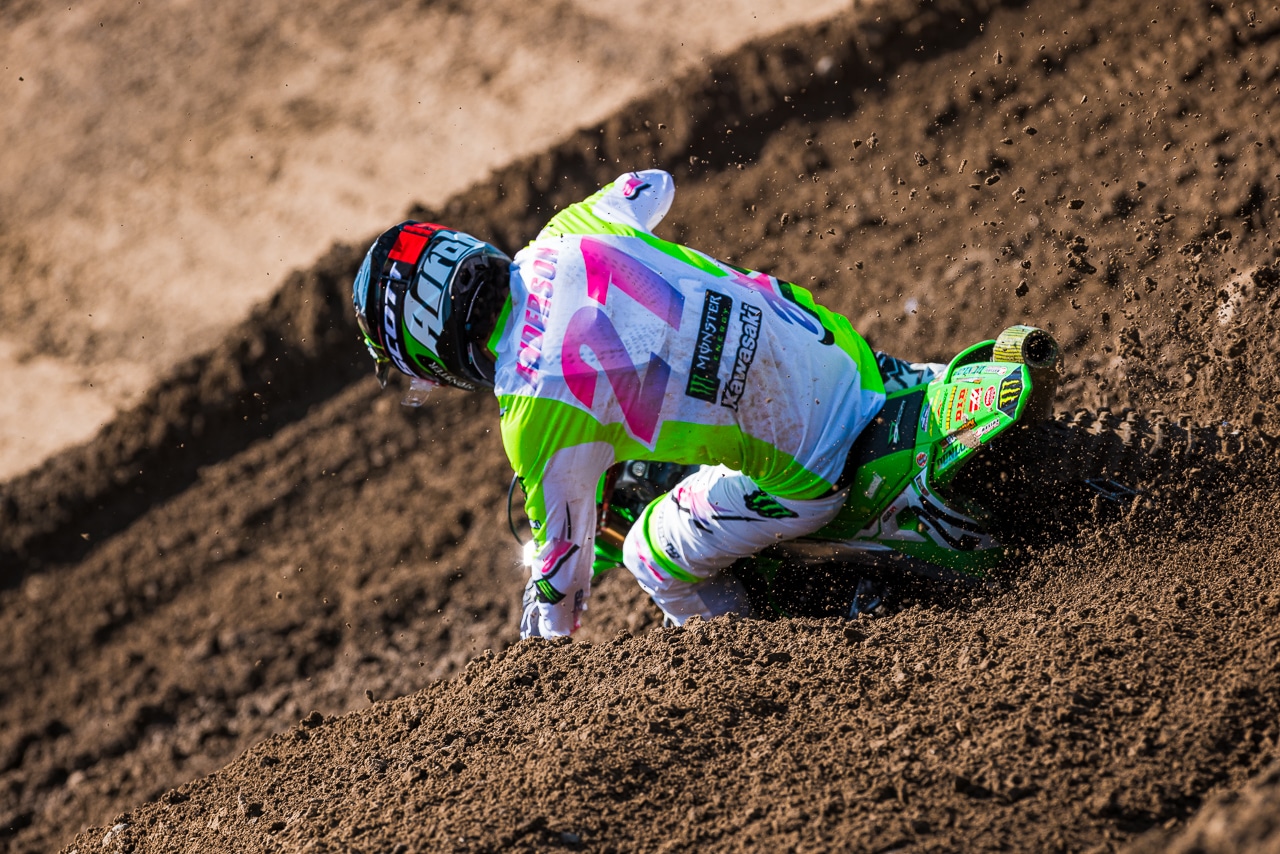 Jason Anderson got another third place behind Tomac and Sexton at Pala. Jason did win two 450 Nationals in 2022, Hangtown and Budd Creek, and was often the fastest man on the track. In races that he got out of the first turn unscathed, he was a contender, but that wasn't his luck at either Pala 1 or Pala II.

In the middle of his return to professional racing Ryan Dungey was talking about doing both Supercross and the 450 Nationals in 2023, but by the end of the series he felt like he had accomplished what he wanted in terms of putting a period on his career. Ryan went 10-5 at Pala (his first moto results were the result of a first turn crash). It was glorious to have him back, but most likely this was his last dance. He had fun and the fans loved having him back.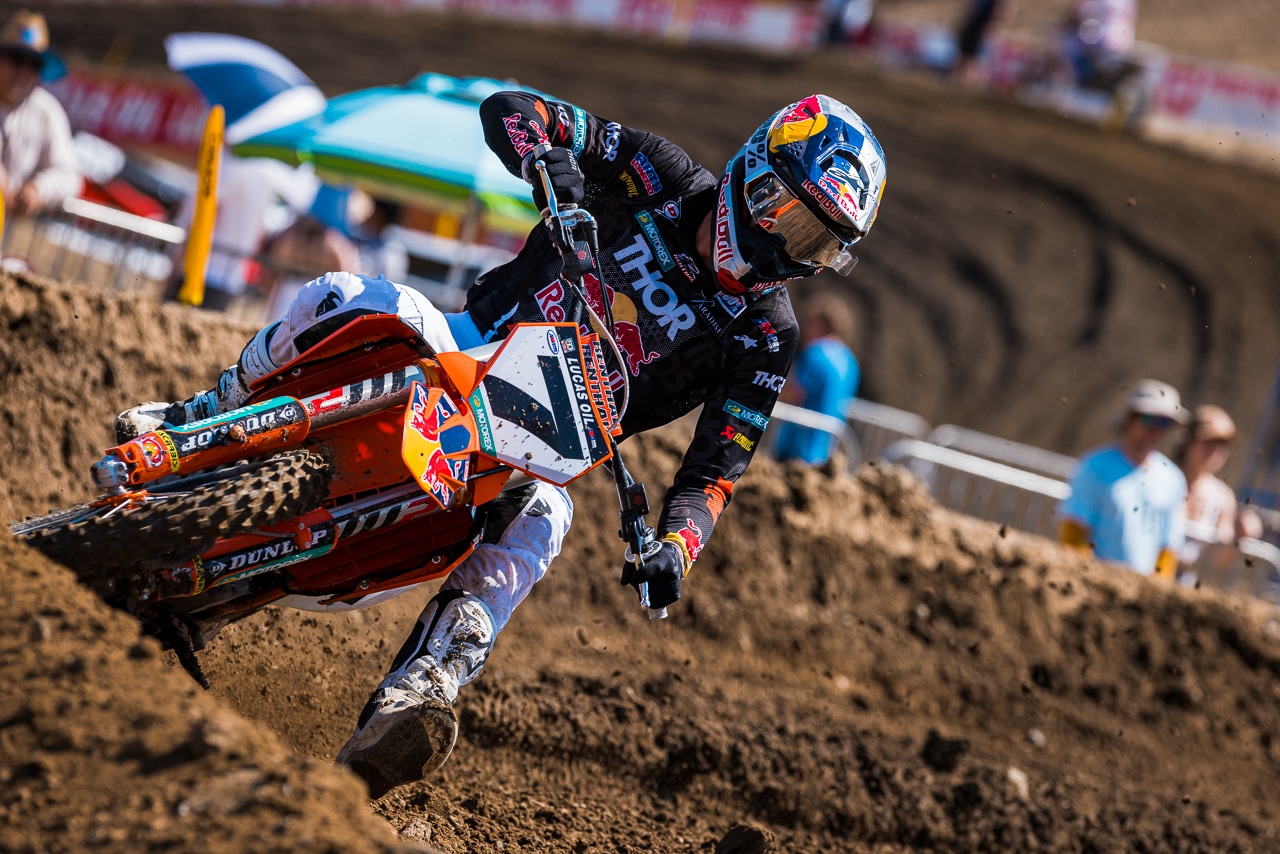 Aaron Plessinger (7) found his speed towards the end of the 450 Nationals and his switch from works forks to stock KTM 450SXF air forks was a big contributor. Aaron went 7-7 at the Pala finale for 7th overall in the championship

Eli Tomac (3) says that this was his last-ever AMA 450 National Championship season and he put a crowning touch on it at Pala with a measured and controlled ride on a choppy single-line track in sweltering conditions. He added the 2022 AMA 450 National Championship to his 2009 AMA 250 National title, 2020 AMA Supercross title and three other 450 National Championships. Tomac has a Supercross-only contract for 2023.
Chase Sexton will regret the miscues he made the second moto at Pala that cost him his shot the the 2022 AMA 450 National Championships, but only until he lines up at the MXDN at Red Bud later this month. Then, he'll be ready to make amends. Chase can be proud of his 2022 450 season—he made it into a memorable series.

2022 450 NATIONAL CHAMPIONSHIP FINAL POINTS STANDINGS
1. Eli Tomac (Yam)…546
2. Chase Sexton (Hon)…539
3. Jason Anderson (Kaw)…440
4. Ken Roczen (Hon)…394
5. Christian Craig (Yam)…373
6. Ryan Dungey (KTM)…359
7. Aaron Plessinger (KTM)…322
8. Justin Barcia (Gas)…303
9. Joey Savatgy (Kaw)…222
10. Shane McElrath (Hus)…213
With Jett Lawrence announcing that he will defend his 2022 AMA 250 East Regional Supercross Championship in 2023 before moving to the 450 class for the 2023 outdoor series, Jo Shimoda's (30) new turn of speed makes him the favorite for the 2023 AMA 250 Nationals. Joe went 4-1 for second behind Jett's 1-2 at Pala.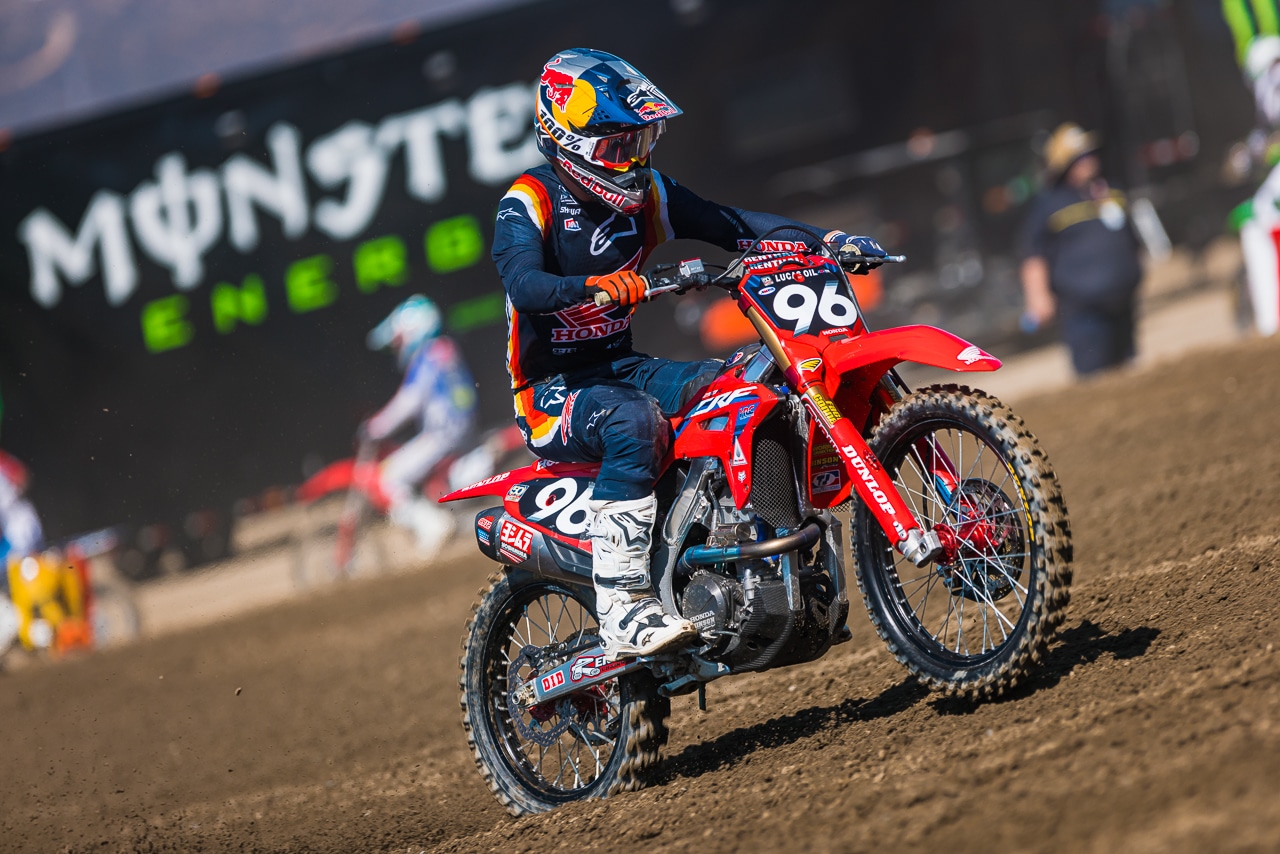 Hunter Lawrence (96) ended his the 2022 250 National season with a take-out of Joe Shimoda in the first 250 moto. Hunter needed Shimoda to hit the ground if he wanted to get second in the 250 points, but Shimoda's win in the second moto left Hunter with a badly bruised reputation and 12 points short of second place.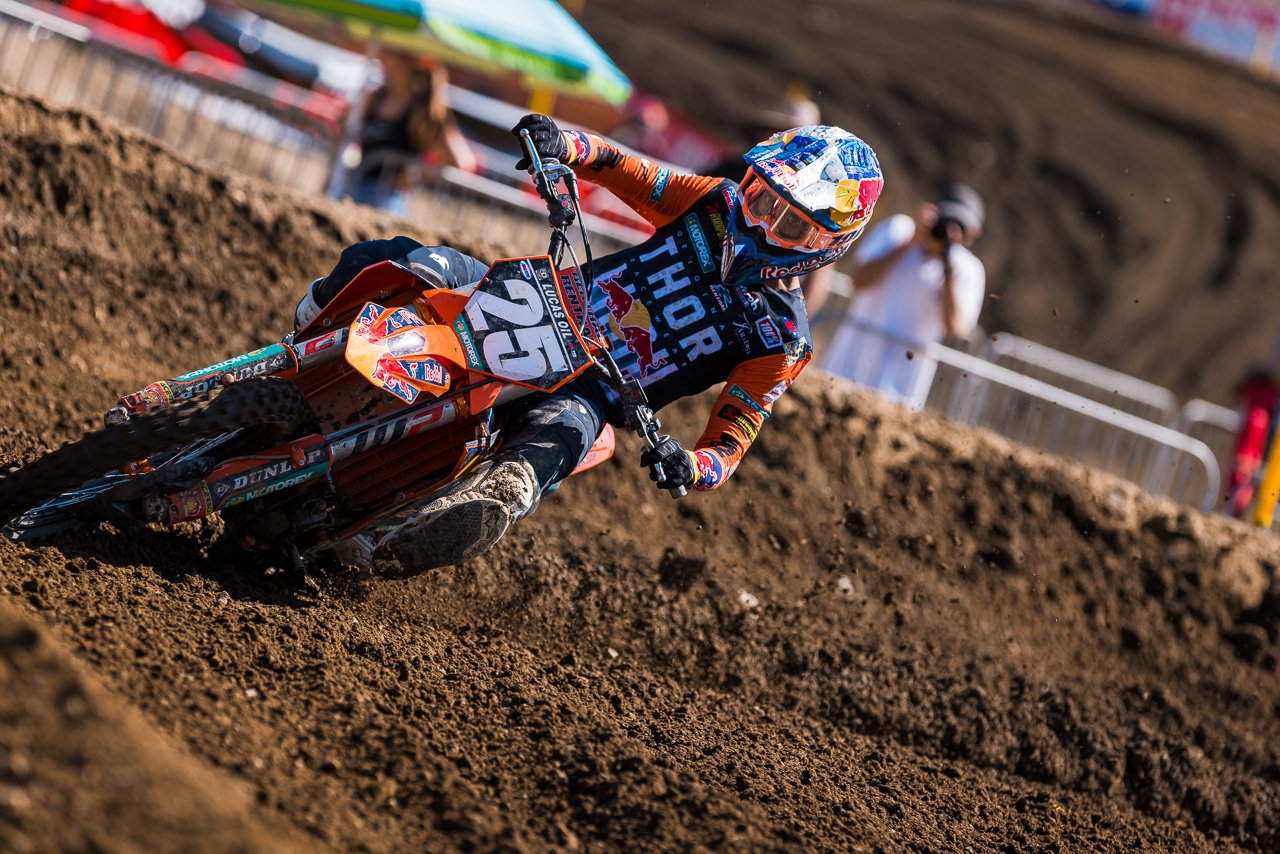 Marvin Musquin did not race any races after the 2022 AMA 450 Supercross season ended, but he showed up at Pala on the KTM 250SXF as a warm-up for the Motocross des Nations—where he will ride a 250 for Team France. Marvin came off the couch to go 5-9 for seventh overall.
2022 250 NATIONAL CHAMPIONSHIP FINAL POINTS STANDINGS
1. Jett Lawrence (Hon)…525
2. Jo Shimoda (Kaw)…480
3. Hunter Lawrence (Hon)…468
4. Justin Cooper (Yam)…415
5. R.J. Hampshire (Hus)…346
6. Max Vohland (KTM)…303
7. Seth Hammaker (Kaw)…256
8. Nate Thrasher (Yam)…251
9. Michael Mosiman (Gas)…208
10. Pierce Brown (Gas)…198
• 2022 AMA 250/450 NATIONAL WINNERS AT A GLANCE
Jett Lawrence (1) won 9 of the 12 AMA 250 Nationals on his way to his second AMA 250 title. Jo Shimoda won two and R.J Hampshire won one.

Venue                                                        450                                                   250
May 28…Pala, CA……………,……Chase Sexton………….Jett Lawrence
June 4…Hangtown, CA………….Jason Anderson………Jett Lawrence
Jun 11…Thunder Valley, CO……Ken Roczen……………Jett Lawrence
June 18…Mt. Morris, PA…………Eli Tomac……………..Jett Lawrence
July 3…Red Bud, MI………………Eli Tomac………………Jo Shimoda
July 9…Southwick, MA…………..Eli Tomac……………..Jett Lawrence
July 16….Millville, MN……………Eli Tomac……………..Jett Lawrence
July 23….Washougal, WA………Chase Sexton………….Jett Lawrence
Aug. 13…Unadilla, NY……………Chase Sexton………….Jo Shimoda
Aug. 20…Budds Creek, MD…….Jason Anderson…….. R.J Hampshire
Aug. 27…Crawfordsville, IN……Chase Sexton…………Jett Lawrence
Sept. 3…Pala, CA…………………..Eli Tomac……………..Jett Lawrence
450 Champion…………….Eli Tomac (Yam)
250 Champion………….Jett Lawrence (Hon)
• GO WITH THE "JOSHES" TO THE HOTTEST NATIONAL OF THE YEAR…LIVE THEIR LIVES
• TOM WHITE'S "EARLY YEARS OF MOTOCROSS MUSEUM" WILL HOST A "BIKES & BURGERS" EVENT ON WEDNESDAY

Tom White collected over 170 classic motocross bikes and, in fact, was still adding bikes to his incredibly cool collection right up until his death.

Tom White's Early Years of Motocross Museum will be opening for a private "Bikes and Burgers" event on Wednesday, September 7, 2022 at 5:30 p.m. until 8:00 p.m. Tom's Museum is rarely open to the public, so this night will be a limited to 100 pre-registered guests only.


HOW TO ATTEND
If you and a guest would like to attend "Bikes & Burgers" in the Early Years of Motocross Museum, please email [email protected] and your name will be placed on the Entry List. Once confirmed you will receive an email with your confirmation # and the museum's address. Please note that a minimum donation of $40 per person is required. Dinner will be provided. To see more about Tom's Museum go to www.earlyyearsofmx.com
• DEAN WILSON RACES HIS LAST EVER AMA NATIONAL AT PALA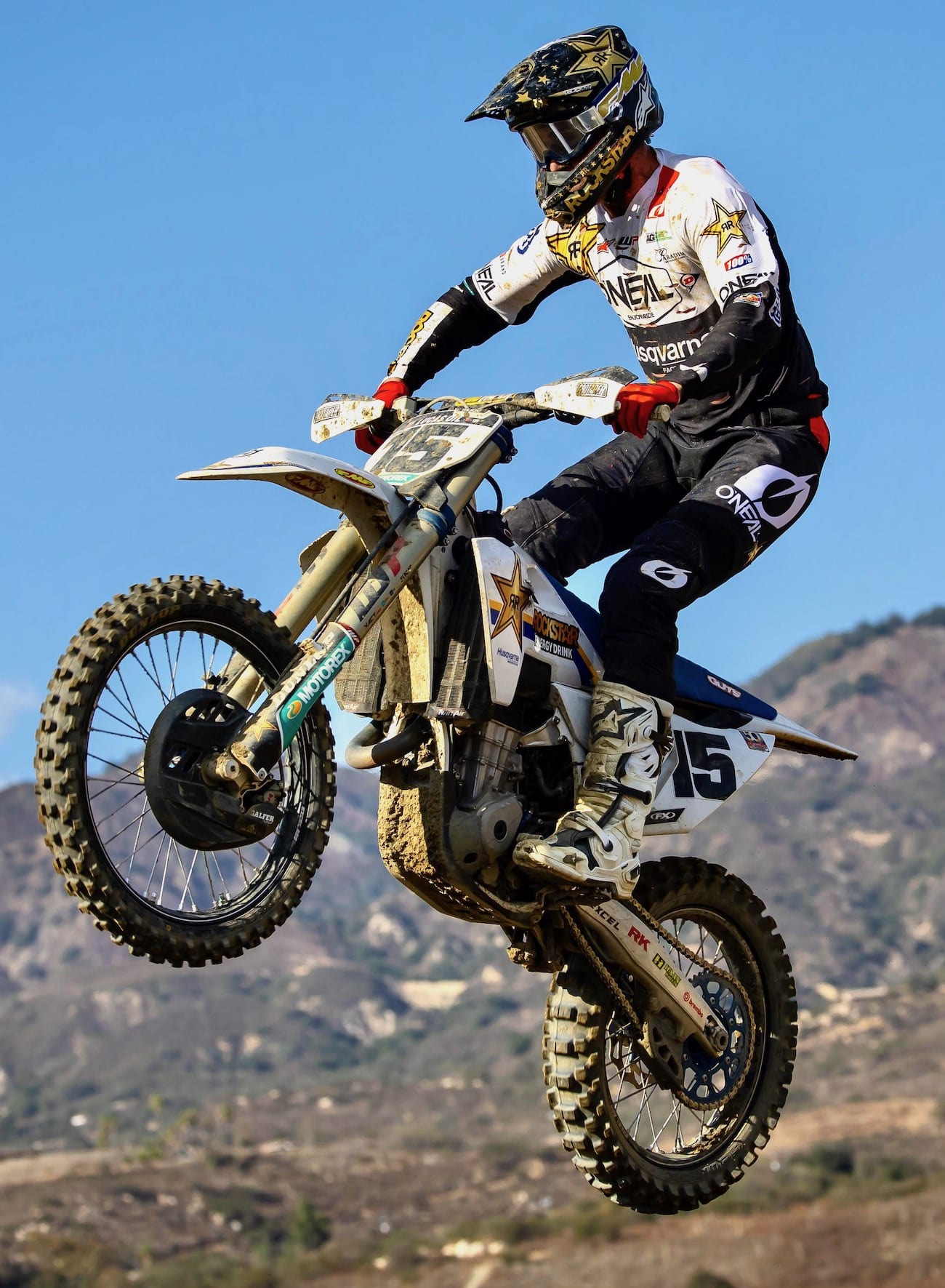 Dean Wilson still has some racing to do before he calls it a career. He will be on Great Britain's Motocross des Nations team in three weeks and will race Supercross-only in 2023.
Dean Wilson said that Pala was his last career AMA National race. The 2022 AMA 250 National Champion, Dean, closed out a successful career on a positive note with a top-10 overall finish in his final 450 National. Coming through the pack in both motos, Wilson put forth a valiant effort amidst the intense heat to earn 13-9 moto finishes on the day. The Rockstar Energy Husqvarna Factory Racing team thanked Dean Wilson for a great relationship over the last six years and wished him the best in his next chapter.
Dean Wilson said after the race, "My goal was to be top-10 in both motos and, unfortunately, in the first moto a second corner pile-up was not ideal. I had to come from the back to 13th. Second moto, I had another bad start and had to come through to ninth. It wasn't great, but it was my last American Pro Motocross moto of my career and it was a hot one! I won't forget this one, that's for sure. The track was gnarly. I'm very grateful to the team for being behind me these six years. I'm happy to be safe and can now focus on Motocross of Nations."
• MXA POST-PALA VIDEO: DEAN WILSON TELLS US WHAT'S UP (WITH HELP FROM BONES)
• 2022 FIM 250/450 GRAND PRIX WINNERS AT A GLANCE

Tom Vialle won 10 out of 18 250 GPs, but only clinched the the 2022 250 World Championship by going 1-1 at the final round in Turkey.

Venue                                                        450                                                   250
Feb. 27…England…………….Tim Gajser………………………..Simon Laegenfelder
Mar. 6…Mantova…………….Tim Gajser………………………..Jago Geerts
Mar. 20…Argentina…………Tim Gajser………………………..Tom Vialle
April 3…Portugal…………….Jorge Prado………………………Tom Vialle
April 10…Trentino…………..Tim Gajser………………………..Tom Vialle
Apr. 24…Latvia……………….Tim Gajser………………………..Jago Geerts
May 8…Maggiora…………….Tim Gajser………………………..Jago Geerts
May 15…Sardinia…………….Calvin Vlaanderen……………..Tom Vialle
May 29…Spain………………..Maxime Renaux…………………Tom Vialle
June 5…Ernee, France……..Jeremy Seewer………………….Tom Vialle
June 12…Germany…………..Tim Gajser………………………..Thibault Benistant
June 26…Indonesia…………Tim Gajser………………………..Tom Vialle
July 17…Czech Republic…..Jeremy Seewer…………………..Jago Geerts
July 24…Belgium…………….Brian Bogers……………………..Jago Geerts
Aug. 7…Sweden………………Jeremy Seewer…………………..Jago Geerts
Aug. 14…Finland…………….Glenn Coldenhoff………………..Tom Vialle
Aug 21…France………………..Tim Gajser………………………..Tom Vialle
Sept. 4…Turkey……………….Tim Gajser………………………..Tom Vialle
450 World Champion…………….Tim Gajser (Hon)
250 World Champion…………….Tom Vialle (KTM)
• THE FINAL TOP TEN RACERS IN THE 2022 GRAND PRIX SEASON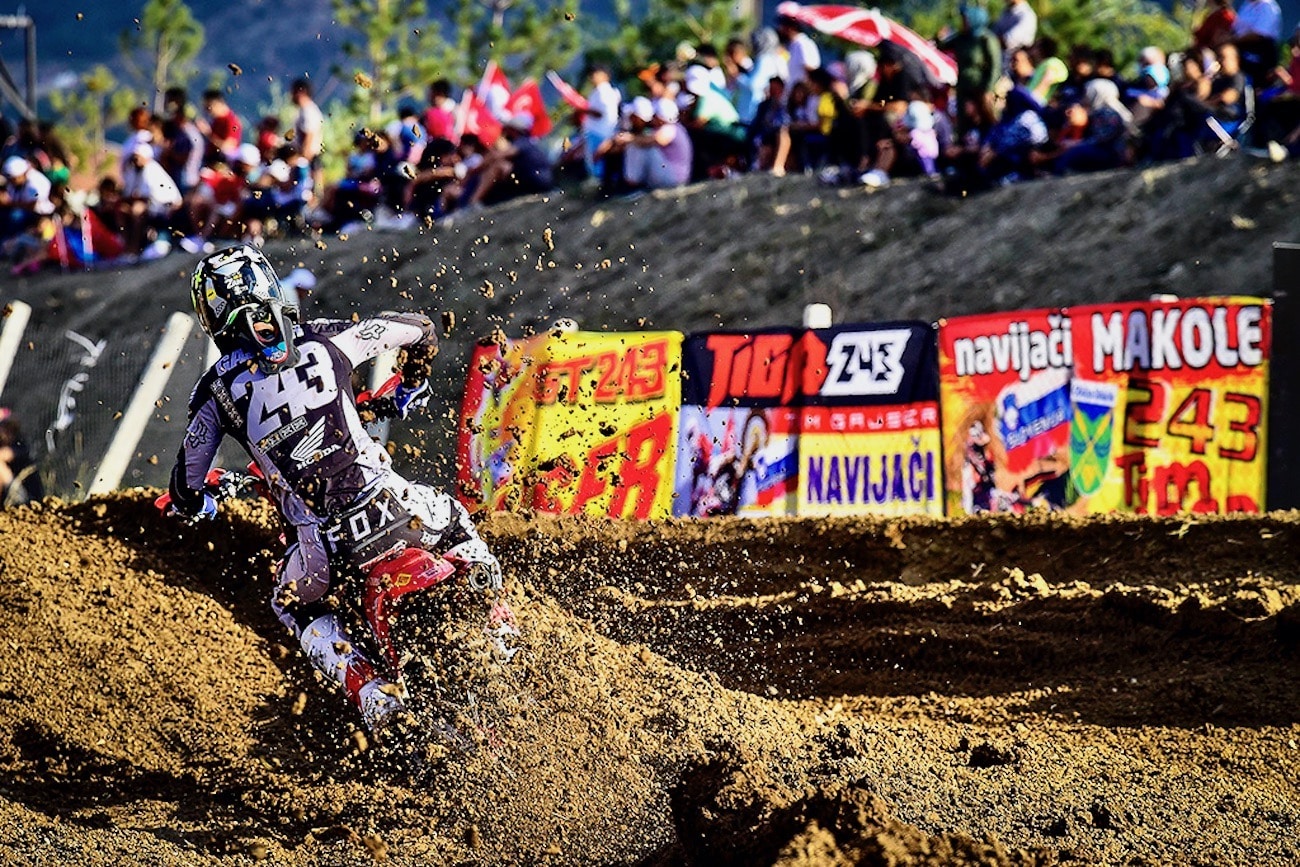 Tim Gajser (243) wrapped up the 2022 FIM 450 World Motocross Championship a couple weeks ago. It is his fifth World Championship.
2022 450 WORLD CHAMPIONSHIP FINAL POINTS STANDINGS
1. Tim Gajser (Hon)…721
2. Jeremy Seewer (Yam)…615
3. Jorge Prado (Gas)…557
4. Glenn Coldenhoff (Yam)…553
5. Maxime Renaux (Yam)…540
6. Brian Bogers (Hus)…406
7. Ruben Fernandez (Hon)…380
8. Calvin Vlaanderren (Yam)…379
9. Pauls Jonass (Hus)…350
10. Mitch Evans (Hon)…296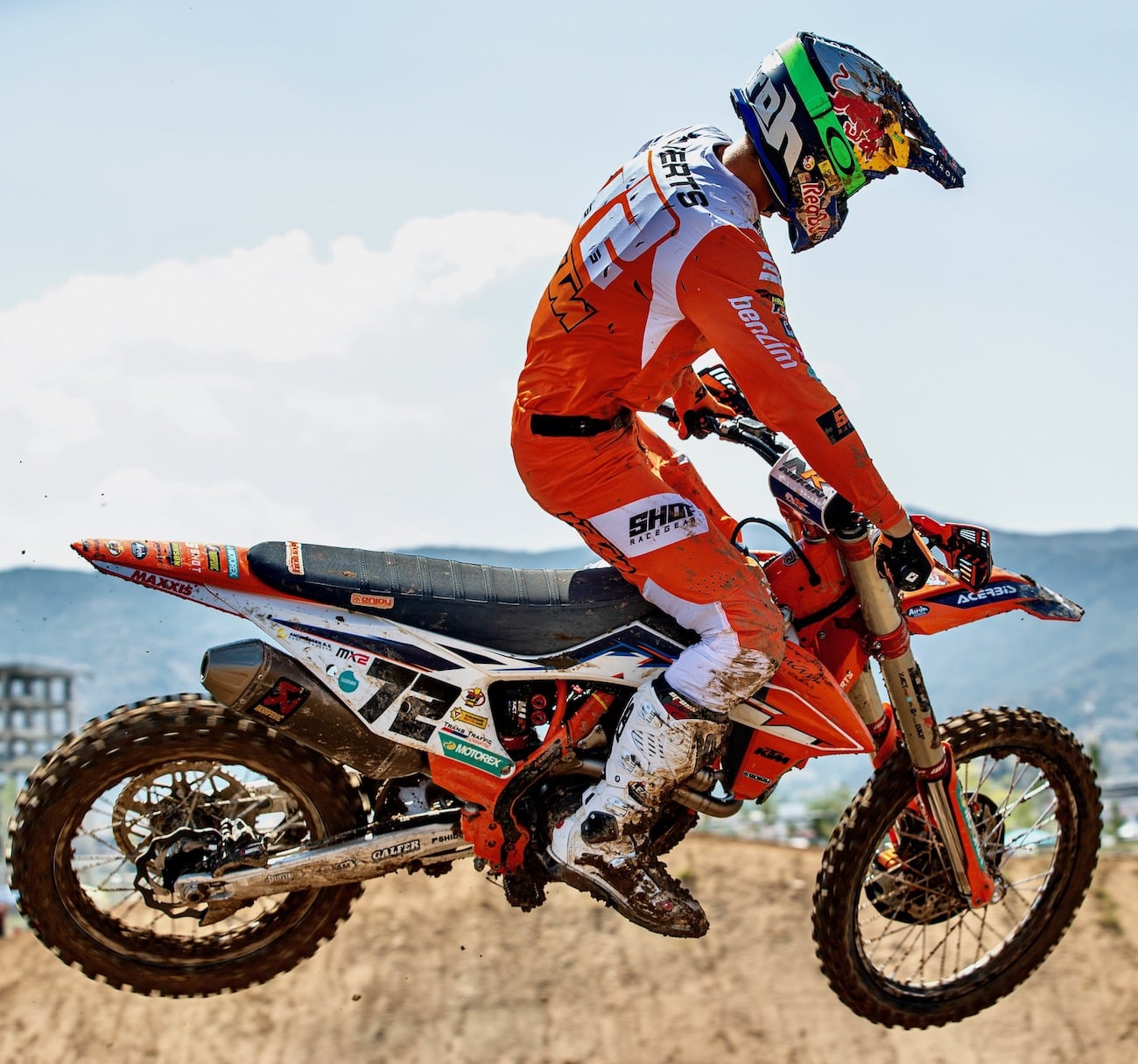 Liam Everts, the son of Grand Prix legend Stefan Everts and grandson of three-time 125 World Champion Harry Everts, made his first mark into the GP records books with a 10th overall in the 2022 250 standings.

2022 250 WORLD CHAMPIONSHIP POINTS STANDINGS
1. Jago Geerts (Yam)…710
2. Tom Vialle (KTM)…708
3. Simon Laengenfelder (Gas)…564
4. Kevin Horgmo (Kaw)..503
5. Thibault Benistant (Yam)…481
6. Mikkel Haarup (Kaw)…435
7. Kay de Wolf (Hus)…410
8. Andrea Adamo (Gas)…410
9. Stephen Rubini (Hon)…373
10. Liam Everts (KTM)…286
• WATCH THE FINAL GRAND PRIX OF 2022: IT'S FROM TURKEY!
• "SATURDAY AT THE GLEN" DOUBLE HEADER ON MAY 10 & MAY 17
For more info go to www.glenhelen.com
• BIKES YOU'VE NEVER SEEN BEFORE: 2004 HAYES M1030-M1 DIESEL-POWERED KAWASAKI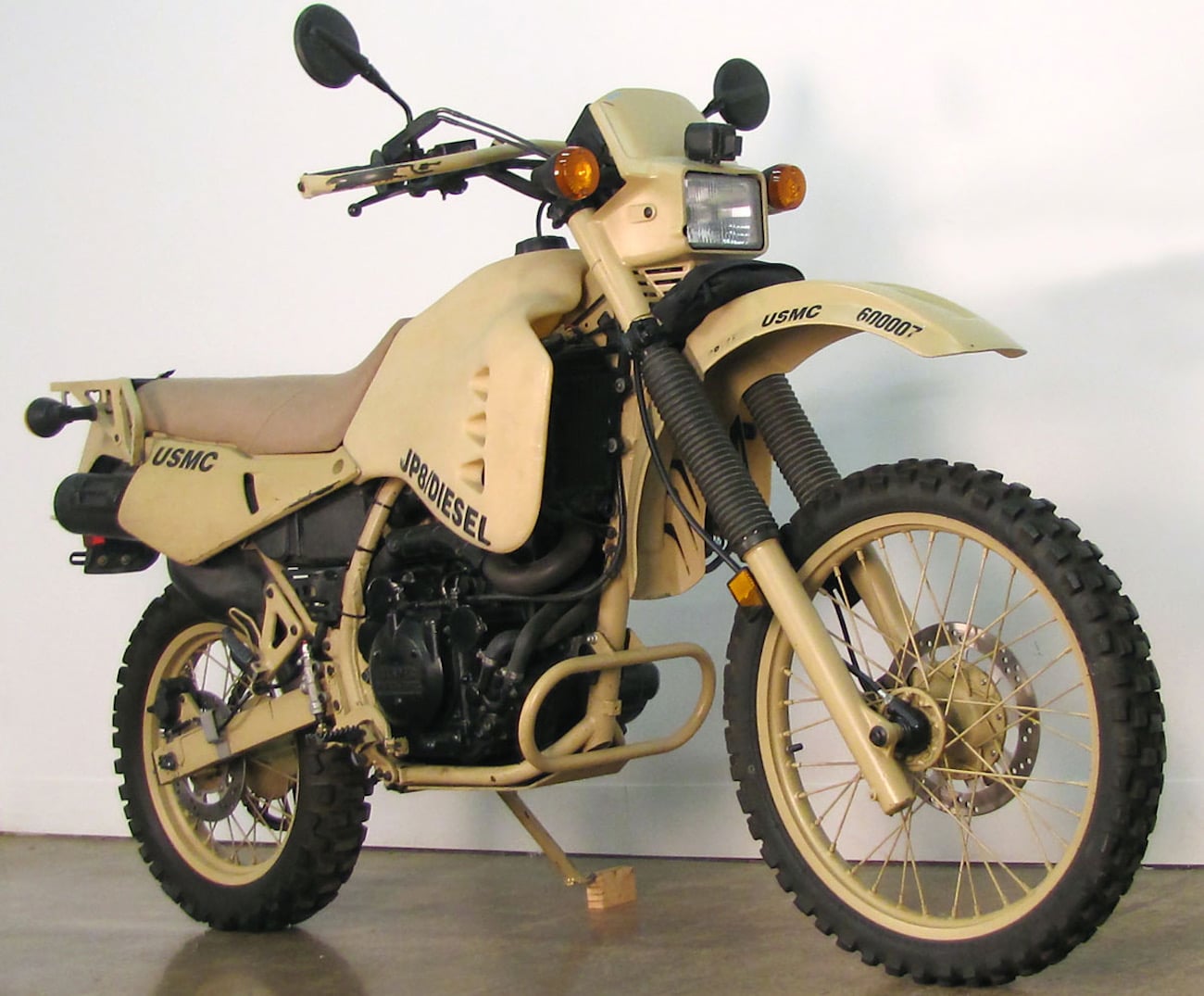 The Military Specification 2004 Hayes-DT M1030-M1 Started Life as a Kawasaki KLR650.
Dressed in desert camouflage, the Hayes M1030-M1 is actually a Kawasaki KLR650 with a engine converted to run on military-issue fuel by Hayes Diversified Technologies (HDT) of Hesperia, California. All of the military organization in NATO (North American Treaty Organization) require all of their vehicles to be able to run on diesel fuel or biodiesel in peace time, and on JP8 aviation fuel or kerosene in time of war. That requirements means that everything from tanks to jeeps to jets can use the same fuel, lessening the confusion of supplying and transporting different types of fuels. Thus, the U.S military motorcycles had to run on diesel.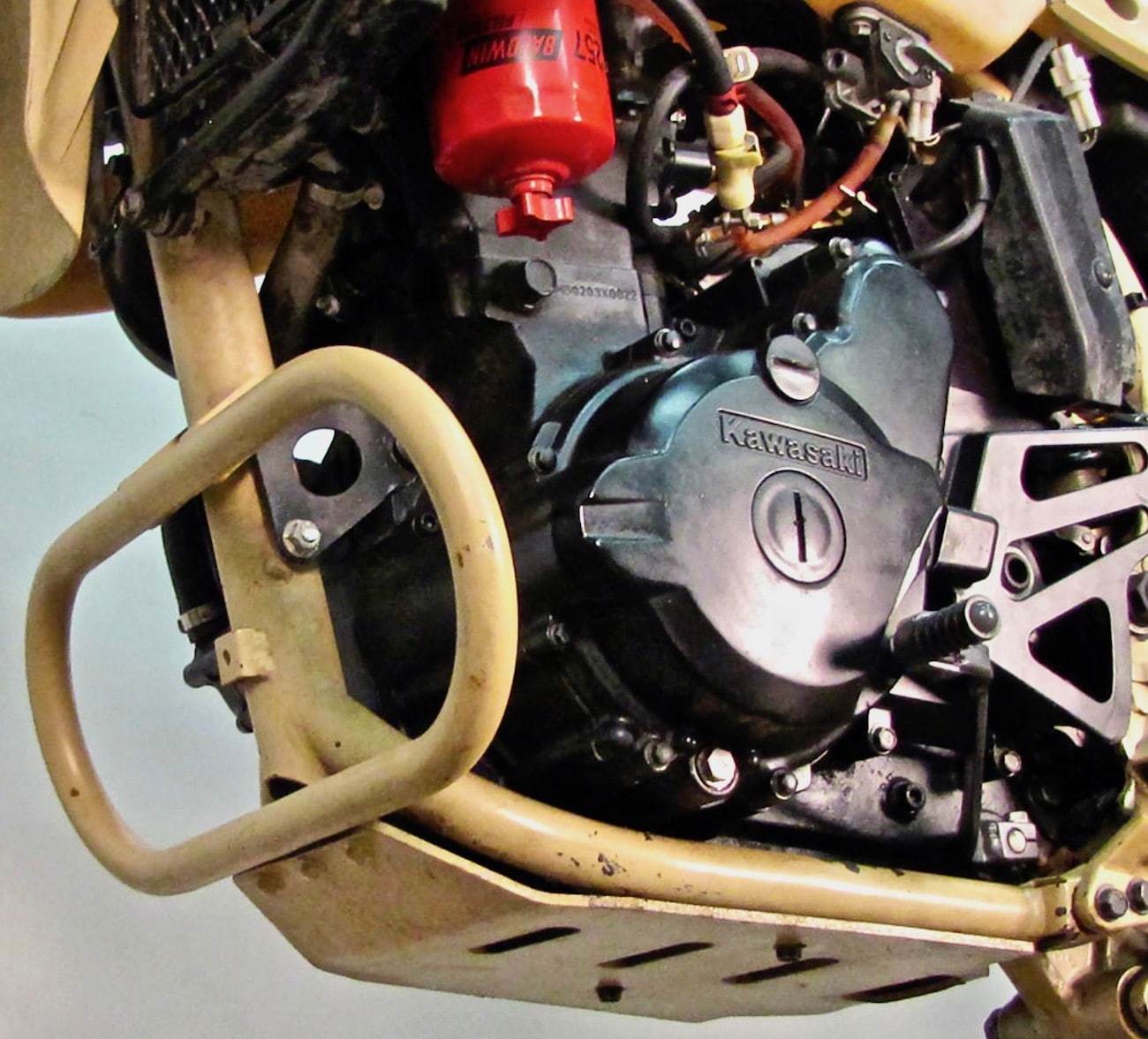 Hayes Diversified Technologies (HDT) started with a water-cooled Kawasaki KLR650 and used the stock Kawasaki main cases and five-speed transmission, down-sized the displacement to 584cc (some model's engines were 611cc) with a new piston, cylinder and 100mm by 83mm bore and stroke. Other components were changed to accept the very high compression ratio that diesel engines demand. This is not a high horsepower powerplant. It makes approximately 30 horsepower, but because of its torque it has good pulling power and could reach 85 mph if necessary. Although Hayes Diversified Technologies built a 670cc version for the Bonneville Salt Flats that went 121.2 mph. Then owner Fred Hayes entered it in the Vetter Fuel Challenge as a streamliner and it got 162 miles per gallon on diesel. Hayes won his class from 2010 to 2014.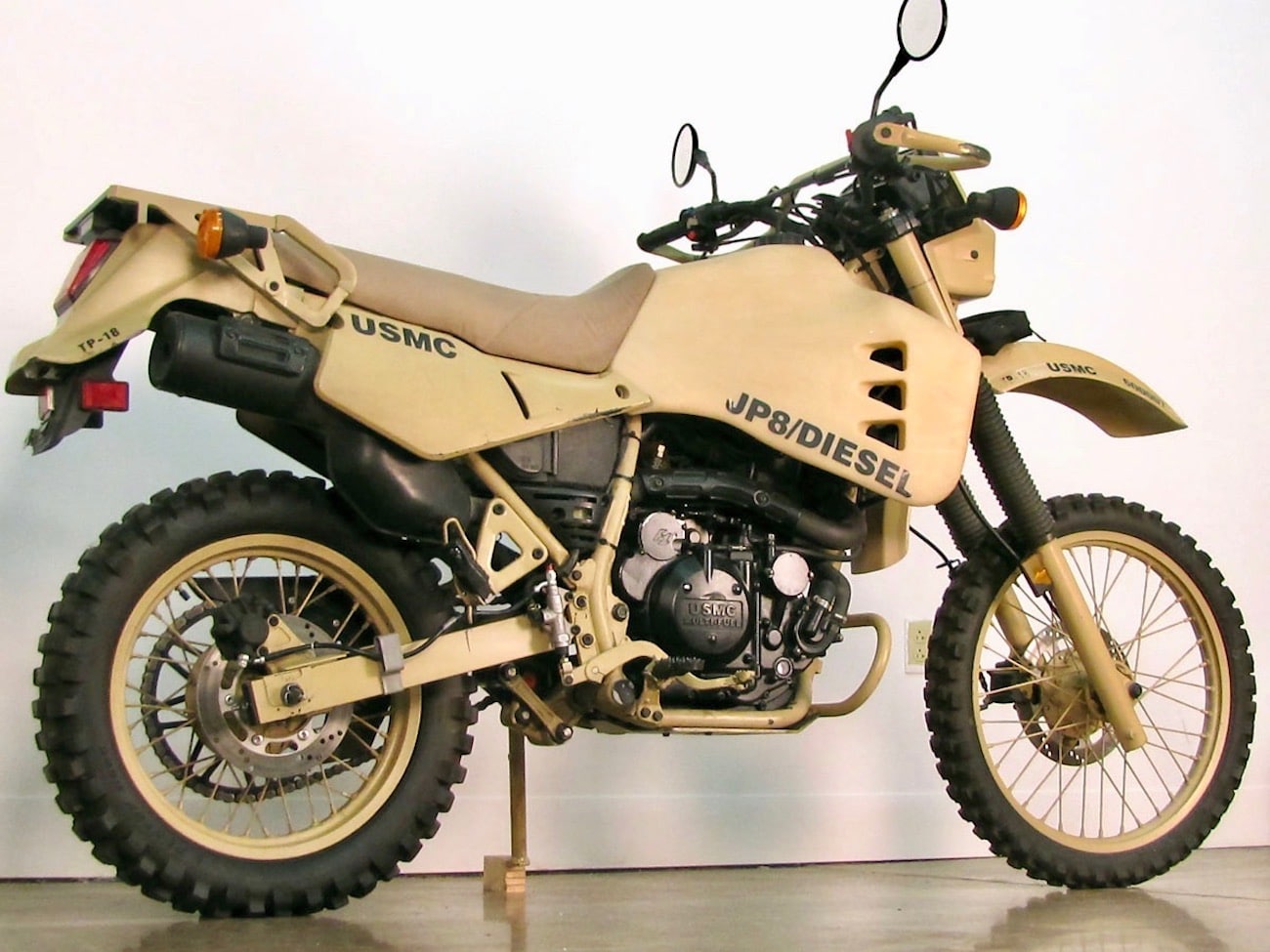 As with all military motorcycles, the HDT M1030-M1 has to meet the rigorous requirements of Army and Marine Corps life. It has to be able to cross streams that are two-feet deep, be equipped with black-out lights and be able to travel 400 miles on a tank of fuel. It has a 280mm front rotor to stop the 390 pound machine.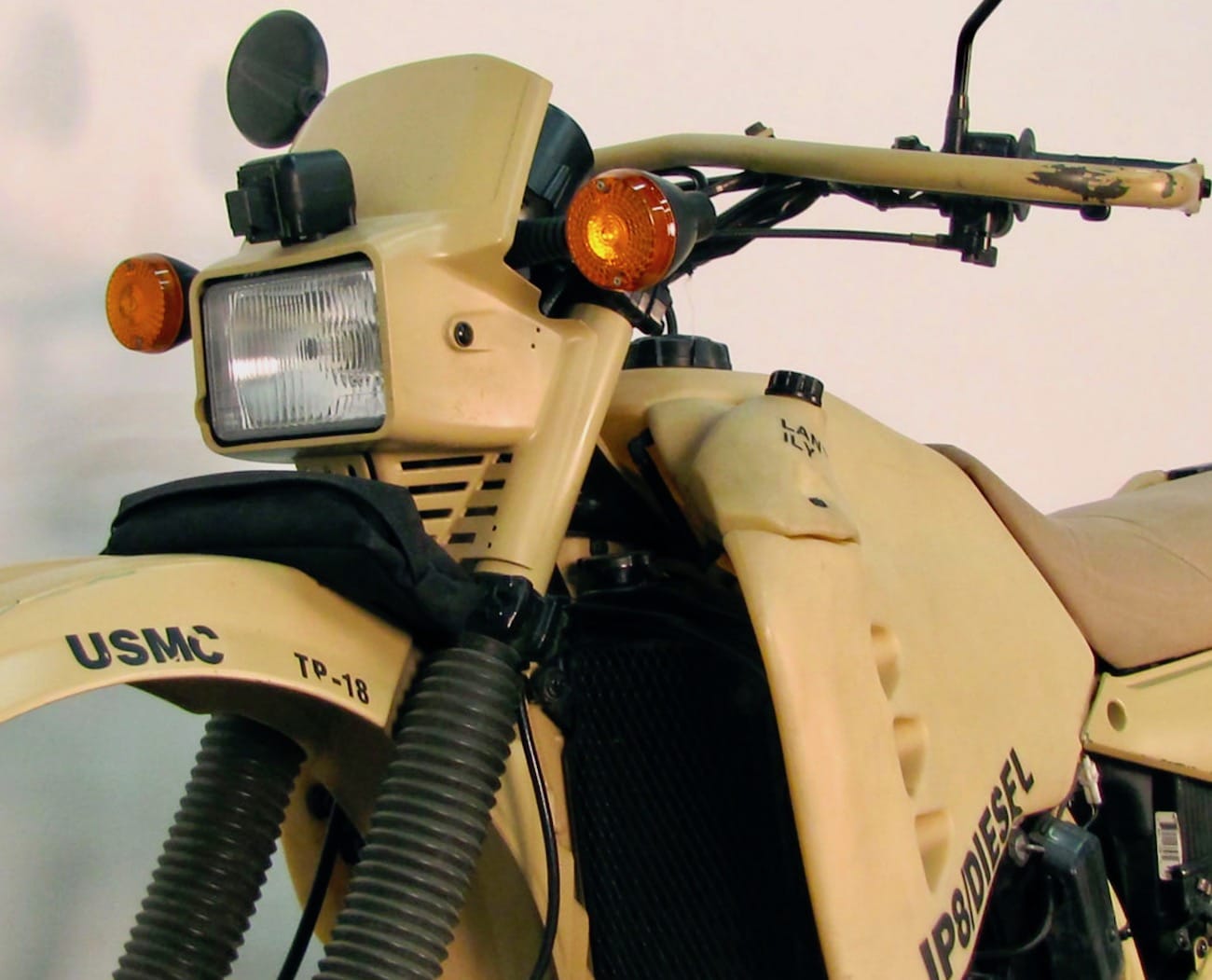 Motorcycles were very big with the U.S. Army in World War One. The government bought 41,000 bikes during WWI, the majority were Indians, for which they paid $187 and an extra $47 for a sidecar. Harley-Davidson made some 15,000 motorcycles for the war effort.
During the Second World War II, Harley-Davidson produced 88,000 machines to supply all branches of the armed forces—and Canada, China, Great Britain, Russia and South Africa. Indian made 42,000 motorcycles cycles for the government. None of these bikes were considered off-road worthy. Most of the motorcycles that went to war zones were used in the European theatre, as the Pacific was not conducive to motorcycles. The German Army made wide use of the motorcycles and had 20s motorcycle infantry battalions during WWII.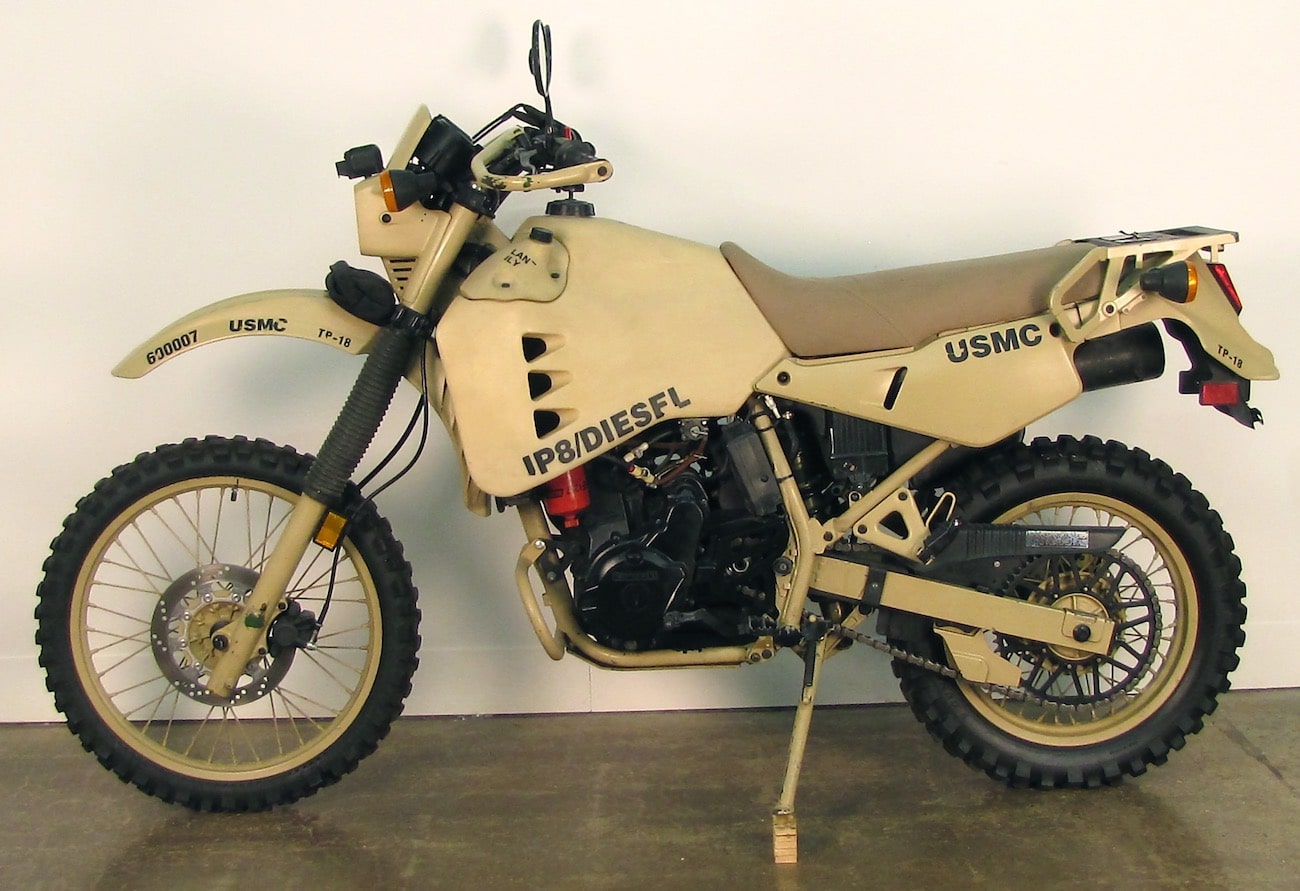 It wasn't until the 1980s that the U.S. military took motorcycles seriously again. Harley-Davidson got the government contract and since they owned the British Armstrong motorcycle company, they supplied the off-road capable MT500 and, in the 1990s, the MT350. But the Armstrong's ran on gasoline. Which is where Hayes entered the picture with the HDT M1030-M1 to produce diesel motorcycles from 2004 to 2008. The U.S. Marine Corps bought 440 M1030-M1 models. British and European NATO countries bought an unspecified numbers. Hayes tried to market the 670cc version in 2010 and they no longer make military motorcycles.
• THIS WEEK AT MXA WITH JOSH MOSIMAN: WOULD YOU BE IMPRESSED IF YOU GOT TO RIDE A FACTORY BIKE?
• 2023 YAMAHA YZ450F "FIRST LOOK" VIDEO VIEWS BY MEDIA
Below are YouTube's official number of viewers of MXA, Dirt Bike, SwapMoto, Vital and RacerX for their"First Look"videos of the 2023 YZ450F.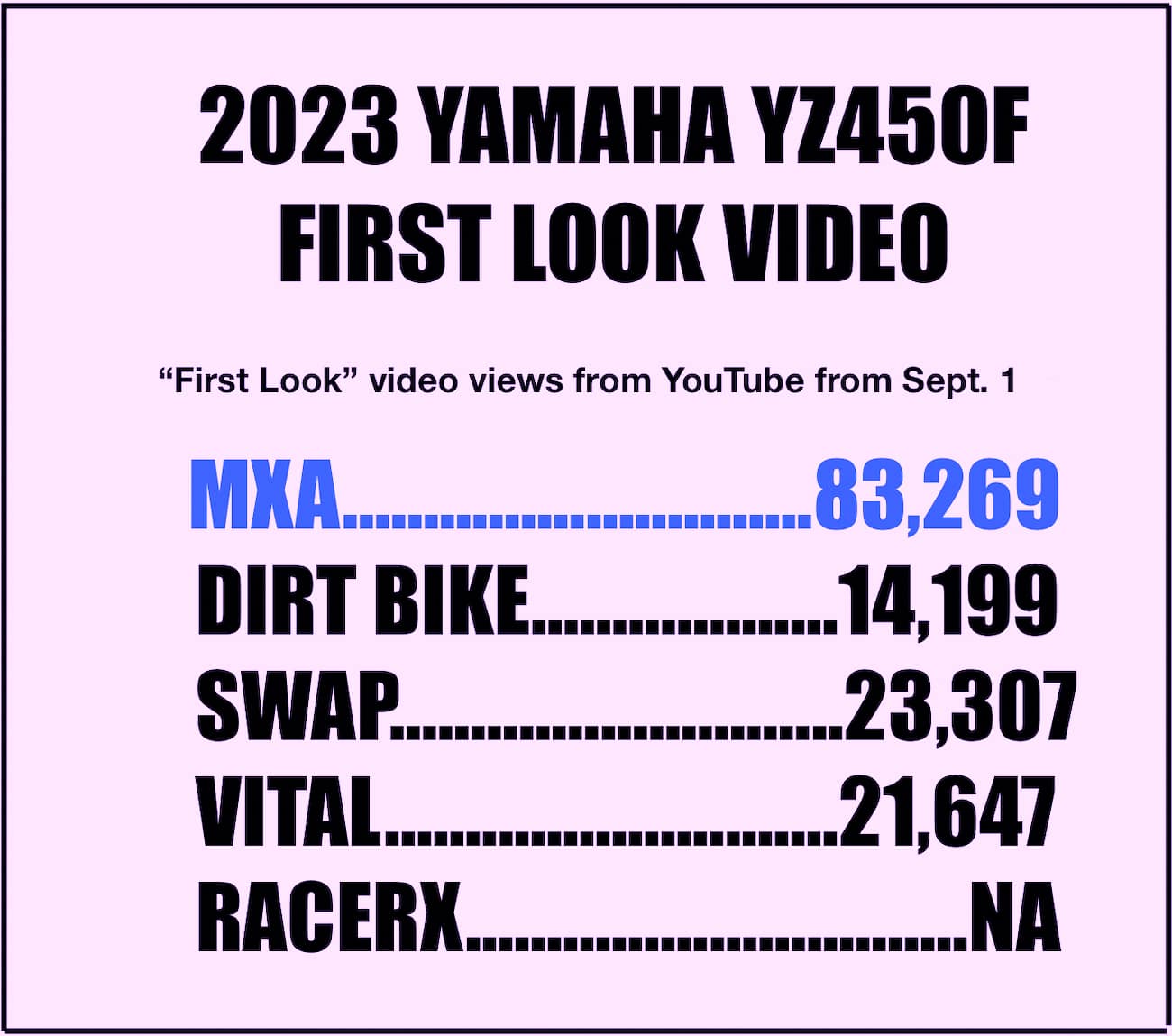 • MXA FIRST LOOK VIDEO:WHAT'S NEW ON THE 2023 YAMAHA YZ450F
• MXA TEAM TESTED: WORKS CONNECTION SHORTY FORK BLEEDERS

As you ride your bike across rough ground, the movement of the fork creates friction. The byproduct of the friction is heat. If you don't believe us, reach down and grab your fork leg with your bare hand after a moto. The fork tubes will be hot—although on an air fork, the oil leg of the fork will be hotter than the air side. All this heat makes the air inside your fork tubes expand. And when air pressure rises inside a closed container, such as a fork leg, it resists being compressed. The hotter your forks get, the stiffer they become.
Now, you may think that since your bike has coil-spring forks, your bike is not affected by the expansion of hot air. Wrong! All forks, whether they are air forks or coil-spring forks, are air forks. There has to be an air chamber in all fork designs to compensate for the collapsing movement of the forks. And that air chamber, when it gets hot, will make your forks stiffer. How much stiffer? It depends on the ambient air temperature, the roughness of the track, the rider's weight and his speed, but 4 to 5 psi on a WP air fork is a ballpark number.
After a long, tough moto, your forks will be considerably stiffer than they were when the moto started. If you don't bleed the expanded air out of the forks before your next moto, they are going to get a lot stiffer. Every manufacturer puts a bleed screw on the top of the fork caps to allow the rider to release the trapped air with a screwdriver or a #20 Torx driver. Bleeding your forks should be high on your must-do list between motos, but you can make the job a lot easier by installing Works Connection's Shorty push-button air bleeders. They allow built-up air pressure to escape with the touch of a finger. Not serious problem, but there can occasionally be a small amount of oil mist when the air pressure is released.
Here is the simple three-step installation procedure. (1) Never put air in or bleed air out of your forks with the front wheel on the ground. Why? When the front wheel is on the ground, the weight of the motorcycle collapses the fork legs a small amount, which in turn changes the volume of the air chamber. (2) Take the time to clean the top of your fork caps before removing the old air-bleeder screws. Once you have the old bleeder screws out, you can simply thread the Works Connection push-button bleeders in. They have an O-ring to seal against any oil leaks. Don't over-tighten the bleeders; they have a very small thread size and can break. (3) Position the push-button fork bleeders so they can be reached easily and where they are protected from roost and errant wrenches. This can be complicated by the handlebars, handguards and bar pads.
As you would expect, not every fork manufacturer uses the same size or thread pitch on its stock bleed screws. On the current crop of 2021 450cc motocross bikes, there are three different bleed-screw types. WP forks use Works Connection's 26-330 part number, Honda and Kawasaki the 26-321, while Yamaha and Suzuki need the 26-320 part.
DIGITS? $24.95— www.worksconnection.com.
MXA RATING: The world does not revolve around how quickly you can get the excess air pressure out of your forks; it revolves around whether or not you actually let the air out. The choice between digging in your toolbox for a tool or pressing a button should be fairly obvious.
• MXA AD OF THE WEEK: HANG TEN MOTOCROSS SOCKS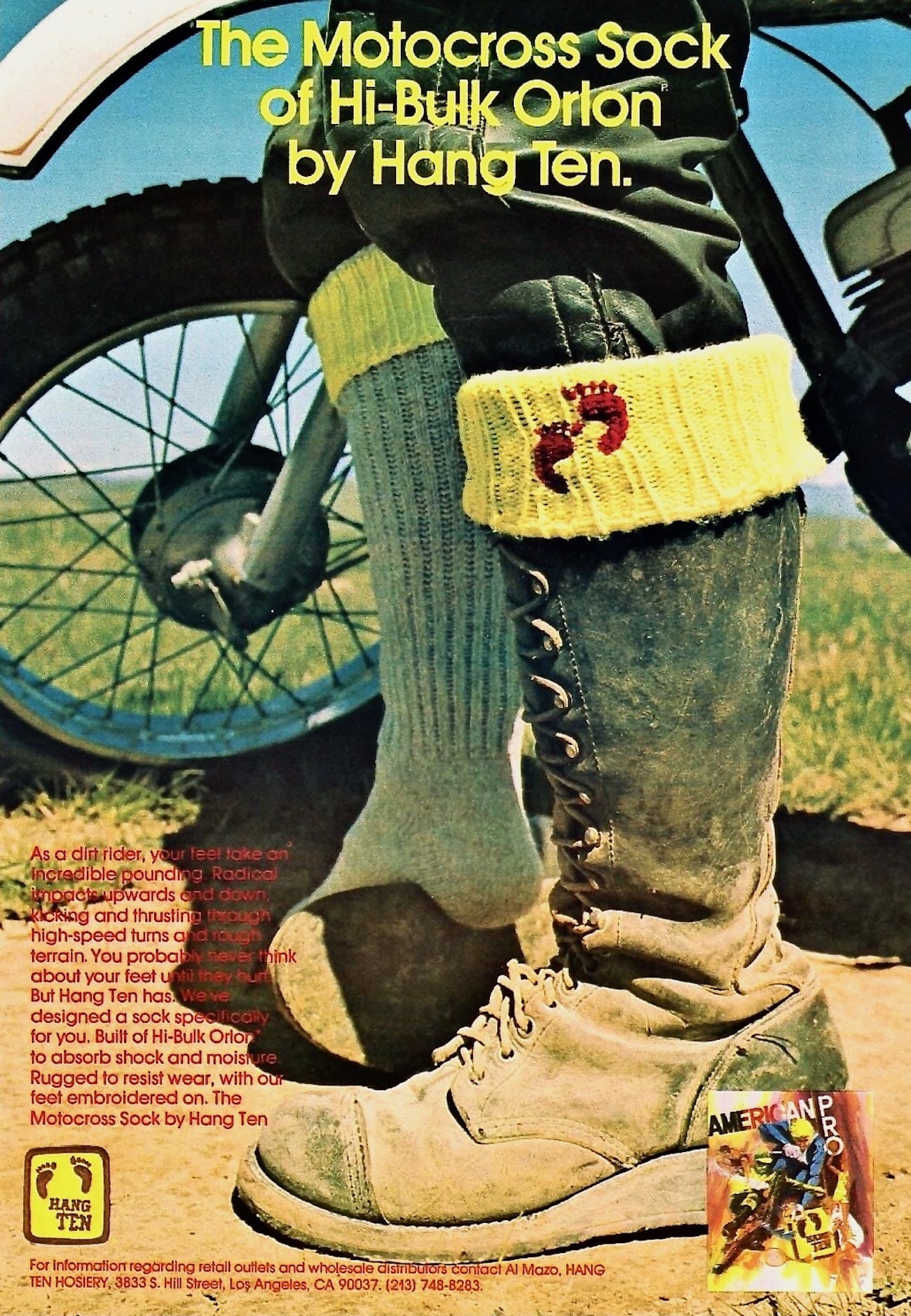 Hang Ten Surfwear was an early supporter of the sport of motocross. They sponsored the USGP at Carlsbad and made their own brand of motocross socks. They even went to the extent of embroidering the Hang Ten logo inside the sock so that it was visible when you rolled the socks over your boot, as was the fashion in the early 1970s.
• MXA PRODUCT SPOTLIGHT: MAXIMA RACING DOT 4 BRAKE FLUID
Synthetic, zero-fade racing brake fluid is designed to ensure maximum stopping power and protection for critical brake-system components under the most extreme racing conditions. Extensively developed formulation maintains unparalleled responsiveness and performance by preventing water contamination and vaporization in any environment. Advanced chemistry resists oxidation under excessive temperature, prevents corrosion, and is compatible with SBR and EPDM rubbers. It also exceeds the requirements of U.S. FMVSS 116 DOT 3 & DOT 4, SAE J1703 and SAE J1704. Retail price: $16.95 at www.maximausa.com or (619) 449-5000.
• WE RIDE ZACH OSBORNE'S RESTO-MODDED HUSQVARNA TC300 TWO-STROKE
• THE NEXT $5000 PASHA 125 PRO TWO-STROKE "WORLD VET WARM-UP"  RACE WILL BE ON OCTOBER 1

The October 1, 2022, Pasha 125 Open two-stroke race is the last chance for riders under the age of 30 to race for big purse money because the World Vet will only have Over-30 and Over-50 125 Pro races (not to mention a $10,000 purses). The $5000 October 1 warm-up race will pay the 125 Pro Class $2500 for first, $1500 for second and $1000 for third. The Over-30 125 Pros and Over-50 125 Pros will not have a purse for this race, but at the World Vet race on November 5-6 they will split $10,000 in purse money (with the top three in the Over-30 class getting paid and the top five in the Over-50 getting paid. For more info go to www.glenhelen.com.
• THE OVER-THE-HILL-GANG 7TH ANNUAL 9-11 MEMORIAL MOTOCROSS AT GLEN HELEN
Don't get confused by the fact that the OTHG 9-11 Memorial race is being held on 9-17, just show up! They have classes for everyone. For more info go to www.othgmx.org.
• MXA FIRST RIDE VIDEO: 2023 KTM 300SX FUEL-INJECTED TWO-STROKE
• THE OCTOBER 2022 ISSUE OF MXA IS OUT! SUBSCRIBE AND YOU WON'T MISS ANYTHING

Did you know that you can subscribe to MXA at virtually no cost to you—because when you subscribe you receive a Rocky Mountain ATV/MC credit for $25 towards anything in their massive inventory. Plus, you will get all the content in the 12 monthly issues of Motocross Action magazine—from four-stroke tests, two-stroke tests, retro tests, race coverage, new tech to product tests….most of which never appear on the internet. And, don't forget, that $25 credit from Rocky Mountain ATV/MC  that will more than cover the cost of your subscription. To subscribe call (800) 767-0345 or Click Here
• MXA FIRST RIDE VIDEO: 2023 KTM 450SXF
• MXA PRODUCT SPOTLIGHT: FASTWAY PRO MOTO BILLET AIR-EXT FOOTPEGS
"The Fastway Air-Ext (Ankle-Savers) footpegs are the pinnacle of American-made control, comfort and performance at your feet. The patented Fit Kit system allows standard and low-position options for taller riders, while the adjustable camber allows you to tilt the peg for reduced leg fatigue. Also, the adjustable footbed allows for the ultimate feel from the soles of your boots." The retail price is $299.94 at www.fastway.zone or (208) 466-4762.
• 2022 WORCS OFF-ROAD SERIES: THE NEXT RACE IS SEPTEMBER 16-18 IN IDAHO
WORCS took the summer off, but return to action on September 7-8 in Preston, Idaho. For more info go to www.worcsracing.com.
• MXA PRODUCT SPOTLIGHT: SIDI CROSSFIRE 3 SRS BOOTS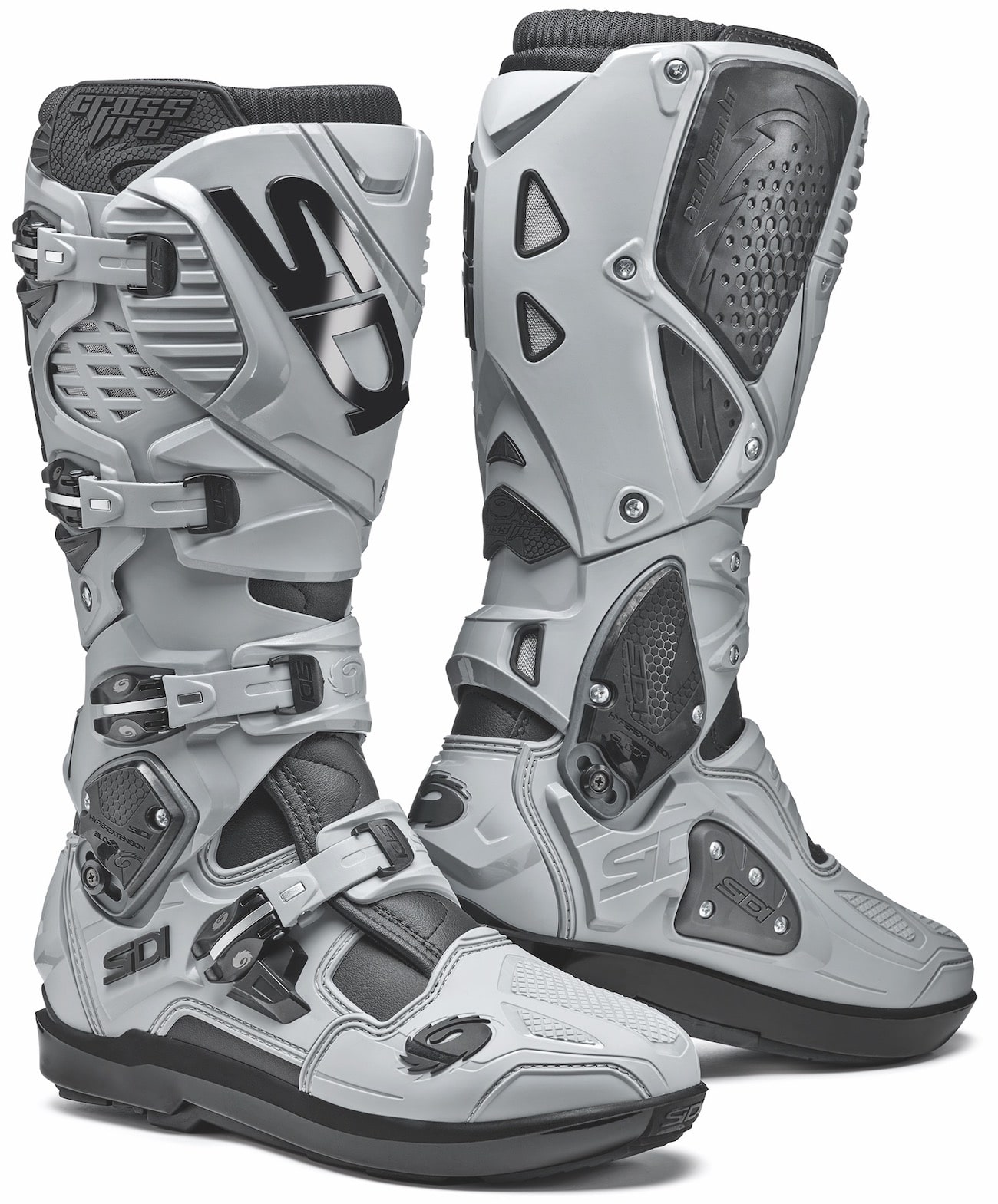 The all-new Sidi Crossfire 3 SRS motocross boot uses high-tech details to address specific needs expressed by riders. Starting with the Hyper Extension Block, which is crucial for safeguarding the rider's ankle and tendons, and continuing with the Flex System, which acts on the flexibility of the boot. The Adjustable Calf System regulates the opening of the boot, allowing the cuff to be widened or narrowed by means of simple adjustments to guarantee an absolutely comfortable fit.
A replaceable boot guard plate, made of PU with a molded rubber insert, is responsible for protecting the rider'sleg from the heat of the engine. It is inserted inside the boot cuff and helps to extend the life of the boot by limiting wear. Finally, the removable and replaceable Dovetail sole has been chosen to complete the boot and it is also available in an enduro version. This component is made with the aim of ensuring maximum safety and comfort while guaranteeing perfect grip on both the bike and the ground. The retail price is $599.99 at www.motonation.com.
• FIRE & POLICE LOMA LINDA HOSPITAL BENEFIT MOTOCROSS ON OCT. 10-11 AT LAKE ELSINORE

For more info go to www.firepolicemx.com
• MXA PRODUCT SPOTLIGHT: WISECO RACER ELITE CONNECTING ROD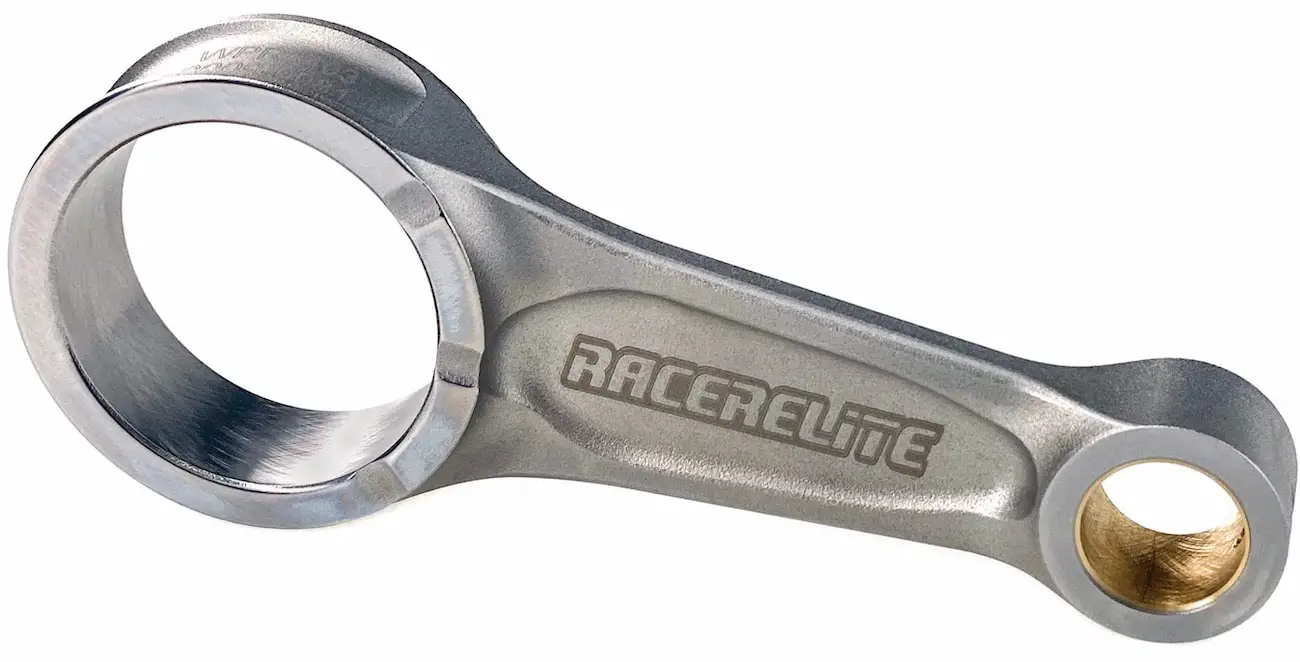 An OEM rod is a good part, but it's also built specifically for what the stock horsepower output and rpm range are. The new Wiseco Racer Elite connecting rods are taking a step up in allowable performance, offering higher strength and quality, which are necessary to push the limits of what the engine can do in terms of horsepower and rpm. Racer Elite connecting rods are precision CNC-machined and held to tolerances as tight as one ten-thousandth of an inch in certain areas and also feature a rolled-in bronze bushing in the small end, oiling slots and passages in both ends, and carefully tested surface finishes. Retail price: $356.95–$415.95 at www.wiseco.com or (440) 951-6600.
• MXA FIRST RIDE VIDEO: 2022 HONDA CRF450WE WORKS EDITION
• 2022 RED BULL STRAIGHT RHYTHM COMES TO "SURF CITY" ON OCTOBER 15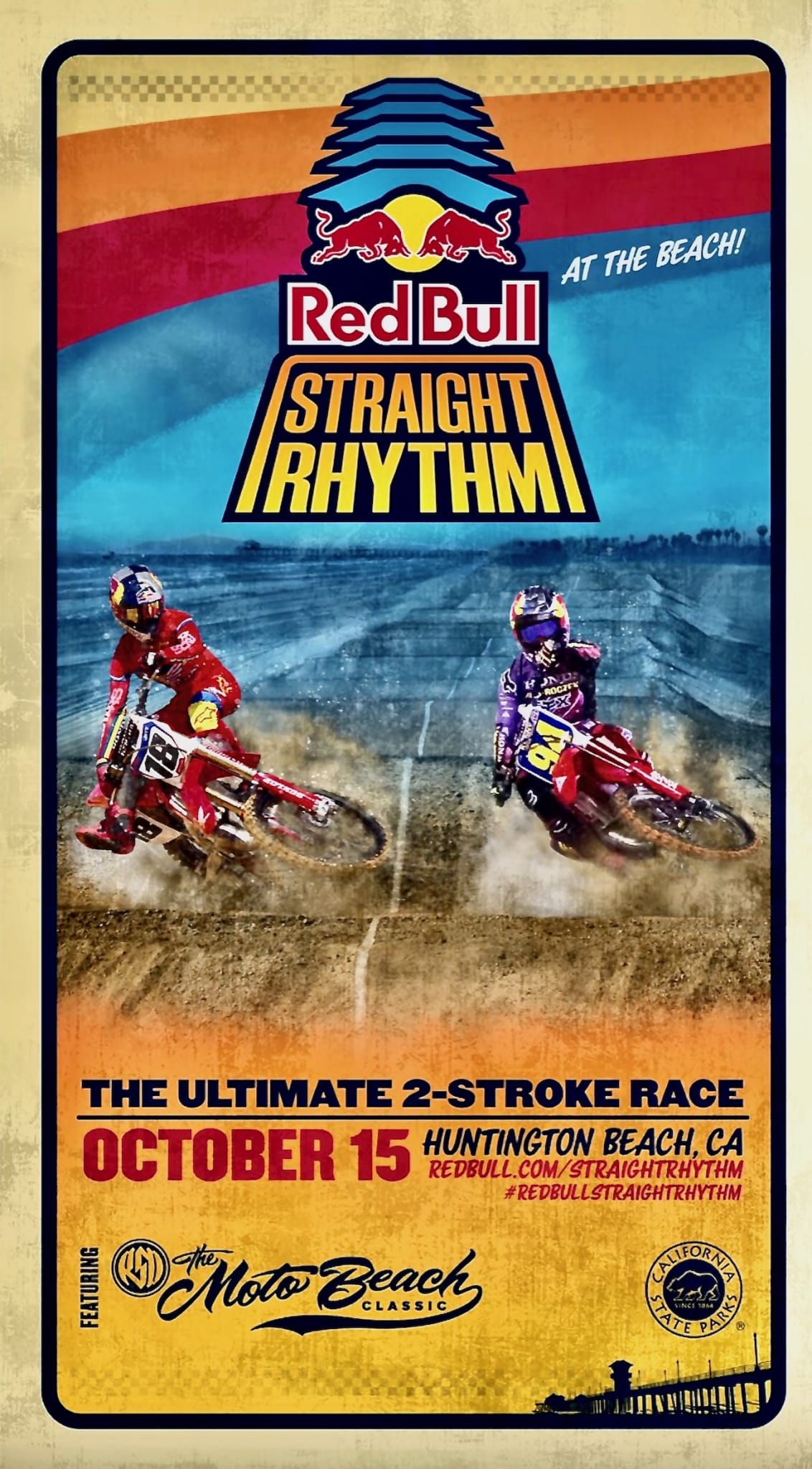 Huntington Beach will be the site (after two years off). For more information go to www.redbull.com/straightrhythm
• MXA PRODUCTS SPOTLIGHT: ZETA RACING ULTRA-LIGHT CLUTCH PERCH
The new Zeta Racing Ultra-Light clutch perch opens up new options for customization at your clutch with four adjustment-ratio functions to make the pull lighter, along with a forged lever and an extra-thick clamp to increase durability. The reach of the lever is easily adjustable to bring the clutch lever closer or further away from your hand as well. Plus, the Zeta Racing perch makes adjusting the play in your cable clutch lever easy while you're riding by simply pushing the roller forward or backward. Retail price: $89.95 at www.zeta-racing.com or [email protected]
• 2022 GREAT PLAINS VINTAGE MOTOCROSS SERIES: THE FINAL RACE IS ON OCT. 16 IN FARRAGUT, IOWA
For more info go to www.greatplainsvintagemx.org
• MXA PRODUCT SPOTLIGHT: DECAL WORKS GRAPHIC GUARD
We at MXA, practically ruin the side of our graphics within an hour of testing our bikes. Granted, we are riding them extremely hard but by the time we get back to our trucks, the side of our number plates typically resembles that of a public restroom at your local Taco Bell. What makes the problem even worse is when the residue of the plastic mixes with the rubber of your boots, creating nasty-looking marks.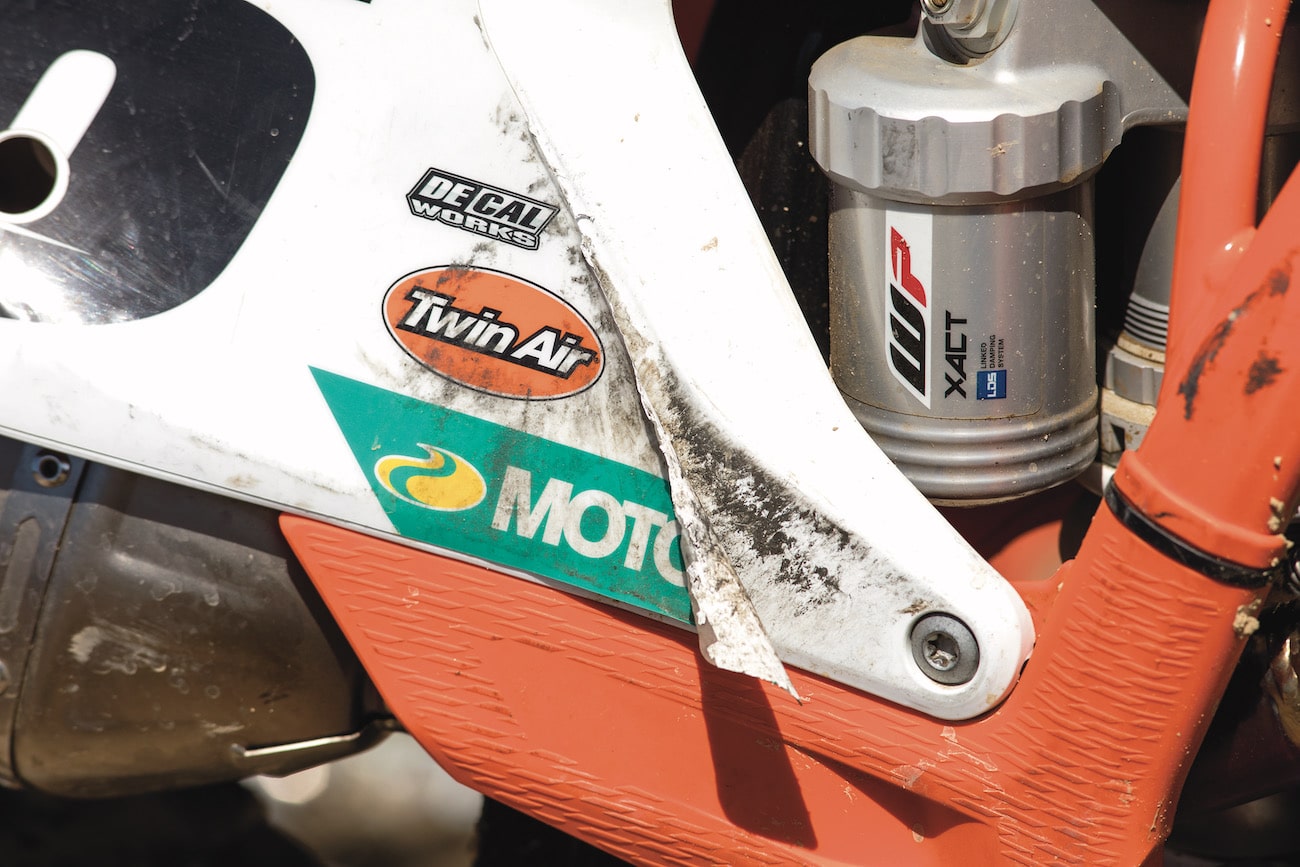 We are not exaggerating when we say this happens on every bike during the first day of testing.
That's where Decal Works' very clever device comes in. Molded by Polisport but developed by Decal Works, it's so simple, we wonder why we don't see them on more bikes. A piece of plastic bolts right onto the side of your number plates and stops your boot from gripping the plastic, pulling it up. Retail price: $25.95 to $35.75 at www.decalworks.com.
• MXA FIRST RIDE VIDEO: 2023 HUSQVARNA TC250 FUEL-INJECTED TWO-STROKE
• 2022 DUBYA WORLD VET CHAMPIONSHIP ON NOV. 5-6

The 2022 Dubya World Vet MX Championships will take place on November 4-6 at Glen Helen Raceway. Over a thousand riders will travel from all 50 states and 25 different countries to compete for a prestigious World Vet Championship title. This is one of the largest Vet races in the world and certainly the longest running. This year, Glen Helen is looking forward to having even more countries participate. There will also be a three-moto format this year! Racing will start on Saturday for all Amateur classes and continue until Sunday. The results of the three motos will determine the 2022 Dubya World Vet MX Champion in every class! The exceptions are the Over-40 Pros, Over-50 Pros and Pasha Over-30 125 Pros—who race on Saturday only. Additionally, the Over-30 Pros and Pasha Over-50 125 Pros will race on Sunday only. The World Cup race for national teams from individual countries will race one moto on Saturday and one moto on Sunday.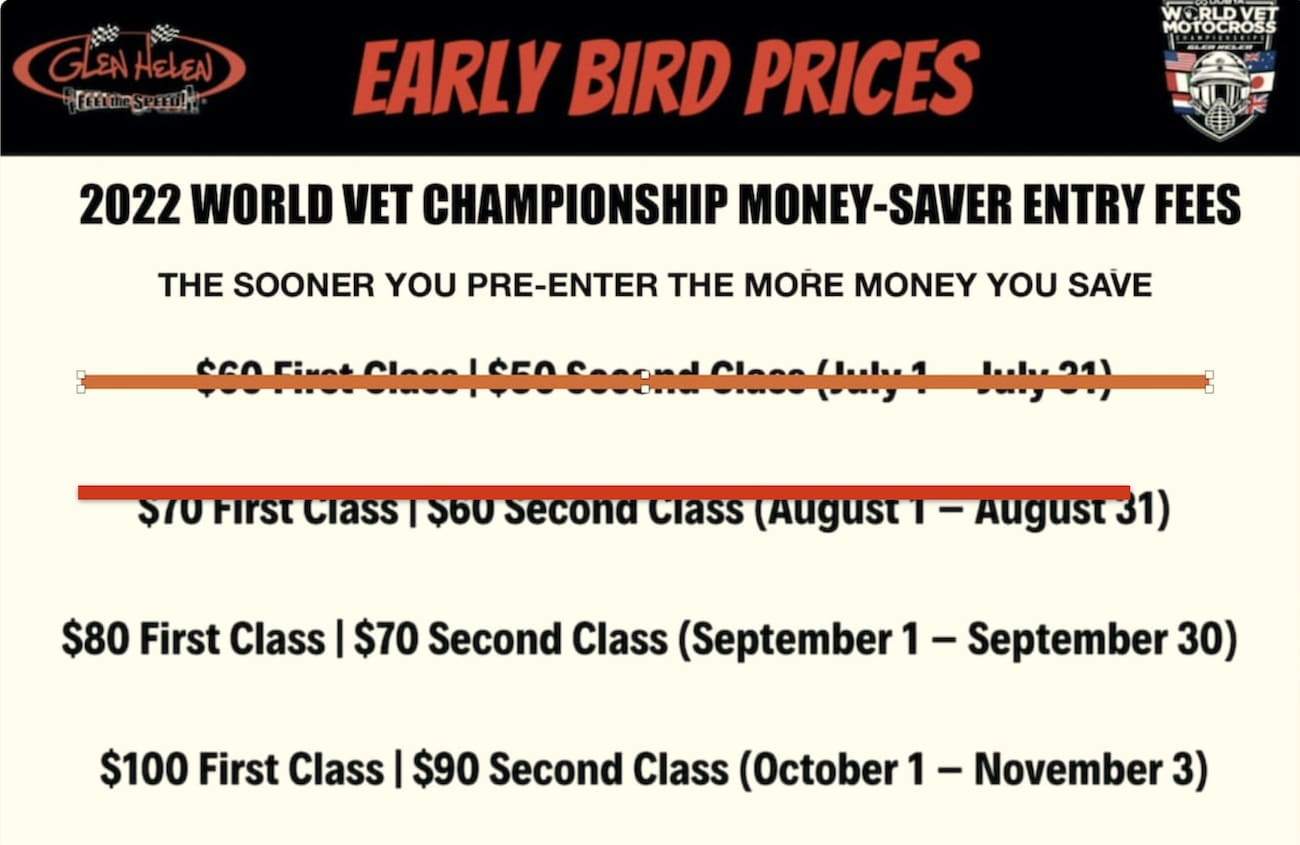 Riders can pre-enter the World Vet now! The first and cheapest of the four discount periods ended on July 31. The second discount period ended on August 31. And the current on ends on September 30. Pre-entering saves lots of money. To pre-enter and see the class structures Click Here.
• SHIP YOUR BIKE TO THE 2022 WORLD VET MOTOCROSS CHAMPIONSHIP AND HAVE IT SAFELY STORED UNTIL YOU ARRIVE
The 38th Annual Dubya World Vet MX Championship is quickly approaching on November 4-6, 2022. With over a thousand riders traveling from many different cities, states, and countries to compete for a prestigious World Vet Championship title, many riders require a place to ship and store their bike. Although you will have to arrange shipping from your country or state, you can ship your bike to Malcolm Smith Motorsports and pick it up there once you arrive in SoCal. Malcolm Smith can receive your bike from the shipper of your choice and store it for a $150 storage charge—and it will be safe until you come to pick it up before your race. For the $150 you get seven days of storage. After the seven days, you will be billed at $20 per day. Included in this service is holding the bike after the race for return shipping for a maximum of 7 days (billed at $20 per day). This service does not include any transportation of your motorcycle to the track, uncrating or mechanical work. For more info or to order this service Click Here
• HOW SMART DO YOU HAVE TO BE TO SUBSCRIBE TO MXA? YOU SUBSCRIBE AND GET A $25 ROCKY MOUNTAIN GIFT CREDIT—SEEMS SIMPLE

You can't afford not to subscribe, because when you order a subscription, Rocky Mountain ATV/MC sends you a $25 gift credit to use on anything you want from their massive selection. Plus, subscribers to MXA can also choose to get the digital mag on their iPhone, iPad, Kindle or Android by going to the Apple Store, Amazon or Google Play or in a digital version. Even better, you can subscribe to Motocross Action and get the awesome print edition delivered to your house by a uniformed employee of the U.S. Government. Do we have to mention the $25 Rocky Mountain ATV/MC gift card again? You can't lose on this deal? Call (800) 767-0345 or Click Here
 • TENTATIVE 2022 RACE SCHEDULES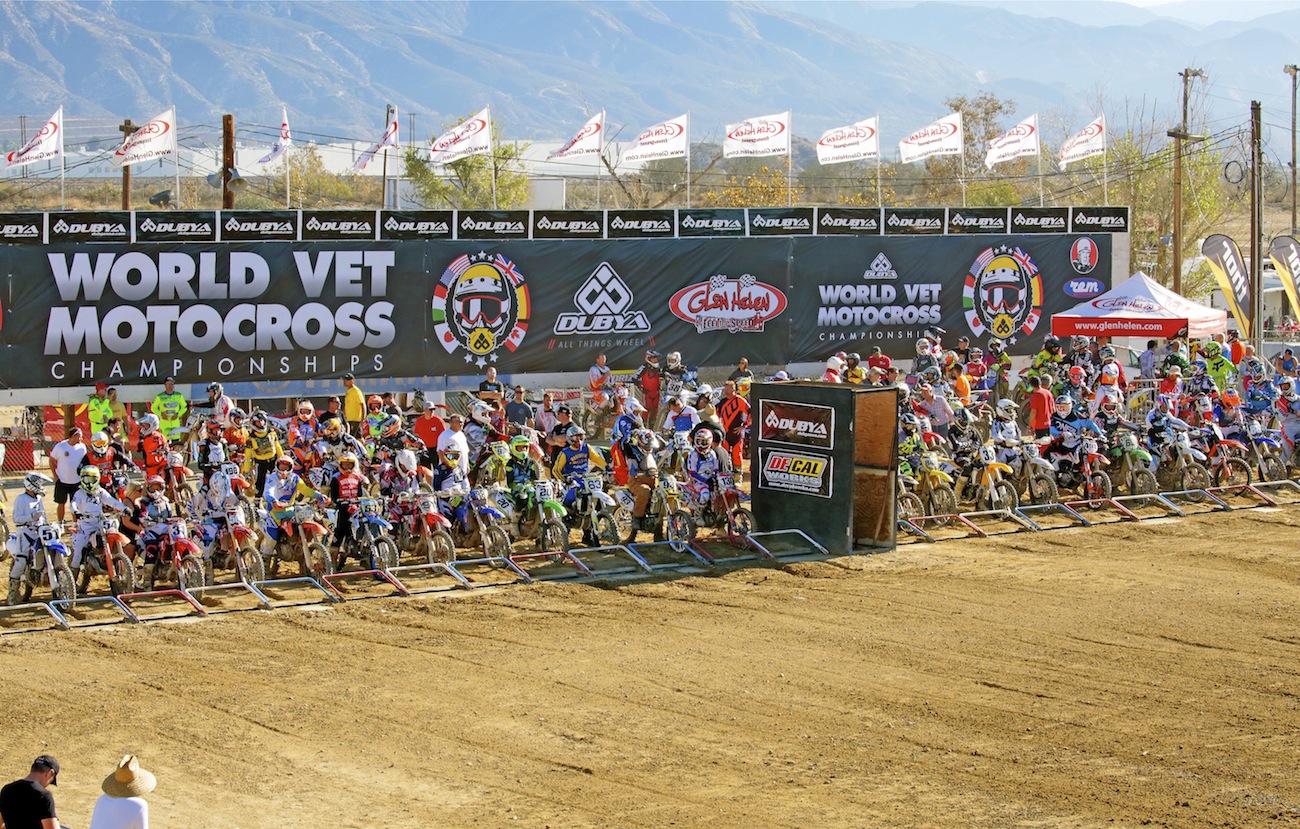 The 2022 World Vet Motocross Championship is shaping up to be a barn burner, as lots of former motocross stars from different decades are lining up to win the Over-30, Over-40, Over-50, Over-60 and Over-70 titles. Believe it or not, multi-time AMA 250 National Champion Gary Jones is now 70-years-old. He is he only rider to have won World Vet crowns in the Over-30, Over-40, Over-50 and Over-60 classes. If he can win the Over-70 title in 2022, he will have a Grand Slam of most of the important age groups. But Gary won't be perfect because 1970s GP star Lars Larsson is the reigning Over-80 World Vet Champion and Gary Jones has to wait ten years before he's old enough to get the clean sweep he wants.

2022 AMA NATIONAL MOTOCROSS CHAMPIONSHIP
May 28…Pala, CA
June 4…Hangtown, CA
June 11…Thunder Valley, CO
June 18…Mt. Morris, PA
July 3…Red Bud, MI
July 9…Southwick, MA
July 16….Millville, MN
July 23….Washougal, WA
Aug. 13…Unadilla, NY
Aug. 20…Budds Creek, MD
Aug. 27…Crawfordsville, IN
Sept. 3…Pala, CA
2022 FIM GRAND PRIX CHAMPIONSHIP (TENTATIVE)
Feb. 27…Matterley Basin, England
Mar. 6…Mantova, Italy
Mar. 20…Villa La Angostura, Argentina
April 3…Agueda, Portugal
April 10…Trentino, Italy
Apr. 24…Kegums, Latvia
May 1…Orlyonok, Russia (CANCELED)
May 8…Maggiora, Italy
May 15…Rio Sardo, Sardinia
May 29…Intu Xanadu, Spain
June 5…Ernee, France
June 12…Teutschenthal, Germany
June 26…Samota-Sumbawa, Indonesia
July 3… Jakarta, Indonesia (CANCELED)
July 17…Locket, Czech Republic
July 24…Lommel, Belgium
Aug. 7…Uddevalla, Sweden
Aug. 14…Hyvinka, Finland
Aug 21…St. Jean d' Angely, France
Sept. 4…Afyonkarahisar, Turkey
Sept. 11…Oman (CANCELED)
2022 AMA ENDUROCROSS SERIES SCHEDULE
Sept. 24…Redmond, Oregon
Oct. 1…Denver, Colorado
Oct. 15…Salt Lake City, Utah
Oct. 22…Prescott Valley, Arizona
Nov. 5…Boise Idaho
Nov. 19…Reno, Nevada
2022 AMA SUPERCROSS CHAMPIONSHIP
Jan. 8…Anaheim, CA
Jan. 15…Oakland, CA
Jan. 22…San Diego, CA
Jan. 29…Anaheim, CA
Feb. 5…Glendale, AZ
Feb. 12…Anaheim, CA
Feb. 19… Minneapolis, MN
Feb. 26…Arlington, TX
Mar. 5…Daytona Beach, FL
Mar. 12…Detroit, MI
Mar. 19…Indianapolis, IN
Mar. 26…Seattle, WA
Apr. 9…St. Louis, MO
Apr. 16…Atlanta, GA
Apr. 23…Foxborough, MA
Apr. 30…Denver, CO
May 7…Salt Lake City, UT
2022 KICKER ARENACROSS SERIES
Jan. 7-8…Loveland, CO
Jan. 15…Amarillo, TX
Jan. 21-22…Oklahoma City, OK
Jan. 29…Greensboro, NC
Feb. 4-5…Reno, NV
Feb. 11-12…Denver, CO
2022 WORLD SIDECAR MOTOCROSS CHAMPIONSHIP
Apr. 24… Holland
May. 22…Czech Republic
June 26…Belgium
July 3…Estonia
Sept. 4…Czech Republic
Sept. 18…Germany
2022 SATURDAY AT THE GLEN RACE SCHEDULE
Apr. 2…Spring Series #1
Apr. 23…Spring Series #2
Apr. 30…Spring Series #3
May 7…Spring Series #4
May 14…Spring Series #5 (National Track)
June 11…Summer Series #1
June 25…Summer Series #2
July 9…Summer Series #3
July 30…Summer Series #5
Aug. 13…Summer Series #6  & Pasha 125 Open (National Track)
Aug. 27…..Fall Series #1
Sept. 10…Fall Series #2
Sept. 17…Fall Series #3
Oct. 1…Fall Series #4 & Pasha 125 Open (National Track)
Oct. 15…Fall Series #5
Oct. 22…Fall Series #6
Nov. 12..Winter Series #1
Nov. 19…Winter Series #2
Dec. 3…Winter Series #3
Dec. 10…Winter Series #4 (National Track)
2022 WORCS OFF-ROAD SCHEDULE
Jan. 21-23…Primm, NV
Feb. 18-20…Glen Helen, CA
Mar. 11-13…Lake Havasu City, AZ
Apr. 8-10…Taft, CA
Apr. 29-May 1…Las Vegas, NV
May 27-29…Cedar City, UT
Sept. 16-18…Preston, ID
Oct. 14-16…Mesquite, NV
Nov 4-6…Primm, NV
2022 CANADIAN TRIPLE CROWN SERIES
June 5…Kamloops, BC
June 12…Drumheller, AB
June 19…Pilot Mound, MB
July 3…Walton, ON
July 10…Courtland, ON
July 17…Ottawa, ON
July 24…Moncton, NB
July 31…Deschambault, QC
Aug. 14…Walton, ON
2022 AUSTRALIAN NATIONAL CHAMPIONSHIP
Mar. 27…Wonthaggi
Apr. 10…Mackay
May 1…Wodonga
June 26…Maitland
July 24…Coffs Harbour
Aug. 14…Queensland Park
Aug. 20…Coolum
2022 MICHELIN BRITISH CHAMPIONSHIP
Mar. 20…FatCat
May 1…Landrake
May 29…Lyng
June 26…Cusses Gorse
Aug. 7…TBA
Sept. 4…Hawkstone
2022 REVO BRITISH CHAMPIONSHIP
Mar. 13…Culham
Apr. 17…Foxhill
May 8…Lyng
May 22…Canada Heights
June 19…Blaxhall
July 10…Fatcat
July 31…Whitby
Sep. 11…TBA
2022 WORLD TWO-STROKE CHAMPIONSHIP
April 16…Glen Helen, CA
2022 MOTOCROSS DES NATIONS
Sept. 25… Red Bud, MI
2022 WORLD VET MOTOCROSS CHAMPIONSHIP
Nov. 5-6…Glen Helen, CA
2022 PARIS SUPERCROSS
Nov. 12-13… Paris, France
• MXA YOUTUBE CHANNEL | HIT THAT SUBSCRIBE BUTTON
The MXA wrecking crew is everything moto related. Check out our MXA YouTube channel for bike reviews, Supercross coverage, rider interviews and much more. And don't forget to hit that subscribe button.