MXA'S WEEKEND NEWS ROUND-UP: LET'S MOVE ON TO WHAT'S NEXT — PLUS STARK VARG NEWS
• WORLD SUPERCROSS CHAMPIONSHIP CARDIFF FALLS TO TOMAC
Eli Tomac (3) won all three main event motos in Cardiff. Eli was a "wild card "entry, so he isn't racing for the Championship—although he would most likely win it.
2022 WORLD SUPERCROSS 450 RESULTS
1. Eli Tomac (Yam)…1-1-1
2. Ken Roczen (Hon)…3-2-4
3. Vince Friese (Hon)…2-3-5
4. Justin Brayton (Hon)…4-6-3
5. Josh Hill (Yam)…5-7-7
6. Cedric Soubeyras (Kaw)…12-4-6
7. Joey Savatgy (Kaw)…19-5-2
8. Angelo Pellegrini (Hon)…6-13-8
9. Adrien Escoffier (Suz)…11-8-12
10. Thomas Ramette (Yam)…7-10-14
2022 WORLD SUPERCROSS 250 RESULTS
1. Shane McElrath (Yam)…4-3-5
2. Chris Blose (Kaw)…2-4-8
3. Mitch Oldenburg (Hon)…1-19-1
4. Carson Brown (Yam)…6-7-4
5. Aaron Tanti (Yam)…7-9-3
6. Max Anstie (Hon)…11-1-10
7. Derek Kelley (Suz)…9-6-7
8. Maxime Desprey (Yam)…12-2-14
9. Wilson Todd (Hon)…13-5-12
10. Matt Moss (Kaw)…2-D-11
• STARK SAYS THAT PRODUCTION WILL BE DELAYED "A FEW MONTHS"
Anton Wass with his Varg prototype back in December 2021.
Stark founder Anton Wass says that the delivering dates of his electric Stark Varg motocross bike will "have a few months' delay." Over-promising is often the bug-a-boo of any company taking deposits with over-optimistic fulfillment dates— as a man who worked ran a major motorcycle retailer, Anton should have known better. Citing "Global supply chain issues" that have affected Stark production more than they had anticipated, the result is that the Varg's production scale up has taken longer than they had expected—and unfortunately promised. Wass says that within the next few weeks, Stark sales support will call every single customer who put down a deposit to update them on the status of their order and clarify any questions consumers may have regarding their bikes delivery.
• WHAT'S SO SUPER ABOUT SUPERMOTOCROSS? CERTAINLY NOT THE NAME
• MXA AD OF THE WEEK: REMEMBER WHEN WRANGLER SPONSORED THE SUPERCROSS SERIES

You should because Wrangler wanted the AMA to combined Supercross and motocross points into a Grand National Championship. Plus, they paid bonus money to the riders. When Wrangler was no longer the series sponsor, the AMA dropped the Grand National idea. Now, 40 years later it is back…sort of.
• MXA VIDEO: 2023 KAWASAKI KX450 TEST
• LARRY BROOKS TO BE TEAM MANAGER OF THE TWISTED TEA SUZUKI TEAM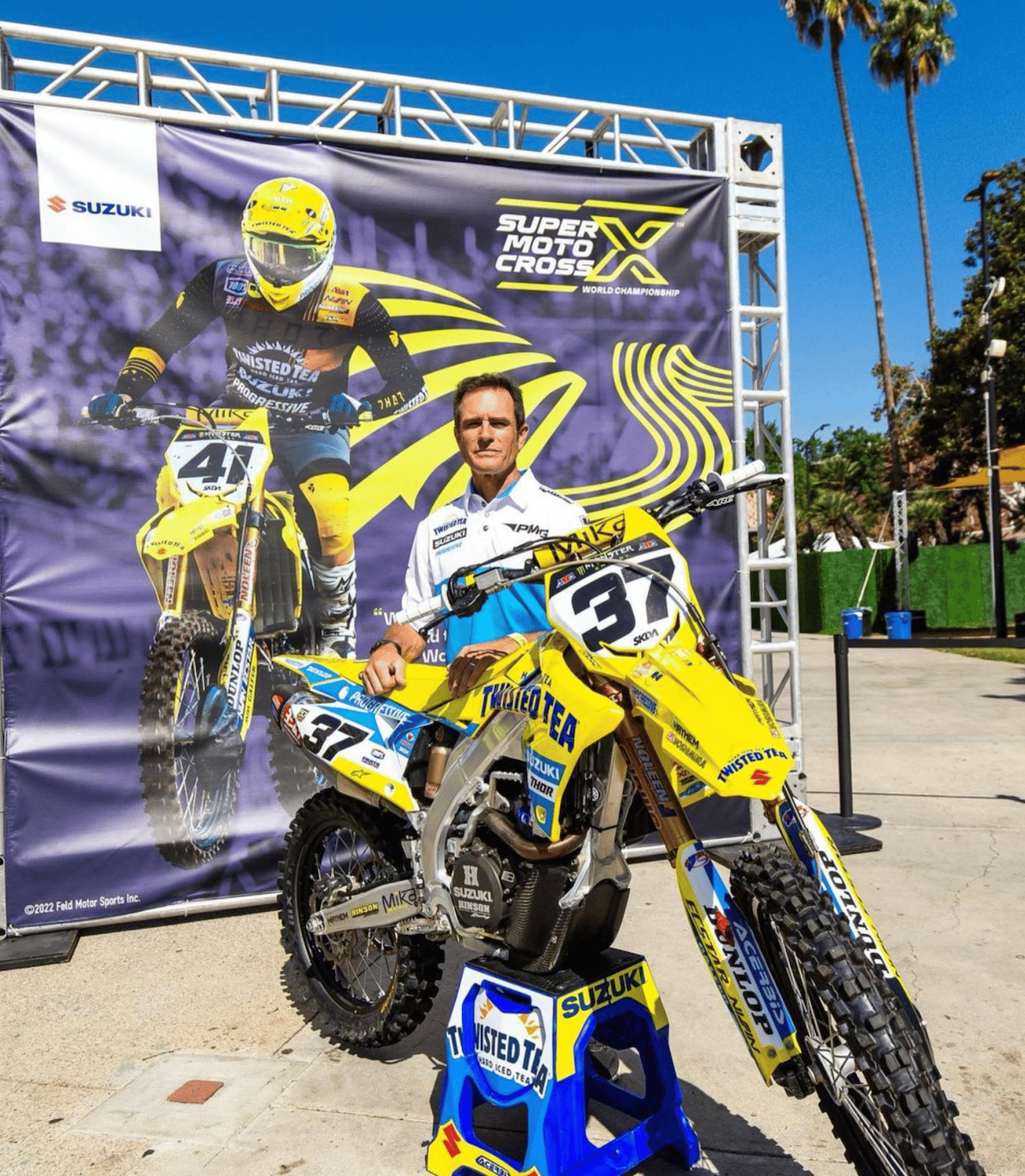 Larry Brooks has a lot of experience. He ran the Chaparral Yamaha team, KTM team, L&M Yamaha team, San Manuel Yamaha team, Blue Buffalo team and most recently the Bar-X Suzuki team.
Press release: Twisted Tea Suzuki presented by Progressive Insurance is pleased to announce the addition of Larry Brooks as Team Manager. Larry brings a winning pedigree, with multiple premier class championships to his resume. Together, with Suzuki Motor USA and all team partners, we look forward to a successful tenure filled with new team goals and winning aspirations.
• MXA VIDEO: 2023 HONDA CRF450 TEST
• "SATURDAY AT THE GLEN" WILL BE BACK ON SATURDAY OCTOBER 15 AT GLEN HELEN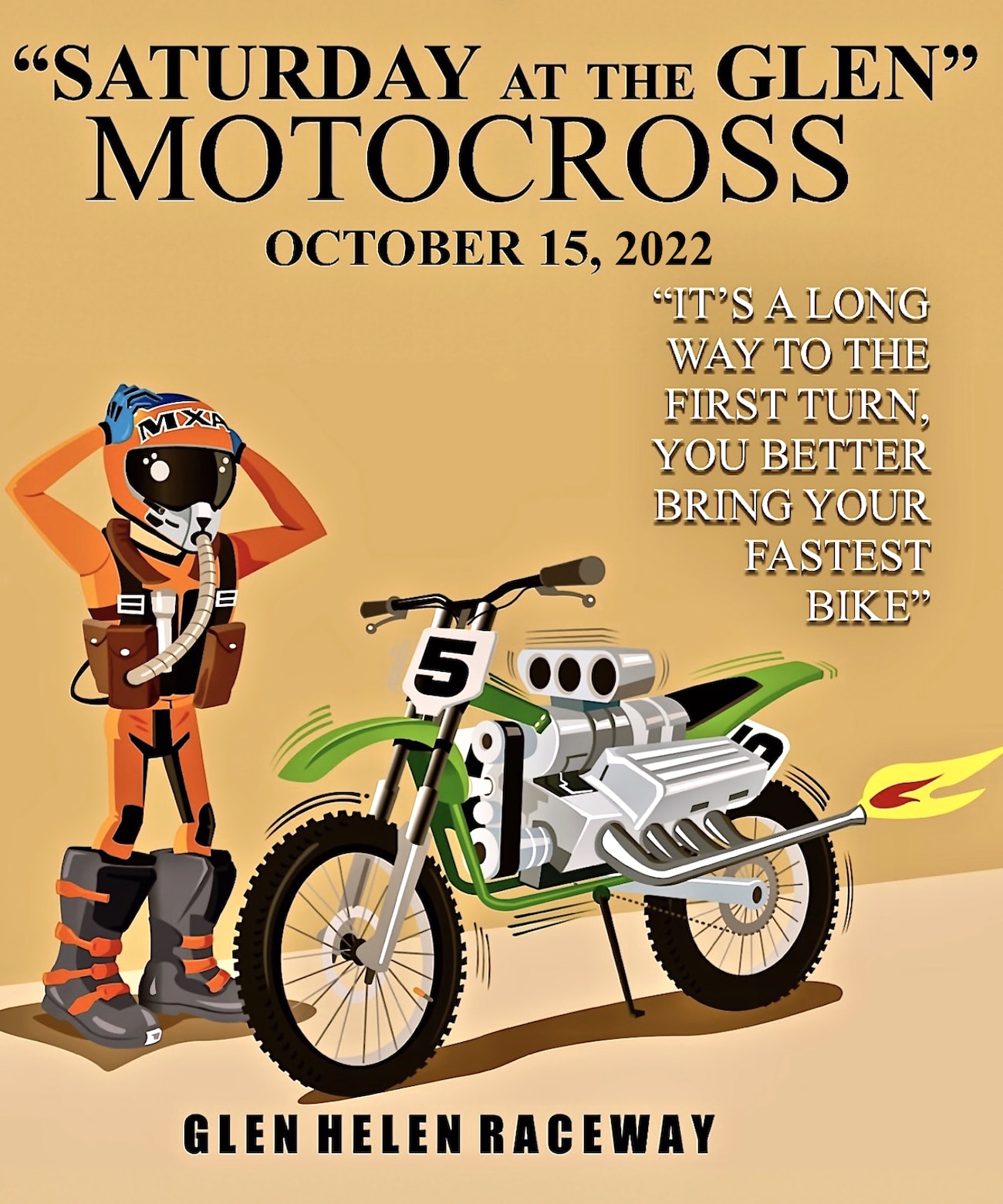 For more info go to www.glenhelen.com

MXA VIDEO: FIRST LOOK AT WHAT'S NEW ON THE 2023 YAMAHA YZ450F
• 2023 AMA SUPERCROSS SCHEDULE: COMING TO SOME WEIRDLY NAMED STADIUMS NEAR YOU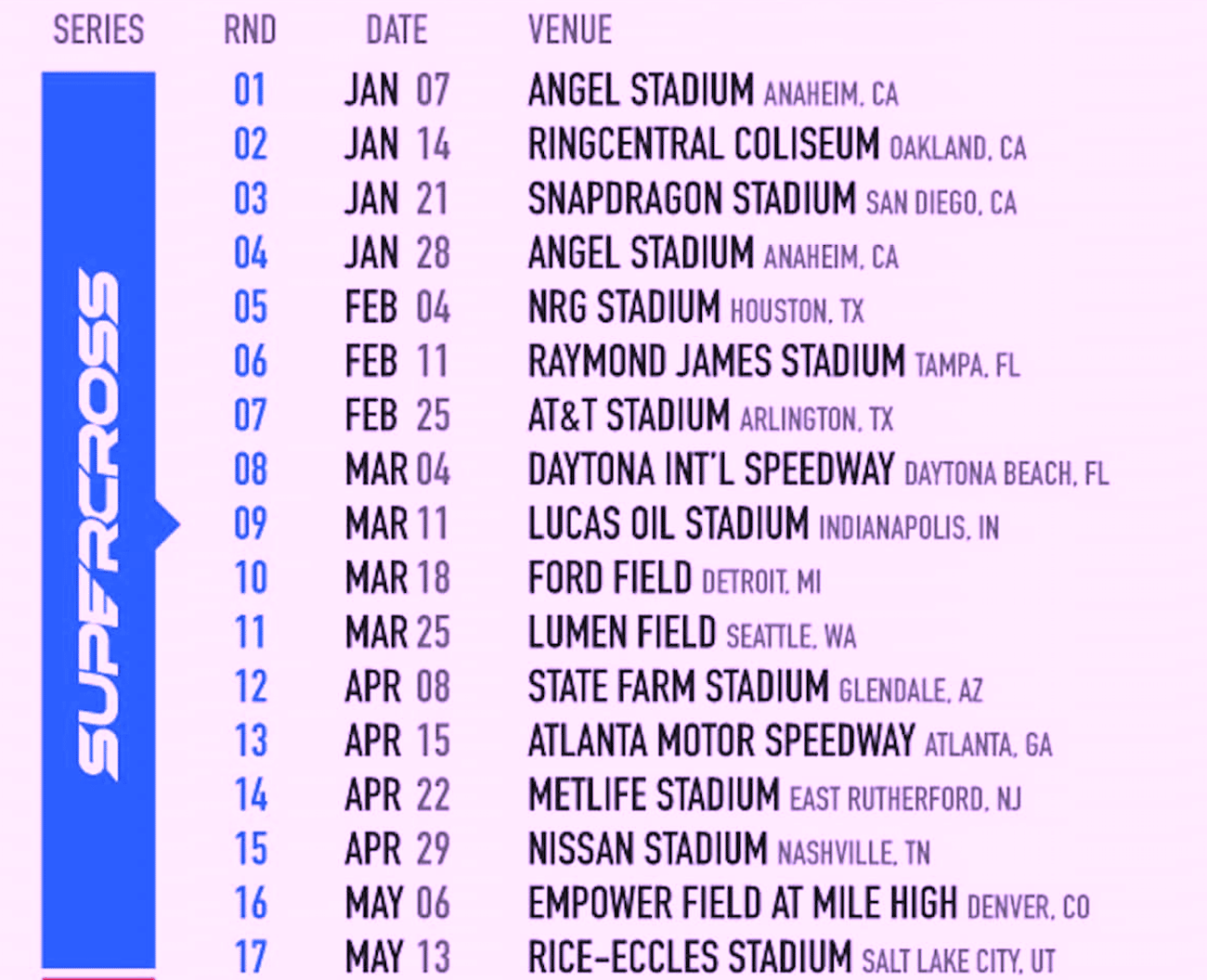 • MXA VIDEO: 2023 KTM FREERIDE XC-E ELECTRIC TRAIL BIKE

• CAN-AM TO BUILD ELECTRIC MOTORCYCLE PLANT IN MEXICO—WOULDN'T MAKE IT CAN-MEX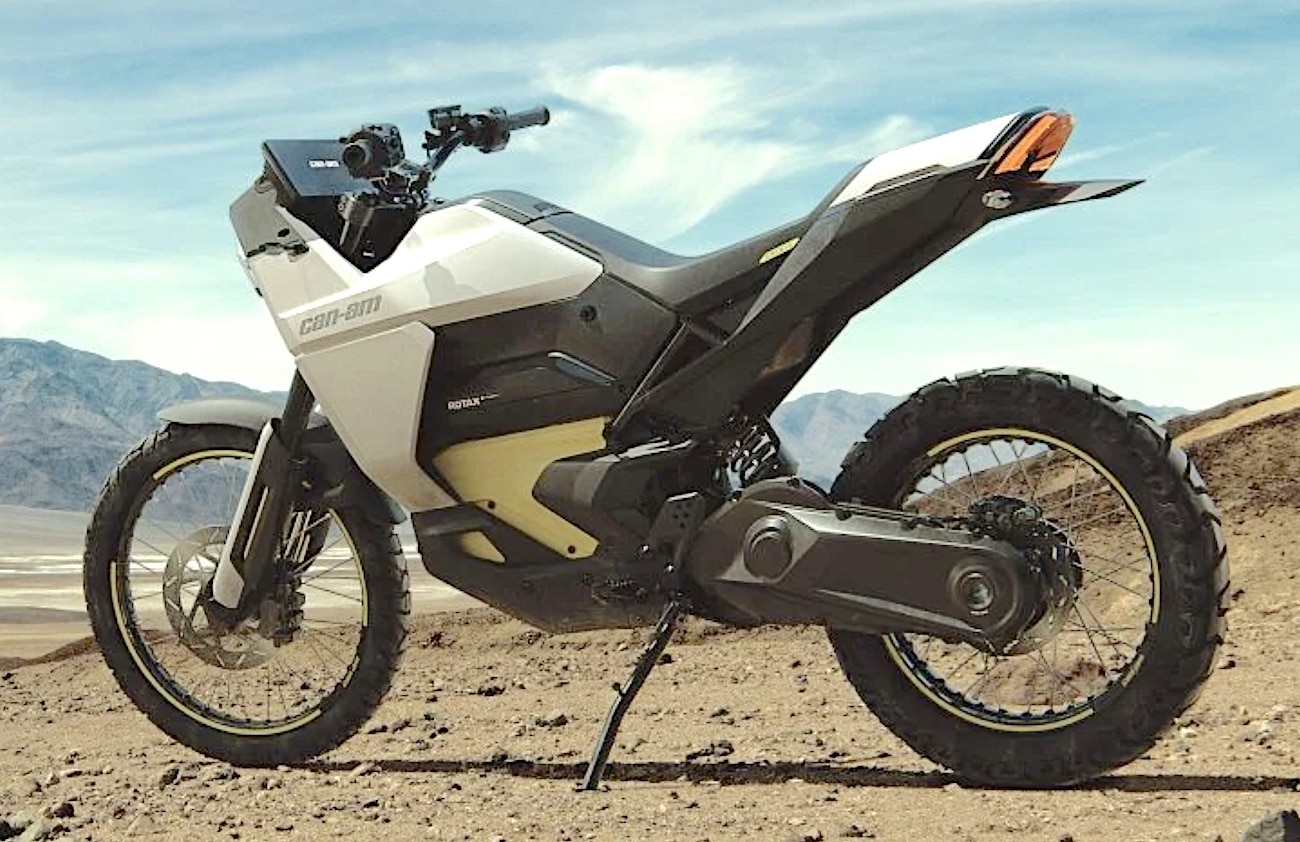 The Can-Am Pulse off-road electric bike isn't expected to go on sale until the summer of 2024.
BRP has confirmed the start of construction of its first EV manufacturing plant. The Can-Am electric two-wheel motorcycle production facility will be built in Queretaro, Mexico, adjacent to the current BRP campus in the city. Production of the Can-Am Origin and Can-Am Pulse, the Company's first two electric motorcycle models, is set to begin in March of 2024.
"We have set out to reclaim our motorcycle heritage with the launch of a lineup of electric two-wheel motorcycles, and we are gearing up to execute our plan," said Sandy Scullion, President, Powersports Group at BRP. "We are excited to begin the construction of this new state-of-the-art EV manufacturing facility in Querétaro, Mexico, on the same campus where we are already producing our Sea-Doo personal watercraft and Rotax engines."
The electric motorcycle manufacturing plant is planned to initially generate 500 new jobs. It was designed following the LEED principles with sustainable materials, in line with BRP's "Corporate Social Responsibility Plan" to reduce the carbon footprint of its operations. Furthermore, the Company intends to offer an inclusive work environment accessible to everyone, with modifiable workstations that can be adapted to different people.
• MXA VIDEO: 2023 GASGAS MC350F TEST
• 2022 RED BULL STRAIGHT RHYTHM COMES TO "SURF CITY" ON OCTOBER 15
Currently signed up riders for the 125/150cc and 250cc classes are Ken Roczen, Aaron Plessinger, Justin Barcia, Marvin Musquin, Cooper Webb, Gared Steinke, Tyler Bowers, Josh Hansen, Robbie Wageman, Ivan Ramirez, Carson Brown, Ryan Morais, Casey Cochran, A.J. Catanzaro, Josh Varize, Derek Kelley and Dylan Woodcock.For more info go to www.redbull,com/straightrhythm
• MXA VIDEO: 2023 KAWASAKI KX250 TEST
• FIRST LOOK! 2023 KAWASAKI KX450 SPECIAL RACER—NOW WITH SHOWA SUSPENSION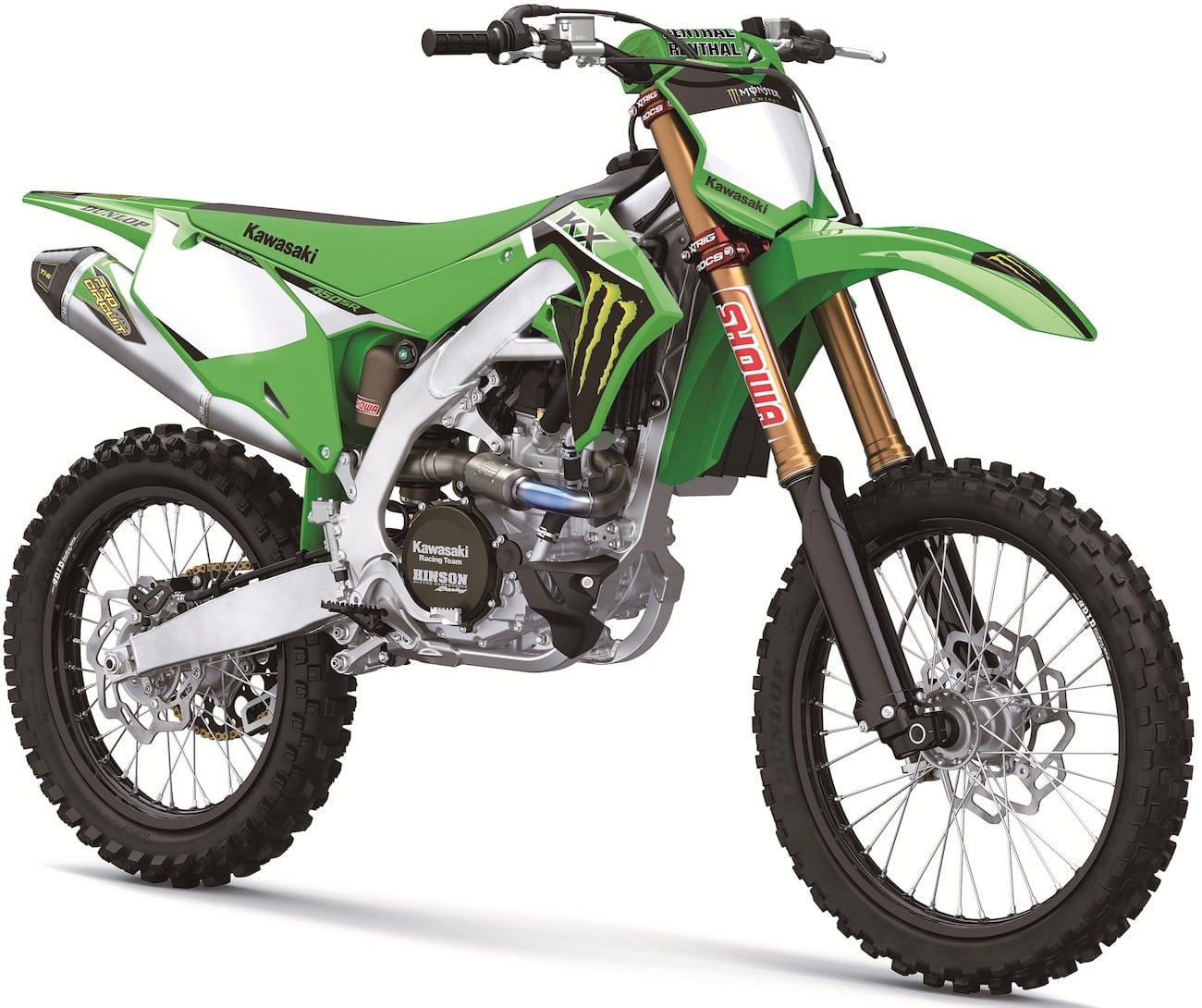 The MXA test riders loved the 2022 Kawasaki KX450SR Special Racer, but it was made in very limited numbers, which meant that it was hard to come by. The 2023 model will come in larger production run with a much larger $12,699 price tag.
The KX450SR makes its highly anticipated return for 2023. The KX450SR is Kawasaki's version of the KTM Factory Edition, Kawasaki Rockstar Edition and Honda Works Edition. The KX450SR (Special Racer)features elite-level racing components, special tuning and design elements to further elevate the stock KX450's performance.
ENGINE: The KX450SR features polished intake ports that provide smoother airflow, contributing to increased engine performance. A close-ratio five-speed transmission is paired with a high-capacity, Belleville washer activated, hydraulic clutch for a consistent feeling even under heavy use.Just like the Monster Energy factory KX450s, a Pro Circuit Ti-6 Pro titanium exhaust has been fitted to increased engine performance. The ECU mapping is exclusive to the KX450SR.
FRAME: The KX450SR frame is identical to the stock KX450 frame and swingarm. Both the KX450 and KX450SR are constructed of forged, extruded, and cast parts, while the engine is used as a stressed member.
Showa forks replace last year's excellent Kayaba units, but Showa upped their fork game with titanium oxide coatings, , Dimplush testuring and Kashima coated internal tubes.
FORKS: For 2023, this high-performance, limited edition Special Racer (SR) is now equipped with Showa front and rear suspension components. Last year, it its first year of production it came with Kayaba forks. The new Showa forks have titanium oxide coated inner fork tubes that resist wear and reduce friction. The large 49mm inner fork tubes are the same size found on Kawasaki's factory race team and allow for the use of large 39mm compression damping pistons and a 25mm cartridge cylinder. The inner surface of the outer fork tubes features Showa's Dimplush texture, which has a wave-like finish to help retain an oil film for smoother action. The Dimplush texture also has a Kashima coating to create a low-friction surface that helps prevent wear so the sliding surfaces remain smooth for a long time.
Holding up the Showa front forks are XTrig ROCS triple clamps outfitted with XTrig's PHDS (progressive handlebar dampening system) handlebar mounts. This system also helps to dampen the forces acting on the handlebars in both horizontal and vertical directions. The handlebars can be adjusted to 12 different positions for total rider customization. The 22mm front axle enhances front end traction.
The graphics have been "Monsterized,' but the highlights are the Pro Circuit titanium exhaust system and Xtrig triple split clamps.
SHOCK: A Showa rear shock replaces last year's Kayaba rear shock and offers high- and low-speed damping that can be tuned separately. Utilizing feedback from Kawasaki's factory race teams, the 22mm front axle enhances front end traction. The New Uni-Trak rear suspension linkage ratios have been selected to suit the chassis.
WHEELS: Adorning the KX450SR is a pair of D.I.D. DirtStar wheels, improving the strength and durability under the most challenging conditions on the racetrack. The black coating on the rims emulates the looks of a factory race machine. Further adding to the attention grabbing appearance on the KX450SR is the championship proven combination of a D.I.D. 520ERT3 gold chain fitted to a black Renthal Ultralight aluminum rear sprocket.
MXA hoped that the 2023 KX450SR would have seen some needed upgrades to the weakest parts of the KX platform, but they didn't fix any of the basic flaws that KX owners are well aware of.
BRAKES: Stopping duties are handle by an oversized 270mm, petal-shaped, front brake rotor from Braking. The rear rotor is the less than popular 250mm petal-shaped Braking rotor.
ERGOS: Kawasaki's Ergo-Fit components feature footpegs that offer 5mm of up or down mounting to go along with the 12 different bar positions
STYLING: The 2023 Kawasaki KX450SR showcases special colors & graphics that resemble those found on the Monster Energy Kawasaki team bikes. There is also a Hinson Billetproof clutch cover featuring the Kawasaki race team logo. However, there is no Hinson clutch behind the cover.
RETAIL PRICE: $12,699 ($300 more than the 2022 KX450SR and $3100 more than a stock 2023 KX450).
• MXA VIDEO: 2023 GASGAS MC450F TEST
• GODSPEED! LORETTA LYNN (1932-2022)
Loretta Lynn is best known for hr Cola Miner's Daughter song and biopic.
Loretta Lynn was a legendary country singer and songwriter who became a symbol of rural resilience with her powerful voice and inspiring life story. She influenced scores of musicians as one of the most beloved performers of her generation, and also influenced thousands of motocross athletes, hosting the AMA Amateur National Motocross Championship at Loretta Lynn Ranch since 1982. Lynn passed away on October 4. She was 90.
Lynn was born on April 14, 1932, in Butcher Hollow, Kentucky. Her autobiography, "A Coal Miner's Daughter", was adapted into an Oscar-winning movie. She won four Grammys and sold 45 million records worldwide and had 24 Nunmber one singleson the country charts. She was inducted into the Country Music Hall of Fame in 1988. And, was inducted into the AMA Hall of Fame in 2021 for opening her Loretta Lynn Ranch to approximately 60,000 racers from 1982 to the present. Nearly every AMA Pro Supercross and Motocross Champion, including Hall of Famers Jeremy McGrath and Ricky Carmichael, raced at Loretta Lynn' Ranch.
• MXA VIDEO: 2023 KTM 450SXF TEST
• MXA PRODUCT SPOTLIGHT: WORKS CONNECTION TI OFFSET YZ FOOT PEG MOUNTS
The Yamaha YZ250F/YZ450F's are great bikes, but the general consensus is that the cockpit (rider triangle) is a little cramped. The distance from seat to pegs is shorter than other bikes, which requires more effort to transition from sitting to standing. Works Connection's titanium offset foot peg mounts open up the cockpit area by moving the pegs down 7mm and back 5mm, These changes open up the cockpit, while still allowing a good feel for the rear brake pedal and shift lever. The mounts are made from Grade 5 6AL-4V titanium.
The kit consists of 2 titanium foot peg mounts (Left and Right), 2 titanium pins, 2 titanium washers and 2 cotter pins. The Work Connection mounts are 30% lighter and works with any brand of foot peg. The retail price is $349.95. For more info go to www.worksconnection.com
• MXA VIDEO: 2023 KTM 300SX FUEL-INJECTED TWO-STROKE TEST
• THE 2022 WORLD VET MOTOCROSS CHAMPIONSHIP RACE INFO: A TWO-DAY THREE-MOTO FORMAT
• MXA VIDEO: 2023 HUSQVARNA TC250 FUEL-INJECTED TWO-STROKE TEST
• FIRST LOOK! 2023 SURRON STORM BEE ELECTRIC OFF-ROAD MOTORCYCLE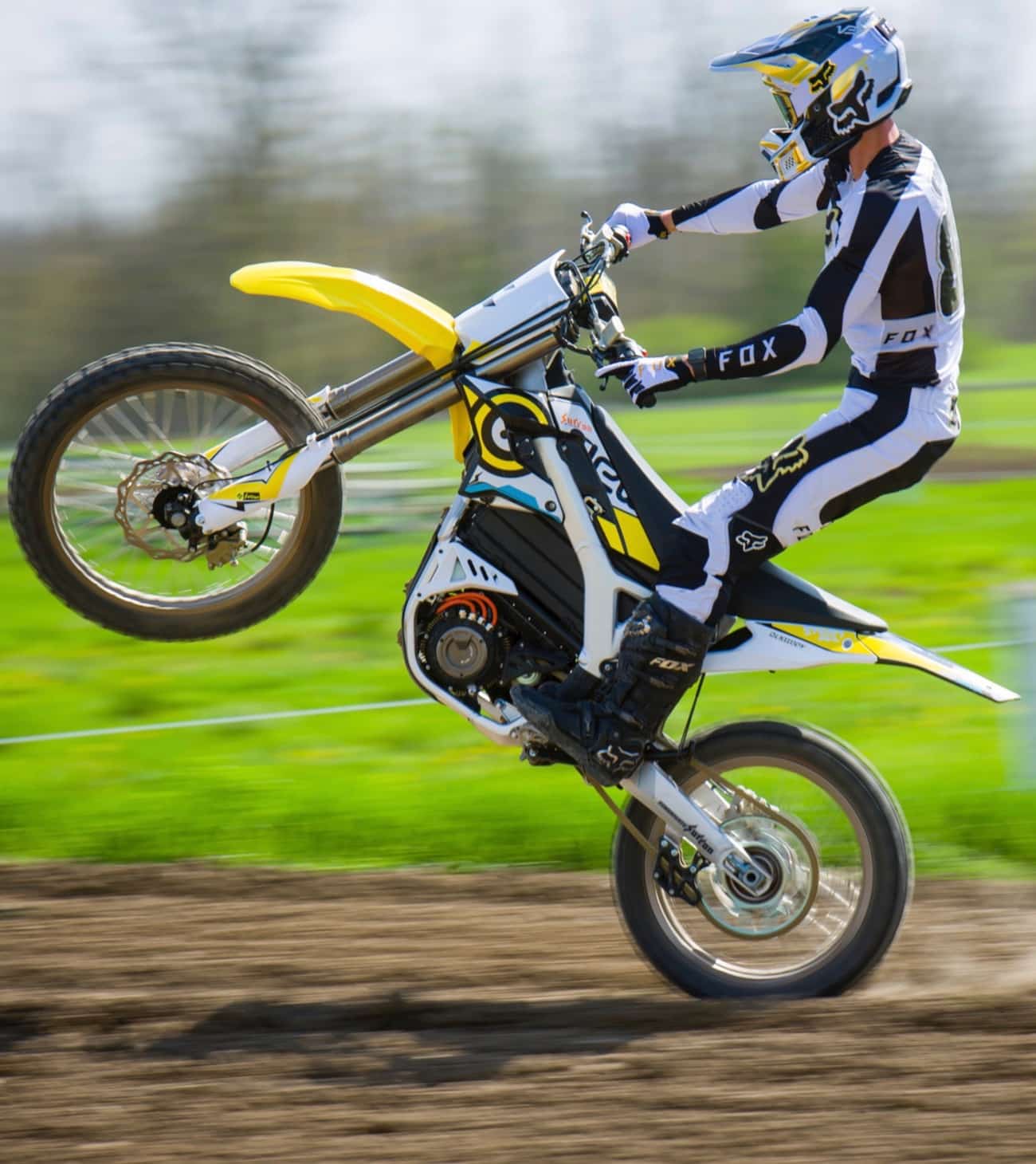 Even in dirt bike crazy SoCal there aren't very many Surron dealers to help with the $8499 Surron Super Bee F.
Surron electric motorcycles announces the official release of the long-anticipated 2023 Storm Bee F electric off-road motorcycle. It will join the Light Bee X model as their first full-size bike. Designed with the casual off-road rider in mind, the Storm Bee F retails for $8499, while the LightBee X is $4500.
The Surron is powered by a liquid-cooled, brushless, electric motor powered by a 104V/55Ah battery pack. It boasts 22.5 kW of peak power
The Storm Bee F utilizes a liquid-cooled, brushless, electric motor powered by a 104V/55Ah battery pack. Boasting 22.5 kW of peak power and 520 Nm of torque, the Storm Bee offers a top speed of 68 mph. The battery capacity allows a maximum range of 75 miles on a full charge, with a recharge rate of 3-4 hours via a conventional 120V wall outlet.The onboard electronics suite, which includes traction control, regenerative "engine" braking, three riding modes and a turbo button for a short, quick boost of extra power. Settings can be fine-tuned by the rider via the LCD dash and handlebar-mounted controls. Further setting the Storm Bee apart from crowd is a reverse gear, allowing riders to maneuver out of tricky situations with the push of a button.
At first glance it looks like a clone of the KTM Freeride E-XC, but it does have a reverse gear and is $2600 cheaper.
2023 SURRON STORM BEE F HIGHLIGHTS
• Liquid-cooled, brushless electric motor
• 22.5 kW peak power, 520 Nm peak torque
• Battery,105V/55Ah Lithium Ion
• Max. range: 75 miles on a full charge @ 25 mph
• 3 riding modes, traction control, regenerative braking
• Turbo mode & reverse gear
• Adjustable off-road suspension, 21/18" wheels (front/rear)
• 47mm inverted fork, 290 mm travel
• Curb Weight, 280 pound
• Quiet & emissions-free
• Switchable headlight & number plate (North American version)
• www.surron.com
• RACE WINNING BRANDS STRENGTHENS ITS LEADERSHIP TEAM
Scott Highland was Named Director of Marketing, while Scott Neely was hired as Director of Powersports Sales.
Race Winning Brands (RWB), which includes Wiseco, Pro-X, CV4, JE pistons, Rev Max and Rekluse Clutches continues to evolve its dedicated team of performance professionals with the addition of Scott Neely as Director of Powersports Sales and the transition of existing RWB veteran, Scott Highland, to Director of Marketing.
Bringing over 20 years of experience in both the powersports and automotive sectors with him, Scott Neely feels right at home after his tenure at Cometic Gaskets. Neely is an avid dual-sport and off-road rider, who spend his free time behind the handlebars. "I've loved going fast and anything with a motor my entire life, so working in the industry was a dream come true for me," said Neely.
Cary Redman, Vice President of Sales and Category Management said, "Scott Neely's experience with various levels of channel partners and end users over the years in all facets of the powersports business, both domestic and international, has lent itself to a very well-rounded understanding of the powersports industry."
Scott Highland brought over 30 years of powersports industry experience when he joined the Race Winning Brands in 2018. After originally being hired in the Director of Powersports role, Highland found himself naturally drawn to the marketing efforts in all segments of the business. He is no stranger to the marketing world, having contributed to marketing objectives in several Automotive and Powersports groups before RWB.
Scott Highland said, "As a lifetime enthusiast and racer, I've thoroughly enjoyed my first four years here with Race Winning Brands. Race Winning Brand's desire to service customers, expand product development, invest in resources and grow its portfolio of brands is a winning combination. There's no doubt we've been growing over the recent years, and I look forward to accelerating these iconic brands."
• GIFT! "WORLD VET CHAMPIONSHIP" BEER STEINS TO RIDERS WHO PRE-ENTER BY NOV.2
Glen Helen Raceway, in collaboration with Fasthouse and 805, is excited to announce that all pre-entered riders to the 38th Annual World Vet MX Championships on November 5-6 will receive a complimentary World Vet beer stein!
Racers who sign-up online by November 2, 2022, will receive this limited 2022 commemorative beer stein. In addition, the first round of 805 beer will be on us at the Edison Dye Lifetime Achievement Awards Ceremony for Jeremy McGrath, held on Saturday evening, starting a 4:00 p.m. in the Glen Helen Museum on November 5th. To pre-enter go to www. glenhelen.com
• THE NOVEMBER 2022 ISSUE OF MXA IS OUT! SUBSCRIBE AND YOU WON'T MISS ANYTHING
Did you know that you can subscribe to MXA at virtually no cost to you—because when you subscribe you receive a Rocky Mountain ATV/MC credit for $25 towards anything in their massive inventory. Plus, you will get all the content in the 12 monthly issues of Motocross Action magazine—from four-stroke tests, two-stroke tests, retro tests, race coverage, new tech to product tests….most of which never appear on the internet. And, don't forget, that $25 credit from Rocky Mountain ATV/MC  that will more than cover the cost of your subscription. To subscribe call (800) 767-0345 or Click Here
• WANT TO REPRESENT YOUR COUNTRY AT THE WORLD VET? SIGN UP FOR THE WORLD CUP OF NATIONS
The World Cup trophy will be awarded to the winning nation and will have your name and country engraved on it. The trophy will be displayed at the Glen Helen Museum throughout the entire year and each rider on the winning team will receive a commemorative medallion.
Press release: Applications for the Dubya World Vet MX Cup of Nations must be submitted before the October 1, 2022 deadline! We can't wait to see who will be crowned this year's World Vet MX Cup of Nations champion. The race will be run in conjunction with the 38th Annual Dubya World Vet MX Championships on November 5th and 6th.
Each participating country entered in the Dubya World Vet MX Cup of Nations is allowed three different teams – each team must consist of three riders from the home country: one rider must be over-30, one over 40, and one over 50 years old (the three riders can be of any skill level and a team could be made up of all over-50 riders—because that would be legal). Riders will receive race bibs to represent their country and colors to indicate their age group. Moto 1 will be held on Saturday and moto 2 will race on Sunday. The scoring will be based on all three riders over both motos with the lowest score of the two-moto format determining the winning team and country. The entry fee is $100 per team. Enter and sign up your team BY Clicking Here
• THE NEXT WORCS RACE IS ON OCT. 14-16 IN MESQUITE, NEVADA

• FINAL 2022 GREAT PLAINS VINTAGE MOTOCROSS AT FARRAGUT, IOWA, ON OCT. 16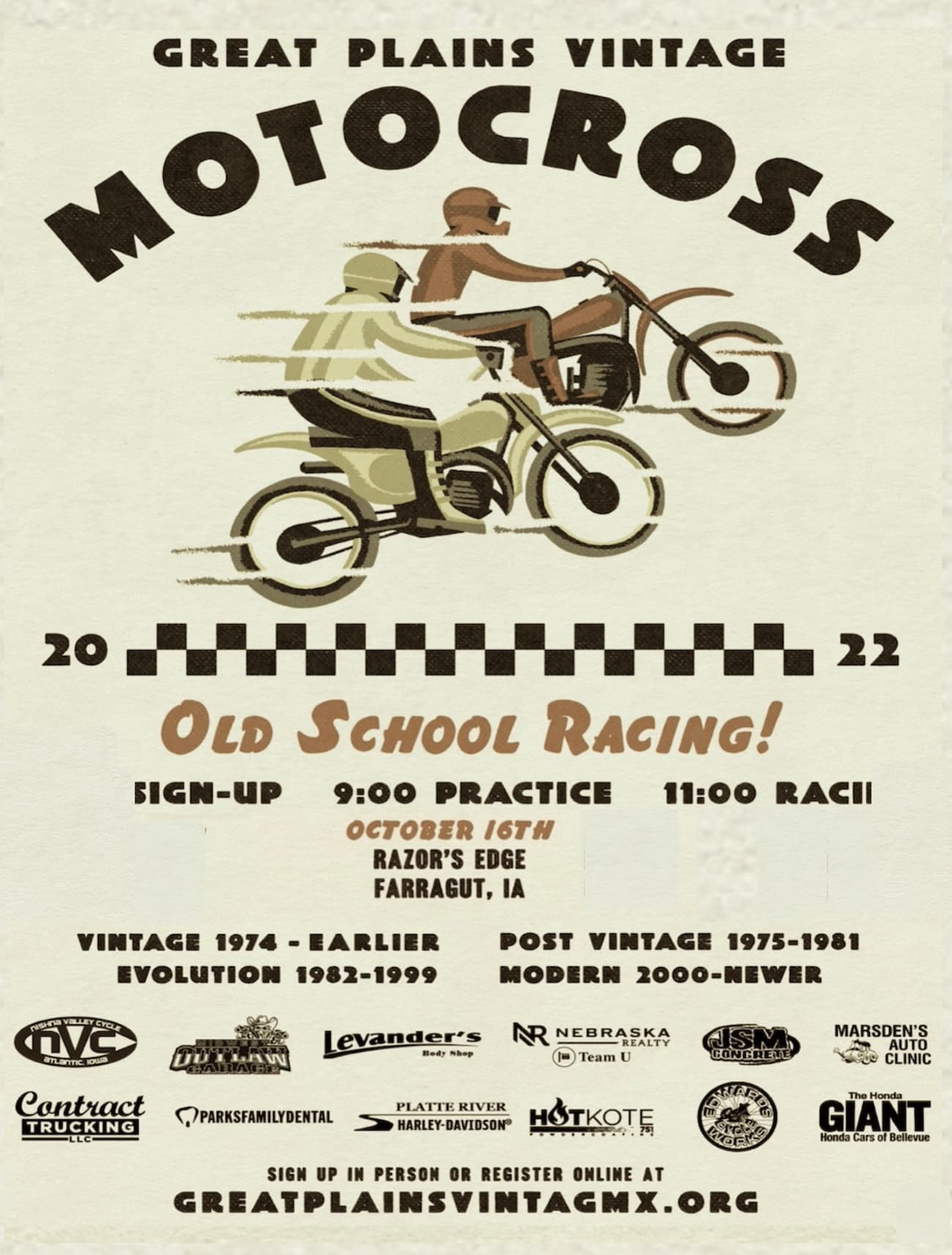 For more info go to www.greatplainsvintagemx.org.
• "SATURDAY AT THE GLEN" AT GLEN HELEN ON OCTOBER 22
For more info go to www.glenhelen.com
• OLD SCHOOL SCRAMBLES "OKTOBERFAST GRAND PRIX" ON OCTOBER 23 AT GLEN HELEN

For more information go to www.oktoberfast.com
• "SATURDAY AT THE GLEN" WORLD VET CHAMPIONSHIP WARM-UP RACE ON OCT.29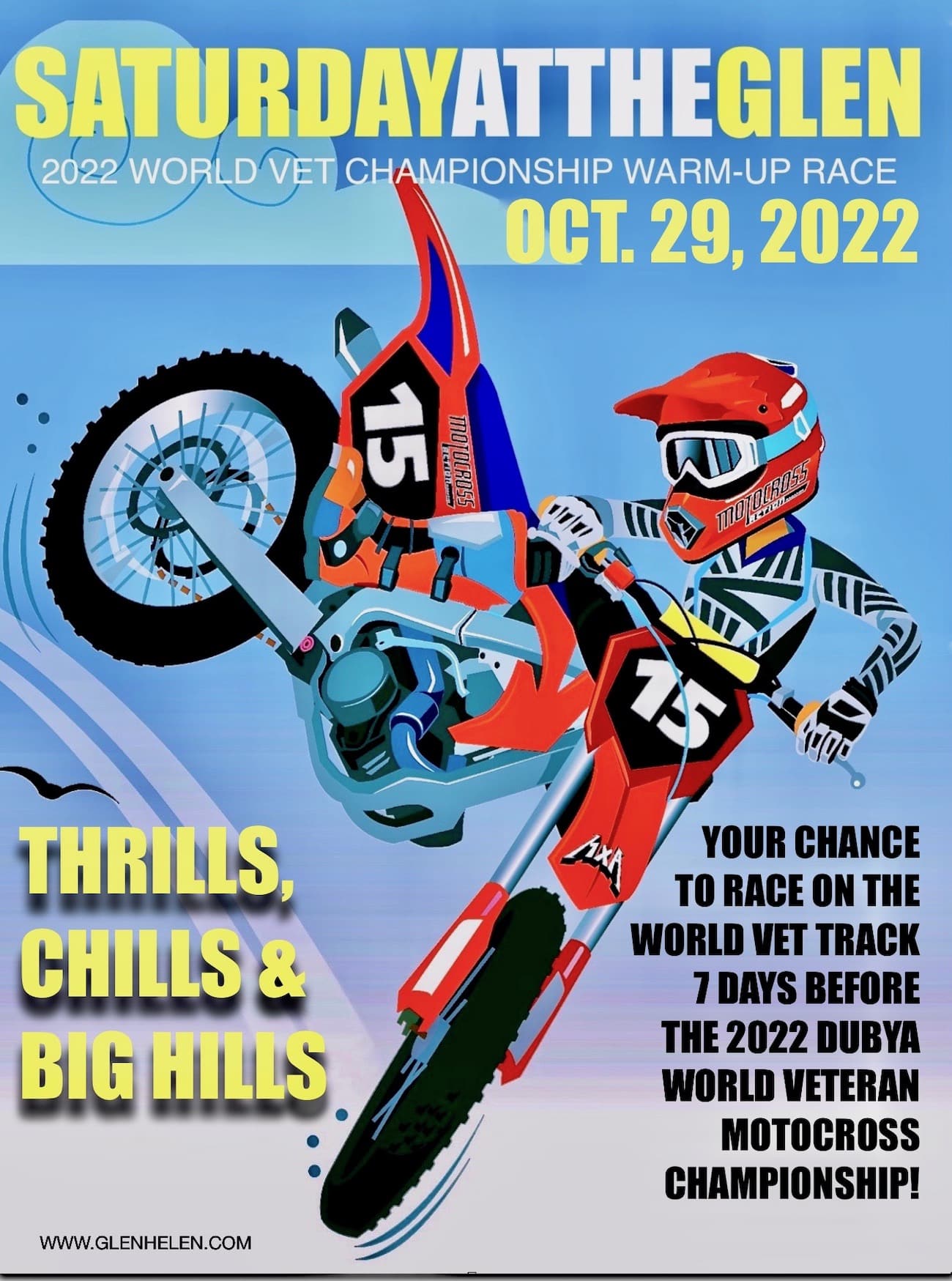 The track layout will be the same as what the riders will face at the 38th Annual Dubya World Vet Motocross Championships on Nov. 5-6. The pre-entry is $30 per class and $25 for youth classes. Post Entries on the day of the race will be $40 and $30 for youth classes. The gate fee is $10 per person. This race is a great opportunity to get some laps in before the Dubya World Vet Championships! For more info go to www.glenhelen.com
• $13,000 PASHA 125 PRO TWO-STROKE CLASSES AT THE WORLD VET ON NOV. 5-6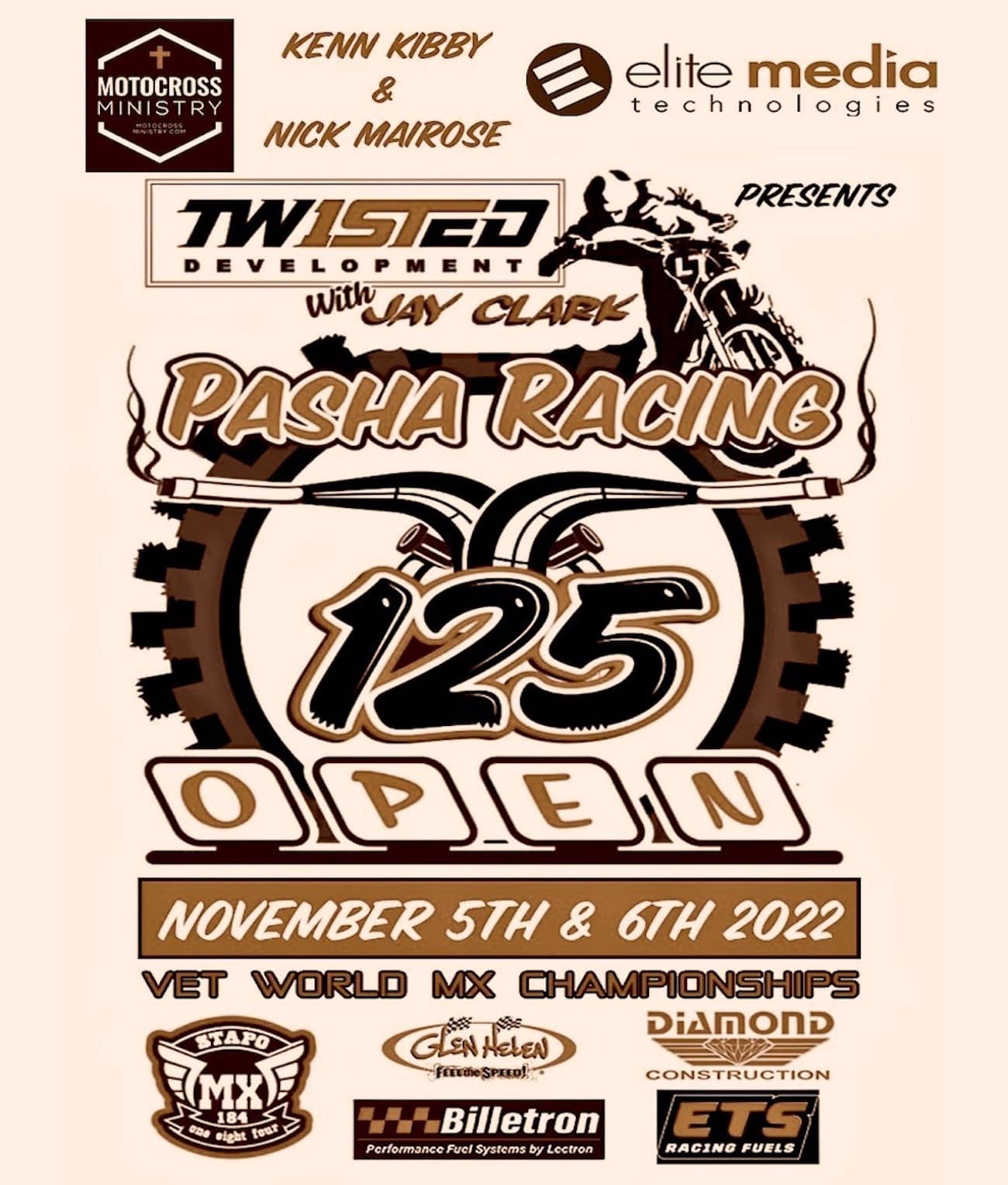 There will be an Over-30 125 Pro class on Saturday, November 5 that pays first, second and third and an Over-50 125 Pro class on Sunday, November 6 that pays first through fifth — with two motos on each day. For more info go to www.glenhelen.com.
• 2022 DUBYA USA WORLD VET MOTOCROSS CHAMPIONSHIP ON NOV. 5-6
For more info go www.glenhelen.com.
• 2023 SOBOBA TRAIL RIDE WILL BE ON FEBRUARY 26, 2023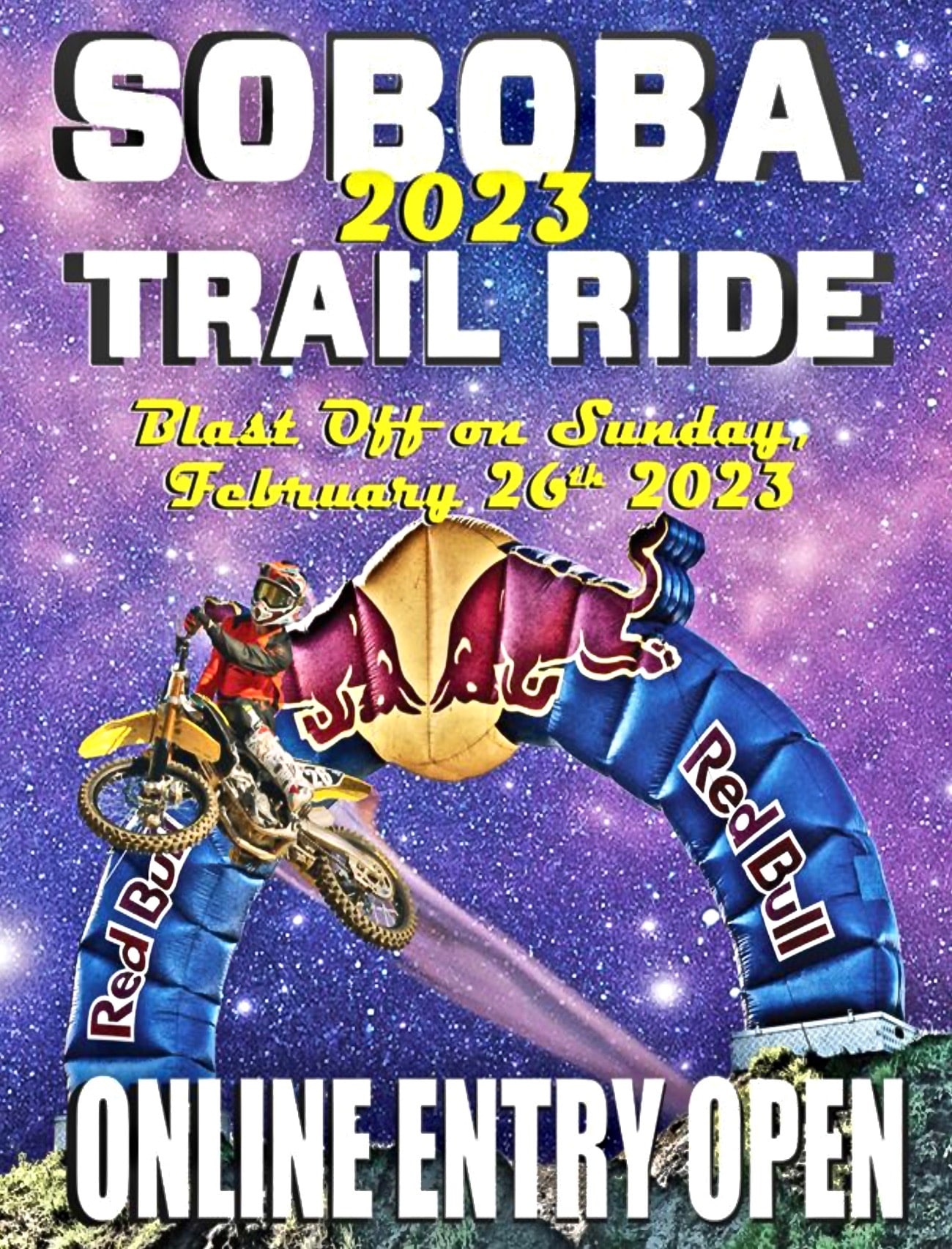 For more info go to www.sobobarides.biz/home
• HOW SMART DO YOU HAVE TO BE TO SUBSCRIBE TO MXA? YOU SUBSCRIBE AND GET A $25 ROCKY MOUNTAIN GIFT CREDIT—SEEMS SIMPLE

You can't afford not to subscribe, because when you order a subscription, Rocky Mountain ATV/MC sends you a $25 gift credit to use on anything you want from their massive selection. Plus, subscribers to MXA can also choose to get the digital mag on their iPhone, iPad, Kindle or Android by going to the Apple Store, Amazon or Google Play or in a digital version. Even better, you can subscribe to Motocross Action and get the awesome print edition delivered to your house by a uniformed employee of the U.S. Government. Do we have to mention the $25 Rocky Mountain ATV/MC gift card again? You can't lose on this deal? Call (800) 767-0345 or Click Here
•  THE REMAINING RACES OF THE 2022 SEASON—PLUS SOME 2023 DATES
The 2022 World Vet Motocross Championship is shaping up to be a barn burner, as lots of former motocross stars from different decades are lining up to win the Over-30, Over-40, Over-50, Over-60 and Over-70 titles. Believe it or not, multi-time AMA 250 National Champion Gary Jones is now 70-years-old. He is the only rider to have won World Vet crowns in the Over-30, Over-40, Over-50 and Over-60 classes. If he can win the Over-70 title in 2022, he will have a Grand Slam in most of the important age groups. But Gary won't be perfect because 1970s GP star Lars Larsson is the reigning Over-80 World Vet Champion and Gary Jones has to wait ten years before he's old enough to get the clean sweep he wants.

2023 AMA SUPERCROSS CHAMPIONSHIP
Jan. 7…Anaheim, CA
Jan. 14…Oakland, CA
Jan. 21…San Diego, CA
Jan. 28…Anaheim, CA
Feb. 4…Houston, TX
Feb. 11…Tampa, FL
Feb. 25… Arlington, TX
Mar. 4…Daytona Beach, FL
Mar. 11…Indianapolis, IN, MI
Mar. 18…Detroit, MI
Mar. 25…Seattle, WA
Apr. 8…Glendale AZ
Apr. 15…Atlanta, GA
Apr. 22…East Rutherford, NJ
Apr. 29…Nashville, TN
May 6…Denver, CO
May 13…Salt Lake City, UT
2023 AMA ARENACROSS CHAMPIONSHIP
Nov.18…Albany, GA
Nov. 25…Albany, NY
Jan. 6…Loveland, CO
Jan.13…Prescott, AZ
Jan. 20…Guthrie, OK
Jan. 27….Guthrie, OK
Feb. 3…Reno, NV
Feb. 10…Denver, CO
Feb. 24…Hobbs, NM
Mar. 3…Amarillo, TX
Mar. 10…Tulsa, OK
Mar. 17…Salem, VA
Mar. 24…Little Rock, AR
Mar. 31…Lexington, KY
2023 AMA NATIONAL MOTOCROSS CHAMPIONSHIP
May 27…Pala, CA
June 3…Hangtown, CA
June 10…Thunder Valley, CO
June 17…Mt. Morris, PA
July 1…Red Bud, MI
July 8…Southwick, MA
July 15….Millville, MN
July 22….Washougal, WA
Aug. 11…Unadilla, NY
Aug. 19…Budds Creek, MD
Aug. 26…Crawfordsville, IN
2022 AMA ENDUROCROSS SERIES SCHEDULE
Sept. 17…Salt Lake City,UT
Sept. 24…Redmond, Oregon
Oct. 1…Denver, Colorado
Oct. 22…Prescott Valley, Arizona
Nov 5…Boise Idaho
Nov. 19…Reno, Nevada
2022 SATURDAY AT THE GLEN RACE SCHEDULE
Apr. 2…Spring Series #1
Apr. 23…Spring Series #2
Apr. 30…Spring Series #3
May 7…Spring Series #4
May 14…Spring Series #5 (National Track)
June 11…Summer Series #1
June 25…Summer Series #2
July 9…Summer Series #3
July 30…Summer Series #5
Aug. 13…Summer Series #6  & Pasha 125 Open (National Track)
Aug. 27…..Fall Series #1
Sept. 10…Fall Series #2
Sept. 17…Fall Series #3
Oct. 1…Fall Series #4 & Pasha 125 Open (National Track)
Oct. 15…Fall Series #5
Oct. 22…Fall Series #6
Oct. 29…World Vet Warm-Up (National Track)
Nov. 5-6…Dubya World Vet Championship (National Track)
Nov. 12..Winter Series #1
Nov. 19…Winter Series #2
Dec. 3…Winter Series #3
Dec. 10…Winter Series #4 (National Track)
2022 WORCS OFF-ROAD SCHEDULE
Jan. 21-23…Primm, NV
Feb. 18-20…Glen Helen, CA
Mar. 11-13…Lake Havasu City, AZ
Apr. 8-10…Taft, CA
Apr. 29-May 1…Las Vegas, NV
May 27-29…Cedar City, UT
Sept. 16-18…Preston, ID
Oct. 14-16…Mesquite, NV
Nov 4-6…Primm, NV
2022 AUSTRALIAN SUPERCROSS CHAMPIONSHIP
Oct. 21…Melbourne, Vic
Oct. 29…Adelaide, SA
Nov. 26…Newcastle, NSW
Dec. 3…Wagga Wagga, NSW
2022 MOTOCROSS DES NATIONS
Sept. 25… Red Bud, MI
2022 WORLD VET MOTOCROSS CHAMPIONSHIP
Nov. 5-6…Glen Helen, CA
2022 PARIS SUPERCROSS
Nov. 12-13… Paris, France
•  THE 2022 RACE SERIES THAT ARE ALL OVER AND DONE
2022 AMA SUPERCROSS CHAMPIONSHIP
Jan. 8…Anaheim, CA
Jan. 15…Oakland, CA
Jan. 22…San Diego, CA
Jan. 29…Anaheim, CA
Feb. 5…Glendale, AZ
Feb. 12…Anaheim, CA
Feb. 19… Minneapolis, MN
Feb. 26…Arlington, TX
Mar. 5…Daytona Beach, FL
Mar. 12…Detroit, MI
Mar. 19…Indianapolis, IN
Mar. 26…Seattle, WA
Apr. 9…St. Louis, MO
Apr. 16…Atlanta, GA
Apr. 23…Foxborough, MA
Apr. 30…Denver, CO
May 7…Salt Lake City, UT
2022 AMA NATIONAL MOTOCROSS CHAMPIONSHIP
May 28…Pala, CA
June 4…Hangtown, CA
June 11…Thunder Valley, CO
June 18…Mt. Morris, PA
July 3…Red Bud, MI
July 9…Southwick, MA
July 16….Millville, MN
July 23….Washougal, WA
Aug. 13…Unadilla, NY
Aug. 20…Budds Creek, MD
Aug. 27…Crawfordsville, IN
Sept. 3…Pala, CA
2022 FIM GRAND PRIX CHAMPIONSHIP (TENTATIVE)
Feb. 27…Matterley Basin, England
Mar. 6…Mantova, Italy
Mar. 20…Villa La Angostura, Argentina
April 3…Agueda, Portugal
April 10…Trentino, Italy
Apr. 24…Kegums, Latvia
May 1…Orlyonok, Russia (CANCELED)
May 8…Maggiora, Italy
May 15…Rio Sardo, Sardinia
May 29…Intu Xanadu, Spain
June 5…Ernee, France
June 12…Teutschenthal, Germany
June 26…Samota-Sumbawa, Indonesia
July 3… Jakarta, Indonesia (CANCELED)
July 17…Locket, Czech Republic
July 24…Lommel, Belgium
Aug. 7…Uddevalla, Sweden
Aug. 14…Hyvinka, Finland
Aug 21…St. Jean d' Angely, France
Sept. 4…Afyonkarahisar, Turkey
Sept. 11…Oman (CANCELED)
2022 KICKER ARENACROSS SERIES
Jan. 7-8…Loveland, CO
Jan. 15…Amarillo, TX
Jan. 21-22…Oklahoma City, OK
Jan. 29…Greensboro, NC
Feb. 4-5…Reno, NV
Feb. 11-12…Denver, CO
2022 WORLD SIDECAR MOTOCROSS CHAMPIONSHIP
Apr. 24… Holland
May. 22…Czech Republic
June 26…Belgium
July 3…Estonia
Sept. 4…Czech Republic
Sept. 18…Germany
2022 CANADIAN TRIPLE CROWN SERIES
June 5…Kamloops, BC
June 12…Drumheller, AB
June 19…Pilot Mound, MB
July 3…Walton, ON
July 10…Courtland, ON
July 17…Ottawa, ON
July 24…Moncton, NB
July 31…Deschambault, QC
Aug. 14…Walton, ON
2022 AUSTRALIAN NATIONAL CHAMPIONSHIP
Mar. 27…Wonthaggi
Apr. 10…Mackay
May 1…Wodonga
June 26…Maitland
July 24…Coffs Harbour
Aug. 14…Queensland Park
Aug. 20…Coolum
2022 MICHELIN BRITISH CHAMPIONSHIP
Mar. 20…FatCat
May 1…Landrake
May 29…Lyng
June 26…Cusses Gorse
Aug. 7…TBA
Sept. 4…Hawkstone
2022 REVO BRITISH CHAMPIONSHIP
Mar. 13…Culham
Apr. 17…Foxhill
May 8…Lyng
May 22…Canada Heights
June 19…Blaxhall
July 10…Fatcat
July 31…Whitby
Sep. 11…TBA
2022 WORLD TWO-STROKE CHAMPIONSHIP
April 16…Glen Helen, CA
• MXA YOUTUBE CHANNEL | HIT THAT SUBSCRIBE BUTTON

The MXA wrecking crew is everything moto related. Check out our MXA YouTube channel for bike reviews, Supercross coverage, rider interviews and much more. And don't forget to hit that subscribe button.