MXA'S WEEKEND NEWS ROUND-UP: NEW BRAND IN THE USA, CRACKPOT MXDN IDEA & INDUSTRY NEWS
HAVE YOU SEEN THE JUNE 2020 ISSUE OF MXA? IT'S LIKE A 16-INCH-WIDE PHONE

Aren't you tired of looking at awesome motocross photography on the tiny little screen of an iPhone?  Get the real deal and see those classic photos in jumbo-size.  Not to mention that you get a $25 Rocky Mountain ATV/MC gift card that makes your subscription free.
HOW TO SUBSCRIBE TO MXA SO THAT YOU NEVER MISS ANOTHER ISSUE
If you subscribe to MXA you can get the mag on your iPhone, iPad, Kindle or Android by going to the Apple Store, Amazon or Google Play or in a digital version. Even better you can subscribe to Motocross Action and get the awesome print edition delivered to your house by a uniformed employee of the U.S. Government. You can call (800) 767-0345 or Click Here (or on the box at the bottom of this page) to subscribe.
SUPERCROSS TV SCHEDULE FOR THE IMMEDIATE TWO-A-WEEK FUTURE
The Monster Energy AMA Supercross, an FIM World Championship, will resume racing at Rice-Eccles Stadium in Salt Lake City, Utah on May 31 and will run through June 21. The final seven, made-for-tv races will be broadcast on NBC networks without fans in attendance. The Utah Sports Commission, a longtime partner of Supercross, has coordinated the series return to Utah.
NBC AND NBCSN SUPERCROSS TELEVISION SCHEDULE
1. Sunday, May 31 (250 East)… 3:00 p.m. to 4:00 p.m. (NBCSN) & then 4:00 p.m. to 6:00 p.m. (NBC)
2. Wednesday, June 3 (250 East)…10:00 p.m to 1:00 a.m. (NBCSN)
3. Sunday, June 7 (250 East)…5:00 p.m to 8:00 p.m ET (NBCSN)
4. Wednesday, June 10 (250 West)… 7:00 p.m to 10:00 p.m. (NBCSN)
5. Sunday, June 14 (250 West)…7:00 p.m to 10:00 p.m (NBCSN)
6. Wednesday, June 17 (250 East)… 7:00 p.m to 10:00 p.m (NBCSN)
7. Sunday, June 21 (East/West) … 3:00 p.m to 4:30 p.m ET on NBCSN & 4:30 to 6:00 (NBC)
(All times Eastern and TV schedule subject to change).
JOSH MOSIMAN HAVING FUN ON A 2020 YAMAHA YZ250
THE CURRENT 2020 MXGP SCHEDULE—FOR WHAT IT'S WORTH

CENTRAL POWERSPORTS DISTRIBUTION (CPD) TO IMPORT RIEJU OFF-ROAD BIKES FROM SPAIN
Rieju MR Racing 250.
When KTM's Stefan Pierer bought a majority stake in  the company that owned GasGas motorcycles, but didn't want any of GasGas' previous models, engines or parts, the small Spanish manufacturer, Rieju, stepped into take over the production of the previous GasGas models. Rieju purchased the manufacturing rights for the GasGas enduro platforms. The production has been moved to the Rieju factory and the first Rieju bikes will arrive in the USA in late summer. Adding the 2020 GasGas line to Rieju's line small displacement dual-sport and play bikes gives Rieju a solid line of full-size off-road ready dirt bikes. The first sign that Rieju has been jump-started is that they now have an American distributor.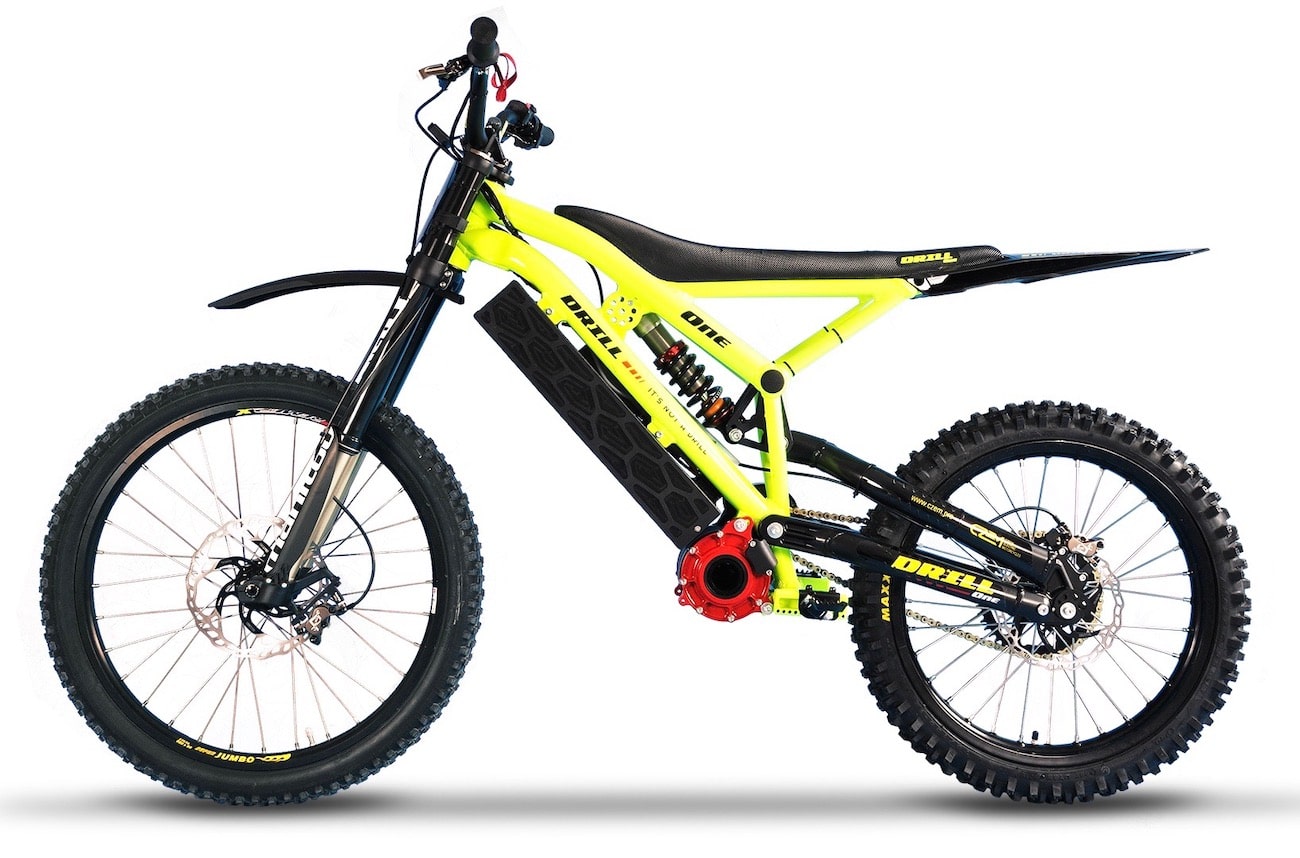 Czem Drill One electric bike.
Central Powersports Distribution (CPD), located in Watertown, South Dakota, will become the Rieju source in North America. CPD has also reached distribution agreements with French electric trial/trail bike maker Electric Motion, the Czech Republic-based electric trail bike manufacturer Czem  and Funnel Web air filter.
Electric Motion Etrek.
Rieju is a Spanish motorcycle company with over 95 years in the motorcycle business in Europe, and CPD is helping them make their first appearance in the USA. It promises to be an easy entry to the US market, as Rieju purchased the manufacturing rights to the latest, non-KTM,  GasGas enduro platform.
TRADITION BE DAMNED: MOTOCROSS DES NATIONS TO BECOME THE MOTOCROSS DES FREE-FOR-ALL
"You mean we could have brought Broc, Kent, Hurricane, Marty, Too Tall, Barnett, Wardy, Rocket Rex and Bailey with us? Wouldn't it get a little crowded."

The Motocross des Nations is under attack, by the men who are suppose to protect it. There is talk, among the rear guard of Grand Prix executives (which means the Italians), to throw away the 73 years of the tradition of the MXDN being a nation versus nation showdown — and open it up to all the GP riders—which would lessen the importance of and demean the stature of the World Team Motocross Championship. It would become nothing but another GP in a schedule that already has 5 too many Grands Prix to begin with (and you know the 5 GPs without us telling you who they are, where they are and why the promoters want to go to those non-moto countries).
The idea is to turn the Motocross des Nations into a points paying GP, open to every GP rider (please don't called it the Motocross "of" Nations—that was just a marketing ploy to sell sponsorship packages to corporation that knew nothing and cared nothing about motocross history). By allowing everybody to race at the Motocross des Nations the riders who weren't named to their nation's teams will be placed in the mix as "wild card "riders (mucking up the mix is more like it). If In Front Racing, formerly Youthstream, makes this change, the MXDN will lose its reason for being.
Why do they want to make this change? Because the way the current MXGP schedule is laid out, the previously last race of the year, the Motocross des Nations, is now in the middle of the MXGP season—with 11 GPs scheduled after the MXDN.  Frontstream is worried that most of the Grand Prix contenders will refuse to race for their national teams with so many GPs left on the schedule (where injury at the mid-season MXDN could harm their chances of being number one).
They have already lost Team USA, at least the upper crust of the potential Team USA, to the late starting AMA National series and now they are worried that the European stars will bow out too. And since In Front Racing refuses to budge off  the September 27th date—they would rather kill the event's uniqueness than think about re-arranging the schedule—which starts with getting rid of the 5 meaningless GPs.
If they dropped all of the To be Announced (TBA) dates and the five races that no one wants to go to, the MXDN could be the last race of the season.
TAKE THE MXA 2020 READER SURVEY & HAVE A CHANCE TO WIN FREE THOR GEAR!

Score free head-to-toe Thor gear now! Complete our reader survey we'll take your input to help improve future web and monthly print content of Motocross Action. One lucky winner will be chosen at random to receive a free gear ensemble from Thor (style and/or color may vary). This year's Thor (www.thormx.com) gear giveaway includes the following: Prime Pro jersey and pants, Sector Split with MIPS helmet, Radial boots, Sniper Pro goggles, and Agile gloves. That's $750 worth of products, so don't miss this opportunity to win all this stylish gear for free! Fill out the entire survey!
MXA PRODUCT SPOTLIGHT: PRO CIRCUIT TITANIUM OVERFLOW CATCH TANK
The popular catch cans that are secured on frames of factory bikes and Pro Circuit's Monster Energy/Pro Circuit/Kawasaki race bikes can now be a works part of your own. Handmade from titanium ,the catch can connects to the over flow on the radiator and is designed to capture coolant when the bike gets hot. The coolant will flow back into the radiator once your bike has cooled down. Its purpose is to maintain optimal coolant levels during a race. A catch can could be used for two-strokes, but is mainly recommended for four-stroke dirt bikes. Retail price is $169.00 at www.procircuit.com
MXA TEAM TESTED: FLY RACING HOSE BENDER


This is such a simple idea that it's amazing no one thought of it 30 years ago. The Fly Racing Hose Bender is a thick ABS plastic hook that you clip onto the filler hose on your VP, Pit Posse, LC, KTM, Slasher or Matrix gas can. The plastic attachment forces the flexible filler hose to bend downward at a 30-degree angle. It couldn't be simpler to install. You don't have to remove anything from your gas can; you just slip the Hose Bender on the filler hose. All that is left to do is slide the Hose Bender up and down the filler hose to get the maximum bend.
When your motorcycle is on a 17-inch-tall bike stand, you have to lift a 5-gallon gas can almost 4 feet off the ground to pour gas into your bike's fuel tank. Worse yet, with the standard straight filler hose, you run the risk of spilling fuel while trying to get the end of the hose into the gas tank opening. A full 5-gallon gas can weighs 35 pounds, and when you add a 13-inch filler hose that doesn't want to go into the 3-inch opening in the tank, you have trouble on your hands. But, once you install the Fly Racing Hose Bender on the gas can's filler hose, you only have to lift the gas can to the height of the gas cap. Because the filler hose bends downward, you can easily slip the hose into the gas tank opening without straining. Plus, you can pour the fuel as fast or slow as you like, because the majority of the fuel in the gas can is being held level with the bike's fuel tank.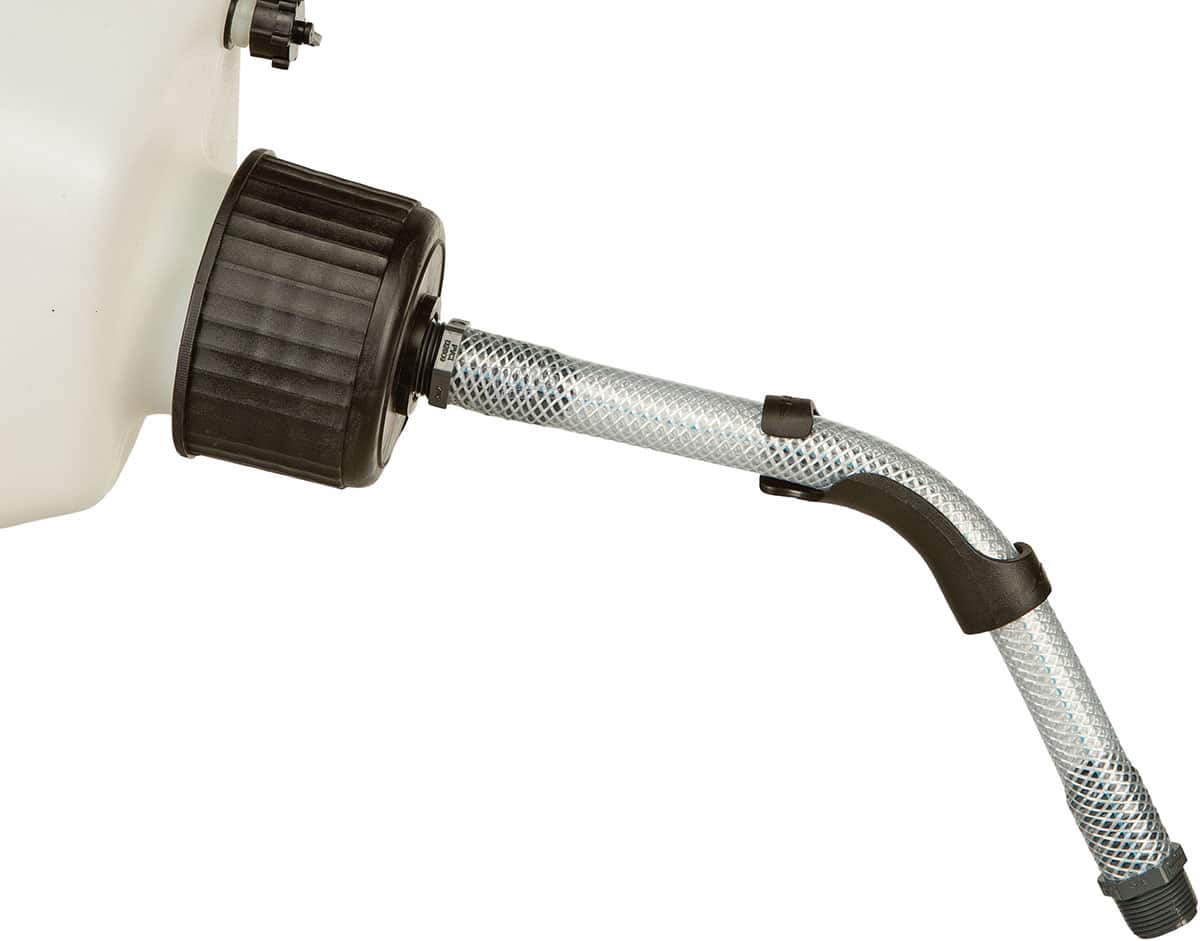 One caveat. Be forewarned that the Hose Bender will only work on new or still-flexible gas can hoses. If you have an old, stiff, yellowed filler hose, it won't bend. It also only works on 1-inch-diameter hoses, which does leave out a few models of gas cans.
DIGITS: $5.95 — Click Here.
MXA RATING: We love the Fly Racing Hose Bender, and we think that every motocross racer will love it too. This is the greatest $5.95 you will ever spend. Every time you pour gas into your bike, you will appreciate the Fly Racing Hose Bender more and more.
BORED AT HOME? TRY FREE ACCESS TO MXA DIGITAL EDITIONS FOR FREE, FREE FREE, FREE FREE FREE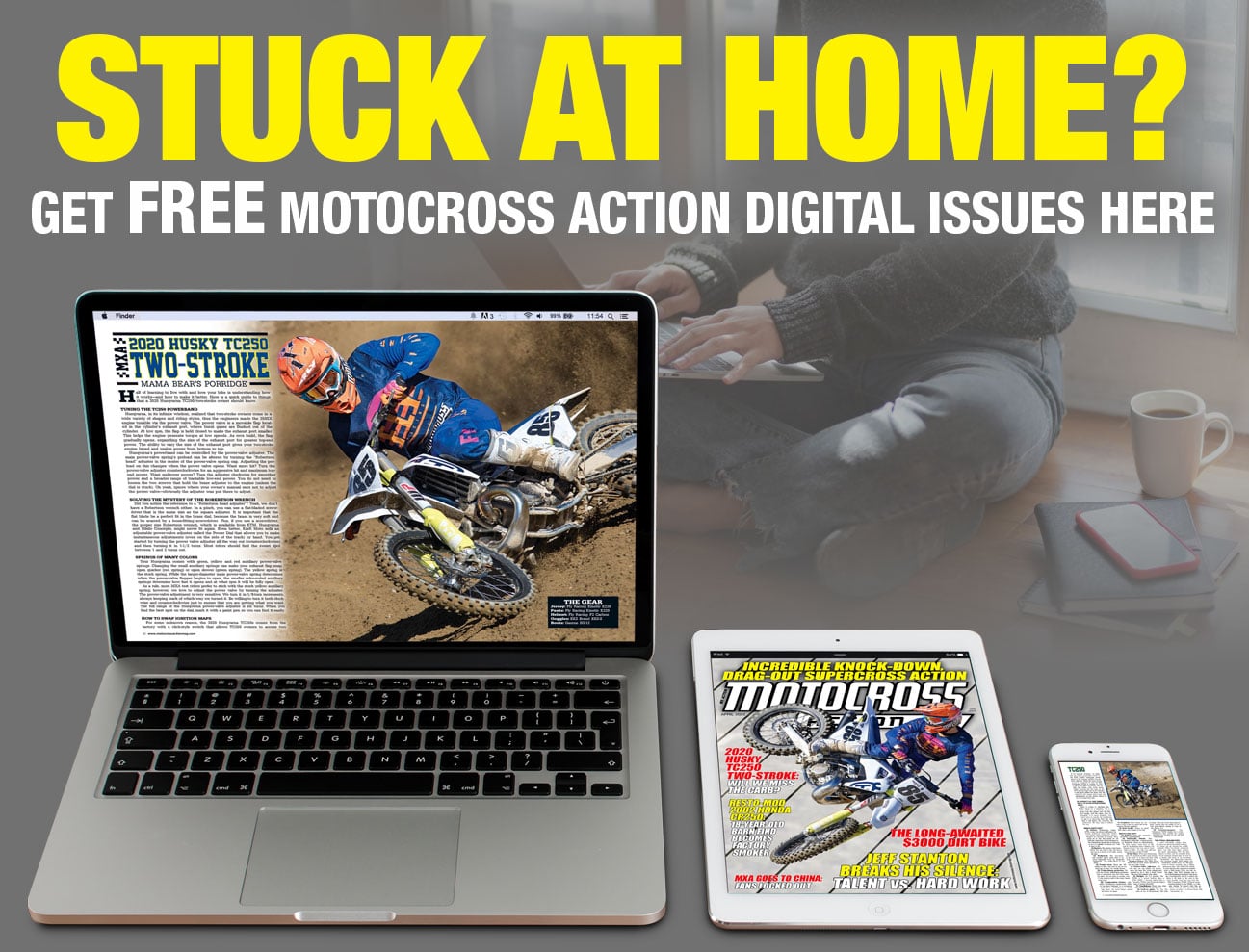 Click here or on the above photo to get your free digital issues.
MXA AD OF THE WEEK: BSA WINS AGAIN AND FOR THE LAST TIME

Jeff Smith would win the 1964 and 1965 FIM 500cc World Championship for BSA. Note that in Smith's win ad that the word motocross was not fully inntegrated into the language of the sport. They called it "Moto-Cross," "High Speed Scrambles," and "Scrambles."
MORGAN LUCAS APPOINTED PRESIDENT OF LUCAS OIL PRODUCTS
Morgan Lucas.
Lucas Oil Product has named Morgan Lucas, son of Forrest Lucas, to take over as president of Lucas Oil. Morgan Lucas had a successful drag racing career and ran his own team, before joining the family business. In his new position as president, Morgan will report directly to his father, CEO Forrest Lucas, who said. "I could not be more proud of the professional Morgan has grown up to be. He has worked his way to the top of this company from the ground up and truly showed his potential to us since day one. He's earned the respect of his teammates, and he's definitely earned mine."
Lucas Morgan said, "I have watched my father and mother work tirelessly and make countless sacrifices to take Lucas Oil from its modest beginnings to grow it into the thriving enterprise that it is today. The mission they have instilled has always been to exemplify hard work and integrity through the creation of high-quality, problem-solving products with an unwavering commitment to customer satisfaction. Continuing their successful approach and being open-minded to new opportunities amidst the ever-changing marketplace, I am confident we will continue to grow as a company for many years to come."
CAMP REV CHRISTIAN MOTOCROSS CAMP ON JUNE 22-24
For more information go to www.camprev.com
MOTORCYCLE HELMETS NOW EXCLUDED FROM CHINA TARIFFS
The United States Trade Representative (USTR) has determined that motorcycle helmets are now excluded from tariffs that were imposed in 2019 on China.
"Tariffs are additional taxes paid by American consumers and businesses, not by China," said Motorcycle Industry Council President Erik Pritchard. "We are pleased that the USTR has decided to exclude additional taxes on motorcycle helmets. Safety equipment must remain affordable and readily available to all riders." Importers should work with their brokers to obtain refunds from Customs and Border Protection on previously collected tariffs spanning September 1, 2019, to May 13, 2020. Questions related to Section 301 entry filing requirements should be emailed to [email protected]
THE 32:1 PREMIX CLASSIC COMING TO LAST CHANCE RACEWAY ON SEPT. 1-13
For more information about the September 11-13 race in Montana go to www.lastchancemx.com.
TUCKER POWERSPORTS CLOSING CALIFORNIA & ARIZONA OFFICES—FURLOUGHING EXECS
Tucker Powersports' President Marc McAllister's announces that they would be closing their offices in California and Arizona and moving the product development and purchasing for our Apparel Group and Dragonfire Racing into our Texas office. Additionally, there would be an organizational change that would eliminate Danny Anderson COO position and Greg Blackwell's CCO position. Tucker Powersports plan is to have employees return to work by mid-June, depending on any stay-at-home orders.
Started by Ed Tucker in 1967, it was best known as Tucker Rocky for decades. In 2018 it became Tucker Powersports. They carry Arai, Roland Sands Design, Answer, Speed and Strength, Firstgear, Vance & Hines, ProTaper, Renthal, Kuryakyn,Performance Machine and many other product lines. Tucker does not sell online to the public. They are a wholesale distributor that only sells to the public through their dealer network.
40TH ANNUAL CZ WORLD CHAMPIONSHIP RESCHEDULED FOR OCTOBER 9-10-11 AT MARYSVILLE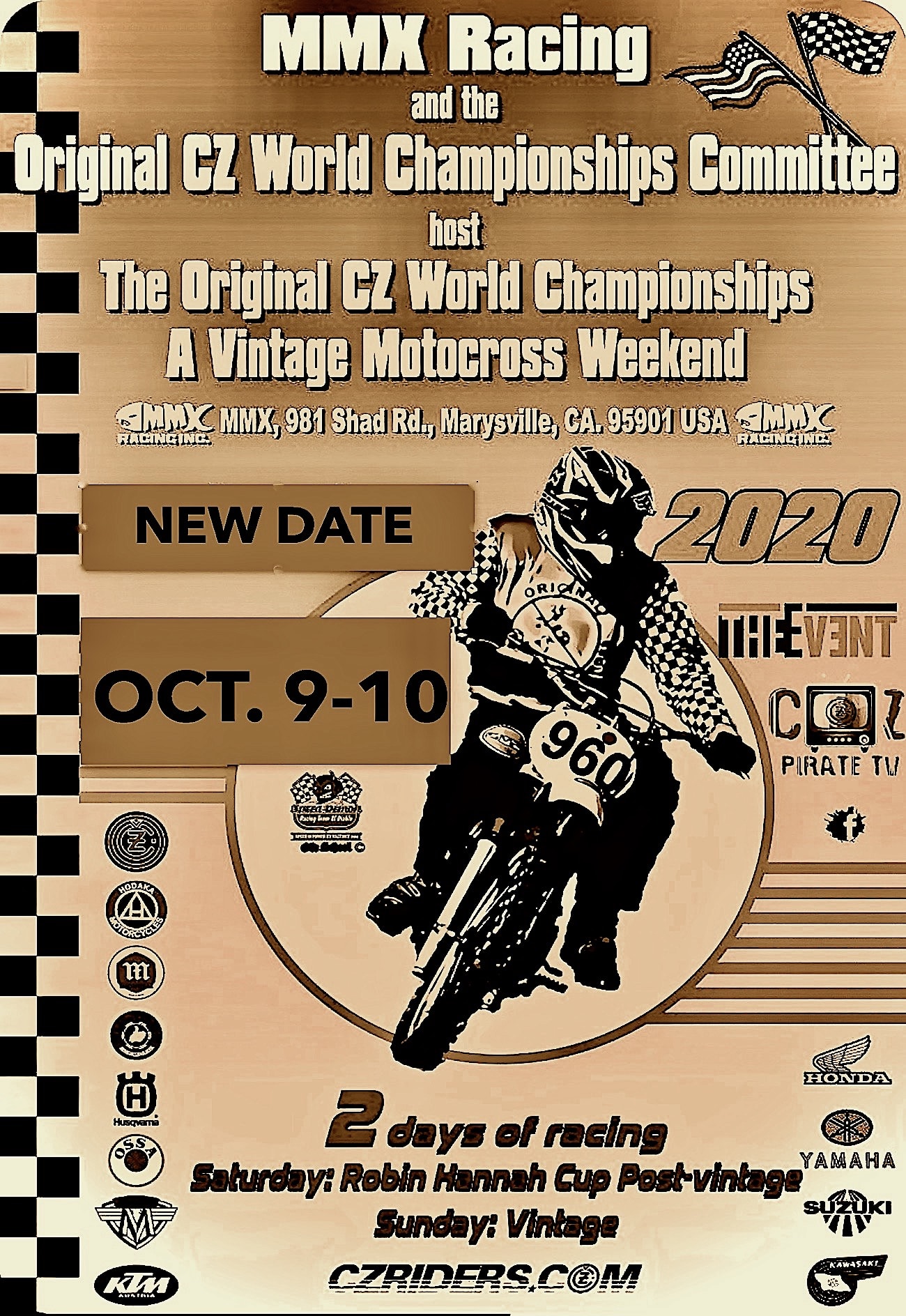 Dating back to 1980 when MXA's Jody Weisel, Ketchup Cox and Pete Maly talked Saddleback Saturday promoter Jim Beltnick into holding a CZ race, the CZ World Championship is now on its 40th anniversary in 2020. For more information go to www.czriders.com
JEFF WARD NAMED BRAND AMBASSADOR FOR KENDA TIRES—WILL JOIN DOUG HENRY
Jeff Ward.
Kenda announced THAT Jeff Ward will be joining Doug Henry in representing Kenda tires across all categories including Powersports, Bicycle, Automotive and Wheelchair. The former AMA National, Supercross, Supermoto, MXDN and XgamesC—not to mention an Indycar winner, AMA Hallf of Famer and Motorsports Hall of Fame of America. inductee, Jeff brings a lot of motorsports experience to Kenda's broad line-up of products.
36TH ANNUAL WORLD VET MOTOCROSS CHAMPIONSHIP ON NOVEMBER 6-8: START PLANNING NOW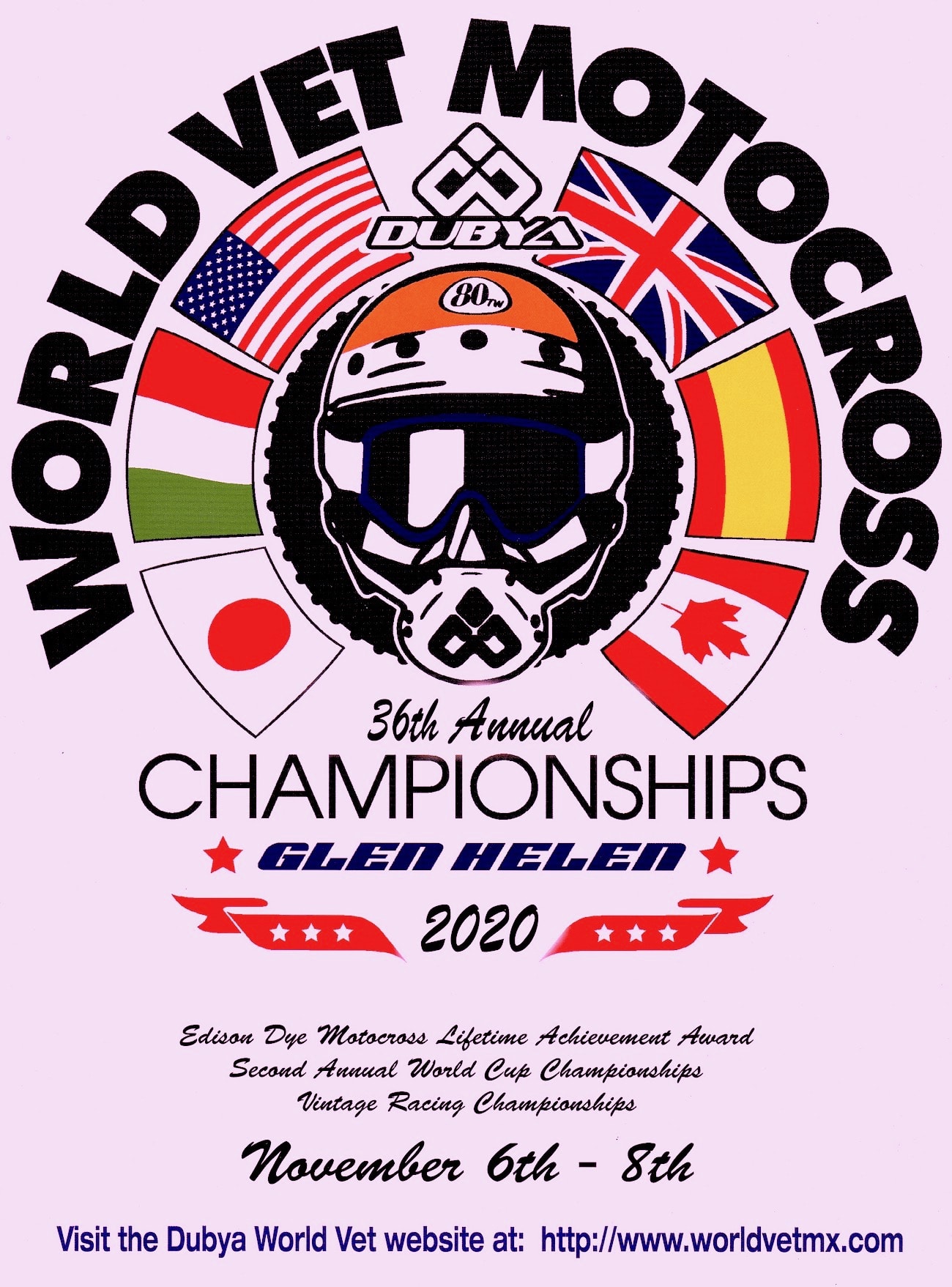 For more information go to www.worldvetmx.com
AIM EXPO CHANGES THE 2020 DEALER SHOW FROM OCTOBER TO JANUARY, 2021, IN COLUMBUS, OHIO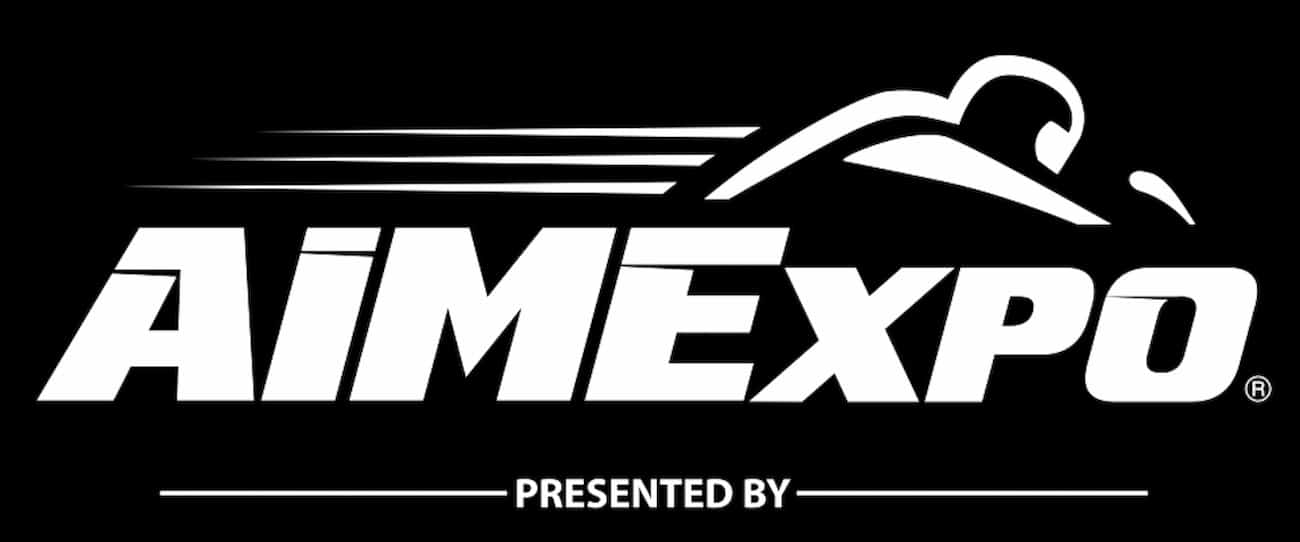 The American International Motorcycle Expo (AIMExpo) will change the date of the 2020 motorcycle show from October 2020 to Jan. 21-23, 2021. It will be held at the Greater Columbus Convention Center in Columbus, Ohio. The 2021 show will now focus on retailers over three days instead of four. For 2021, AIMExpo will become a trade-only event. The transition to trade-only will bring more focus on industry needs and education. AIMExpo hope to educate dealers on improving efficiency, staying competitive and enhancing the bottom line.
AIME's Cinnamon Kernes said, "Timing is everything. Transitioning to the first quarter has been part of a long-term strategic plan for AIMExpo, along with providing more focus on our core audience — dealers. These changes not only align the show with the ideal buying time for dealers and retailers, but also provide the perfect opportunity for brands to reconnect with dealers, kicking off what will be a pivotal year for the industry. This move to January opens the door to partner with a major distributor in a much more strategic and meaningful way."
THE EVER CHANGING 2020 RACE SCHEDULES: GOOD FOR THIS DAY ONLY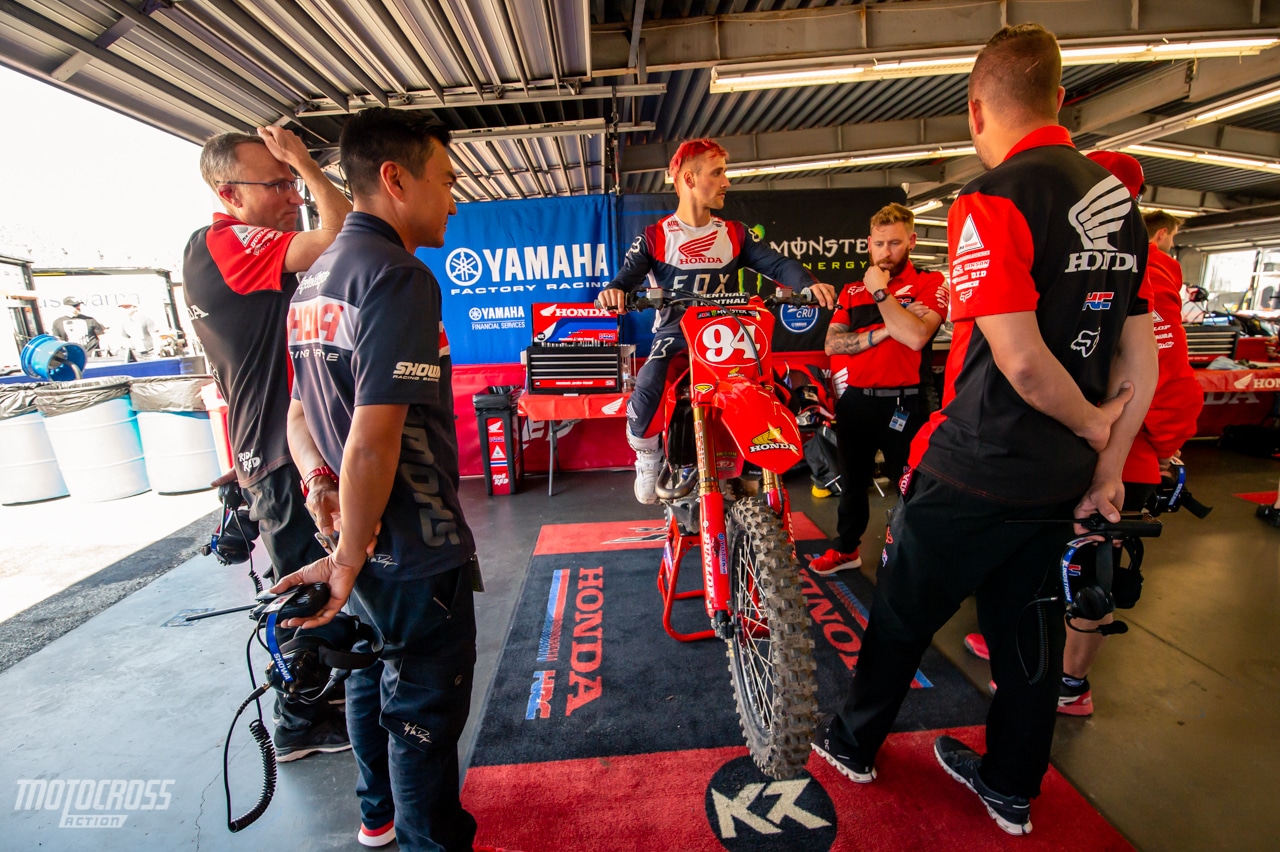 Ken Roczen will be spending the next three weeks in Salt Lake City trying to finish up the compressed AMA Supercross Championship.
REVISED 2020 AMA SUPERCROSS CHAMPIONSHIP
Jan. 4…Anaheim, CA (West)
Jan. 11…St. Louis, MO (West)
Jan. 18 …Anaheim, CA (West)
Jan. 25…Glendale, AZ (3-Moto) (West)
Feb. 1…Oakland, CA (West)
Feb. 8…San Diego, CA (West)
Feb. 15…Tampa, FL (East)
Feb. 22… Arlington, TX (3-Moto) (East)
Feb. 29… Atlanta, GA (East)
Mar. 7…Daytona Beach, FL (East)
May 31…Salt Lake City, UT (East
June 3…Salt Lake City, UT (East
June 7…Salt Lake City, UT (West)
June 10…Salt Lake City, UT (West)
June 14…Salt Lake City, UT (East)
June 17…Salt Lake City, UT (East
June 21…Salt Lake City, UT (East/West)
REVISED 2020 FIM MOTOCROSS WORLD CHAMPIONSHIP
Mar. 1…Matterley, Great Britain (Held)
Mar. 8…Valkenswaard, Holland (Held)
Aug. 2…Russia, Orlyonok,
Aug. 9…Kegums, Latvia
Aug. 16…Uddevalla, Sweden
Aug. 23…KymiRing, Finland
Sept. 6.…Afyonkarahisar, Turkey
Sept. 13…Shanghai, China
Sept. 13…TBA
Sept. 27…MXDN, Ernee, France
Oct. 4…Trentino, Italy
Oct. 11..Arroyomolinos, Spain
Oct. 18…Agueda, Portgual
Oct. 25…Lommel, Belgium
Nov. 1…Jakarta, Indonesia
Nov. 8…TBA, Indonesia
Nov. 22…Neuquen, Argentina
Nov. 29…TBA
TBA…Loket, Czech Republic
TBA…Teutschenthal, Germany
TBA…Imola, Italy
REVISED 2020 FIM MOTOCROSS WORLD SIDECAR CHAMPIONSHIP
July 12…Lange, Estonia
Aug. 30…Roggenburg, Switzerland
Sept. 6…Orehova Vas, Slovenia
Sept.…13…Jinin, Czech Republic
Sept. 20…Rudersberg, Germany
2020 FIM MOTOCROSS DES NATIONS
Sept. 27.…Ernee, France
REVISED 2020 CANADIAN NATIONAL CHAMPIONSHIP
July 11-12…Courtland, ON
July 18-19…Ottawa, ON
July 25-26…Moncton, NB
Aug. 15-16…Walton, ON
Sept. 5-6….Deschambault, QC
REVISED 2020 AUSTRALIAN NATIONAL MOTOCROSS CHAMPIONSHIP
Aug. 9…Connondale. QLD
Aug. 6…Maitland, NSW
Sept. 6…Newry, VIC
Sept. 12…Horsham, VIC
Oct. 4…Gympie, QLD
Oct. 11…Coolum, QLD
2020 AMA NATIONAL AMATEUR CHAMPIONSHIP
Aug. 3-8….Hurricane Mills, TN
2020 MONSTER ENERGY CUP
Oct. 10…Carson, CA
REM OCTOBERCROSS
Oct. 31…Glen Helen, CA
2020 DUBYA WORLD VET MOTOCROSS CHAMPIONSHIP
Nov. 6-8…Glen Helen , CA
MXA PRODUCT SPOTLIGHT: YAMAHA LICENSED APPAREL COLLECTION BY FACTORY EFFEX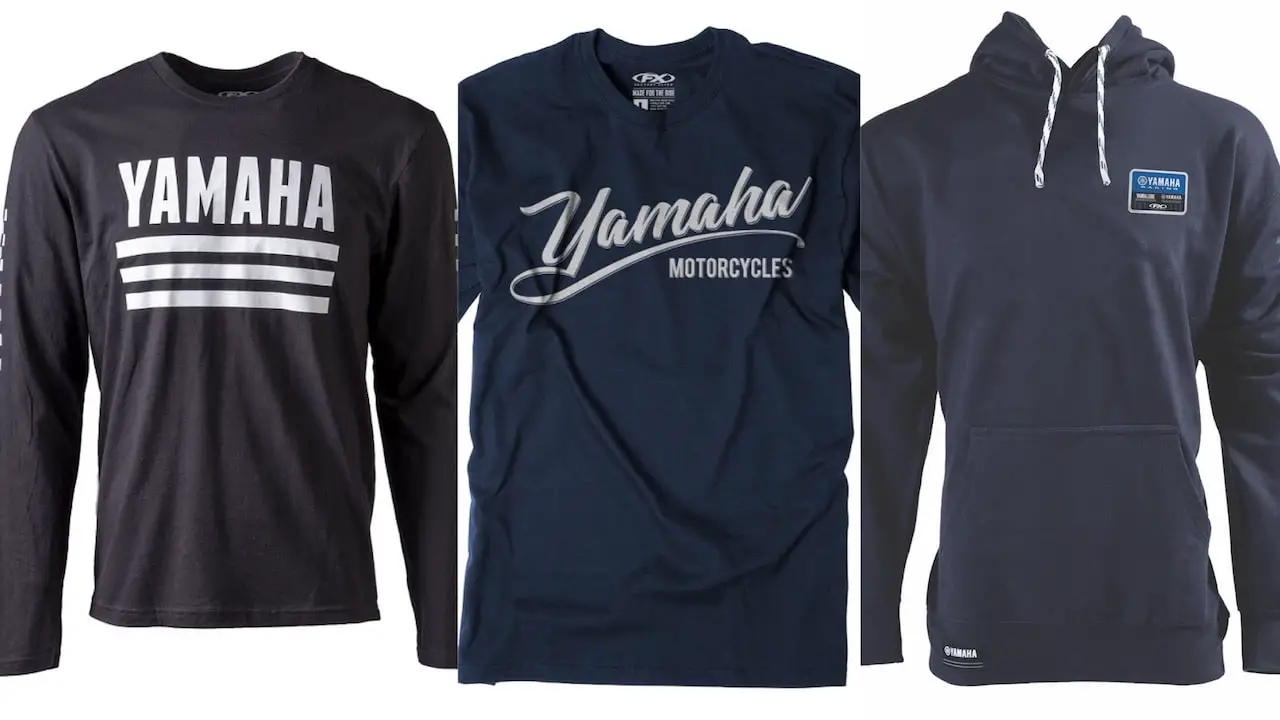 Factory Effex' 2020 Yamaha Racewear Apparel is a team inspired collection of premium t-shirts, fleece, headwear and jackets. The custom hooded pullover sweatshirt, light–weight windbreaker and all-weather soft-shell jacket features a chest emblem and printed sleeves. The snap-back hat and pom beanie features a front TPR patch. This collection is a limited edition and an official licensed product.  The Factory Effex Yamaha Racewear collection is available online at factoryeffex.com and there you'll also find officially licensed Honda, Kawasaki, Suzuki, Rockstar Energy and Factory Effex products as well. Check them out online or at authorized dealer near you.
YAMAHA RACEWEAR PULLOVER-$54.95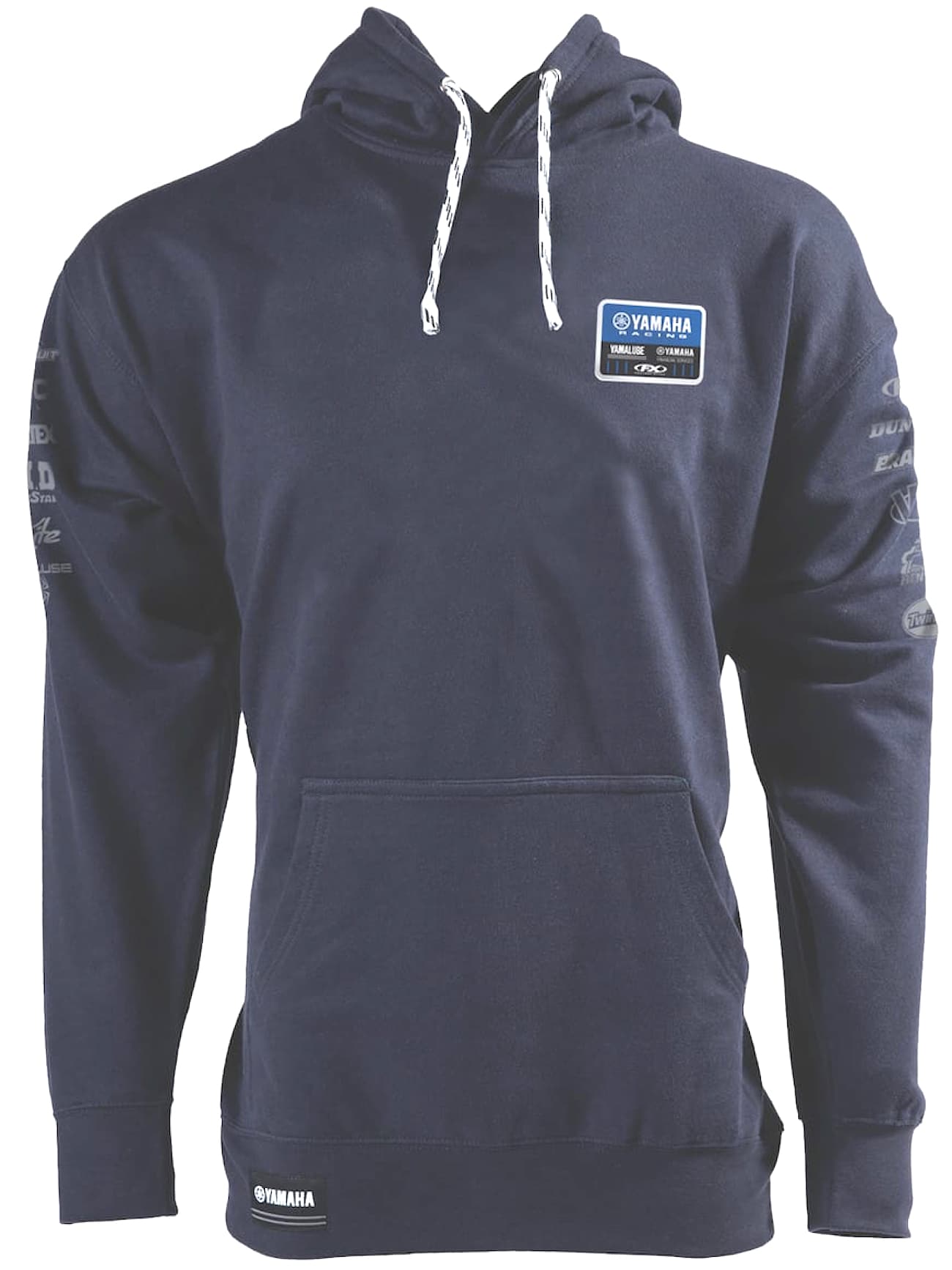 The Navy Hooded Pullover Sweatshirt is made out of 80% Cotton ,20% Poly, 7-ounce materials. It's a mid-weight Fleece with a TPR chest patch, screen-printed sleeve graphics and contrasting draw-cords.
YAMAHA RACEWEAR STRIPES T-SHIRT-$26.95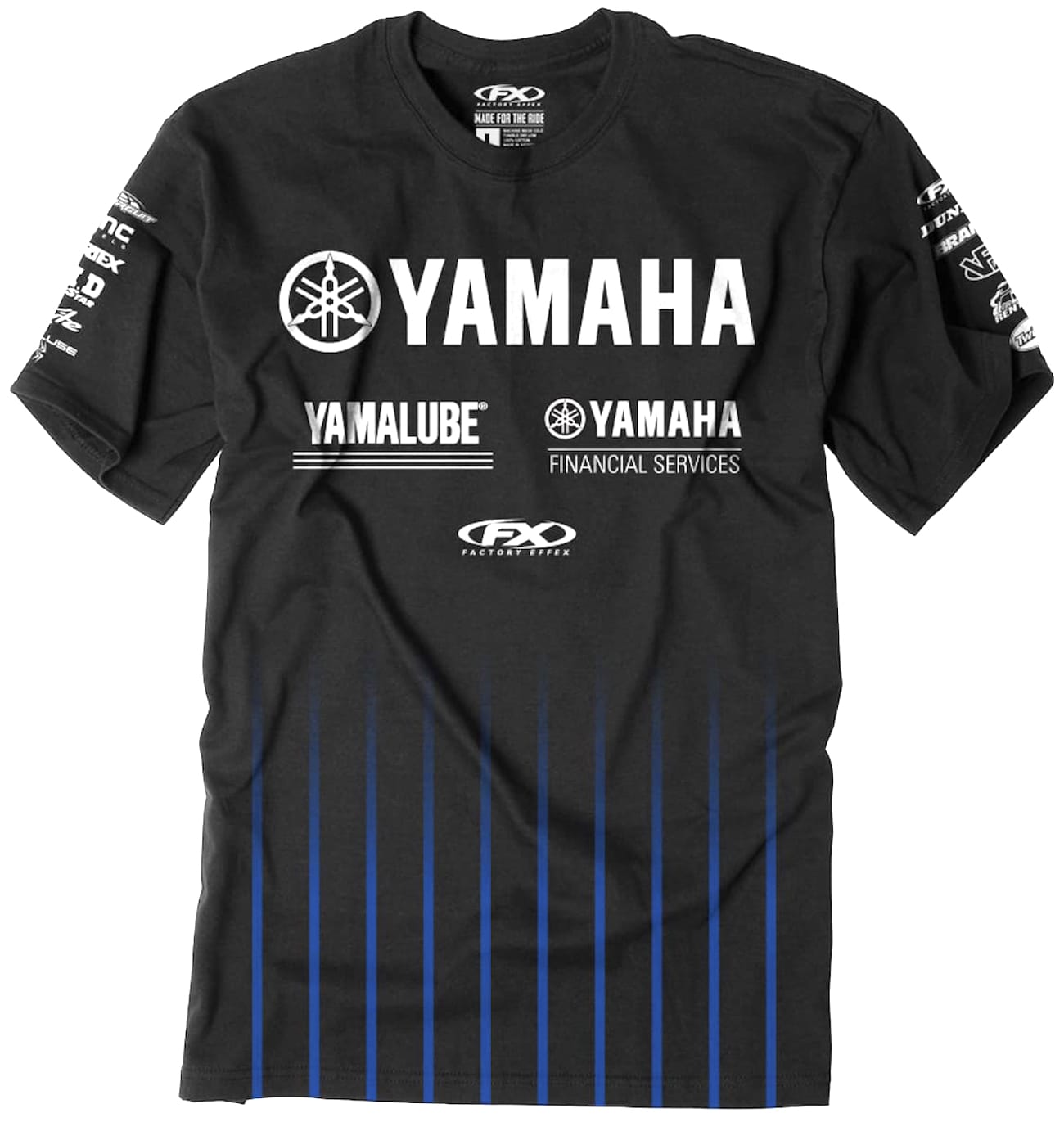 The Black Yamaha Stripes Mens Crew T-shirt is made out of 100% combed ring-spun cotton that weighs  4.3-ounce with screen-printed logos on the front and on the sleeves.
YAMAHA RACEWEAR LOCKUP T-SHIRT-$26.95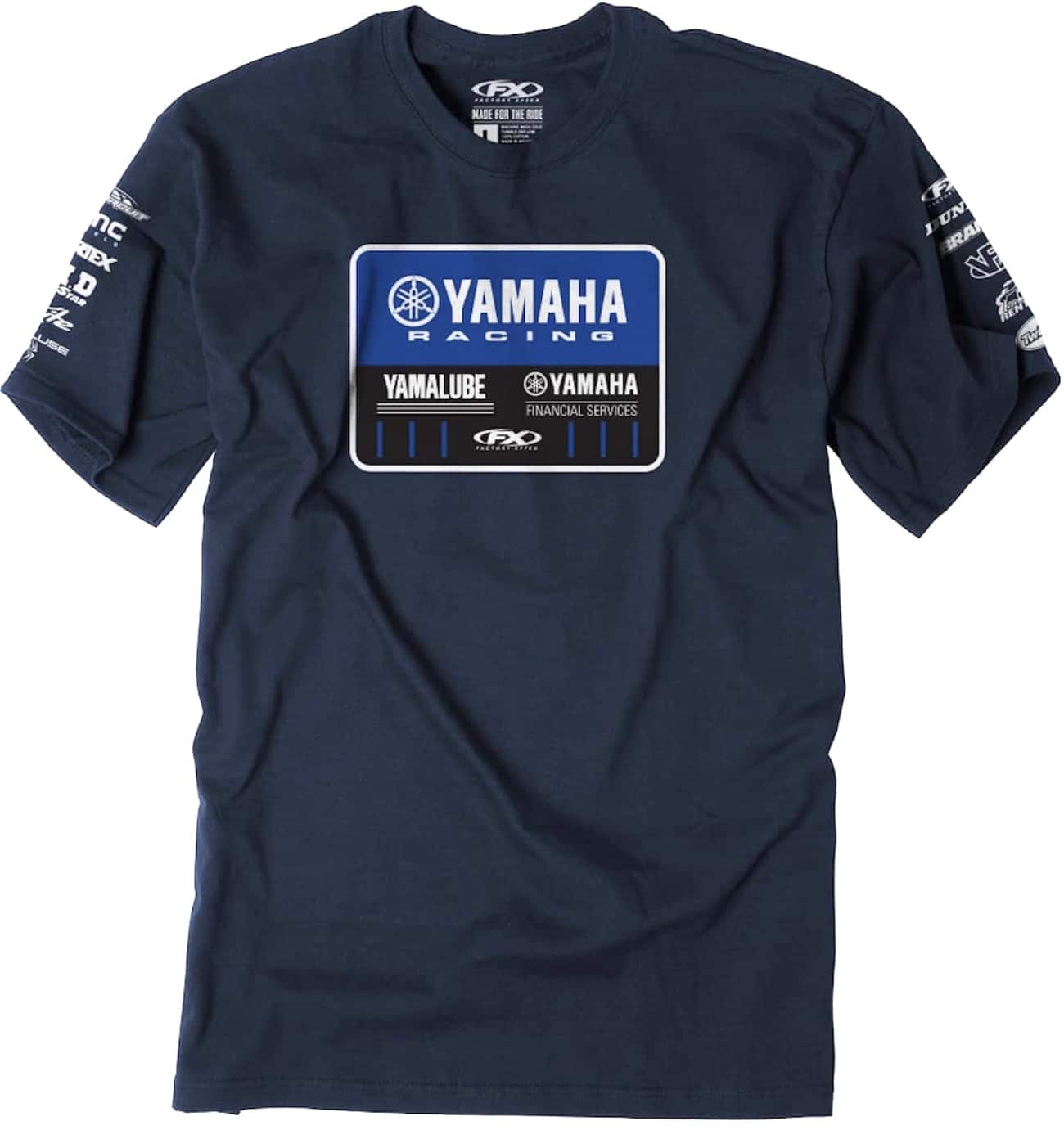 The officially licensed Yamaha Lockup Mens Crew T-shirt is made out of 100% Combed Ring-Spun cotton at 4.3 -ounces and it features screen-printed front and sleeves.
YAMAHA SPEEDBLOCK T-SHIRT-$26.95
The officially licensed Yamaha Speedblock Navy Mens Crew T-shirt uses 100% combed ring-spun cotton at 4.3-ounces and it has a screen-printed front and sleeve.
For more officially license apparel by Factory Effex, check out factoryeffex.com.