MXA'S WEEKEND NEWS ROUND-UP: OAKLAND SUPERCROSS MAKE-UP DATE RETURNS AFTER 2895-MILE DRIVE FROM TAMPA
• THIS WEEK'S 2023 TAMPA SUPERCROSS TRACK HAS A WHITE SAND RHYTHM SECTION
Tampa is on Saturday night, then the riders fly home on Sunday morning. Eventually, once everything is cleaned up and put away, the truck drivers start the 40-hour drive from Tampa, Florida, to Oakland, California, for the make-up race for the first Oakland Supercross that was rained out on January 14.
• WATCH JOSH MOSIMAN TACKLE TAMPA'S WHITE SAND RHYTHM BACK IN 2020
• MXA PRODUCT SPOTLIGHT: FOUR NEW MXA TRUCKER HATS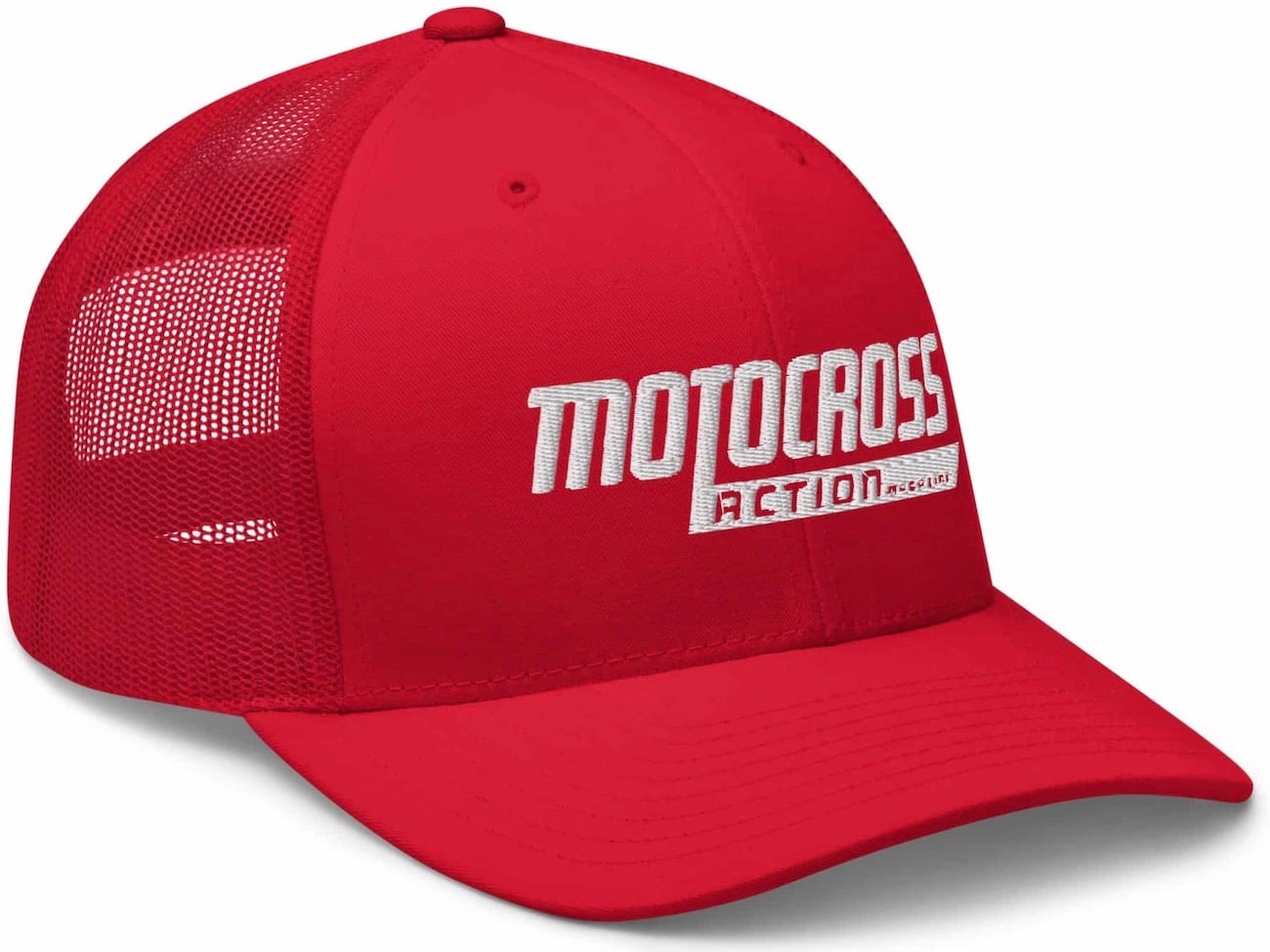 MOTOCROSS ACTION RETRO TRUCK HAT (RED)—$25,00
MOTOCROSS ACTION RETRO TRUCK HAT (BROWN/KHAKI)—$25,00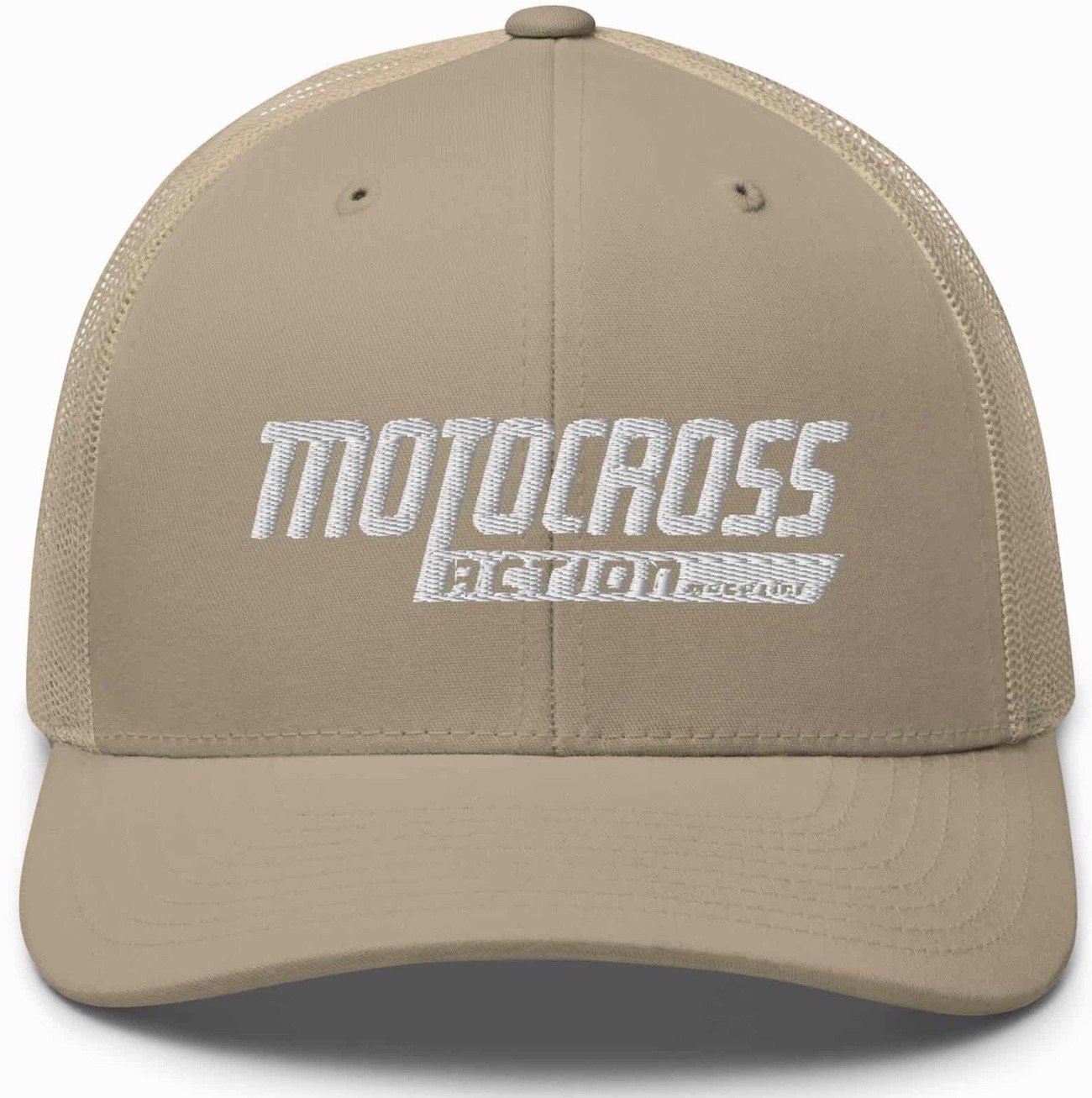 MOTOCROSS ACTION RETRO TRUCK HAT (KHAKI)—$25,00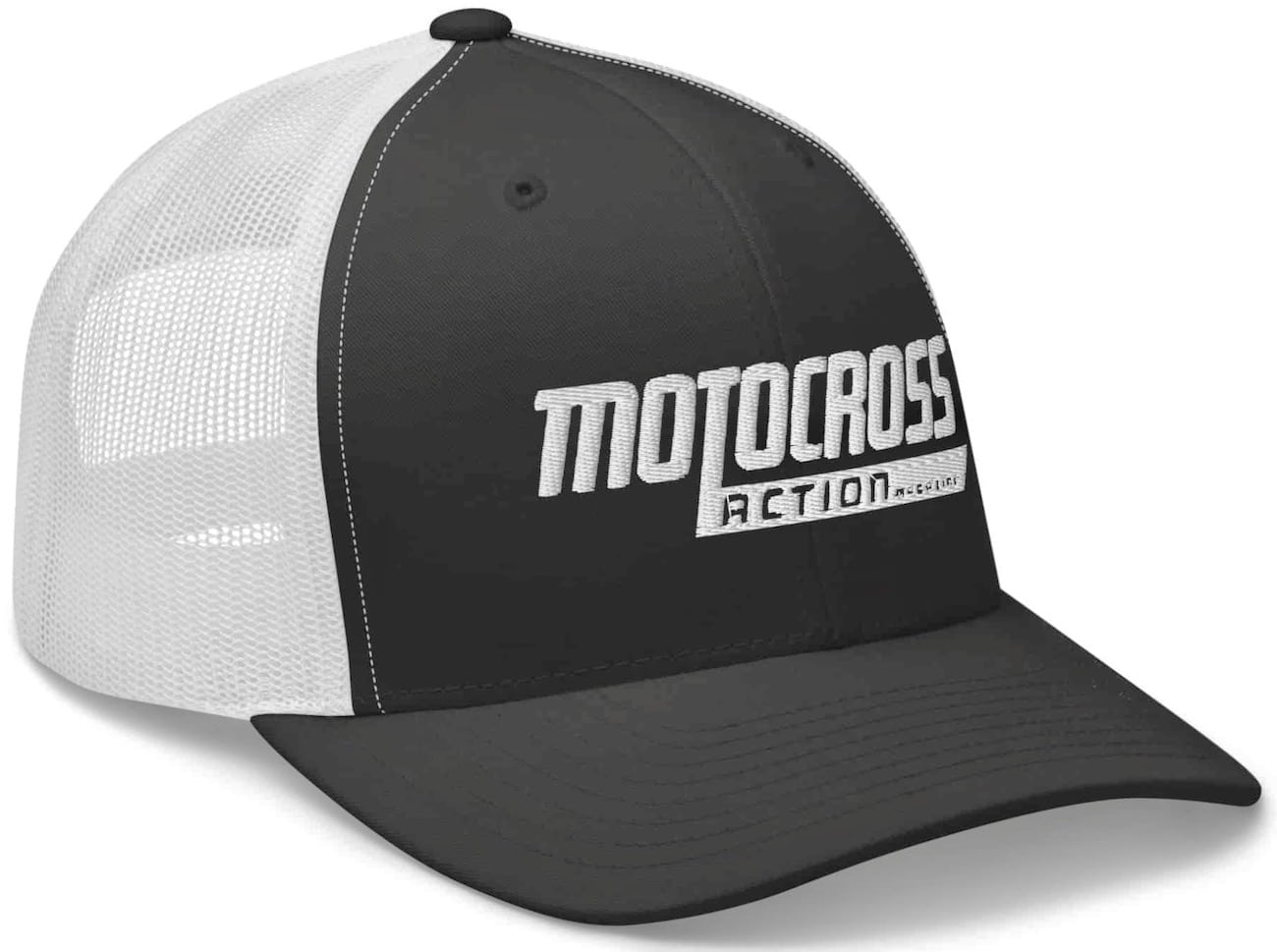 MOTOCROSS ACTION RETRO TRUCK HAT (BLACK/WHITE)—$25,00
To see more hats or to order Click Here
• THE SUPERCROSS POINTS STANDINGS HEADING TO TAMPA
Eli Tomac pulled a rabbit out of the hat in Houston. Before the Red Flag for Dylan Ferrandis' concusssion, Eli was about to be overtaken by Chase Sexton, but after the ten-minute delay for the staggered restart, he pulled himself together and pulled away from Chase.
Chase Sexton had the exact opposite reaction to the Red Flag delay. He was the fastest man on the track up until the Red Flag flew. After that, he lost his rhythm and had to settle for second. Chase in now 7 points behind Eli in the title chase. He came into Houston only 4 points back.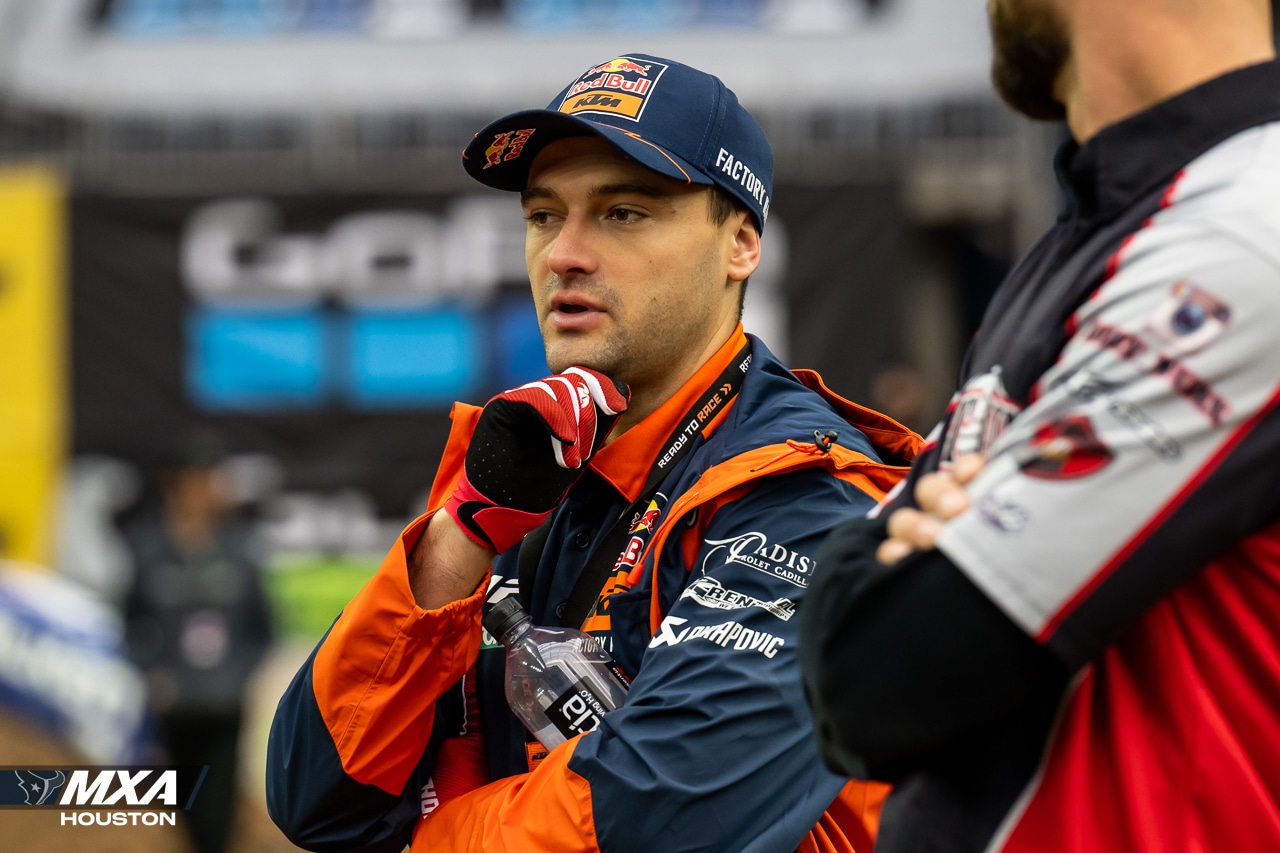 Cooper Webb is still third in 450 Supercross points, but a 5th in Houston pushed him to 12-point deficit.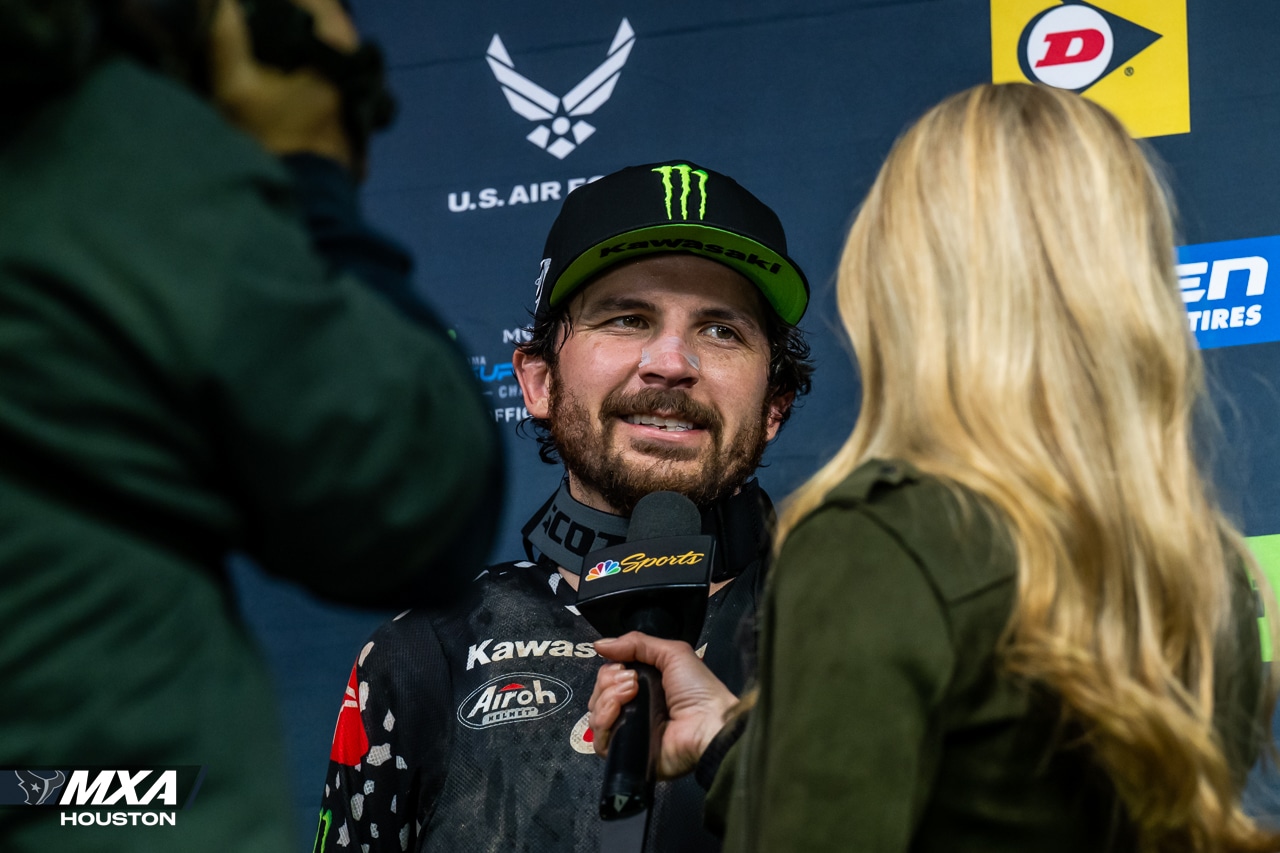 Jason Anderson's third in Houston help him claw his way back into the title chase, but his raw speed  hasn't had a good shot at the lead and the hole he dug at the first few rounds still leaves him 19 points adrift of Tomac.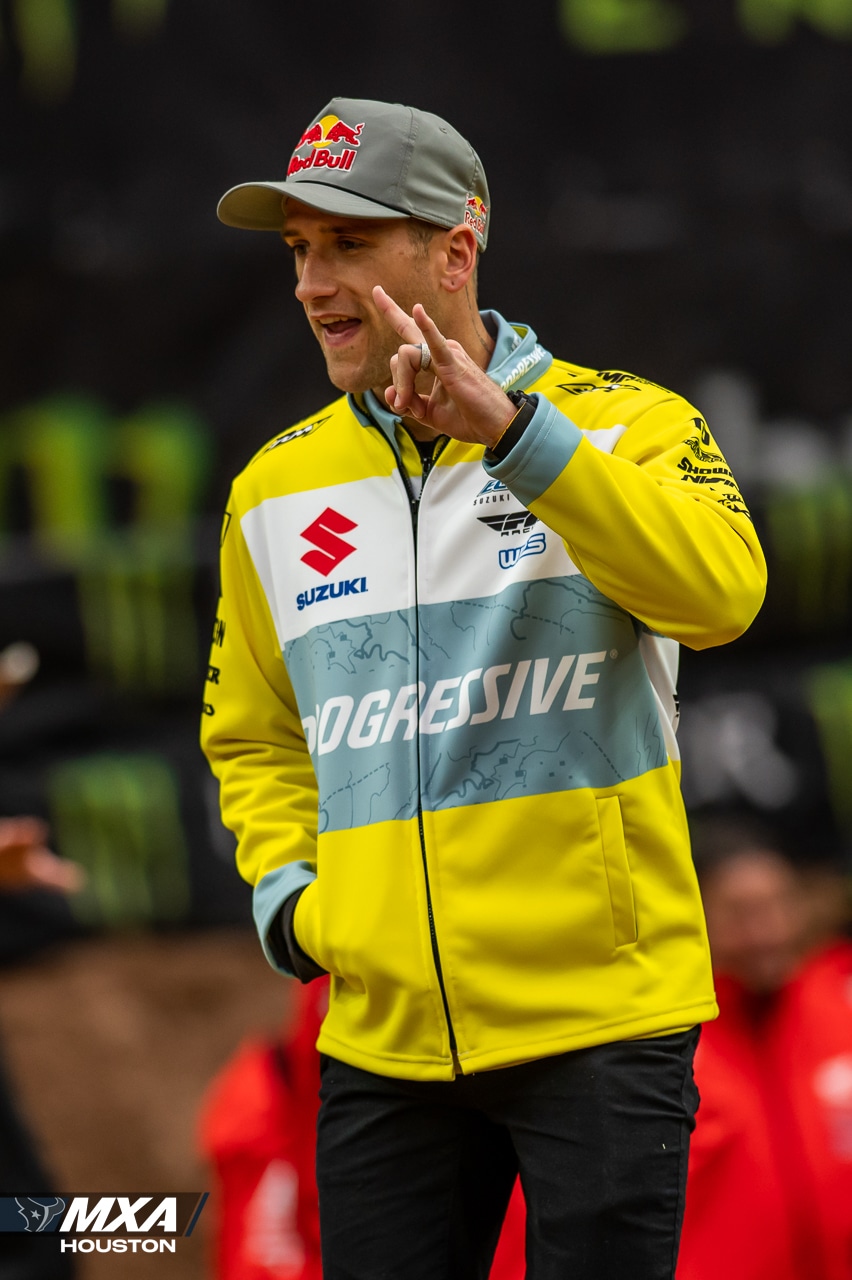 Ken Roczen had the worst night of his remarkable 2023 season. He is still in the top five in 450 points, but 22 points behind Eli. Ken never gelled with the Houston dirt. Dylan Ferrandis' crash was caused by Dylan landing on the rear fender of Ken's Suzuki RM-Z450.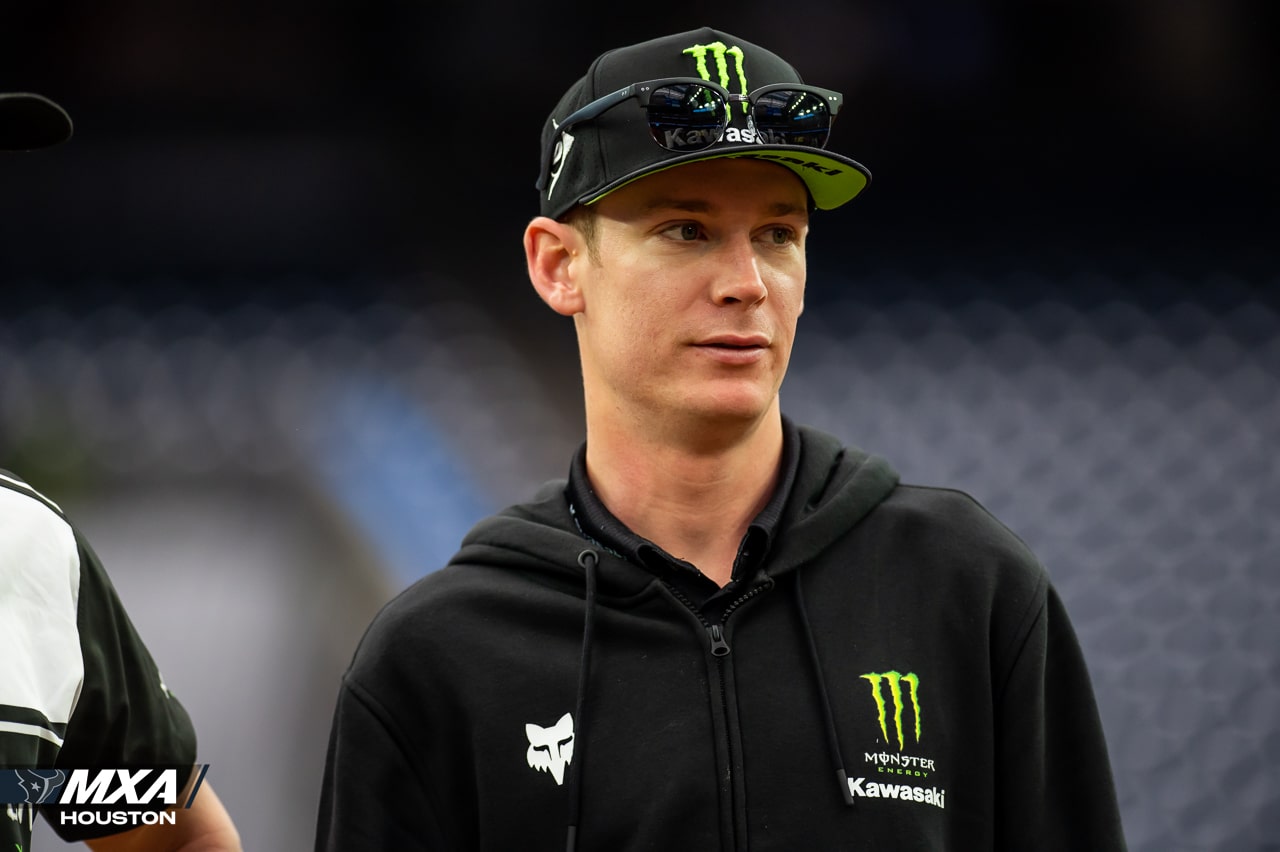 There is no doubt that Adam Cianciarulo has the speed to run at the front, because he has done it several times this season, but the injuries he is struggling with have him slide back out of the lead group as the race continues. To his credit, he is trying to ride himself to health. Adam is ninth in points (39 points out of the lead). 
Justin Cooper has a weird deal for the 2023 season. We'd explain it you you, but somebody would have to explain it to us. How could a guy who  shows up at his first-ever 450 Supercross and finishes a strong seventh have been sitting on the sidelines for the first three races?
AMA 450 SUPERCROSS POINTS STANDINGS
(after Houston)
1. Eli Tomac…95
2. Chase Sexton…88
3. Cooper Webb…83
4. Jason Anderson…76
5. Ken Roczen…73
6. Justin Barcia…65
7. Aaron Plessinger…64
8. Dylan Ferrandis….56
9. Adam Cianciarulo… 56
10. Joey Savatgy…53

The only thing that wasn't a surprise in Houston was that Hunter Lawrence took the opening round win of the 250 East.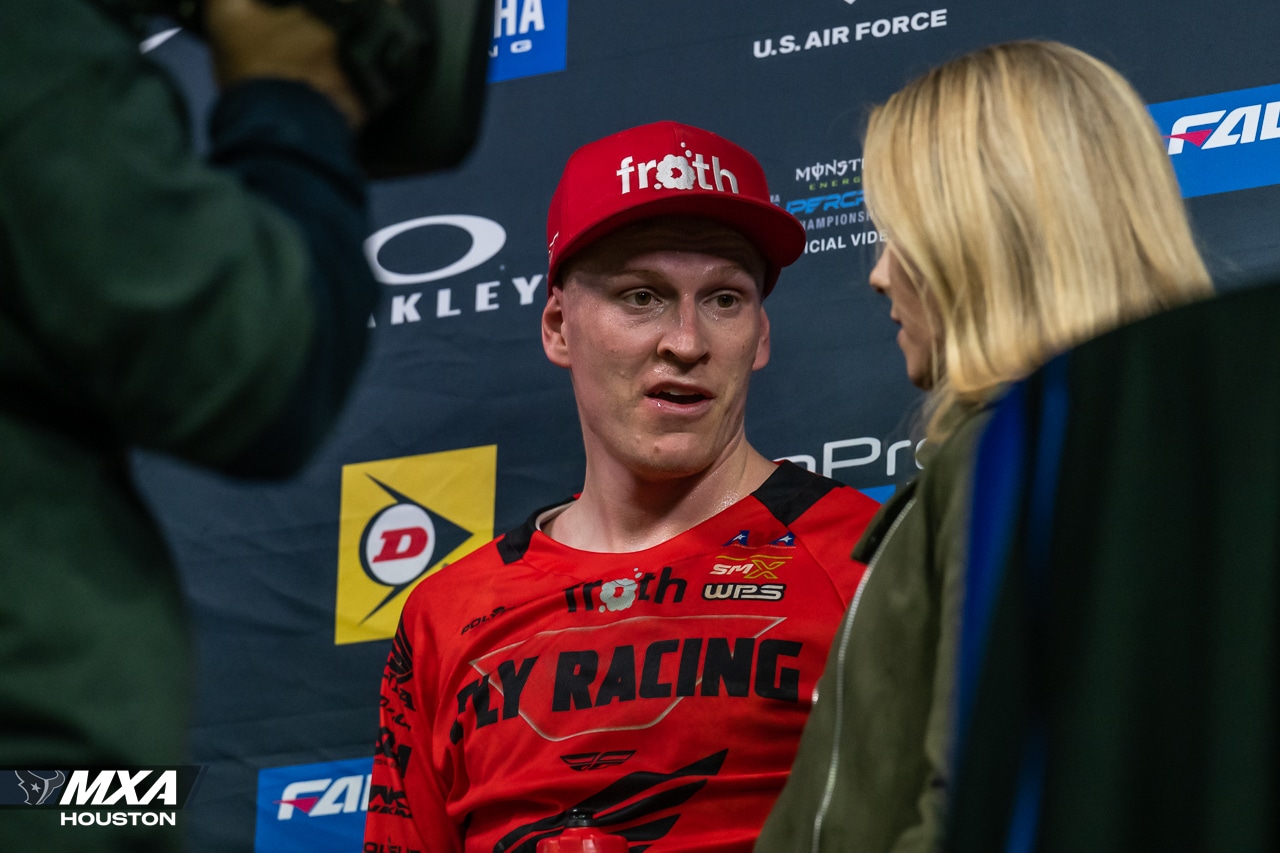 Surprise! Surprise! Surprise! Max Anstie rode brilliantly on his Firepower Honda CRF250 to take second and close on Lawrence in the late laps. Yes, that is the same Max Anstie from a decade ago.
Jordon Smith has had lots of good rides in the past, most notably at Geico Honda and Pro Circuit Kawasaki, but he couldn't turn his raw speed into results. Suddenly, Jordon looks like he found the key to staying on two wheels. He was a strong third in Houston.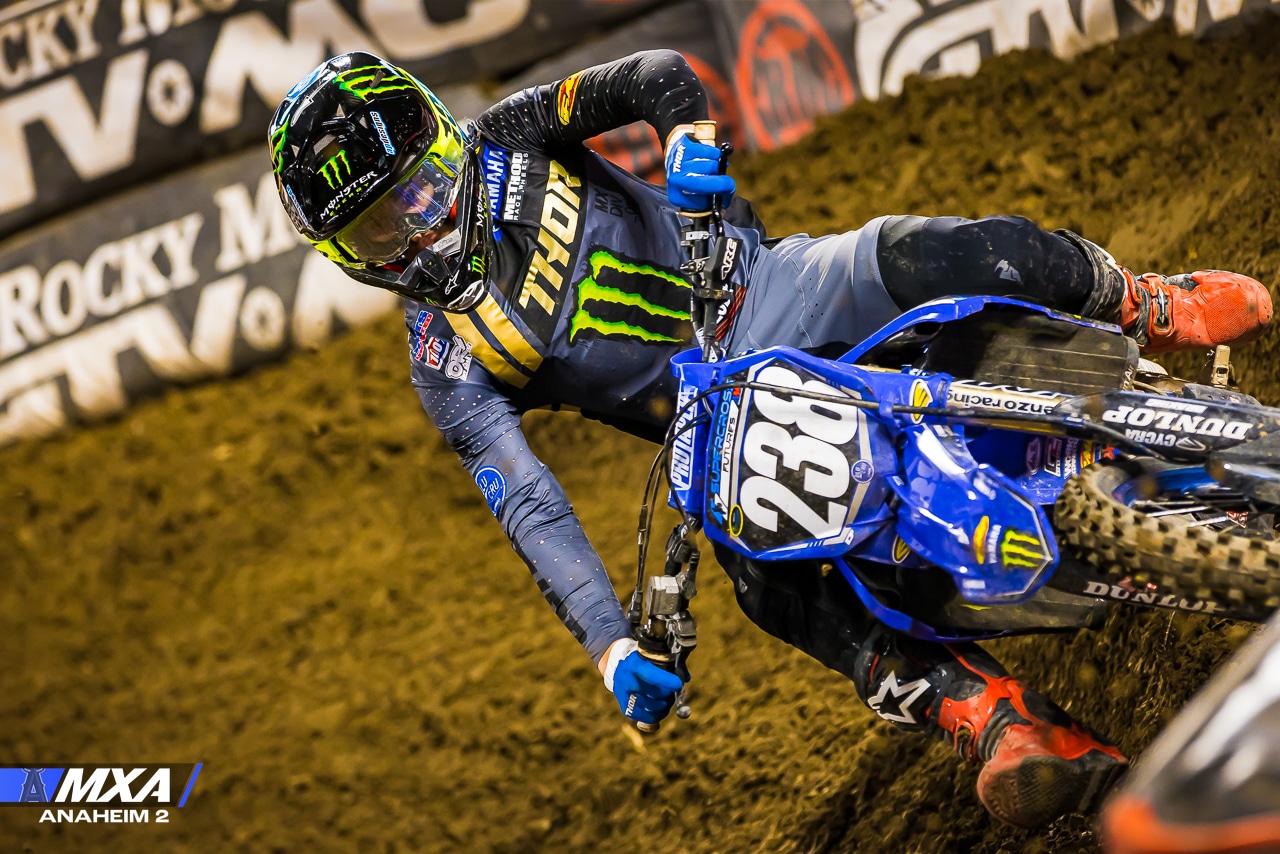 Did anyone other than Haiden Deegan think he was going to win his first 250 Supercross at his first 250 Supercross? Expectations were so high, that people ridiculed him for finishing fourth. In truth, fourth in your first real Pro race is quite an accomplishment.
Tom Vialle didn't have the high expectations of Haiden Deegan, but he was a revelation in his first-ever Supercross. He led, he fought hard, he hung in there, he looked good in the whoops and if he hadn't fallen late in the main he would have been much higher than seventh overall. Now there are high expectation for Tampa.
Jeremy Martin is back. After a long time off the bike recovering from injuries, and now riding for the ClubMX/FXR/Yamaha team, Jeremy has a fifth at Houston to build on in Tampa. Glad to see you back. 
AMA 250 EAST POINTS STANDINGS
(after Houston)
1. Hunter Lawrence…26
2. Max Anstie… Yamaha 23
3, Jordon Smith…21
4. Haiden Deegan…19
5. Jeremy Martin…18
6. Michael Mosiman…17
7. Tom Vialle…16
8. Chance Hymas…15
9. Cullin Park…14
10. Chris Blose…13
• THE MARCH 2023 ISSUE OF MXA IS OUT NOW! SUBSCRIBE AND YOU WON'T MISS A THING
On The Cover: MXA's 2023 125 Shootout pits the fuel-injected KTM and Husky 125s against the carbureted Yamaha YZ125 and GasGas MC125. 
Did you know that you can subscribe to MXA at absolutely no cost to you—because when you subscribe you receive a Rocky Mountain ATV/MC credit for $25 towards anything in their massive inventory. Plus, you will get all the content in the 12 monthly issues of Motocross Action magazine—from four-stroke tests, two-stroke tests, retro tests, race coverage, new tech to product tests….most of which never appear on the internet. And, don't forget, that $25 credit from Rocky Mountain ATV/MC that will more than cover the cost of your subscription. To subscribe call (800) 767-0345 or Click Here
• GODSPEED! PART UNLIMITED'S FRED FOX (1936-2023)
Fred Fox built an empire from the ground up.
Fred Fox, who turned Parts Unlimited into a worldwide force in motorcycle parts distribution, passed away this past weekend at the age of 86. Fox was born July 21, 1936, and went on to get his engineering degree to help his parents, who were in the business of manufacturing truck bodies. Eventually, Fox started Surplus Unlimited — which became Parts Unlimited — to buy parts from snowmobile companies that were failing and supplying snowmobile dealers. This developed into the company making its own parts and working with motorcycles.
Fred Fox elevated motorcycling and racing nationally by creating a distribution system that got parts to dealers quickly. Helping to fuel the growth of sports such as AMA Supercross and motocross, Fox sponsored motorcycle racing series as well as amateur and professional riders.
By 2011, Fox's umbrella company, LeMans Corporation, was the largest aftermarket motorcycle, snowmobile, all-terrain vehicle, and personal watercraft accessory distributor in the world, employing around 1500 workers worldwide. Fred retired from full time activities at LeMans Corporation in 2021.
He is survived by his wife Paula, sons Steven, Brian and Craig, daughters Teri and Lori and several grandchildren.
• MXA TEAM TESTED: O'NEAL HARDWEAR AIR GEAR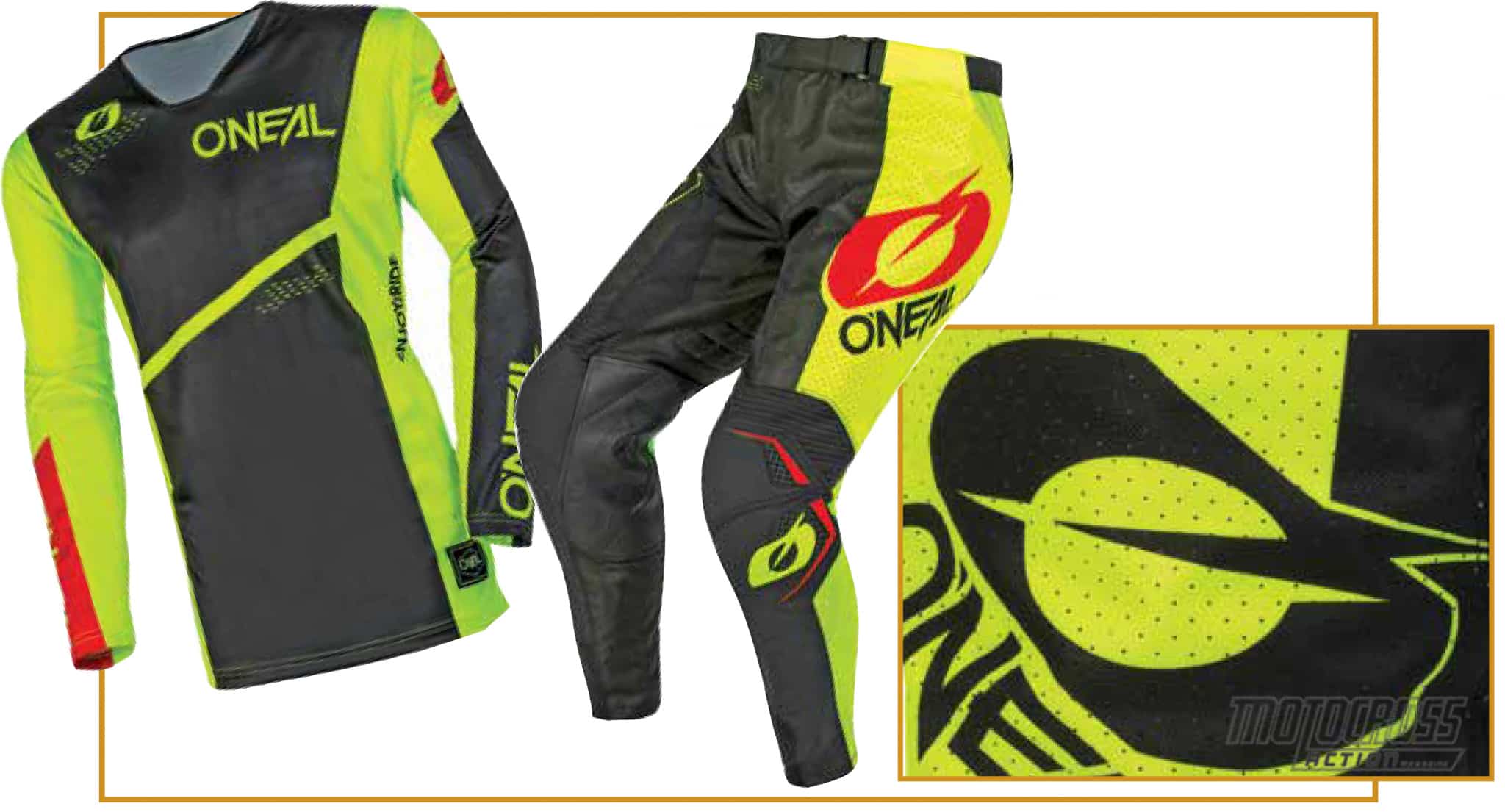 The Hardwear Air gear is based on O'Neal's tried-and-true Hardwear line, which is known for its durability. While we've always praised its dependable construction, the Hardwear gear had room to improve in the mobility and breathability departments. For 2023, O'Neal upped the game on its Hardwear gear by adding a vented Air line.
Jersey. The 2023 O'Neal Air jersey is made of a high-quality, moisture-wicking, mesh material that offers maximum ventilation. At only 6 ounces (size large), it's O'Neal's lightest jersey ever. The graphics are sublimated into the mesh material to ensure they never fade, and the tail of the jersey extends an extra 3 inches, with clear silicone printing to help it stay tucked in.
Pant. The Air pant uses the chassis of the Hardwear pant but has more vent holes in the fabric. The inner knees have premium leather heat shields for durability and grip, while the waistband is closed up with a durable zipper and 360-degree Velcro belt. High-denier fabrics are used to add strength, and they are combined with vented stretch panels to improve ease of movement. There's also a hidden zippered hip pocket that allows you to carry a smartphone with you wherever you go. Plus, the pants have a cross-stitched padding in the seat and nylon half-liner that stops the Velcro straps on your knee braces from snagging.
Fit. The O'Neal Hardwear Air jersey has an athletic cut, and the two-way stretch material ensures it never restricts mobility. The pants have a standard fit—not too loose and not too tight—and they have an ergonomic, pre-curved leg design that conforms to the ideal riding position. Plus, the wraparound Velcro belt guarantees the perfect fit around your waist. We never worry about our Hardware pants coming loose or sliding down.
Performance. The Hardwear Air line is noticeably more breathable than the O'Neal Hardwear, Prodigy or Mayhem gear. In motion, you can feel the breeze going through the jersey and vents in the pants while the four-way stretch panels at the knees create a snug fit over knee braces or knee pads. On the track, the O'Neal Hardwear gear moves with the rider without any restrictions.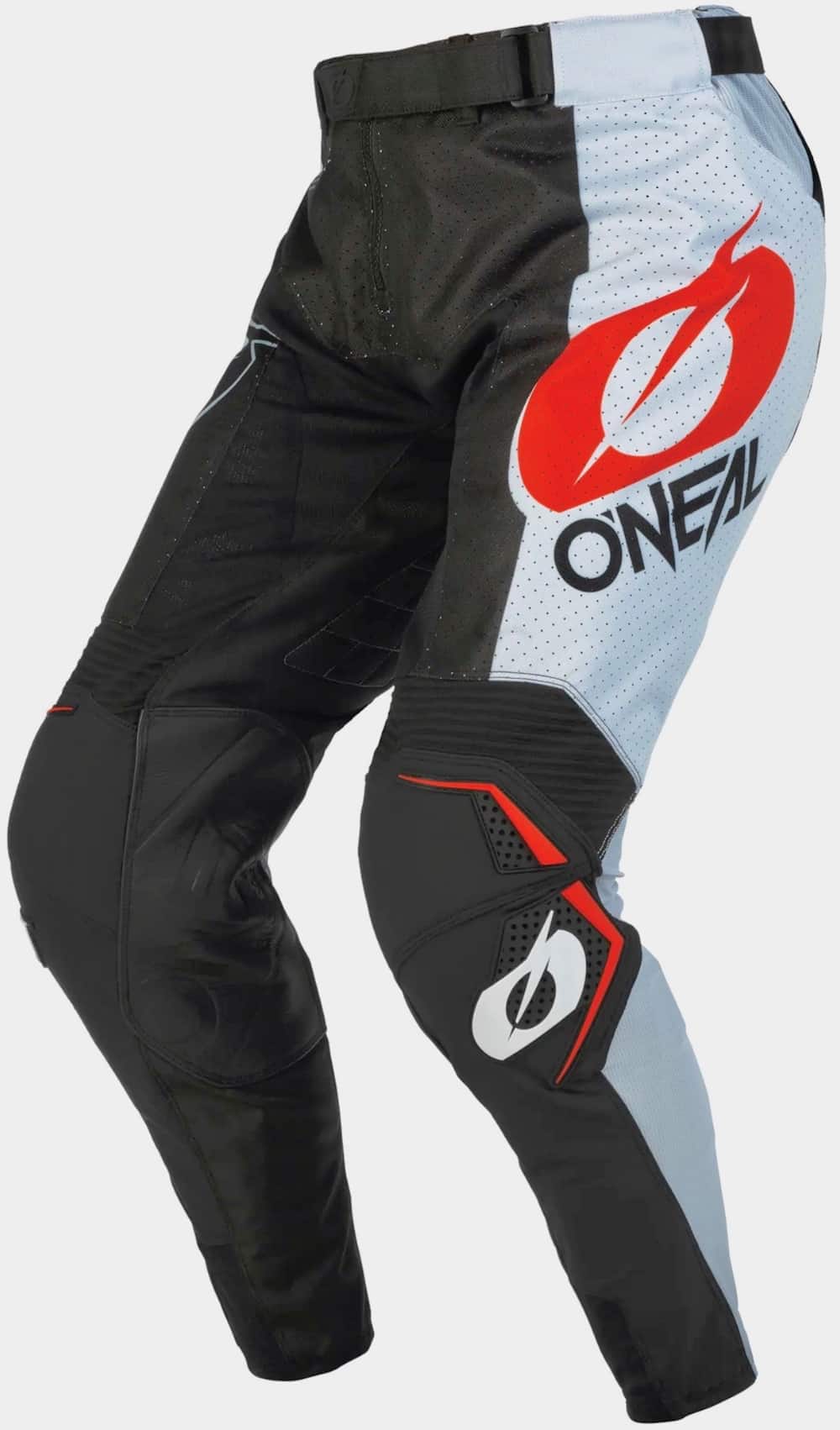 Durability. In 2022, O'Neal answered our requests by adding more stretch material and vents on the Hardwear line. The new Hardwear gear is still durable but lighter and flexier. The leather heat shields on the inner knees held up great, and we had no tearing anywhere on the pants. The only miscue we could find was frayed fabric in the vent areas on the front of the pants and the jersey after being hammered by roost at the races.
Options. The O'Neal Hardwear Air gear comes in four different colors. The jersey is available in sizes small to double-extra large, and the pant comes in 28- to 42-inch waistbands.
WHAT'S THE SQUAWK? We wish the pants didn't come with the inner liner so that they could breathe even more.
DIGITS? $54.99 (jersey), $189.99 (pant)— www.oneal.com or (805) 426-3300.
MXA RATING: The Hardwear Air lineup isn't the most vented gear on the market, but it ranks high in our books when you consider airflow, durability and practical features.
• CLASSIC MXA PHOTO: NONE OF THAT RUSHING AROUND LIKE THE OTHER GUYS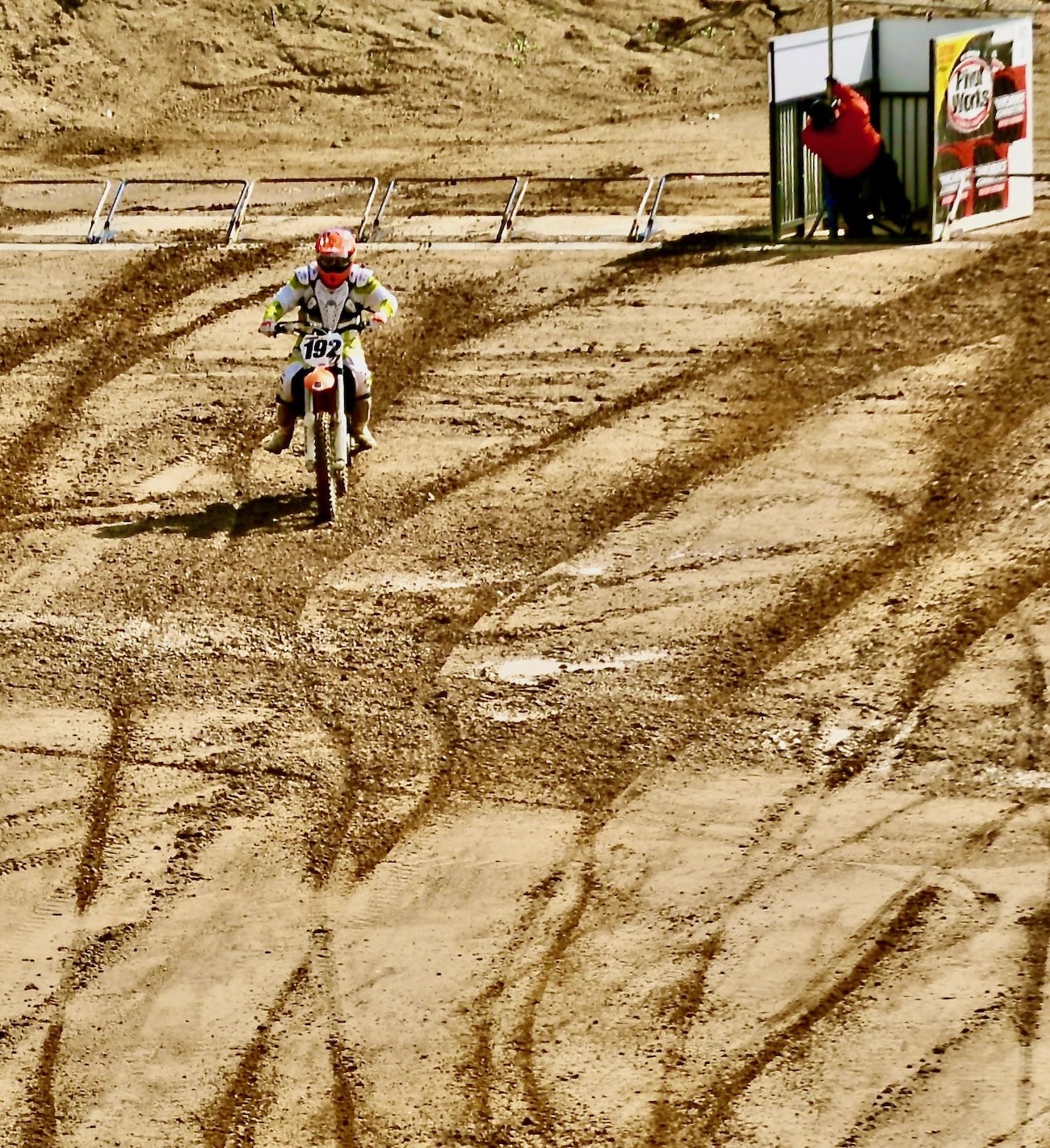 MXA's Jody Weisel is a very eccentric racer. The former CMC and REM number one rider dances to the beat of a different drummer. Don't be fooled into thinking he let everybody go off the start because he thought he could catch them. He couldn't. He just wanted clear track to test some changes to his bike and he wanted them to make lines for him  in the wet conditions.
• CHECK OUT THE 2023 FXR CATALOG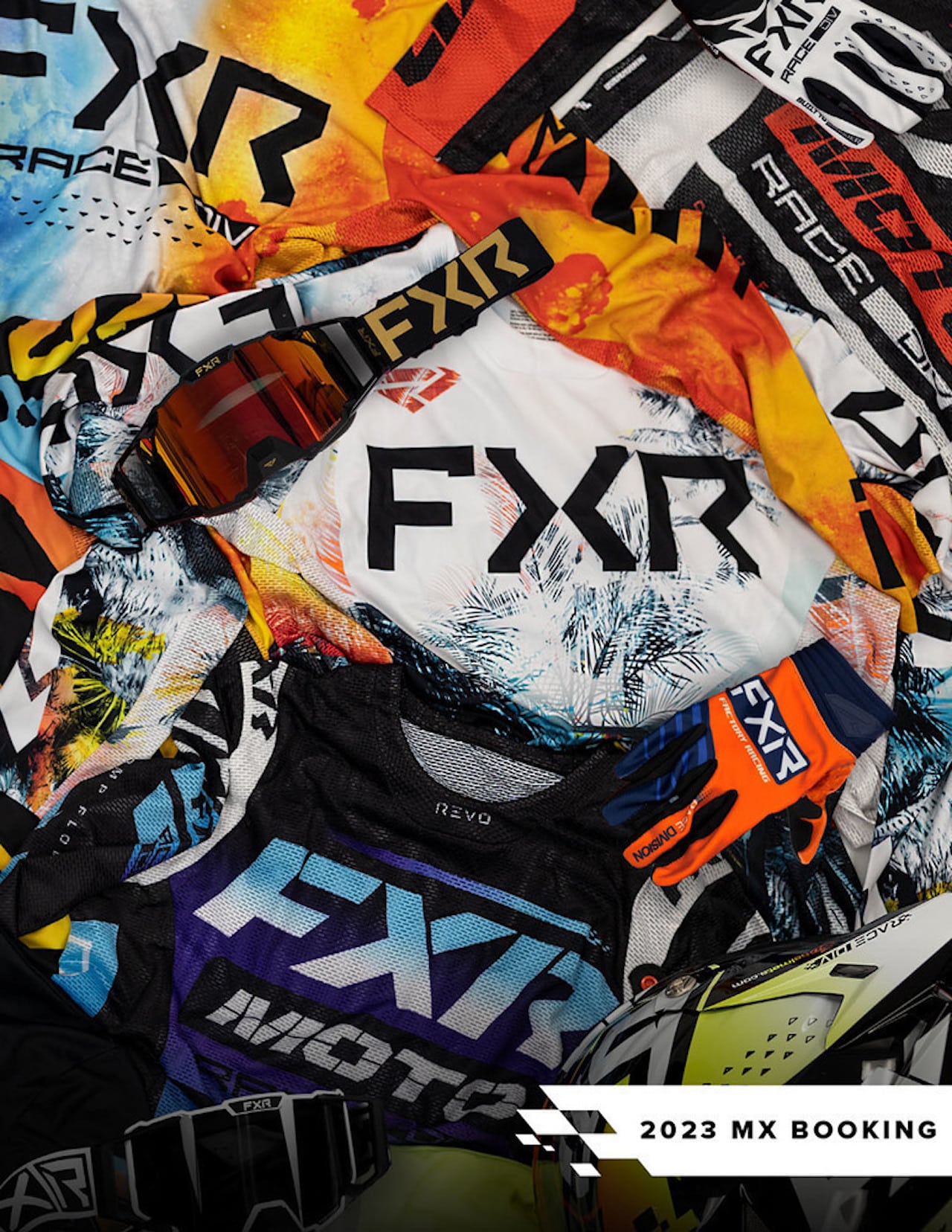 To check out the 2023 FXR line CLICK HERE.
• VERTEX PISTON CELEBRATES 70 YEARS OF PERFORMANCE
Vertex Pistons celebrates 70 years of developing and manufacturing high performance two- and four-stroke pistons for off-road, street, scooter, ATV, UTV, snowmobile, go-kart, ultralight and other motorsport applications.
The Italian-American company 70th anniversary was also an occasion to celebrate the retirement of Vertex President Loris Iotti, who over his 42-year career brought the Vertex Pistons brand to the top worldwide. The company founded in 1953 as an artisan workshop with 8 employees to produce spare parts for engines and by 1963 had created their first high performance pistons. In the following years, Vertex beacme a major supplier of cast and forged pistons grew its market share in the aftermarket.
In 1994 the American rider Bobby Moore riding a factory Yamaha motorcycle equipped with the Vertex piston won the 125cc Motocross World Championship. This world title was the first in a long series of successes achieved at international level year after year. Last year, Vertex Pistons won nine world titles in motocross, enduro and supermoto, among which was that of MXGP champion Tim Gajser. For more information go to www.vertexpistons.com
• "SATURDAY AT THE GLEN" MOTOCROSS ON FEBRUARY 11
For more info go to www.glenhelen.com
• 2023 SOBOBA TRAIL RIDE ON FEBRUARY 26, 2023
There will be no post-entries for this year's Soboba Trail ride—everyone must pre-enter. For more info go to www.sobobarides.biz/home
• 3BROS.COM SIX-HOUR ENDURANCE RACE ON MARCH 12
For more info go to www.glenhelen.com
• TRAVIS PASTRANA'S NITRO RALLYCROSS SEASON FINALE ON MARCH 17-19
For more info go to www.nitrorallycross.com
• WISECO/FASTHOUSE 2023 WORLD TWO-STROKE CHAMPIONSHIP ON APRIL 8
For more info go to www.glenhelen.com
• MXA PRODUCT SPOTLIGHT: BLUD RACING LUBRICANTS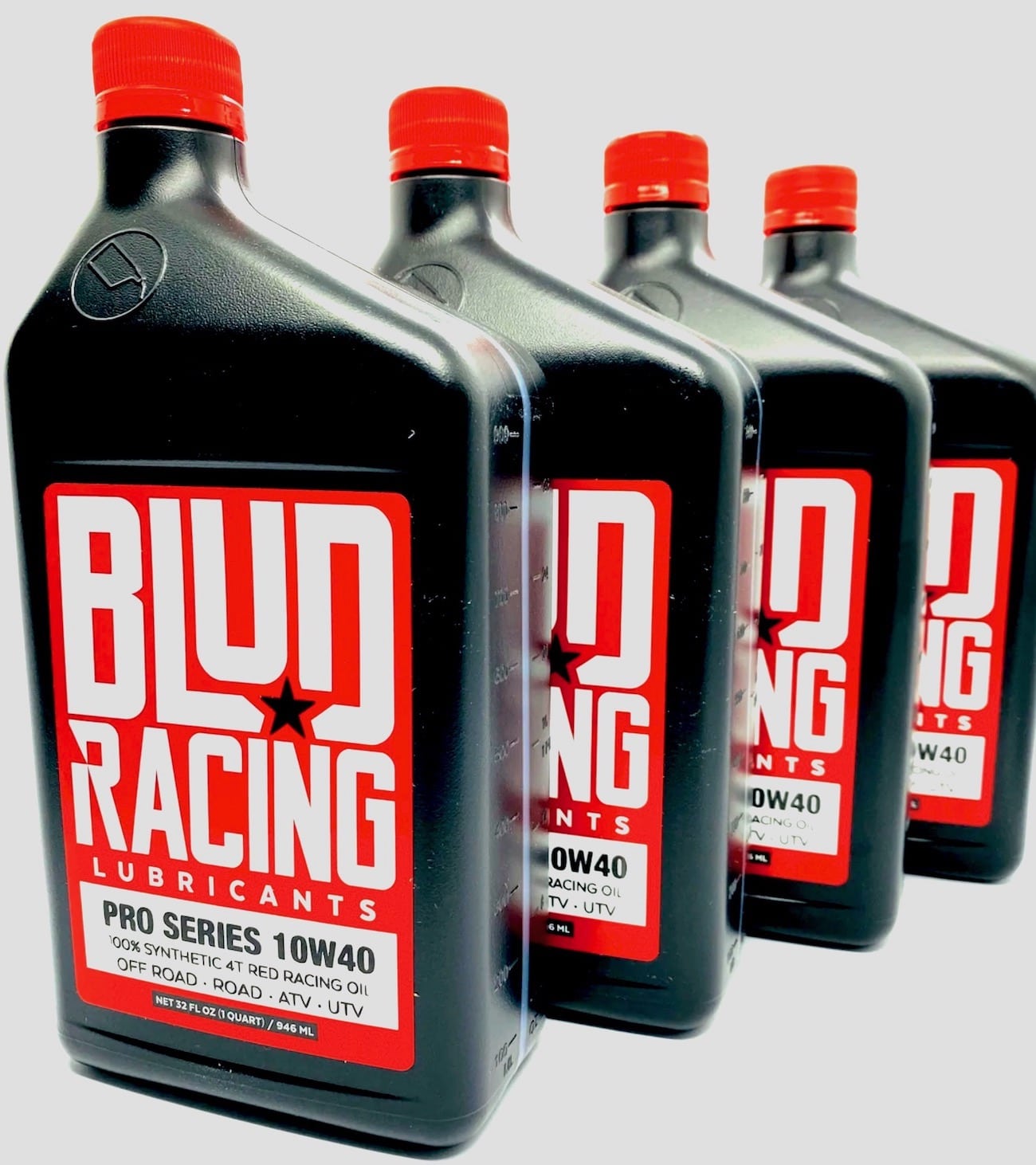 Blud Racing lubricants offer superior ability to handle heat and humidity. They are developed using a proprietary blend of top-grade base oils and additives to ensure maximum performance and protection. The Bludline Additive System is the result of years of testing and helps Blud Racing oils keep their protective qualities under the severest of operating conditions.
Blud Moto Racing Engine Oils are ultra premium mPAO-based fluids designed for the most extreme stresses of racing. These oils will give the racer protection and performance during a race that will allow them to focus on winning. They are 100% Synthetic mPAO-based Red Racing Oil designed for four-stroke engines or two-stroke transmissions and wet clutches.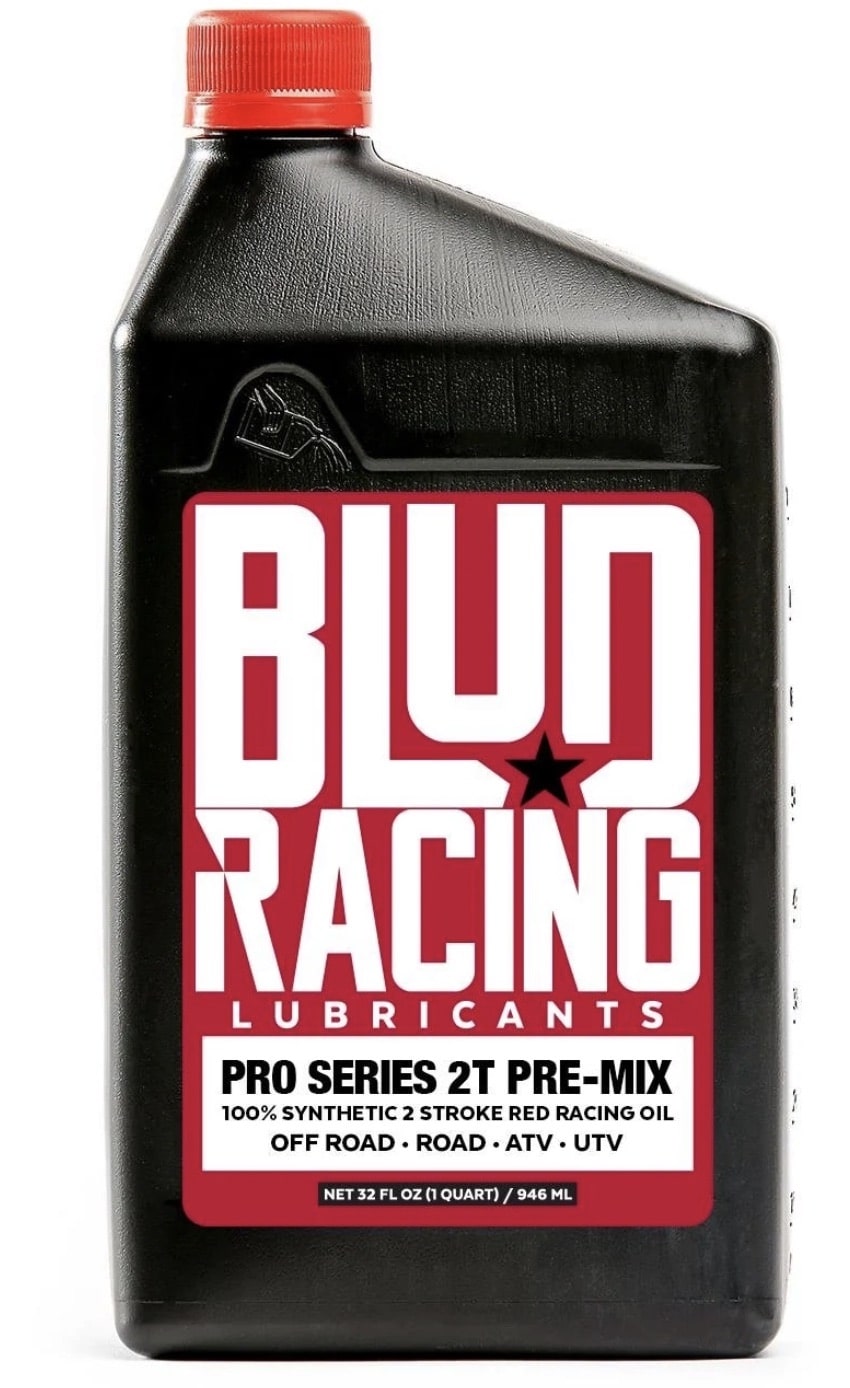 BLUD PRO SERIES 2 STROKE RACING PRE-MIX
It is a 100% synthetic two-stroke red racing oil that is formulated for all two-stroke gasoline engines. Designed for high-performance racing, but still safe enough to be used at any OEM recommended ratio. Blud Racing Pro Series two-stroke pre-mix oil offers outstanding wear protection and improved throttle response.
Available in both wet and dry formulas, Blud Racing Pro Series chain lube resists dirt, while not flinging off at speed. It comes in 12-ounce spray-on cans or in 4 ounce squeeze bottles. For more information go to www.bludlubricants.com
• MXA BIKE TEST VIDEO LIBRARY: THE 2023 BIKES YOU WANT KNOW ABOUT
MXA'S 2023 125 TWO-STROKE SHOOTOUT
MXA'S 2023 250 FOUR-STROKE SHOOTOUT
2023 KTM 300SX VS HUSQVARNA TC250 TWO-STROKE SHOOTOUT
2023 GASGAS MC125 TWO STROKE VIDEO TEST
2023 SUZUKI RM-Z450 VIDEO TEST
2023 KAWASAKI KX450 VIDEO TEST
2023 GASGAS MC350F VIDEO TEST
2023 HONDA CRF450 VIDEO TEST
2023 KTM FREERIDE E-XC ELECTRIC VIDEO TEST
2023 GASGAS MC250 VIDEO TEST
WE RIDE TONY CAIROLI'S AMA NATIONAL KTM 450SXF
2023 HUSQVARNA FC250 VIDEO TEST
2023 HONDA TRAIL 125 VIDEO TEST (WITH BONES BACON)
2023 KTM 300SX TWO-STROKE VIDEO TEST
2023 GASGAS MC450F VIDEO TEST
2023 KTM 250SXFVIDEO TEST
2023 KAWASAKI KX250 VIDEO TEST
2023 SUZUKI RM-Z250 VIDEO TEST
2023 YAMAHA YZ450F VIDEO TEST
2023 HONDA CRF250 VIDEO TEST
• THE FUTURE IS NOW: 2023 RACE SCHEDULES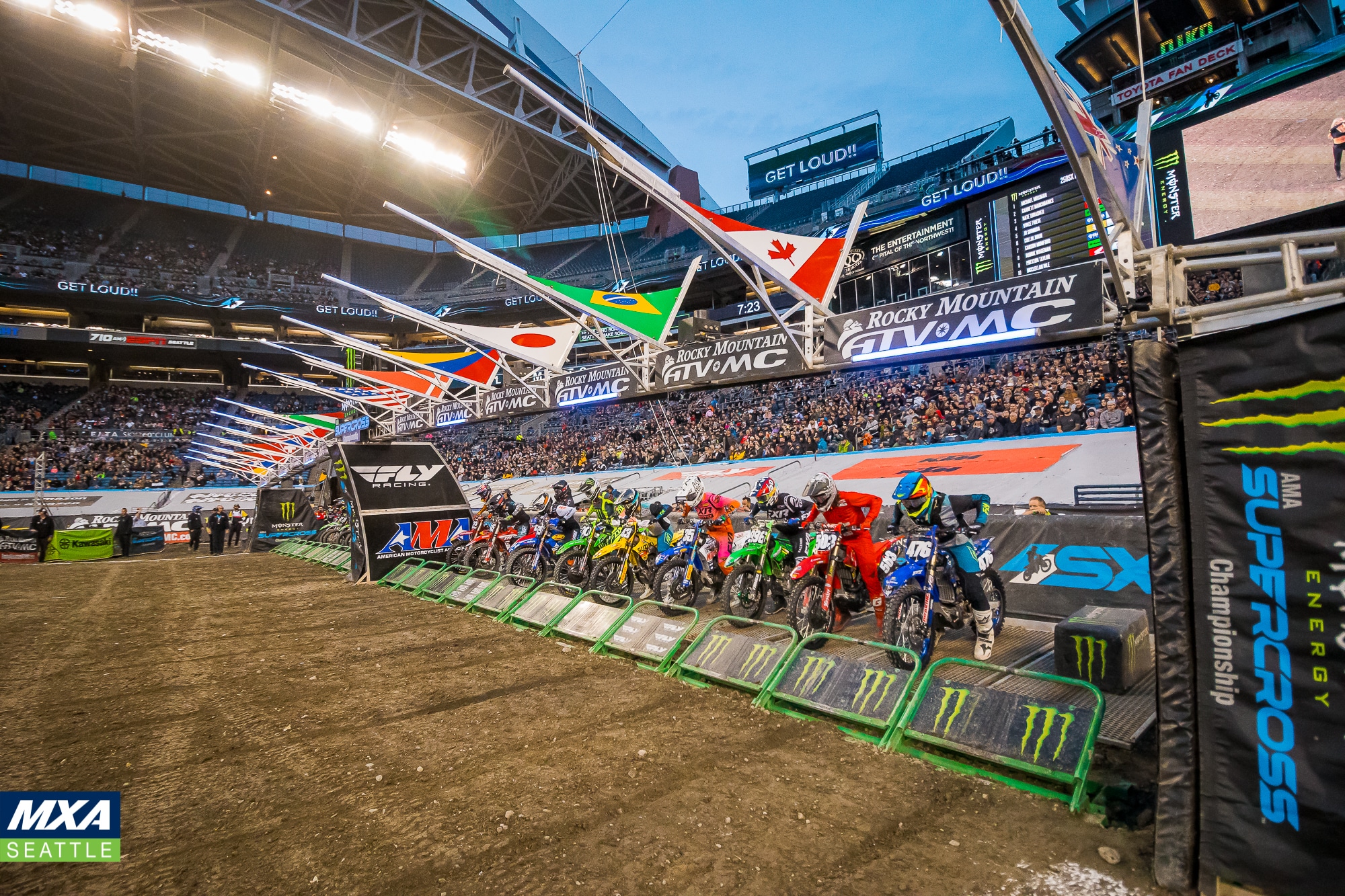 2023 AMA SUPERCROSS CHAMPIONSHIP
Jan. 7…Anaheim, CA
Jan. 14…Oakland, CA (moved to Feb. 18)
Jan. 21…San Diego, CA
Jan. 28…Anaheim, CA
Feb. 4…Houston, TX
Feb. 11…Tampa, FL
Feb. 18…Oakland (make-up race from Jan. 14)
Feb. 25…Arlington, TX
Mar. 4…Daytona Beach, FL
Mar. 11…Indianapolis, IN, MI
Mar. 18…Detroit, MI
Mar. 25…Seattle, WA
Apr. 8…Glendale AZ
Apr. 15…Atlanta, GA
Apr. 22…East Rutherford, NJ
Apr. 29…Nashville, TN
May 6…Denver, CO
May 13…Salt Lake City, UT
2023 SUPERMOTOCROSS PLAYOFF SCHEDULE (UPDATED)
Sept. 9 …Concord, NC
Sept. 16 ….Joliet, Il
Sept. 23…Los Angeles, CA (Date change from Oct. 14)
2023 AMA ARENACROSS CHAMPIONSHIP
Nov. 18…Albany, GA
Nov. 25…Albany, NY
Jan. 6…Loveland, CO
Jan. 13…Prescott, AZ
Jan. 20…Guthrie, OK
Jan. 27….Guthrie, OK
Feb. 3…Reno, NV
Feb. 10…Denver, CO
Feb. 24…Hobbs, NM
Mar. 3…Amarillo, TX
Mar. 10…Tulsa, OK
Mar. 17…Salem, VA
Mar. 24…Little Rock, AR
Mar. 31…Lexington, KY
2023 2023 FIM WORLD MOTOCROSS CHAMPIONSHIP
Mar. 12…Argentina
Mar. 26…Sardinia
Apr. 10…Switzerland
Apr. 16…Italy
Apr. 30…Portugal
May 7…Spain
May 21…France
Jun. 4…Latvia
Jun. 11…Germany
Jun. 25…Indonesia
July 2…Indonesia
July 16…Czech Rep.
July 23…Belgium
July 30…Finland
Aug. 13…Sweden
Aug. 20…Holland
Sept. 3…Turkey
Sept. 17…Vietnam
Oct. 1…England (Date Change from Oct. 15
2023 AMA NATIONAL MOTOCROSS CHAMPIONSHIP
May 27…Pala, CA
June 3…Hangtown, CA
June 10…Thunder Valley, CO
June 17…Mt. Morris, PA
July 1…Red Bud, MI
July 8…Southwick, MA
July 15…Millville, MN
July 22…Washougal, WA
Aug. 11…Unadilla, NY
Aug. 19…Budds Creek, MD
Aug. 26…Crawfordsville, IN
2023 WORLD SUPERCROSS CHAMPIONSHIP
July 1…Birmingham, England
July 22….Lyon-Décines, France
Sept. 30…TBD (Southeast Asia)
Oct. 14…Dusseldorf, Germany
Oct. 28…Vancouver, Canada
Nov. 24-25…Melbourne, Australia
2023 AUSTRALIAN NATIONAL CHAMPIONSHIP
Mar. 5…Wonthaggi, Vic
Mar. 19…Appin, NSW
Apr. 16…Wodonga, Vic
May 7…Maitland, NSW
May 28…Gillman, SA
Jun. 25…Toowoomba, Qld
Aug. 13…Queeensland, Qld
Aug. 20…Coolum Pines, Qld
2023 "SATURDAY AT THE GLEN" SCHEDULE
Jan. 14…Winter Series #1 (Arroyo Vet track)
Jan. 21…Winter Series #2 (Arroyo Vet track)
Feb. 4…Winter Series #3 (Arroyo Vet track)
Feb. 11…Winter Series #4 (Arroyo Vet track)
Feb. 25…Winter Series #5 (National track)
Mar. 18…Spring Series #1& Pasha 125 Open (National track)
Mar. 25…Spring Series #2 (Arroyo Vet track)
Apr. 15…Spring Series #3 (Arroyo Vet track)
Apr. 22…Spring Series #4 (Arroyo Vet track)
May 13…Spring Series #5 (National track)
June 3…Summer Series #1 (Arroyo Vet track)
June 17…Summer Series #2 (Arroyo Vet track)
June 24…Summer Series #3 (Arroyo Vet track)
July 15…Summer Series #4 (Arroyo Vet track)
July 29….Summer Series #5 (National track)
Aug. 19…Fall Series #1 (Arroyo Vet track)
Aug. 26…Fall Series #2 (Arroyo Vet track)
Sept. 16…Fall Series #3 (Arroyo Vet track)
Sept. 23…Fall Series #4 (Arroyo Vet track)
Sept. 30…Fall Series #5 (National track)
Oct. 21…Winter Series #1 (Arroyo Vet track)
Oct. 28…Winter Series #2 (National track)
Nov.3-5…World Vet Championship (National track)
Nov. 18..Winter Series #3 (Arroyo Vet track)
Dec. 9…Winter Series #4 (Arroyo Vet track)
Dec. 16..Winter Series #5 (National track)
OLD SCHOOL TT SCRAMBLES CHAMPIONSHIP
Feb. 5…Glen Helen (TT Scrambles)
Mar. 26…Glen Helen (TT Scrambles)
Apr.16…Glen Helen (TT Scrambles)
May 21…Glen Helen (Pasha 125/TT Scrambles)
Jun 4…Glen Helen (TT Scrambles)
Oct. 29…Glen Helen (Oktobertfast GP/TT Scrambles
Dec. 17…Glen Helen (TT Scrambles)

2023 WORLD TWO-STROKE MOTOCROSS CHAMPIONSHIP
Apr. 8…Glen Helen, CA
2023 VET MOTOCROSS DES NATIONS
Aug. 24-28…Foxhill, GB
2023 MOTOCROSS DES NATIONS
Oct. 8…Ernee, France (Date change from Oct. 22)
2023 WORLD VET MOTOCROSS CHAMPIONSHIP
Nov. 3-5…Glen Helen, CA
2023 RED BULL DAY IN THE DIRT
Nov. 24-26…Glen Helen, CA
• GET MXA AND DIRT BIKE SUBSCRIPTION AND SAVE MONEY—NOT TO MENTION THE $50 ROCKY MOUNTAIN E-GIFT CARD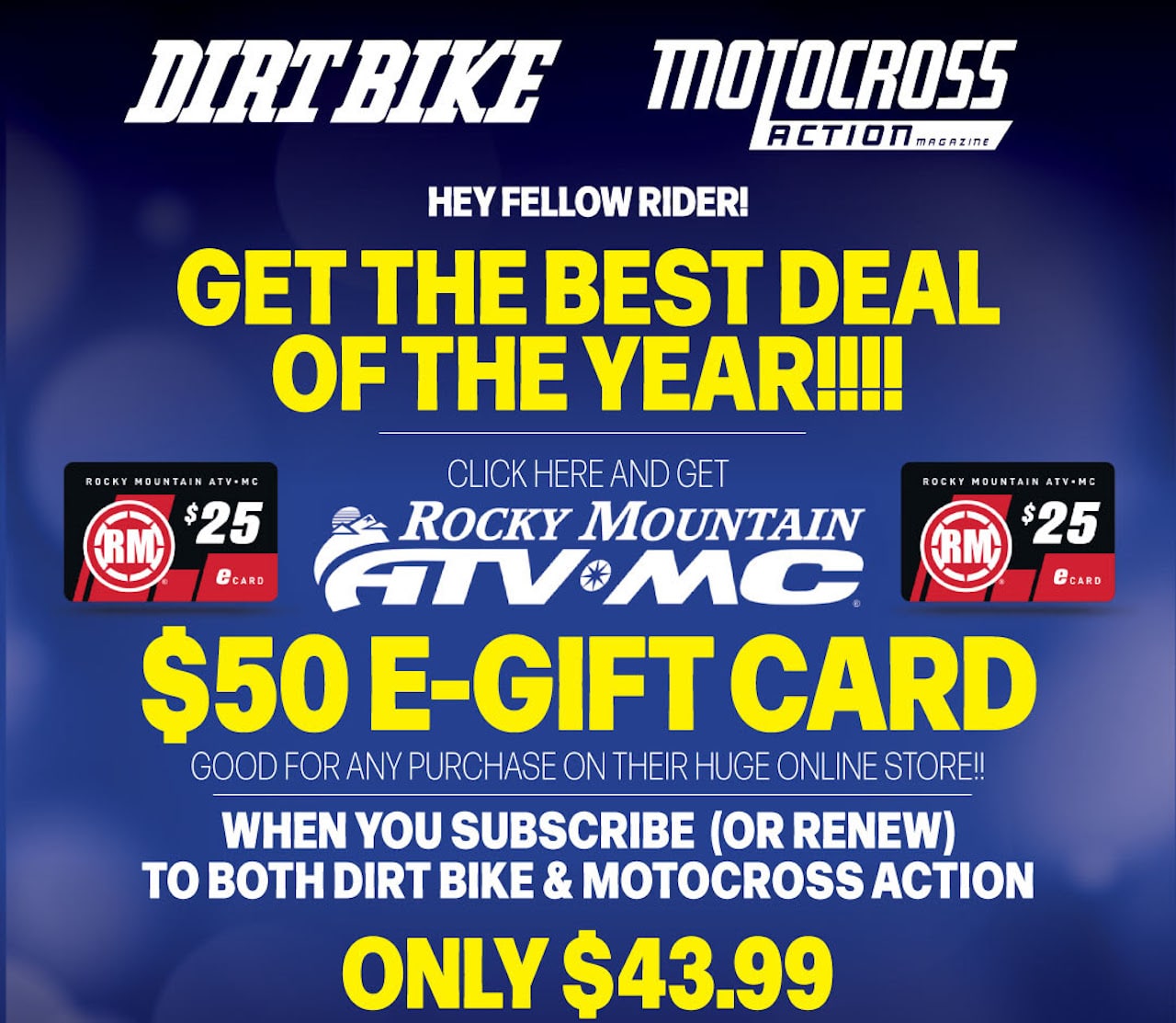 You can't afford not to subscribe, because when you order a subscription, Rocky Mountain ATV/MC sends you a $25 gift credit to use on anything you want from their massive selection. Plus, subscribers to MXA can also choose to get the digital mag on their iPhone, iPad, Kindle or Android by going to the Apple Store, Amazon or Google Play or in a digital version. Even better, you can subscribe to Motocross Action and Dirt Bike for one low price and get a $50 E-Gift card—plus you get the awesome print edition delivered to your house by a uniformed employee of the U.S. Government. Do we have to mention the $25 Rocky Mountain ATV/MC gift card again? That gift means that your subscription balances out as free, free, free! You can't lose on this deal? Call (800) 767-0345 or Click Here
• MXA YOUTUBE CHANNEL | HIT THAT SUBSCRIBE BUTTON
The MXA wrecking crew is everything moto related. Check out our MXA YouTube channel for bike reviews, Supercross coverage, rider interviews and much more. And don't forget to hit that subscribe button.
• TALK MOTO WITH ON MXA'S FACEBOOK GROUP CHAT