MXA'S WEEKEND NEWS ROUND-UP: POTPOURRI OF MOTO-INFO YOU NEED TO KNOW
• 2023 WORLD VET CUP OF NATIONS RULES UPDATE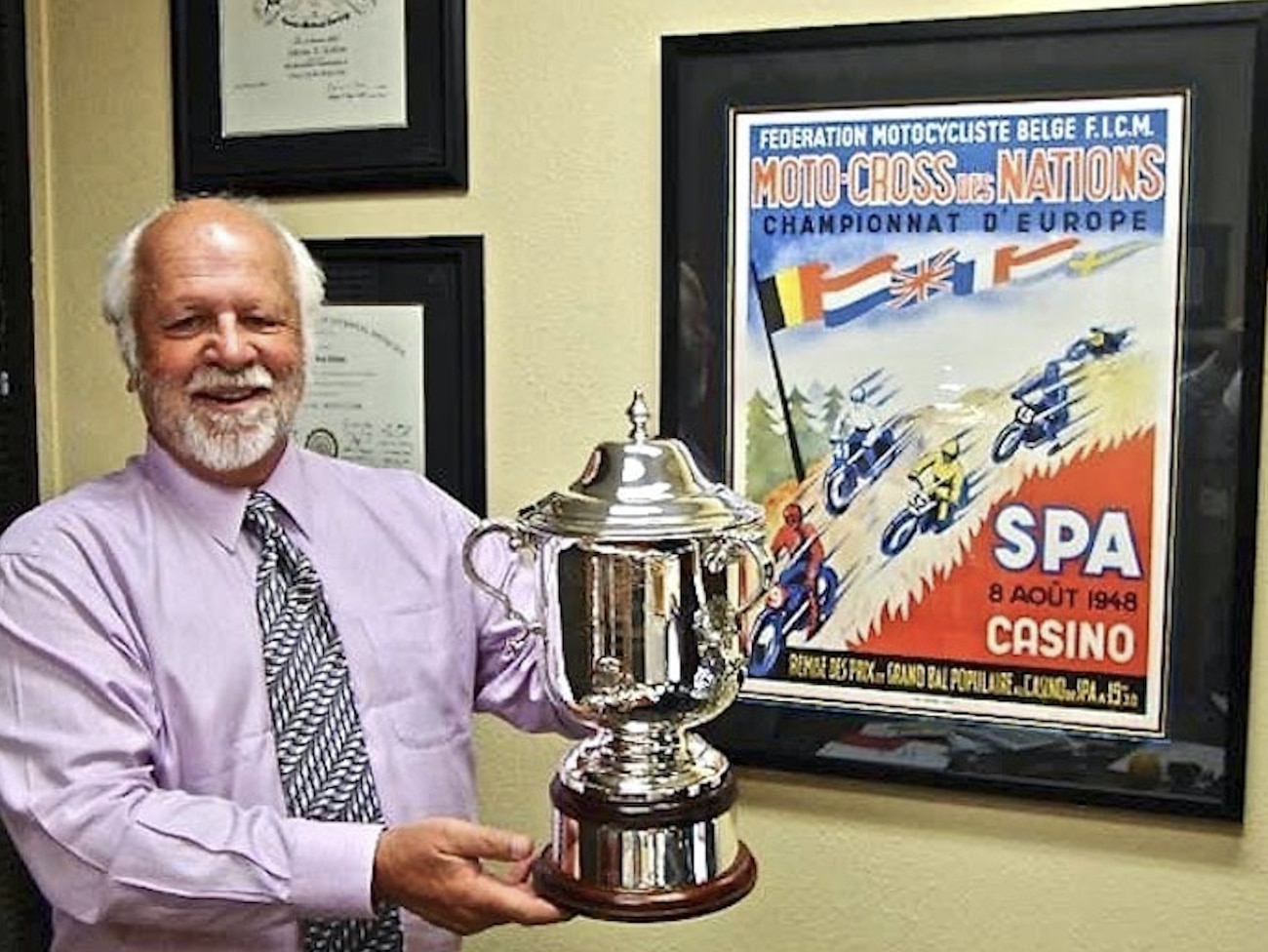 Glen Helen's Bud Feldkamp is holding the perpetual World Vet Cup trophy that has the name of each winning county engraved on it.
Glen Helen Raceway would like to thank everyone that participated in the 2022 World Vet Cup of Nations. It was a huge success and we even witnessed tears of joy on the podium. This special race, designed to highlight all of the nations that are represented at the Dubya World Vet Motocross Championship requires three riders from the same country on each World Vet Cup team. Unfortunately, when the Covid-19 pandemic hit and the borders were closed around the world, the rules were loosened to allow a foreign-born, passport-holding rider to borrow available riders from other countries to fill out that his World Vet Cup team. It was an emergency procedure to keep the World Vet Cup going—it was never planned to become a permanent fixture. Glen Helen wants to World Vet Cup of Nations event to return to its original concept starting with the 2023 race. It is for proud riders from Ireland, Germany, France, Canada, Brazil, Mexico, Italy, Spain and the 15 other countries in attendance to represent their country…and fly their flag.
The goal isn't to write new rules, but to return to the original rules to keep the international "spirit" of this race alive and to ensure it remains a prestigious race for many years to come.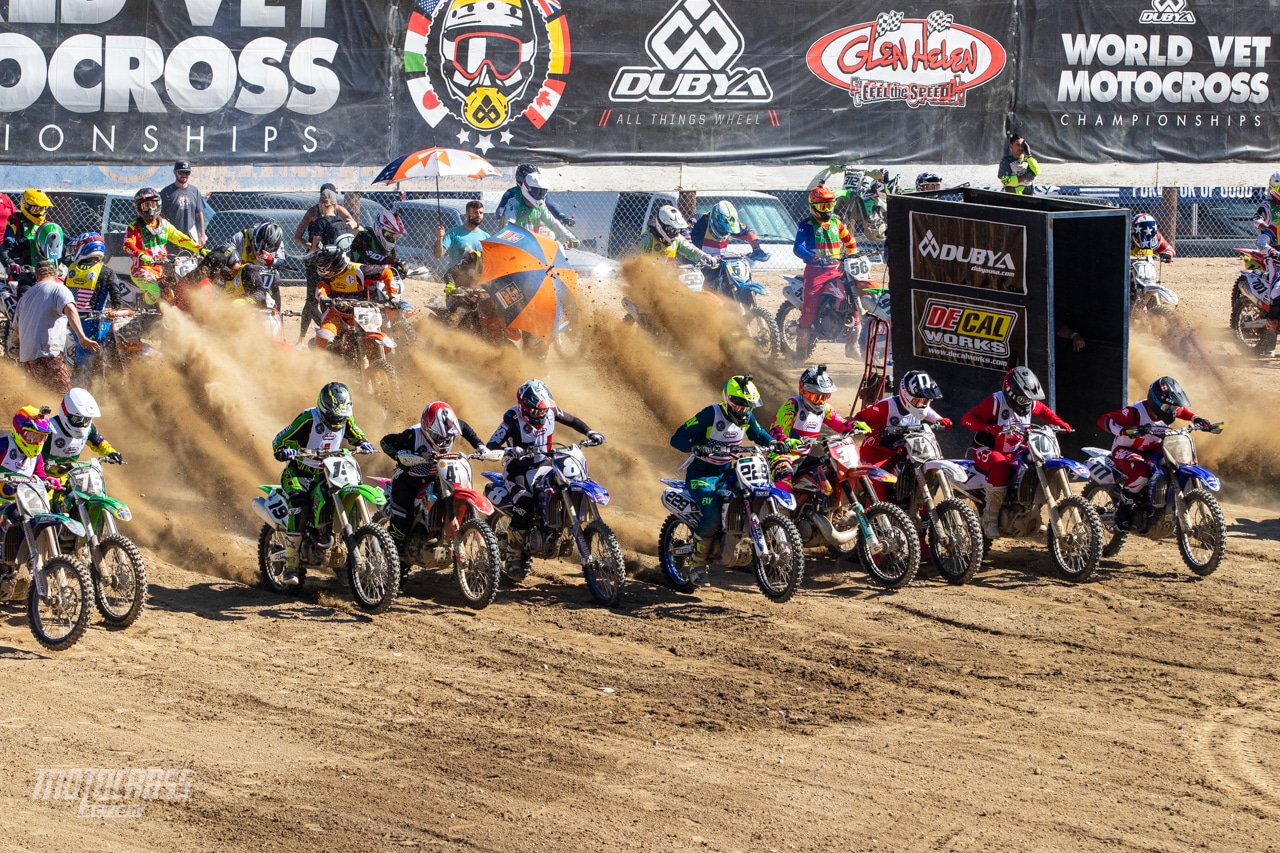 As the Over-30 National team riders launch of the line, the Over-40 riders are ready to move into position for their start 30 seconds later, while the Over-50 riders hang back out of the roost.
HERE ARE THE UPDATED RULES FOR THE 2023 WORLD VET CUP OF NATIONS
(1) Passports or birth certificates: To be deemed a valid representative of a country, the rider must possess and present an official birth certificate or passport from the country being represented.
(2) Filling a spot: All three riders should be from the country they are representing, however, in special circumstances, a minimum of two riders on the team must meet criteria of rule #1. If 1 of the riders is not from the country they are representing or cannot provide an official birth certificate or passport, there will be a 5-point penalty assessed to your overall finish points for each moto.
(3) Scoring system: World Vet Cup racing consists of two motos, The first motot is on Saturday and the second moto is on Sunday. Points are scored based on the finishing positions within each age group. A country whose team finished 1st in the 30+, 1st in the 40+ and 1st in the 50+ would have a team total of 3 points for that day's motos. The country team with the lowest score of both days combined will be the overall World Vet Cup of Nations Championship team.
(4) Class ages: Each national team will consist of three riders who meet the age requirements to participate in the 30+, 40+, and 50+ classes. Any rider over 30 years of age can fill the 30+ spot on the team. Only riders 40 and over can fill the 40+ spot on the team and only riders over 50 can fill the 50+ spot on the team. Paradoxically, riders over 50 can fill spots in the Over-30, Over-40 and Over-50 classes.
The race bibs come in different colors for each age group and each age group starts the World Vet Cup motos in its own wave off the start
(5) Race bib mandate. Country race bibs, with that nations flag on it, will be provided to each rider of the country being represented. Failure to wear your bib will result in a 5-point penalty for your team.
It is best to start forming your national team as soon as possible, with back-up riders if necessary. Each nation is allowed to field as many as three separate teams! The World Vet Cup of Nation application forms will be made available in June of 2023. Don't delay.
• MXA PHOTO OF THE WEEK: HOW LOW CAN YOU GO?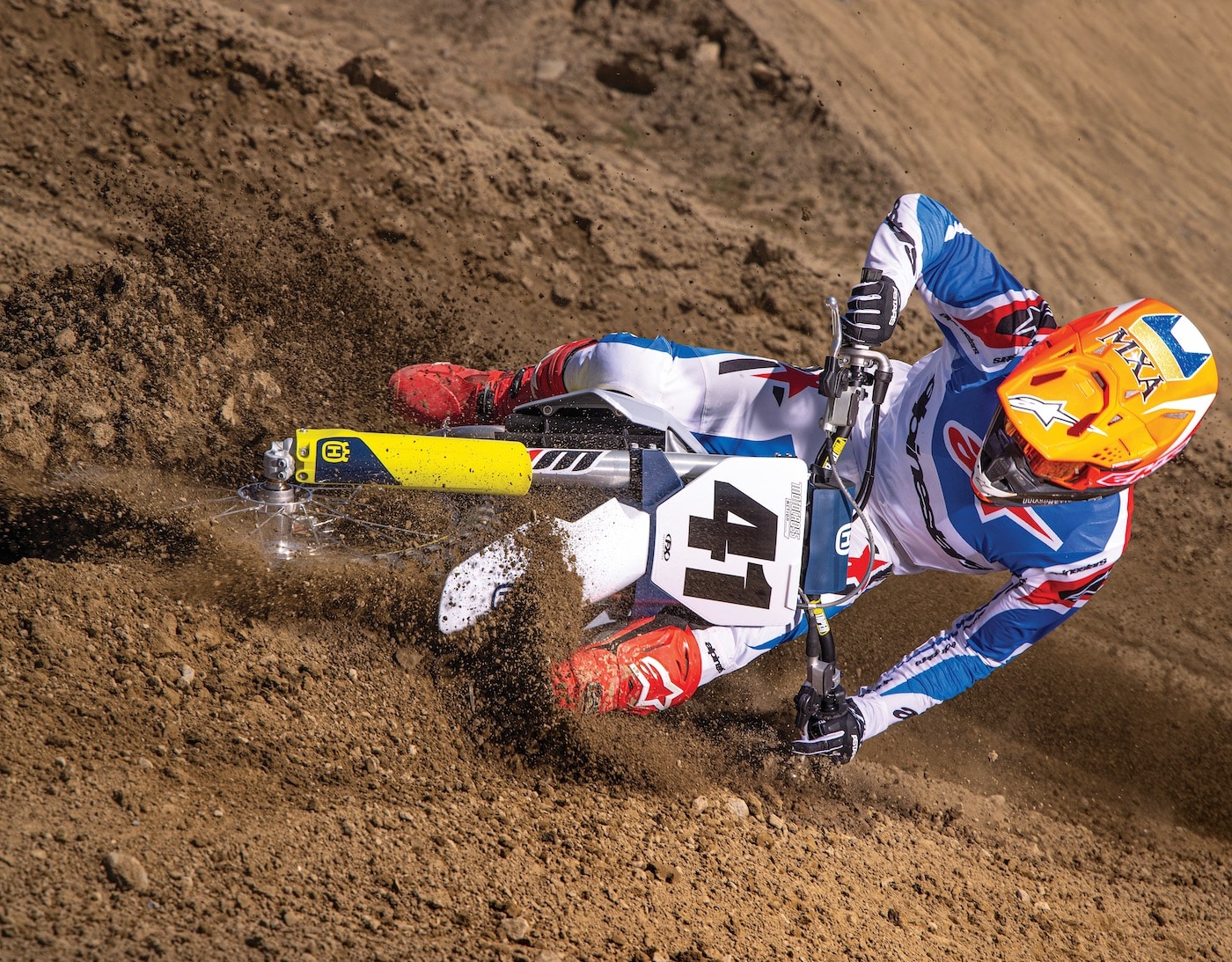 Josh Mosiman pushes MXA's 2023 Husqvarna FC450 as deep into a berm as the front wheel, his leg and clutch hand are capable of going.
• MXA VIDEO: 2023 KAWASAKI KX250 VIDEO TEST
• 10TH ANNUAL KURT CASELLI RIDE DAY ON DEC. 3 AT PALA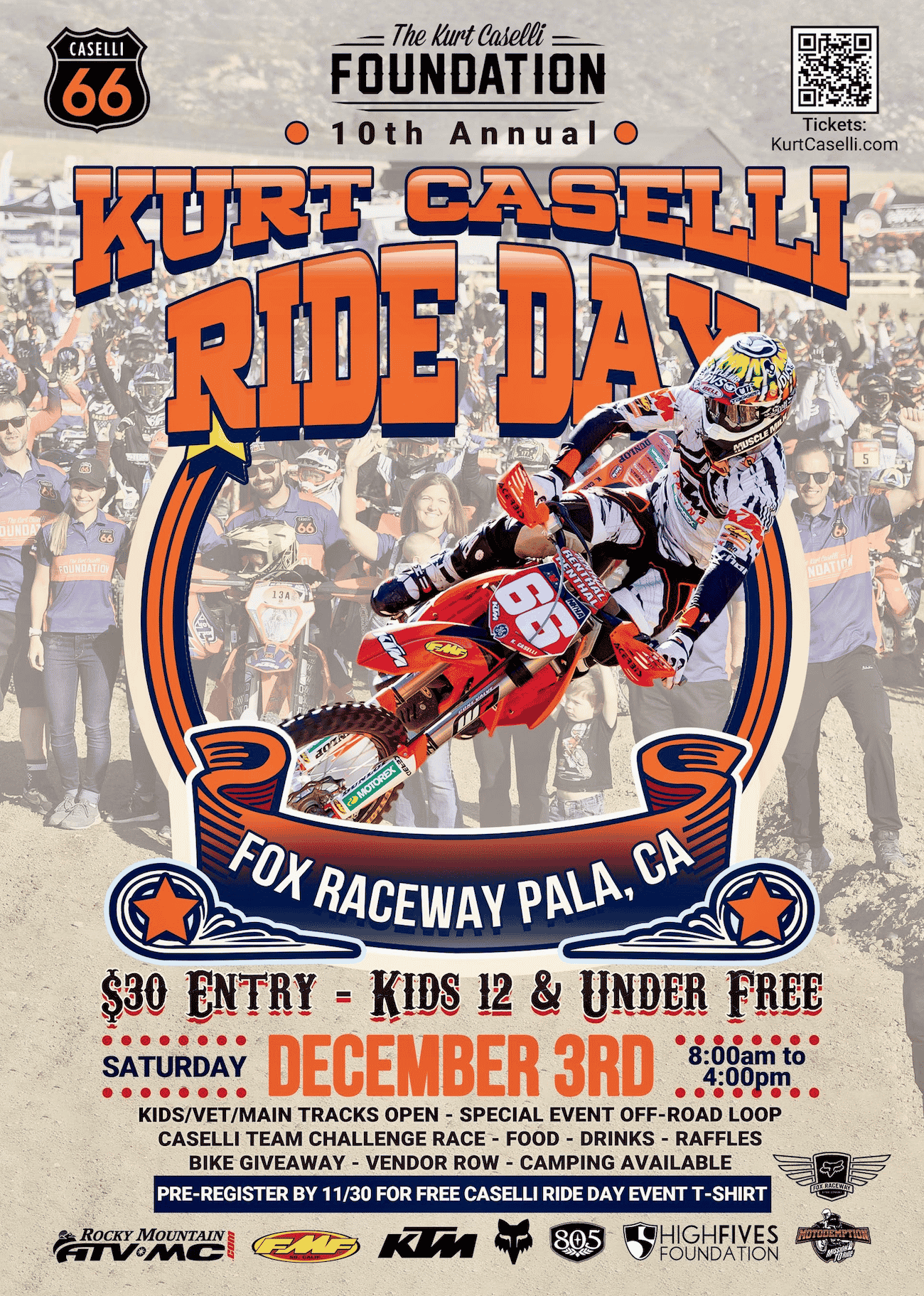 The Kurt Caselli Foundation will host its 10th Annual Kurt Caselli Ride Day presented by Rocky Mountain ATV/MC, FMF and KTM on Saturday, December 3d, 2022 at Fox Raceway in Pala, California.
• THIS WEEK IN MXA WITH JOSH MOSIMAN: TESTING MADE ME FASTER
• WHAT HAPPENED TO TEAM SPAIN AT THE WORLD CUP OF NATIONS RACE


Team Spain was so happy to be back at the 2022 World Vet Motocross Championship, that two of the three team riders came early so they could race the "Saturday at the Glen" race the week before (since that would be the first opportunity to try out the complete World Vet track). But they lost the third team rider somewhere between his house and the Barcelona Airport and the second team rider's wife said that she didn't fly to California to spent Saturday at a race track, so they were going sight seeing to Monument Valley in Utah.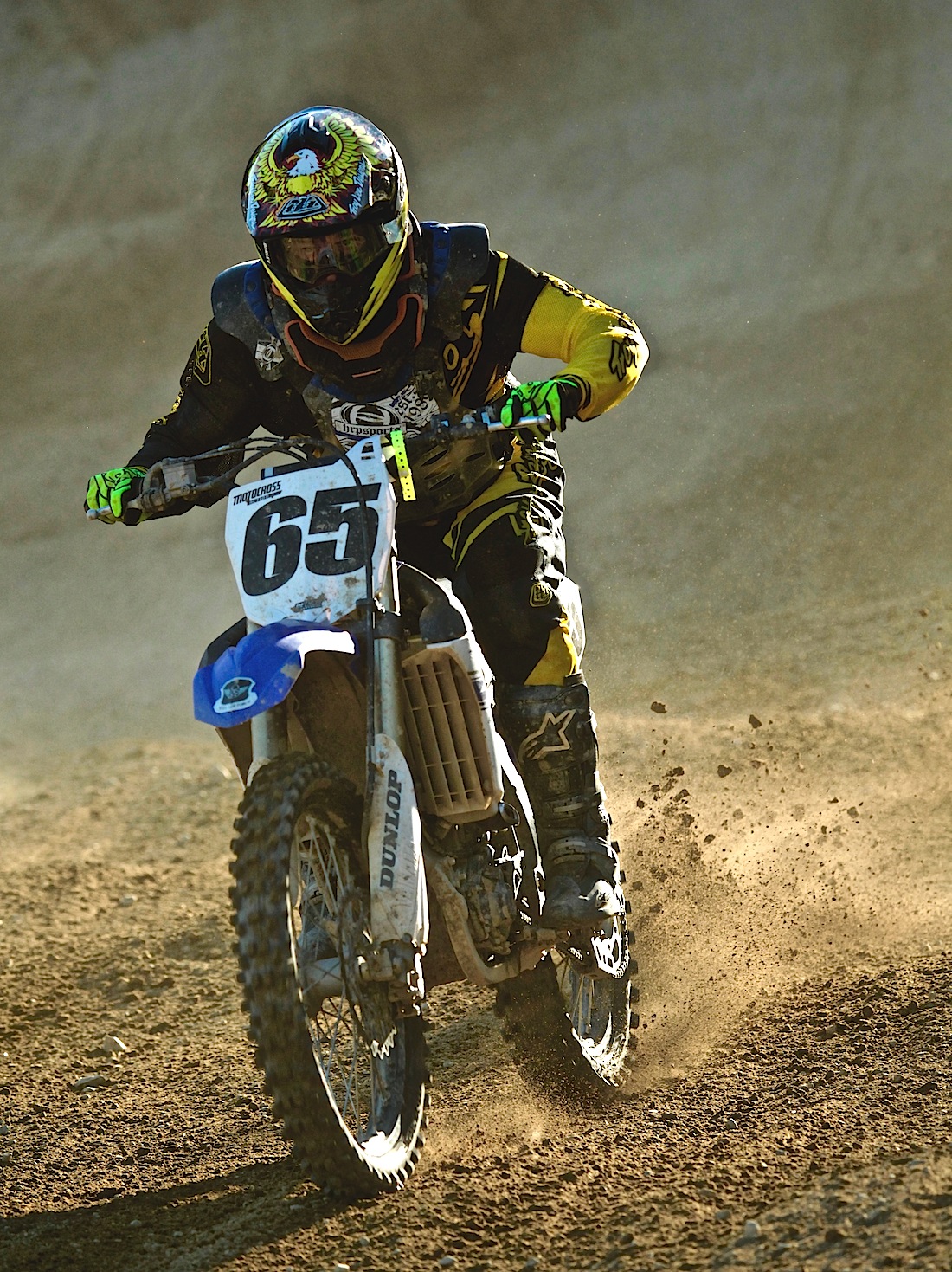 Xavi Costa 65) felt ill when thinking about starting the World Cup race, but he had a wonderful time in Monument Valley, Utah.
However, by World Vet race weekend, the second rider, Xavi Costa, was back from looking at rock formations and Glen Helen's Lori Wilson had found a lone Dutch rider, Ralf Schmidt, who was looking for a team (and agreed to be Spanish for the race). And the third rider was Kim Sunol and he was ready to rock—all was well.
The World Cup of Nations motos were on Saturday and Sunday and each nation fielded a three-man team with one rider over-30, one rider over-40 and one rider over-50. It turned out that all three of the Team Spain riders were Over-50, which was well within the rules (they would just have to choose which one would be over-30, Over-40 and Over-50 because they had to leave with the correct gate). But it started to go wrong right away.
First, Xavi Costa got sick and didn't feel like he could race his World Cup of Nations motos.
Ralf Schmidt (73) could never figure out what county he was racing for Holland, Spain or Mexico.
Second, Ralf Schmidt was supposed to be wearing a Team Netherlands bib, since the Team Spain bibs were missing, but for some reason Ralf ended up was wearing a bib with the Mexican flag on it.
Kim Sunol (71) at least had a bib with a flag on it, but we're not sure why he is wearing the Dutch bib. It didn't matter, he got hurt before the second World Cup of Nations moto.
Third, Kim Sunol had gotten fourth in his Over-60 Intermediate race and had one more moto to go before the final World Cup moto on Sunday. Unfortunately, Kim was involved in a first turn crash and cartwheeled into the infield. He remounted at the back of the pack, but after a couple turn realized that he couldn't hold on. Kim, who is a plastic surgeon, insisted that it was only a serious contusion to his hand.
Kim's X-Ray:  There are a lot of metacarpals in your hand, you would think you could still race if you just broke one of them.
Team Spain, which had upheld Catalan honor in previous World Cup of Nations events, was out of the running. When Kim Sunol got back to Barcelona, he went to see his othopaedic doctor brother Jaime, who X-Rayed his hand and it was indeed broken. He sent the X-Rays to MXA with a note that read, "I was feeling better before I got the X-Ray…as you know, No X-Ray = No broken bones."
• MXA VIDEO: 2023 HUSQVARNA FC250 VIDEO TEST
• WILL KEN ROCZEN SHOW UP ON THE ELECTRAPLY WOODEN SCRAMBLER NEXT?
Although presented as an electric-powered scrambler based on a 20-year-old Yamaha 250, it strangely enough has pedals—which makes it a bicycle.
With the movement towards a net-zero carbon footprint by 2030, many companies are being mindful of CO2 emissions. That's one reason why modelmaker Evie Bee turned to Garnica Wood Products to create the ElectraPly e-bike. It is billed as an environment-friendly e-bike made from sustainable poplar plywood.
Powered by a smart pie front-wheel motor and a 36v 12.5ah Yose Power battery, top speed of 28 mph, but we wouldn't take it very far off-road or out of sight of a carpenter.
Inspired by a utilitarian Yamaha SR250 it neither reaches that level of usability, nor does it look much like a 2002 Yamaha SR250.
MXA VIDEO: 2023 KTM 300SX FUEL-INJECTED TWO-STROKE VIDEO TEST
• WHAT'S SO GREAT ABOUT THE KTM CLUTCH & WHY ARE OTHER BRANDS COPYING IT?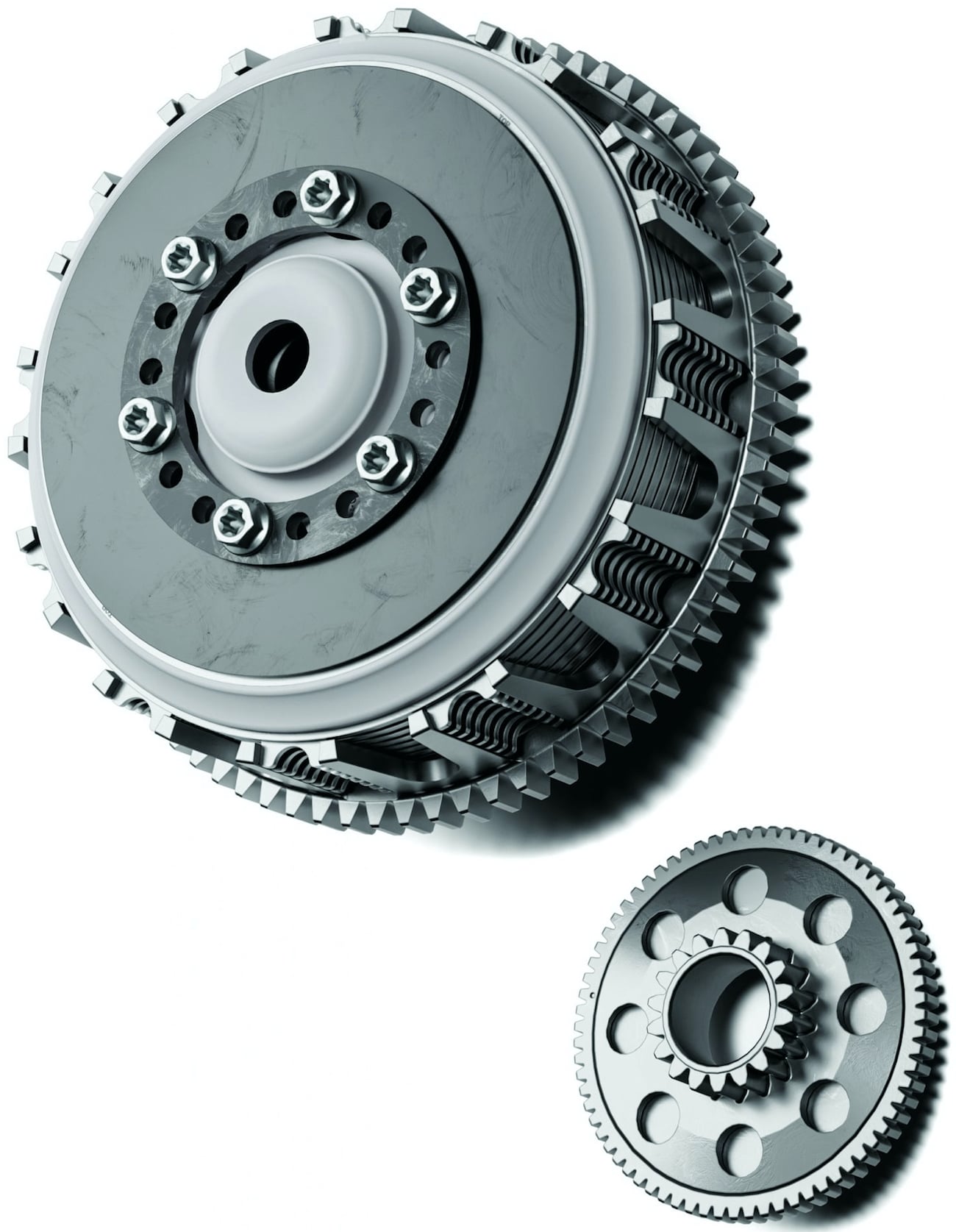 This is a KTM clutch. It comes in two different versions—one for 450 four-strokes and 250 two-strokes and the other for 350 four-strokes, 250  four-strokes and 150/125 two-strokes.
People often ask why MXA raves about the KTM, Husqvarna and GasGas clutches so much. They want to know what makes theses clutches so different from other brands clutches. Let's be clear, the standard clutches on most Japanese bikes are built with the best technology available in 2006. There is only one leader in modern clutch design, and it comes on the 2023 KTM, Husqvarna and GasGas machines. This clutch is head and shoulders above any other clutch—which the Japanese brands have started to realize.
HERE ARE SIX REASON WHY KTM'S CLITCH IS BEING COPIED SO MUCH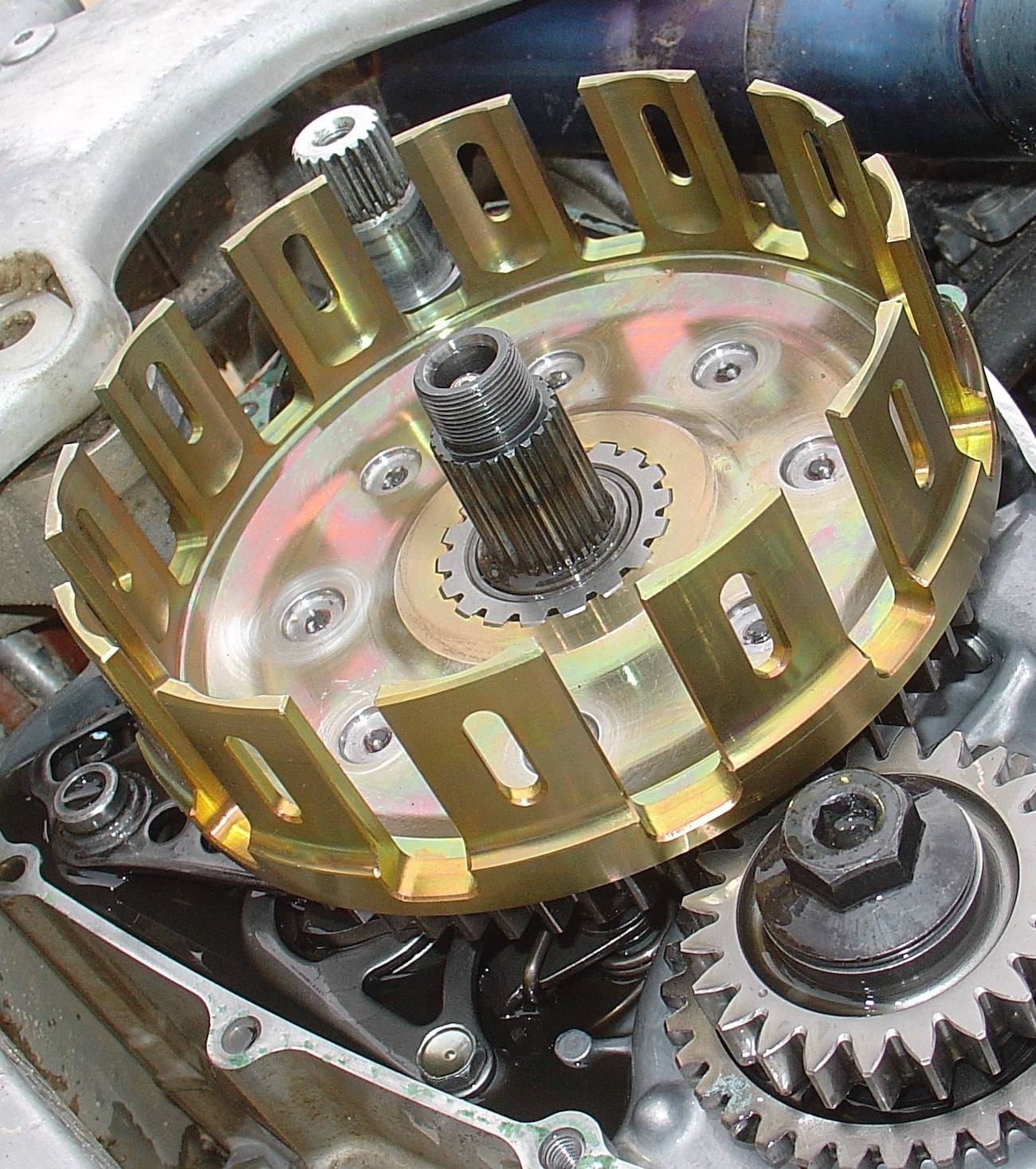 Hinson does make an aftermarket steel clutch basket for certain models of the YZ450F and CRF450, but you still have to swap the primary gear over to it.

(1) It comes with a steel clutch basket that never notches and will last as long as you own the bike, unlike the aluminum clutch baskets on the Honda, Suzuki and Kawasaki. Not only is the steel clutch basket stronger, but it can be lighter because it doesn't need as much metal.
(2) Unlike a clutch with six separate coil springs, the Austrian clutch uses one large cupped Belleville washer that provides equal pressure across the face of the pressure plate.
(3) The Belleville washer can be preloaded for more or less tension by turning a stepped disc on the pressure plate.
(4) The KTM/Husky/GasGas clutch is activated by a hydraulic master cylinder and slave unit that self-adjusts as you use it. For 2023 KTM and Husqvarna motocross models use Brembo hydraulic systems and, if you got your 2023 GasGas from the first batch off the assembly line, it too will have a Brembo master cylinder and slave unit. However, if you got your bike from a later run of GasGas bikes coming down the assembly, there is a good chance that your bike will have a Braketec master cylinder and slave unit. Why? Remember the pandemic, supply line issues and work shutdowns? Well, Brembo couldn't supply all the clutch parts needed to fulfill the production demands for KTM, Husqvarna and Gas Gas. Rather than delay the delivery of bikes to the dealers any longer than necessary, the KTM Group had to change the spec—and Braktec, which handles the brake and clutch fitment on several Husqvarna off-road models got the call to supply the later arriving GasGas models with their systems.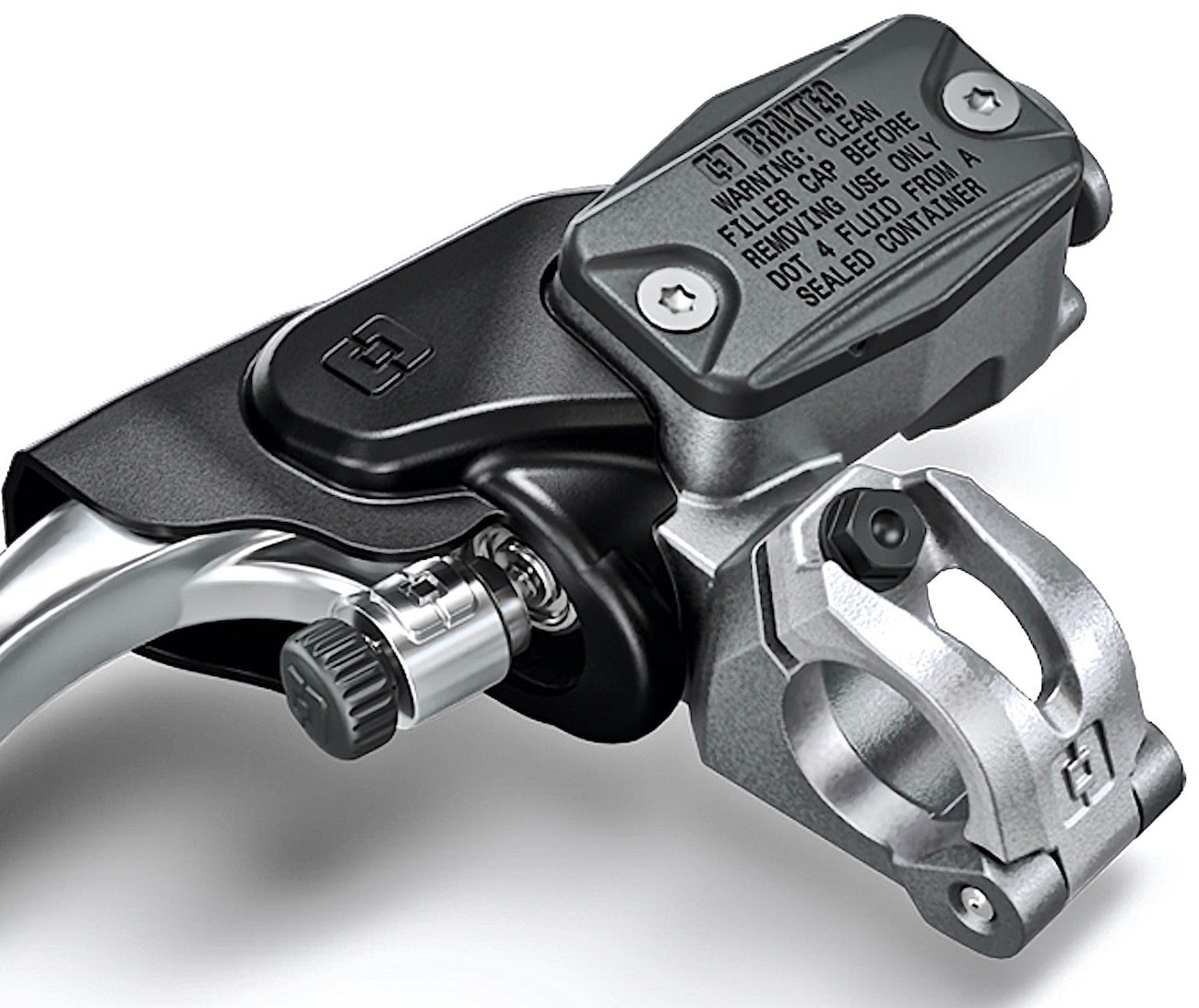 Don't know what clutch hydraulics your new GasGas has, look at the fine print on top of the clutch master cylinder—if it says Braktec, then you don't have Brembo…and you won't have Brembo brakes either.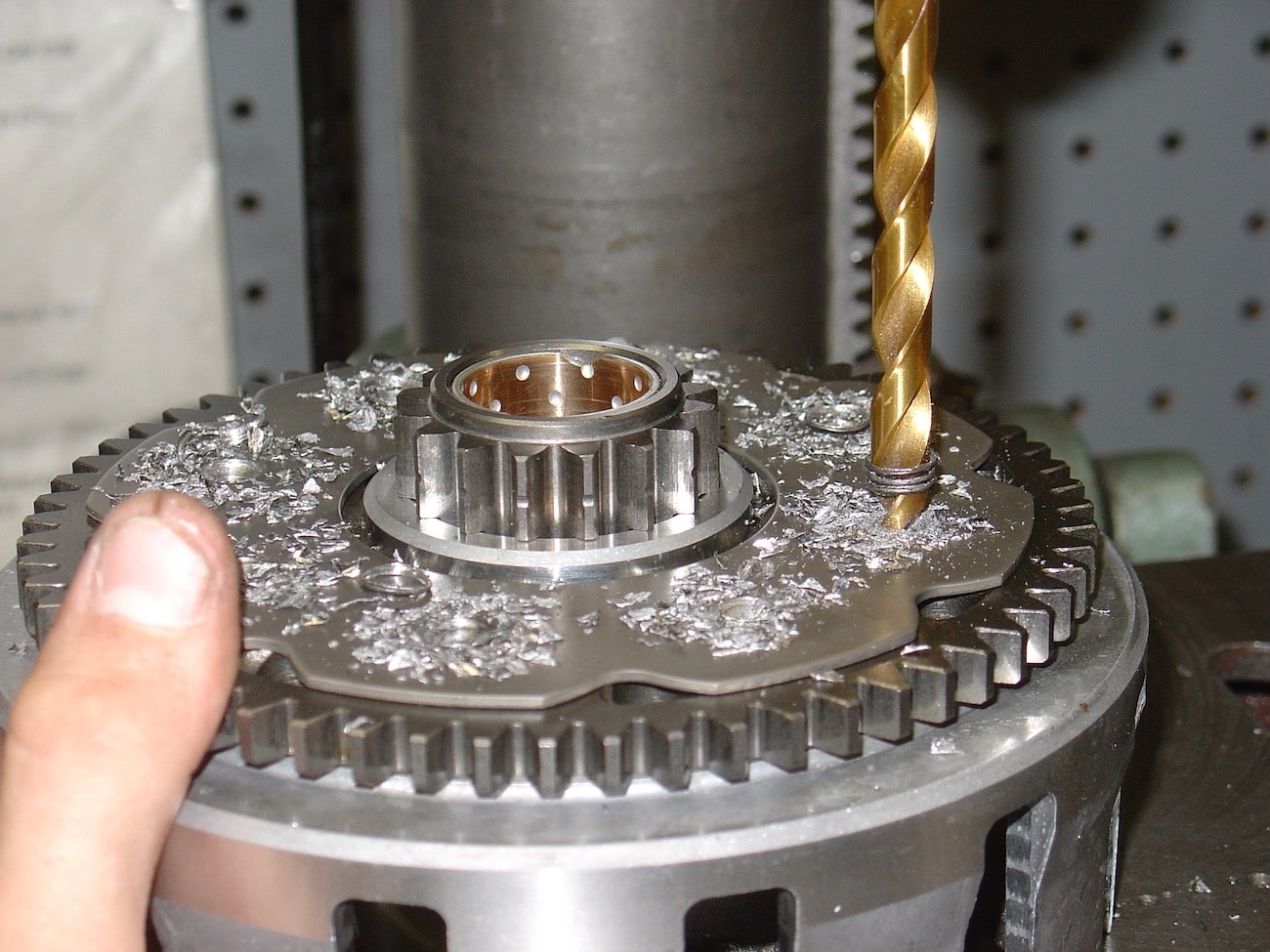 On the typical Japanese clutch you have to remove the primary gear by drilling out the rivets to move it to a new basket.
(5) The CNC-machined steel clutch basket has the primary gear machined into the billet of steel (instead of riveting a separate primary gear to the back of a cast aluminum clutch basket like the bies from Japan).
(6) Riders who burn up the standard issue KX450, CRF450, YZ450F or RM-Z450 clutches in four motos will go months with a KTM Belleville-washer clutch.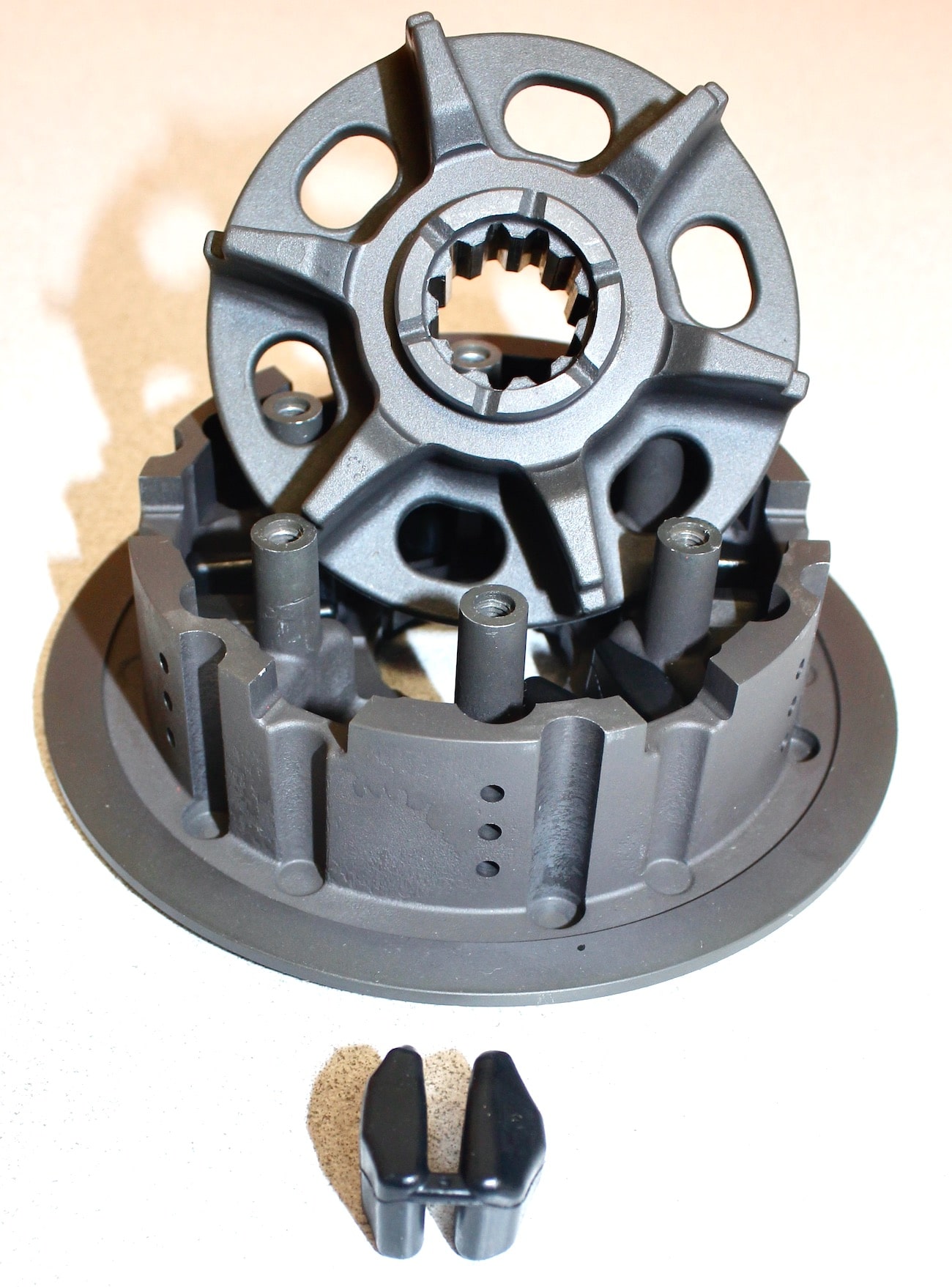 This is the DDS (Damped Diaphragm System) clutch that comes in the KTM 450SXF and 250SX two-stroke (it also comes on selected Husky and GasGas models). Six kidney-shaped rubber dampers (one of which is shown at the bottom of the photo) cushion the clutch from acceleration jolts.
Clutch models. There are two types of KTM/Husky/GasGas hydraulic clutches. First, the 450 four-strokes and 250/300 two-strokes come with the Belleville-washer-operated DDS (Damped Diaphragm System) clutch. It has a rubber-damped cush-hub inside to lessen the jolt when the more powerful engines hit. Second, the 250/350 four-stroke engine's clutch is called a DS (Diaphragm System) clutch. It differs from the 450's DDS clutch in that it doesn't get the rubber-damped cush-hub. Why not? The 250/350 engines do not need to cushion the jolt of each gear because of their lower power profile.
This is what a Belleville washer looks like. Instead of five or six separate coil springs, like on the typical clutch, a Bellevile washer spring applies equal pressure to the KTM pressure plate.
Belleville washer. A Belleville washer is essentially a large cupped washer that provides spring pressure as it is compressed. The first Belleville washer clutch came with a 250 N/m spring back in 2012. It was upped to 280 N/m in 2014. With today's more powerful engines, the 2021 450's Belleville washer is now rated at 295 N/m, while the 250/350 washers are 270 N/m. The Austrian engineers do not actually classify the spring pressure of the Belleville washers in N/m, preferring to call it "slip torque," but for clarity's sake, slip torque is the amount of spring pressure needed to control pressure plate and friction surface grip.
Lever pressure. One big plus of the Belleville washer's cupped shape is that it is at maximum stiffness in the initial part of the clutch lever's movement, but the farther the rider pulls the clutch lever, the flatter the cone shape of the cupped washer gets, which means that, unlike a coil-spring-operated clutch, a Belleville-washer clutch gets easier to pull the farther you pull it in. This relieves hand fatigue. In 2019, Kawasaki switched to a hydraulically activated clutch and for 2020 borrowed KTM's Belleville washer spring design, but called it a "coned disc-spring clutch" to avoid looking like they copied the KTM design, which they did. However, they did not copy the CNC-machined steel clutch basket/primary gear combo. But for 2023 Yamaha is copying the whole kit-and-kaboodle (CNC-machined steel basket, milled-in primary gear, and Belleville washer spring on the YZ450F), but sticking with cable operation instead of hydraulics.
The notches in the tangs of this cast clutch basket are caused by the metal drive plates banging against the aluminum tangs during acceleration. The smooth action of a clutch in this basket would suffer greatly as the clutch plates get caught on the ridges.
Notching. The billet steel clutch basket will outlast any cast-aluminum clutch basket. Best of all, it will not notch where the metal drive plates hit against the tangs or suffer from tang breakage. The aftermarket clutch companies are loathe make a KTM clutch basket from aluminum. Why not? Most notably because the stock KTM basket is too good and practically because there are no bolt-on primary gears available. Hinson does make a steel clutch basket for the YZ450F and CRF450, but that is because they can use the stock primary gear.

Old school Magura master cylinders need mineral oil instead of brake fluid. It will be embossed on the master cylinder cap if required, but these mineral oil system are only on older models..
Clutch fluid. KTM/Husky/GasGas clutches can use Dot 4 or Dot 5.1 brake fluid. Some older Magura hydraulic clutches require mineral oil instead of brake fluid, but if that is the case, it will be embossed on the master-cylinder reservoir cap.
• THE JEREMY MCGRATH STORY: IN HIS OWN WORDS AND THOSE OF HIS FRIENDS
• 25TH ANNUAL RED BULL "DAY IN THE DIRT" STARTS ON FRIDAY, NOVEMBER 25
For more info go to www.dayinthedirt.com
• MXA VIDEO: 2023 YAMAHA YZ450F VIDEO TEST
• 2022 FIRE & POLICE ELSINORE GRAND PRIX ON TUESDAY, DECEMBER 6…YES, TUESDAY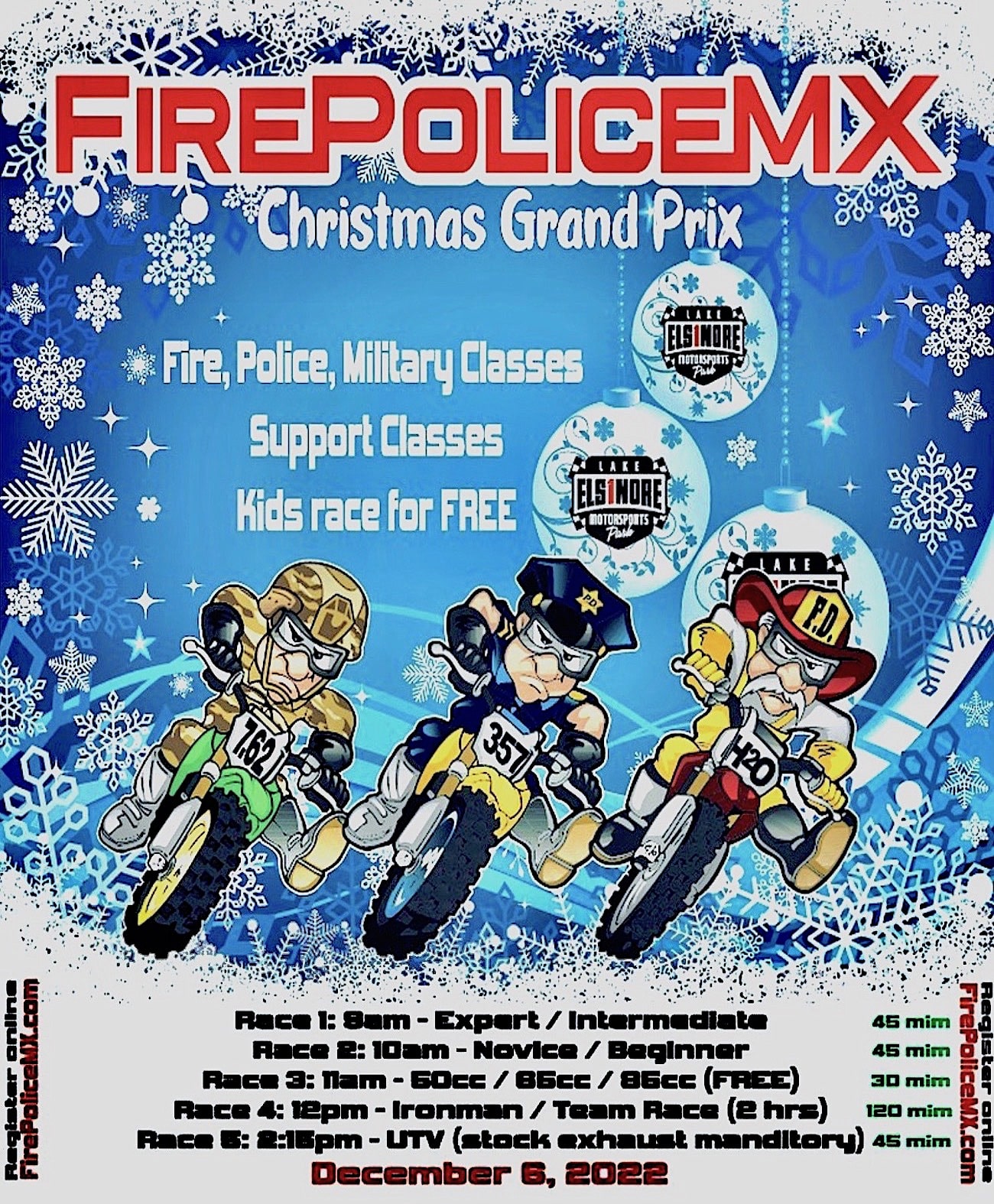 For more information or to sign-up go to www.firepolicemx.com
• MXA VIDEO: 2023 GASGAS MC250 VIDEO TEST
• WHY WE BUY WHAT WE BUY
If there really was a "best bike," the world would be a very boring place. How does MXA know this? Because we lived through it in the 1970s. Back in the day, when the 125 class lined up at Saddleback, there would be 30 Honda CR125s, five Yamaha YZ125s, three Suzuki TM125s and one each of a Monark and a Penton. The very next year, it would be all Yamaha YZ125s and, by 1981, it was all Suzuki RM125 Full Floaters. Finally, the technology balanced out and the starting lines began to look like a rainbow of colors. Life is good and racing is better when every brand has a piece of the pie.
What motivates a rider to choose the bike he's on? Obviously, from 1974 to 1981, it was a universal belief that one bike was better than the rest. Today, it is more complex. There are lots of market forces and emotional attachments pulling a rider to his favorite brand. Here is a list of potential enticements.
Color. You can't have a conversation about bikes without some dim bulb saying, "Just buy the color of bike you like, because all the bikes are the same." That's absurd. All the bikes are not the same; they differ in power placement, suspension feel, weight, horsepower, reliability, ergonomics, price and reputation. If you want a high-rpm 250 powerband, don't waste your money buying a 2021 yellow or blue bike. Just buy a KTM, Husky or Kawasaki, and order yellow or blue plastic for it. You'll be happier and still get your favorite color.
Price. Lots of people shy away from expensive KTM or Husqvarna bikes because they cost $900 more. Instead, they buy the cheapest bike and then spend $900 trying to make it as good as a bike that is already on the showroom floor. Face it, $900 won't buy much on the open market—maybe an exhaust pipe or Rekluse clutch, but not both. KTMs don't cost $900 more because the Austrians are greedy; they cost more because they are better equipped. How much better? Brembo builds the brakes that Ferrari, Lamborghini and Corvette upcharge for. The Austrian bikes have their transmissions built by Formula 1 supplier Pankl. The Austrian bikes can weigh 10 to 20 pounds less than the Japanese brands. They have braided-steel brake lines, interchangeable throttle cams, steel clutch baskets, ODI lock-on grips and quick-release fuel lines. Sometimes, it's better to spend a little more than to try to make a Nissan Versa fast.
Dealership. Many motocross bike buyers trust their local dealer. He treats them well, has parts in stock and cuts them a deal up front because they are repeat buyers. His shop is close to their home and he doesn't charge those exorbitant setup fees. Maybe the racer would rather own Brand X, but they don't want to part with their Brand Y dealer. That's real love.
Shootouts. MXA shootouts are a powerful selling tool for manufacturers, which is why they put so much effort into supporting the media. But, with the advent of internet magazines that only get the test bikes for one or two days, winning a shootout in over the last three or four years was a lottery. Bikes that lost in 2021 but were barely changed for 2022 took the top spots in 2023. All the while, bikes that everyone on the planet knows are great finished fourth or fifth. Good test riders aren't a dime a dozen; they are rare. If you must choose a bike based on a shootout, stick with MXA. We not only keep our test bikes for a full calendar year, we race them week in and week out, which allows us to get an accurate view over the long haul.
Loyalty. Motocross racers and car guys are loyal customers. Their brand is their brand for life. If they raced a Honda in 1986, odds are that they will be first in line to get the all-new 2023 CRF450. Their unshakable loyalty is a thing of beauty—for the bike brands that can engender their blind faith.
Every racer knows, deep down inside his psyche, why he bought the bike he did. And after spending $9600 on it, you can bet he will defend his decision with his life.
• MXA VIDEO: 2023 HONDA CRF450 VIDEO TEST
• MXA AD OF THE WEEK—THOSE WERE THE GOOD OLD DAYS — PRICE WISE
Bill Keefe modeling MXA's hat, jersey and wallet. Hard to believe that MXA sold T-shirts for $10.75, caps for $8.50 and Jerseys for $19.50.
• MXA VIDEO: 2023 GASGAS MC450F VIDEO TEST
• THE DECEMBER 2022 ISSUE OF MXA IS OUT! SUBSCRIBE AND YOU WON'T MISS ANYTHING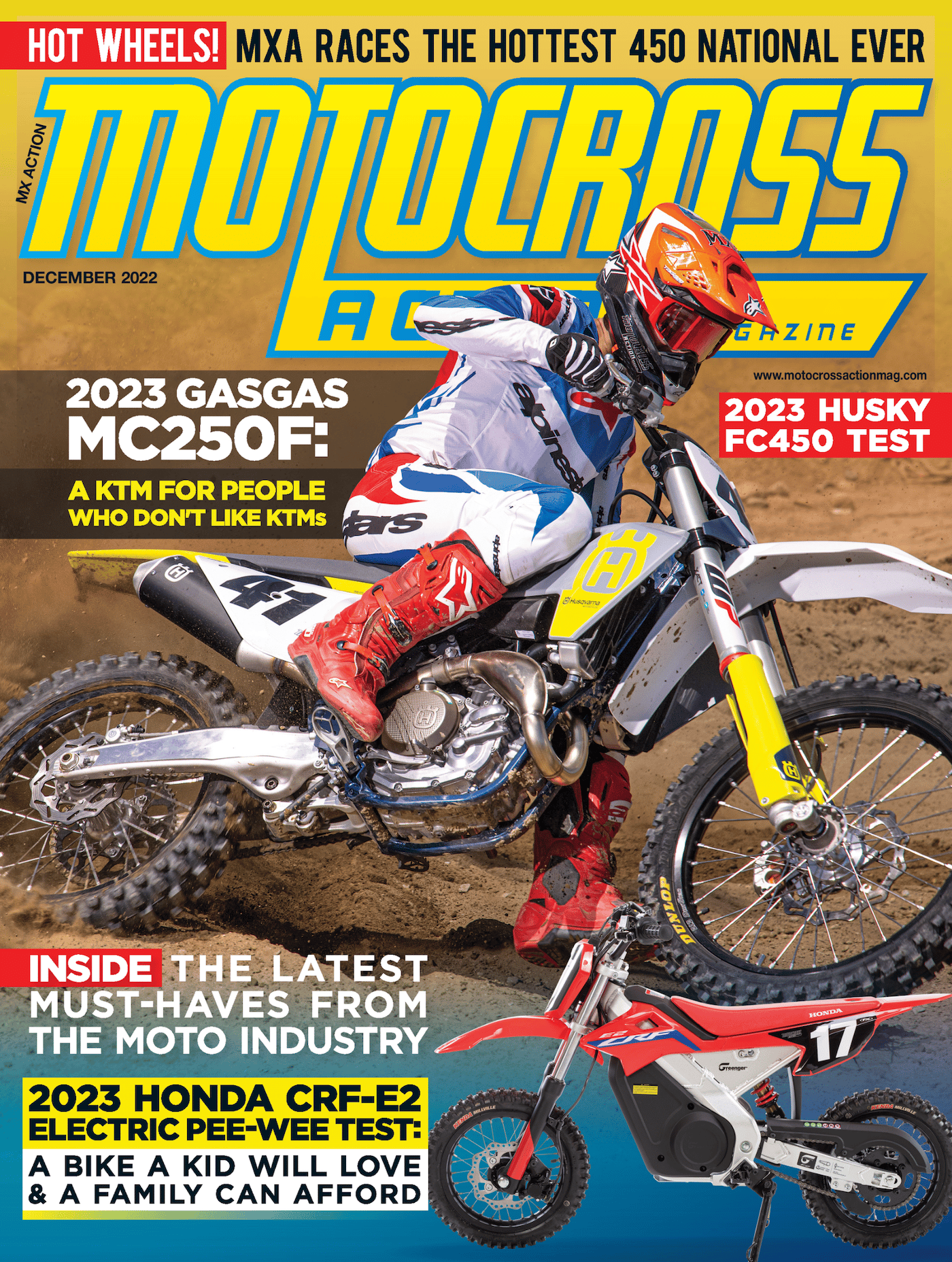 On The Cover: The all-new 2023 Husqvarna FC250 graces the December cover of MXA, along with the 2023 Honda CRF-2 electric Pee-Wee.

Did you know that you can subscribe to MXA at virtually no cost to you—because when you subscribe you receive a Rocky Mountain ATV/MC credit for $25 towards anything in their massive inventory. Plus, you will get all the content in the 12 monthly issues of Motocross Action magazine—from four-stroke tests, two-stroke tests, retro tests, race coverage, new tech to product tests….most of which never appear on the internet. And, don't forget, that $25 credit from Rocky Mountain ATV/MC that will more than cover the cost of your subscription. To subscribe call (800) 767-0345 or Click Here
• MXA VIDEO: 2023 KAWASAKI KX450 VIDEO TEST
• ON THE RECORD: COMPLETE TEST OF THE 2006 SUZUKI RM250
This test is from the November 2005 issue of Motocross Action Magazine.
The MXA wrecking chose the Suzuki RM250 as the 250cc two-stroke Bike of the Year in 2004 and 2005. To our way of thinking, only two bikes were worthy of consideration for the 250cc two-stroke crown–the YZ250 and the RM250. The 2005 Yamaha YZ250 was a terrific machine. It had stable handling, aluminum frame, decent suspension and a tractor of an engine. So why didn't it win? That's simple. In a world dominated by booming thumpers, the Suzuki RM250 exhibits the exact opposite traits of a four-stroke. Where the four-strokes are torquey, broad, beefy, slow revving and tractable, the RM250 was snappy, barky, nimble, sharp, light and aggressive. In a nutshell, the Suzuki RM250 is everything that a four-stroke isn't.
What we admired about the 2004 RM 250 and 2005 RM250 was their uniqueness. In what is rapidly becoming a clone world–it is a rebel. Yes, Virginia, we know that rebellion doesn't always play well in the hinterlands, but if you are still considering riding a 250cc two-stroke, you must have a streak of rebel in you. The MXA wrecking crew awarded the whole ball of wax to the RM250 because it was the most two-stroke of all the two-strokes. That's something to be proud of.
The question at hand is whether the 2006 Suzuki RM250 can make lightning strike three times.
Q: IS THE 2006 RM250 ENGINE FASTER THAN THE '05?
A: Yes, but it doesn't feel faster. That may sound like a left-handed compliment, but don't be confused. The 2006 Suzuki RM250 doesn't feel faster than the 2005 model, but it has a vastly improved powerband. And, the best thing about the new powerband is that it is easier to go fast on than previous RM250 iterations. How so? Prior to 2006, an RM250 powerband could be described thusly: Not much bottom. A hard hit in the middle. A rapid turnover. Brisk power into the upper middle. An early sign-off. In short, it hit hard and pulled hard—just not for very long.
For 2006, Suzuki added considerably more low-to-mid power. The sudden hit in the middle has been accentuated by a nice, pleasant and usable roll-on power that starts close to idle. The '06 picks up cleanly off the bottom and surges through the midrange. Very nice.
Q: WHY DOESN'T IT FEEL AS FAST AS THE 2005 MODEL?
A: The added low-end takes all the dramatics out of the midrange hit. Last year, very little happened, and then suddenly the RM250 burst to life. Now, things happen with minute twists of the wrist and the bottom end is filled in enough that the old-school midrange hit is less noticeable. It isn't less of a hit, just that the hit is melded into a bigger picture.
Q: IS THE 2006 RM250 ENGINE BETTER THAN THE 2005 MODEL?
A: Lightyears better. Thanks to the enhanced bottom-to-mid transition, the Suzuki has double the number of options for its riders. In the past, the best solution to every situation was to hammer the throttle and hang on. It was a gun-and-run engine that didn't like to be run at quarter-throttle, half-throttle or three-quarter throttle. It demanded full throttle whether the corner was loose, hard or off-camber.
Not so in 2006. Hallelujah! The RM250 can now be ridden with a sensitive wrist through tight turns. It can be babied around an off-camber at quarter throttle. It can be coasted and blipped through switch backs. The 2006 engine is versatile. The previous version of this powerplant was flat-out or nothing.
Q: HOW DID SUZUKI IMPROVE THE 2006 RM250 POWERBAND?
A: We admire Suzuki's straightforward strategy for the '06 engine. No gimmicks, just six tried-and true tuning techniques.
(1) Exhaust ports. Last year Suzuki raised the corners of the exhaust port and widened the boost ports to get a little more top-end overrev. This year they reshaped the exhaust port, advanced the port timing and optimized the boost ports. They didn't undo what they did in 2005, but went for a middle-of-the-road porting strategy.
(2) Power valve. Suzuki altered their power valve to delay its opening momentarily to help the low-end power. Then, they sealed up the sub exhaust valve ports to cut down on blow-by and worked on the cam rod, valve arm and valve linkage for quicker actuation.
(3) Carb intake. By shortening the carb intake pipe they cut down on lag time for increased low-end.
(4) Crankcase volume. By changing crankcase volume, you can increase or decrease pumping pressure, fuel flow or fuel density. For 2006, Suzuki increased the clearance between the crankshaft and crankcase to increase crankcase volume and change the primary compression ratio of the engine. This aids low-end power.
(5) Ignition. The CDI mapping was reconfigured for more response at low rpm.
(6) Reed petals. One of the easiest ways to improve low-end power, on any bike, is to install more flexible reed petals–softer reeds open sooner. For 2006, Suzuki has all-new carbon fiber reeds.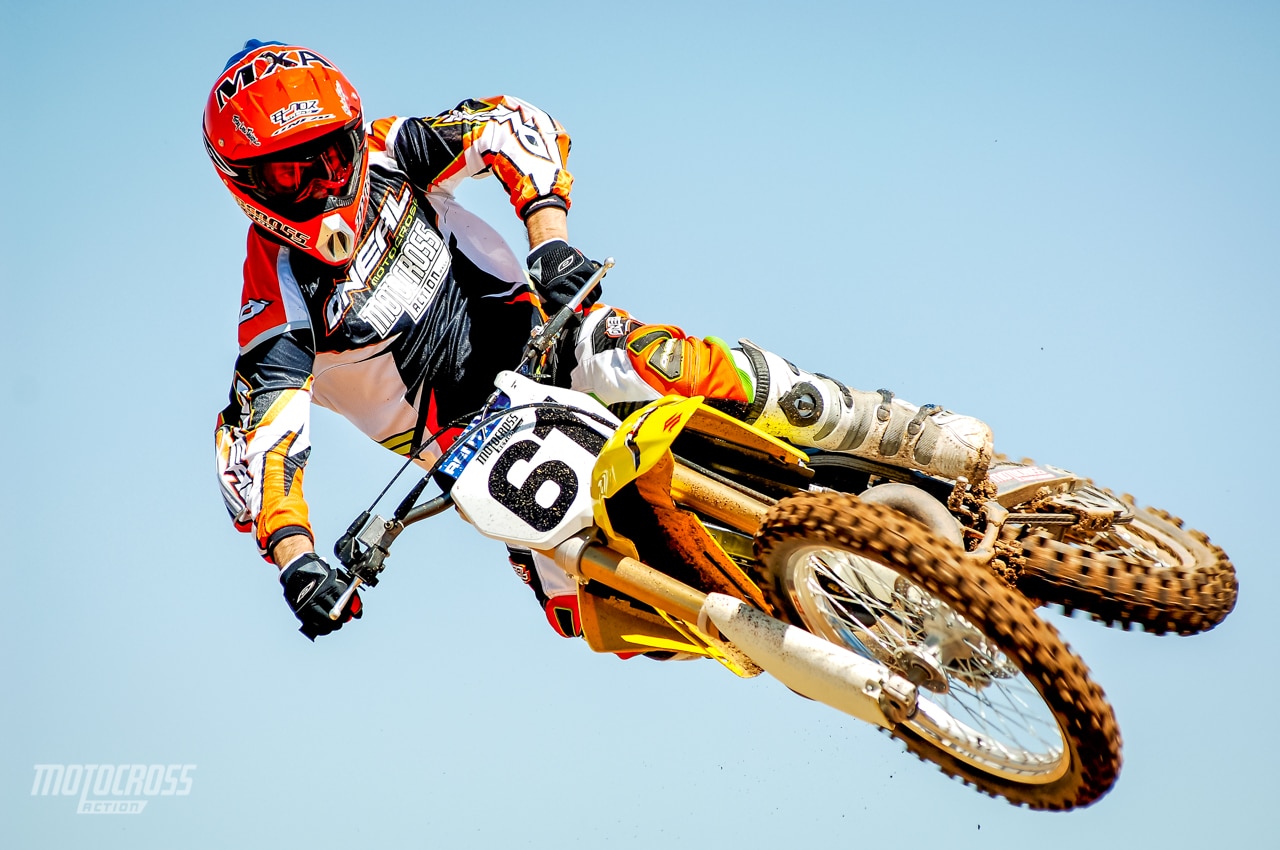 Q: WHAT DOES THE 2006 RM250 POWERBAND FEEL LIKE ON THE TRACK?
A: The biggest compliment we can pay the 2006 RM250 engine is that it is more like a Yamaha powerband than before. The YZ250 is an amazingly flexible engine that can run from right off idle all the way to the shrieking top-end. Best of all, the YZ250 can accept every throttle setting without a whimper. For 2006, the RM250 engine has cloned some of Yamaha's magic (but not all of it). The '06 RM250 is more flexible.
The most meaningful praise test riders had for the '06 RM250 powerband was that late in a moto, when they got tired, they could keep the RM250 moving briskly with little or no effort. Conversely, on the 2005 RM250, you either went all-out or you went slow. Our test bike made 46.2 horsepower.
Q: WHAT ABOUT THE JETTING?
A: We struggled a little in the heat of summer with richness, but that is perfectly normal. For hot days we used the supplied half-clip-leaner NEDK needle (with the clip in the third position) and a 165 main jet.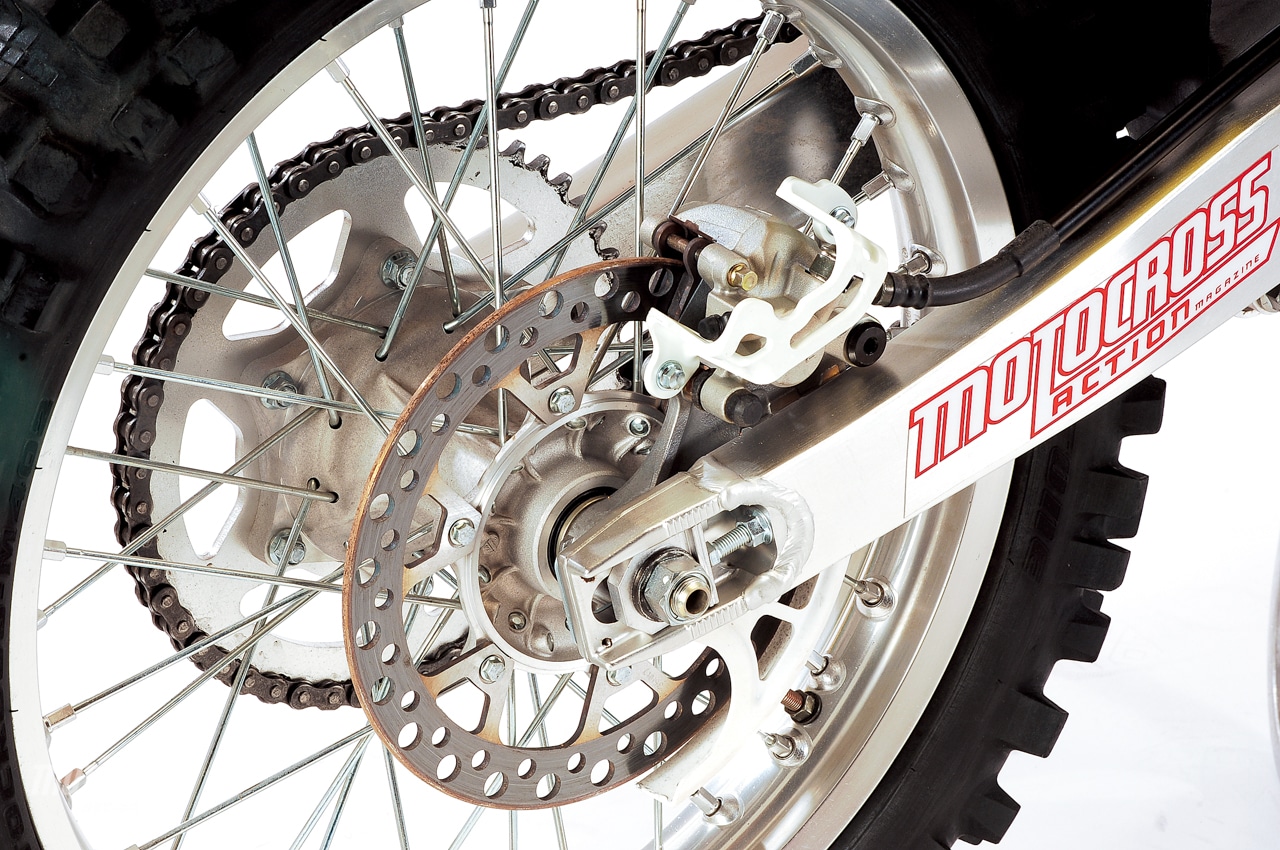 Q: WHAT ABOUT THE GEARING?
A: It is just about perfect for the RM's power output.
Q: WHAT ABOUT THE CLUTCH?
A: Ghastly. It was mushy and vague when fresh, and it didn't stay fresh for very long. Suzuki upgraded the plates and basket for 2006, but it was a losing effort. This is the weakest clutch in the 250 class.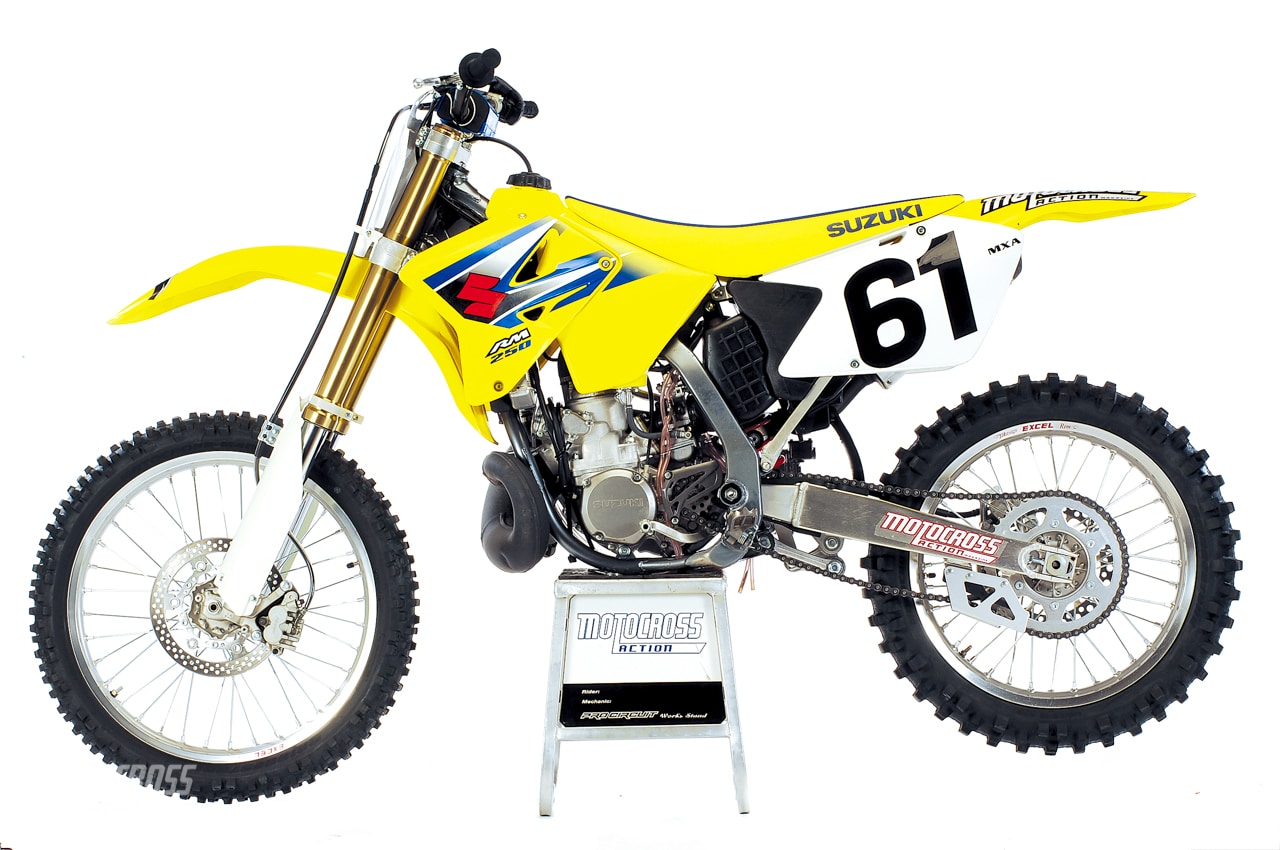 Q: HOW DOES IT HANDLE?
A: Suzuki is the only manufacturer willing to push the handling envelope. Each manufacturer has its own personality—etched in stone. Honda started playing it safe in 1994 when they neutered the super-accurate '93 model. KTM never took a chance on building a bike that would turn. Kawasaki's handling is an acquired taste—for ax murders. Yamaha has a middle-of-the-road chassis that doesn't do anything wrong—or anything great.
Suzuki, on the other hand, is all cut-and-thrust. They are willing to give up straight-line stability for quickness, to trade a little head shake for accuracy in the corners and to seek one superlative at the cost of others.
The question you have to ask yourself is—are you willing to give up some sense of security at speed to be able to slice, dice and Julienne the competition in the corners? Answer yes and you have no choice but to race a Suzuki. It is the only bike that can walk the tightrope between brilliant and schizophrenic.
Q: DID SUZUKI TRY TO CALM THE HANDLING DOWN IN 2006?
A: No. They gave it some lip service in their press releases, but in reality, Suzuki rolled the dice in 2006 and made the chassis even quicker by cutting the steerer tube off the old frame and moving it back 5mm. By altering the head tube, Suzuki moved the engine forward to put more weight on the front wheel. More weight equals more bite in the turns and that is something that some of Suzuki's competitors could benefit from, but we have to confess that we don't think the RM250 needed to turn better. It was already super responsive. We saw Ricky Carmichael try this new frame out at the Las Vegas Supercross. It wasn't legal to race, but he rode it during the day sessions just to get a preview of what 2006 holds for him.
What do we think of the new frame? We think it turns better. We didn't fret over the increased head shake because racing a Suzuki is all about setup. Seeking perfect balance between the front and rear is a constant ballet of race sag and fork tube height. We slid the forks down in the clamps, ran 100mm of sag and kept our reflexes on Defcon-4.
Q: HOW GOOD IS THE 2006 RM250 SUSPENSION?
A: Showa's on a roll. Very good stuff. Very good indeed.
Forks: Good forks. They are stiff enough for Pros, yet can be toned down for much slower riders. We ran the compression setting on eight clicks out and the rebound on 13.
Shock: Every MXA test rider loved this shock—without exception. It goes straight through the nastiest stuff. Never kicks, hops or burps. It can barge through anything. Set the rebound on 12 clicks out, low-speed compression on 10 and high-speed between 1-3/4 and 2 turns out.
Q: WHAT DID WE HATE?
A: The hate list:
(1) Tires: We can't live with the Bridgestone front tire. It tracks into corners decently, but lets go without any warning. On a bike with a tendency to oversteer as much as the RM250, you need the best rubber possible. Drop-kick the Bridgestones.
(2) Clutch: At least it didn't jerk or chatter like it used to, but it also didn't work very well. We opted for the stiffest clutch springs we could find.
(3) Front rotor: We don't see any difference between Suzuki's rotor and their competitors', but we constantly bend Suzuki rotors and no one else's.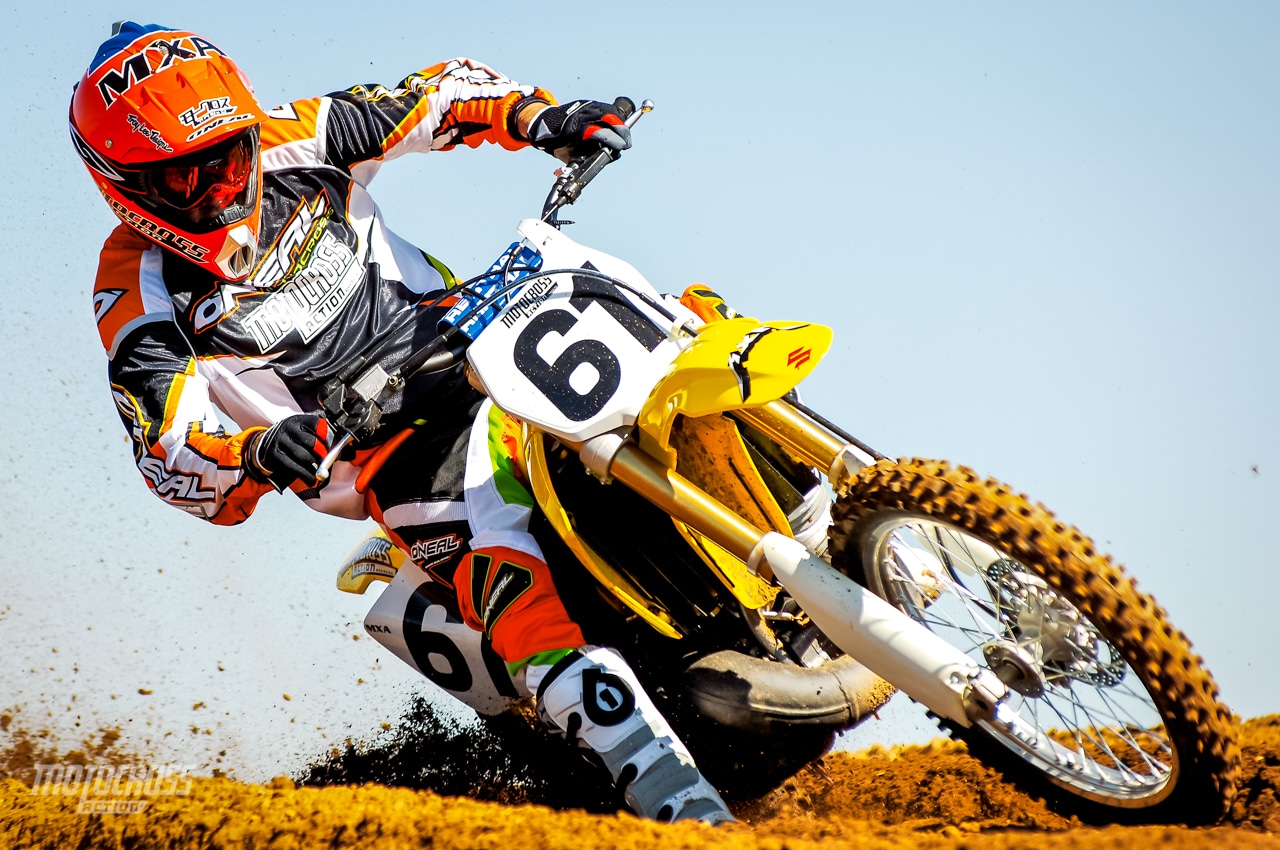 Q: WHAT DID WE LIKE?
A: The like list:
(1) Brakes: All the pucker power you will ever need.
(2) Bars: Last year Suzuki had generic aluminum bars on the RM250. This year they have true-to-life Renthals.
(3) Footpegs: We are mystified by the sudden surge in titanium footpegs on production motorcycles. It does save weight, but so low on the frame that it has very little functional effect. And, if you are going to take the time and money to build a titanium peg, why not make it 57mm wide. That is the optimum width.
(4) Graphics: The blue and yellow look is stylish. For $300 more you can order a Team Makita Replica with a black seat, gold rims and team graphics.
Q: WHAT DO WE REALLY THINK?
A: Don't write that check for a new four-stroke until you've thrown a leg over this 250cc two-stroke. It's like no other bike on the planet.
• MXA VIDEO: 2023 SUZUKI RM-Z450 VIDEO TEST
• 2023 AMA NATIONAL MOTOCROSS RACE SCHEDULE 
• MXA VIDEO: 2023 GASGAS MC350F VIDEO TEST
• 2023 AMA SUPERCROSS RACE SCHEDULE
• MXA VIDEO: 2023 YAMAHA YZ450F VIDEO TEST
• FIM WORLD MOTOCROSS CHAMPIONSHIP RACE SCHEDULE

• MXA VIDEO: 2023 SUZUKI RM-Z250 VIDEO TEST
• LOOKING TO THE FUTURE: THE 2023 RACE SCHEDULES
2023 AMA SUPERCROSS CHAMPIONSHIP
Jan. 7…Anaheim, CA
Jan. 14…Oakland, CA
Jan. 21…San Diego, CA
Jan. 28…Anaheim, CA
Feb. 4…Houston, TX
Feb. 11…Tampa, FL
Feb. 25…Arlington, TX
Mar. 4…Daytona Beach, FL
Mar. 11…Indianapolis, IN, MI
Mar. 18…Detroit, MI
Mar. 25…Seattle, WA
Apr. 8…Glendale AZ
Apr. 15…Atlanta, GA
Apr. 22…East Rutherford, NJ
Apr. 29…Nashville, TN
May 6…Denver, CO
May 13…Salt Lake City, UT
2023 SUPERMOTOCROSS PLAYOFF SCHEDULE
Sept. 9…TBA
Date TBA…TBA
Oct. 14: Los Angeles, CA
2023 AMA ARENACROSS CHAMPIONSHIP
Nov. 18, 2022…Albany, GA
Nov. 25, 2022…Albany, NY
Jan. 6…Loveland, CO
Jan.13…Prescott, AZ
Jan. 20…Guthrie, OK
Jan. 27….Guthrie, OK
Feb. 3…Reno, NV
Feb. 10…Denver, CO
Feb. 24…Hobbs, NM
Mar. 3…Amarillo, TX
Mar. 10…Tulsa, OK
Mar. 17…Salem, VA
Mar. 24…Little Rock, AR
Mar. 31…Lexington, KY
2023 2023 FIM WORLD MOTOCROSS CHAMPIONSHIP
Mar. 12…Argentina
Mar. 26…TBA
Apr. 10…TBA
Apr. 16…Italy
Apr. 30…Portugal
May 7…Spain
May 21…France
Jun. 4…Latvia
Jun. 11…Germany
Jun. 25…Indonesia
July 2…Indonesia
July 16…Czech Rep.
July 23…Belgium
Aug. 6…Finland
Aug. 13…Sweden
Aug. 20…Holland
Sept. 3…Turkey
Sept. 17…Vietnam
Oct. 1…TBA
Oct. 15…England
2023 AMA NATIONAL MOTOCROSS CHAMPIONSHIP
May 27…Pala, CA
June 3…Hangtown, CA
June 10…Thunder Valley, CO
June 17…Mt. Morris, PA
July 1…Red Bud, MI
July 8…Southwick, MA
July 15…Millville, MN
July 22…Washougal, WA
Aug. 11…Unadilla, NY
Aug. 19…Budds Creek, MD
Aug. 26…Crawfordsville, IN
2023 "SATURDAY AT THE GLEN" SCHEDULE
Jan. 14…Winter Series #1 (Saturday track)
Jan.. 28…Winter Series #2 (National track)
Feb. 3…Winter Series #3 (Saturday track)
Feb. 11…Winter Series #4 (Saturday track)
Feb. 25…Winter Series #5 (National track)
Mar. 11…Spring Series #1 (Saturday track)
Mar. 25…Spring Series #2 (Saturday track)
Apr. 15…Spring Series #3 (Saturday track)
Apr. 22…Spring Series #4 (Saturday track)
May 13…Spring Series #5 (National track)
June 1…Summer Series #1 (Saturday track)
June 17…Summer Series #2 (Saturday track)
June 24…Summer Series #3 (Saturday track)
July 15…Summer Series #4 (Saturday track)
July 29….Summer Series #5 (National track)
Aug.19…Fall Series #1 (Saturday track)
Aug. 26…Fall Series #2 (Saturday track)
Sept. 16…Fall Series #3 (Saturday track)
Sept. 23…Fall Series #4 (Saturday track)
Sept. 30…Fall Series #5 (National track)
Oct. 24…Winter Series #1 (Saturday track)
Oct. 28…Winter Series #2 (National track)
Nov.3-5…World Vet Championship (National track)
Nov. 19..Winter Series #3 (Saturday track)
Dec. 2…Winter Series #4 (Saturday track)
Dec. 9…Winter Series #5 (National track)
2023 VET MOTOCROSS DES NATIONS
Aug. 24-28…Foxhill, GB
2023 MOTOCROSS DES NATIONS
Oct. 22…Ernee, France
2023 WORLD VET MOTOCROSS CHAMPIONSHIP
Nov. 3-5…Glen Helen, CA
2023 RED BULL DAY IN THE DIRT
Nov. 24-26…Glen Helen,CA
• 2023 SOBOBA TRAIL RIDE WILL BE ON FEBRUARY 26, 2023
For more info go to www.sobobarides.biz/home
• HOW SMART DO YOU HAVE TO BE TO SUBSCRIBE TO MXA? YOU SUBSCRIBE AND GET A $25 ROCKY MOUNTAIN GIFT CREDIT—SEEMS SIMPLE

You can't afford not to subscribe, because when you order a subscription, Rocky Mountain ATV/MC sends you a $25 gift credit to use on anything you want from their massive selection. Plus, subscribers to MXA can also choose to get the digital mag on their iPhone, iPad, Kindle or Android by going to the Apple Store, Amazon or Google Play or in a digital version. Even better, you can subscribe to Motocross Action and get the awesome print edition delivered to your house by a uniformed employee of the U.S. Government. Do we have to mention the $25 Rocky Mountain ATV/MC gift card again? You can't lose on this deal? Call (800) 767-0345 or Click Here
•  THE REMAINING RACES OF THE 2022 SEASON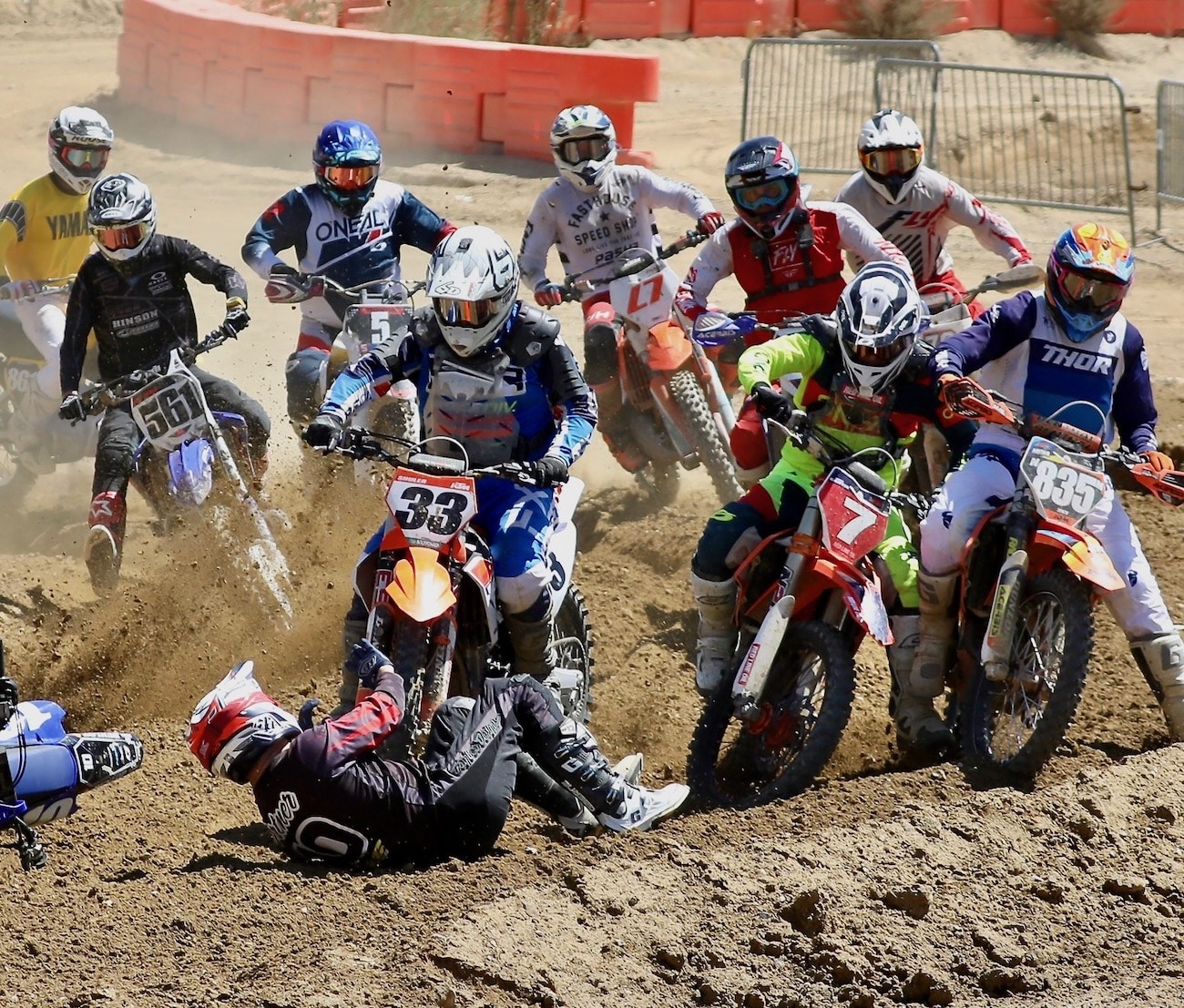 The "Saturday at the Glen" races only have two events left in 2022 (on December 3 and December 10), then it starts up again after the Holidays.
2022 SATURDAY AT THE GLEN RACE SCHEDULE
Apr. 2…Spring Series #1
Apr. 23…Spring Series #2
Apr. 30…Spring Series #3
May 7…Spring Series #4
May 14…Spring Series #5 (National Track)
June 11…Summer Series #1
June 25…Summer Series #2
July 9…Summer Series #3
July 30…Summer Series #5
Aug. 13…Summer Series #6  & Pasha 125 Open (National Track)
Aug. 27…..Fall Series #1
Sept. 10…Fall Series #2
Sept. 17…Fall Series #3
Oct. 1…Fall Series #4 & Pasha 125 Open (National Track)
Oct. 15…Fall Series #5
Oct. 22…Fall Series #6
Oct. 29…Winter Series #1 (National Track)
Nov. 5-6…Dubya World Vet Championship (National Track)
Nov. 19…Winter Series #2
Dec. 3…Winter Series #3
Dec. 10…Winter Series #4 (National Track)
2022 AUSTRALIAN SUPERCROSS CHAMPIONSHIP
Oct. 21…Melbourne, Vic
Oct. 29…Adelaide, SA
Nov. 26…Newcastle, NSW
Dec. 3…Wagga Wagga, NSW
2022 MOTOCROSS DES NATIONS
Sept. 25… Red Bud, MI
2022 WORLD VET MOTOCROSS CHAMPIONSHIP
Nov. 5-6…Glen Helen, CA
2022 PARIS SUPERCROSS
Nov. 12-13… Paris, France
• MXA YOUTUBE CHANNEL | HIT THAT SUBSCRIBE BUTTON
The MXA wrecking crew is everything moto related. Check out our MXA YouTube channel for bike reviews, Supercross coverage, rider interviews and much more. And don't forget to hit that subscribe button.