MXA'S WEEKEND NEWS ROUND-UP: THE LOST ART OF THE TANK BADGE
A BIKE YOU NEVER THOUGHT YOU WOULD SEE: A ROYAL ENFIELD DIRT TRACKER

The 2020 Royal Enfield 750cc flat tracker.

With the growth of the American Flat Track series in America, it no surprise that European manufacturers KTM, Husqvarna and eventually Gas Gas has shown more thant a little interest. However, no one ever expected that Indian motorcycle manufacturer Royal Enfield would ever notice American flat track. But they did. Royal Enfield partnered with Harris Performance to put its 648cc parallel-twin engine in a frame of brazed steel tubing. The engine got a 750cc S&S big bore kit. They swapped the twin shocks for a braced monoshock-style swingarm. The bodywork is all carbon fiber.
We doubt that we'll see an Royal Enfield team in AFT next year, but Royal Enfield has been selling a lot of it retro-style street bikes in the USA (including ones that date back to the 1950s). To learn more about Royal Enfield Click Here.
WE KNOW YOU MISSED "BENNETT'S WAR" IN THE THEATERS, BUT IT'S OUT ON DIGITAL AND DVD. CHECK OUT THIS MOVIE REVIEW
ASK THE MXPERTS: WHAT MAP DOES MXA RUN IN IT'S 2020 YZ450F
We run the TP3 map, which stands for Travis Preston 3, you can find it on the Yamaha WiFi app. You can see above that this map richens up the fuel in 11 of  16 boxes. The only box where the fuel is leaned out is at the highest rpm with the throttle wide open. Each number on the fuel maps represents a 2% increase (or decrease) per number. Thus a "1" is 2 percent more fuel, a "2" is 4 percent more and an "-1" is 2 percent less fuel. As for the ignition maps (on the left side of the chart) each number represent one degree of advanced or retarded ignition timing. This ignition map advances the ignition in 13 out of 16 boxes. Two of the boxes, have "O" in them, that means they are unchanged from stock, while the box in the lower right is retarded 3 degrees at the least throttle opening, but the highest rpm. As you can see, the 2020 YZ450F likes more fuel and lots of ignition advance.
One of the pluses on the 2020 YZ450F is that it has a button on the  clutch side of the handlebars that allows the rider to switch between the stock map and a performance map (the performance map will be indicated by the button lighting up). MXA always keeps the stock map accessible, when the light isn't lit, so we can make quick comparison for changing track conditions. This way you can change maps on the fly, but be careful because the map button is too far inboard on the bars to do it without some effort. If you don't load a different map, then both maps  (lit and unlit) will have the identical stock map—regardless of the light.
SEE THE 2020 EVS SPORTS CATALOG NOW
Read the new EVS catalog by Clicking Here
MXA PRODUCT SPOTLIGHT: PRO CIRCUIT T-SHIRTS
   Stars & Stripes—$21.95
Racing Development—$26.95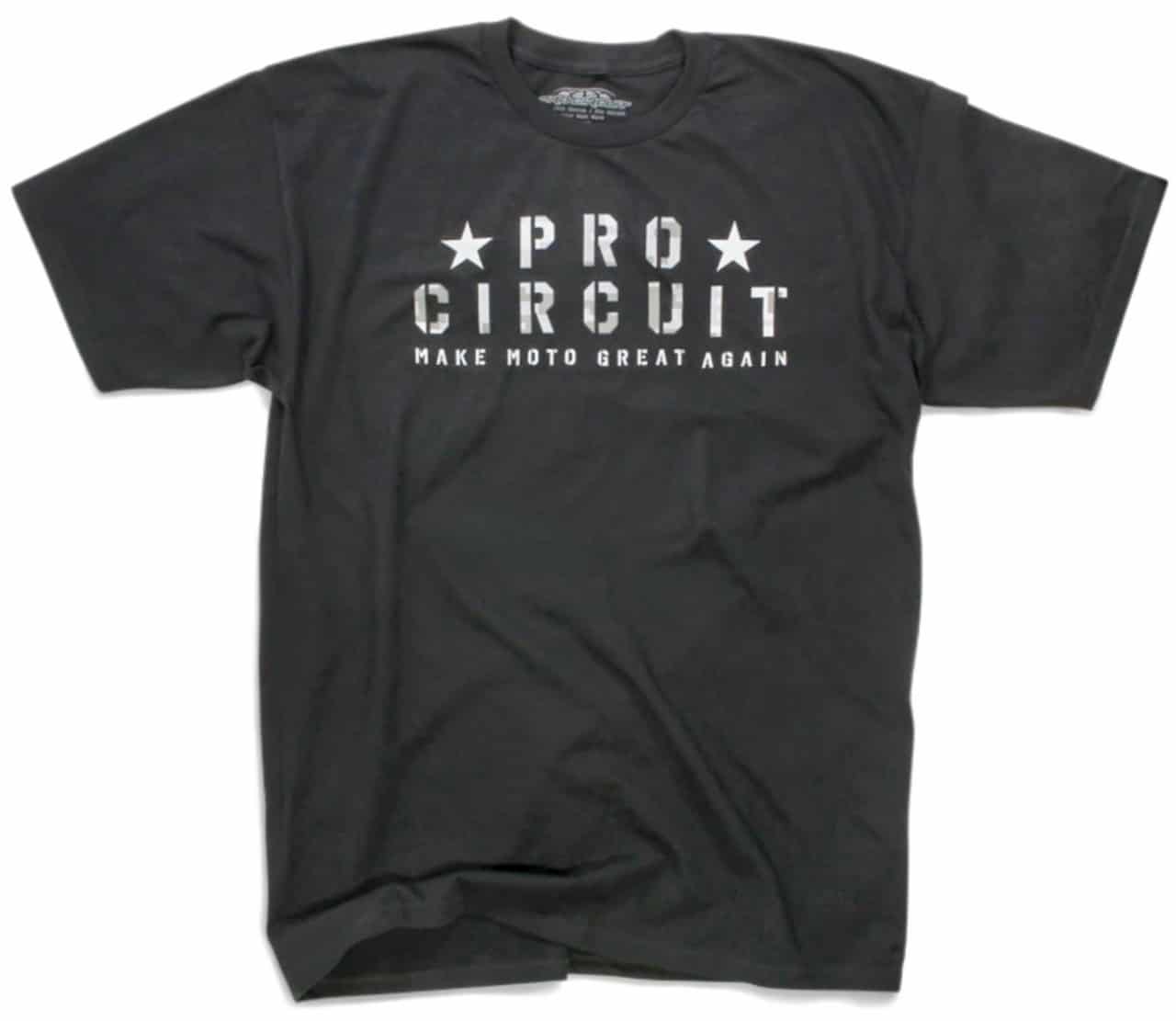 Flag—$22.95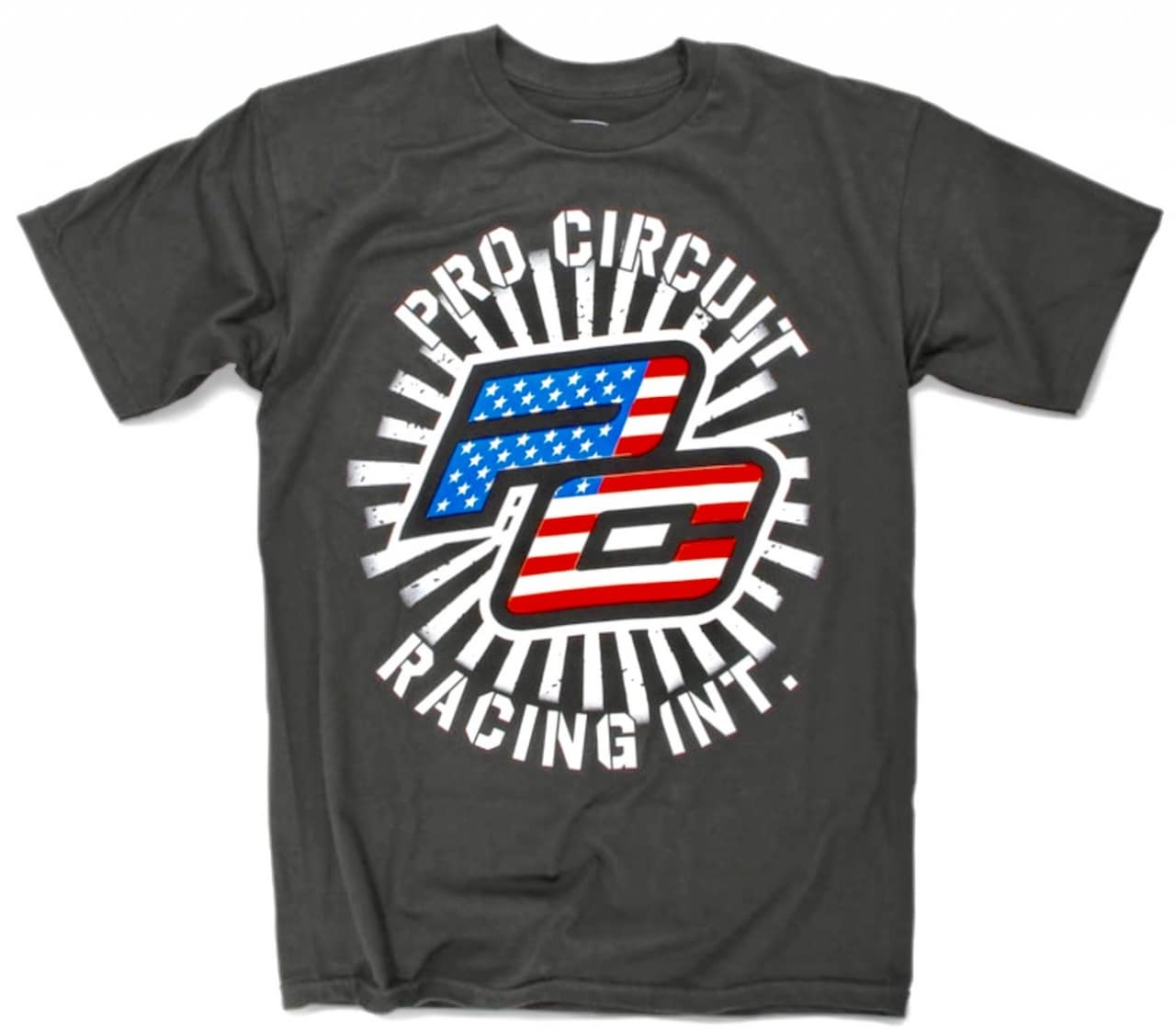 Kudos—$24.95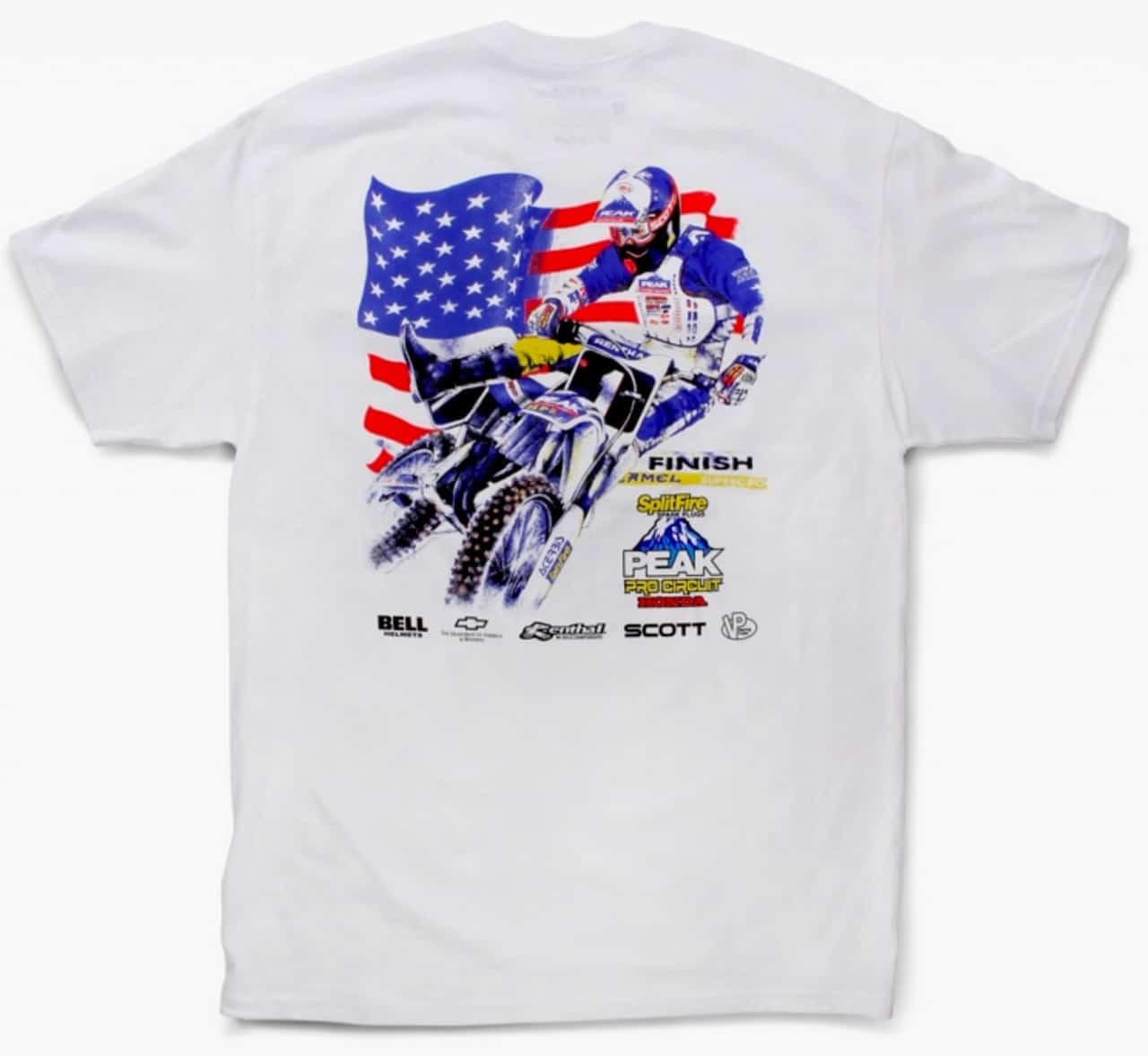 Team Peak—$27.95
Little Shop That Could—$21.95.  Limited supply on all the shirts. For more information or to order go to www.procircuit.com

GONE BUT NOT FORGOTTEN: TANK BADGES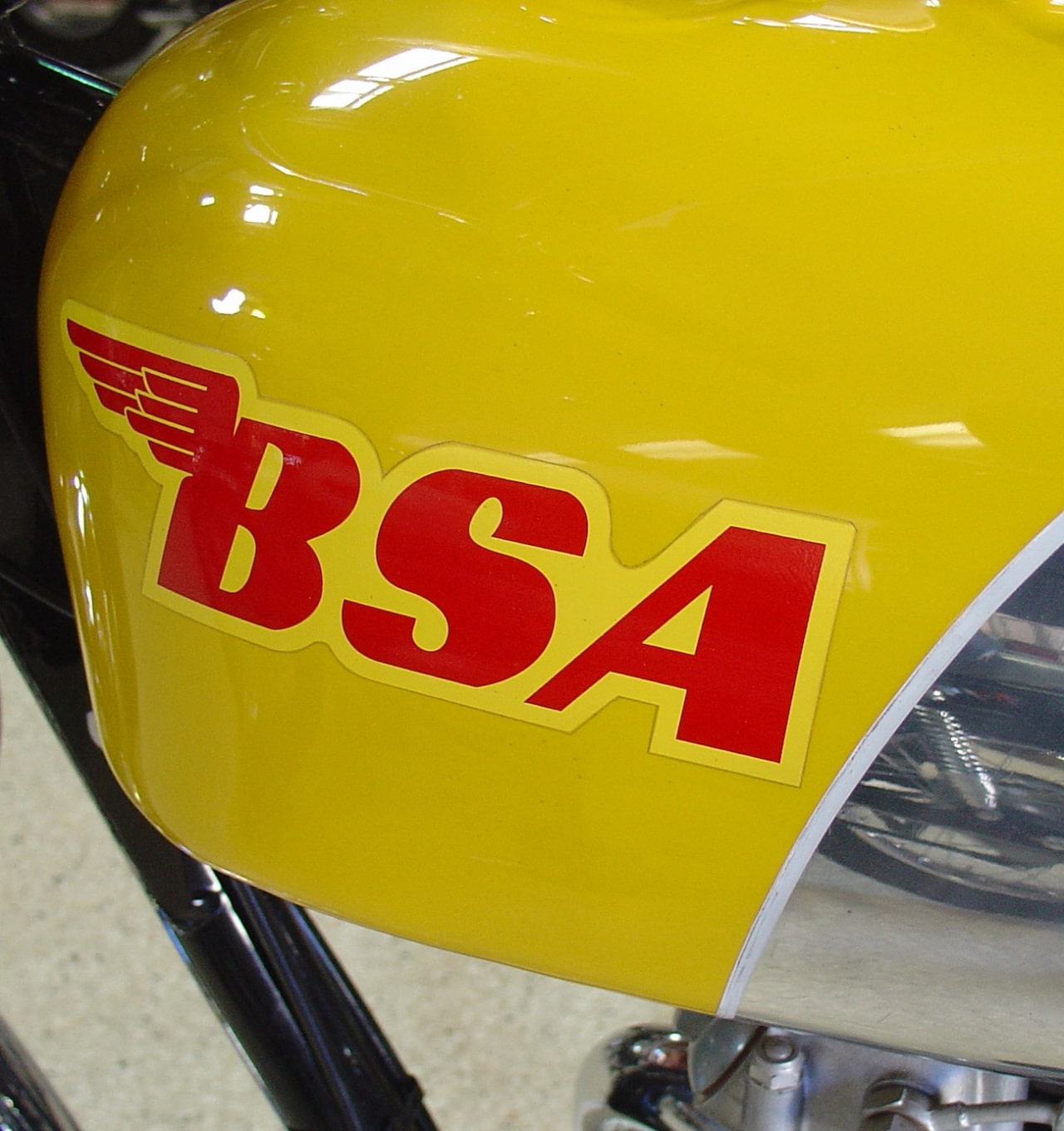 BSA—England.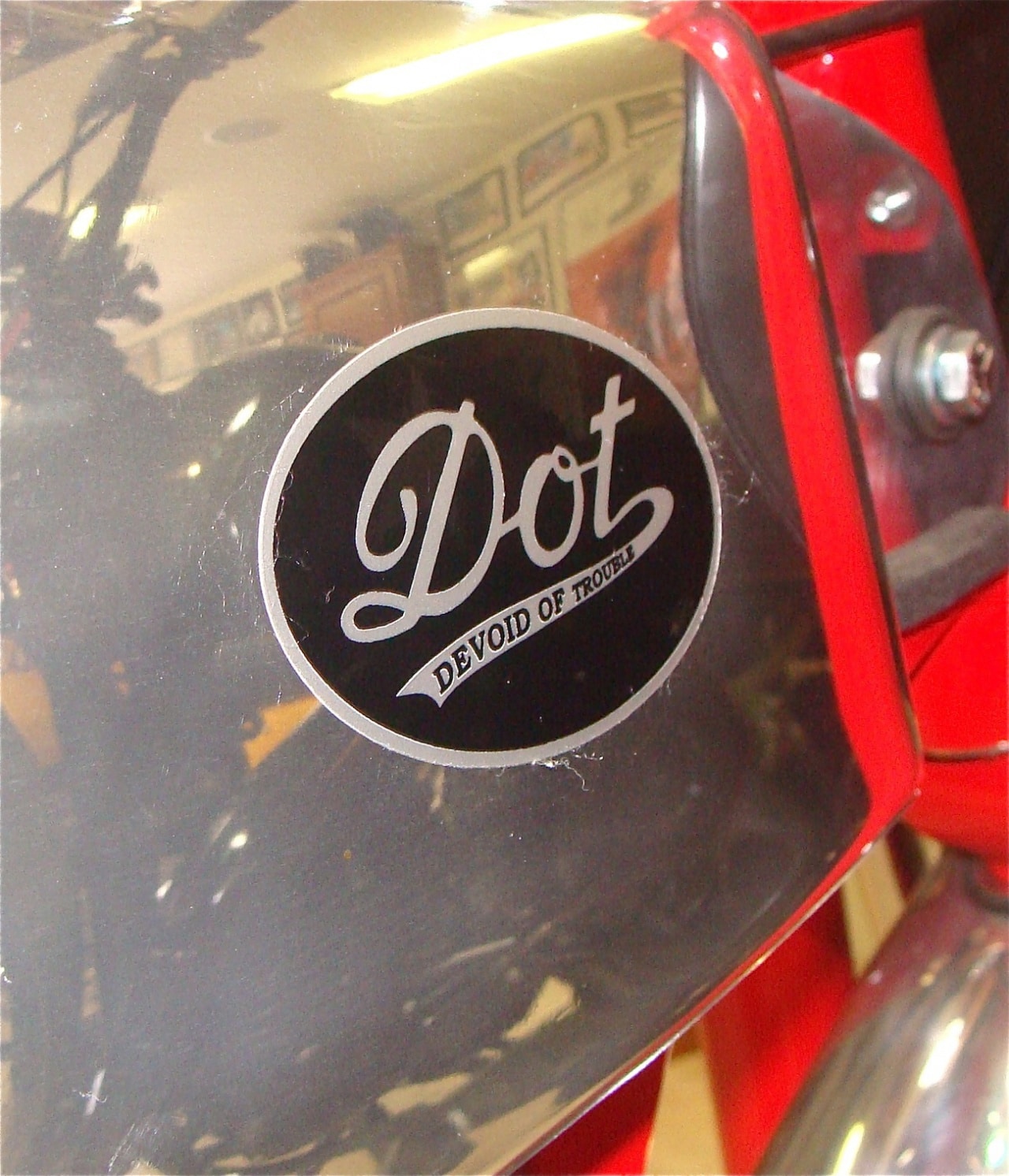 DOT—England.
ESO—Czechoslovakia.
Greeves—England.
Hodaka—Japan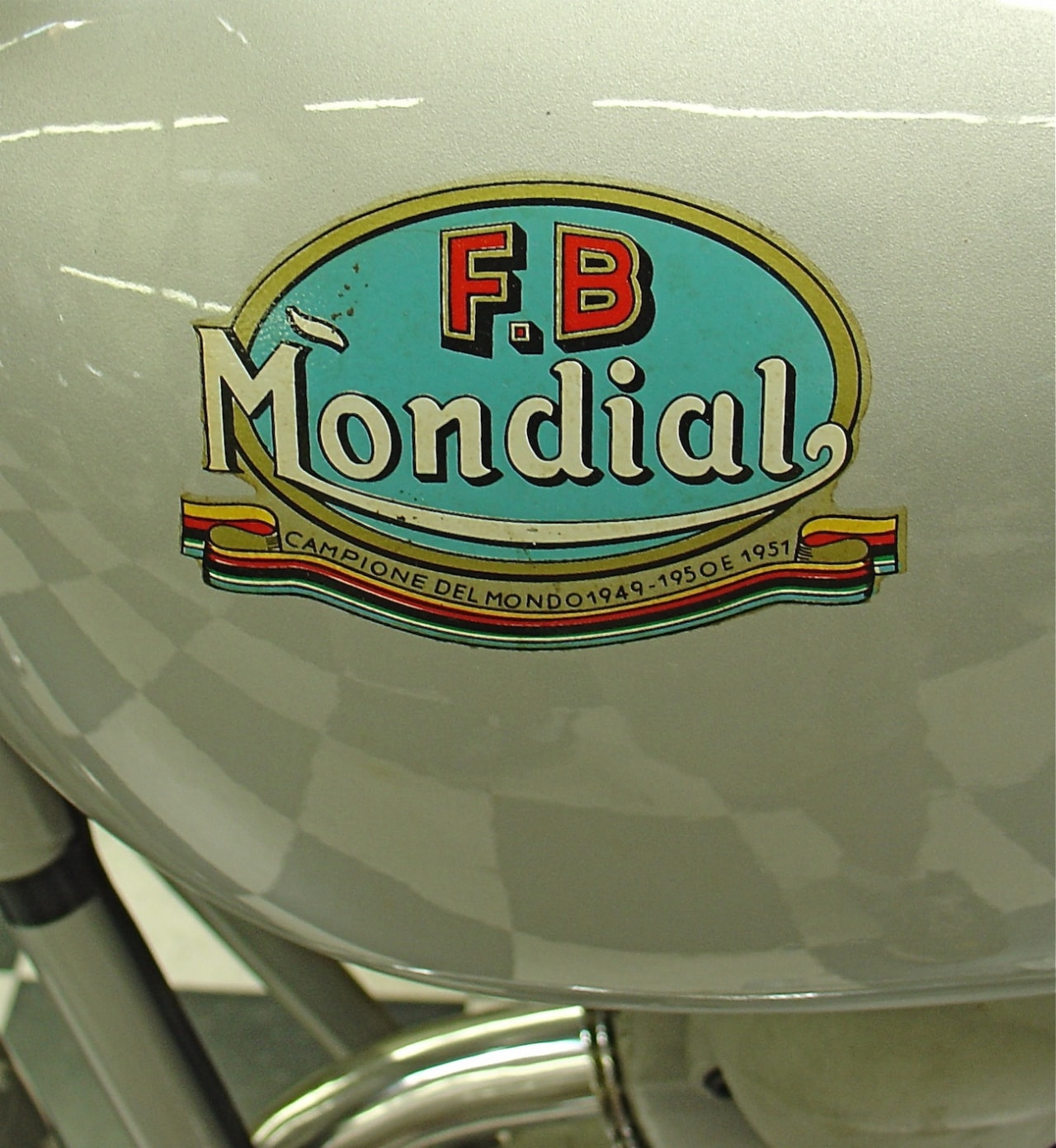 Mondial—Italy.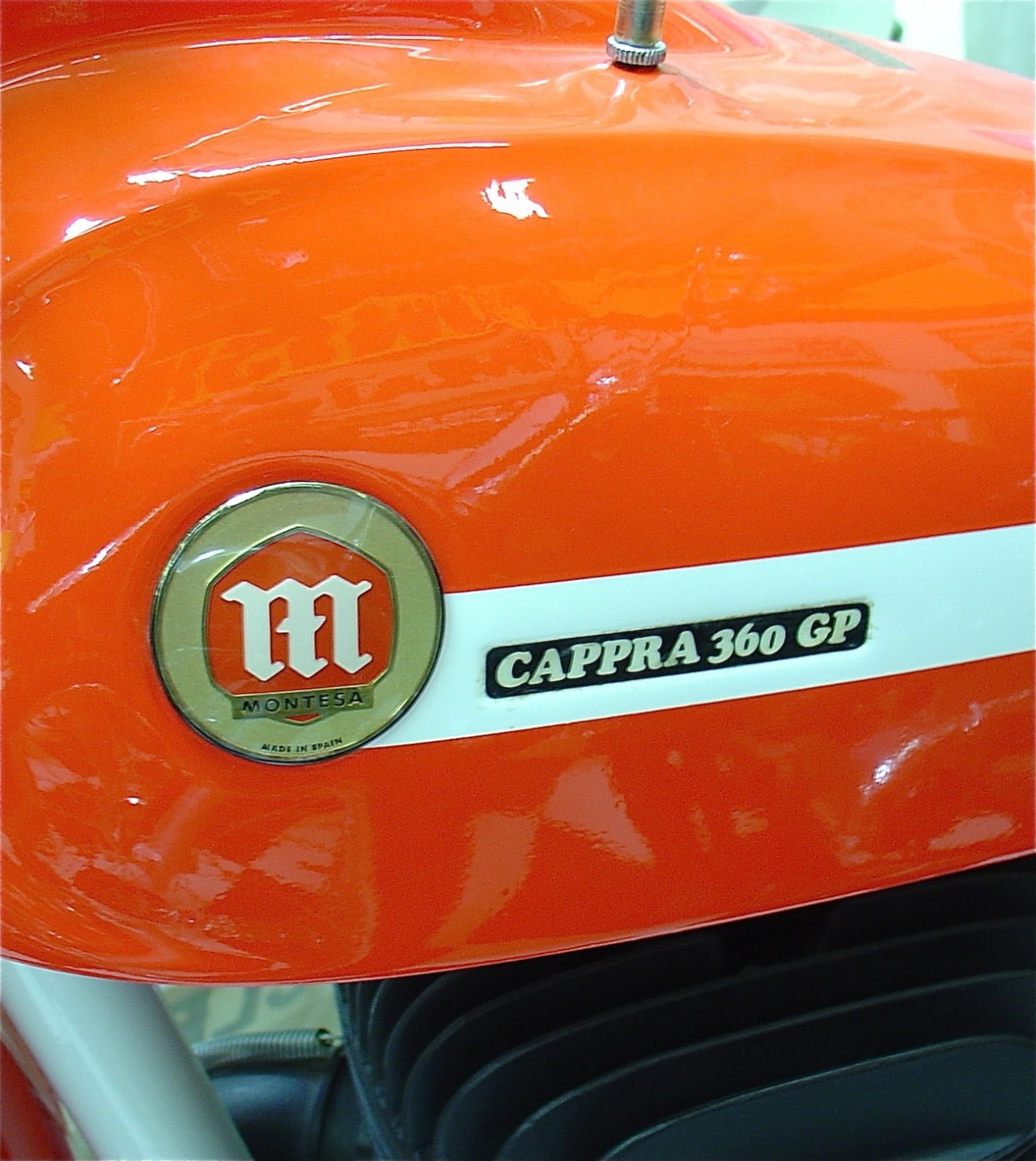 Montesa—Spain.
Puch—Austria.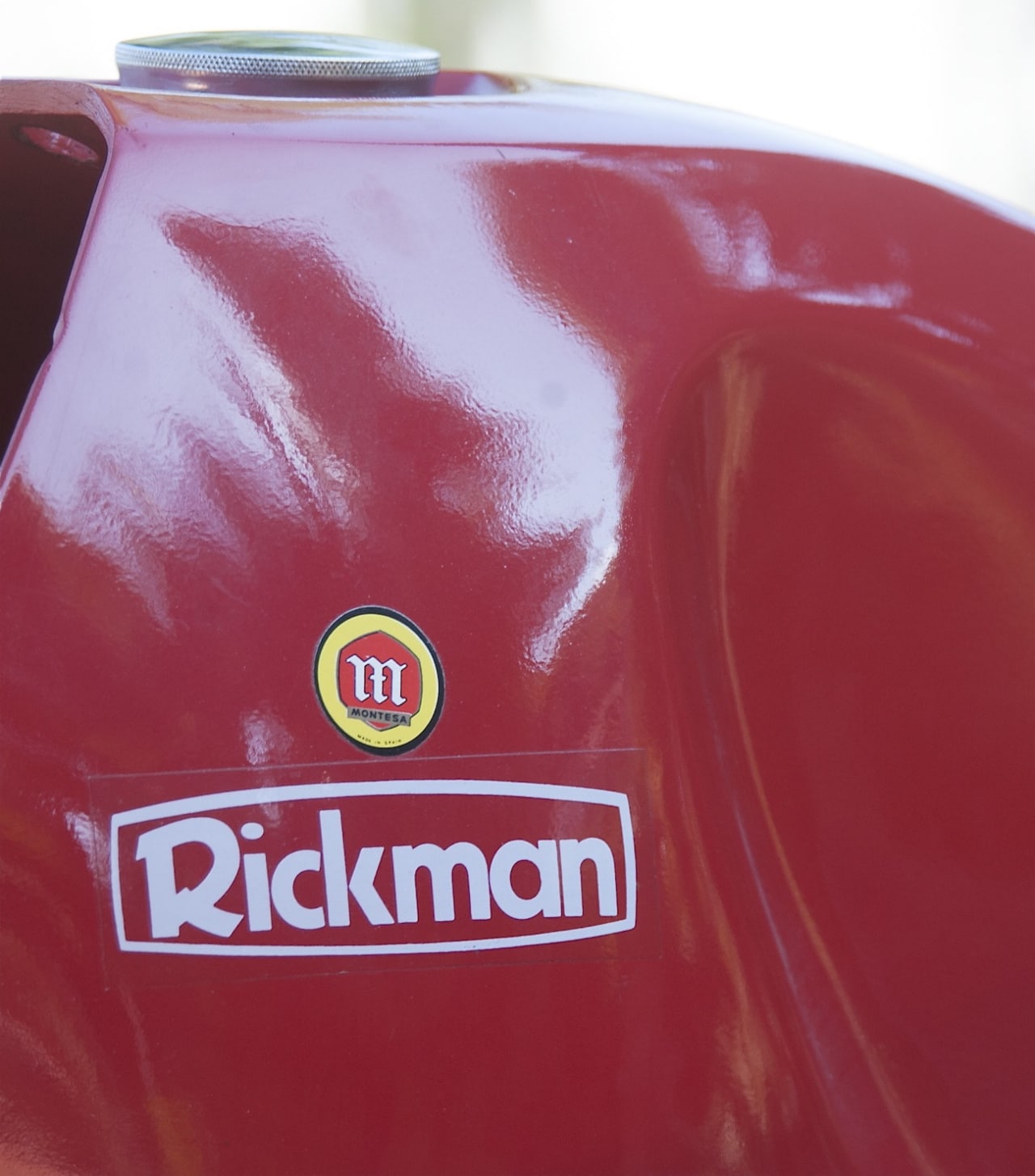 Rickman Montesa—England/Spain.
Triumph—England.
MXA'S HANDY-DANDY PRE-MIX RATIO CHART BY GALLON & RATIO
This easy-to-use chart tells you how much oil to pour into 1 , 2,  2.5, 3, 4 or 5 gallons of gas to get the proper oil-to-gas ratio you are looking for. MXA typically runs Maxima K2 at 40:1 —which would be 16 ounces of oil to 5 gallons of gas. If we didn't need 5 gallons, but only wanted 1 gallon of premix, we would a 3.20 ounces to 1 gallon of gas. All you have to do is pick your favorite premix ratio and follow the chart to how many gallons  you want.
MXA PRODUCT SPOTLIGHT: PRO CIRCUIT YAMAHA PARTS

Pro Circuit has an all-new assortment of Yamaha engine parts and accessories. These include a radiator hose kit and high-compression piston for a 2019-20 YZ250F, a billet shift lever for a 2019 YZ250F, 2018-20 YZ450F. Also included are clutch springs and billet shift levers for the YZ65 and YZ85 models.
The Standard Radiator Hose Kit features premium-grade silicone throughout, which can operate at higher temperatures and pressures than the stock rubber hoses. The hoses are topped off with a highly pigmented bright blue that will stay vibrant and not fade over time. Retail price: $119.95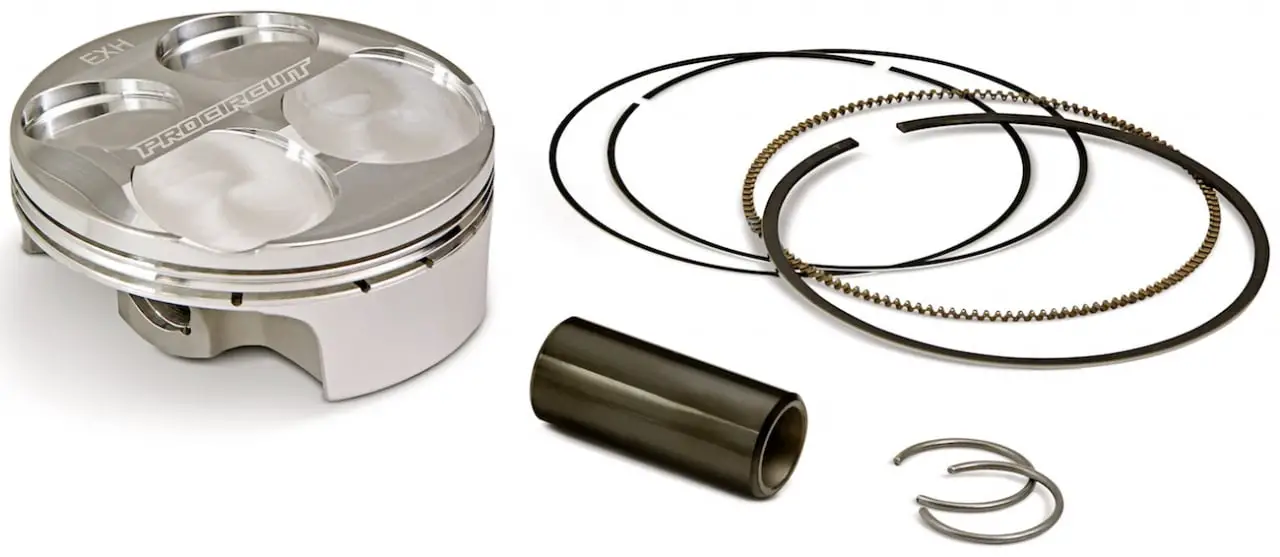 Pro Circuit's high-compression piston kit is manufactured by JE Pistons to our exact specifications, Pro Circuit pistons are forged from high-quality aerospace aluminum alloy using advanced CNC-machined technologies. The result is a significant gain in low-end torque and high-RPM performance. Retail price: $394.95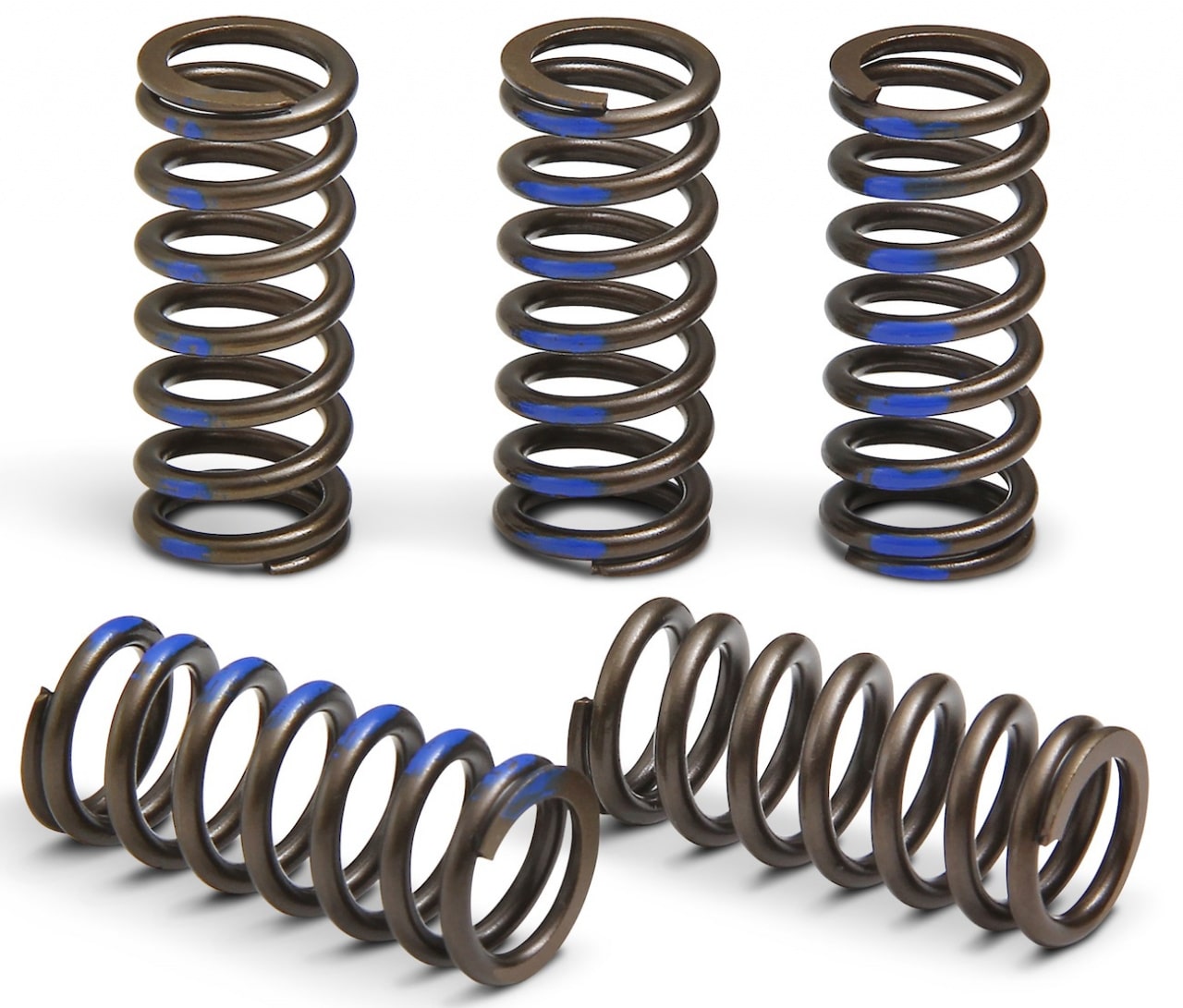 Pro Circuit clutch springs offer customers increased clutch life, decreased clutch slipping and improved engagement over a stock setup for any rider. Retail price: $69.95

Pro Circuit's shift levers are CNC-machined from 6061-T6511 billet aluminum and hard anodized. The have a with stainless steel spring and hardware, making it stronger than a stock part and more able to resist wear, bending and corrosion. The free-folding, knurled shift tip is replaceable and completely rebuildable. In addition, this design helps prevent dirt from clogging and interfering with the shift lever functionality. Retail price: $99.95 (YZ65, YZ85, YZ250F, YZ450F, YZ450X. For more info go to www.procircuit.com
2019 LAKE ISABELLA CHRISTMAS MX & GP ON DECEMBER 12-15
For more information go to www.gomotoloans.com or call (760) 855-8825.
7TH ANNUAL KURT CASELLI RIDE DAY AT PALA ON DEC. 14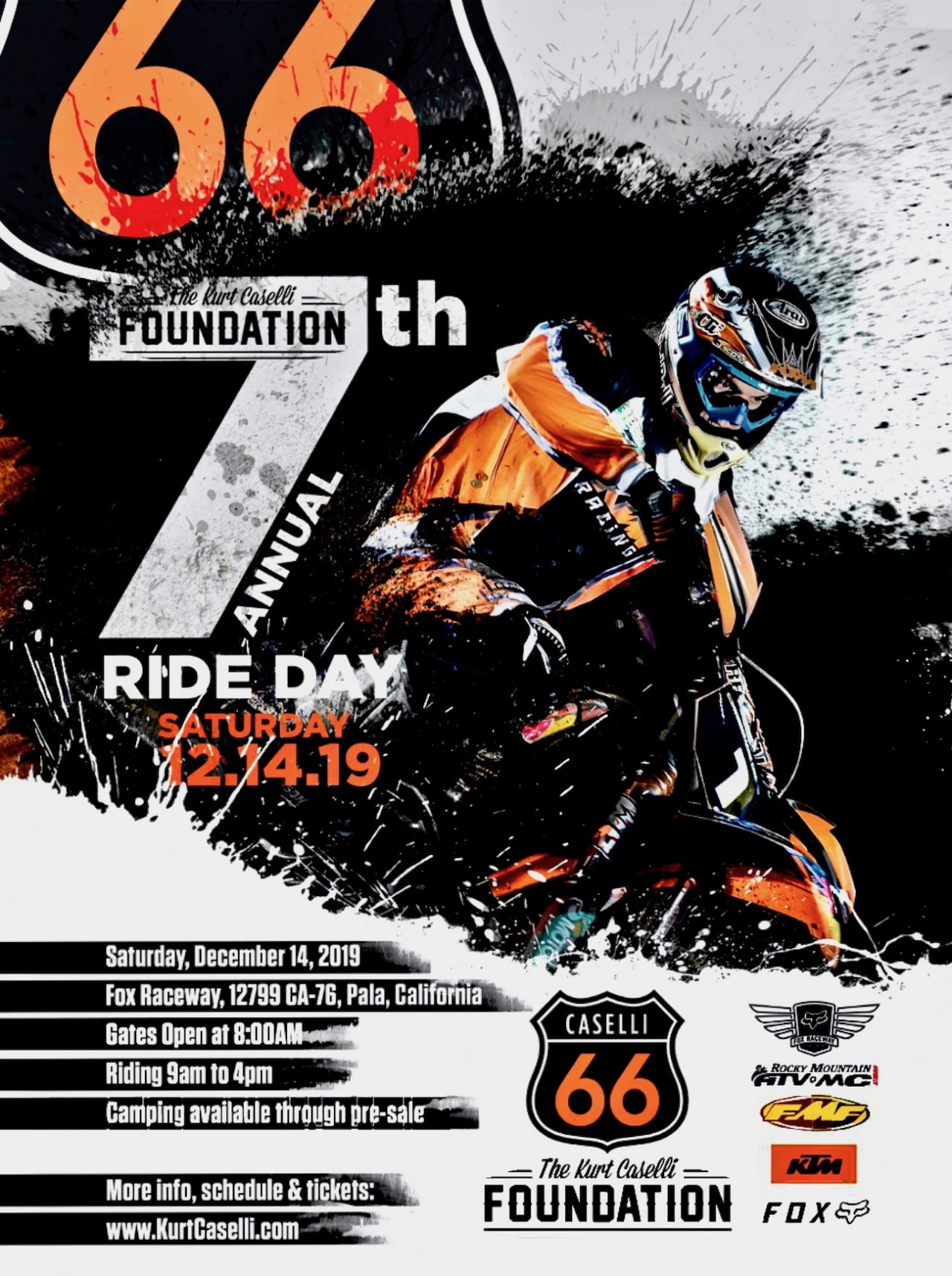 At Pala Raceway from 9:00 a.m. to 4:00 p.m. on December 14. For more info go to www.kurtcaselli.com
MXA PHOTO OF THE WEEK: NAME THE TWO FACTORY MOTOCROSS RACERS IN THIS PHOTO

Hint: One of them isn't the cute little girl in the blue dress. Answer at the bottom of the page.
FINAL TWO REM RACES OF THE YEAR ON DEC. 14 & DEC. 21


The 2019 REM race season started in January and after 12 months of racing comes to a conclusion with the final two races in December on the 14th and the 21st. For more info go to www.remsatmx.com
5 ANNUAL KYLE YARNELL MEMORIAL TEAM RACE ON SUNDAY, DEC. 15, AT GLEN HELEN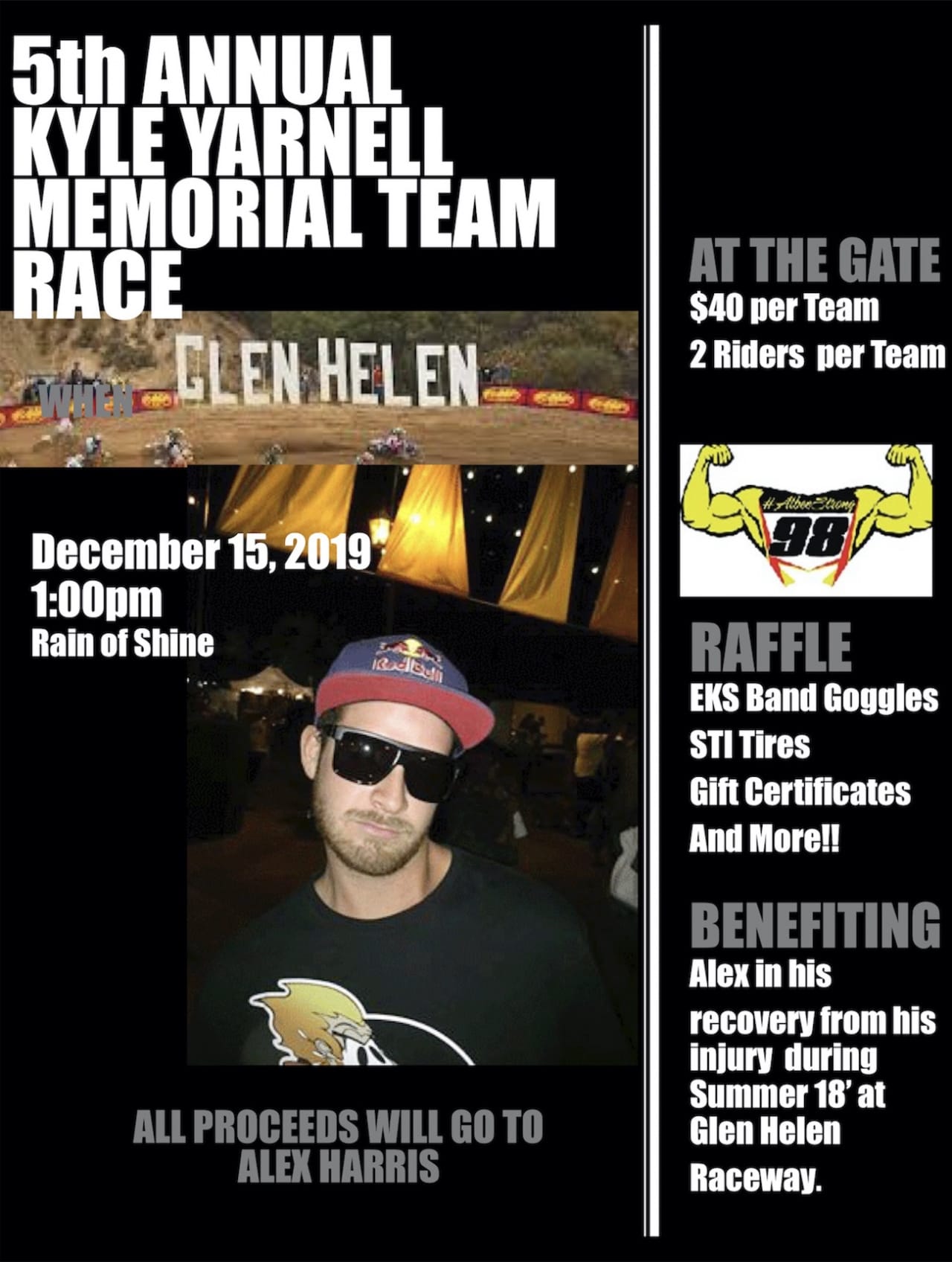 In conjunction with the SRA Sparks of Love GP in the morning and the Kyle Yarnell two-man team race in the afternoon at 1:00 p.m.on December 16. These are two separate events—both for charity. For more info Click Here.
MXA PRODUCT SPOTLIGHT: POLISPORT PLASTICS

Polisport releases a new special and exclusive color – Nardo Grey. With this color IS in Polisport's Special Colors line, riders will be able to make their bike shine and customize their graphics to stand out from the crowd. Give your bike a sleek, stylish and totally different look with this new plastics color. The Nardo Grey kits will also include the fork protections and will be available for some selected Brands and Bodels. Including  the 2018-2020 YZ450F and 2019-20 YZ250F.
THIRD ANNUAL DISTRICT 37 REUNION (FROM HOPETOWN TO ASCOT) ON DECEMBER 15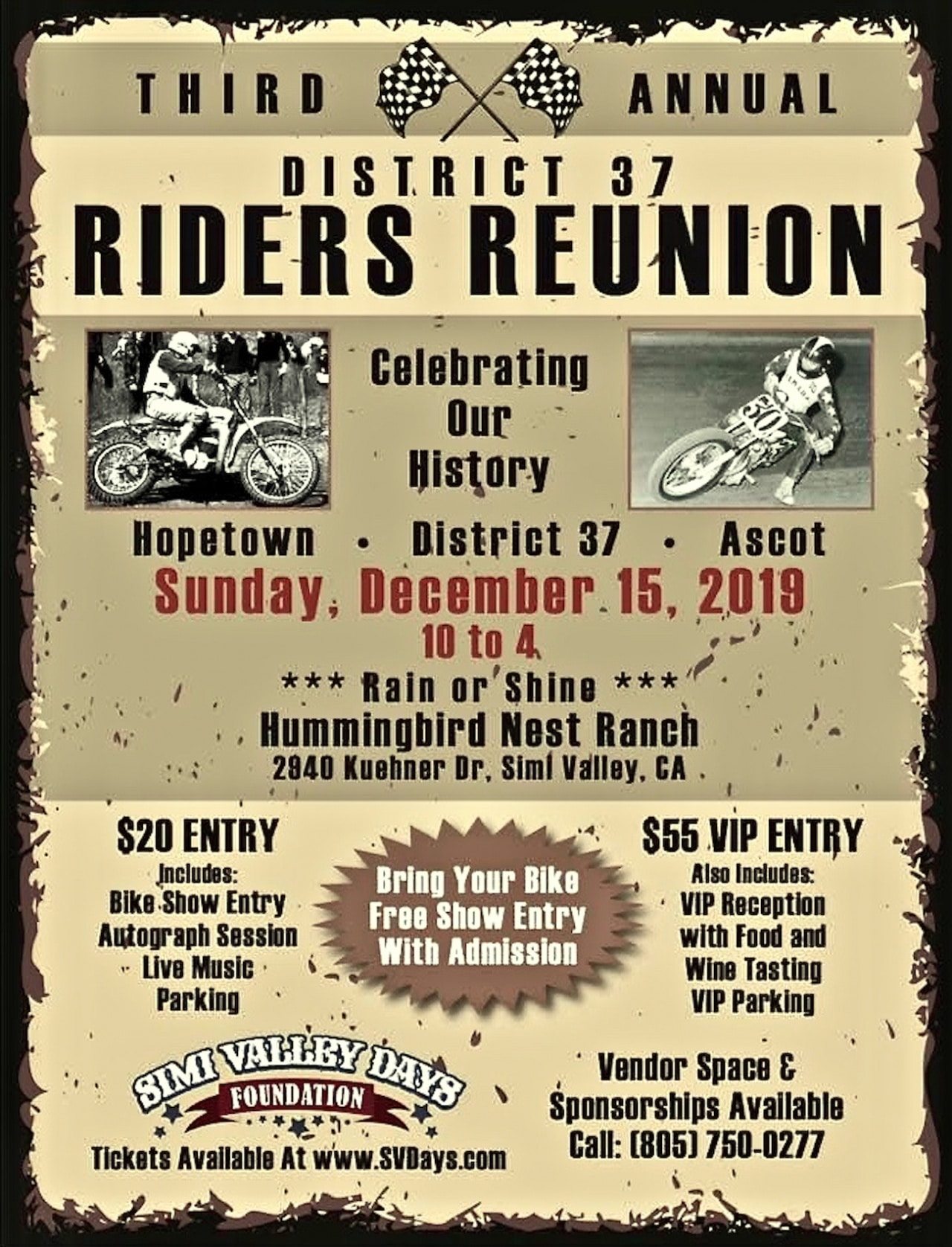 For more info go to www.SVDays.com.
INSIDE ADAM CIANCIARULO'S MONSTER CUP WINNING KAWASAKI KX450
4th ANNUAL JERSEY NELSON MOTOCROSS SCHOOL ON DECEMBER 19 AT PALA


The 4th Annual Jessy Nelson MX School will  be held on Thursday, December 19 at Pala Raceway. Riders of all ages and skill levels get the opportunity to learn from some of the nation's top motocross/Supercross riders. The proceeds from this event will go to benefit Jessy Nelson and Micky Dymond. For more details or to register for the 4th Annual Jessy Nelson MX School, please Click Here.
MXA AD OF THE WEEK: FOR THE MAN WHO HATES TO LOSE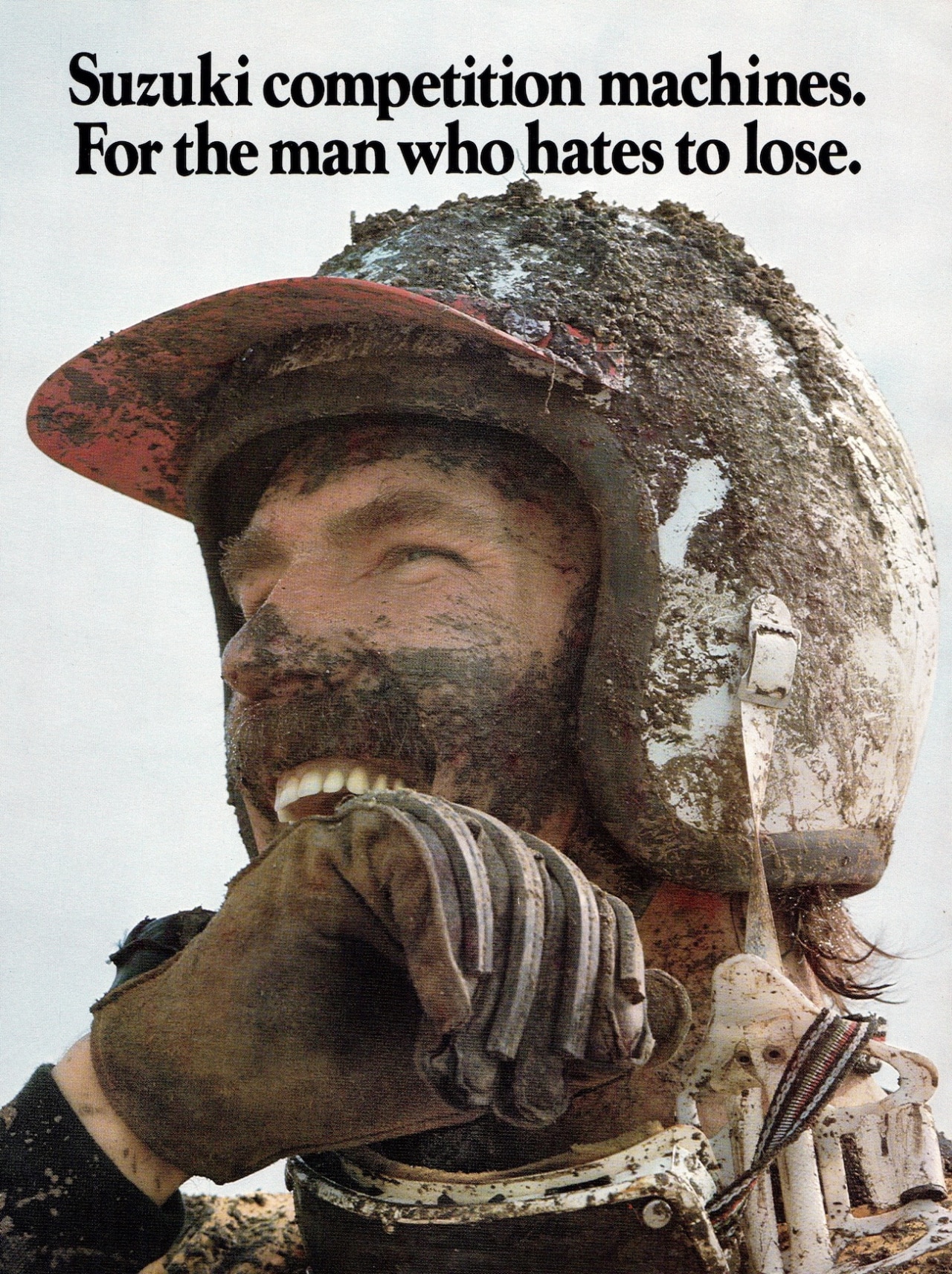 The open face helmet, duckbill visor and Jofa mouth guards date this Suzuki ad.
REM MOTOCROSS FINALE ON DEC. 21 — TURN OUT THE LIGHTS THE PARTY'S OVER

For more info go to www.remsatmx.com
OLD SCHOOL SCRAMBLES FINAL 2019 RACE ON DEC. 21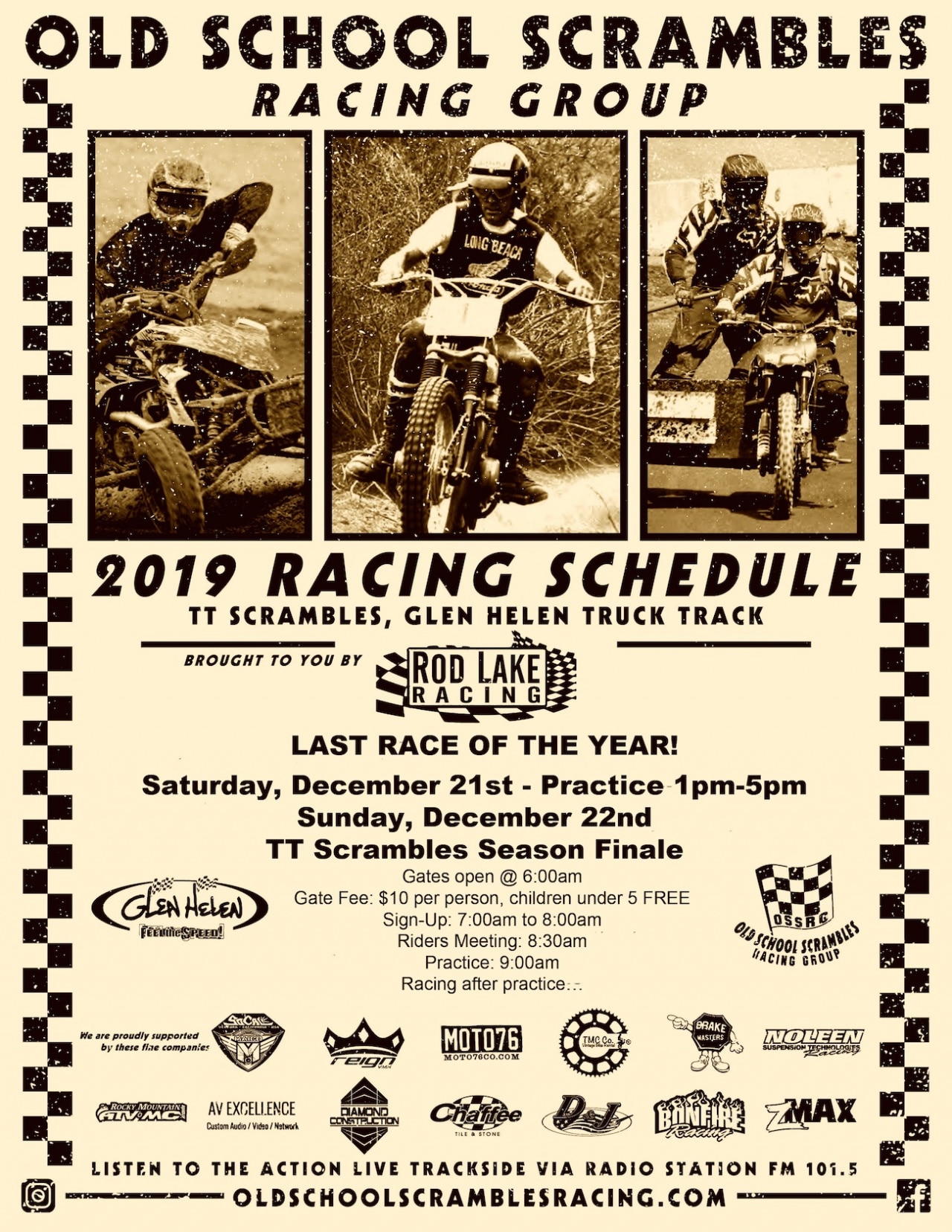 For more info go to www.oldschoolscramblesracing.com
29TH ANNUAL MECUM'S VINTAGE MOTORCYCLE AUCTION ON JAN. 21-26, 2020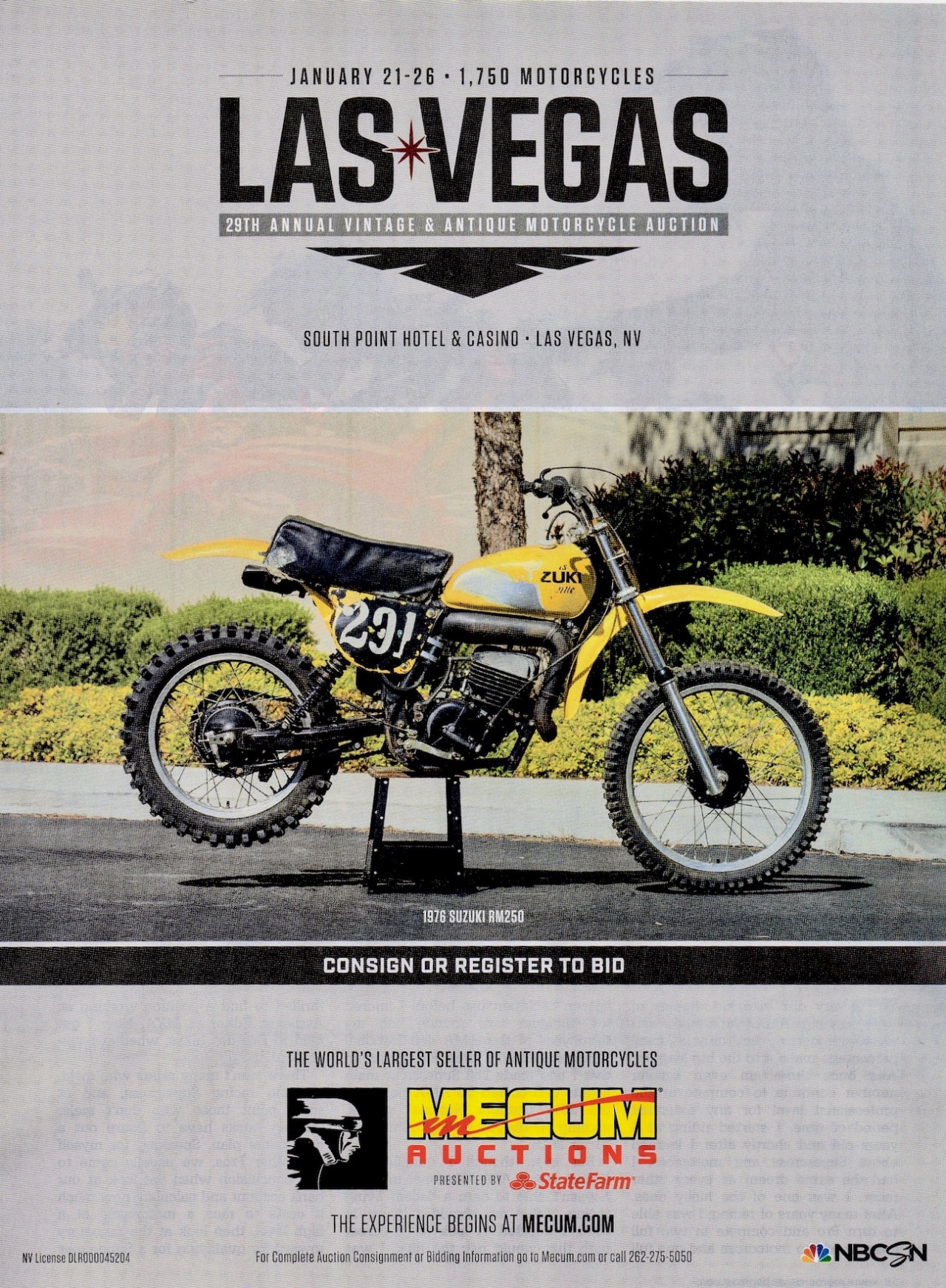 For more info go to www.mecum.com.
2020 BRITISH ARENACROSS CHAMPIONSHIP STARTS ON JANUARY 31, 2020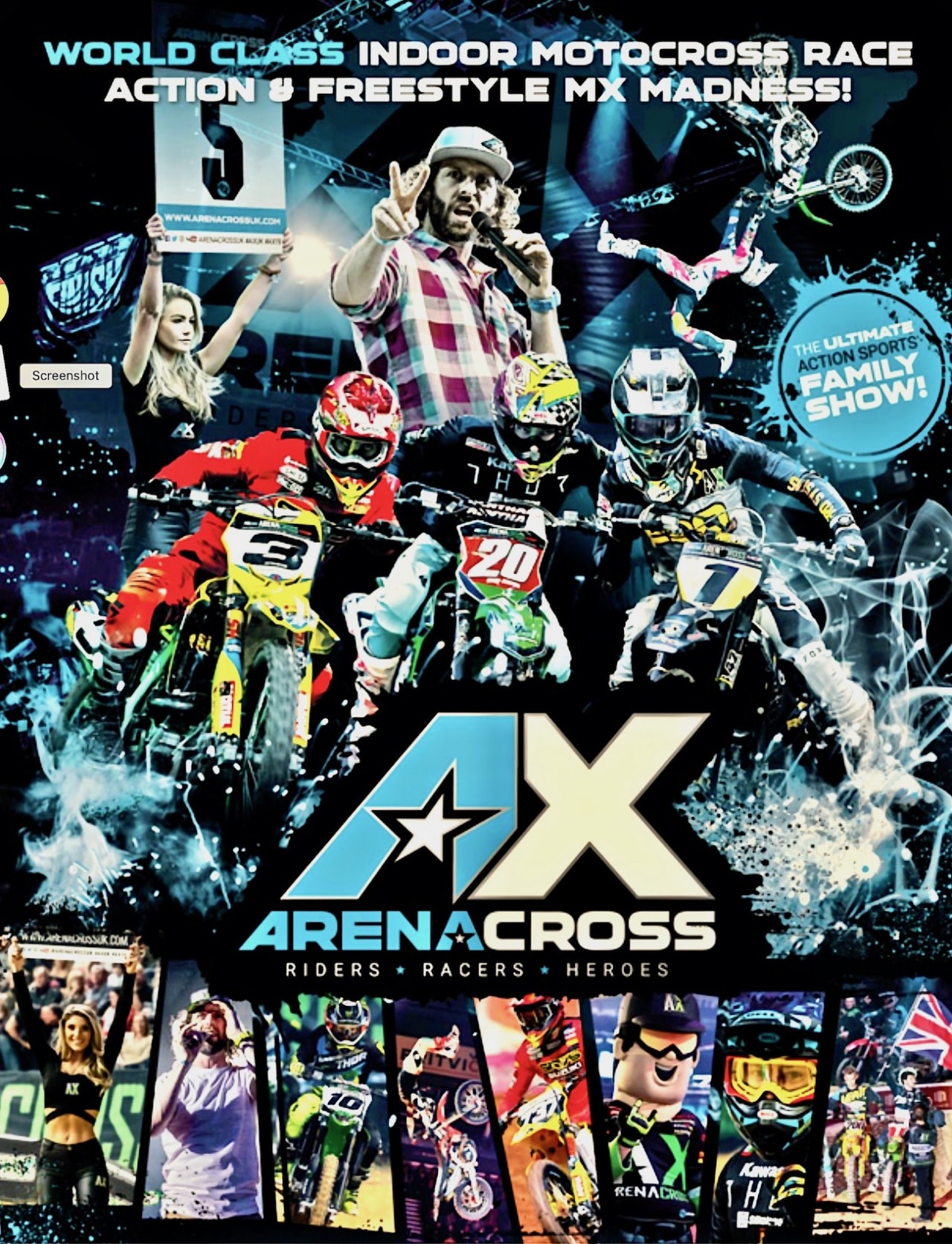 Jan. 31-Feb. 1…Birmingham, England
Jan. 17-18…Belfast, Northern Ireland
Feb. 21-22…London, England
2020 SOBOBA TRAIL RIDE ON FEB. 23, 2020, ON THE SOBOBA INDIAN RESERVATION
For more information about the San Jacinto, California, trail ride go to www.sobobarides.biz
THE NEW MXA IS HERE! THE FABULOUS 2020 MXA 450 FOUR-STROKE SHOOTOUT ISSUE
The 2020 MXA 450 Shootout is the most detailed shootout ever printed. It is full of undeniable facts that you never knew, but will when you read it in the January 2020 issue
If you subscribe to MXA you can get the mag on your iPhone, iPad, Kindle or Android by going to the Apple Store, Amazon or Google Play or in a digital version. Even better you can subscribe to Motocross Action and get the awesome print edition delivered to your house by a uniformed employee of the U.S. Government. You can call (800) 767-0345 or Click Here (or on the box at the bottom of this page) to subscribe.
VACATION IN SOCAL WITH DENNIS STAPLETON: RIDE GLEN HELEN, CAHUILLA CREEK, PALA, PERRIS & MORE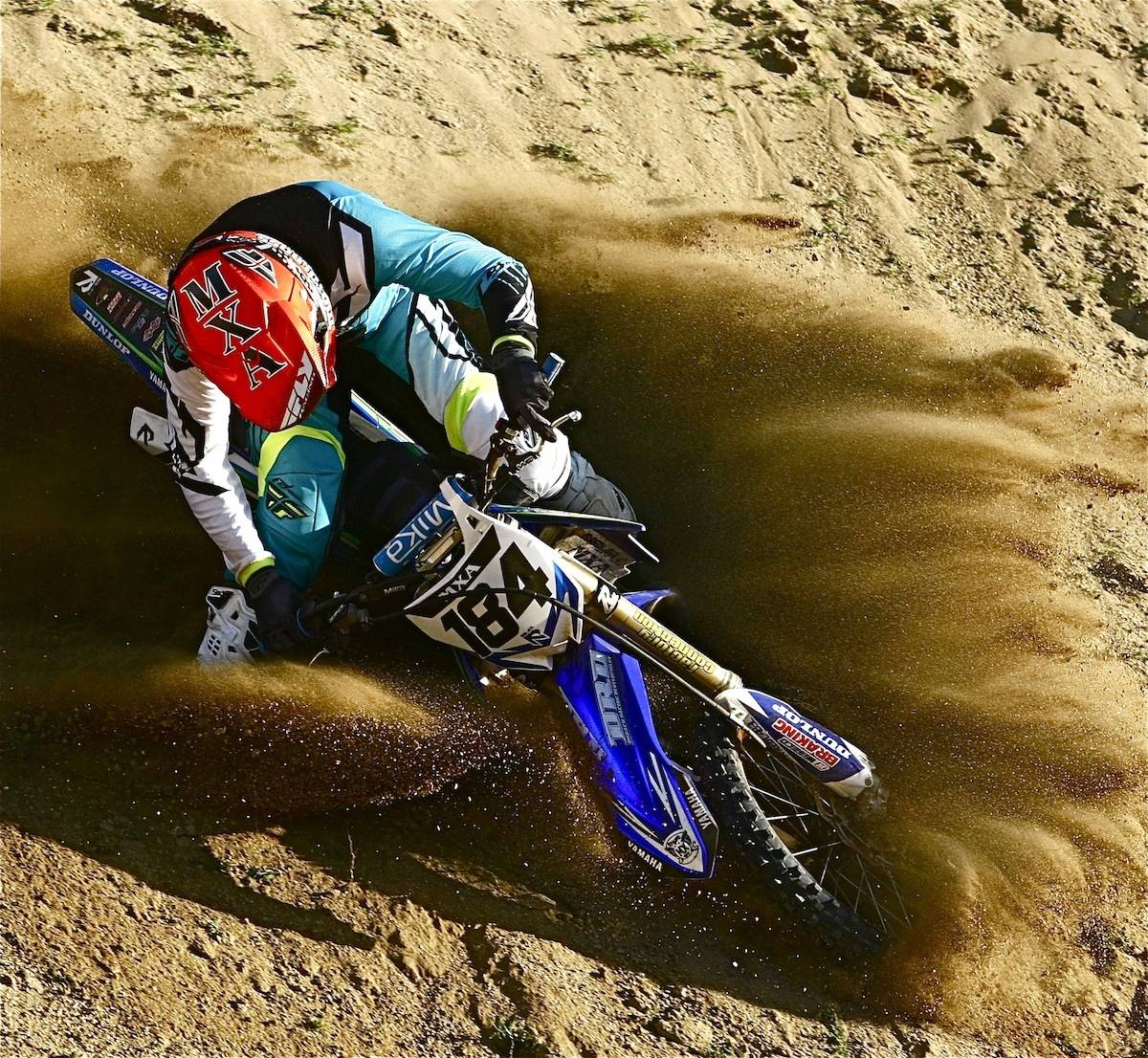 Dennis Stapleton doing what he does every day of the week — let him make your dreams come true.
In his spare time, when he's not testing with MXA, racing in a foreign country, going to Japan or helping many of his motocross buddies, Dennis has the time to open up his house, garage, bikes and mechanics to help riders who would like to come to SoCal on a motocross vacation. He offers full service to all of the Southern California tracks for racers or for play riders. Whether you want to rent a bike, move in for a week, race at Glen Helen or take motocross lessons—this is one-stop shopping.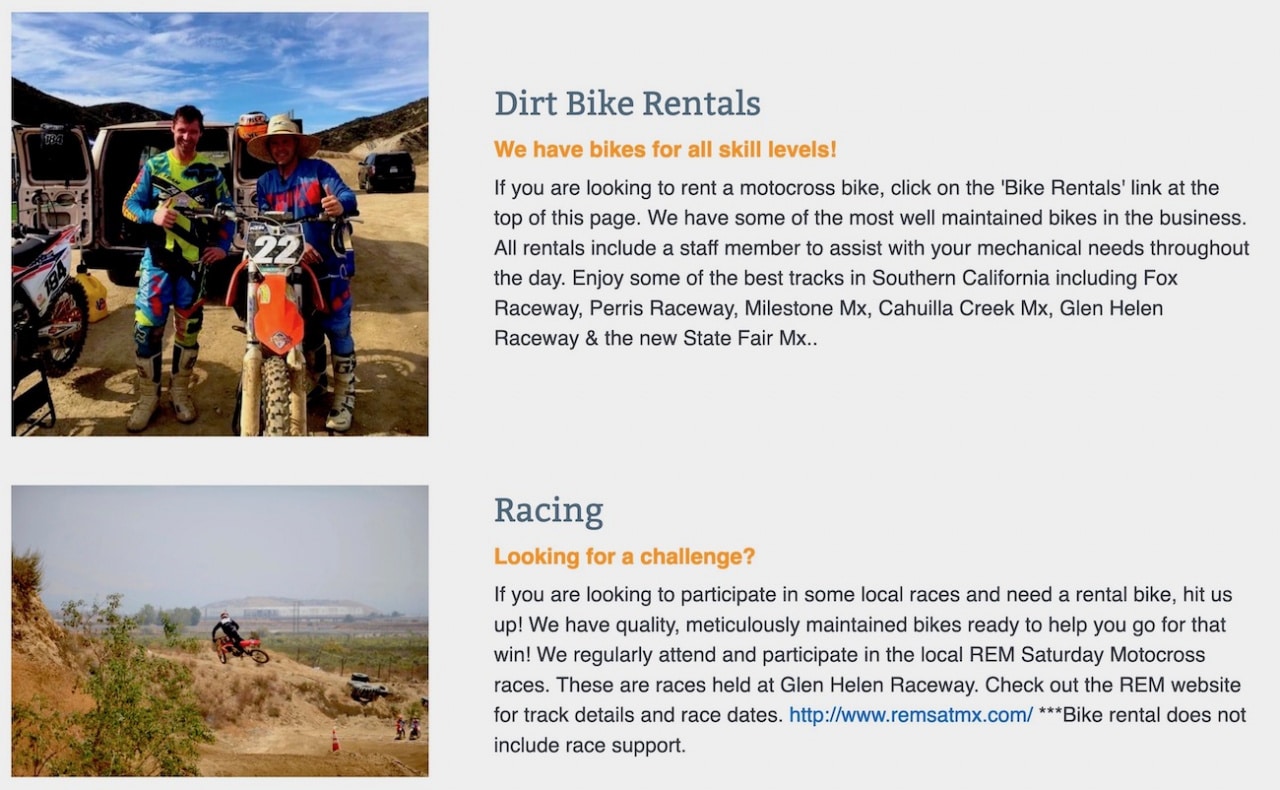 If you're coming out to Southern California and need a rental bike, check out KnobbyShop South/StapoMX for all your rental needs. They offer Motocross Vacations, bike rentals and motocross lessons. Just send them an email ([email protected]). If you'd like to live the SoCal lifestyle for a day, a weekend, a week, a month or three months, visit Dennis' website at www.knobbyshopsouth.org for more details!
2020 11-RACE WORCS RACE SCHEDULE


For more info go to www.worcsracing.com.
EKS BRAND SPONSORSHIP SUBMISSION IS OPEN!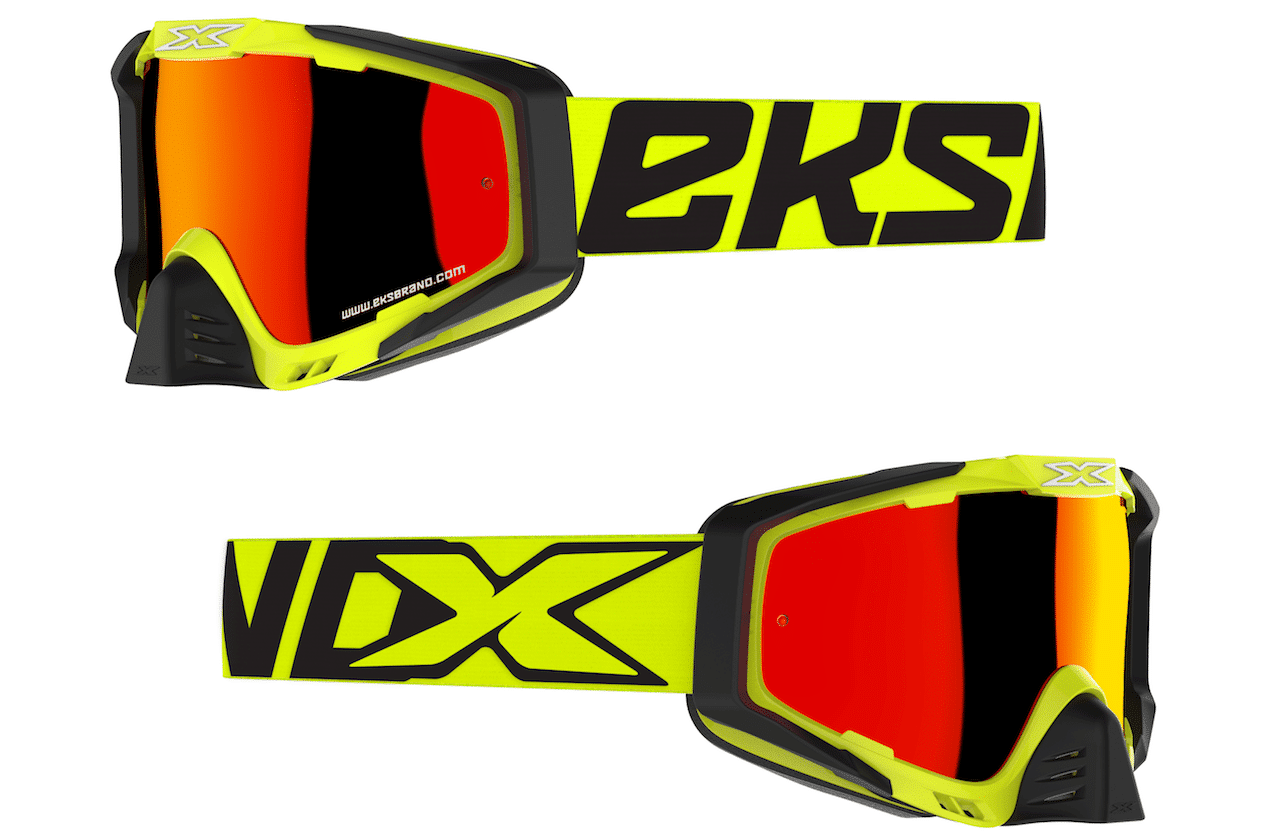 The EKS Brand Rider Support Program is in its 10th year and is actively looking for riders to be a part of the program. Support levels range from C class riders all the way up through National level racers. The program is open to riders of all disciplines including, Motocross, Supercross, Off-Road, Flat Track, Hill Climb, Supermoto, Speedway, Endurocross, Trials, ATV, Mountain bike BMX, Snowsports, and all action sport athletes. Join the likes of 2019 racers Chris Blose, Alex Ray, Kyle Chisholm, Adam Eticknap, Vince Friese, Kyle Cunningham, Henry Miller, John Short, Ben Lemay, Brandon Hartranft, Jacob Hayes, Grant Baylor, Russell Bobbit, Gary Sutherlin and Ricky Brabec,
Click on www.eksbrand.com and go to "contact us" or send a small resume to [email protected]. Note: If you were on the EKS Brand team last year, please specify the program you were on in your resume.
UFO PLASTIC RIDER SUPPORT PROGRAM: HOW TO APPLY
To apply send an email to [email protected]. Be sure to provide the info listed on the poster
TALK MOTO WITH ON MXA'S FACEBOOK GROUP CHAT


We love everything moto and want to bring all moto junkies together into one place to share their two cents, ideas, photos, bike fixes, bike problems and much more. To check it out first you must need to or already have a Facebook account. If you don't, it isn't much work and you could even have an alias so nobody knows it is you. To join click HERE. After you request to join we will accept your request shortly after.
FOLLOW MXA ON TWITTER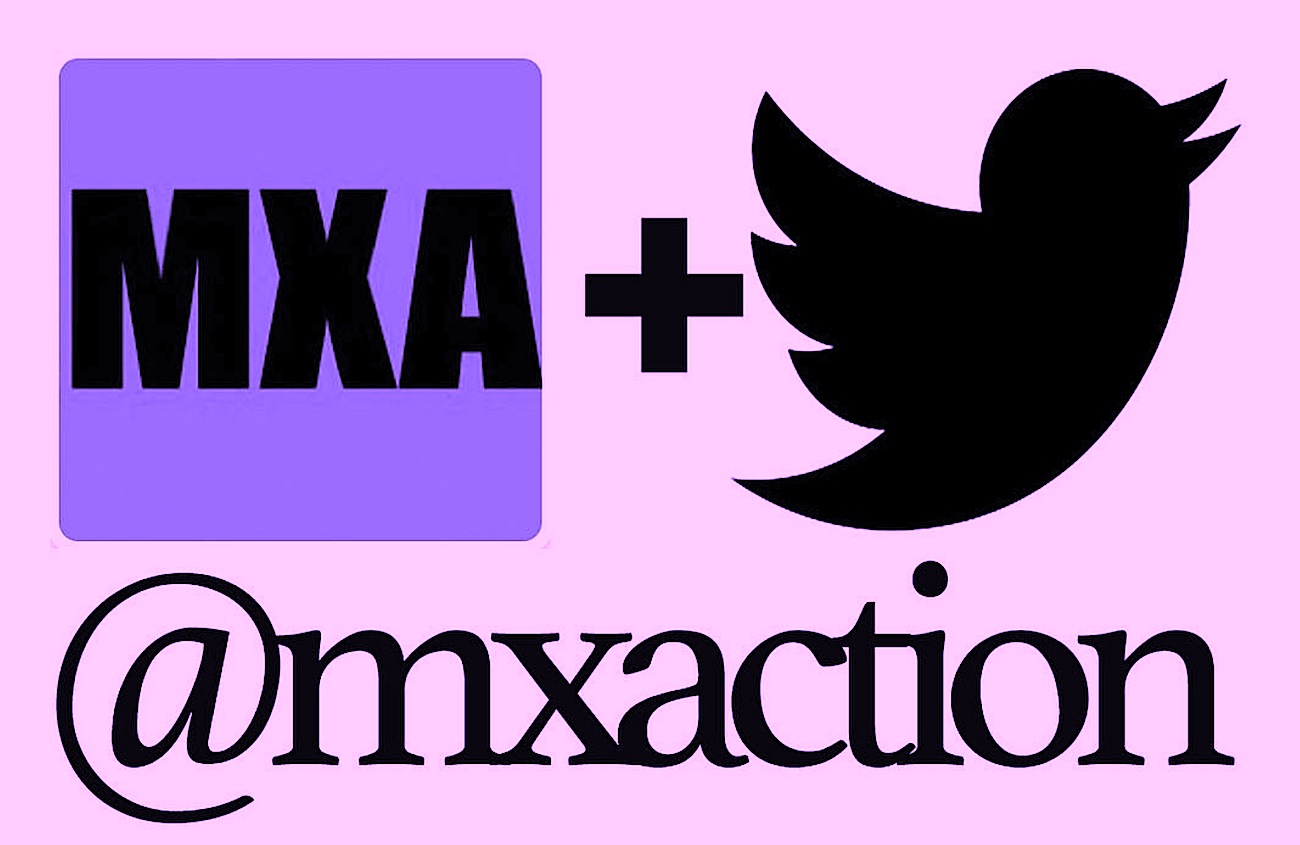 Follow us to see fresh content every day at www.twitter.com/MXAction or on twitter at "MXAction."
OSET ELECTRIC BIKES CAN MAKE YOUR KID'S CHRISTMAS DREAM COME TRUE
Looking for a Christmas gift for Junior? OSET has slashed the price of its 12.5 range of electric off-road motorcycles for kids ages 3-5. The 12.5 Racing and Eco range are the perfect entry-level motorcycle that's ideal for beginners and back yard riders age 3-5 who want to experience a real motorcycle with all the benefits that come with being electric such as ease of maintenance, very low running costs, no hot parts and being virtually silent. Customers can enjoy healthy discounts of up to $100 off the bike's while the stock lasts. Customers should visit www.osetbikes.com/us/ to find their local OSET dealer or to earn more about the full range of OSET Electric Motorcycles for kids.
MXA YOUTUBE CHANNEL | HIT THAT SUBSCRIBE BUTTON

The MXA wrecking crew is everything moto related. Check out our MXA YouTube channel for bike reviews, Supercross coverage, rider interviews and much more. And don't forgot to hit that subscribe button.
LOOKING AHEAD! THE 2020 RACE CALENDAR
2020 AMA SUPERCROSS
Jan. 4…Anaheim, CA
Jan. 11…St. Louis, MO
Jan. 18 …Anaheim, CA
Jan. 25…Glendale, AZ
Feb. 1…Oakland, CA
Feb. 8…San Diego, CA
Feb. 15…Tampa, FL
Feb. 22… Arlington, TX
Feb. 29… Atlanta, GA
Mar. 7…Daytona Beach, FL
Mar. 14…Indianapolis, IN
Mar. 21…Detroit, MI
Mar. 28…Seattle, WA
Apr. 4…Denver, CO
Apr. 18…Foxborough, MA
Apr. 25…Las Vegas, NV
May 2…Salt Lake City, UT
2020 AMA ARENACROSS CHAMPIONSHIP
Jan. 3-4…Loveland, CO
Jan. 11…Hobbs, NM
Jan. 24-25…Oklahoma City, OK
Jan. 31-Feb. 1… Denver, CO
Feb. 7-8…Reno NV
Feb. 28-29…Salt Lake City, UT
Mar. 7… Amarillo, TX
2020 AMA NATIONAL CHAMPIONSHIP
May 16…..Hangtown, CA
May 23…..Pala, CA
May 30….Thunder Valley, CO
Jun. 6……Jacksonville, FL
June 20…Mt. Morris, PA
June 27…Southwick, MA
July 4……Red Bud, MI
July 18….Millville, MN
July 25….Washougal, WA
Aug. 15…Unadilla, NY
Aug. 22…Budds Creek, MD
Aug. 29…Crawfordsville, IN
2020 FIM MOTOCROSS WORLD CHAMPIONSHIP
Mar. 1…Great Britain
Mar.8…Holland
Mar. 22…Argentina
Apr. 5…Italy #1
Apr. 19…Spain
Apr. 26…Portugal
May 10…France
May 17…Italy #2
May 24…Germany
June 7…Russia
June 14…Latvia
June 28…Jakarta, Indonesia
July 5…Palembang, Indonesia
July 26…Czech Republic
Aug. 2…Belgium
Aug. 16…Sweden
Aug. 23…Finland
Sept. 6.…Turkey
Sept. 13…China
Sept. 20…Italy #3
2020 FIM MOTOCROSS DES NATIONS
Sept. 27.…Ernee, France
2020 WORCS OFF-ROAD CHAMPIONSHIP
Jan. 12…Primm, NV
Feb. 23…Taft, CA
Mar. 22… Havasu, AZ
Apr. 19…Blythe, CA
May 3…Las Vegas, NV
May 30…Hurricane, UT
July 19…Prineville, OR
Sept. 20…Glen Helen, CA
Oct. 25…Cahuilla, CA
Nov. 15…Primm, NV
2020 WORCS SPRINT ENDURO
Feb. 25…Taft, CA
May 24… Mesquite, NV
July 25…Prineville, OR
Sept. 26…Glen Helen, CA
Oct. 31…Cahuilla, CA
2020 CANADIAN NATIONAL CHAMPIONSHIP
May 31…Wild Rose, AB
June 7…Blackwater, BC
June 14…Dorva, AB
June 21…MotoVally, SK
July 12…Gopher Dunes, ON
July 19…San Del Lee, ON
July 26…Riverglade, NB
Aug. 2…Deschambault, QC
Aug. 16…Walton, ON
2020 MICHELIN BRITISH NATIONAL CHAMPIONSHIP
Mar. 22…Fatcat MotoParc
Apr. 19…Desertmartin, Ireland
Apr. 26…Hawkstone Park
July 5…Canada Heights
Aug. 9…Landrake
Sept. 6t…Cusses Gorse
2020 ACU BRITISH NATIONAL CHAMPIONSHIP
Apr. 12…Lyng
May 3…Foxhill
May 31…Blaxhall
June 21…Deertmartin, Ireland
July 12…Culham
Aug. 30…Landrake
2020 IRISH NATIONAL CHAMPIONSHIP
Apr. 4…Desertmartin
May 10…TBA
June 6…Claudy
July 19…TBA
Aug. 15…Tandragee
Sept. 13…TBA
2020 AUSTRALIAN NATIONAL CHAMPIONSHIP
Mar. 22…New South Wales
April 4-5…Victoria
May 3… Victoria
May 24…Queensland
June 28…Queensland
July 25-26…New South Wales
Aug. 22-23…Queensland
2020 AUSTRALIAN SUPERCROSS CHAMPIONSHIP
Oct. 3 …Western Australia
Oct. 17… South Australia
Oct. 31…Queensland
Nov. 7 …New South Wales
Nov. 14…TBA
Nov. 28…Victoria
2020 ADAC GERMAN NATIONAL CHAMPIONSHIP
Apr. 13…Fürstlich Drehna
May 3…Mölln
May 31…Möggers, Austria
June 21…Aichwald
July 12…Holzgerlingen
July 19…Tensfeld
Aug. 30…Bielstein
Sept.13…Gaildorf
AMA NATIONAL AMATEUR CHAMPIONSHIP
Aug. 3-8….Hurricane Mills, TN
2020 FIM JUNIOR WORLD CHAMPIONSHIP
Aug. 8-9…Megalopolis, Greece
Answer: Michael Ray Craig was a factory Yamaha rider and Supercross winner. His son, Christian, races for the Geico Honda team, but has been called up to fill-in for the Factory Honda HRC team on several occasions.
Photos: Brian Converse, Honda, Husqvarna, Daryl Ecklund, Jody Weisel, MXA, KTM, Debbi Tamietti