MXA'S WEEKEND NEWS ROUND-UP: THE STUFF THAT DREAMS ARE MADE OF … MOTO DREAMS
GODSPEED! DAVEY YEZEK (1975-2019)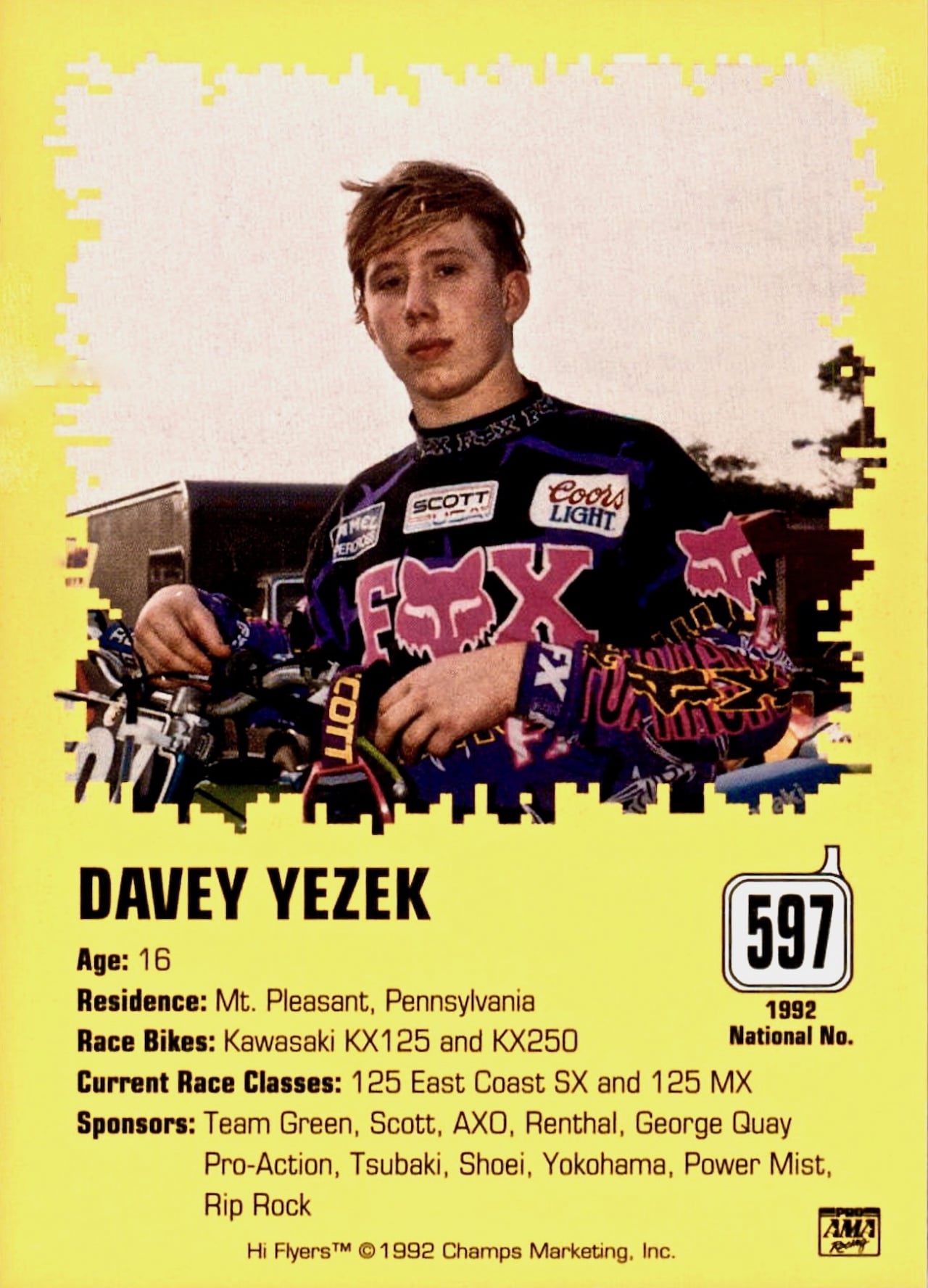 The sport lost another of its 1990 high-profile riders when 44-year-old Davey Yezek passed away from a serious illness this week. For those who don't recognize the name, Davey had 21 top ten finishes in the AMA 125 East Supercross series (12 of those were top fives). The Pennsylvanian racer's AMA career went from 1992 to 2001. He was 4th overall in the 125 East in 1993 (behind Doug Henry, Chad Pederson and Ezra Lusk) and third in the 125 East in 1995 (behind Mickael Pichon and Mike Brown). Davey was a great racer and a District 5 hero. The Yezek family were big supporters of the sport (Davey's mom scored races for years). Our thoughts are with his family.
LOOKING FOR ACTION PHOTOS OF YOU AT THE 2019 WORLD VET CHAMPIONSHIP…ODDS ARE DEBBI SHOT IT
Everyone loves to see photos of themselves racing—especially from an important race. However, not everyone has a professional photographer on site to shoot photos of them racing. Over the years Debbi Tamietti has shot AMA Nationals, FIM Grands Prix, Motocross des Nations and the World Vet Championship (although her favorite races to shoot are the weekly REM races at Glen Helen). Debbie has always been willing to send digital photos to any rider who gave her their email address…and she did it for free. As you can imagine, she was flooded with requests and it became overwhelming.
Luckily, she didn't give up on helping riders get photos of themselves racing. She has opened up a SmugMug website, where you can browse all the photos she shot. If you like one of her digital photos, SmugMug will send you a hi-res version of it for $1. No, we didn't leave any digits off the price. It's just one dollar to get a digital race photo from Debbi's site. You can also get paper prints, coffee cups (with your photo on them and other novelties). So, if you were at the Dubya USA World Vet Championship on Sunday, November 3, go to www.debbitamietti.smugmug.com. Have fun finding yourself, because Debbi shot a lot of photos.
REM MOTOCROSS COMING TO GLEN HELEN THIS SATURDAY, NOVEMBER 23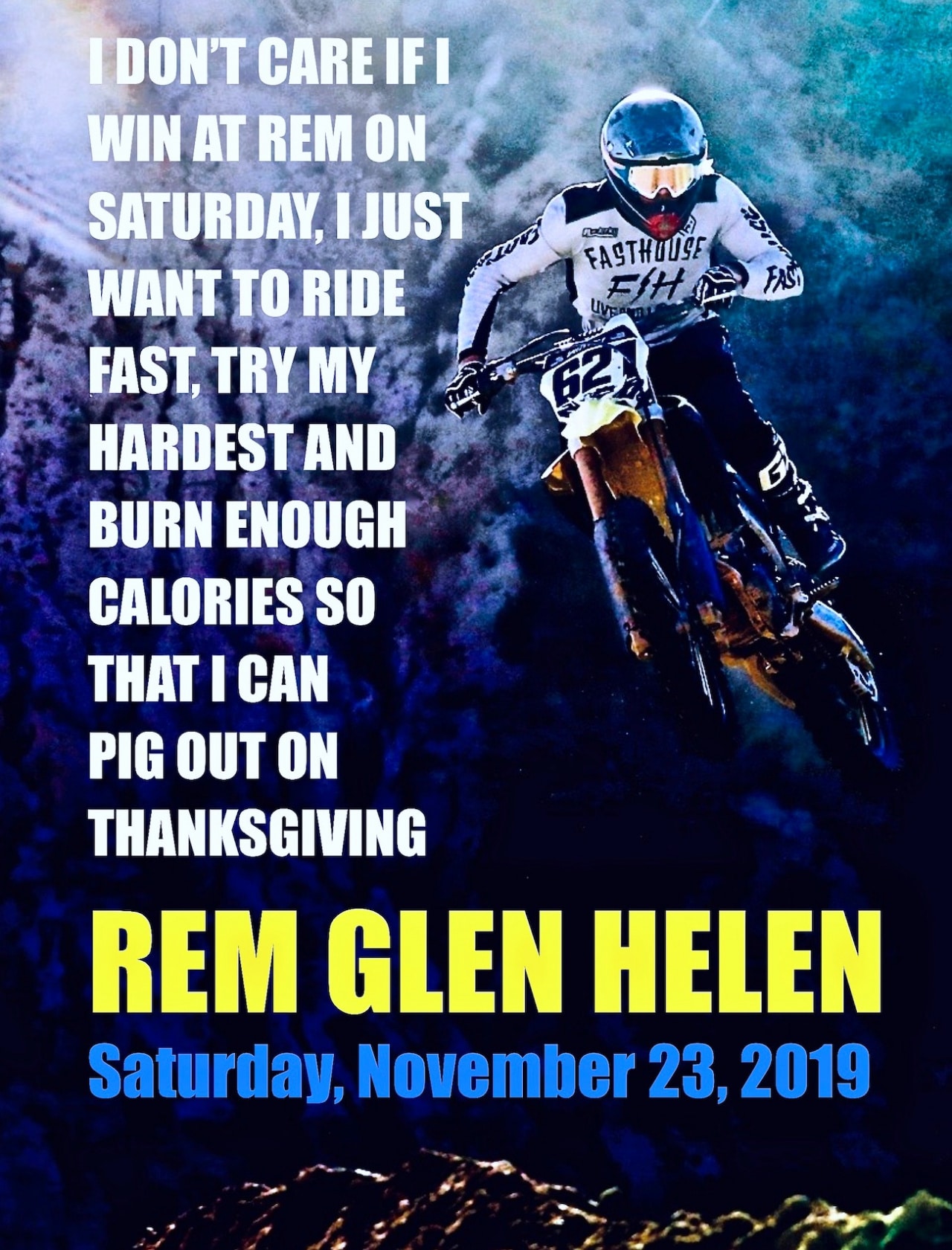 For more info go to www.remsatmx.com
MXA PRODUCT SPOTLIGHT: 2020 ANSWER RACING APPAREL COLLECTION

ANSWER RACING TRINITY—Pants $199.95/Jersey $74.95
ANSWER RACING ELITE—Pants $159.95/Jersey $54.95
Answer Racing's 2020 motocross line has four different models of motocross gear in a wide variety of color ways. Here is a sample of all four race gear lines in a few of the available color combos.
ANSWER RACING AKRON—Pants $114.95/Jersey $34.95
ANSWER RACING SYNCRON—Pants $79.95/Jersey $29.95
2020 ANSWER RACEWEAR VIDEO
7TH ANNUAL KURT CASELLI RIDE DAY AT PALA ON DEC. 14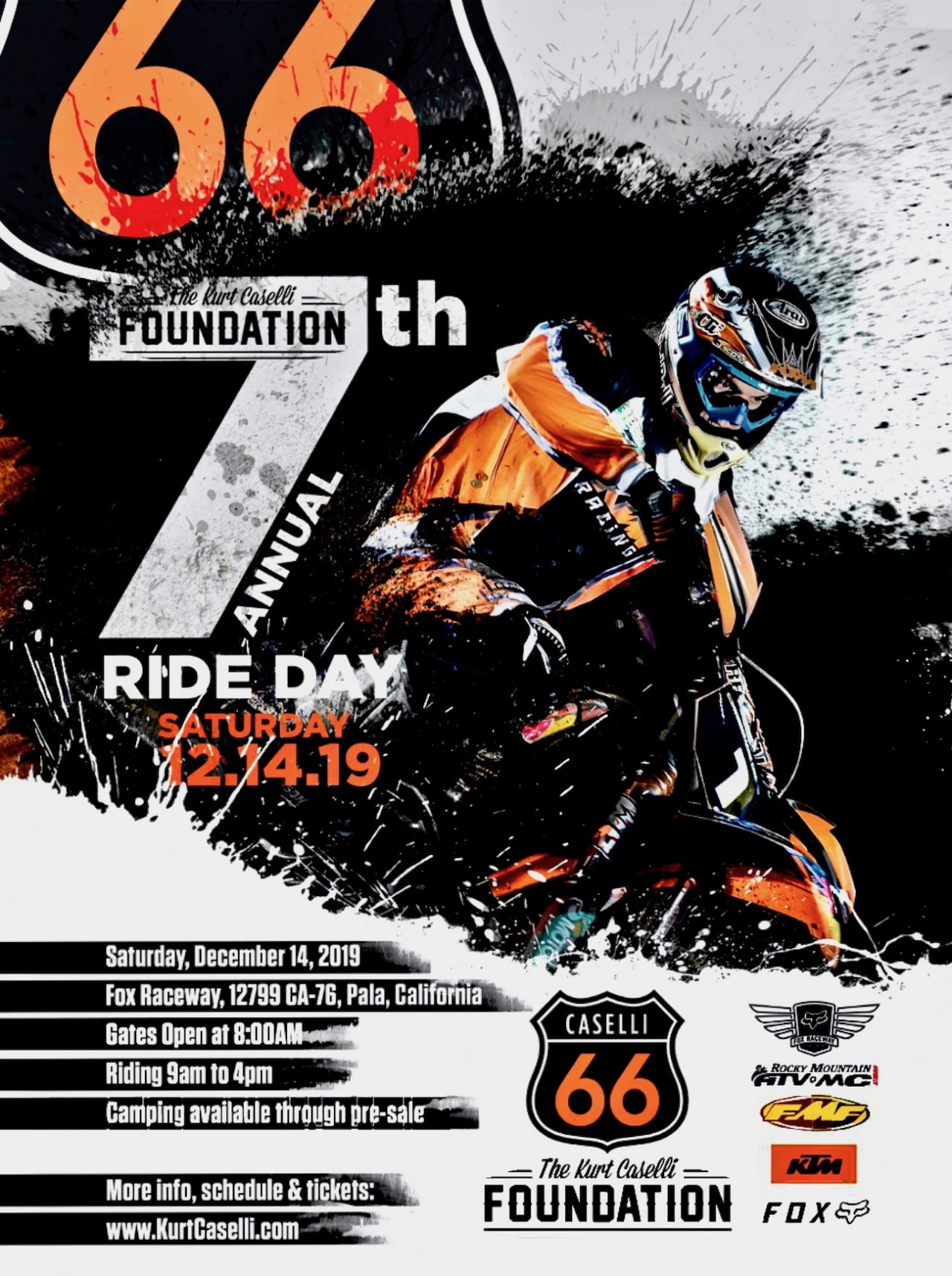 At Pala Raceway from 9:00 a.m. to 4:00 p.m. on December 14. For more info go to www.kurtcaselli.com
IF YOU CAN'T AFFORD TO GO TO BOTH ANAHEIM STADIUM SUPERCROSSES, WE HELP YOU DECIDE

Anaheim 1 track map—January 4, 2020. The start is short and the first turn is on the third base line. There is a sand section in center field. In neither Anaheim 1 or Anaheim 2 do they race up or down the start straight, just across it.

Anaheim 2 track map (race 3)—January 18, 2020. The start is longer at Anaheim 2 than Anaheim 1. The whoops are all on the third base line at A2, but at A1 they are mostly on the first base side. The finish line is in the same basic location on both tracks.

YOU DO THE MATH! SUBSCRIBE TO MXA & GET A $25 CHAPARRAL GIFT CARD
If you subscribed to Motocross Action,  you could be spending your gift money at Chaparral right now.
If you subscribe to MXA you can get the mag on your iPhone, iPad, Kindle or Android by going to the Apple Store, Amazon or Google Play or in a digital version. Even better you can subscribe to Motocross Action and get a $25 Chaparral gift card to spend on whatever motorcycle parts or products you need. And the awesome print edition will be delivered to your house by a uniformed employee of the U.S. Government. You can call (800) 767-0345 or Click Here (or on the box at the bottom of this page).
UFO PLASTIC RIDER SUPPORT PROGRAM: HOW TO APPLY
To appplys end an email to [email protected]. Be sure to provide the info listed on the poster
THIRD ANNUAL DISTRICT 37 REUNION (FROM HOPETOWN TO ASCOT) ON DECEMBER 15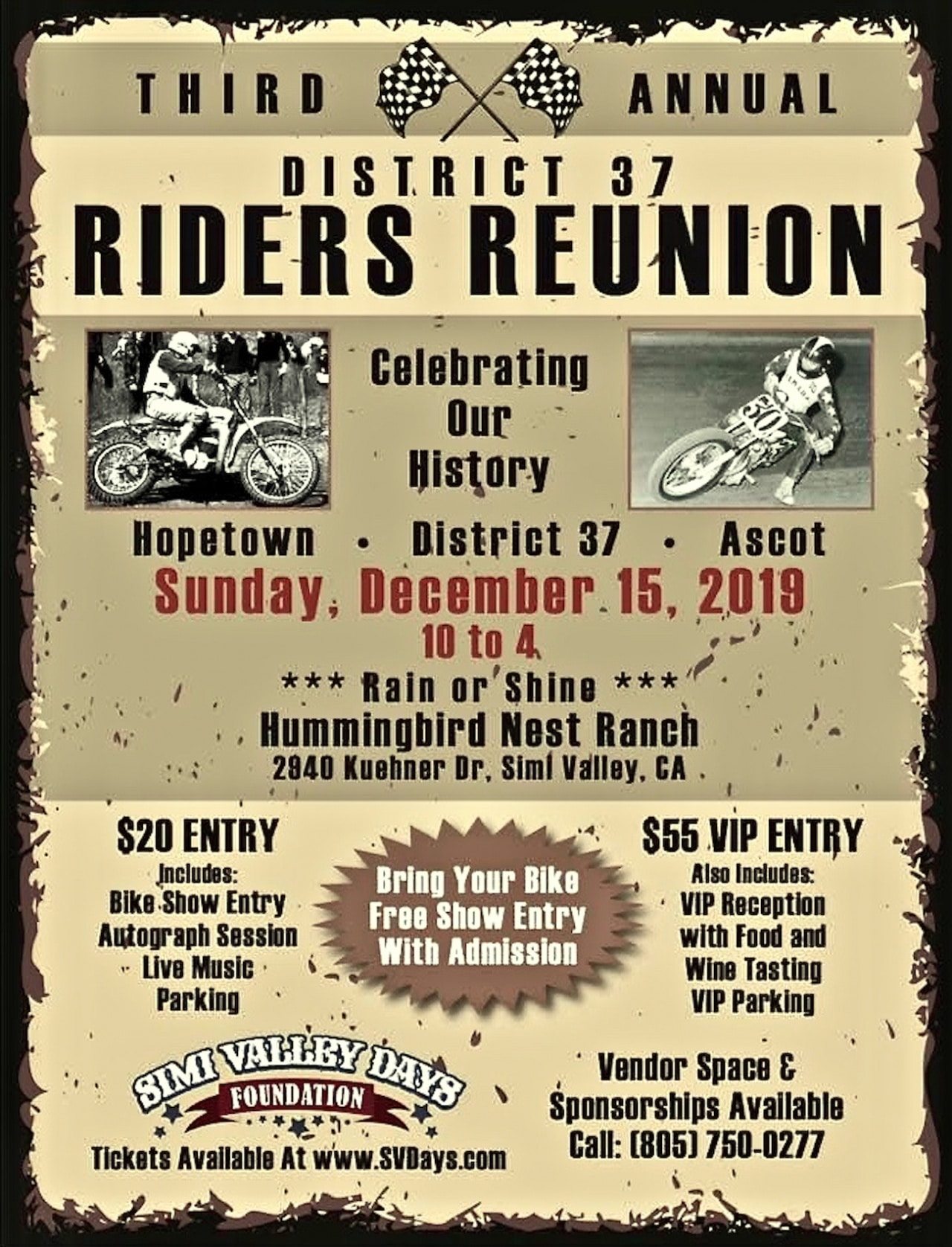 For more info go to www.SVDays.com.
MXA TEAM TESTED: ALPINESTARS CHEST PROTECTORS & ROOST GUARDS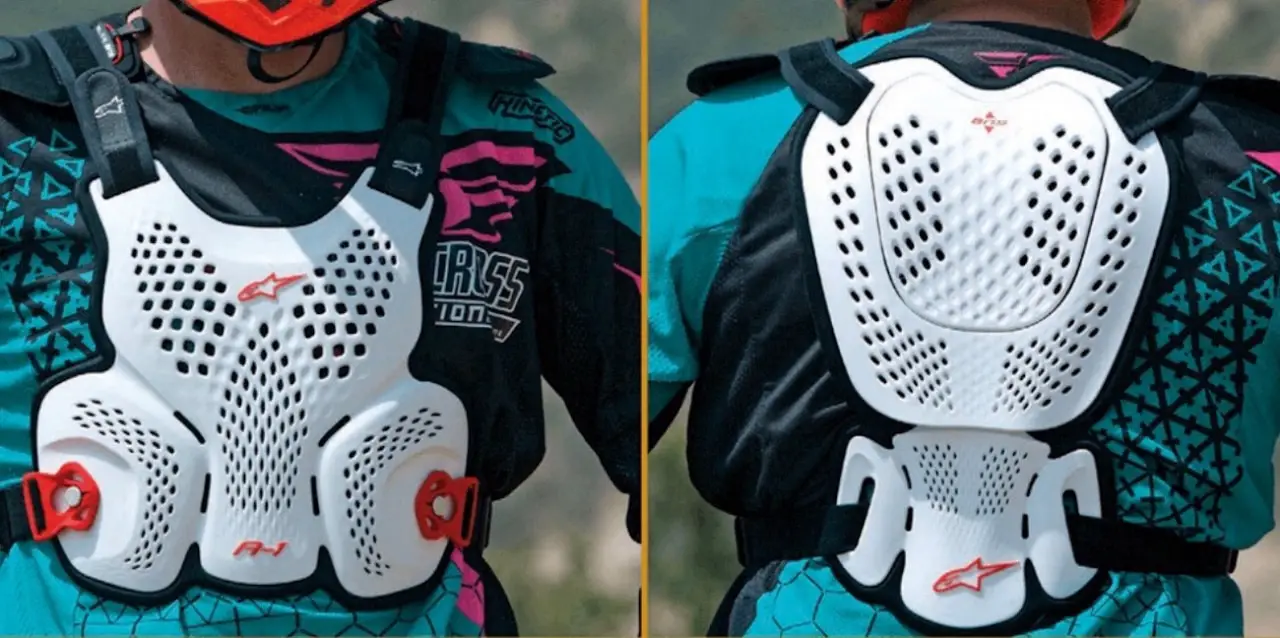 ALPINESTARS A1 ROOST GUARD
If you are only interested in knocking down roost, then an underprotector will do the job just fine. But, if you want plastic impact protection (front and rear), you have to accept some added girth. Of all the roost guards we have tested, the Alpinestars A1 is the thinnest and least obtrusive. Plus, it is CE-certified, has a modular design that allows you to remove the back protector, is perforated for ventilation and features a hinged back panel for increased mobility.
A1 VERDICT: The Alpinestars A1 roost guard is for the dreamers among us. It is the minimum that a rider can wear and still believe he is wearing protection. It is about a 1/4-pound lighter than any comparable all-plastic, front-and-back roost protector.
DIGITS: $119.95—www.alpinestars.com or (800) 409-0903.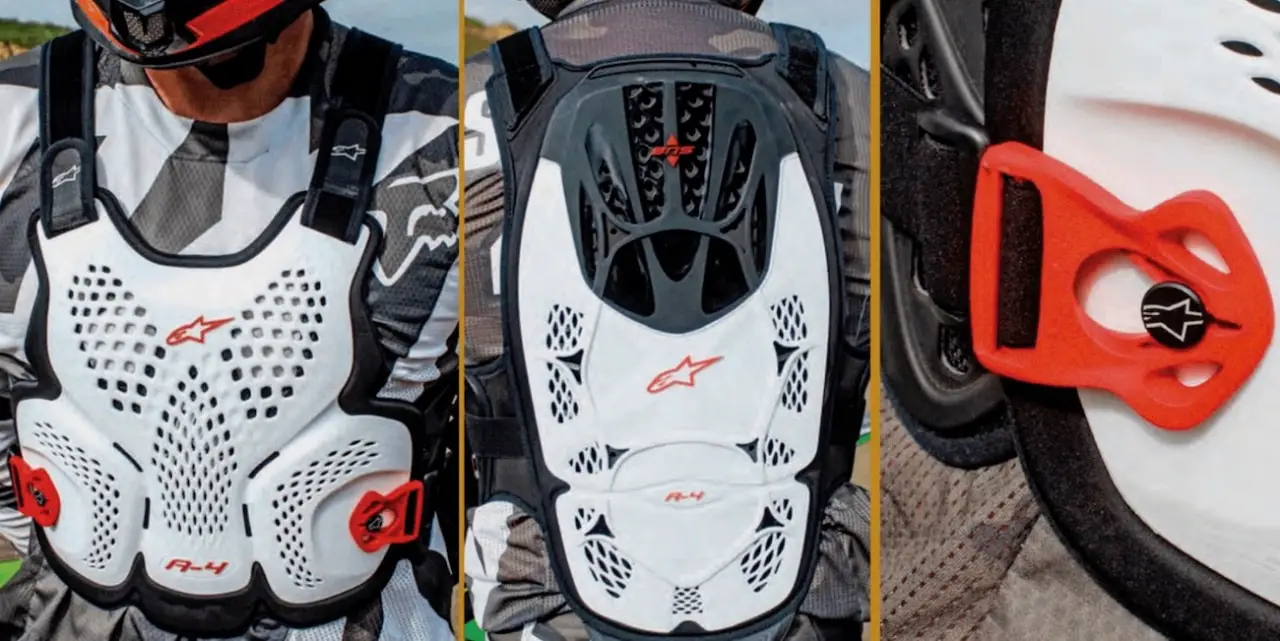 ALPINESTARS A4 ROOST GUARD
The A4 roost guard shares the A1's front panel but has a substantially stouter back panel. The A4's spine protection is a step above the A1's, thanks to more surface area, added kidney protection and three layers of energy-absorbing pads placed between the plastic and the liner. The A4 is available in three sizes (XS/S, M/L and XL/2XL).
A4 VERDICT: The Alpinestars A1 and A4 roost guards are two peas in a pod. If you are looking for increased protection, the A4's larger back panel, higher CE impact rating and side kidney pads fit the bill.
DIGITS: $179.95—(800) 409-0903 or www.alpinestars.com.
ALPINESTARS A10 CHEST PROTECTOR
Alpinestars has three different chest protector/roost guard options for the U.S. market: The lightweight A1, the stronger back protector of the A4, and the A10 full chest protector with its unique exoskeleton grid system to absorb crash energy. The A10 is CE rated at EN-1621-1 for the arm guards, EN-1621-2 for the back panels and EN-1621-3 for the chest panel. In short, the A10 offers considerably more impact protection than the A1 or A4. How much? About double the force energy.
A10 VERDICT: It looks like you are wearing the minimalist A1 roost guard but with double the coverage and impact protection.
DIGITS: $199.95—www.alpinestars.com or (800) 409-0903.
OLD SCHOOL SCRAMBLES FINAL 2019 RACE ON DEC. 21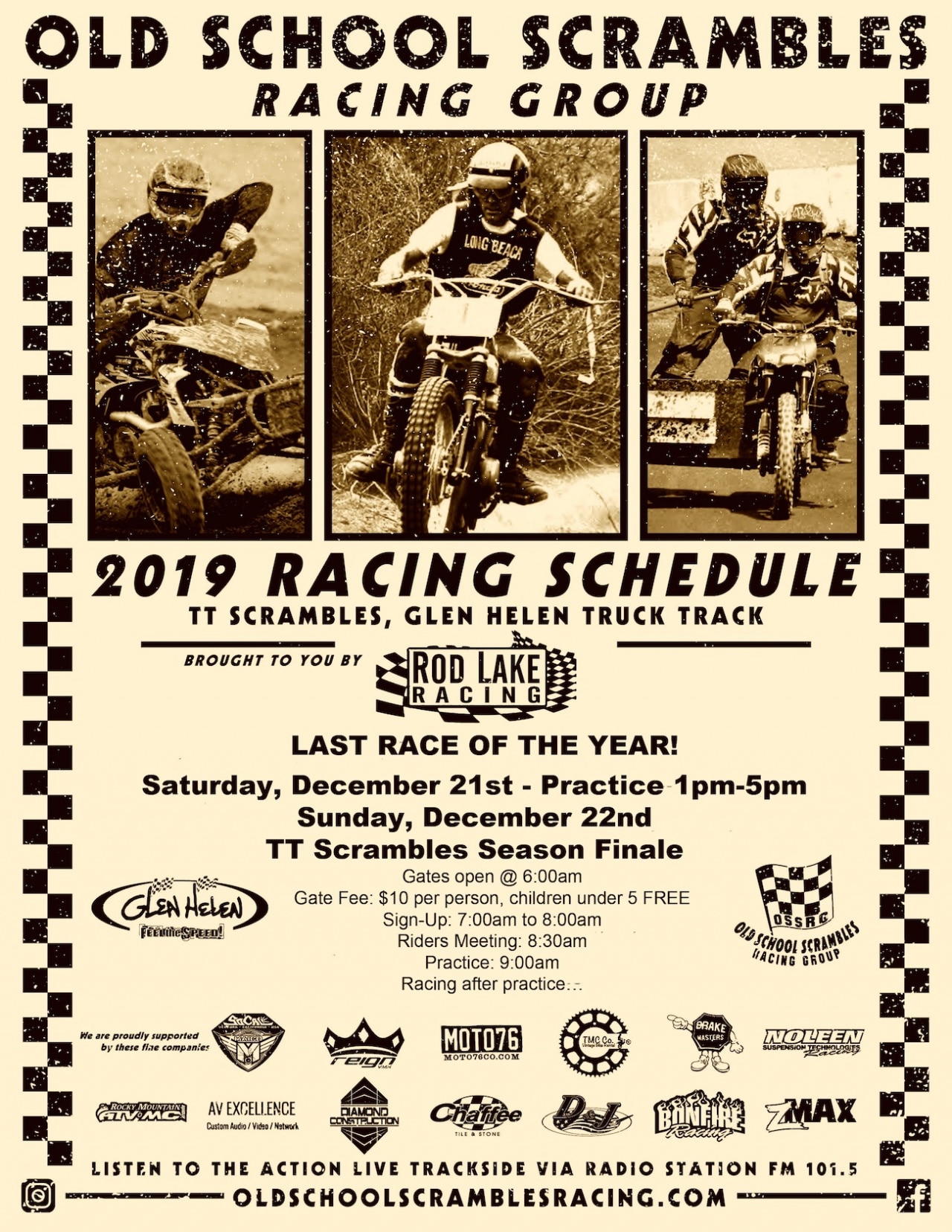 For more info go to www.oldschoolscramblesracing.com
29TH ANNUAL MECUM'S VINTAGE MOTORCYCLE AUCTION ON JAN. 21-26, 2020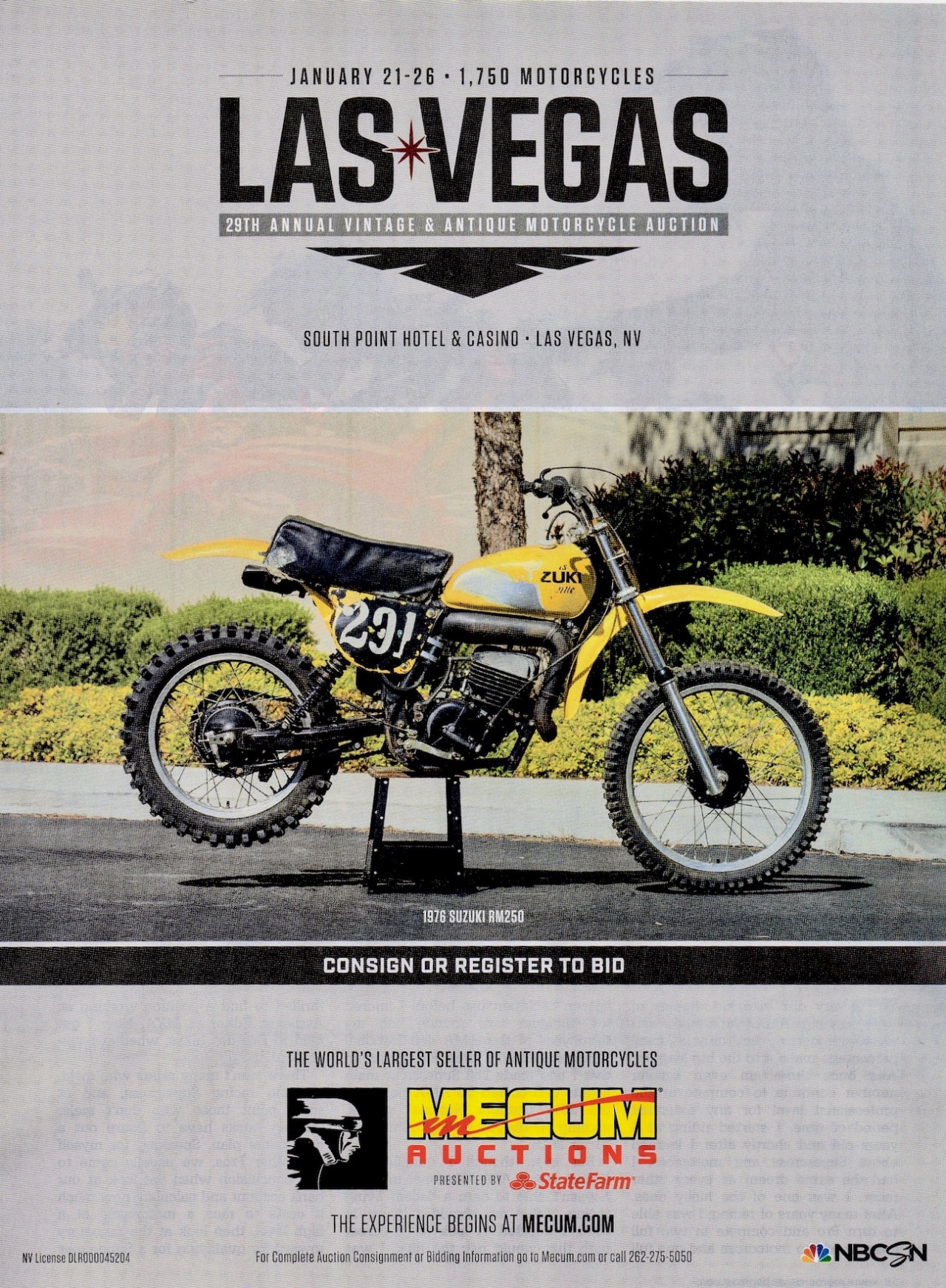 For more info go to www.mecum.com.
MXA PRODUCT SPOTLIGHT: SYSTEM TECH RACING'S OFF-ROAD INNOVATIONS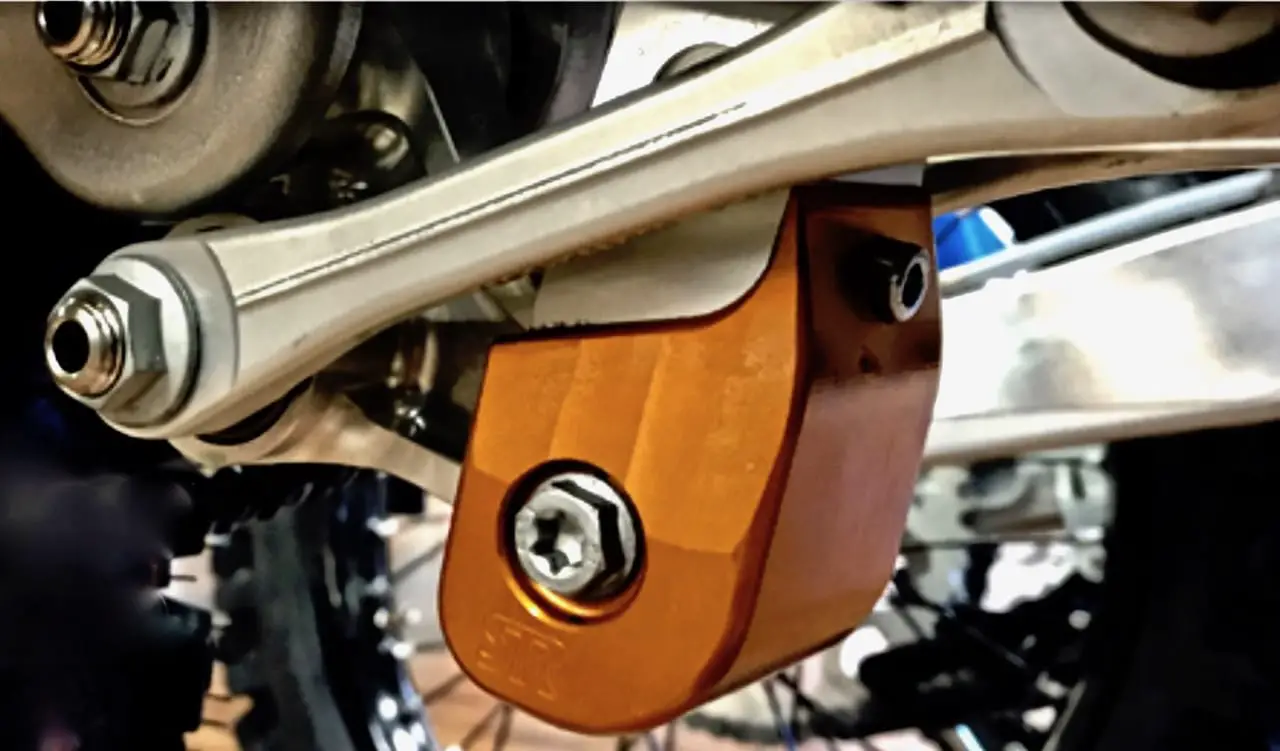 System Tech Racing creates innovative and well-engineered products for motocross and off-road racing. From concept to design through the prototypes stages and again at production, all STR products are rigorously tested on the track by our team of top riders around the country. All STR products are made at the base of the rocky mountains in Loveland, Colorado. Here are three STR products you need to know about. For more info go to www.systemtechracing.com
HI-SPEED COMPRESSION ADJUSTER WRENCH FOR WP & KYB SHOCKS—$21.99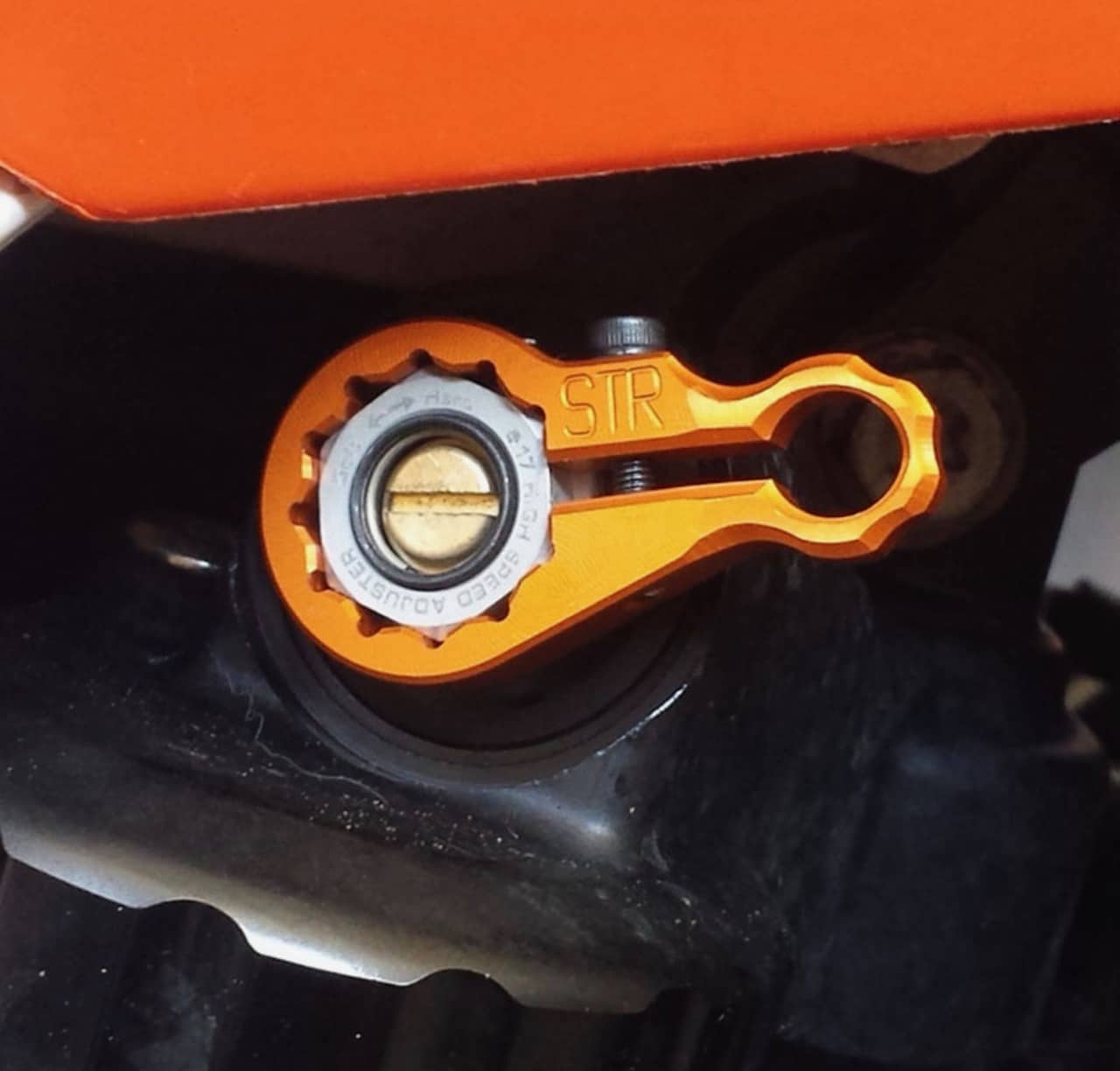 This is a CNC-milled, 17mm, 12-point wrench for your shock's high-speed compression adjuster. The STR adjuster wrench slips over the high-speed compression hex nut and is held in place by a 3mm pinch bolt. It gives a rider the ability to change the high-speed compression without the need of a 17mm wrench (because it stays on the shock). It comes in blue, orange and polished aluminum and fits on WP shock and Kayaba shocks with 17mm high-speed compression nuts.
SPEED BLEED VALVE WP AER FORKS—$41.95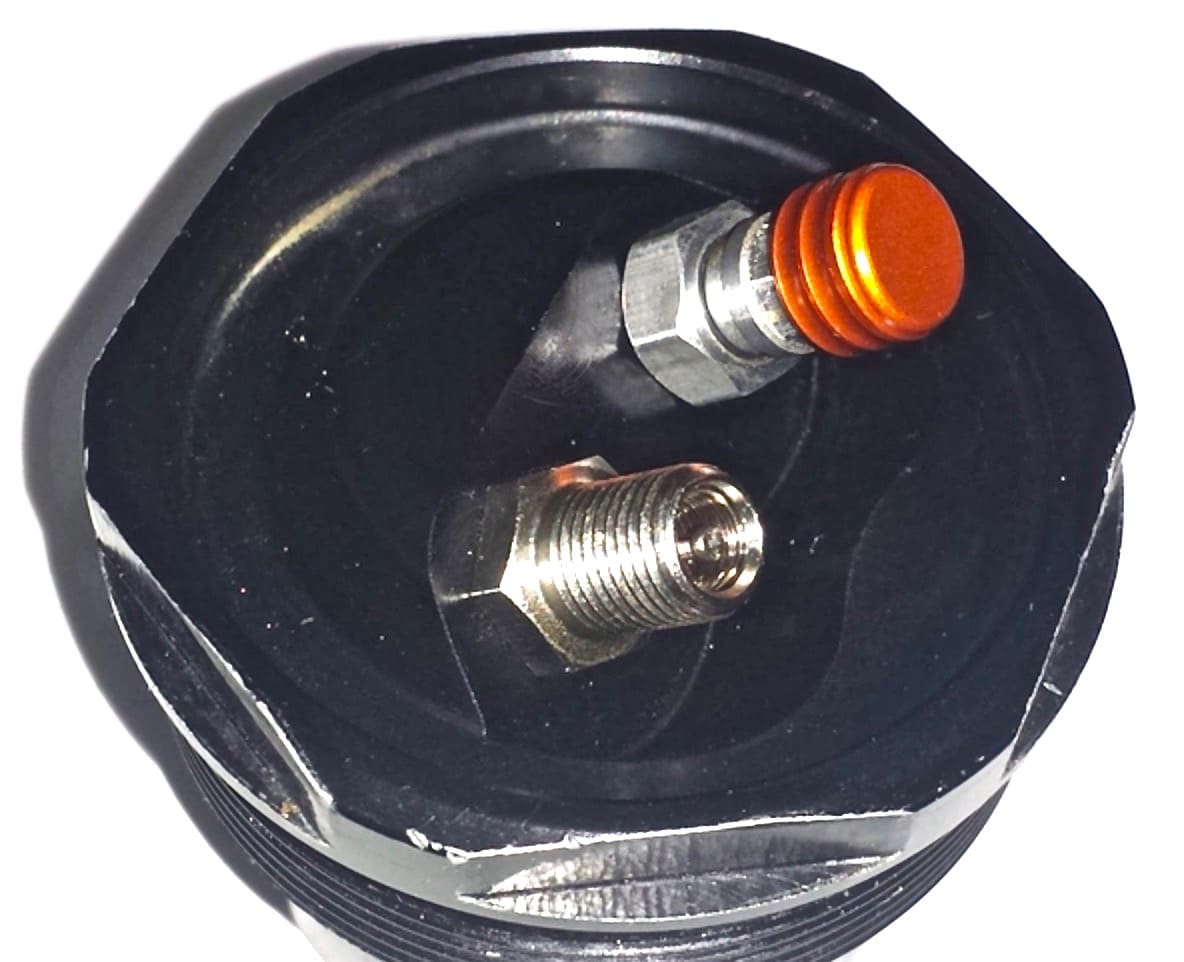 It is important that you bleed the excess and built-up air out of your WP AER or XACT air forks at regular intervals. STR's triple-sealed, push-button, valve assembly uses two pistons and cylinder-type O-ring application in each valve to eliminate leakage. It is available in black, blue, orange and polished aluminum.
STR LINKAGE GUARD FOR 2016-2020 KTMS & HUSQVARNAS—$69.95

The STR WP linkage guard is small, easy to install and protects your vulnerable shock linkage—which also protects the seals and O-rings that keep the linkage lubricated. It is not bulky, but is strong enough to create a bridge-like structure over the link to protect it—without taking more that five minutes to install. It is available in black, blue and orange.
MXA AD OF THE WEEK: THE 1974 LONG BED TOYOTA WAS A BLESSING
Most racers don't remember when very small Japanese Datsun and Toyota pickup trucks were the best way to go to the races back in the 1970s. The problem? You had to leave the tailgate down to get a bike in the back. Most savvy small pickup truck owners learned to hook a spare tie-down from the footpeg to the tailgate to pull the tailgate up at a 45-degree angle to keep things from falling out the back (until the AMP Bed Extender came along).  The four-cylinder, 1968cc engine pumped out 97 horsepower. You could buy a new Toyota long bed truck for $2600.
TALK MOTO WITH ON MXA'S FACEBOOK GROUP CHAT


We love everything moto and want to bring all moto junkies together into one place to share their two cents, ideas, photos, bike fixes, bike problems and much more. To check it out first you must need to or already have a Facebook account. If you don't, it isn't much work and you could even have an alias so nobody knows it is you. To join click HERE. After you request to join we will accept your request shortly after.
2020 11-RACE WORCS RACE SCHEDULE


For more info go to www.worcsracing.com.
2020 MOTOCROSS ACTION 450 FOUR-STROKE SHOOTOUT
VACATION IN SOCAL WITH DENNIS STAPLETON: RIDE GLEN HELEN, CAHUILLA CREEK, PALA, PERRIS & MORE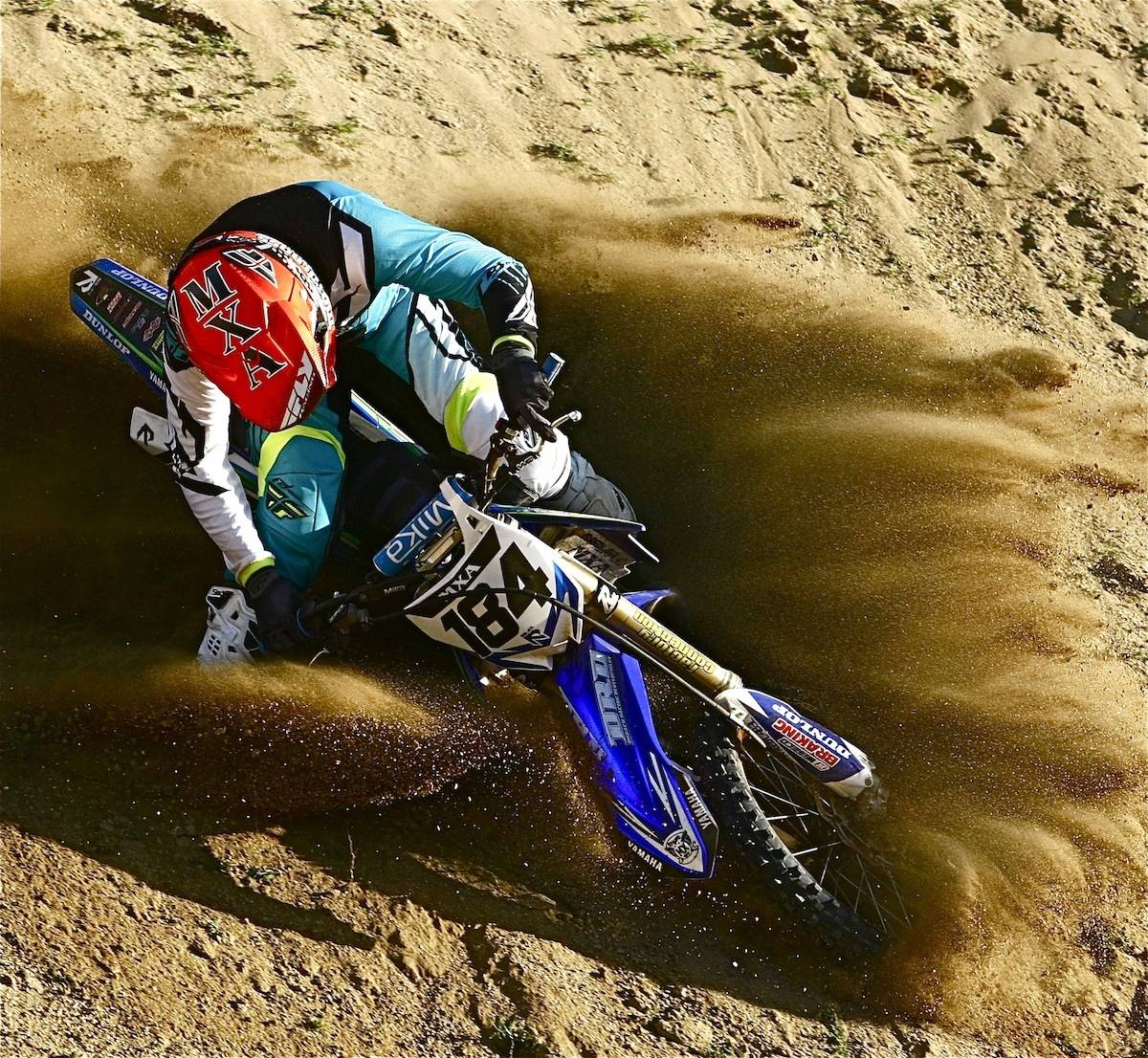 Dennis Stapleton doing what he does every day of the week — let him make your dreams come true.
In his spare time, when he's not testing with MXA, racing in a foreign country (he was racing in China this past weekend), going to Japan or helping many of his motocross buddies, Dennis has the time to open up his house, garage, bikes and mechanics to help riders who would like to come to SoCal on a motocross vacation. He offers full service to all of the Southern California tracks for racers or for play riders. Whether you want to rent a bike, move in for a week, race at Glen Helen or take motocross lessons—this is one-stop shopping.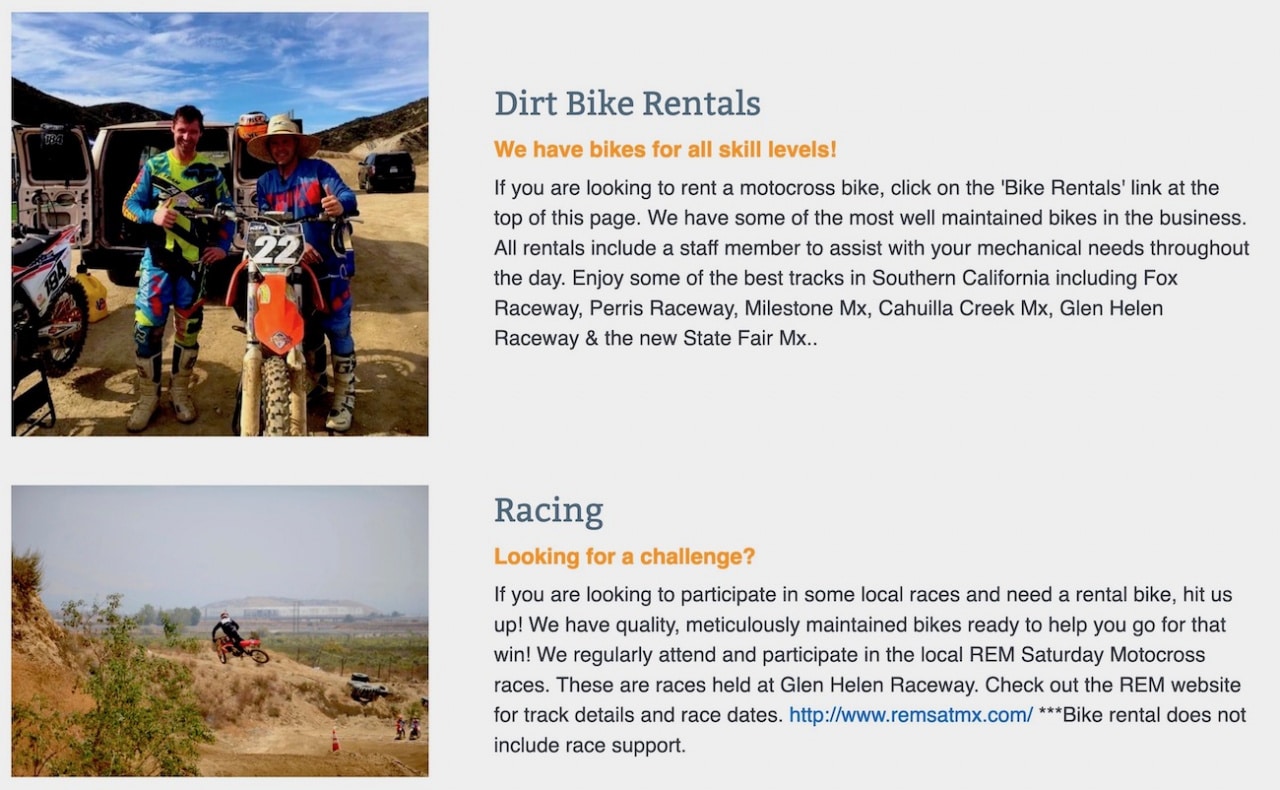 If you're coming out to Southern California and need a rental bike, check out KnobbyShop South/StapoMX for all your rental needs. They offer Motocross Vacations, bike rentals and motocross lessons. Just send them an email ([email protected]). If you'd like to live the SoCal lifestyle for a day, a weekend, a week, a month or three months, visit Dennis' website at www.knobbyshopsouth.org for more details!
FOLLOW MXA ON TWITTER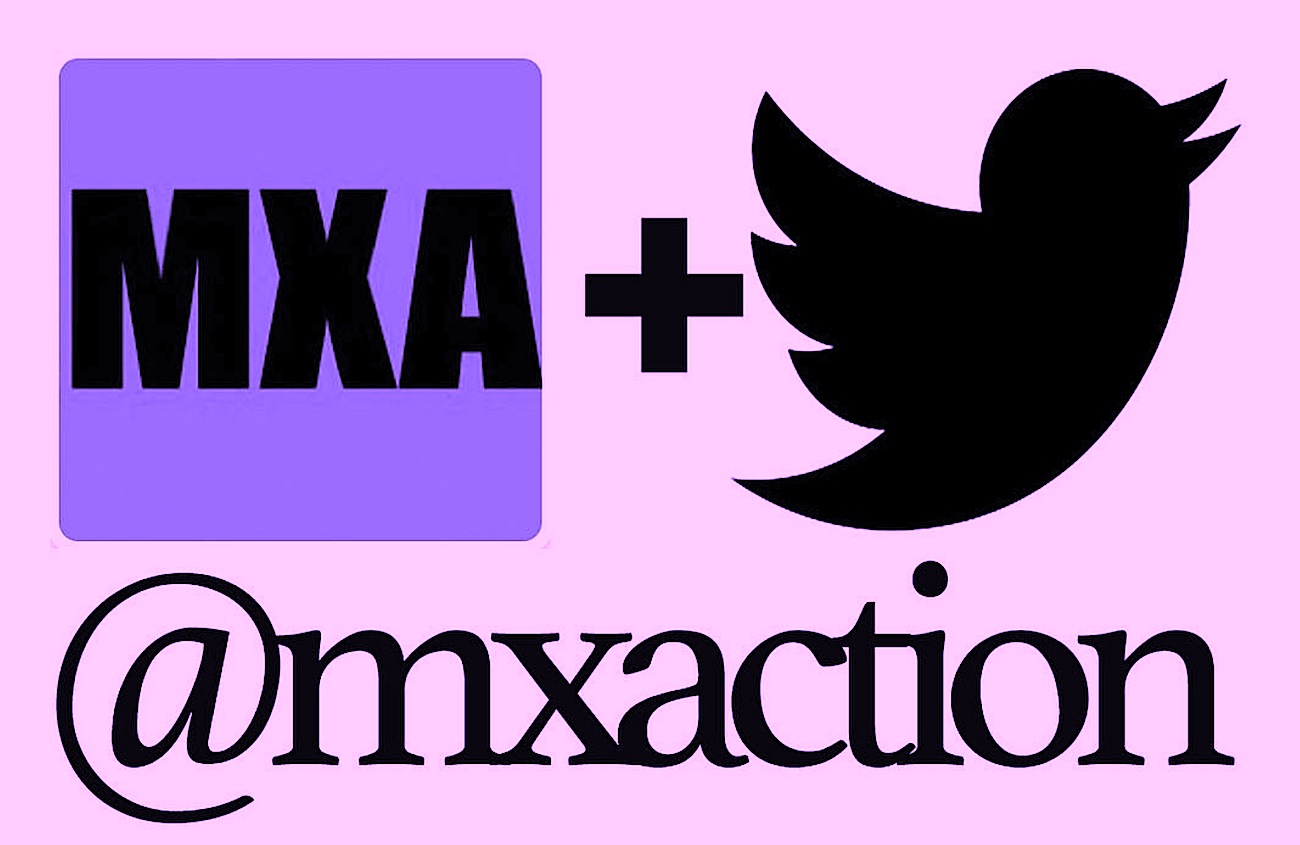 Follow us to see fresh content every day at www.twitter.com/MXAction or on twitter at "MXAction."
MXA PRODUCT SPOTLIGHT: COPPERSMITH AIR/SPRING OHLINS/WP FORK KIT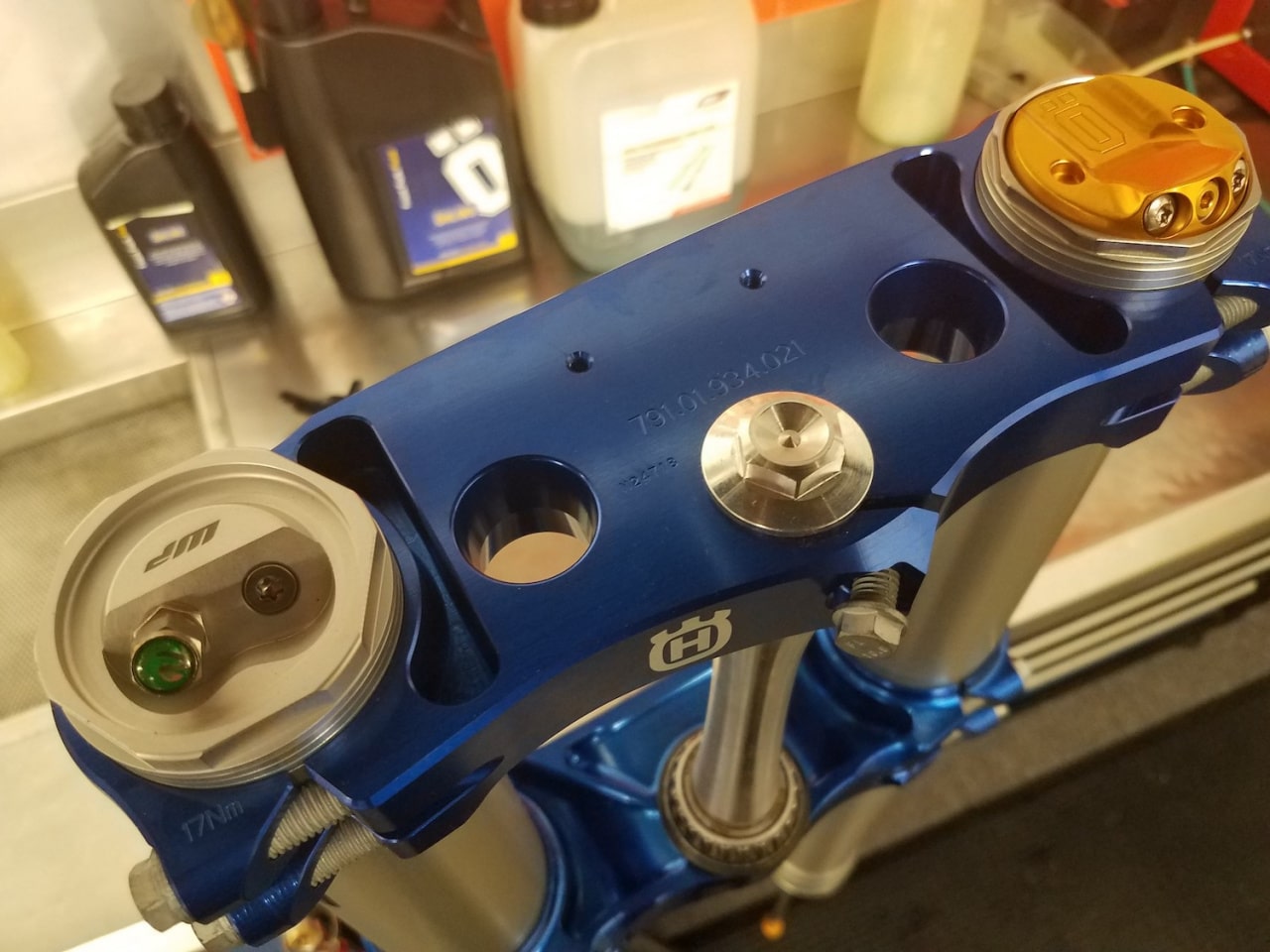 The Coppersmith kit uses the air spring from the WP leg (left) and combines it with the Ohlins TTX22 damping cartridge rod (right) in the other leg.
Coppersmith Racing Suspension, famous for their Ohlin suspension set-up, has an all-new suspension kit for WP AER air fork. The Coppersmith Aero/Hybrid fork kit gives you the best of both worlds. It combines the smoothness of a spring fork with the tuneability of an air fork. The Coppersmith Aero/hybrid fork kit puts a modified Ohlins TTX22 spring cartridge in one WP fork leg for superior damping, with a OEMstock WP air fork leg for adjustability. In essence, it is 50% Ohlins (damping) and 50% WP (air spring). Coppersmith also offers DLC and titanium Carbon/nitride coasting as an upgrade. Installing the Coppersmith Aero/hybrid kit in only one fork leg saves weight over a traditional coil spring fork, cuts shipping cost by half and retails for $895 (installed). For more information call (234) 229-9059.
RED GAERNE SG12'S ARE ON THE WAY

Keep checking the Gaerne USA website to get yours.
EKS BRAND SPONSORSHIP SUBMISSION IS OPEN!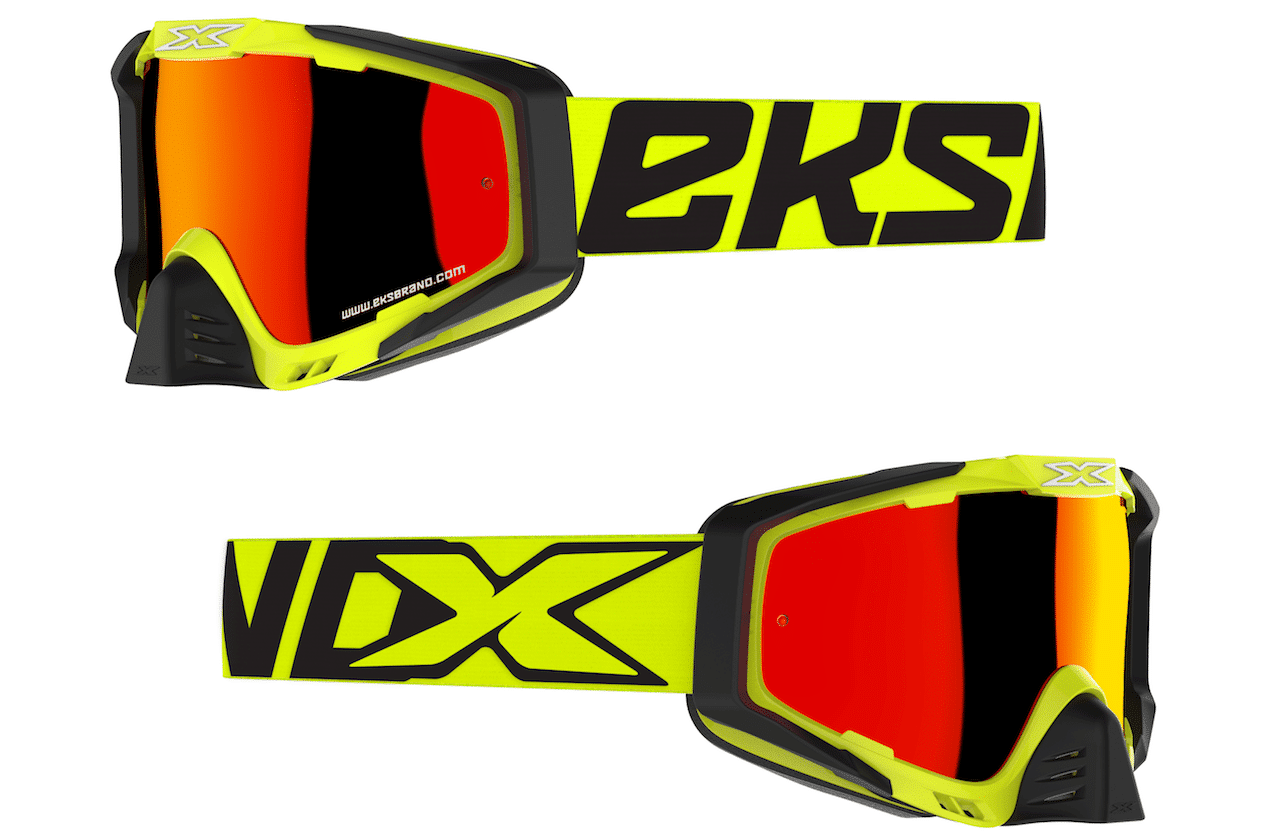 The EKS Brand Rider Support Program is in its 10th year and is actively looking for riders to be a part of the program. Support levels range from C class riders all the way up through National level racers. The program is open to riders of all disciplines including, Motocross, Supercross, Off-Road, Flat Track, Hill Climb, Supermoto, Speedway, Endurocross, Trials, ATV, Mountain bike BMX, Snowsports, and all action sport athletes. Join the likes of 2019 racers Chris Blose, Alex Ray, Kyle Chisholm, Adam Eticknap, Vince Friese, Kyle Cunningham, Henry Miller, John Short, Ben Lemay, Brandon Hartranft, Jacob Hayes, Grant Baylor, Russell Bobbit, Gary Sutherlin and Ricky Brabec,
Click on www.eksbrand.com and go to "contact us" or send a small resume to [email protected]. Note: If you were on the EKS Brand team last year, please specify the program you were on in your resume.
OSET ELECTRIC BIKES CAN MAKE YOUR KID'S CHRISTMAS DREAM COME TRUE
Looking for a Christmas gift for Junior? OSET has slashed the price of its 12.5 range of electric off-road motorcycles for kids ages 3-5. The 12.5 Racing and Eco range are the perfect entry-level motorcycle that's ideal for beginners and back yard riders age 3-5 who want to experience a real motorcycle with all the benefits that come with being electric such as ease of maintenance, very low running costs, no hot parts and being virtually silent. Customers can enjoy healthy discounts of up to $100 off the bike's while the stock lasts. Customers should visit www.osetbikes.com/us/ to find their local OSET dealer or to earn more about the full range of OSET Electric Motorcycles for kids.
WHAT'S LEFT ON THE 2019 RACE CALENDAR
2019 AUSTRALIAN SUPERCROSS CHAMPIONSHIP
Nov. 30…………………………..Melbourne, Victoria
2019 WORCS OFF-ROAD CHAMPIONSHIP
Nov. 22-24……………………….Primm, NV
2019 DAY IN THE DIRT 22
Nov. 28-Dec. 1……………..Glen Helen, CA 
7TH ANNUAL KURT CASELLI RIDE DAY
Dec. 14…………………………..Glen Helen, CA
OLD SCHOOL SCRAMBLES SEASON FINALE
Dec. 21-22…………………………..Glen Helen, CA
MXA YOUTUBE CHANNEL | HIT THAT SUBSCRIBE BUTTON

The MXA wrecking crew is everything moto related. Check out our MXA YouTube channel for bike reviews, Supercross coverage, rider interviews and much more. And don't forgot to hit that subscribe button.
LOOKING AHEAD! THE 2020 RACE CALENDAR
2020 AMA SUPERCROSS
Jan. 4…Anaheim, CA
Jan. 11…St. Louis, MO
Jan. 18 …Anaheim, CA
Jan. 25…Glendale, AZ
Feb. 1…Oakland, CA
Feb. 8…San Diego, CA
Feb. 15…Tampa, FL
Feb. 22… Arlington, TX
Feb. 29… Atlanta, GA
Mar. 7…Daytona Beach, FL
Mar. 14…Indianapolis, IN
Mar. 21…Detroit, MI
Mar. 28…Seattle, WA
Apr. 4…Denver, CO
Apr. 18…Foxborough, MA
Apr. 25…Las Vegas, NV
May 2…Salt Lake City, UT
2020 AMA ARENACROSS CHAMPIONSHIP
Jan. 3-4…Loveland, CO
Jan. 11…Hobbs, NM
Jan. 24-25…Oklahoma City, OK
Jan. 31-Feb. 1… Denver, CO
Feb. 7-8…Reno NV
Feb. 28-29…Salt Lake City, UT
Mar. 7… Amarillo, TX
2020 AMA NATIONAL CHAMPIONSHIP
May 16…..Hangtown, CA
May 23…..Pala, CA
May 30….Thunder Valley, CO
Jun. 6……Jacksonville, FL
June 20…Mt. Morris, PA
June 27…Southwick, MA
July 4……Red Bud, MI
July 18….Millville, MN
July 25….Washougal, WA
Aug. 15…Unadilla, NY
Aug. 22…Budds Creek, MD
Aug. 29…Crawfordsville, IN
2020 FIM MOTOCROSS WORLD CHAMPIONSHIP
Mar. 1…Great Britain
Mar.8…Holland
Mar. 22…Argentina
Apr. 5…Italy #1
Apr. 19…Spain
Apr. 26…Portugal
May 10…France
May 17…Italy #2
May 24…Germany
June 7…Russia
June 14…Latvia
June 28…Jakarta, Indonesia
July 5…Palembang, Indonesia
July 26…Czech Republic
Aug. 2…Belgium
Aug. 16…Sweden
Aug. 23…Finland
Sept. 6.…Turkey
Sept. 13…China
Sept. 20…Italy #3
2020 FIM MOTOCROSS DES NATIONS
Sept. 27.…Ernee, France
2020 WORCS OFF-ROAD CHAMPIONSHIP
Jan. 12…Primm, NV
Feb. 23…Taft, CA
Mar. 22… Havasu, AZ
Apr. 19…Blythe, CA
May 3…Las Vegas, NV
May 30…Hurricane, UT
July 19…Prineville, OR
Sept. 20…Glen Helen, CA
Oct. 25…Cahuilla, CA
Nov. 15…Primm, NV
2020 WORCS SPRINT ENDURO
Feb. 25…Taft, CA
May 24… Mesquite, NV
July 25…Prineville, OR
Sept. 26…Glen Helen, CA
Oct. 31…Cahuilla, CA
2020 MICHELIN BRITISH NATIONAL CHAMPIONSHIP
Mar. 22…Fatcat MotoParc
Apr. 19…Desertmartin, Ireland
Apr. 26…Hawkstone Park
July 5…Canada Heights
Aug. 9…Landrake
Sept. 6t…Cusses Gorse
2020 ACU BRITISH NATIONAL CHAMPIONSHIP
Apr. 12…Lyng
May 3…Foxhill
May 31…Blaxhall
June 21…Deertmartin, Ireland
July 12…Culham
Aug. 30 Landrake
2020 AUSTRALIAN NATIONAL CHAMPIONSHIP
Mar. 22…New South Wales
April 4-5…Victoria
May 3… Victoria
May 24…Queensland
June 28…Queensland
July 25-26…New South Wales
Aug. 22-23…Queensland
2020 AUSTRALIAN SUPERCROSS CHAMPIONSHIP
Oct. 3 …Western Australia
Oct. 17… South Australia
Oct. 31…Queensland
Nov. 7 …New South Wales
Nov. 14…TBA
Nov. 28…Victoria
2020 ADAC GERMAN NATIONAL CHAMPIONSHIP
Apr. 13…Fürstlich Drehna
May 3…Mölln
May 31…Möggers, Austria
June 21…Aichwald
July 12…Holzgerlingen
July 19…Tensfeld
Aug. 30…Bielstein
Sept.13…Gaildorf
2020 FIM JUNIOR WORLD CHAMPIONSHIP
Aug. 8-9…Megalopolis, Greece
Photos: Brian Converse, Honda, Husqvarna, Daryl Ecklund, Jody Weisel, MXA, KTM, Debbi Tamietti