MXA'S WEEKEND NEWS ROUND-UP: THERE IS A BIG PARTY AT THE KTM RACE SHOP THIS WEEKEND… FOR SANDRO CORTESE
WHO IS KTM'S NEW SUPERSTAR? SANDRO CORTESE HANDS KTM THEIR FIRST-EVER WIN IN MOTO3 ROAD RACING…ON A KTM 250 SINGLE


Sandro Cortese joined Ryan Dungey as a KTM winner this past weekend.           Photo: Gold & Goose
Red Bull KTM Ajo factory racer Sandro Cortese won a hard fought Moto3 race in the GP of Portugal in Estoril in a thrilling two-way battle with Maverick Vinales of Spain. It was KTM's first-ever win the Moto3 class (which replaced the 125 GP class of the past). Sandro Cortese now leads the 250cc, single-cylinder, four-stroke road race championship by two points (with second places in Qatar and Jerez).

Herlings, Roczen and Musquin couldn't squeeze the Moto3 engine into their KTM 250SXF frames if they tried.
Under Moto3 rules manufacturers are not allowed to use their 250cc motocross engines as a starting point for their Moto3 race bikes. So, KTM went back to the drawing boards to build a road race ready 250cc engine. Additionally, engine manufacturers must make their Moto3 engine available to other teams. KTM plans to charge $16,200 for each 55-pound engine.

GLEN HELEN & YAMAHA: HOW TO GET LOCAL DEALERS INVOLVED IN YOUR LOCAL RACES
The Yamaha Dealer Series is a grassroots approach to local racing that any track could adopt, but can anyone beat John Burr Yamaha?

IS THIS THE NEXT MONSTER PRO CIRCUIT KX250F RIDER? WILL DYLAN EPSTEIN GET THE CALL-UP FROM MITCH BECAUSE OF DURHAM'S SHOULDER INJURY

THE OFFICIAL JUSTIN BARCIA TO TEAM HONDA PRESS RELEASE ? WE DIDN'T SEE THAT COMING OR DID WE?


Justin was almost guaranteed a spot on Team Honda from the moment he started.
American Honda is proud to welcome Justin Barcia to Team Honda Muscle Milk for the 2013-2014 seasons. Barcia will contest both the AMA 450 Supercross Championship and AMA 450 Motocross Championship aboard a factory-prepared Honda CRF450R race machine.
Barcia has been a part of the Honda family for many years, riding several models as he rose through the amateur ranks. After winning numerous amateur titles, Barcia made his professional motocross debut in 2009 aboard a Geico Honda CRF250R. The Geico Honda Race Team program allows top amateurs to take the next step into their careers as professional 250 riders. The team has proven quite successful with Trey Canard, Eli Tomac and Justin Barcia all coming through the ranks to win AMA 250 Championships.
"It has taken a lot of hard work to get our program where it is today," stated Factory Connection President and Geico Honda Team co-owner Rick Zielfelder. "We pride ourselves on having an elite program that offers support to top amateur racers and gives them the opportunity to further their careers in the professional ranks. The GEICO Honda Team has given riders the tools to reach their ultimate goal of winning professional championships. It also creates a seamless integration for the rider to make the move to racing the 450s with the Honda factory team. And like Trey Canard, we are pleased to see Barcia make the transition to Team Honda Muscle Milk."
In the 2011 AMA Supercross season, Barcia appeared on the podium at every round of the nine-race series and was able to clinch his first 250 East Championship title. During the 2011 outdoor motocross season, Barcia was given the opportunity to ride the last four rounds aboard a factory CRF450R. He showed that he could run up front by taking third place overall at both Unadilla and Pala, and grabbing a moto win in Southwick. Barcia's 2012 season has proven just as successful as he earned five race wins and wrapped up his second 250 East Championship in New Orleans with one round remaining.
"It's an awesome feeling to sign with Team Honda Muscle Milk," said Barcia. "It is something that I have dreamed of since being an amateur. I've been riding and winning on Hondas for years because it's the bike I feel best on. I am excited to continue my career with Honda aboard the CRF450R. I got a glimpse of what I have to look forward to after getting the opportunity to race the 450 last year. After working with Jeff Stanton I have learned that hard work really pays off and I plan to continue that work ethic into my 450 career. With a great team behind me and an amazing bike, I believe I can be a contender for the championship."
Team Manager Erik Kehoe welcomes Barcia to the Honda lineup. "We are pleased to have Justin on board for the 2013 season. With two 250 East championships under his belt, Justin has proven time and again that he has what it takes to run up front and win races," said Kehoe. "He has also shown that he can be a front runner aboard a CRF450R. We believe that with his pure determination to win, Justin will be a consistent threat to climb the podium. His focus and drive make him a great fit for our team.
GLEN HELEN RACEWAY: RED BULL PROMISES THE LARGEST FREESTYLE COURSE EVER BUILT…AND TO REBUILD THE REM MOTOCROSS TRACK WHEN THEY ARE DONE


A lot of dirt has been moved at Glen Helen's REM track for the X-Fighters. Once Red Bull is done the dirt will be molded into a new racetrack.
For the REM motocross faithful, the Red Bull X-Fighters on May 12 has been a major inconvenience. It has forced the popular Glen Helen racetrack to hold races on the front track and, on of the weekend of the X-Fighters event, cancel the REM races. But, the prize for the motocrossers is that Red Bull promises to rebuild the REM track to whaever Glen Helen wants after May 12. So, the inconvenience for the local racers will be offset by a totally new racetrack.
The X-Fighters course measures 300′ x 750′ (225,000 square feet), nearly two-and-a-half times the size of the next-largest Red Bull X-Fighters course. Packed within these dimensions is 60,000 cubic yards of dirt weighing 1.6 tons per cubic yard. This enormous area will feature more than 30 different riding options, including a step-down, a bowl-curved wall, a quarter pipe and a 160-foot jump  the biggest ever in competition.
TICKET INFORMATION
General Admission $20 ? includes access to standing room only, vendor row and the pit area.
Grandstand Seating $30 ? includes access to vendor row and the pit area and a reserved spot to sit in the Grandstands. Each Grandstand section is open seating.
Fox VIP Area Tickets $275 ? includes access to vendor row and the pit area and a trackside hospitality suite with food and beverages included.

Camping and Riding $400/camping space ? Each campground space includes four Grandstand tickets and camping for three nights (Thursday, Friday and Saturday), plus access to The Hub, live music, the Traxxas RC Track, and access to ride Glen Helen's National MX Track and Off-Road Trails on Thursday, Friday, Saturday and Sunday. Up to three additional tickets may be purchased per camping space for an additional $50/ticket.
For more info go to www.redbull.com/xfighters
TAKE A LAP OF THE LAS VEGAS ENDUROCROSS TRACK WITH FORMER 125 NATIONAL CHAMP MIKE BROWN

LAS VEGAS SUPERCROSS RESULTS: DUNGEY WINS FOURTH 450 MAIN FOR KTM ? BARCIA & TOMAC WIN 250 EVENTS


Ryan Dungey missed five races because of an injury, but he won four when he was healthy.
The Las Vegas races were essentially runaways. The 250 East final, 250 West final, 250 East/West Challenge and 450 main were boring…if you only looked up front. Of the four main events, the 450 main featured the best racing ? for second place. JGR Yamaha's Davi Millsaps was the class of the field behind winner Ryan Dungey. He fought hard and ended the year in second overall in points. As for KTM, Dungey's victory was their fourth 450 Supercross win this year…and many critics said they wouldn't win a thing.
Justin Barcia raced his last 250 Supercross (although he will still race the 250 Nationals in 2012)…and it was announced on Saturday that he has signed a two-year deal to race the 450 class for Team Honda.

LAS VEGAS RESULTS: 250 WEST  
1. Eli Tomac
2. Dean Wilson
3. Wil Hahn
4. Martin Davalos
5. Jason Anderson
6. Marvin Musquin
7. Matt Moss
8. Ryan Sipes
9. Scott Champion
10. Landon Powell
Other notables: 11. Chris Plouffe; 15. Preston Tilford; 17. Myles Tedder; 19. Killy Rusk; 20. Billy Laninovich
LAS VEGAS RESULTS: 250 EAST
1. Justin Barcia
2. Ken Roczen
3. Blake Baggett
4. Malcolm Stewart
5. Blake Wharton
6. Kyle Cunningham
7. Hunter Hewitt
8. Jake Canada
9. Matt Lemoine
10. Kyle Peters…1:07.6
Other notables: 12. Justin Bogle; 14. Austin Politelli; 19. Dakota Tedder; 20. Shawn Rife.
LAS VEGAS RESULTS: DAVE COOMBS SR EAST/WEST CHALLENGE SHOOTOUT
1. Justin Barcia
2. Eli Tomac
3. Martin Davalos
4. Ken Roczen
5. Marvin Musquin
6. Wil Hahn
7. Ryan Sipes
8. Malcolm Stewart
9. Blake Wharton
10. Matt Moss
Other notables: 11. Dean Wilson; 12. Blake Baggett; 13. Justin Bogle; 20. Scott Champion.
LAS VEGAS RESULTS: 450 CLASS
1. Ryan Dungey
2. Davi Millsaps
3. Justin Brayton
4. Jake Weimer
5. Josh Grant
6. Nico Izzi  
7. Mike Alessi
8. Weston Peick
9. Andrew Short
10. Nick Wey
Other notables: 11.Broc Tickle; 13. Chris Blose; 14. Gavin Faith; 18. Brett Metcalfe; 20. Kyle Regal.
TIMED QUALIFYING RESULTS: WHO'S FAST WHEN IT DOESN'T PAY
For the stars of Supercross, timed qualifying is a no-brainer. They consider it a formality..with the only important part of the puzzle being getting a good gate pick for their heat race. For everyone else it is do-or-die to get into the night program. Not in Vegas though. So few riders showed up that only one rider was eliminated from the program in the 250 East?and six in the 250 West. And the lone 250 east rider made the main event anyway (and finished 14th).
250 "FAST 15 WEST" QUALIFiERS
1. Dean Wilson…1:04.9
2. Marvin Musquin…1:05.0
3. Ryan Sipes…1:05.13
4. Eli Tomac…1:05.14
5. Martin Davalos…1:05.19
6. Wil Hahn…1:05.6
7. Jason Anderson…1:06.0
8. Billy Laninovich…1:06.6
9. Matt Moss…1:07.7
10. Chris Plouffe…1:10.73
11. Killy Rusk…1:11.73
12. Scott Champion…1:11.79
13. Ryan Smith…1:12.3
14. Mitchel Alcorn…1:12.8
15. Preston Tilford…1:12.9
WHO DIDN'T QUALIFY IN THE 250 WEST
21. Brian Foster
22. Jared Hicks
23. Josh Greco
24. Ryan Tangel
25. Vince Friese
26. Noa Quinabo
27. There were only 26 rider trying to qualify
250 "FAST 15" EAST QUALIFIERS
1. Ken Roczen…1:03.2
2. Malcolm Stewart…1:04.6
3. Justin Bogle…1:04.9
4. Blake Baggett…1:05.2
5. Blake Wharton…1:05.6
6. Justin Barcia…1:05.7
7. Kyle Cunningham…1:06.1
8. Matt Lemoine…1:06.3
9. Jake Canada…1:07.5
10. Kyle Peters…1:07.6
11. Hunter Hewitt….1:07.9
12. Shawn Rife…1:08.0
13. Les Smith…1:081
14. A.J. Cantazaro…1:08.7
15. Shane Sewell..1:09.5
WHO DIDN'T QUALIFY IN THE 250 EAST
21. Austin Politelli (only did one lap)
22. There were only 21 riders trying to qualify
450 "FAST 15" QUALIFiERS
1. Justin Brayton…1:03.4
2. Davi Millsaps…1:03.54
3. Nico Izzi… 1:03.59
4. Jake Weimer…1:03.7 2
5. Ryan Dungey…1:03.77
6. Broc Tickle…1:04.7
7. Nick Wey…1:04.842
8. Bobby  Kiniry…1:04.849
9. Mike Alessi…1:05.0
10. Kyle Regal…1:05.07
11. Matt Goerke…1:05.15
12. Andrew Short…1:05.19
13. Weston Peick…1:05.5
14. Josh Grant…1:05.6
15. Brett Metcalfe…1:05.7
WHO DIDN'T QUALIFY
41. Chris Howell
42. Donald Vawser
43. Jeremy O'Driscoll
44. Chad Cook
45. Travis Bannister
…51. Kyle Chisholm
LAS VEGAS ENDUROCROSS RESULTS: TADDY DOESN'T WIN


The 2012 Geico AMA EnduroCross championship, presented by Lucas Oil kicked off with a bang inside the Orleans Arena in Las Vegas. Colton Haaker got his first ever Geico AMA EnduroCross main event win by leading every lap of the main event. The Lucas Oil backed Kawasaki rider withstood heavy pressure from Monster Energy Kawasaki's Justin Soule for the duration but never put a wheel wrong. KTM's Taddy Blazusiak came back from a first turn crash to finish third. After going undefeated in 2011, Blazusiak had a tough day and crashed a few times in practice and during his heat race, which forced him to the Semi. Beta's Cody Webb finished fourth ahead of Taylor Robert rounded out the top five. Mike Brown, Cory Graffunder, Kyle Redmond, Kevin Rookstool, Brobby Prochnau and Destry Abbott rounded out the top eleven riders that made the main event.
The Women's class was won KTM's Maria Forsburg. Kacy Martinez passed Forsburg and led for a little while to make it interesting but a mistake forced her to settle for second. Louise Forsley finished third. The next event is on June 9 in Sacramento's Power Balance Pavilion.
LAS VEGAS RESULTS
1. Colton Haaker…KTM
2. Justin Soule…Kaw
3. Taddy Blazusiak…KTM
4. Cody Webb…Bet
5. Taylor Robert…Kaw
6. Mike Brown…KTM
7. Cody Graffunder…Hus
8. Kyle Redmond…Hus
9. Kevin Rookstool…Hon
10. Bobby Prochnau…KTM
11. Destry Abbott…Kaw
IN SPORTS RELATED NEWS: CONCUSSIONS, WHO KNEW WHAT? WHEN?


More than 100 former NFL players have filed a federal lawsuit in Atlanta claiming that pro football didn't properly protect its players from concussions.The plaintiffs in the lawsuit include former Atlanta Falcon Jamal Anderson, ex-Georgia star Lindsey Scott and veteran quarterback Don Majkowski. The lawsuit, filed Thursday in federal court in Georgia, claims the league failed to protect NFL players from brain injuries linked to football-related concussions.
They are among more than 1000 former NFL players suing the league. The cases say not enough was done to inform players about the dangers of concussions in the past, and not enough is done to take care of them today. The league has said any allegation that the league intentionally sought to mislead players is without merit. This only relates to motocross in that concussions are an issue for racers?and the 2012 AMA Nationals requires all riders to undergo the Impact concussion study, which while it doesn't stop concussion, it determines if a rider has recovered from a head injury enough to be allowed to race again.
IT'S HERE ALREADY! 2013 AMA SUPERCROSS SERIES SCHEDULE


Expect 17 photos just like this in 2013…although maybe the cast of characters will differ. Photo: Hoppenworld
Anaheim will be the site of the opening race of the 2013 Monster Energy Supercross season. The proverbial home of supercross will host two of the 17 races, on January 5 and February 2, signifying the first and fifth stops, respectively. The most significant change for the 2013 Monster Energy Supercross season is the championship's return to the legendary Metrodome in Minneapolis and the dropping of New Orleans.
Date                      Venue                                   City
January 5………Angel Stadium…………….Anaheim, CA
January 12…….Chase Field…………………Phoenix, AZ
January 19…….Dodger Stadium…………..Los Angeles, CA
January 26…….Coliseum…………………….Oakland, CA
February 2…….Angel Stadium……………..Anaheim, CA
February 9…….Qualcomm Stadium……..San Diego, CA
February 16…..Cowboys Stadium……….Arlington, TX
February 23…..Georgia Dome…………….Atlanta, GA
March 2…………Edward Jones Dome…..St. Louis, MO
March 9………..Daytona Speedway………Daytona, FL
March 16………Lucas Oil Stadium……….Indianapolis, IN
March 23………Rogers Centre…………….Toronto, Can
April 6………….Reliant Stadium……………Houston, TX
April 13………..Metrodome………………….Minneapolis, MN
April 20………..CenturyLink Field………….Seattle, WA
April 27………..Rice-Eccles Stadium……..Salt Lake City, UT
May 4………….Sam Boyd Stadium………..Las Vegas,NV
2012 WORLD CHAMPIONSHIP STATS (AFTER  THREE ROUNDS


Next weekend's Mexican Grand Prix is round four of the 16 round series. Joel Roelants (34) hopes to pad his stats South of the Border.
450 GP FAST QUALIFYING
1. Tony Cairoli…2
2. Gautier Paulin…1
450 GP LAPS LED
1. Antonio Cairoli…53
2. Christophe Pourcel…40
3. Gautier Paulin…21
4. Clement Desalle…4
5. Steven Frossard..1
450 GP PODIUMS
1. Antonio Cairoli…3
2. Christophe Pourcel…2
3. Clement Desalle…2
4. Gautier Paulin…1
5. Steven Frossard..1
450 GP WINS
1. Antonio Cairoli…1
2. Christophe Pourcel…1
3. Gautier Paulin…1
250 GP FAST QUALIFYING
1. Tommy Searle…2
2. Jeffrey Herlings…1
250 GP LAPS LED
1. Jeffrey Herlings…61
2. Tommy Searle…26
3. Joel Roelants..14
4. Michael Leib..13
5. Jeremy van Horebeek…1
 
250 GP PODIUMS
1. Jeffrey Herlings…3
2. Joel Roelants..2
3. Tommy Searle…2
4. Jeremy van Horebeek…1
5. Michael Leib..1
250 GP WINS
1. Jeffrey Herlings…2
2. Tommy Searle…1
YOU CAN SEE ALL THE 2012 AMA NATIONALS…YOU JUST HAVE TO KEEP THE TV CLICKER ON DEF-CON 4

The 2012 TV deal for the AMA Nationals includes 82 hours of coverage on both NBC Sports (NBCSN, previously Versus) and Fuel TV. In addition to its coverage of each round of the Nationals, NBC Sports Network (NBCSN) will present exclusive programming beyond the motos, including a pre-season preview show, mid-season recap, weekly highlight shows following each round, and a post-season recap.
The NBC network will air three rounds live (Budds Creek National, Red Bud and Unadilla).
Fuel TV will air coverage of all first motos and, at Budds Creek on Saturday, June 16, Fuel TV will show its first live second moto broadcast of the 250 class. In addition to Fuel TV's first moto broadcasts, all of the first motos will once again be streaming live online at www.AlliSports.com.
WORLD RECORD…OF SORTS! TWO CHAMPIONSHIP FOR ALIAS GEAR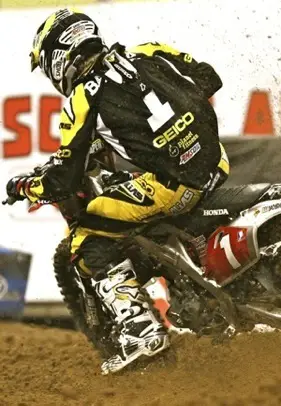 Eli Tomac – 250 West.                                          Justin Barcia – 250 East.
In what must be one of the most unusual records in motocross history, Justin Barcia and Eli Tomac won the 250 East, 250 West and East/West Challenge Supercross Championships while wearing Alias gear. What's so odd about that? Alias gear isn't for sale. It is the brainchild of former AMA National rider Jeff Surwall (who also founded No Fear MX and Spy Goggles). No longer with No Fear, Surwall developed Alias and sponsored the Geico Honda team…and they returned the favor with two AMA Championships.
The good news? Alias should be introduced to the American market later this year. You can go to www.aliasmx.com for more info…but you won't find any info about the motocross gear. Go there anyway to see the T-shirts, shorts and hats.
DUBYA ANNOUNCES "THANK DUBYA IT'S FRIDAY" FACEBOOK GIVEAWAYS BEGINNING MAY 4


Winners will be selected at random from the list of fans that "like" the Dubya fan page at www.facebook.com/dubyausa. No purchase is necessary to enter. For more information about Dubya's products and services, visit their website at www.dubyausa.com.
NEW MOTOCROSS NEWS THAT MATTERS…OR MAYBE IT DOESN'T

A 25-year-old who video taped himself riding a Yamaha R1 at 180 mph…and put the video on YouTube has lost his bike (which belonged to his mom). The mom was also fined $1400. The 25-year-old has not be charged because he could not be seen in the video. The 25-year-old suspect had no valid driver's license, no insurance and 27 driving-related traffic convictions.

Grant Langston's stolen rig was recovered.

Only 21 riders showed up to race the 250 East event at the Las Vegas Supercross. Plus, there is no purse being paid to the 250 East or 250 West riders…not for any places. The purse is all in the 250 East/West shootout? which means that riders that aren't in the top nine in their respective main events don't get paid (unless they go 1 or 2 in the LCQ). Rider turnout last week was bad also (as was Seattle). Feld needs to rethink what's happening because the privateers don't want to do it anymore.

On May 11 the Lake Elsinore Motorsports Park will be open to AMA Pro card holders only for a test day. Local riders can ride on the Vet track only. Pro riders and their crews get in free.

Michael Leib will get re-upped for one more race on Zach Osborne's bike…at the Mexican Grand Prix on May 12. Then, assuming that he doesn't get picked up by another Euro team (Suzuki could use a 250 rider), he will be at Hangtown on May 19.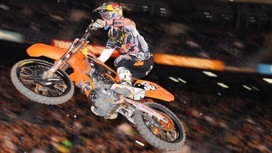 In the Las Vegas East/West Challenge…Ken Roczen and Marvin Musquin will face each other for the first time in an AMA race (they have raced each other at the USGP).

Las Vegas was the place where the riders boycotted the main event when the power went out and the stadium lights wouldn't work in 1995. Jeff Emig broke the boycott and raced (and won), but Jeremy McGrath, who won the Las Vegas Supercross event four times, won the 1995 title.

FMF must have forgiven MX Sports for ripping all their banners down when the FMF energy drink was announced last year, but now that Rockstar is no longer sponsoring the Nationals (Red Bull is now the "official beverage drink sponsor" of the 2012 series) ? FMF is again the "Official Exhaust of 2012 Lucas Oil Pro Motocross Championship." According to MX Sports, Red Bull has no issues with FMF being a series sponsor. Red Bull will be the "title" sponsor of the Budds Creek, Red Bud and Unadilla rounds ? which will be on NBC network TV.

The financial page: Honda revenues from motorcycles went up 1.5% to $4.4 billion on an 18% rise in unit sales (to 3.5 million motorcycles). The increases in sales was driven by higher sales in Asia and South America. However, Honda profits dropped 32% to $400 million because of unfavorable foreign currency effects, which offset the positive impact of higher sales.

According to the Motorcycle Industry Council, sales of new motorcycles meant for road use and scooters were up 8.8% for the first quarter of 2012 compared with the same period last year in part because of unseasonably warm weather and higher gas prices.

But, offroad motorcycles were down 6.7%. Offroad motorcycles are not strictly limited to motocross bikes. In 2007 about 950,000 street and dirt motorcycles were sold. Last year the number was 441,000.
CHAD REED'S DREAM! TO BE INCLUDED WITH JAMIE WHINCUP, MICK DOOHAN AND SHANE STEWART IN AN AUSSIE SPRINT CAR SPECTACULAR

WHAT'S THE DEAL WITH THE POURCEL BROTHERS NOSES?



It is not uncommon for a rider to get hit in the face by roost, but what are the odds of two riders on the same team, in the same race, on the same bike, who are brothers, suffering the same fate at the Italian GP. Meet Christophe and Sebastien Pourcel:
Christophe Pourcel said, "A rock hit me on the nose a few laps from the end; blood was streaming down my face so I decided it was wiser to settle for second place as this would secure the overall GP win."
Sebastien Pourcel said, "During the opening lap a stone hit me on the nose. I lost a lot of blood and eventually had to stop. In the second moto I felt tired after just a few laps; possibly this was the result of the incident in the first race, and I pulled in rather than taking risks."
PLEASE STOP! YOU ARE KILLING US WITH RIDER SPAM

If it seems like everyday there is a press release about such-such and so-and-so racing the Las Vegas Monster Energy Cup, that is because there is. Feld, lightened up. The race isn't until October 20, 2012. That is five months away. And yes, we could have guessed that Travis Baker, Brett Metcalfe, Ryan Villopoto, Kyle Chisholm, Mike Alessi, Nick Wey, Jake Weimer, Justin Brayton, Josh Grant, Andrew Short and everyone else is going to be there…after all, it pays $1,000,000 to the winner.
But, do we have to hear about it every day? Take a three or fourth month break on the PR machine…because it has become monotonous. No one looks at the press releases for something that isn't going to happen for 168 days. More is sometimes too much…not better.
MATH & SUPERCROSS: WHO HAS TO MOVE OUT OF THE 250 EAST/WEST IN 2013


Broc Tickle wanted to stay in the 250 class, but he had to move up.
Race teams are well aware of the AMA rule instituted prior to the 2007 season regarding what it will take for a 250 rider to point out of the class. Are you? If not, here goes: "Effective with the 2007 season points, riders earning 120 points in an eight-race season in three seasons of Lites competition will be ineligible for the Supercross Lites Class."
There is also a rule that limits how long a rider who wins the 250 East/West Championship can stay. The quick explanation is that if you win the title you get to defend it once, unless you have been in the class for three years. Plus, you can only win the title twice, no matter how few years you have been in the class.

Justin Barcia has to battle the big boys next year… in Supercross.
Justin Barcia: Must move up. Obviously Justin Barcia will be required to move up for 2013. Justin won the 250 East title last year and was given a year to defend his title. He did just that, and will become part of the 450 traveling circus next year.

Dean Wilson gets to stay, but if he won the 250 West he would have had to leave.
Dean Wilson: Can stay. If Dean had won the 250 West he would have had to move up in 2013. He didn't and he won't have to.

Eli Tomac can defend his title in 2013, but has to move up in 2014.
Eli Tomac: Can stay. Although Tomac won the 2012 AMA 250 West he is only in his second year. He can stay and defend his new crown in 2013…but then must move up in 2013.
Cole Seely: Can stay. Cole was 15-points short of having to move up in 2013, but his bad crash in Salt Lake ended his Supercross season early…and saved him from having to find a 450 ride for 2013. However, if Cole had managed to defeat Tomac and Wilson for the 250 West, he would have had to move up…even though it only would have been his first title. Why would he have had to move up?  Just like Broc Tickle was kicked out of the 250 class after winning the 250 West last year, Cole Seely has been in the class for three years and any title winner who has been in the class for three years has to move up immediately…and does not get to defend his title. Cole didn't win and gets to stay.
Blake Baggett: Can stay. Blake Baggett barely missed getting bumped up in 2013 by the skin of his teeth. BB scored 159 points in 2011, is over the mark at 128 points so far this season, and managed to fall two points short of the points cutoff in 2010 when he earned 118 points. Blake will most likely move up after 2013.
Other notables: The top five 250 West riders (Tomac, Wilson, Musquin,Seely and Anderson) can all stay. Of the top five 250 East riders (Barcia, Durham, Roczen, Wharton and Baggett) only Barcia has to move up.
It's worth noting that all of the riders from 2007 through 2009 that earned over 120 points have either moved up or moved on. This includes Ryan Villopoto, Jason Lawrence, Josh Hill, Jake Weimer, Trey Canard, Ryan Dungey, Ben Townley, Ryan Morais, Austin Stroupe, Brett Metcalfe and Christophe Pourcel. It should be noted that riders in the 250 AMA Nationals are not affected by this rule and can stay as long as they like in the 250 Nationals.
ASK THE MXPERTS: ALL OF YOUR PRODUCT RELATED QUESTIONS ANSWERED
MXA gets peppered with questions about products everywhere we go…here is this Friday's sampling ? plus the answers.
Dear MXperts,
    With the cost of boots these days I can't afford to throw away a perfectly good pair of $400 boots just because the sole is worn out. Tell me who to send them to get new soles attached. How much will it cost?


Send them to Pro-Boot. In most cases it costs $99.00 (plus shipping). For more info go to www.pro-bootmx.com or call (800) 548-8354.
Dear MXperts,
    I can borrow a GYTR tuning device for my 2010 YZ450F, but I don't know what map to put in to it. Can MXA lead me in the right direction?


Yes we can. The four maps depicted in MXA's chart (above) cover all of the bases, but on the 2010 YZ450F most MXA test riders preferred to race with the "Less Hit" map because the barky low-end was the major complaint and the "Less Hit" map irons it out. Maps don't come with the GYTR Power Tuner. Here is a quick primer on how the maps work. As it comes out of the box, all the fields in the GYTR Power Tuner are set at 0, 0, 0, 0, 0; which are the stock ignition and fuel settings. When you move the cursor to a specific field within the fuel injection grid, you can change the value to whole numbers between negative seven and positive seven. Each number is an three percent change. So, entering a "+7" makes the bike 21 percent richer than the stock 0 setting in that performance area. The ignition map either retards (-) or advances (+) the ignition by one degree per whole number (entering a -5 retards the ignition five degrees). Once you understand the changes, and get a feel for them by riding the bike ? you can make your own maps.
Dear MXperts,
    I'm looking for a lightweight battery for my KTM 350SXF, but am confused by the large number of them. Which one is the best?


The MXA wrecking crew has considerable lithium iron phosphate experience with TurnTech batteries, Super B and Shorai batteries. (We have never tested a Full Spectrum battery). The TurnTechs were light and worked well (even in the smallest size possible), but we did suffer two cracked battery casings. The Shorai LFX and Super B come in a more complete package (including self-sticking foam padding to make the battery fit in any battery box). We preferred the Shorai because it was less expensive than the Super-B and has connections to the KTM race team. Shorai batteries cost $109.95 for the more powerful, but slightly heavier LFX-09L2-BS12 or $99.94 for the lighter, fair weather LFX-07L2-BS12. For more info go to www.shoraibattery.com or call (888) 477-4848 .
Dear MXperts,
    My chain guide wears out so quickly that I am going broke buying new parts. What is the solution?


You didn't tell us what kind of bike you own, but given your symptoms it must be a Kawasaki. Whether it is a Kawasaki, Honda, Yamaha, Suzuki or KTM, you should invest in a TM Designworks Slide-N-Glide kit. It will solve your problems. The retail price is $164.95 for the comprehensive Slide-N-Glide kit, $89.95 for the chain guide only (not with the buffer pad) or $29.95 for a replacement chain guide wear block. Contact TM Designworks at (541) 772-4161 or www.tmdesignworks.com.
Dear MXperts,
    My gear eats through my skin. I get rashes on the inner thighs, blister on my palms and lots of chafing. What is the solution?


If your skin is that tender we suggest to a product called Chafe Zone. It is used by the police and military to stop chafing from body armor. Chafe Zone's main ingredient is a fatty acid that is commonly used for the postoperative closure of surgical wounds. It contains oleic acid, safflower seed oil, linoleic acid, palmitic acid, myristic acid and borago officinalis seed oil. It comes in a deodorant-style stick that lubricates the skin to lessen chafing. We have had good luck with riders using it to stop blisters on their hands or monkey butt. It costs $14.99 and you can find out more at www.medzonecorp.com.

Dear MXperts,
    I know that MXA is the only magazine that will give me a real answer. I have a 2010 Yamaha YZ250F and I am trying to eek out every horsepower possible. I see where lots of AMA National riders use the Moto Tassinari Air4orce air boot. Does it really work? And will it work on my YZ250F?


MXA conducted a series of track and dyno tests on Air4orce. The results were impressive. With the short Air4orce velocity stack installed, we gained one horsepower at peak and produced more power from 7500 rpm on up to the rev limiter on a YZ250F. Test riders could feel a distinct difference between the short and long Air4orce velocity stacks and between the stock air boot and the Moto Tassinari one. Take note?every test rider selected the short Air4orce stack and reported a noticeable improvement in throttle response, a quicker transition across the low end and more midrange pull. On the dyno, we got one horsepower more at peak. The Air4orce costs $298.00 at www.mototassinari.com or (603) 298-6646.
Dear MXperts,
    I ask my local dealer to get me a set of Bridgestone 403/404 tires based on MXA's recommendation, but he says he can't get them. I think he just wants me to buy the tires he has in stock. Is he telling the truth?


Bridgestone 403/404 tires are very hard to come by. We called several tire distributors, including Bridgestone itself, and they confirmed that your dealer is telling the truth. It might be possible to find a dealer or supplier who has one or two hidden…but if not, then you will have to wait for the next shipment.
THE LATEST 2012 FIM WORLD MX1/MX2 (250/450) CHAMPIONSHIP SCHEDULE


Three races down and 13 to go.                                           Photo: Ray Archer
The final piece of the GP puzzle was put in place on Thursday when Youthstream announced that its previously unannounced September GP date will now be held in Faenza, Italy. Italy is always Giuseppe Luongo's fall-back position. If he can't find a country, promoter or government to pay his going price…he puts the race in Italy.
DATE                          VENUE                             COUNTRY
April 9                   Valkenswaard            Netherlands
April 22                 Sevlievo                     Bulgaria
April 29                 Fermo                        Italy
May 13                  Guadalajara               Mexico
May 20                  Beto Carrero              Brazil
June 3                   St Jean D'Angely       France
June 10                 Agueda                      Portugal
June 17                 Bastogne                   Belgium
July 1                     Uddevalla                  Sweden
July 15                   Kegums                     Latvia
July 22                   Semigorje                 Russia
August 5               Loket                         Czech Republic
August 19             Matterley Basin         England
September 2         Lierop                        Netherlands
September 9         Faenza                      Italy
September 23       Teutschenthal           Germany
WHY THAILAND GOT A GRAND PRIX FOR 2013? YOU WILL KNOW LESS AFTER YOU WATCH THIS INTERVIEW THAN YOU DID BEFORE…EXCEPT THAT THE TRACK DOESN'T HAVE ELECTRICITY

RICKY DIETRICH PULLS OUT OF WORLD ENDURO SERIES…INDEFINITELY


CH Racing Husqvarna team has released Ricky Dietrich from his 2012 racing obligations
The following release was issued by Husqvarna Italy on behalf of CH Racing regarding American racer Ricky Dietrich: The Husqvarna Enduro Team by CH Racing & the management for Ricky Dietrich have announced today that they have come to a mutual agreement that allows for Ricky to step away from his racing obligations at this time.Despite his very comfortable and competitive situation in Italy with the Husqvarna family, Ricky feels the need to step away from racing for an indefinite period so that he can focus on some personal matters back in the USA.
This is in no way a reflection on the team, the bike, or life in Italy. "Everything provided for me here in Italy could not have given me a better opportunity to succeed," commented Dietrich. "I genuinely enjoyed my life in Italy, the bike and the team. My teammates are the best I've ever had." The decision is a personal matter that Ricky feels would be best handled without the pressures of World Championship racing at this time. When Ricky is both mentally and physically 100% focused on racing again, the plan is to return to racing.
"I am really sorry for Ricky as he did his best since he arrived in Italy last November," said Martino Bianchi, Husqvarna racing coordinator. "We all at Husqvarna believe that he has the talent and the skills to succeed, also in the Enduro World Championship, but he needs to concentrate fully to get the results he deserves. I hope he can return to racing again and show his talents." Husqvarna will continue to be represented in the 2012 Enduro World Championship by Lorenzo Santolino and Matti Seistola in the Enduro1 class with Juha Salminen, Alex Salvini and Romain Dumontier competing in Enduro2.
THE BATTLE OVER FERMO CONTINUES AFTER THE RACE: VIDEO WARS
Fermo by Kawasaki

Fermo by Yamaha
GODSPEED! DON KENWORTHY


Don Kenworthy, Sr.
Although most commonly called the Troy National, the name was actually "Kenworthy Motocross Park" and it was founded by Don Kenworthy who died on April 22, 2012, at the age of 82. Ken and Don Junior, were mainstays of Ohio motocross. Kenworthy Motocross Park held AMA Nationals from 1987 to 2004 (missing only the 2003 event which was flooded out twice) and a year later race was moved. Condolences to his family and friends.
CHAPARRAL LAUNCHES FAN SITE FOR CHAPARRAL HONDA L&Mc TEAM


Andrew Short winning Seattle.
Chaparral Motorsports is pleased to announce the launch of a new website dedicated to the Chaparral Honda L&Mc Racing Team, chaparralhondateam.com, that will be a source for race fans to get up to date information on Andrew Short and the Chaparral Honda Race Team. By going to www.chaparralhondateam.com, fans gain access to dozens of videos and posts featuring Andrew Short, Larry Brooks and Jeremy McGrath. At the click of a button, viewers can get news and updates about the team from the latest Supercross or motocross race. "MX Fans want to more in depth news and updates on their favorite riders," states Crystal Ashby, VP Marketing for Chaparral Motorsports. "The fan site delivers more engaging content to access from the comfort of their own home."
JIMMY WEINERT TRAINING FACILITY (JWTF) TO HOST FIRST RACE AT CRYSTAL COAST MX ON MAY 27

Jimmy Weinert Training Facility (JWTF) is pleased to announce the the first ever motocross race on the JWTF grounds. The race will be held on the newly designed "main track" of the facility where the former Crystal Coast motocross track used to reside. The track has been reversed and re-shaped to be suitable for riders of all abilities. The race will be held on Sunday, May 27, (Memorial Day Weekend) with a $2000 + 150% of entries Pro-Purse. Open practice and a pit bike race with a $500.00 purse will be held on Saturday, May 26. The weekend schedule and information is as follows:
SATURDAY MAY 26:
    10:00 a.m. ? Start of open practice
    3:00 p.m. ? End of open practice
    4:00 p.m. ? Pitbike race ($500 purse distributed to top 5)
    9:00 p.m. ? Bonfire
SUNDAY MAY 27:
    $10 Gate fee per person
    $30 A-class registration fee per class ($2000 purse + 150% of entries)
    $25 Registration fee for all other classes
    $30 RV hook-up rental per night ? Call  (845) 313-6590 to reserve)
    $20 Cabin rental per night (Call 1-845-313-6590 to reserve)
    Call (845) 313-6590 with any questions! Hope to see you there!
THIS WEEK'S BIRTHDAY BOYS… THE PARTY IS AT KOGER'S HOUSE


The late Rich Eierstedt on the June 1977 cover.
May 5…Rich Eierstedt
May 5…Mike Koger


Brett Metcalfe can't wait for the AMA Nationals to start.
May 6…Brett Metcalfe
May 7…Matt Tedder


World Champion Rolf Tibblin taught young Americans about motocross.
May 7…Rolf Tibblin
May 9…Brian Deegan


The late Bud Ekins and the late Steve McQueen.
May 10…Bud Ekins
May 10…Jason McCormick


The late Edison Dye was the Godfather of American motocross.
May 10…Edison Dye
SUDCO REVEALS VAMPLIERS TO A WORLD IN TROUBLE!


Sudco International is excited to introduce to the American powersports market, direct from Transylvania, VamPLIERS, a versatile, all-in-one mechanic's hand pliers with a spring-loaded handle to open the jaws so you don't have to manipulate the tool both ways during any life or death struggle. They feature a unique jaw design that can completely exterminate stubborn fasteners and other ungodly creatures who might get in the way.
 
VamPLIERS are perfect for gripping the rounded the head of a bolt, stripped screw heads, Allen or Torx socket bolts, and fangs. They can also cut thick metal cage wires without any dents or defacing of its cutting edge thanks to the treated high-quality carbon steel construction. Silver bullets sold separately. The retail price is $34.97. For additional information and to order, contact your local motorcycle parts dealer or Sudco direct at www.Sudco.com.
MOTO POD! YOU CAN TAKE IT WITH YOU… IF YOU WANT IT BAD ENOUGH


The MotoPOD and an RV.
The photo last week of Jody scrubbing his airplane totally sideways a few feet off the ground, unleashed a host of email about the connection between motorcycles and airplanes ? most notably about a company that makes two devices to allow you to take your bike with you.

The MotoPOD is perfect for the mother-in-law.

The MotoLOAD uses an electric drill to winch your bike into the cargo area.
MotoLOAD and MotoPOD are designed to be used with light aircraft. Moto POD is a cargo pod that fits beneath a plane and is big enough to hold a dirt bike or small street bike. MotoLOAD is a basket and drill-powered winch that allows a bike to be loaded, gurney-style, into the back of a larger airplane. For more info go to www.motorcyclepilot.com