MXA'S WEEKEND NEWS ROUND-UP: TWENTY-THREE IS FINALLY HERE
• 2023 ANAHEIM 1 SUPERCROSS TRACK MAP
The 2023 Anaheim 1 Supercross track layout consists of a split start with an over/under jump going over the middle of the starting gate. The track has one main whoop section with a small whoop section after the table-top that jumps onto the start. 
• 2023 ANAHEIM 1 SUPERCROSS FAN FEST 
The fan fest doors open the pits at 12:00 p.m. and close at 6:00 p.m. Opening ceremonies starts at 6:30 p.m. and the night show starts at 7:00 p.m. 
• SUPERCROSS INJURY LIST NUMBER ONE
BRANDON HARTRANFT | BACK, RIBS, HIP, SHOULDER

Brandon Hartranft'S offseason injury was the most severe and he is still in the recovery process from multiple fractures to the lumbar spine, ribs, and shoulder, as well as a hip displacement. 
Brandon Hartranft posted via instagram: "Tuesday I was training and did this rhythm. It was a 3-3-3-on off. Well the middle of the 3 triple my bike cut out and I landed head first which caused L1-L2 endplate fractures, L3-L4 transverse process fractures, L1-L3 spinous process fractures, left hip dislocation, right rib fractures 5-7, right scapular fracture, and right hemothorax with chest tube placement."
Brandon Hartranft's spot on the Twisted Tea HEP Suzuki team has been replaced by Shane McElrath.
JEREMY MARTIN | INJURED LEG (WILL RACE EAST COAST)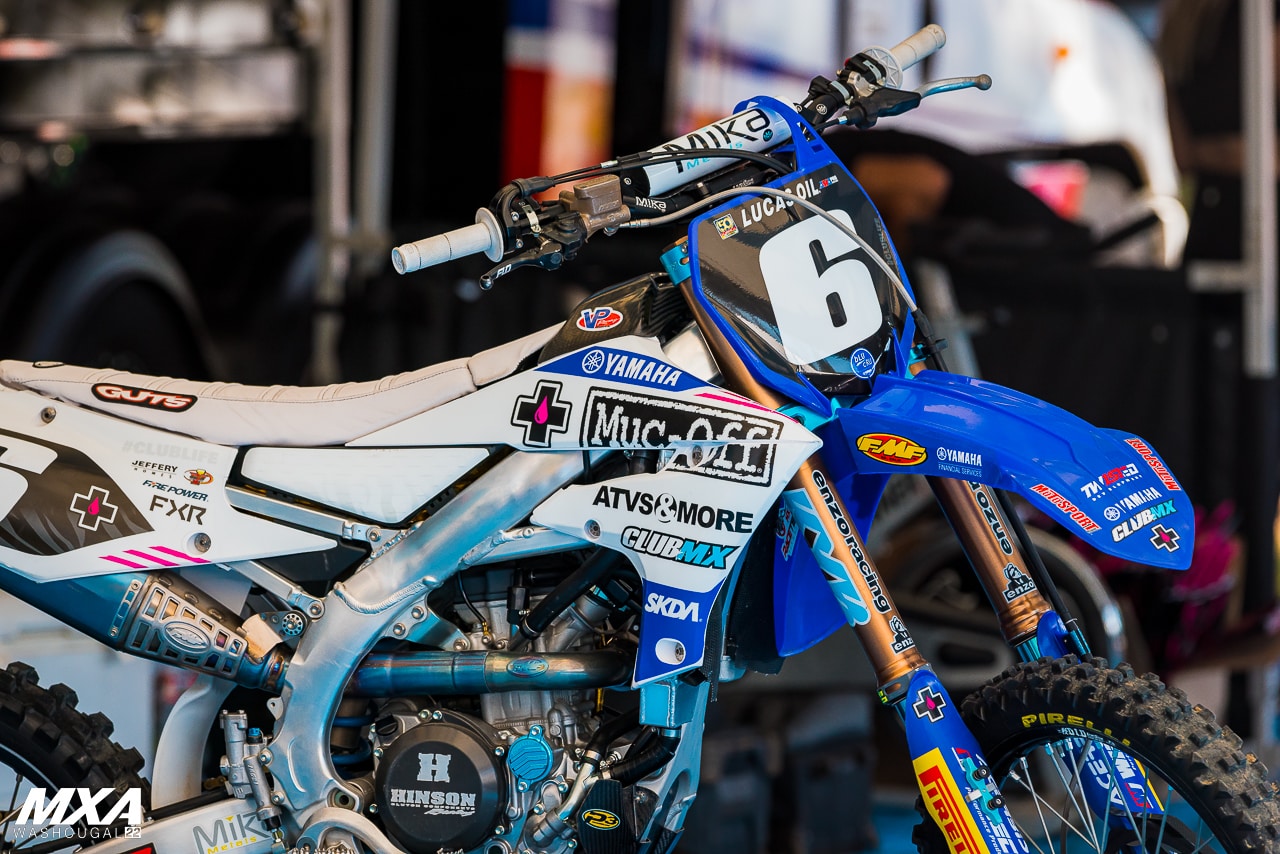 Jeremy Martin's debut with the ClubMX Mic-Off Yamaha team will be delayed until the East Coast regional Supercross series kicks off in February after a big practice crash at the ClubMX Training Facility. Click here to watch the ClubMX vlog video.
Jeremy Martin. 
CARSON MUMFORD | BROKEN WRIST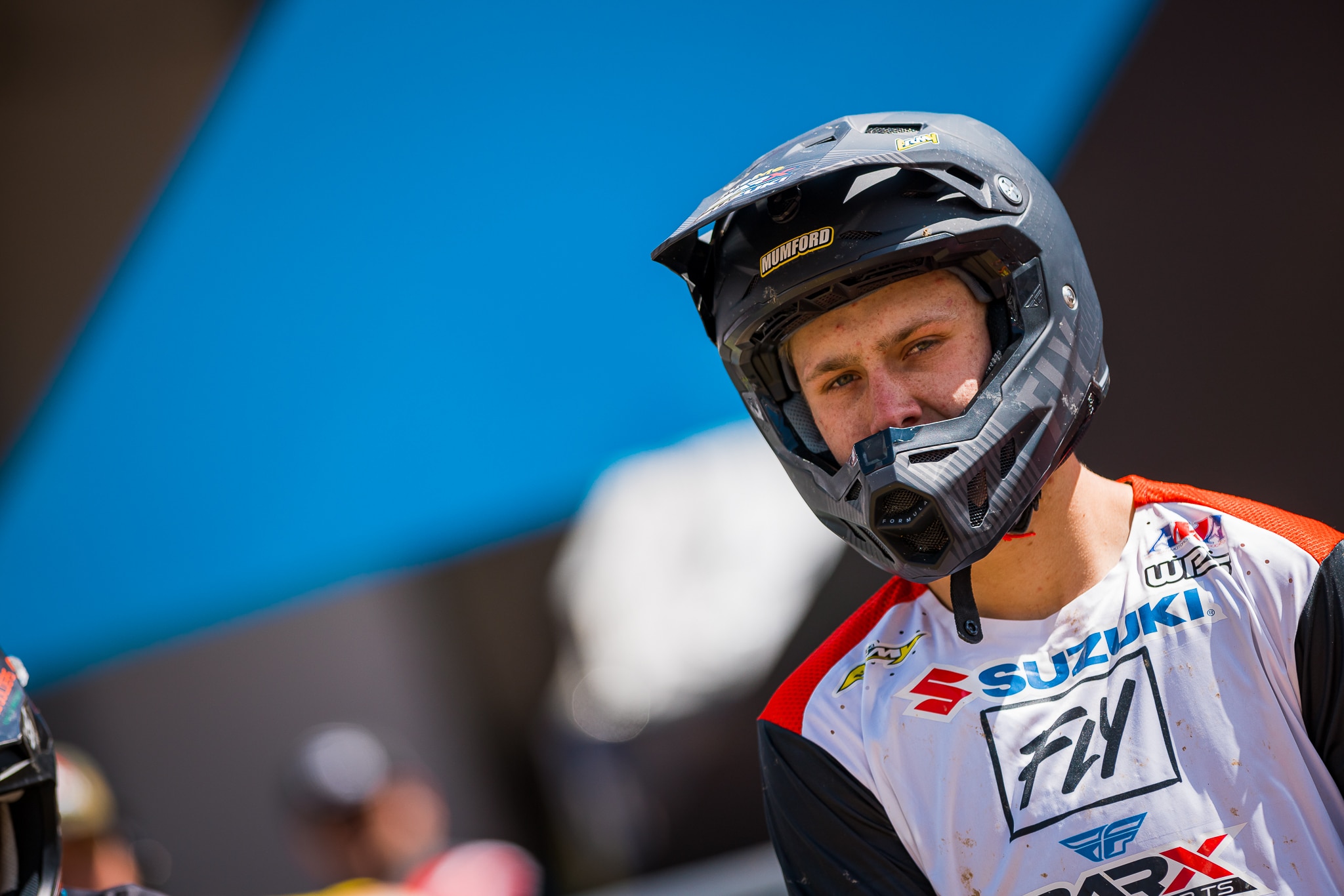 BarX Suzuki rider, Carson Mumford, broke his wrist during pre-season testing.
Carson posted via instagram: "Man yesterday is just one of those days I wished never happened. Was riding so well and feeling so great on the bike and unfortunately had a rare malfunction in one of the rhythms which sent me over the bars. I landed straight on my back and first thing I thought was oh no my season was over. Right away @bradleytaft_ was standing over me asking if I was ok, I showed him my wrist and said call an ambulance. Such a bummer for me and my team I feel like this year I worked on all my weaknesses so much and went the extra mile with everything and I have nothing to show for it .I know @twisteddevelopmentracing does everything possible to make our bikes great and safe unfortunately sometimes in our sport things just happen. As of now I'll be getting surgery tomorrow and trying to get back to what I love! Thanks to everyone who reached out to me it really means a lot to see how many people actually care❤️"
GARRETT MARCHBANKS | WRIST (WILL RACE EAST COAST)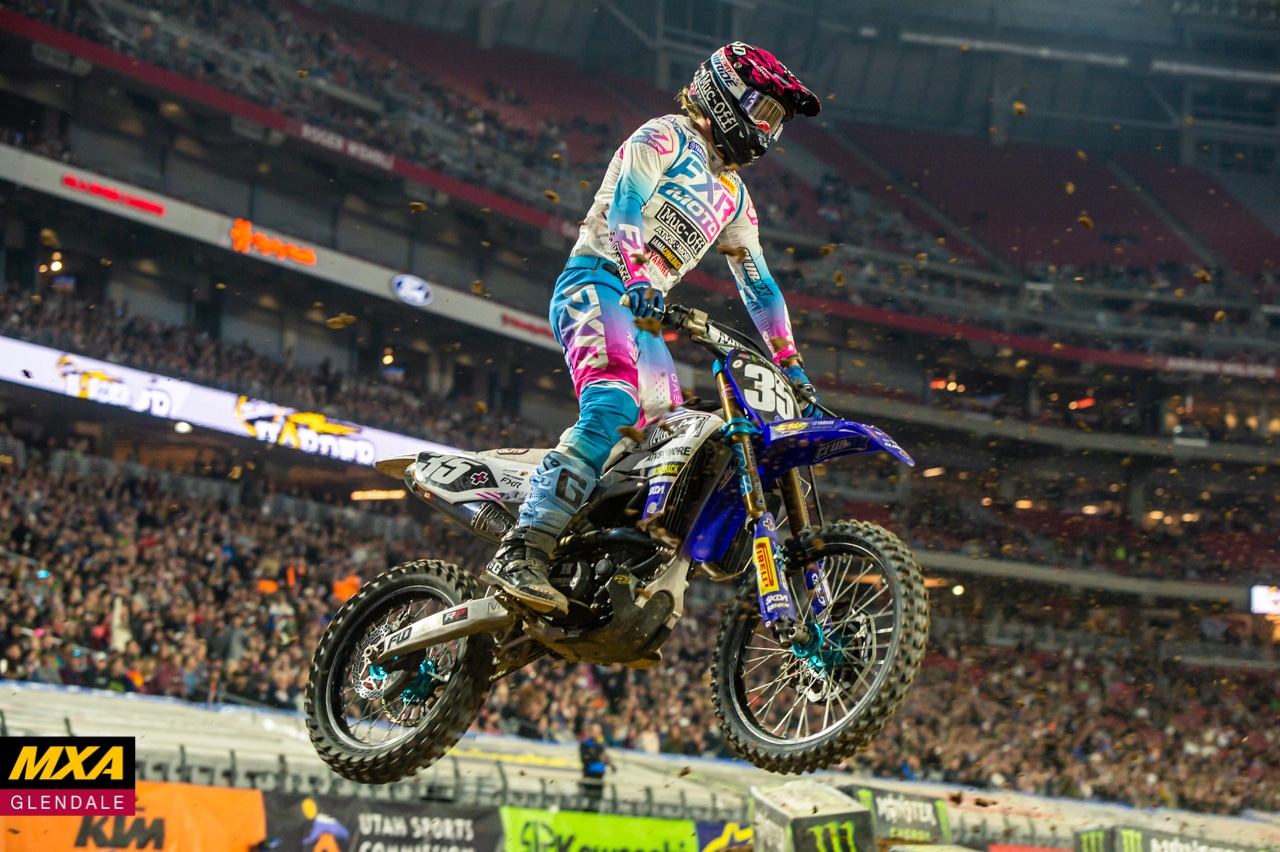 Garrett Marchbanks was planning to race the 250 West Coast series, but he broke his wrist while training. 

ClubMX Yamaha issued a statement:
"The sport of Supercross is inherently dangerous whether it is practicing or racing. Recently

Garrett

Marchbanks

suffered a minor setback and broke a bone in his wrist. The good news is, the original plan was for him to compete in the East coast schedule and with some luck, he will be ready to go. There are still several weeks before the series starts in Houston so we are optimistic for his return. I will give another update as it gets closer." 
• GLEN HELEN HONORS THE OLD ARROYO CYCLE PARK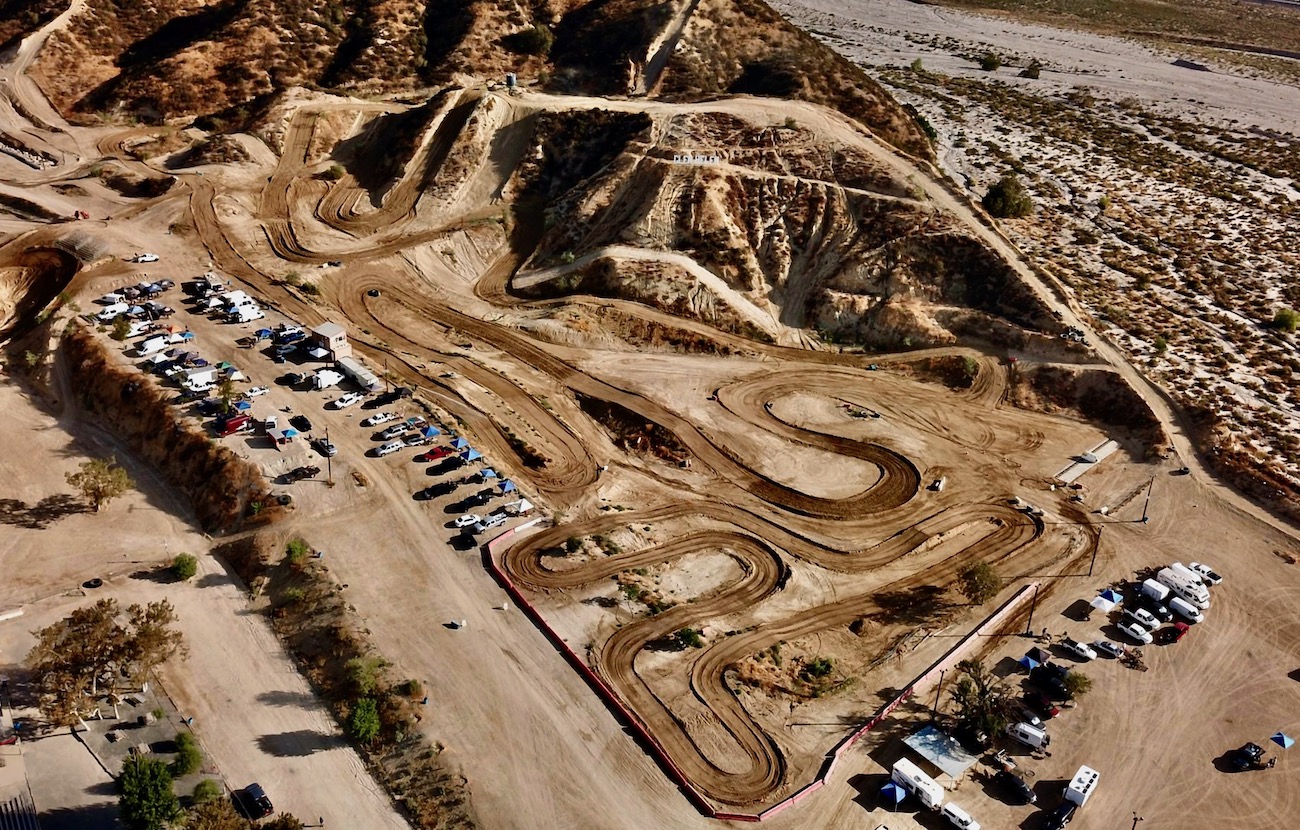 The new/old Arroyo Vet track from above.
Back in the 1970s, the land that Glen Helen Raceway now sits on was once called Arroyo Cycle Park. It was, as you would imagine, a racetrack with lots of elevation changes, and was located one canyon over from what is now the iconic Glen Helen National track. Arroyo's biggest claim to fame was the 1973 125 National Motocross Championship event held there in July of 1973. It was won by Ray Lopez on an FMF Penton, with Marty Smith second on a Monark. This was not an AMA sanctioned event because the AMA did not recognize 125cc bikes until after the Arroyo race had forced them to. The AMA decided to add a 125cc National class to its program, albeit just four rounds, in 1974. It was won by Marty Smith on a Honda. The FIM didn't have a 125 World Championship until 1975.
Arne Kring (2) on the starting line on a Husqvarna 400 Cross at Arroyo in 1972.
Arroyo Cycle Park didn't disappear overnight, it hung around for a few years on Glen Helen's land, but then one day it was gone. Well, it was still there, but nobody raced on it until REM Motocross moved from Carlsbad Raceway to Glen Helen in 1998 and had the Arroyo track completely renovated. For the next 23 years the track was called the "REM track," until 2022, when REM promoters Frank and Myra Thomason decided to retire from race promotion. Glen Helen took over the task of holding their "Saturday at the Glen" races on the track, which now had the relatively mundane name of "Vet Track."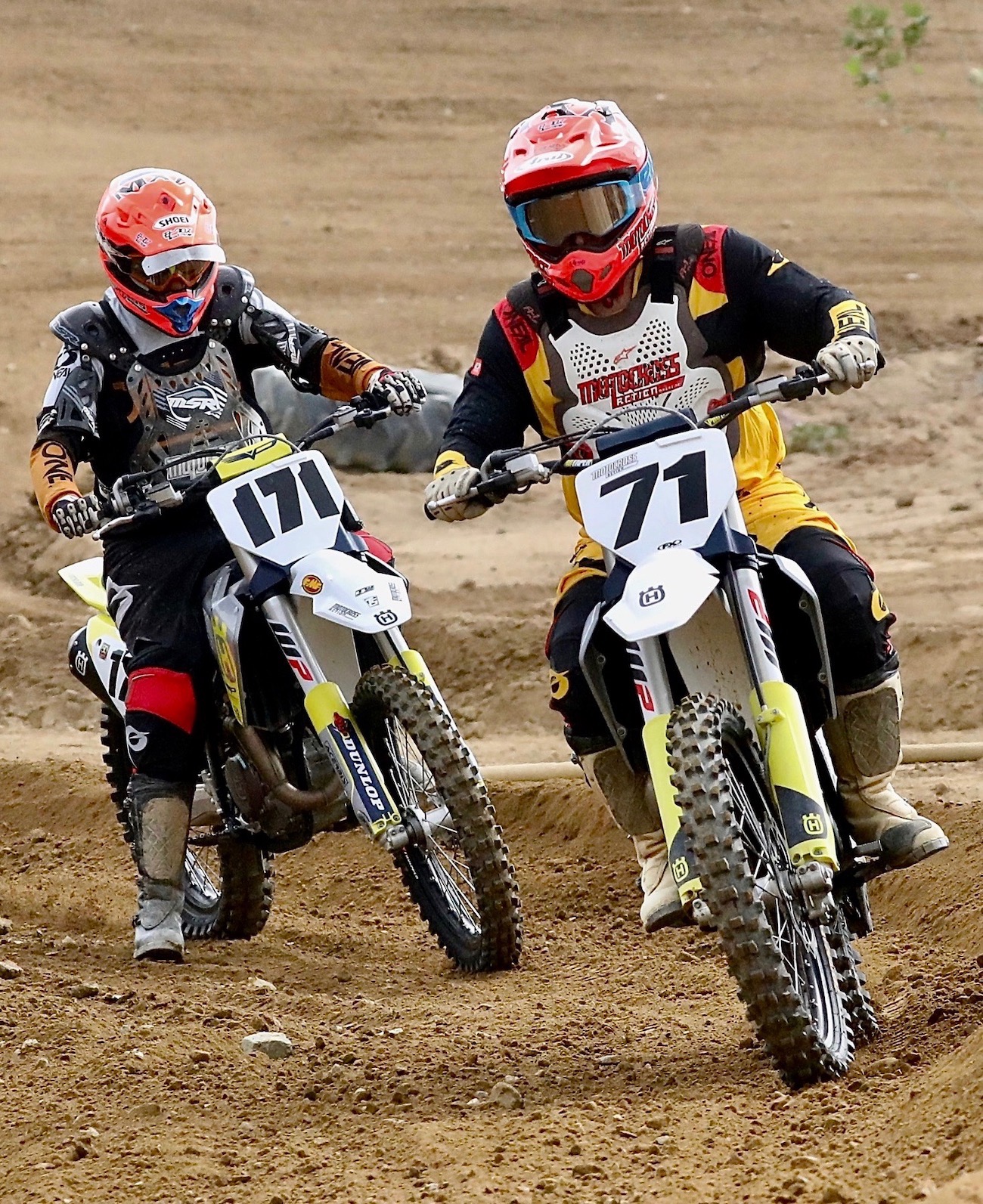 Jody Weisel (71) and Lars Larsson (171) are two guys who raced at the old Arroyo Cycle Park who are still racing at the new Arroyo track.
It didn't seem fitting that a track with so much history, built right next to a track with even more history, wasn't connecting to its glorious past. So, in December of 2022, Glen Helen's Bud Feldkamp decided to honor the old track's 50 years of motocross history by renaming it the "Arroyo Track."  However, there were some concerns that the name change might cause confusion between "Glen Helen" and "Arroyo." The solution was to keep "Vet Track" in the name and call it the "Arroyo Vet Track."
Technically, it is the "Arroyo Track at Glen Helen Raceway." For  the MXA guys who raced at Arroyo Cycle Park, before there was a Glen Helen, it is sweet to see their old stomping grounds recognized. If you'd like to see what Arroyo Cycle Park looked like back in its hey-day watch the video below.
• WHAT GLEN HELEN LOOK LIKE 50 YEARS AGO WHEN IT WAS ARROYO
• 2023 SUPERCROSS BROADCAST SCHEDULE: IT ALL PEACOCK, ALL THE TIME


There are a few races you can see on TV for free, and reruns on CNBC, but it's Peacock, Peacock,Peacock, Peacock, Peacock, Peacock, Peacock, Peacock…
• MXA TEAM TESTED: PRO CIRCUIT 2022 KAWASAKI KX112 PIPE/SILENCER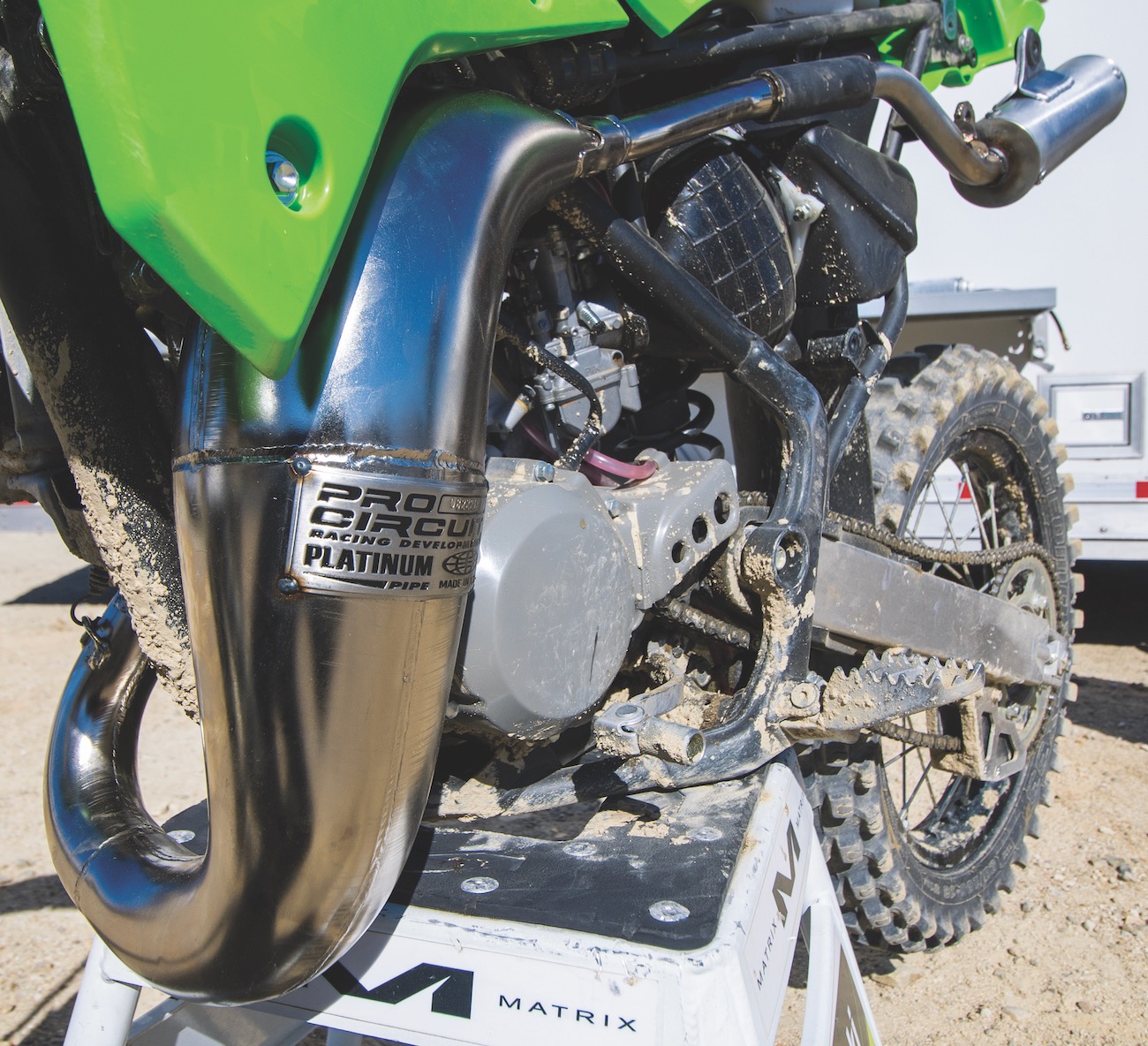 The 2022 KX112 is an all-new model for Kawasaki, built to race in the Supermini class and based on the previous KX100 two-stroke. To work with the new KX112 engine, Pro Circuit has developed a new Platinum pipe and Works R-304 shorty silencer to boost power on Little Johnny's new Supermini.
KX112. New for 2022, Kawasaki introduced a Supermini-specific, KX112, big-wheeled two-stroke. The Supermini class has a displacement limit of 112cc, and to compete at the highest levels, KTM, Husky, GasGas, Yamaha, (and previously Kawasaki) owners had to modify their 85cc (or 100cc) engines to get maximum displacement. Kawasaki's newest model is one step closer to being ready to race off the showroom floor, but it still needs some work. The Pro Circuit pipe and silencer were created to easily replace the stock pipe and silencer to boost power immediately.
Platinum pipe. The Pro Circuit Platinum pipe offers the same performance gains as the popular Pro Circuit Works pipe, but it utilizes a platinum plating on the body (rather than an unplated oiled metal finish) to protect it from everyday elements. The Platinum pipe is a unique fusion of power, elegance and utility that offers improved performance and durability with its electro-less nickel-plating finish.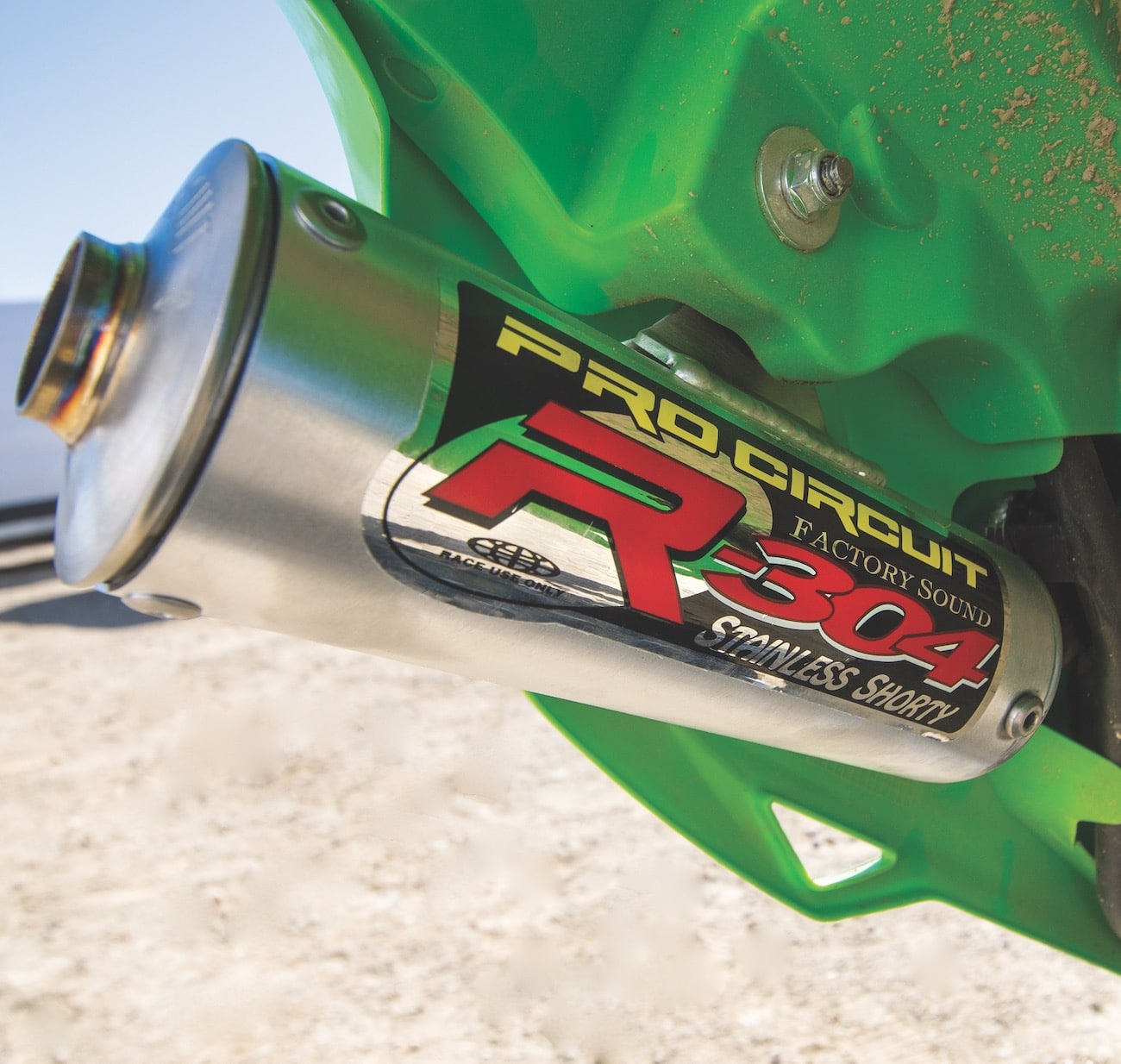 Silencer. The Pro Circuit R-304 silencer was developed as a full-race two-stroke silencer, and it's available for full-race YZ125s and 250SX engines, as well as mini machines such as the KX65 and KX112. The compact design of the short aluminum canister offers optimum performance gains and is recommended for closed-course racing only. Hex-head screws are used to secure the inlet cap and can be removed easily for quick re-packing of the silencer.
Stock power. The stock KX112 is quick but not KTM quick. Off the bottom, it loses slightly to the KTM, but the biggest difference between the KTM and the Kawasaki is between 9000 and 12,000 rpm. At peak horsepower, the KTM is 1-1/2-horsepower stronger than the Kawasaki. In stock form, the KX112 peaks at 24.96 horsepower and 11.6 foot-pounds of torque.
Pro Circuit power. With the Pro Circuit pipe and silencer, the dyno numbers confirmed our mini test riders' track-tested opinions. The bottom end of the KX112 wasn't affected by the bolt-on Pro Circuit exhaust, but the mid and top were significantly improved. Our test riders mentioned that the bike felt crisper off the bottom…but not any faster. But, once the KX112 hits 8000 rpm, the Pro Circuit Platinum pipe and R-304 silencer begin doing their best work. The Pro Circuit-equipped KX112 pulls stronger through the midrange to its 11,600 rpm peak where it hits 25.9 horsepower, 1.5 horses stronger than stock. The Supermini also gained more torque as well, bumping it to 11.9 foot-pounds.
DIGITS: $323.95 (platinum pipe), $171.95 (R-304 silencer)— www.procircuit.com or (951) 738-8050.
MXA RATING: The Pro Circuit KX112 Platinum pipe and R-304 silencer are both made in the USA and perform as advertised. They offer more horsepower in the mid-and-up ranges. There are two types of riders who need this exhaust system. First, fast mini racers who are getting the most out of the KX112 and want more. Second, anyone else, regardless of how fast they are, who wants that distinct factory Pro Circuit sound that comes with an R-304 silencer.
• MXA VIDEO: 2023 SUZUKI RM-Z450 VIDEO TEST
• MXA PRODUCT SPOTLIGHT: RED LINE LUBRICANTS
RED LINE10W40 MOTORCYCLE OIL – QUART
JASO MA/MA2 fully synthetic oil for four-stroke motocross bikes. Thanks to the use of ester base stocks for protection and ring sealing, it features superior film strength. Blended with specific friction modifiers that are compatible with wet clutches. $20.95 (Quart).
RED LINE TWO-STROKE RACING OIL – 16 ounces
Red Line Two-Stroke Racing oil is the ultimate in two-cycle performance and it is dyno proven for gains of 3% to 5% more power over longer runs. Suggested use is 50:1, but it can be used at up 100:1. The high-temperarure stability prevents deposits on combustion chambers, exhaust ports, upper ring and piston crowns. $14.69 (16 ounces).
RED LINE FULL SYNTHETIC CHAIN LUBE WITH SHOCKPROOF – 13 ounces
This is a fully synthetic lubricant specially formulated for off-road chain driven vehicles, including: O-, X- and Z-ring chains. Red Line chain lube resists dirt, sand and grit adhesion to extend the life of your chain and sprockets. $16.97 (13 ounces).
RED LINE SUPERCOOL WITH BOILGUARD – 1/2 GALLON
Red Line's 50/50 prediluted antifreeze/coolant is fortified with "WaterWetter" technology. It is a ready to use formula that maximizes cooling system performance with superior protection against cavitation ,corrosion and erosion. It reduces operating temperatures by up to 20°F. $27.98 (half-gallon). For more information go to www.redlineoil.com.
• MXA VIDEO: 2023 KAWASAKI KX450 VIDEO TEST
• BARX SUZUKI TEAM IS READY FOR THE 2023 CAMPAIGN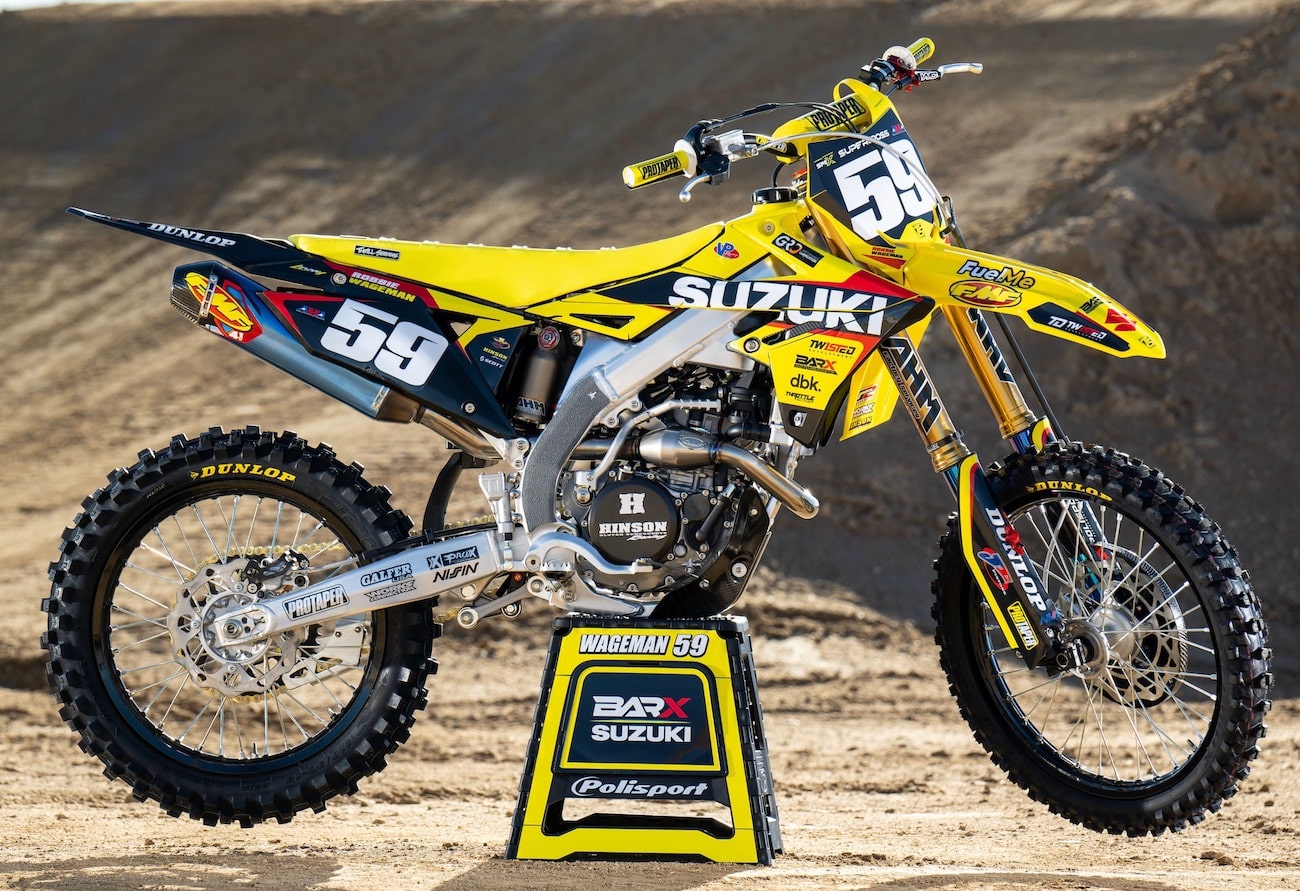 The BarX Suzuki RM-Z250. They are sponsored by Answer, Bell Helmets, Alpinestars boots, Scott goggles, Pro Taper, Twisted Development, Tucker, Gro lubricants, Dunlop, AHM suspension, Galfer, ProX, Works Connection, Hinson, FMF and FuelMe.
Suzuki has announce its continued support for the BarX Suzuki 250 race team. The BarX Suzuki team is ready to attack the 2023 Supercross season with several new and returning riders for the 2023 season. Derek Drake and Carson Mumford return to BarX Suzuki for 2023 and are joined by two new teammates, Robbie Wageman and Ty Masterpool.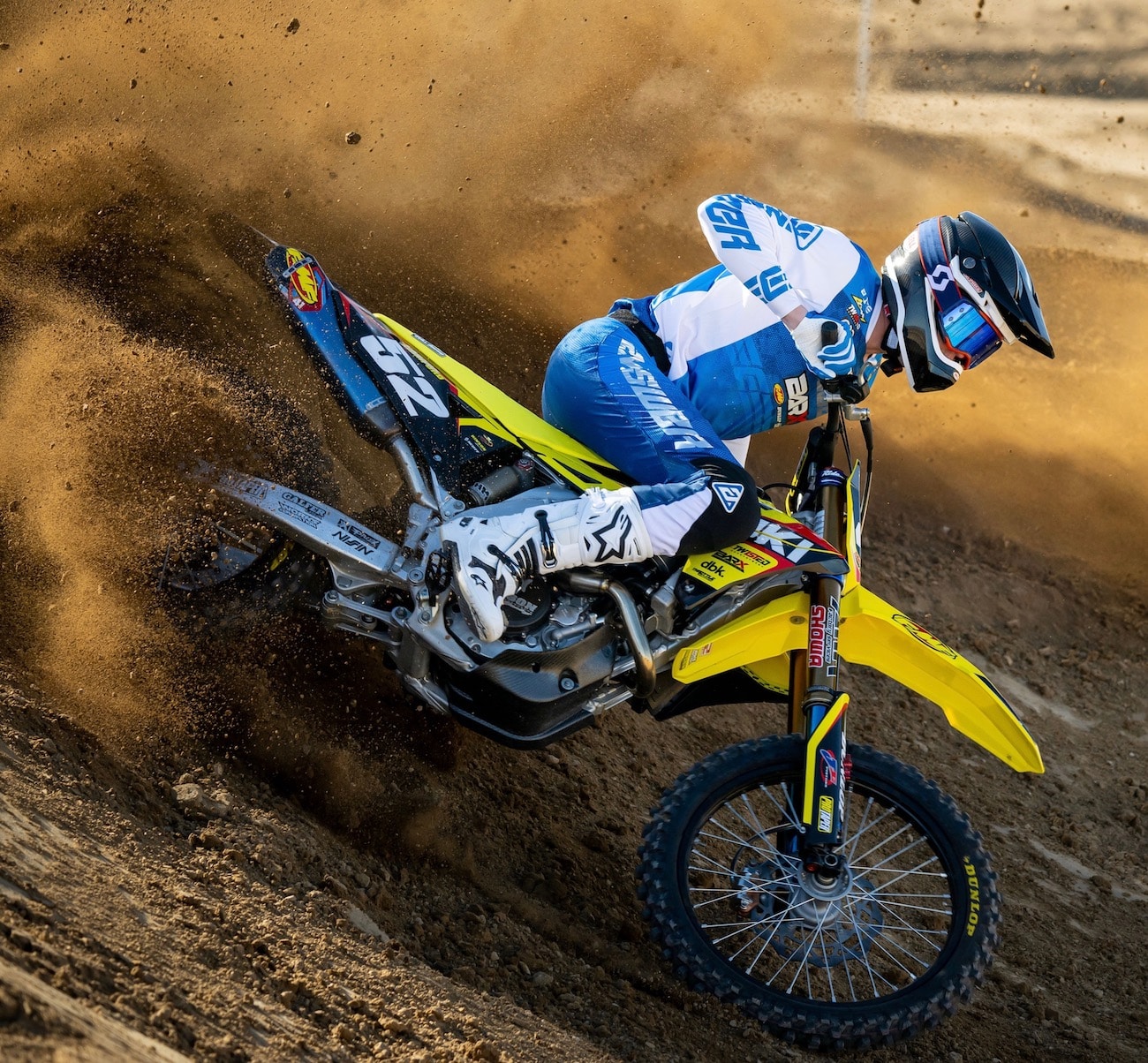 Carson Mumford.
Both Drake and Mumford are looking to push their Suzuki RM-Z250s toward the top of the standings. Unfortunately Carson Mumford broke his wrist was practicing and will be out for at least two months. Mumford, from Simi Valley , California, competed in the 2022 Supercross 250 West championship, finishing 12th. Drake, hailing from San Luis Obispo, California, finished tenth in the Supercross 250 West championship in 2022.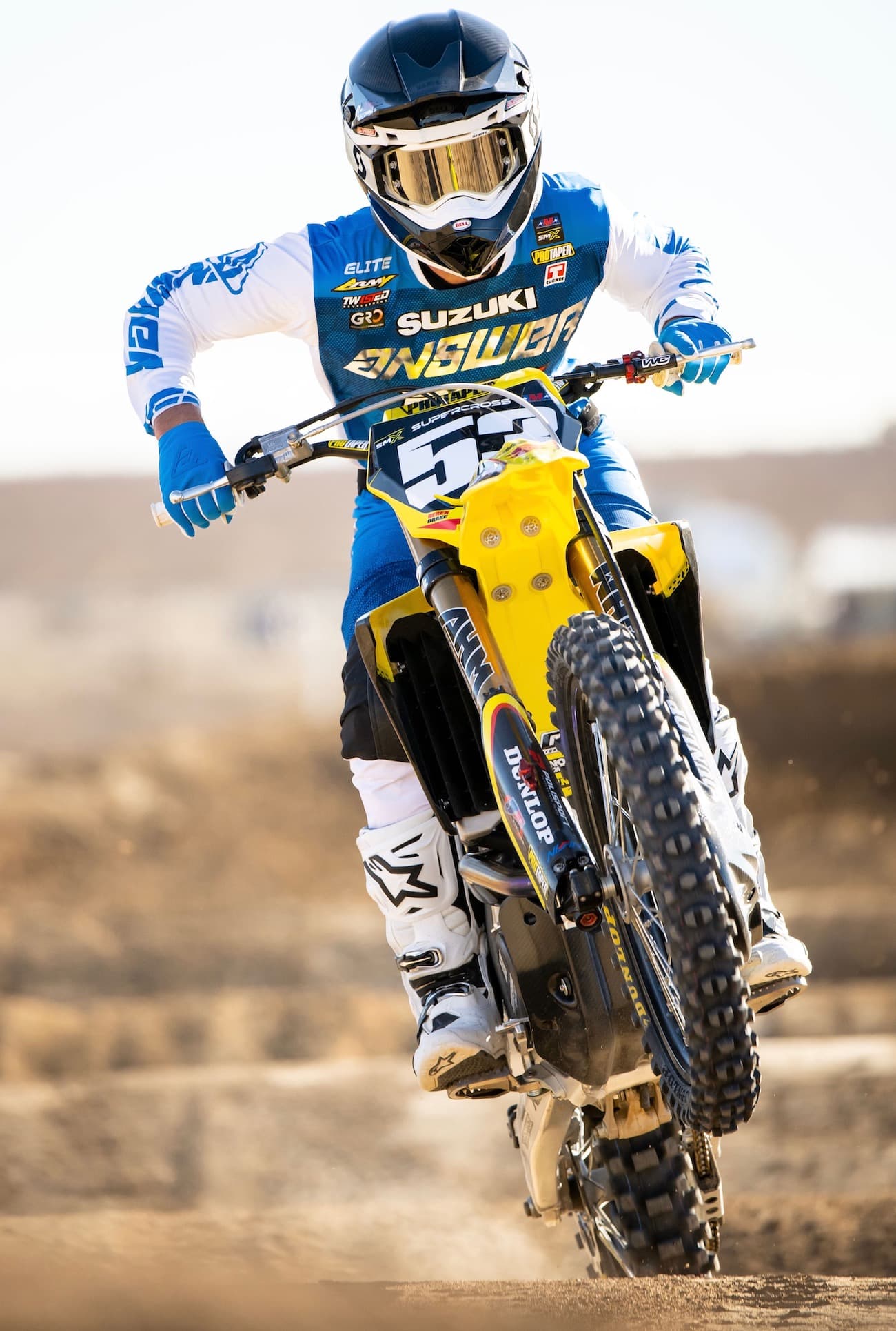 Derek Drake
Ty Masterpool
Newcomers to the BarX team are Wageman and Masterpool who are both showing great potential aboard the Suzuki RM-Z250 in pre-season testing. Wageman, from Newhall, California, finished ninth in the 450 Supercross championship last season and is looking to break into the top tier of the championship. Masterpool, from Paradise, Texas, in only his second season in Supercross is excited to put more RM-Zs in competition.
Robbie Wageman.
Team manager Buddy Antunez.
BarX has also announced Buddy Antunez as their new Team Manager, replacing Larry Brooks, who moved to the Twisted Tea/Progressive Insurance Suzuki team. Buddy said, "I'm excited to be a part of the BarX Suzuki program. I believe with our team and rider lineup; we will be battling for top spots this coming season. Let's go!"
• MXA VIDEO: DECIPHERING THE SEVEN BIKE 2023 250 FOUR-STROKE SHOOTOUT
• THE FUTURE IS NOW: 2023 RACE SCHEDULES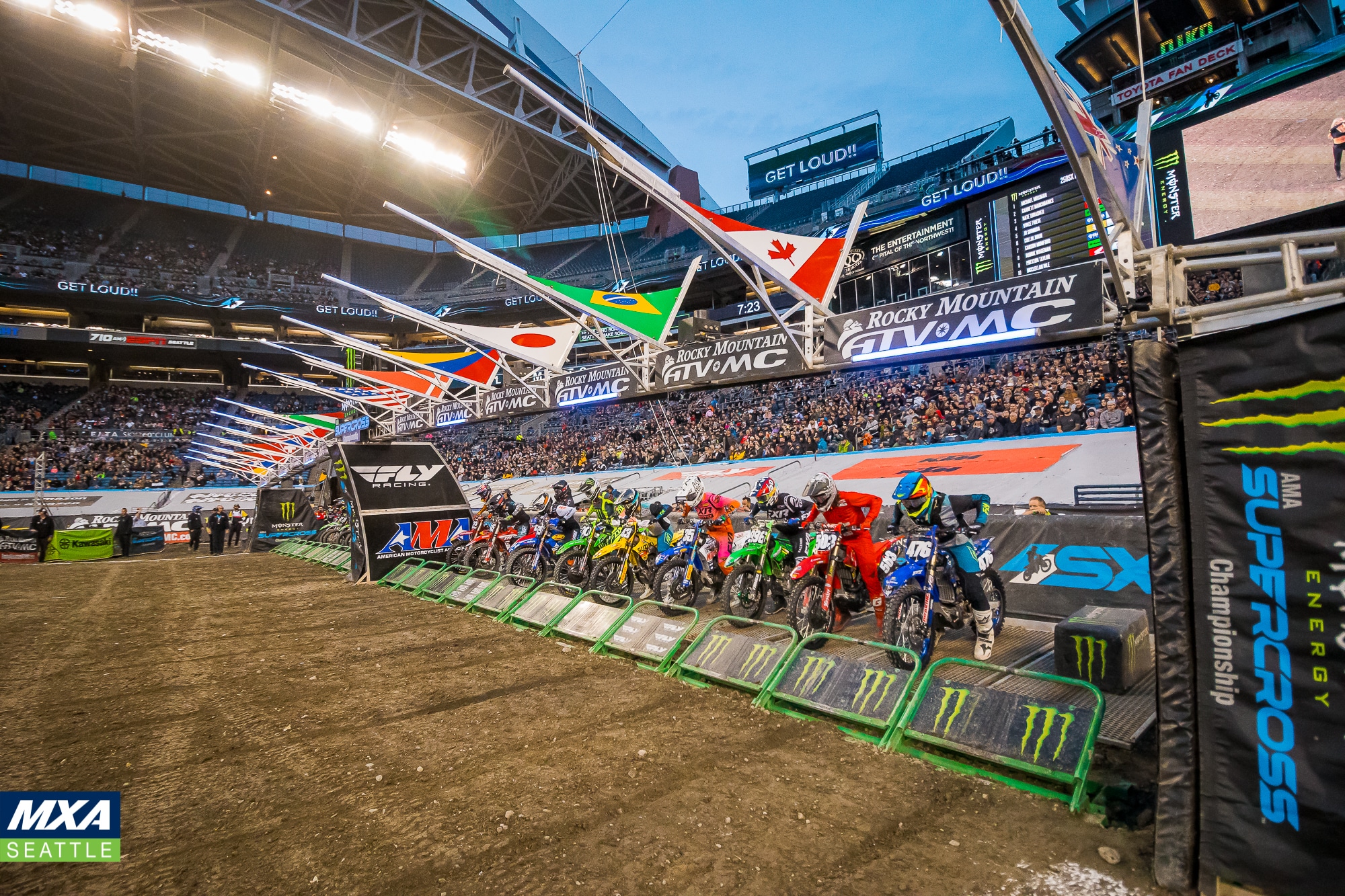 2023 AMA SUPERCROSS CHAMPIONSHIP
Jan. 7…Anaheim, CA
Jan. 14…Oakland, CA
Jan. 21…San Diego, CA
Jan. 28…Anaheim, CA
Feb. 4…Houston, TX
Feb. 11…Tampa, FL
Feb. 25…Arlington, TX
Mar. 4…Daytona Beach, FL
Mar. 11…Indianapolis, IN, MI
Mar. 18…Detroit, MI
Mar. 25…Seattle, WA
Apr. 8…Glendale AZ
Apr. 15…Atlanta, GA
Apr. 22…East Rutherford, NJ
Apr. 29…Nashville, TN
May 6…Denver, CO
May 13…Salt Lake City, UT
2023 SUPERMOTOCROSS PLAYOFF SCHEDULE
Sept. 9…TBA
Date TBA…TBA
Oct. 14: Los Angeles, CA
2023 AMA ARENACROSS CHAMPIONSHIP
Nov. 18…Albany, GA
Nov. 25…Albany, NY
Jan. 6…Loveland, CO
Jan.13…Prescott, AZ
Jan. 20…Guthrie, OK
Jan. 27….Guthrie, OK
Feb. 3…Reno, NV
Feb. 10…Denver, CO
Feb. 24…Hobbs, NM
Mar. 3…Amarillo, TX
Mar. 10…Tulsa, OK
Mar. 17…Salem, VA
Mar. 24…Little Rock, AR
Mar. 31…Lexington, KY
2023 2023 FIM WORLD MOTOCROSS CHAMPIONSHIP
Mar. 12…Argentina
Mar. 26…TBA
Apr. 10…TBA
Apr. 16…Italy
Apr. 30…Portugal
May 7…Spain
May 21…France
Jun. 4…Latvia
Jun. 11…Germany
Jun. 25…Indonesia
July 2…Indonesia
July 16…Czech Rep.
July 23…Belgium
Aug. 6…Finland
Aug. 13…Sweden
Aug. 20…Holland
Sept. 3…Turkey
Sept. 17…Vietnam
Oct. 1…TBA
Oct. 15…England
2023 AMA NATIONAL MOTOCROSS CHAMPIONSHIP
May 27…Pala, CA
June 3…Hangtown, CA
June 10…Thunder Valley, CO
June 17…Mt. Morris, PA
July 1…Red Bud, MI
July 8…Southwick, MA
July 15…Millville, MN
July 22…Washougal, WA
Aug. 11…Unadilla, NY
Aug. 19…Budds Creek, MD
Aug. 26…Crawfordsville, IN
2023 WORLD SUPERCROSS CHAMPIONSHIP
July 1…Birmingham, England
July 22….Lyon-Décines, France
Sept. 30…TBD (Southeast Asia)
Oct. 14…Dusseldorf, Germany
Oct. 28…Vancouver, Canada
Nov. 24-25…Melbourne, Australia
2023 "SATURDAY AT THE GLEN" SCHEDULE
Jan. 14…Winter Series #1 (Arroyo vet track)
Jan.. 28…Winter Series #2 (National track)
Feb. 3…Winter Series #3 (Arroyo vet track)
Feb. 11…Winter Series #4 (Arroyo vet track)
Feb. 25…Winter Series #5 (National track)
Mar. 11…Spring Series #1 (Arroyo vet track)
Mar. 25…Spring Series #2 (Arroyo vet track)
Apr. 15…Spring Series #3 (Arroyo vet track)
Apr. 22…Spring Series #4 (Arroyo vet track)
May 13…Spring Series #5 (National track)
June 1…Summer Series #1 (Arroyo vet track)
June 17…Summer Series #2 (Arroyo vet track)
June 24…Summer Series #3 (Arroyo vet track)
July 15…Summer Series #4 (Arroyo vet track)
July 29….Summer Series #5 (National track)
Aug.19…Fall Series #1 (Arroyo vet track)
Aug. 26…Fall Series #2 (Arroyo vet track)
Sept. 16…Fall Series #3 (Arroyo vet track)
Sept. 23…Fall Series #4 (Arroyo vet track)
Sept. 30…Fall Series #5 (National track)
Oct. 24…Winter Series #1 (Arroyo vet track)
Oct. 28…Winter Series #2 (National track)
Nov.3-5…World Vet Championship (National track)
Nov. 19..Winter Series #3 (Arroyo vet track)
Dec. 2…Winter Series #4 (Arroyo vet track)
Dec. 9…Winter Series #5 (Arroyo vet track)
2023 VET MOTOCROSS DES NATIONS
Aug. 24-28…Foxhill, GB
2023 MOTOCROSS DES NATIONS
Oct. 22…Ernee, France
2023 WORLD VET MOTOCROSS CHAMPIONSHIP
Nov. 3-5…Glen Helen, CA
2023 RED BULL DAY IN THE DIRT
Nov. 24-26…Glen Helen, CA
• MXA VIDEO: WE RIDE TONY CAIROLI'S AMA NATIONAL KTM 450SXF
• MXA PRODUCT SPOTLIGHT: EKS BRAND LUCID GOGGLES
LUCID TRUE BLUE/RED MIRROR—$99.00
LUCID WHITE GOLD/GOLD MIRROR—$99.00
LUCID RED/SLIVER MIRROR—$99.00
LUCID BLUE AUBURN AFTERBURNER—$99.00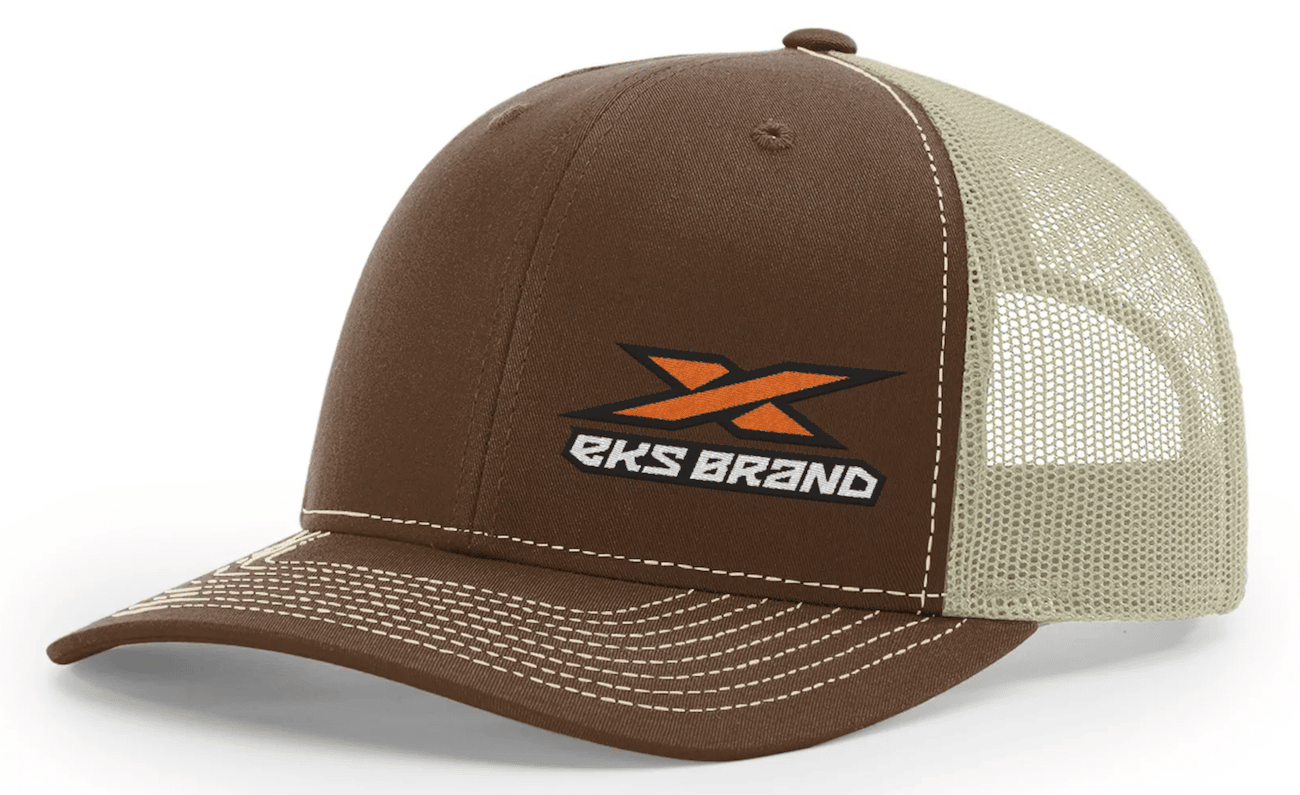 EKS BRAND TAN TRUCKER HAT—$25.00
For more informations go to www.eksbrand.com
• MXA VIDEO: THE SURPRISE WINNER OF MXA'S 2023 125 TWO-STROKE SHOOTOUT
• THE FEBRUARY 2023 ISSUE OF MXA IS ON ITS WAY! SUBSCRIBE AND YOU WON'T MISS A THING
On The Cover: This all-orange KTM 150SX project bikes is one of three two-strokes that MXA tested. The threeengines were sent out to different tuners to see which one could build the best 150cc two-stroke engine.
Did you know that you can subscribe to MXA at virtually no cost to you—because when you subscribe you receive a Rocky Mountain ATV/MC credit for $25 towards anything in their massive inventory. Plus, you will get all the content in the 12 monthly issues of Motocross Action magazine—from four-stroke tests, two-stroke tests, retro tests, race coverage, new tech to product tests….most of which never appear on the internet. And, don't forget, that $25 credit from Rocky Mountain ATV/MC that will more than cover the cost of your subscription. To subscribe call (800) 767-0345 or Click Here
• MXA VIDEO: 2023 HUSQVARNA FC250 VIDEO TEST
• CLASSIC MOTOCROSS PHOTOS: MARTY VERSUS BOB AT THE 125 USGP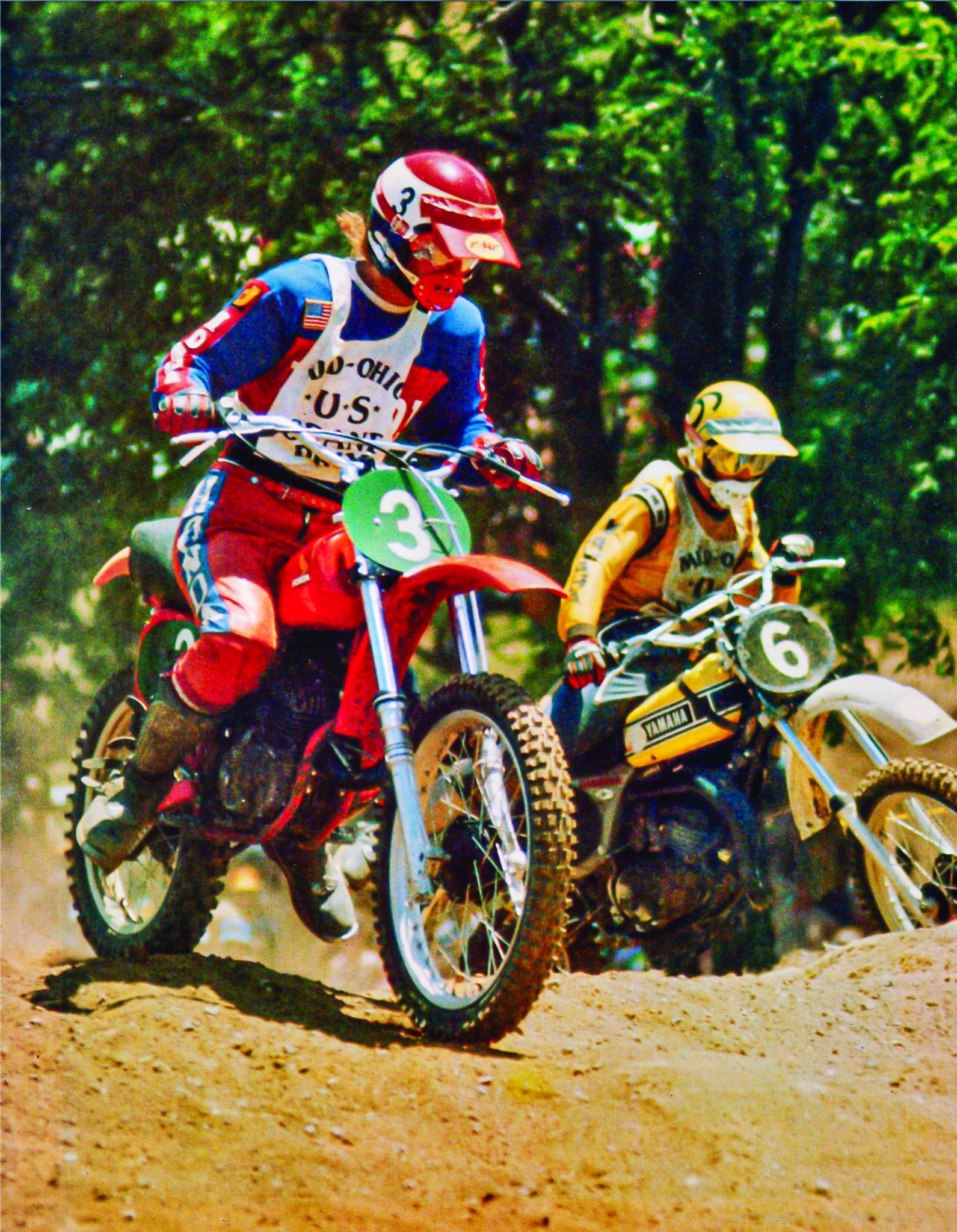 A classic photo of Marty Smith (3) and arch-rival Bob Hannah (6) at the 125 USGP at Mid-Ohio Raceway.
• MXA VIDEO: 2023 KTM 300SX FUEL-INJECTED TWO-STROKE VIDEO TEST
• MXA TEAM TESTED: 2022 FXR RACING REVO GEAR
Lots of motocross gear companies come and go, but the brands with deep roots usually prevail. FXR Racing isn't a small pop-up brand; it was well-established in the snowmobile and Snowcross racing markets before expanding to motocross. FXR has the manpower, wisdom and capital to create quality products, and market them well. FXR Racing came onto the motocross scene quickly, but has persevered through its early years to become an established logo in the motocross realm. Revo gear is one of the top-tier offerings from FXR, used by Pro riders like Garrett Marchbanks and Alex Martin. We put it through our rigorous MXA gear testing protocols to bring you this product test.
The FXR Racing Revo jersey is made of a lightweight polyester/spandex mesh for increased breathability and rider comfort. The sleeve cuffs are bonded into the jersey for reduced friction, and the tail of the jersey extends to keep it tucked in. Plus, it comes with sublimated graphics to prevent fading after many cycles through the washer and many hours in the sun.
The Revo pants are based on a refined and improved M-2 Motion Pant chassis. The designers added ventilation for a maximum amount of airflow and an all-new, industry-first Auto-Buckle front closure system that works in conjunction with sans-a-belt-style hook-and-loop hip adjusters to guarantee a tight fit. New for the Revo pants, it has an updated yoke panel for more mobility and mesh inserts on the back of the legs for added strength and durability.
The Revo pants have a slim, athletic fit that conforms well to your legs without hindering movement or bunching up with excess material. The jersey is also slim-fitting while remaining flexible with enough material in all the right places. Although the Revo gear has an athletic fit, it's not skintight and fits comfortably, even on riders without an Adonis-like body. If you don't like athletic-fit gear, we suggest ordering your pants one size up.
The durability of the Revo Comp gear is the most surprising aspect. FXR hit the mark with the Revo jersey. Not only is it durable against roost with only small amounts of fraying, but it also washed clean every time, even after a muddy day at the track. The double-layered, genuine-leather patches in the pants increased strength at the knees, and a new, stronger material surrounding the leather knee patches prevented ripping in the area that is abused the most.

The FXR Revo gear comes in three different styles: Revo, Revo Comp and Revo Legend. With both the Comp and Legend designs, you're able to mix and match multiple jerseys to a single pair of pants for more options. The Revo jersey is offered in extra small to double-extra large, while the pants are available in 28- to 38-inch waists. We have zero complaints when it comes to the fit and function of the Revo gear. It's lightweight and breathable, and there are no "hot spots." Well, it would be nice to have a little extra material in the front zipper area for more protection and discretion.
DIGITS? $79.99 (jersey), $199.99 (pants)—www.fxrracing.com or (877) 999-9798.
MXA RATING: The FXR Revo gear is a favorite of MXA's younger racers who appreciate lightweight, athletic-fitting gear. Even our Vet test riders, who eschew athletic-fit gear, were impressed by the Revo gear's durability and comfort.
• MXA VIDEO: 2023 GASGAS MC450F VIDEO TEST
• BUDDS CREEK HISTORIC BARN BURNS DOWN ON CHRISTMAS EVE
The 100 year-old barn that has been a fixture at the Budds Creek motocross track caught fire and burned to the ground on Christmas Eve. There were no injuries, but the barn is gone. The cause of the fire is undetermined at this time.
Budds Creek posted the news of the fire with this message: "Tonight at about 6:30, our barn caught fire. The current thinking is that the wind knocked down a live electrical wire. Thankfully everyone is okay, but we lost a lot of equipment. The barn itself was over 100 years old and has been an iconic mainstay of our facility. It will be missed. Huge thank you to the volunteers from over 10 fire departments that came out to fight the fire. They are truly heroes." Photo courtesy of Mechanicsville and Hollywood Volunteer Fire Departments.
• MXA VIDEO: 2023 KAWASAKI KX250 VIDEO TEST
• MXA PRODUCT SPOTLIGHT: FOUR NEW MXA TRUCKER HATS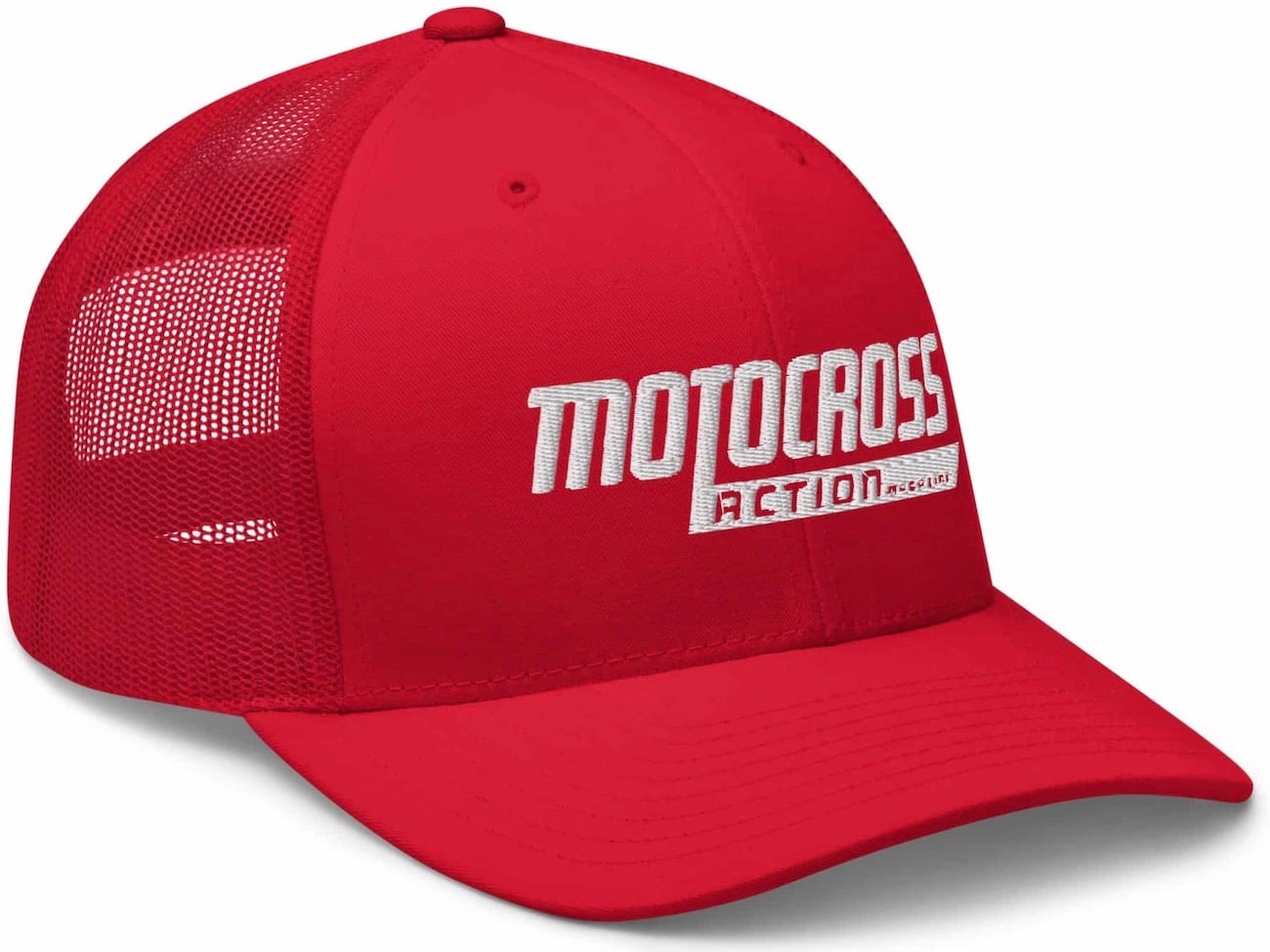 MOTOCROSS ACTION RETRO TRUCK HAT (RED)—$25,00
MOTOCROSS ACTION RETRO TRUCK HAT (BROWN/KHAKI)—$25,00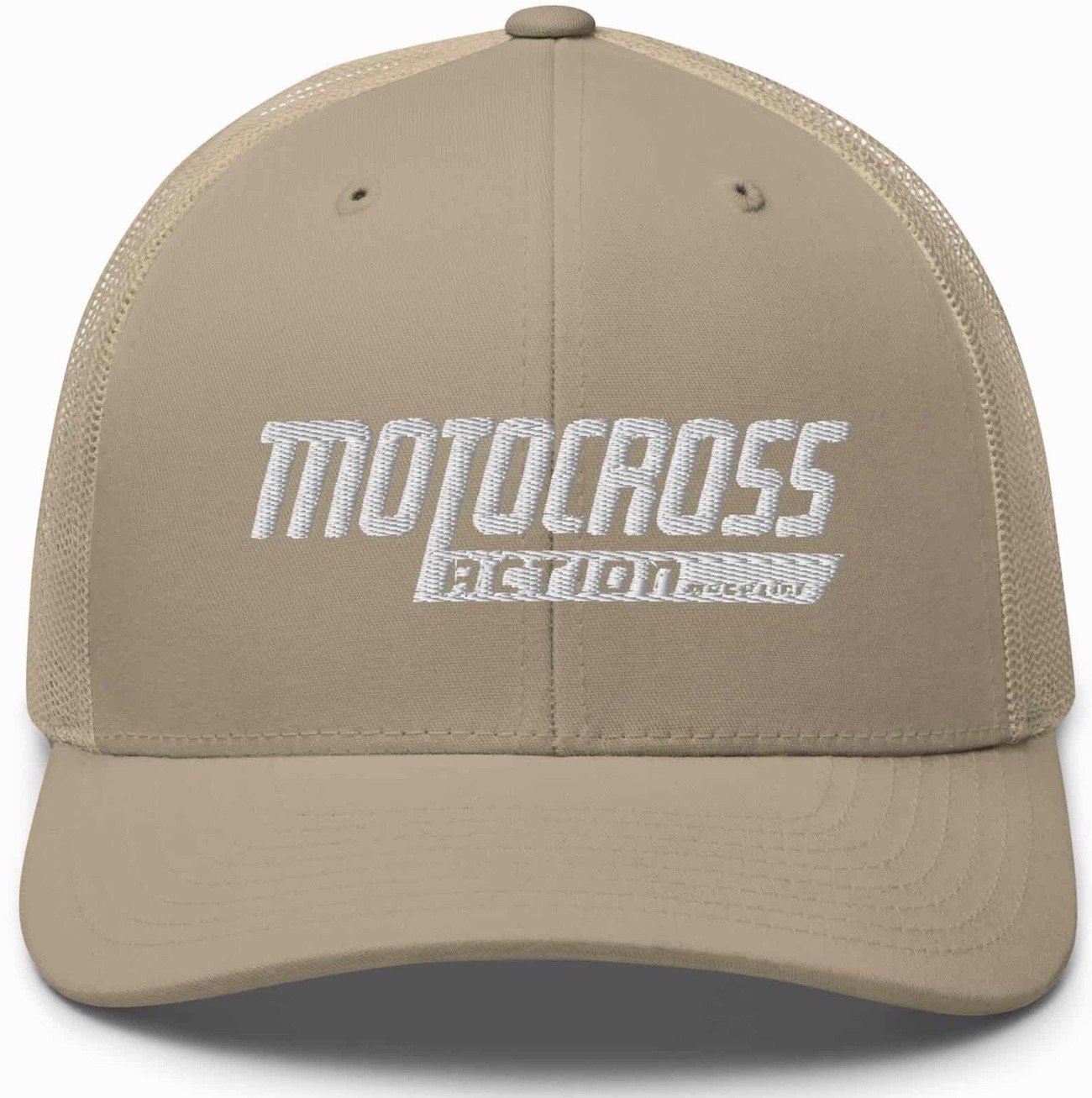 MOTOCROSS ACTION RETRO TRUCK HAT (KHAKI)—$25,00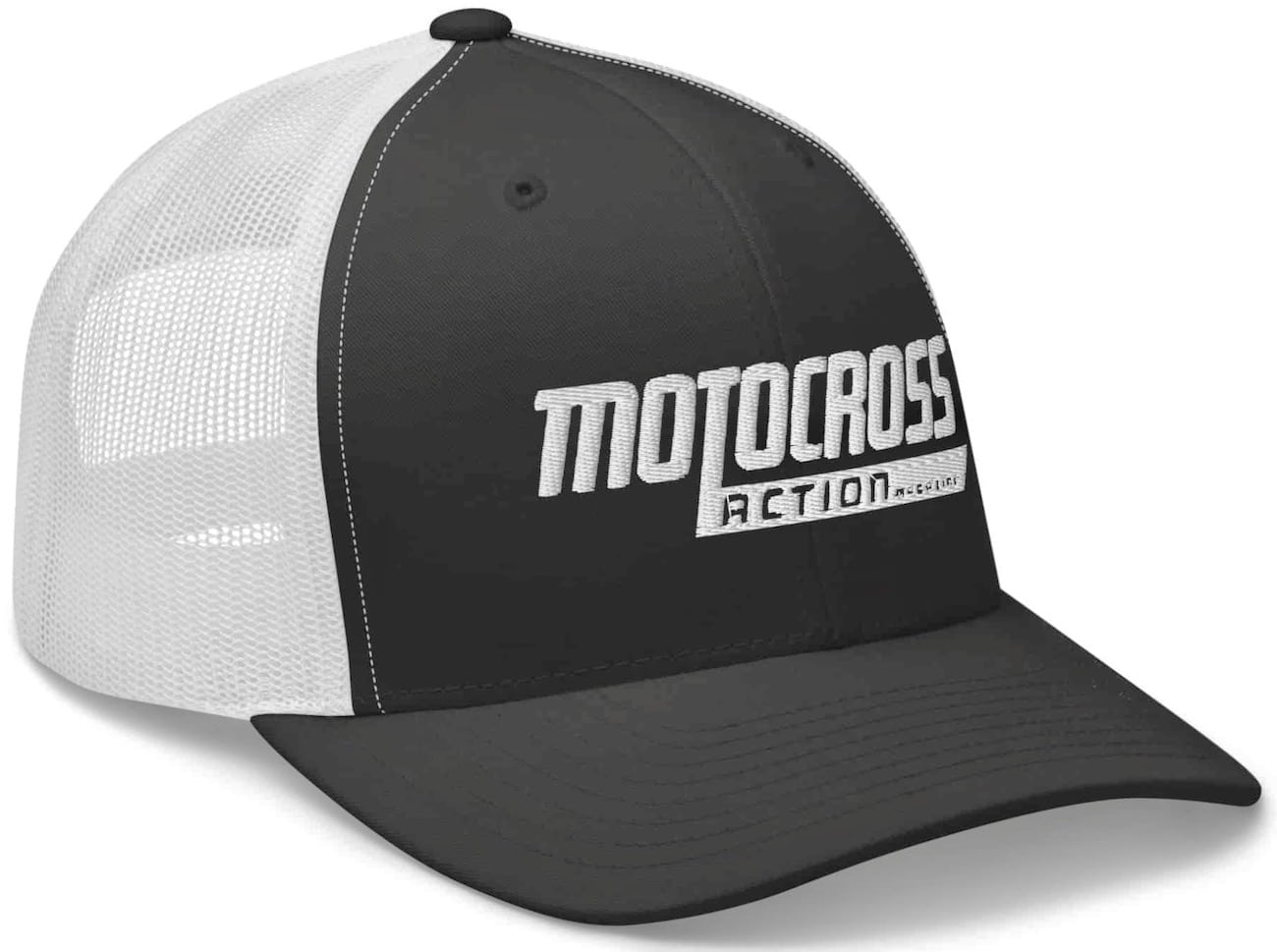 MOTOCROSS ACTION RETRO TRUCK HAT (BLACK/WHITE)—$25,00
To see more hats or to order Click Here

• MXA VIDEO: 2023 SUZUKI RM-Z250 VIDEO TEST
• MXA'S AD OF THE WEEK: THE GOOD OLD BOY?

This N-Style ad features Mike Brown back in 2001 with his Pro Circuit KX125. Mike would win the 2001 AMA 125 National Championship. 
• MXA VIDEO: 2023 YAMAHA YZ450F VIDEO TEST
• 2023 WORLD SUPERCROSS (WSX) DATES ANNOUNCED—ALL SIX OF THEM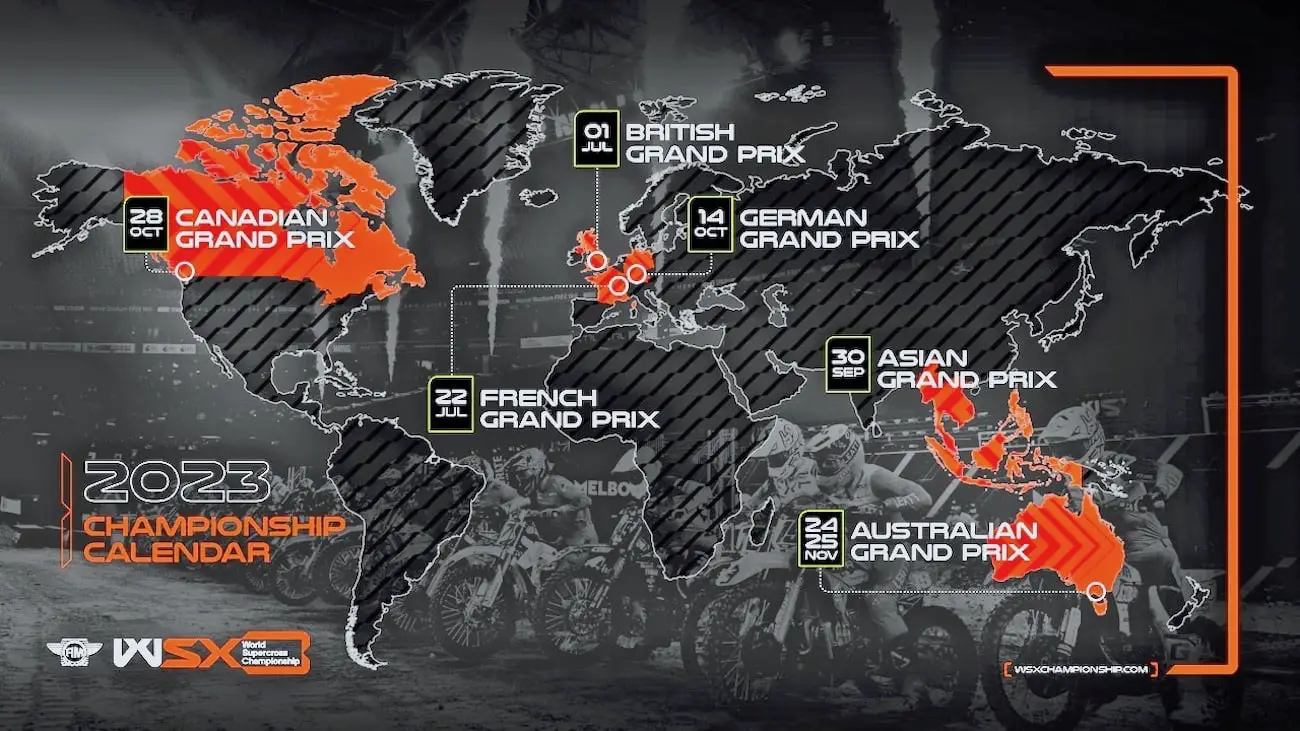 The 2023 FIM World Supercross Championship (WSX) will be six races long with events in France, Germany, Canada, Australia, England and round is Southeast Asia to be announced at a later date. It is not the blockbuster race schedule that everyone expected to compete against the 17-round AMA Supercross Championship. The WSX does not start until after the AMA series is over, and in fact, WSX starts after four AMA outdoor Nationals have been concluded. There are two dates that compete directly against the  2023 AMA Nationals (July at Red Bud and July 22 atWashougal). But there is conflicts between the AMA SuperMotocross Playoffs because SuperMotocross has only confirmed one date for their three-race play-offs and it it is on the same day as the Dusseeldorf, Germay WSX round.
2023 WORLD SUPERCROSS CHAMPIONSHIP SCHEDULE
July 1…Birmingham, England
July 22….Lyon-Décines, France
Sept. 30…TBD (Southeast Asia)
Oct. 14…Dusseldorf, Germany
Oct. 28…Vancouver, Canada
Nov. 24-25…Melbourne, Australia
• MXA VIDEO: WE TEST THE 2023 KTM 250SXF
• 2023 FIM WORLD MOTOCROSS CHAMPIONSHIP RACE SCHEDULE
• 2023 AMA NATIONAL MOTOCROSS RACE SCHEDULE 
• 2023 SOBOBA TRAIL RIDE WILL BE ON FEBRUARY 26, 2023
There will be no post-entries for this year's Soboba Trail ride—everyone must pre-enter. For more info go to www.sobobarides.biz/home
• 2023 AMA SUPERCROSS RACE SCHEDULE
• GET MXA AND DIRT BIKE SUBSCRIPTION AND SAVE MONEY—NOT TO MENTION THE $50 ROCKY MOUNTAIN E-GIFT CARD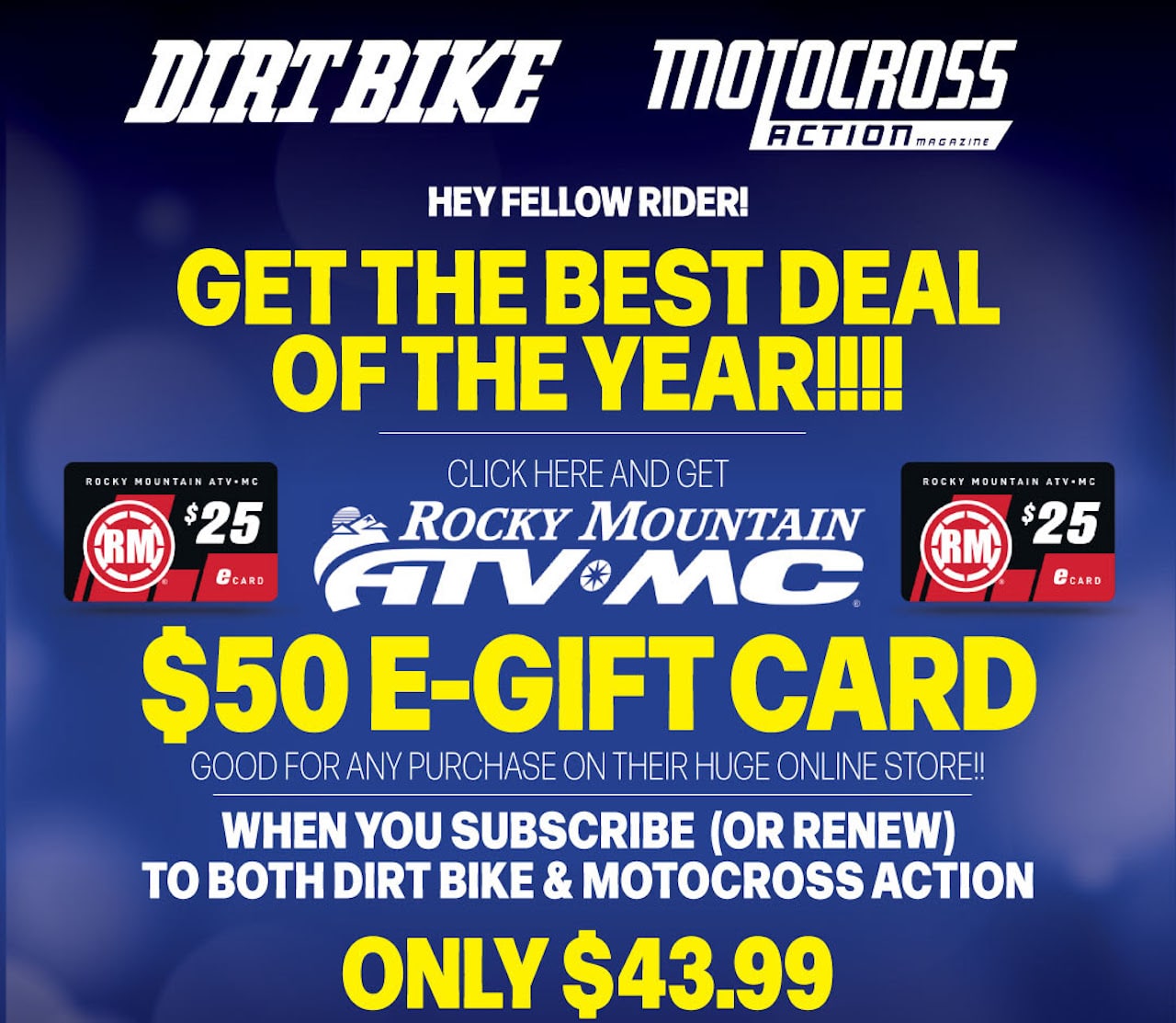 You can't afford not to subscribe, because when you order a subscription, Rocky Mountain ATV/MC sends you a $25 gift credit to use on anything you want from their massive selection. Plus, subscribers to MXA can also choose to get the digital mag on their iPhone, iPad, Kindle or Android by going to the Apple Store, Amazon or Google Play or in a digital version. Even better, you can subscribe to Motocross Action and Dirt Bike for one low price and get a $50 E-Gift card—plus you get the awesome print edition delivered to your house by a uniformed employee of the U.S. Government. Do we have to mention the $25 Rocky Mountain ATV/MC gift card again? That gift means that your subscription balances out as free, free, free! You can't lose on this deal? Call (800) 767-0345 or Click Here
• MXA YOUTUBE CHANNEL | HIT THAT SUBSCRIBE BUTTON
The MXA wrecking crew is everything moto related. Check out our MXA YouTube channel for bike reviews, Supercross coverage, rider interviews and much more. And don't forget to hit that subscribe button.
• TALK MOTO WITH ON MXA'S FACEBOOK GROUP CHAT