MXA'S WEEKEND NEWS ROUND-UP: UNLESS SOMEONE GOES INTO OVERDRIVE, IT'S GOOD FOR THE FANS
DON'T MAKE ANY PLANS TO WATCH THE OAKLAND SUPERCROSS ON SATURDAY NIGHT: IT'S TAPE DELAYED UNTIL SUNDAY

The 2019 Oakland Supercross will be shown taped delayed on NBC Sports at 3:00 p.m. Eastern time on the Sunday after the race. Check your local schedules to be sure. Click on image to enlarge
WHO'S WHO IN AMA SUPERCROSS POINTS AFTER THREE ROUNDS

Eli Tomac (3) moved up in the points, as did Ken Roczen (on the video screen), even though neither one has won a race yet.

CURRENT AMA 450 SUPERCROSS POINTS STANDINGS
(After 3 of 17 rounds)
1. Ken Roczen (Hon)…63
2. Eli Tomac (Kaw)…61
3. Cooper Webb (KTM)… 57
4. Justin Barcia (Yam)…56
5. Marvin Musquin (KTM)…56
6. Dean Wilson (Hus)…52
7. Jason Anderson (Hus)…46
8. Blake Baggett (KTM)…45
9. Aaron Plessinger (Yam)…45
10. Cole Seely (Hon)…44
11. Justin Brayton (Hon)…37
12. Chad Reed (Suz)…33
13. Vince Friese (Hon)…32
14. Justin Hill (Suz)…30
15. Joey Savatgy (Kaw)…22
16. Justin Bogle (KTM)…18
17. Malcolm Stewart (Hon)…17
18. Ben Lamay (Hon)…14
19. Carlen Gardner (Hon)…11
20. Tyler Bowers (Kaw)…9
WHO HAS FALLEN A FULL RACE BEHIND IN 450 POINTS?
Chad Reed's mechanical disaster in the second moto at Anaheim 2 means that he is now 30 points behind Ken Roczen.

(25 points back after three races)
11. Justin Brayton (26 points back)
12. Chad Reed (30 points back)
13. Vince Friese (31 points back)
14. Justin Hill (30 points back)
15. Joey Savatgy (41 points back)
16. Justin Bogle (45 points back)
17. Malcolm Stewart (46 points back)
18. Ben Lamay (49 points back)
Colt Nichols still leads the 250 West by 2 points after 3 races.
CURRENT AMA 250 WEST SUPERCROSS POINTS STANDINGS
(After 3 of 10 rounds)
1. Colt Nichols (Yam)…70
2. Shane McElrath (KTM)…68
3. Dylan Ferrandis (Yam)…63
4. Adam Cianciarulo (Kaw)…62
5. R.J. Hampshire (Hon)…57
6. James Decotis (Suz)…44
7. Chris Blose (Hus)…44
8. Cameron Mcadoo (Yam)…41
9. Michael Mosiman (Hus)…39
10. Jacob Hayes (Yam)…37
11. Jess Pettis (KTM)…36
12. Garrett Marchbanks (Kaw)..33
13. Sean Cantrell (KTM)…33
14. Martin Castelo (Suz)…25
15. Enzo Lopes (Suz)…19
16. Robbie Wageman (Hon)…16
17. Justin Starling (Hus)…16
18. Jerry Robin (KTM)…16
19. Mitchell Harrison (Yam)…14
20. Dylan Merriam (Hus)…8
2019 SUPERCROSS WINNERS AT A GLANCE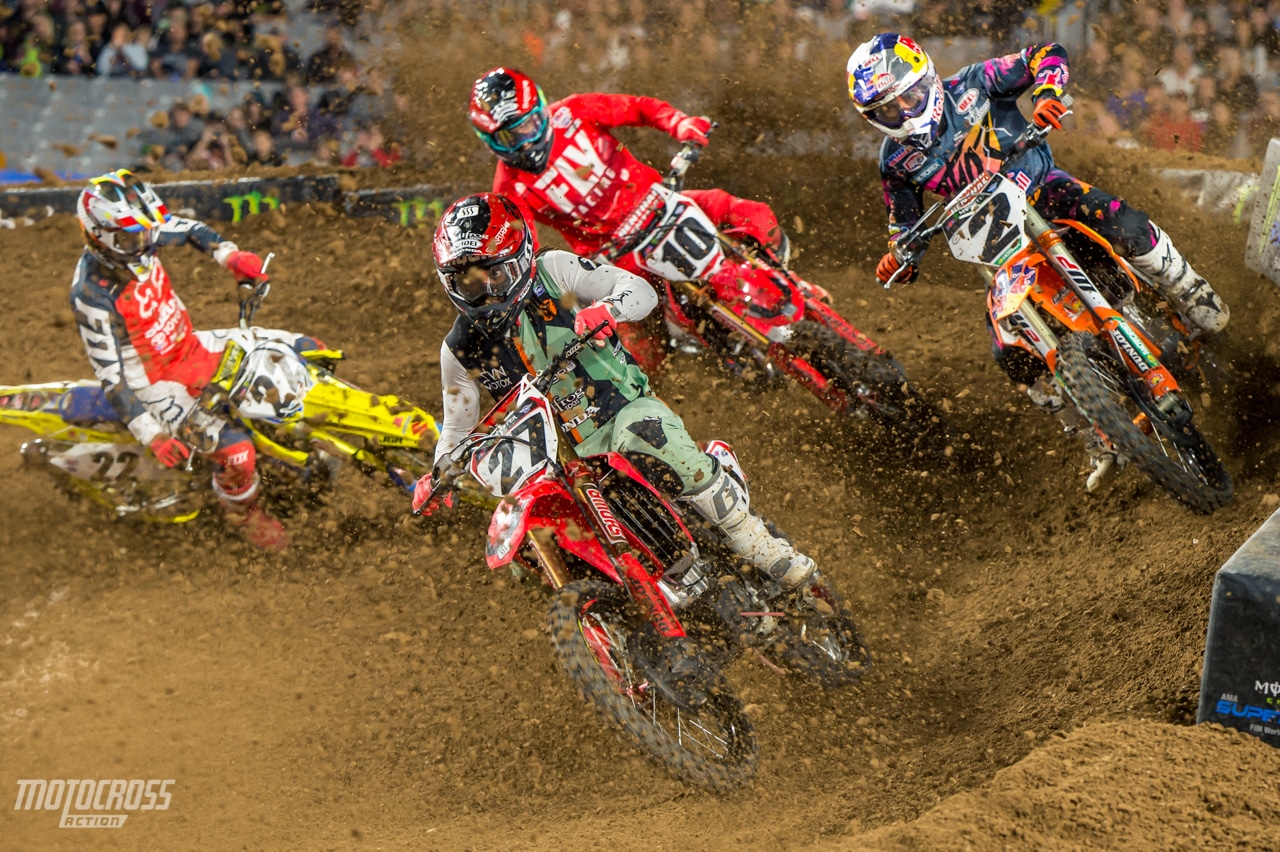 Cooper Webb (2) and Justin Brayton (10) are in the top ten in 450 points (in 8th and 10th respectively), Malcolm Stewart (27) is done for the 2019 season with a broken femur, while Chad Reed (22) is 12th.
Date           Venue                                             450                       250
Jan. 5……..Anaheim, CA………………..Justin Barcia…………..Colt Nichols
Jan. 12…..Glendale, AZ…………………Blake Baggett…………Adam Cianciarulo
Jan. 19…..Anaheim, CA…………………Cooper Webb………..Shane McElrath
Jan. 26…..Oakland, CA………………….
Feb. 2……San Diego, CA………………..
Feb. 9…….Minneapolis, MN…………
Feb. 16…..Arlington, TX……………….
Feb. 23….Detroit, MI……………………
Mar. 2……Atlanta, GA……………………
Mar. 9……Daytona Beach, FL………
Mar. 16…Indianapolis, IN…………….
Mar. 23….Seattle, WA…………………..
Mar. 30……Houston, TX………………
Apr. 6……..Nashville, TN……………….
Apr. 13……Denver, CO…………………
Apr. 27……East Rutherford, NJ…
May 4……..Las Vegas, NV……………
450 Points leader…Ken Roczen (Hon)
250 West points leader…Colt Nicholls  (Yam)
2019 AMA SUPERCROSS: THREE RACES & NOT WHO YOU EXPECTED

To say that very few people expected Cooper Webb to win a race is not an understatement, but he proved them wrong at A2.

Forget all that hum-drum hype about the "Perfect Storm." Every year, that tired old movie title is used to describe how great the upcoming season is going to be — only it rarely lives up to the hype. This year is different. Every pundit was so sure that Eli Tomac was going to roll over the competition, with Marvin Musquin and Jason Anderson second and third, that they didn't waste any time trying to invent a fake competitive profile. Before the season started, no one was betting against Tomac — and if they were fan boys of Musquin or Anderson there were a lot of "what ifs" in their scenarios. Guess what? No one expected that the first three 450 Supercross winners would be comprised of a guy who hasn't won a Supercross in six years, a guy who has never won a 450 race and a guy who was dropped from the Yamaha team in mutual dislike falling out (and also never won a 450 Supercross).
Blake Baggett raced 62 AMA 450 Supercross events without a win. He fixed that at his 63rd race in Phoenix.

With Justin Barcia,Blake Baggett and Cooper Webb eliminating any possibility of a perfect season by anyone, this year could be a sleeper year—with lots of different winners. Obviously Eli Tomac, Marvin Musquin, Jason Anderson and Ken Roczen are more than capable of winning races, but who else could throw their hat in the ring? Heading to Oakland next Saturday night, everyone assumes that the big name favorites will lay it the line.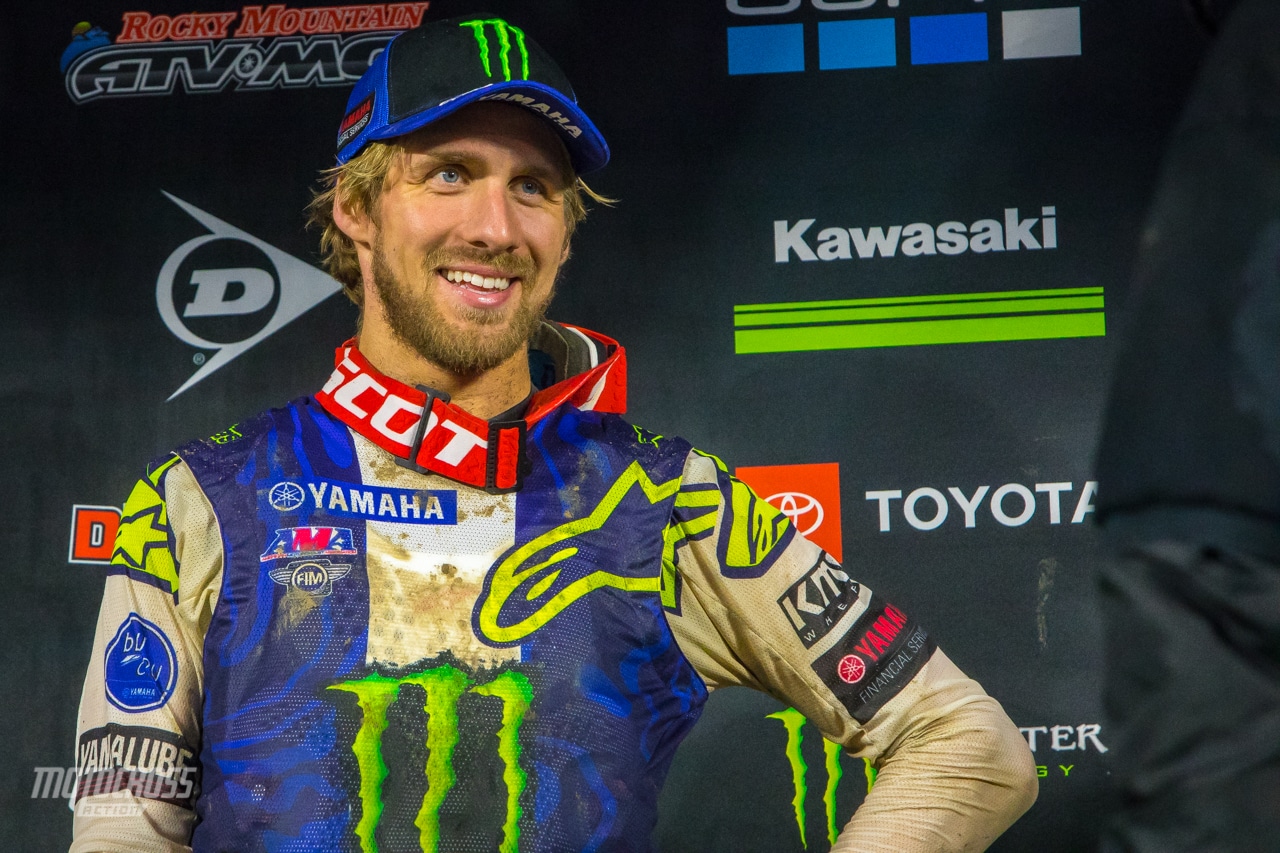 Justin Barcia won at Anaheim I, but crashed out at Anaheim 2 and reportedly landed on his tailbone.
In the next 14 rounds we could see wins by Eli Tomac, Marvin Musquin, Jason Anderson, Ken Roczen, Aaron Plessinger, Dean Wilson, Justin Brayton, Cole Seely, Chad Reed and Justin Hill.

BIRTHDAYS OF THE STARS: MICKY DYMOND WILL BE 54 ON MONDAY


Jan. 17…Dave Bickers 1938
Jan. 17…Loic Larrieu 1991

Jan. 17…Donny Schmit 1967
Jan. 18…Mike LaRocco Sr.
Jan. 20…Chris Loschiavo
Jan. 21…Micky Dymond 1965
Jan. 23…Isaiah Johnson 1979
Jan. 23…Thomas Covington 1996
Jan. 24…Neil Hudson 1957
Jan. 24…Cyrille Despres 1974
MXA TEAM TESTED: KTM/HUSQVARNA XTRIG SHOCK PRELOAD ADJUSTER
The Xtrig worm-drive preload adjuster allows quick and precise preload adjustments for KTM and Husqvarna 125, 150, 250, 350 and 450 shocks. It eliminates the need to use a hammer and punch, or deal with WP's iffy nylon preload ring. The biggest downside to installing the Xtrig preload adjuster on a KTM/Husky is that the shock has to be taken apart to get the Xtrig to slip on. This is not the case with the Xtrig on most Japanese bikes. If you want the Xtrig adjuster on your KTM or Husky, you should try to time the purchase to coincide with having your shock re-valved. That way you can kill two birds with one stone.
The Xtrig preload adjuster replaces the manual preload rings on your shock. In their place, Xtrig adds a mechanical worm-drive gear set that threads the adjuster up and down with the twist of an 8mm socket. The Xtrig preload adjuster makes race-sag adjustments quick and easy but with one catch—the small worm gear only has a 24:1 gear ratio. That means you have to turn the Xtrig's 8mm socket 24 turns to add one turn of preload to the shock spring. MXA's solution to this problem was to put an 8mm socket on a Makita power tool and spin the Xtrig preload ring with electric power. We could put two or three turns on the Xtrig preload adjuster in a few seconds.
Every MXA test rider hates KTM's, Husky's and now Suzuki's and Kawasaki's nylon preload rings. They deform easily and stick if there is any dirt on the shock body. Not so with the Xtrig. The Xtrig adjuster moves up and down the complete length of the shock body in the time it takes to loosen the lock ring on the stock WP preload adjuster. MXA test riders check their sag before every race—and normally have to make some minor adjustments. With the Xtrig preload adjuster, we can make minuscule or major adjustments in the blink of an eye.
DIGITS:  $189.99 (there are models for Showa and Kayaba shocks also)—(909) 949-4155 or visit your local Husqvarna or KTM dealer.
MXA RATING: Let's break this down by potential buyers. (1) If you never adjust the preload on your shock, you don't even need a hammer and punch. (2) If you own a Japanese motocross bike, the Xtrig preload adjuster is very easy to install and easy to use. (3) The Xtrig preload adjuster works flawlessly on a KTM or Husky, and it bypasses the faulty nylon WP ring; however, it is a hassle to mount it on a WP shock (because you have to take the shock apart). We are willing to go through the trouble; however, we can't speak for you.
28TH ANNUAL MECUMS VINTAGE MOTORCYCLE AUCTION STARTS ON TUESDAY AND ENDS ON SATURDAY
The auction runs from Tuesday until Saturday. For more information go to www.mecum.com
BIKES YOU NEVER SEEN BEFORE: 1980 FRENCH-BUILT BARIGO YB500
The French-built Barigo YB500 used a Yamaha XT500 four-stroke engine, but could be ordered to accept a Honda XL500 single also.
Barigo founder Patrick Barigault was asked by a friend to build a frame for his Bultaco in the early 1970s. People were impressed by the Barigault frame and he got an order from a distributor to build frames for Honda 350 engines. These bikes were marketed as the ITM 350. In 1976, Barigault made his first Barigo motorcycles. These were rolling chassis kits that used Honda XL and Yamaha XT four-stroke engines. If they had a Honda engine they were called HB 500s (HB stood for Honda/Barigo) and the Yamaha-powered bike were called YB500s (YB stood for Yamaha/Barigo). In 1983 Barigo's switched to Rotax engines. Barigo stayed in business until the early 1990s making Supermoto and Rally bikes (and was the only French made motorcycle of the time). This 1980 Barigo Yamaha XT500 will be auctioned off at Bonhams' Spring Stafford Sale on April 27-28, 2019, at the Staffordshire County Showground in England. The pre-auction estimate is $4000 to $5000. To learn more about this auction Click Here.
2019 WORCS RACE SCHEDULE

For more info go to www.worcsracing.com
MXA'S AD OF THE WEEK: "SEE…Z AGAIN IN '75"
This CZ ad is a little misleading because it makes you think that a CZ won the 1975 250 World Motocross Championship—which they didn't. Harry Everts won the 1975 250 World Championship on a twin-carb Puch MC250. However, CZ did win the 1975 Manufacturers Trophy for the best combined finish by a brand's top two riders. Additionally, CZ claims to have won the 1975 500cc Trophy des Nations. Not true. Instead the Czechs won the 1975 "Motocross des Nations." The "Trophee des Nations" was for 250cc machines and was won by Belgium with Roger DeCoster, Harry Everts, Jack Van Velthoven and Andre Malherbe.
MXA PRODUCT SPOTLIGHT: PRO CIRCUIT'S 2019 HONDA CRF450 HIGH COMPRESSION PISTON KIT
Pro Circuit now has their 2019 CRF450R High-Compression Piston kit available and ready to increase performance for the new CRF450 Honda models. Pro Circuit High-Compression Pistons are forged from high-quality aerospace aluminum alloy using advanced CNC-machined technologies. The result is a significant gain in low-end torque and high-RPM performance. These piston kits are manufactured by JE Pistons and are designed for exceptional performance in either stock or modified engines and is a must-have engine part for serious racers. Retail price – $399.95 at www.procircuit.com
CLASSIC MXA TEST RIDER PHOTOS: IS HE AMBIDEXTROUS?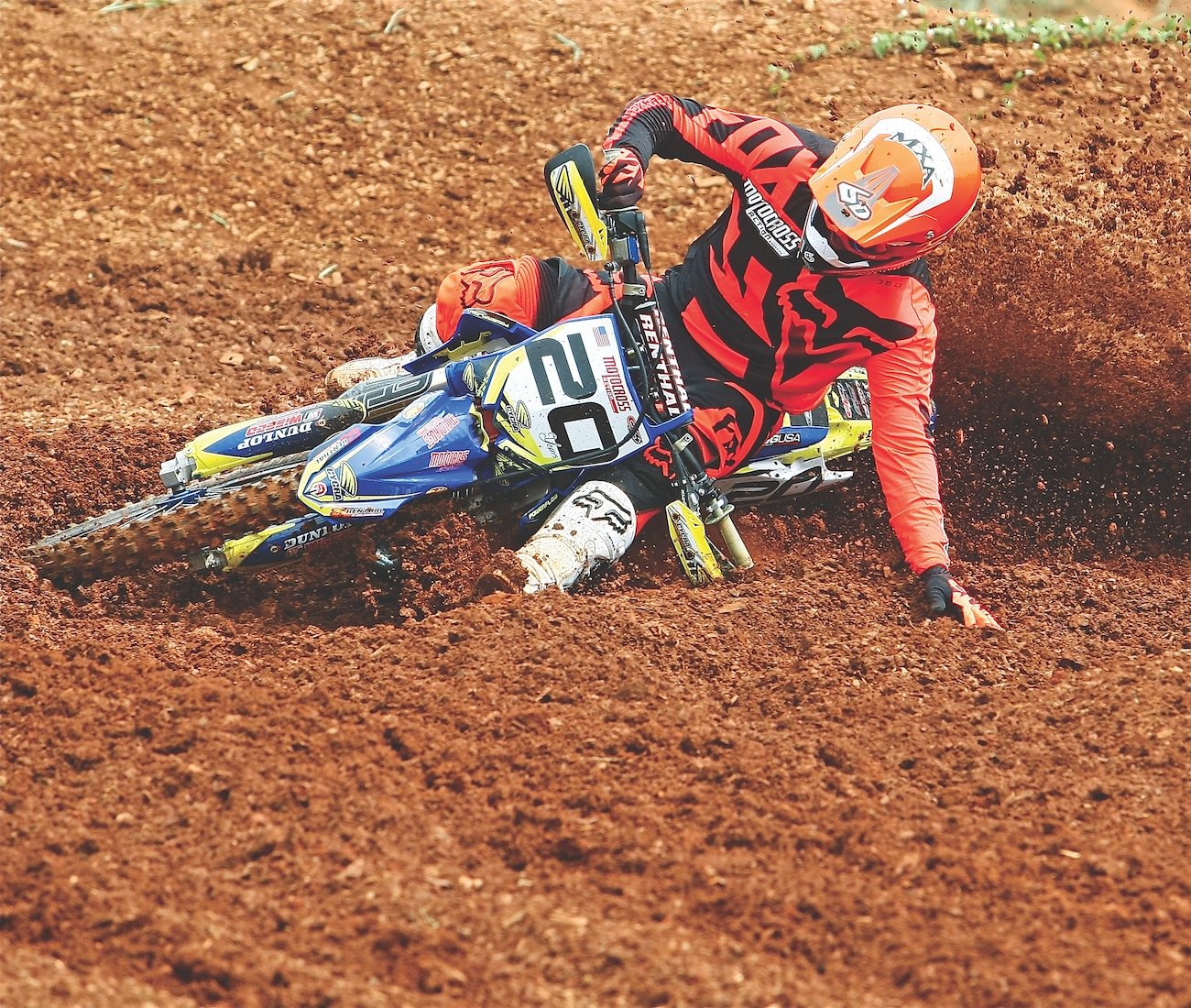 Former AMA Pro Daryl Ecklund playing around on a  Cycra Yamaha YZ250F in North Carolina. What we really want to see is Daryl dragging his right hand in a berm.
AMA RULE OF THE WEEK: "HOLD YOUR LINE" CHANGED TO GET OUT OF THE WAY


This 2018 rule tried to clarify what to do when you you are being lapped (and was  brought on by Chad Reed's interference of Ryan Dungey in 2017).
(1) This rule now instructs lapped riders to move out of the fast line, where in the previous rule called for lapped riders to "hold your line." Which was Chad Reed's defense when asked about ignoring blue flags in the Ryan Dungey incident. Chad said, "I held my line." However on a one-line track, rlding your line is the same as blocking when you are being lapped.
(2) Additionally, the rule was changed to eliminate a black flag for a rider who ignores the blue flag. It leaves the penalty up to the Race Director (which they now call "Race Direction" to spread the blame among more people than just one AMA official). What does this mean? If you are cynical, it means that the penalty will depend on whether the "Race Direction" likes you or hates you (as with all AMA penalties the severity of the punishment depends who you are).
MXA MOTO-CHALLENGE: WHO IS THIS FACTORY STAR FROM THE 1970'S?

Any hardcore moto fan should be able to recognize this 12-year-old racer—although at 12 he was 4 years away from his glory years. He raced a CZ to fame before getting a factory ride. The answer is at the bottom of the page.
THE WAY WE RODE: UNO PALM'S FRONT TIRE HAS TARGET FIXATION

Husqvarna factory rider Uno Palm flat tracks his Husqvarna around a Czechoslovakian GP turn. However, Palm's front tire is about to hit a big rock with unexpected consequences. Photo: Justyn Norek
OLD SCHOOL SCRAMBLES SEASON OPENER ON JANUARY 26
Rain canceled the first Old School Scrambles race of 2019, but the race has been moved to January 26. For more information go to www.oldschoolscramblesracing.com
FIRST RIDE FREE AT OLD SCHOOL SCRAMBLES ON JAN. 26

SUBSCRIBE TO MXA & GET A $25 CHAPARRAL GIFT CARD—YOU MAKE A PROFIT BY READING MXA

If you subscribed to Motocross Action, the February 2019 issue of MXA would be in your mailbox, computer or iPhone now.
It is jam-packed with bike tests, product reviews and moto-info. Not only do we have the 2019 MXA 250 Four-Stroke Shootout in this issue, but 2019 Husqvarna FC350 test , 2019 Yamaha YZ250 two-stroke test,  a retro-test of Chad Reed's 2002 L&M Yamaha YZ450F and a 2019 Honda CRF250 test. Plus, a test of Carson Brown's Straight Rhythm winning Husky TC125 two-stroke and Austin Forkner's 2019 AMA 250 East Supercross KX250 four-stroke. Not to mention giant coverage of the World Vet Championship.
Do you subscribe to MXA? You should. We know that you think that print magazines are dead and that the internet will fill the void, but most of the stuff in the current issue of MXA won't appear on the web for several months, if at all. Luckily, you can get all of MXA on your iPhone, iPad, Kindle or Android by going to the Apple Store, Amazon or Google Play or in a digital version. Even better you can subscribe to Motocross Action and get a $25 Chaparral gift card to spend on whatever motorcycle parts or products you need. You can call (800) 767-0345 or go to www.hi-torque.com/product/motocross-action-holiday or click on the box at the bottom of this page.
2019 MX 250 SHOOTOUT: HOW THEY RANK FROM ONE TO SIX
YOU GOTTA KNOW THE TRUTH: 2019 MXA 450 SHOOTOUT VIDEO
MALCOLM SMITH'S "NO WIMPS IN BAJA" TOUR ON JAN. 27 TO FEB. 1
To register or get more info go to www.malcolmsmithadventures.com
WHERE YOU'LL BE IN THE FUTURE: 2019 RACE SCHEDULE


Join the crowd in Anaheim Stadium. on Saturday night. It won't be raining this time.

2019 AMA SUPERCROSS SERIES
Jan. 5…………………………….Anaheim, CA
Jan. 12………………………….Glendale, AZ
Jan. 19………………………….Anaheim, CA (3-moto race)
Jan. 26………………………….Oakland, CA
Feb. 2……………………………San Diego, CA
Feb. 9…………………………..Minneapolis, MN
Feb. 16………………………….Arlington, TX
Feb. 23………………………….Detroit, MI (3-moto race)
Mar. 2……………………………Atlanta, GA (250 E/W Shootout)
Mar. 9……………………………Daytona Beach, FL
Mar. 16………………………….Indianapolis, IN
Mar. 23………………………….Seattle, WA
Mar. 30………………………….Houston, TX (3-moto race)
Apr. 6……………………………Nashville, TN
Apr. 13………………………….Denver, CO
Apr. 27………………………….East Rutherford, NJ
May 4……………………………Las Vegas, NV (250 E/W Shootout)
2019 AMA NATIONAL CHAMPIONSHIP
May 18……………………Hangtown, CA
May 25.…………………..Pala, CA
June 1..……………….….Thunder Valley, CO
June 15..…………………Mt. Morris, PA
June 22.………………….Jacksonville. FL
June 29..…………………Southwick, MA
July 6.………………….….Red Bud, MI​
July 20.……………………Millville, MN​
July 27.……………………Washougal, WA
Aug. 10..………………….Unadilla, NY​
Aug. 17..………………….​Budds Creek, MD
Aug. 24.…………………..Crawfordsville, IN
2019 FIM MOTOCROSS WORLD CHAMPIONSHIP
Mar. 3…………………… Argentina (fly-away)
Mar. 24……………………England
Mar. 31……………………Holland
Apr. 7……………….……..Italy #1
May 1……………………..Shanghai (fly-away)
May 12……………………Italy #2
May 19…………………..Portugal
May 26……………………France
June 9…………………….Russia
June 16…………………..Latvia
June 23…………………..Germany
July 7………………………Indonesia #1 (fly-away)
July 14……………………Indonesia #2 (fly-away)
July 28……………………Czech Republic
Aug. 4………………….….Belgium
Aug. 18……………………Italy #3
Aug. 25…………………..Sweden
Sept. 8……………………Turkey
Sept. 22…………………..Hong Kong (fly-away)
2019 MOTOCROSS DES NATIONS
Sept. 29…………………………….Assen, Holland
2019 WORLD OFF-ROAD CHAMPIONSHIP (WORCS)
Jan. 18-20………………………..Primm, NV
Feb. 1-3……………………………Glen Helen, CA
Mar. 1-3……………………………Lake Havasu, AZ
Mar. 22-24……………………….Peoria, AZ
Apr. 12-14………………………..Las Vegas, NV
Apr. 26-28………………………..Taft, CA
May 24-26……………………….Mesquite, NV
July 30-Aug. 4…………………McCleary, WA
Sept. 13-15……………………..Glen Helen, CA
Oct. 4-6……………………………Milford, CA
Nov. 15-17……………………….Primm, NV
2019 WORLD TWO-STROKE CHAMPIONSHIP
April 20…………………………..Glen Helen
2019 MAMMOTH MOUNTAIN MOTOCROSS
June 21-30……………………….Mammoth Lakes, CA
2019 CANADIAN NATIONAL CHAMPIONSHIP
June 1………………………………Wild Rose, AB
June 8………………………………Blackwater, BC
June 15…………………………….McNabb Valley, MB
July 13……………………………..Gopher Dunes, ON
July 20……………………………..San Del Lee, ON
July 27……………………………..Riverglade, NB
Aug. 3………………………………Deschambault, QC
Aug. 17…………………………….Walton, ON
2019 AMA NATIONAL AMATEUR CHAMPIONSHIP
July 29-Aug. 3………………….Loretta Lynn, TN
2019 BRITISH ARENACROSS CHAMPIONSHIP
Jan. 18-19………………………….Belfast, Irl
Feb. 1-2……………………………..Birmingham, GB
Feb. 15-6…………………………..Sheffield, GB
2019 BRITISH NATIONAL CHAMPIONSHIP
Mar. 10……………………………..FatCat
Apr. 14………………………………Lyng
May 5……………………………….Canada Heights
June 2………………………………Blaxhall
June 30…………………………….Desertmartin
July 21……………………………..Hawkstone Park
Aug. 11……………………………..Foxhill
Sept. 15……………………………Landrake
2019 BRITISH APICO TWO-STROKE CHAMPIONSHIP
May 25-26………………………Marshfield, Wiltshire
August 3-4……………………..Ironworks, Middlesborough
September 21-22………….Sellindge, Kent
2019 GERMAN MX MASTERS CHAMPIONSHIP
April 14…………………………….Princely Drehna
June 2………………………………Moggers, Austria
June 30…………………………….Molln
July 21……………………………..Tens
Aug. 11…………………………….Gaildorf
Sept. 1……………………………..Biel
Sept. 15……………………………Wood Gerlingen
2019 AMA VINTAGE MOTORCYCLE DAYS
July 5-7…………………………….Lexington, Ohio
2019 AMA NATIONAL AMATEUR CHAMPIONSHIP
July 29-Aug. 3………………….Loretta Lynn, TN
2019 RYAN VILLOPOTO AMATEUR MOTOCROSS CUP
Aug. 22-25………………………..Grays Harbor, WA
2019 MONSTER ENERGY CUP
Oct. 21……………………………..Las Vegas, NV
2019 WORLD VET CHAMPIONSHIP
Nov. 2-3……………………………..Glen Helen, CA
FOLLOW MXA ON TWITTER
Follow us to see fresh content every day at www.twitter.com/MXAction or on twitter at "MXAction."
TALK MOTO WITH ON MXA'S FACEBOOK GROUP CHAT

We love everything moto and want to bring all moto junkies together into one place to share their two cents, ideas, photos, bike fixes, bike problems and much more. To check it out first you must need to or already have a Facebook account. If you don't, it isn't much work and you could even have an alias so nobody knows it is you. To join click HERE. After you request to join we will accept your request shortly after.
MXA'S SNAP CHAT FEED
If you are a Snap Chat user then add us to your stories. Get sneak peaks of everything moto. Our Snap Chat name is motocrossaction. Or just take a Snap of the picture above and it will add MXA automatically to your feed.
Photos: Brian Converse, Debbi Tamietti, Justyn Norek, Jody Weisel, Travis Fant, Daryl Ecklund, MXA, MXGP
MOTO-CHALLENGE ANSWER: 1975, 1976 & 1977 AMA 250 National Champion Tony DiStefano.