MXA'S WEEKEND NEWS ROUND-UP: WHAT HAPPENED WHILE YOU WERE DODGING RAIN AT THE NASCAR AND F1 RACES

ROGER DECOSTER TALKS ABOUT DUNGEY, MUSQUIN & ROCZEN
Ryan Dungey will decide if he returns  to Supercross on April 3, This was Marvin Musquin's last 450 race for the year & Ken Roczen might not get to race the 450 class when the series goes west.
TORONTO SUPERCROSS RESULTS: AS IF YOU COULDN'T ALREADY GUESS
RESULTS: 450 CLASS
1. Ryan Villopoto…Kaw
2. Justin Brayton…Hon
3. Kevin Windham…Hon
4. Davi Millsaps…Yam
5. Jake Weimer…Kaw
6. Marvin Musquin…KTM
7. Kyle Chisholm…Kaw
8. Broc Tickle…Kaw
9. Bobby Kiniry…Yam
10. Wil Hahn…Hon
RESULTS: 250 EAST
1. Justin Barcia…Hon
2. Ken Roczen…KTM
3. Blake Wharton…Suz
4. Jake Canada…Hon
5. Darryn Durham…Kaw
6. Alex Martin…Hon
7. Tommy Weeck…Hon
8. Justin Bogle…Hon
9. Matt Lemoine…Kaw
10. Jeff Gibson…Hon
JUSTIN BARCIA DESCRIBES HIS NIGHT IN THE GREAT WHITE NORTH

VILLOPOTO'S TITLE NUMBERS: STATISTICS LIE…BUT WHAT ARE YOU GONNA DO? WAIT FOR THE ACTUAL RACES?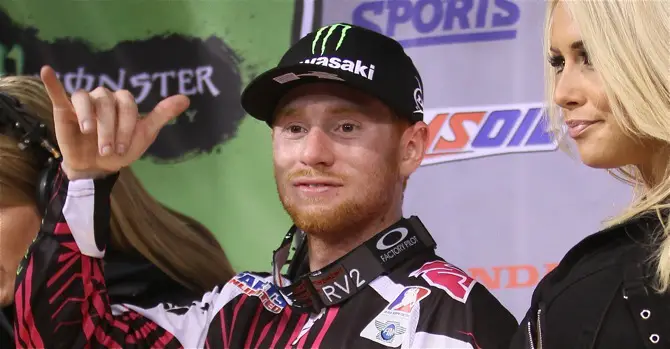 Ryan's closest competitors aren't even racing anymore.
Assuming that Ryan Villopoto doesn't have a repeat of Jacksonville from last year, he is going to Houston with a massive points lead…(79 points on Ryan Dungey and 94 points on James Stewart). Neither Dungey nor Stewart were in Canada.
There are only five Supercross races left ? which means that there will be a maximum of 125 points left (5 x 25 = 125) to earn. Considering that Davi Millsaps was the closest "active" rider on the track with Villopoto in Toronto, and he is now 102 points behind, we have to assume that Villopoto will clinch the 2012 title two races from now in New Orleans. He could do it sooner, but that depends on what Stewart and Dungey decide to do…since they are still within the points window. As of right now, every rider outside of the top seven has been mathematically eliminated?that means Brett Metcalfe, Mike Alessi, Chad Reed, Broc Tickle, Kyle Chisholm, Josh Hansen, Nick Wey, Marvin Musquin, Andrew Short and everyone else.
WHAT YOU CAN DO WITH A TWO-STROKE AND SOME SPARE TIME
Well, really it is more of what Graham Jarvis can do, but go ahead and try it anyway… you can skip the very last part
RED BULL X-FIGHTERS COMING TO GLEN HELEN ON MAY 12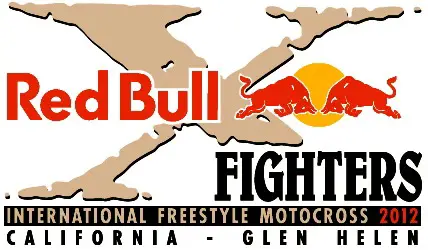 Tickets are now on sale for fans to watch the planet's best freestyle motocross riders compete at the Red Bull X-Fighters stop at Glen Helen Raceway in Southern California, on arguably the biggest FMX course ever. In a nod to the event's historic location, a three-night camping and riding option is also available, in which fans can ride on Glen Helen's motocross track and off-road trails each day
Glen Helen will be the second round of the world's premier FMX series. The series kicks off its six-stop world tour on April 13 in Dubai. Following the inaugural visit to Glen Helen on May 12, the riders will travel to Istanbul (June 16), Madrid (July 20), Munich (August 11) and cap off the season in Sydney (October 6). More than 230,000 fans witnessed the incredible competition live in 2011, and after two years away from the US, now is the opportunity to catch the high-flying action in person. Dany Torres, Nate Adams, Andre Villa, Robbie Maddison, Josh Sheehan, Mat Rebeaud  and Levi Sherwood will all appear!
THERE ARE FOUR TICKET OPTIONS AVAILABLE:
General Admission $20 ? includes access to: standing room only, vendor row and the pit area. Please note this may require walking on steep, uneven terrain.
Grandstand Seating $30 ? includes access to vendor row and the pit area and a reserved spot to sit in the Grandstands. Each Grandstand section is open seating. You will be able to choose your Grandstand section based on ticket availability.
FOX VIP Area Tickets $275 ? includes access to vendor row and the pit area and a trackside hospitality suite with food and beverages included.
Camping and Riding $400 ? Each campground space includes four Grandstand tickets and camping for three nights (Thursday, Friday and Saturday), plus access to The Hub, live music, the Traxxas RC Track, and access to ride Glen Helen's National MX Track and Off-Road Trails on Thursday, Friday, Saturday and Sunday. Up to three additional tickets may be purchased per camping space for an additional $50/ticket.
Visit the series website at www.redbullxfighters.com
ZACH OSBORNE MIGHT MISS ROUND ONE OF THE 250 GPs


Zach.
Zach Osborne crashed at the FatCat circuit near Doncaster, England, and sustained a fracture to his left collarbone and possibly a new crack in his right wrist as well as a concussion. After spending the evening in a local hospital the 23-yea-old will be examined by a hand specialist this week. The first GP is on April 9 on the tough Valkenswaard track.
"I'm pretty banged up but it could be worse," said Osborne. "I think the collarbone could be more complicated because the X-ray showed a crack near where I have a plate. We should know some more information after another scan later."

DRUG TESTS! EVERYBODY PASSED..JUST LIKE IN HOME SCHOOLING


The American Motorcyclist Association (AMA) reports that anti-doping testing was conducted at the San Diego (Feb. 11) and St. Louis (March 3) rounds of the AMA Supercross Championship. No prohibited substances or their metabolites or markers, or the use of prohibited methods, were found in the tested samples.
AMA Supercross 250 class riders tested in San Diego were Dean Wilson, Matt Moss and Cole Seely. AMA 250 class riders tested in St. Louis were Ken Roczen, Blake Wharton and Justin Barcia.  AMA 450 class riders tested in San Diego were James Stewart, Justin Brayton and Ryan Dungey. AMA 450 class riders tested in St. Louis were Ryan Villopoto, Jake Weimer and Davi Millsaps.
JEREMY MCGRATH'S OFFROAD VIDEO GAME FOR XBOX 360 AND PS3
We were expecting a motocross game, but this is offroad trucks and buggies.
TWEET-CITY: CUTTING THE MEN IN THE RIGHT-HAND DRIVE TRUCKS OUT OF A JOB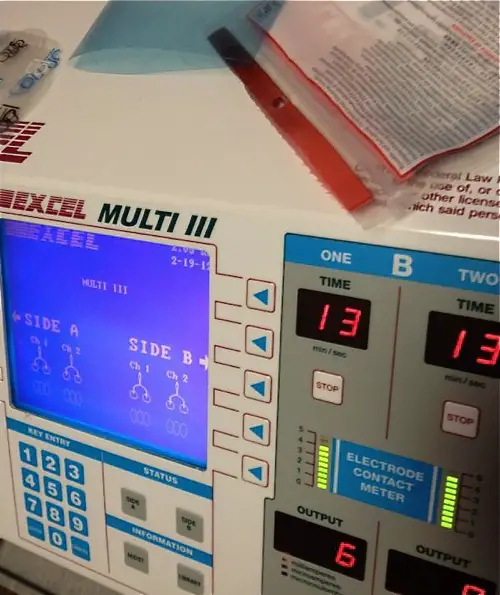 2012 MTA WORLD TWO-STROKE CHAMPIONSHIP IS ONE WEEK AWAY


Glen Helen Raceway will ring to the sound of two-strokes on April 1, 2012, when they host the MTA World Two-Stroke Championships. With a $4500 Pro purse and amateur classes for everyone else, the World Two-Stroke Championship will take place on a brand-new racetrack (with the longest uphill straight imaginable). Every entrant gets a free FMF event T-shirt and there is a practice day on Saturday, March 31…plus, an REM race on Saturday for riders who need to get in one last practice race before the big event. For more info go to www.glenhelen.com.

MARTIN DAVALOS, DAVI MILLSAPS & GAVIN FAITH TAKE A DAY OFF FROM TRAINING TO TRAIN..SAY WHAT?
What is "wet noodling?" Tallahassee Florida's Tom Brown Park is the place and the mountain bike is the vehicle of choice
COLE SEELY GETS TO PREP FOR THE OUTDOOR NATIONALS, WHILE WIL HAHN GETS THE FILL-IN GIG AT TEAM HONDA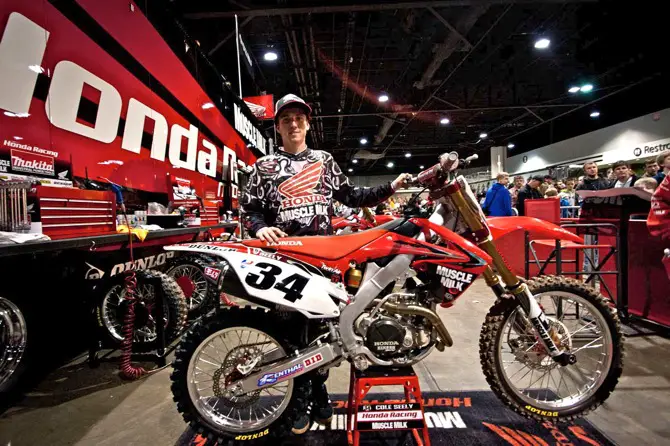 Cole Seely was impressive during his time on Trey Canard's CRF450…now it is Wil Hahn's turn.

Wil Hahn will pick up where Cole Seely left off as he inherits the fill-in ride on Trey Canard's bike at Team Honda Muscle. Seely will return to the Troy Lee Designs team, while Hahn will start this weekend at Toronto .
Wil Hahn tunred pro in 2007 and was second overall in the 2010 AMA 250 West championship. Hahn was hurt early in the 2012 Supercross season. "Wil has shown considerable speed in the last few years in the 250 class, and we believe he has what it takes to run in the 450s class," said Team Honda Muscle Milk Manager Erik Kehoe. "His focus and determination makes him a good fit for the team. I would like to thank everyone at Geico Honda and all their sponsors for allowing Wil the opportunity to race a factory Honda in the Supercross class."
INDY WRAP-UP VIDEO! THIS IS A "FIRST PERSON" CRASH VIDEO WITH LOTS OF BIG HITS
Who is this Brett Metcough that they speak of?
THIS WEEK'S BIRTHDAYS: BIG PARTY AT McQUEEN'S HOUSE…WE MEAN DAVE O'S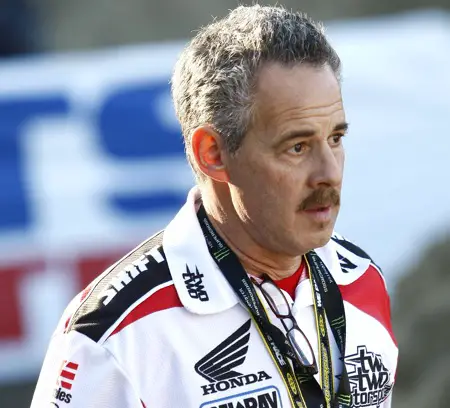 Mar. 25…Dave Osterman
Mar. 24…Steve Lamson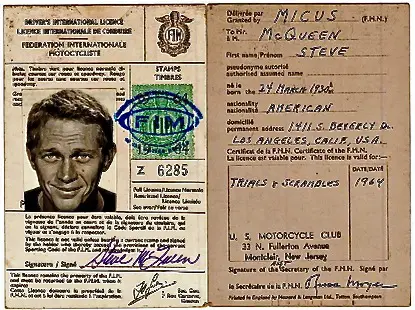 Mar. 24…Steve McQueen
Mar. 24…Davide Guarneri
Mar. 25…Justin Barcia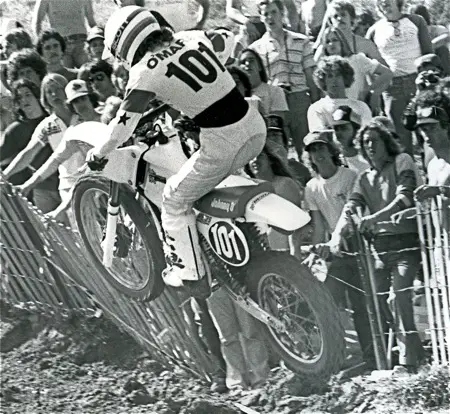 Mar. 25…Johnny O'Mara
Mar. 26…Dr. John Bodnar
Mar. 26…Mike Jones

 
Mar. 26…Gautier Paulin
Mar. 27…Jimmy Gaddis
Mar. 27…Jeff Alessi
Mar. 28…Mike Jones
Mar. 29…Andre Malherbe
Mar. 29…Nate Adams
INSIDE THE SUPERCROSS TV TRUCK: BEHIND THE SCENES WITH THE MEN THE INTERNET LOVES TO HATE

ARE THESE THE WORST PRESS RELEASES IN THE SPORT? YES
In the battle for the worst sanctioning body websites, Youthstream's isn't the worst, but it is the funniest. Here is a sampling of things they consider news worthy at www.motocrossmx1.com. Let's not get too haughty because MX Sports' AMA National Motocross website (www.mxsportsproracing.com) is weak, out-of-date and barren of content.
"YOUTHSTREAM ANNOUNCES NEW OFFICIAL TICKETING PARTNER"


The FIM's Wolfgang Srb, ticketing partner Steve Sasportas and Giuseppe Luongo.
Big news. Youthstream is going to sell tickets…who'd of thunk it?
"SEL – OFFICIAL FREIGHT COMPANY FOR THE FIM MOTOCROSS WORLD CHAMPIONSHIP"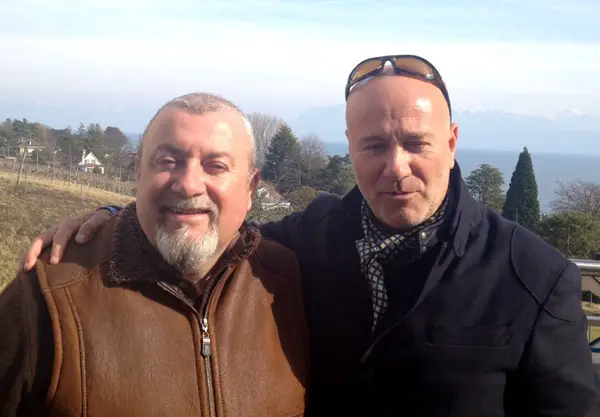 Giuseppe Luongo and SEL's Pier Carlo Bottero.
Just in case the fans need an 18-wheeler.
"SUCCESSFUL MEETING BETWEEN YOUTHSTREAM, FIM AND ORGANIZERS"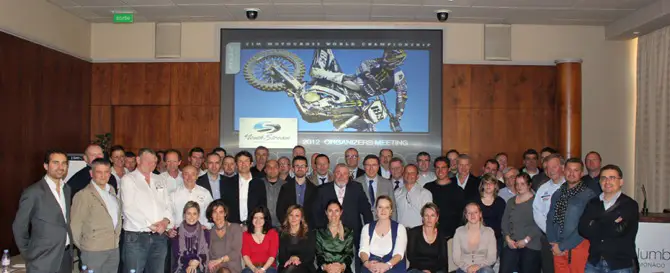 The Youthstream Crew, FIM representatives and 2012 race organizers.
Do they send out press releases for unsuccessful meetings?
"INVESTMENT TRADE BANK INCREASES INVOLVEMENT IN FIM MOTOCROSS WORLD CHAMPIONSHIP"


From left to right: Bobryshev, Resta, Srb, Gudkov, Rizzi in Semigorje, Russia.
Did we ever think that they weren't in bed with the Russians?
AND THE FUNNIEST ONE OF ALL FROM 2008: "YOUTHSTREAM OPENS NEW DIVISION AND OFFICES IN THE USA!"

Or more accurately, "office space for rent."
THE CRASH THAT KEN ROCZEN WILL REPLAY IN HIS HEAD UNTIL HE WINS IN 2012
He pushed the front end, whiskey-throttled and ghost rode all in the span of 50 feet. Hey, that takes talent too.
BARS OF THE STARS


Choosing bars is all about personal taste, but it never hurts to know what the stars on using.
RYAN VILLOPOTO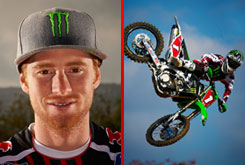 Bars…… Renthal 998 TwinWall
RYAN DUNGEY


    Bars…… Renthal 821 FatBar
JAMES STEWART


    Bars…… Renthal 998 TwinWall
CHAD REED


    Bars…… Renthal 998 TwinWall
TREY CANARD


    Bars…… Renthal 997 TwinWall
JUSTIN BRAYTON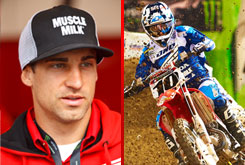 Bars…… Renthal 997 TwinWall
JAKE WEIMER


    Bars…… Renthal 998 TwinWall
DAVI MILLSAPS


    Bars…… Renthal 998 TwinWall
IVAN TEDESCO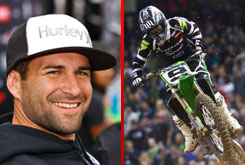 Bars…… Renthal 998 TwinWall
JOSH HANSEN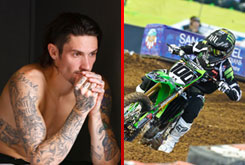 Bars…… Renthal 997 TwinWall
DEAN WILSON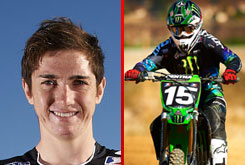 Bars…… Renthal 997 TwinWall
TYLA RATTRAY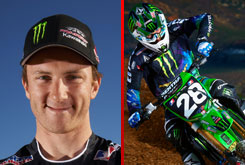 Bars…… Renthal 997 TwinWall
MARVIN MUSQUIN


    Bars…… Renthal 604 FatBar
KEN ROCZEN


    Bars…… Renthal 672 FatBar
DARRYN DURHAM


    Bars…… Renthal 999 TwinWall
BLAKE BAGGETT


    Bars…… Renthal 996 TwinWall
COLE SEELY


    Bars…… Renthal 999 TwinWall
CHRISTIAN CRAIG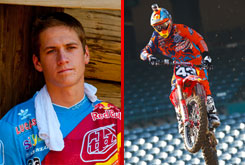 Bars…… Renthal 999 TwinWall
THAI BILLIONAIRE DEAD AT 89


This is what Chaleo Yoovidhya is most famous for.
You've never heard of him, but Chaleo Yoovidhya died recently. He was the 205th richest man in the world. What is Chaleo famous for? In invented Red Bull (which is a translation of the Thai Krathing Daeng). It is possible that Red Bull would have stayed in Thailand except for a meeting between Chaleo Yoovidhya and Austrian entrepreneur Dietrich Mateschitz. They formed a partnership, in which each owned 50% of the company. At his passing Chaleo Yoovidhya's net worth was estimated at $5 billion.
JOSH COPPINS EXPLAINS NEXT WEEK'S OPENING ROUND OF THE AUSSIE NATIONAL CHAMPIONSHIP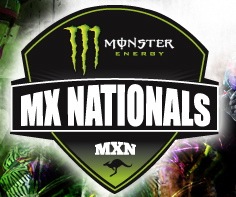 2012 AUSSIE SCHEDULE
April 1…………Conondale, QLD
April 15……….Coonabarabran, NSW
April 28……….Wonthaggi, VIC
May 13………..Wanneroo, WA
May 20………..Murray Bridge, SA
July 1…………..Hervey Bay, QLD
July 15…………Barrabool, VIC
July 29…………Appin, NSW
August 19……Moree, NSW
August 26……Coolum, QLD
www.mxnationals.com.au
MORE FROM AUSTRALIA ? A BRIT DOWN UNDER! BRITISH CHAMPION BRAD ANDERSON MOVED TO OZ TO RACE FOR THE CARLTON DRY HONDA TEAM
This Aussie video tries to prove that audio quality is way over-rated as part of film making, as is focus.
EVERY 2012 AMA NATIONAL NUMBER (FROM 1 TO 997)



Refer to the list below to identify 74, 60, 714, 70, 35 and 956.
It is easy to find out who's number 20 (Justin Barcia) or 17 (Eli Tomac) or even 61 (Austin Howell), but have you ever tried to find out who is AMA National number 971. The answer is Nathan Malyszek?
To make life easier, MXA has compiled a complete list of active AMA National numbers for 2012 (Up through the Toronto Supercross). We will update it with every event and add more names and numbers as young riders enter the AMA circuit.
1. Ryan Villopoto (450 MX/SX)
1. Dean Wilson (250 MX)
1. Broc Tickle(250 West)
1. Justin Barcia (250 East)
2. Ryan Villopoto (will not be used in 2012)
3. Mike Brown
5. Ryan Dungey
7. James Stewart
9. Ivan Tedesco
10. Justin Brayton
11. Kyle Chisholm
12. Blake Baggett
14. Kevin Windham
15. Dean Wilson
16. John Dowd
17. Eli Tomac
18. Davi Millsaps
19. Kyle Cunningham
20. Justin Barcia
21. Jake Weimer
22. Chad Reed
23. Gareth Swanepoel
24. Brett Mecalfe
25. Broc Tickle
26. Michael Byrne
27. Nick Wey
28. Tyla Rattray
29. Andrew Short
30. Alex Martin
31. Martin Davalos
32. Tommy Hahn
33. Josh Grant
34. Cole Seely
35. Darryn Durham
36. Kyle Regal
37. Malcom Stewart
38. Marvin Musquin
39. Tye Simmonds
40. Gannon Audette
41. Trey Canard
42. Ricky Dietrich
43. Christian Craig
44. Jason Anderson
45. Nick Paluzzi
46. Les Smith
47. Chris Blose
48. Jimmy Albertson
49. Justin Bogle
50. Nico Izzi
51. Travis Baker
52. Ben Lamay
53. Ryan Sipes
54. Weston Peick
55. Lance Vincent
56. Austin Stroupe
57. Jake Canada
58. Will Hahn
59. Vince Friese
60. Matt Lemoine
61. Austin Howell
62. Travis Sewell
63. Colton Facciotti
64. Matt Boni
65. Ryan Morais
66. Jason Thomas
67. Scott Champion
68. Shane Sewell
69. Jimmy DeCotis
70. Ken Roczen
71. Kevin Rookstool
72. Jarred. Browne
73. Josh Clark
74. Tyler Bowers
75. Josh Hill
76. Calle Aspergren
77. Lowell Spangler
78. Tommy Weeck
79. Tyler Medaglia
80. Kyle Keylon
81. Robert Kiniry
82. Justin Sipes
83. Kyle Partridge
84. Killy Rusk
85. Robert Marshall
86. Taylor Futrell
87. Matt Goerke
88. Ben Evans
89. Tyler Bright
90. Bryce Vallee
91. Dalton Carlson
92. Hunter Clements
93. A.J. Catanzaro
94. Cole Siebler
95. Chris Plouffe
96. Kyle Peters
97. Jeremy Medaglia
98. Tye Hames
99. Sean Hackley
100. Josh Hansen
102. Chris Gosselaar
105. Matt Moss
112. Ryan Marmont
117. Kelly Smith         
119. Max Anstie
124. Ryan Clark
125. Daniel Blair
126. Hunter Hewitt
129. Vernon McKiddie
132. Kyle Beaton
133. Myles Tedder
143. Michael Horban
149. Casey Hinson
153. Gregory Crater
160. Cole Thompson
166. Dakota Tedder
170. Michael Leib
171. Cole Siebler
173. Travis Johnson
174. Chase Spears
175. Bruce Rutherford
187. Bryce Huffman
192. Cameron Lansing
200. Michael McDade
202. Tanner Young
208. Donald Vawser
211. Tevin Tapia
212. Auston Albers
214. Jason Kueber
216. Jared Boothroyd
219. Ryan Rangel
222. Chris Howell
224. Heath Harrison
225. Tyler McEwen
227. Cole Martinez
232. Billy Laninovich
244. Ryan Zimmer
247. Teddy Parks
251. James Justice
260. Nicholas Myers
275. Jeff Gibson
276. John Jelderda
285. Tony Archer
293. Brian Sjogren
304. Bradley Ripple
308. Nick Jackson
311. Jesse Rangas
312. Teddy Maier
314. Alex Ray
329. Chad Gores
333. Cody Mackie
335. Seth Caldwell         
337. Jeremy O'Driscoll
338. Zach Osborne
339. Michael Thacker
346. Brandon Marley
352. Kevin Markwardt
354. Chris Johnson
357. Jacob Locks
374. Cody Gilmore
377. Christophe Pourcel
382. Preston Thomas
383. Brandon Rangel
384. Carl Schlacht
385. Adam Gulley
386. Aaron Gulley
393. Daniel Herrlein
394. Tanner Moore
404. Zack Freeberg
405. Joe Lafalce
407. Adam Chatfield
409. Dillon Huddleston
412. Levi Kilbarger
415. Nicholas Schmidt
423. Brandon Gillespie
429. Richard Rinauro
435. Scott Agostini
438. John Cal Baker
443. Jeffrey Mort
446. Frank Lettieri
447. Deven Raper
451. Rashidi Kerrison
459. Conrad Weiland
461. Dave Ginolfi
464. Mitchel Alcorn
480. Cory Green
498. Cody Robbins
501. Scotty Wennerstrom
505. Sean Lipanovich
508. Nick Click
512. Jorge Bujanda
513. Danny Pacini
516. Brian Foster
522. William Wichers
532. Ricky Renner
533. Gannon Audette
536. Erik Meusling
544. Morgan Burger
546. Kevin Urguhart
548. Broc Schmelyun
564. Jeremy Huddleston
565. Preston Mull
570. Beau Hudson
572. Zach Jaynes
583. Tyler Sjoberg
587. Dustin Kendall
588. Jerry Lumsden
599. Ronnie Hapner
606. Ronnie Stewart
615. Daniel Aulseybrook
617. Gavin Faith
619. Mark Weishaar
620. Brad Nauditt
639. David Buller
643. Jake Oswald
647. Parker Eckman
652. Dustin Pipes
655. John Pauk
659. Justin Freund
661. Michael Lang
668. Billy Jurevich
675. Kyle Hussey
697. Kyle Goerke
670. Dylan Schmoke
702. Cameron Stone
707. Alex Millican
708. Joe Perron
712. Justin Starling
713. Chad Cook
714. Shawn Rife
715. Phil Nicoletti
718. Matt Schneider
722. Adam Enticknap
726. Gared Steinke
727. Rhett Urseth
735. Travis Pitt
750. Jared Hicks
752. Bryce Stewart
754. Tyler Allen
757. Kevin W. Johnson
758. Jason Potter
764. Cody Lee
771. Terren O'Dell
772. Robert Noftz
773. Walt Van Olden
774. Preston Tilford
783. Beau Burnett
788. Matt Vonlinger
792. Bracken Hall
793. Yuta Ikegaya
794. Yoshiki Inagaki
800. Mike Alessi
801. Jeff Alessi
812. Luke Vonlinger     
831. Ryan Smith
848. Kendall Mason
854. Landen Powell
862. Ozzy Barbaree
865. Dario Marrazzo
870. Cyrille Coulon
878. Eric McKay
880. Canaan Barrilleaux
887. Daniel Sanders
902. Jesus Macias
903. Antonio Balbi
906. Killian Auberson
915. Adrien Lopes
918. Michael Akaydin
919. Shawn Rhinehart
927. P.J. Larsen
929. Travis Bell
930. Tom Parsons
941. Angelo Pellegrini
943. Carlos Oros
945. Michael Stryker
952. Adam Conway
956. Blake Wharton
964. Dominque Thury
965. Travis Bright
968. Jackson Richardson
971. Nathan Malyszek
972. Michael Picone
973. Jean Baptiste Marrone
976. Josh Greco
979. Jonathon Withrow
981. Austin Politelli
985. Erdenebileg Khaliunbold   
986. Topher Ingalls
992. Jean Ramos
996. Filip Thuresson
997. Linus Sandahl